Our Conclusion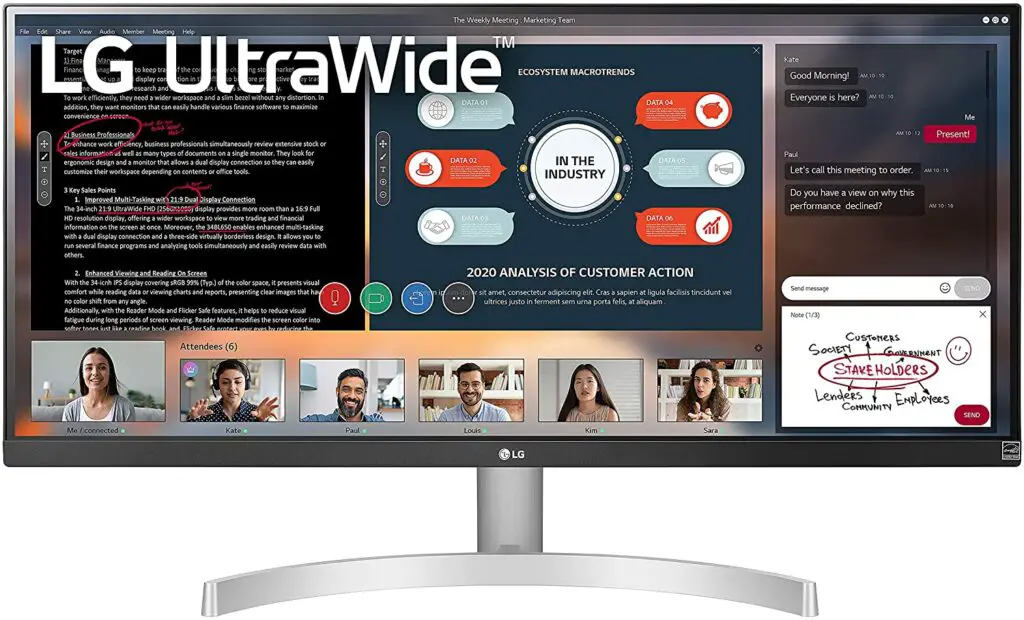 The LG 29WN600-W has definitively surpassed the LG 29WP60G-B as the most affordable 29-inch monitor available today. It is also one of the most affordable ultrawide displays on the market, with high-quality speakers and HDR support. All of this, combined with the excellent color reproduction provided by the IPS panel, elevates this monitor to the top of the LG category.
Pros
✓ IPS panel
✓ Good image sharpness
✓ High-quality speakers
✓ Affordable
✓ HDR10 technology
Cons
✘ No USB ports
✘ Polarizing colors
Typically, among all sizes of ultrawide displays, 29-inch monitors are the most affordable ones. 
We recently reviewed the LG 29WP60G-B, which boasted impressive features for its pricing, making it one of the most worthwhile LG ultrawide display releases for 2021. 
You won't get the same amount of screen space with a 29-inch screen as you would with a 34-inch screen, for example. Prices for 34-inch ultrawide displays, on the other hand, are now rather costly.
A 1080p 34-inch display, such as the LG 34WP65G-B, might be a solution, although the PPI would be extremely low, resulting in blurry images. 
With all of that said, it's time to take a look at an LG release from last year to determine if it's truly worth it. So, without further ado, let's check out the LG 29WN600-W Review.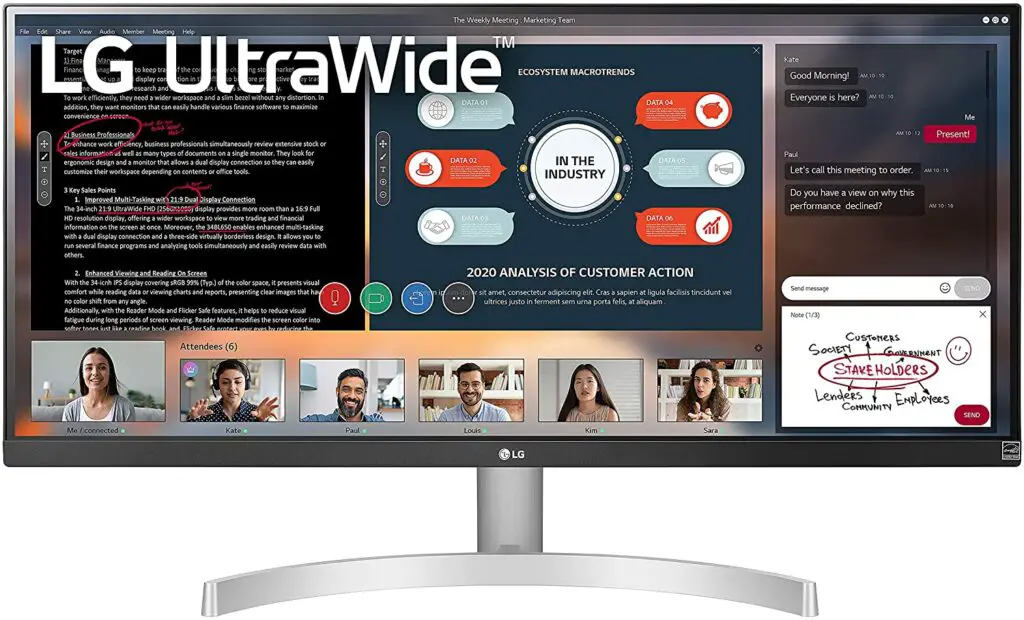 Design
This monitor and the LG 34WN650-W are both of the same series, therefore the aesthetics are very similar. 
The 3-sided borderless bezels give it a modern appearance, however, this LG aesthetics pattern is extremely overused. It has a three-color style, which is a highly divisive characteristic of the display. 
Matte black bezels, a fully white pattern on the back, and a gray finish on the stand round out the design. This monitor, by the way, has a half-circular stand, which is yet another LG overused pattern. 
Unfortunately, the display's stand only allows for forward and backward tilting.
We can see the mentioned white pattern and VESA support on the display's back, which is a significant benefit for people who need a wall-mountable monitor.
Furthermore, the display's 2x 7W out speakers are unquestionably one of the primary plus factors due to their great quality, which is unusually high for this price range.
I'm not sure how, but LG managed to include high-quality speakers with good treble reproduction in this monitor without significantly raising the final price.
Connectors
On the other hand, do not expect a wide range of connectors for this display. To maintain the prices low, they decided to use only the necessary, including 2x HDMI, 1x Headphone-out, 1x DisplayPort.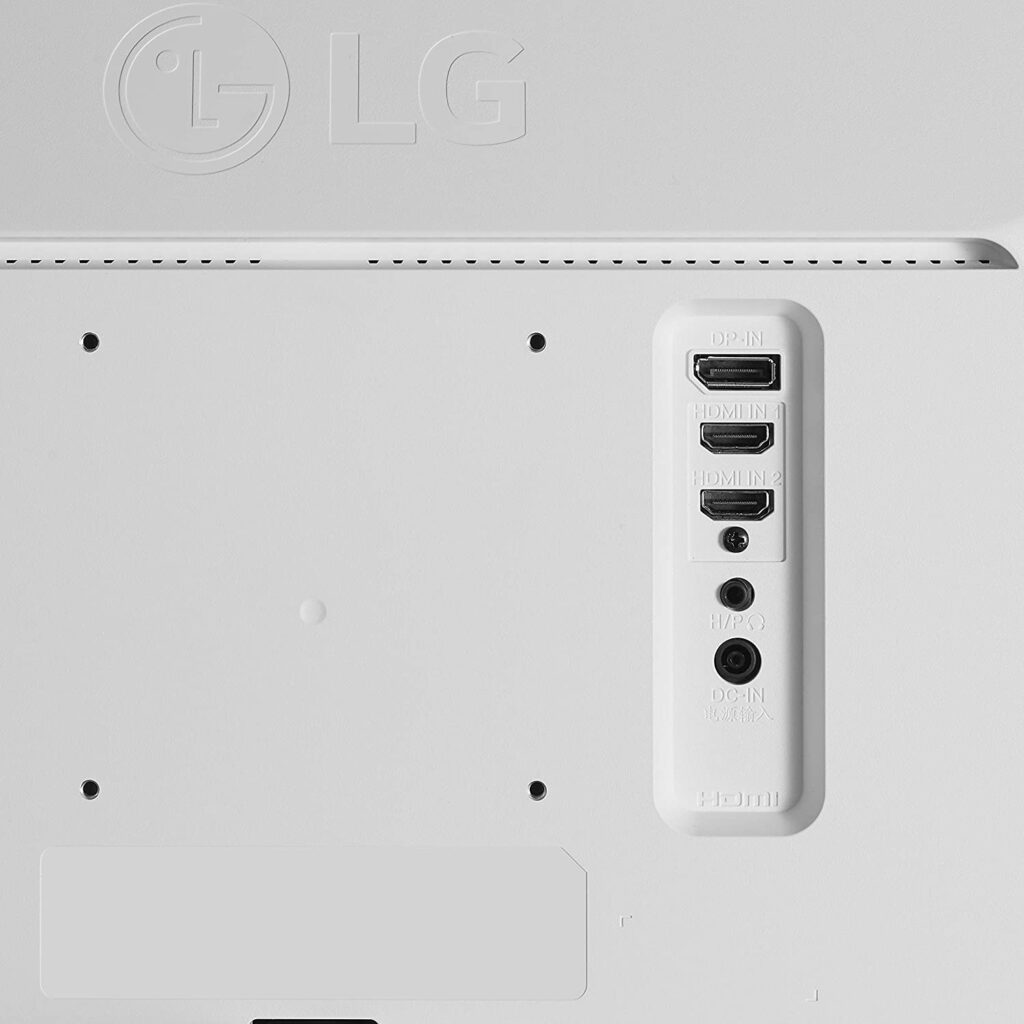 Features
Panel type
Surprisingly, this monitor can boast an IPS panel despite having one of the lowest costs for ultrawide displays. They typically choose the VA for mid-range ultrawide monitors, which is a fine panel but not the greatest for media pros.
In comparison to the VA panel, the IPS screen offers better color accuracy and wider viewing angles. As a result, it is today one of the most popular options for media workers.
If you can find one at a fair price, like this one, it can be a terrific pick even for casual users. Furthermore, despite the low costs, LG chose not to cut corners and was able to construct the IPS of the LG 29WN600-W with low levels of IPS glow. 
So, due to all that, we can say that this is surely one of the biggest plus points of this release. 
Brightness
LG, on the other hand, had no choice but to compromise some features, such as the overall brightness, in order to adopt a beneficial feature like the IPS screen.
This monitor has a total brightness of 250cd/m2, which is now the most basic level for monitors. However, if this monitor had a TN panel instead of an IPS screen, the difference would be much greater.
So, regardless of whether you're playing or surfing the web during the day, 250 nits are sufficient for 90% of the buyers.
Refresh rate and Response time
In that vein, let's take a look at the LG 29WN600-W's gaming capabilities to see if it offers anything unusual for a budget monitor. A disadvantage would be if this monitor supported 60Hz, which is currently uncommon in even the most basic panels. 
LG, on the other hand, picked 75hz, which improves the smoothness above 60hz and gives you greater clarity for your gaming or everyday use.
However, keep in mind that this is not a suggested number for competitive gaming, therefore if you must play in this scenario, a 144hz monitor like the Acer EI342CKR is more appropriate.
In addition, they decided to stick with the standard of adding 5ms of response time, which isn't a feature worth worrying about if you're not planning on playing competitive games. 
This monitor supports FreeSync technology, so you won't have to worry about screen tearing when playing your games. 
In conclusion, this monitor has pleasantly surprised us thus far, offering excellent value for its price. But now it's time to look at the overall image quality to see if this is a display worth investing in or not.
Image Overall Quality
The LG 29WN600-W is a 29-inch display with a Full HD resolution and a low PPI ratio, resulting in lower screen resolution and sharpness.
LG had no choice but to reduce the Pixel pitch, which is the center-to-center distance between two pixels on the screen, to compensate. So, by using a low number, LG can increase image crispness while masking the overall low PPI.
In terms of overall color accuracy, the IPS panel of this monitor has standard levels of color gamut and support, which is to be expected for an ultrawide monitor in this price range.
This display will provide you with an sRGB 99 percent color gamut and 16 million supported colors, which are both common for this price range, delivering you a standard color reproduction among IPS displays.
To everyone's surprise, LG included the HDR10 feature in this display. The HDR10 is not the best HDR brightness ratio available, but it is more than adequate for a mid-end ultrawide display, increasing contrast and deepening darks.
Overall, the LG 29WN600-W is currently one of the most affordable HDR ultrawide monitors available.
Final thoughts
When to buy it
If you need a 29-inch ultrawide monitor with quality, bear in mind that the LG 29WN600-W is currently the TOP 1 of our category of the best ultrawide LG monitors in relation to price performance. 
It has awesome speakers, an IPS panel, HDR support, all costing around $200 currently. 
It is not recommended, however, if you need a competitive gaming display, if that is the case, I recommend you going with a 144hz one, such as the Acer EI342CKR.
You may like