Our Conclusion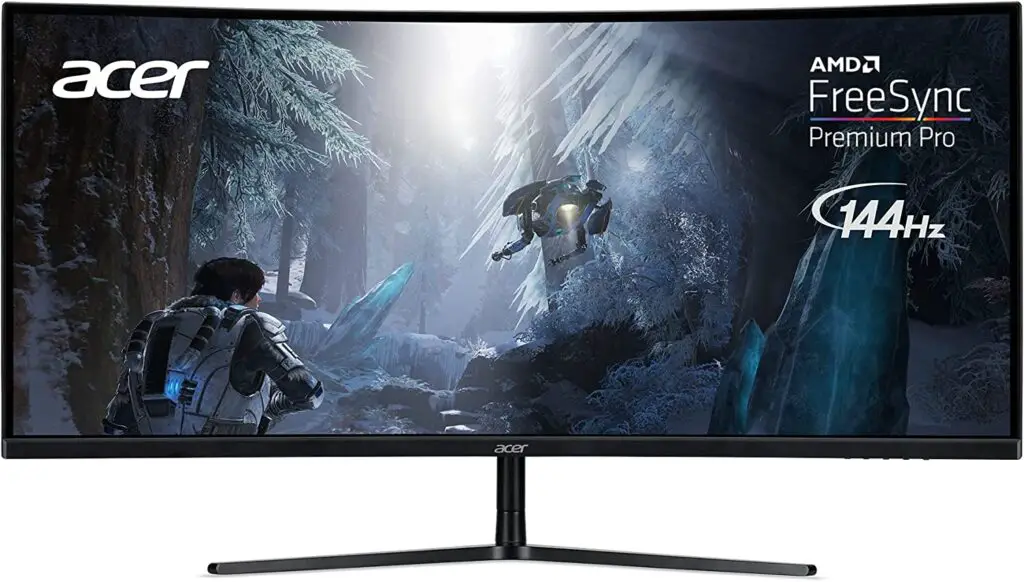 The Acer EI342CKR is a recent Acer curved ultrawide monitor release that will provide you vivid and high-contrasted colors due to the HDR 400 and the 3,000:1 overall contrast, as well as great gaming-focused features, featuring the recommended ratio for competitive gaming. All with budget prices currently. Before affording it, I recommend you to compare its prices to the MSI Optix MAG342CQR which has basically the same features.
Pros
✓ 144hz, 1ms
✓ Great Image quality
✓ 3,000:1 Contrast ratio
✓ 400 cd/m2 brightness
✓ HDR 400
Cons
✘ Lack of USB ports
✘ Poor quality speakers
We haven't evaluated a gaming ultrawide display on Reatbyte in a long time. The last one had fantastic results, with outstanding costs and excellent image quality for its price range, named by MSI as MSI Optix MAG342CQR.
And in today's post, we'll take a look at a 2021 Acer gaming ultrawide release to see if the manufacturer has done a decent job on it. So, without further ado, let's take a look at the Acer EI342CKR review, complete with all of its advantages and disadvantages, to see if it's a good fit for you.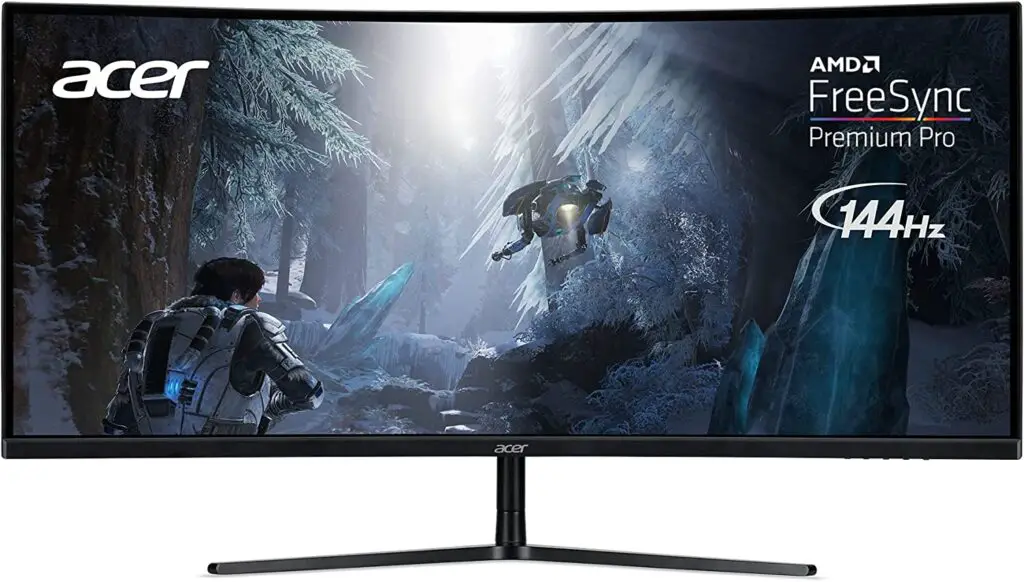 Design
At first sight, this monitor reminded me of the Acer Nitro QG241Y, which appears to be a smaller version of this one with a few minor differences. Also, it happens to be quite straightforward, which indicates that Acer attempted to maintain a consistent style on this one. 
Of course, because of this decision, you can't categorize this monitor as a gaming display just by looking at it, but it does have a benefit for people in need of a solid setup.
Fortunately, it features a modern design, with 3-sided bezels that are borderless and a somewhat narrow bottom bezel. 
It's completely black, with a half-triangular stand that doesn't transmit exactly a good level of reliability due to its thinness, but after inspecting the construction quality, you can rest assured that it will sustain the display without issue.
However, it just provides tilt adjustment, so if you require more, this is not the monitor for you; instead, if you are ready to spend a little more, you should choose the MSI Optix MAG342CQR.
Looking at the rear of the monitor, we can confirm how simple it is and that it has VESA support, although it is only 75 x 75mm. Furthermore, this monitor includes two 2W out speakers, which are definitely not the focal point of this display due to their poor quality.
Aside from that, this monitor has a 1500R curvature, which will improve the environment during your gaming sessions. 
Overall, this is one of the most straightforward and simple Ultrawide screens styles we've seen, and it's a wonderful choice if you require a solid setup.
Connectors
Finally, this monitor features a variety of connectors, including two Display Port 1.4 ports, two HDMI 2.0 ports, and one headphone jack. It's worth noting that the packaging includes an HDMI cable.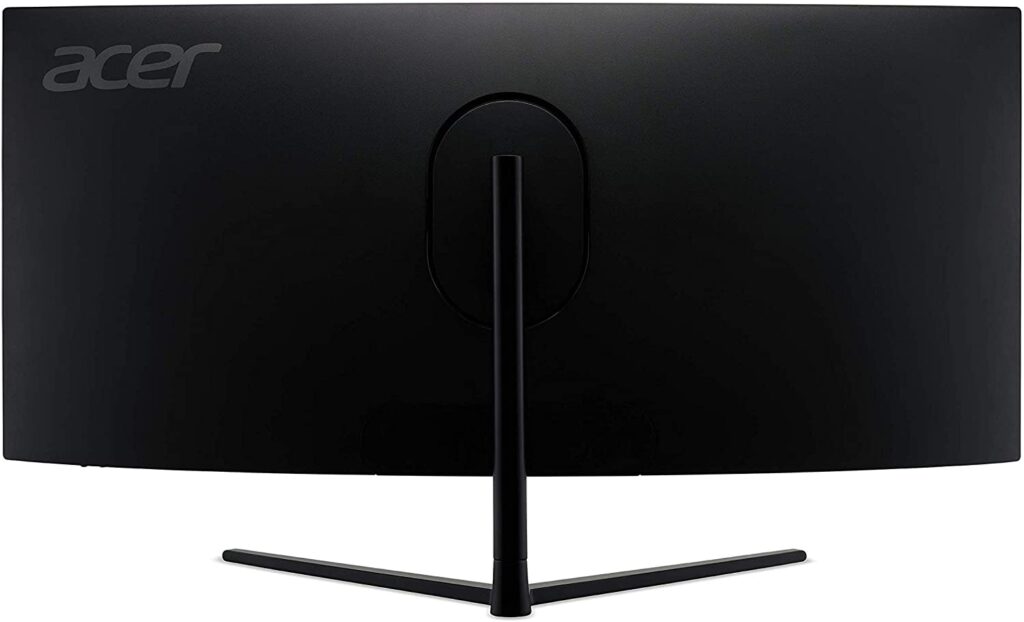 Features
Panel type
Because this monitor isn't in the top high-end category with outrageous prices, it's safe to assume that it won't have an IPS panel. Following that, they decided against using the IPS because of its typically slow response time. 
This, on the other hand, could have been avoided if the fast IPS technology had been included, as seen in the Dell S2522HG. However, they had no choice but to use the VA one in this price range. 
Although not ideal for professionals, the VA panel offers comparable quality to the IPS one, as well as higher contrast ratios, lower pricing, and no IPS glowing. It also has a faster response time than the standard IPS panel, so it is a great choice for gamers.
Brightness
However, as previously stated, when customers choose a panel other than IPS, they must pay special attention to the brightness ratio and choose a good contrast ratio for the display. 
Knowing this, they opted for one of the highest brightness levels available: 400 cd/m2. This is an extremely difficult ratio to find in a gaming monitor, particularly at this price point.
As a result, this is one of the display's first plus points, and I expect to see more unexpected features like this one. With 400 nits of full brightness, you'll have plenty of light for whatever you're doing, whether you're gaming or watching movies.
Refresh rate and Response time
Speaking of which, let's take a look at this display's gaming capabilities and see if it lives up to expectations. Unfortunately, for competitive gaming displays, this monitor features nothing out of the ordinary. 
It boasts a refresh rate of 144hz, which improves the fluidity of your gameplay and is considered an essential number for competitive gaming.
Aside from that, it has a 1ms response time, which is a must-have for gaming displays because it reduces command-to-screen response time. 
In general, it contains no surprises, as we expected, but it is nonetheless average for this price range.
Image Overall Quality
However, a feature that does not really match its prices and is directly related to gaming is the resolution of this display. 3440 x 1440 is indeed a feature not commonly seen either in gaming displays as also in this price range. 
This is a great plus point for the 34-inch display, which will deliver awesome crisp images and high PPI ratios, being really hard to see a pixel on the screen.
On the other hand, bear in mind that this is a gaming-focused display, so, depending on the games you want to play, if they're too graphics demanding, it may be a little too much depending on your graphics card to reproduce images at the 1440p of this display.
However, if you have a tough graphics card, this won't be a problem, and you'll be able to avail of sharp images and nice smoothness.
In addition, for featuring a VA panel, this display has more contrast than the IPS screens, highlighting 3,000:1. But, things remain pretty typical when it comes to color accuracy, including 16.7 Million supported colors.
As for the color gamut, this monitor shows another plus point and unexpected feature, including DCI-P3 93%, which, combined with the HDR 400 and the high contrast ratio, will deliver you vivid and clear images with awesome contrast and deep darks. 
So, we can conclude that this monitor, although featuring the VA panel, has one of the best images quality among the ultrawide gaming monitors at the same price range.
Final thoughts
When to buy it
If you need a curved ultrawide gaming monitor featuring great competitive-level gaming features, but don't want to spare image quality for this, the Acer EI342CKR is one of you're best and with the worthiest prices currently.
However, bear in mind that this monitor has 2k resolution, so if your graphics card does not have enough power to run your games at higher frame ratios, I recommend a 1080p ultrawide such as the LG 34WP65G-B.
You may like