Our Conclusion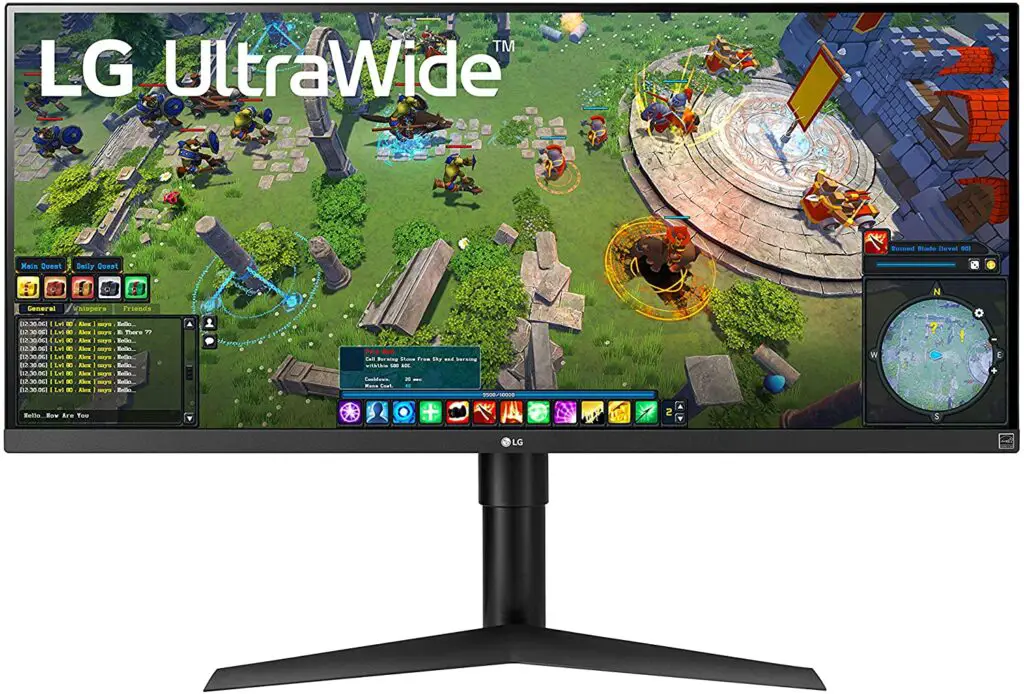 Due to the alarming levels of low PPI of the LG 34WP65G-B, as a result of its Full HD resolution, I currently would choose its 29-inch version (LG 29WP60G-B), which has affordable prices and an acceptable PPI ratio.  On the other hand, if you don't care about the low PPI and really need a 34-inch display, bear in mind that this is one of the cheapest with this screen size.
Pros
✓ IPS, HDR 10
✓ 75hz
✓ Height and tilt stand adjustments
✓ VESA support
✓ Affordable prices
This review will be more of a continuation of the LG 29WP60G-B one, which has its other version with some different features. So, to see which one is now more valuable, both in terms of features and pricing, let's have a look at the LG 34WP65G-B Review and see what makes it different from its younger sibling.
Continuing where we left off, the LG 29WP60G-B was said to be the cheapest ultrawide monitor evaluated on Reatbyte, and the best part was its outstanding features, which are true masterpieces of this display that don't really match its costs.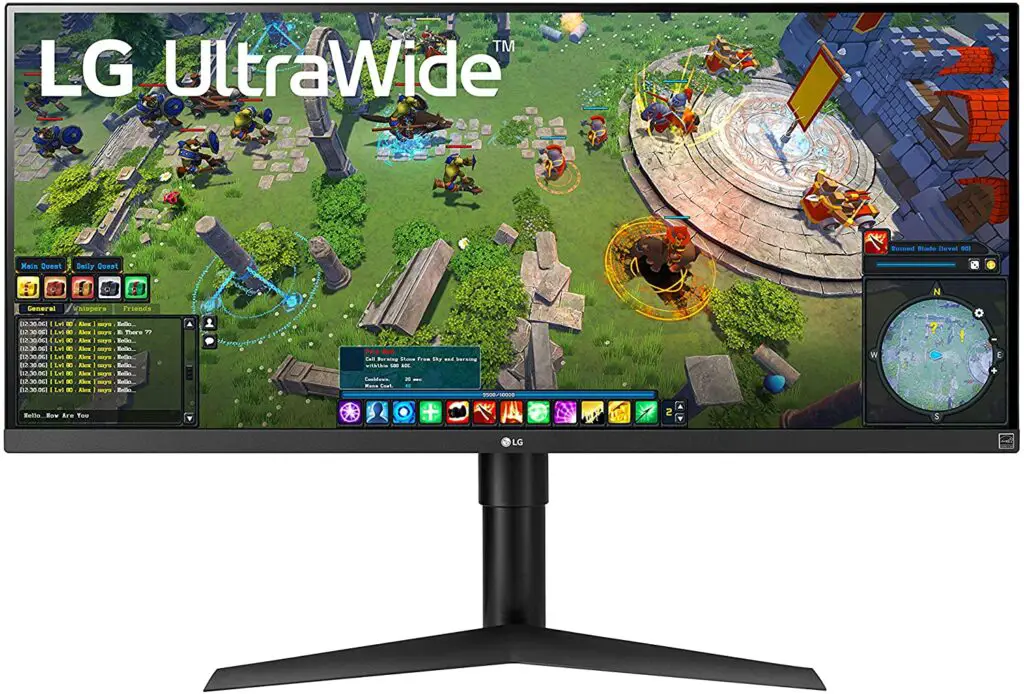 Subtle Design Differences
The LG 34WP65G-B, on the other hand, does not resemble its older sibling in terms of screen size, with a 34-inch display, measurements of 32.2 x 9.4 x 18 inches, and a weight of 17.40 pounds. 
Aside from that, they have the same overall aesthetics, with the same red pattern on the back of the stand and borderless bezels that reflect current display aesthetics trends.
Furthermore, this one has plus stand adjustments with tilt and height support, which are standard for Ultrawide screens, whereas the 29-inch version simply has tilt adjustment.
Note that it has VESA compatibility as well, however it lacks out speakers, thus if you require those, this monitor is not for you.
Connectors
It has the same connectors as its little brother, including 1x HDMI, 1x Display port, 1x USB-C, and 1x Headphone-out. Now that we've established that the two models are aesthetically comparable, it's time to examine the model's characteristics.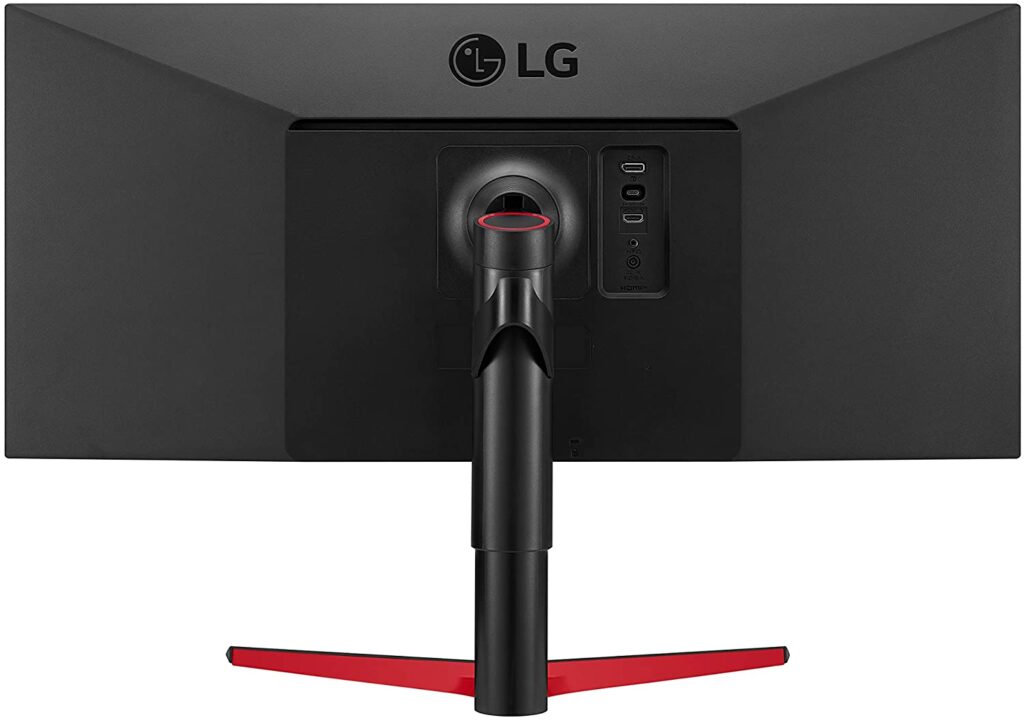 Features
Panel type
This monitor has a standard IPS panel, which supports sRGB 99 percent and 16 million colors. These won't provide the highest level of precision, but they will vastly enhance the visual quality over the other panels. 
In terms of the panel, both have basically the same features. However, this one has a little more IPS glowing than the other one, which is still quite unnoticeable tough.
Brightness
However, because the LG 34WP65G-B boasts up to 400 nits of the total brightness, which is a high-end brightness level that is unusual to find at this price range, I experienced more brilliant colors using it.
As a result, the LG 34WP65G-B is the monitor to choose if you want brighter and vivid images. This is the first major difference of both since the 29-inch one only features 250 nits of overall brightness.
Refresh rate and Response time
On the other hand, you won't get fantastic gaming features from any of them because they only have a 75hz refresh rate, which is fine for casual usage but not ideal for competitive gaming. 
You'll also get a 5ms response time, which is considerably less than the 1 ms recommended for competitive players. Both are not the ideal options if you require a gaming monitor in general.
Image Overall Quality
However, one of the main disadvantages of this display is its Full HD resolution for a 34-inch panel. Unfortunately, even the 29-inch version has this little flaw, which is caused by the low PPI ratio. 
As a result, you'll be able to see pixels on the screen, resulting in a blurry image overall. So, for the upper 24-inch displays, the advice is to go with one of 1440p resolution, such as the LG 35WN65C-B. 
Aside from that, this display has the HDR 10 function, which allows it to generate vibrant and crisp images with a strong contrast ratio and deep darks.
However, the HDR 10 isn't the best if you really need an actual HDR experience since this is the most basic HDR overall brightness. Instead, you should invest in at least an HDR 600 display such as the LG 32UL750-W, which is a little more costly, but it is absolutely worth it.
Final thoughts
When to buy it
Although featuring lower levels of PPI ratio than its 29-inch version, the LG 34WP65G-B is still one of the cheapest 34-Inch ultrawide displays currently. In addition, it has better brightness featuring 400 nits overall. 
Also, it has further stand adjustments, including this time the height support. Just bear in mind that it has blurred images in comparison to other 1440p displays.
You may like