Our Conclusion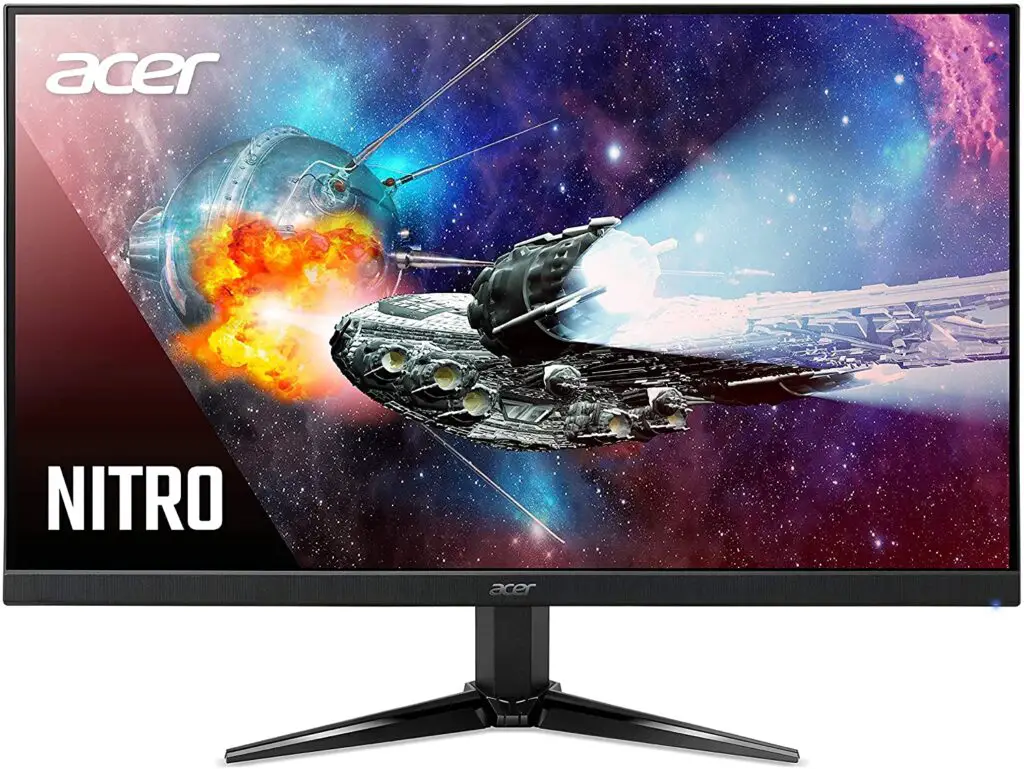 We can affirm that the Acer Nitro QG241Y monitor fits perfectly in the casual screens with a reasonable pricing category after reviewing all of its characteristics and current prices. However, because of its VA panel, this one isn't ideal if you require the highest image quality for this price range. In this situation, I recommend the Acer Nitro VG270, which is presently on sale and has an IPS panel.
Pros
✓ Affordable
✓ Nice contrast ratio
✓ 75hz, 1ms
✓ VESA support
✓ HDR 10
Cons
✘ VA panel
✘ Limited Stand adjustments
We're continuing our Acer Nitro line monitors review this week. In previous postings, we looked at several excellent gaming alternatives for people looking to get into the competitive scenario, and the Acer Nitro VG272 and Acer Nitro XZ270 were the ones that truly stood out.
So, as we finished wrapping up the gaming models of the week, this one is mostly for casual displays, for people who want to play casual games or even work with video editing, depending on the screen quality.
So, without further ado, let's dive right into the Acer Nitro QG241Y Bii Review and see if this is a viable alternative to chose.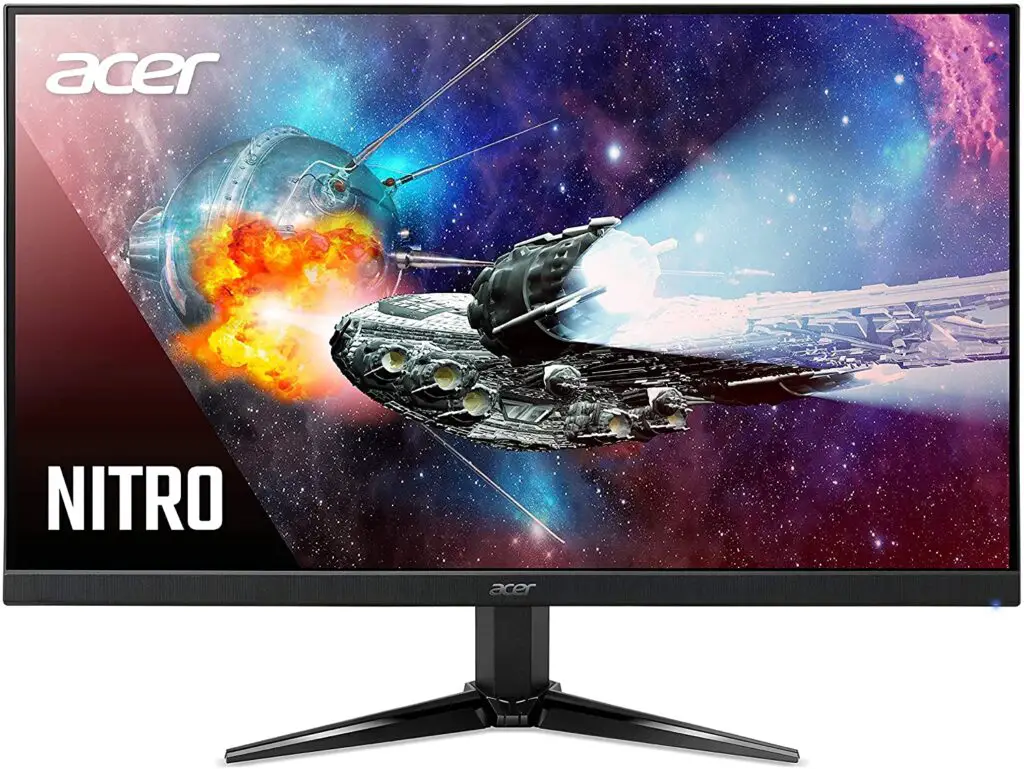 Note that there are two variants of this display: the Bii and the Pbmiipx, the latter of which was introduced in 2021 and improved the gaming-focused capabilities.
For further details, continue on the review. We'll try to compare both and check out which one is the worthiest for the target buyers.
Typical but Effective Aesthetic
As predicted, this monitor follows the same design pattern as the rest of the Nitro line's half-triangular stand displays. The stand, however, is different in that it lacks the red details on the back that certain versions, such as the Acer Nitro VG270, have.
The remaining parts are identical to the others. It's worth noting that most of these models' stands lack features like swivel and height adjustment, leaving just tilt, and this one is no exception. We can see from the rear that it has the same gaming-like design as the others.
It has VESA compatibility, but it doesn't have out speakers, so if that's a must-have feature for you, you're already aware. We can state that this is an overall good-looking design; it adheres to current trends such as borderless bezels, yet it looks just like other Acer Nitro monitors. 
Both the Pbmiipx and the Bii variants of this display have the same aesthetics.
Connectors
Continuing on the rear, keep in mind that this display is missing several key ports, such as the Display port, which is to be anticipated at this budget point. Furthermore, they chose to include just 2 x HDMI and 1 x VGA as the display's inputs.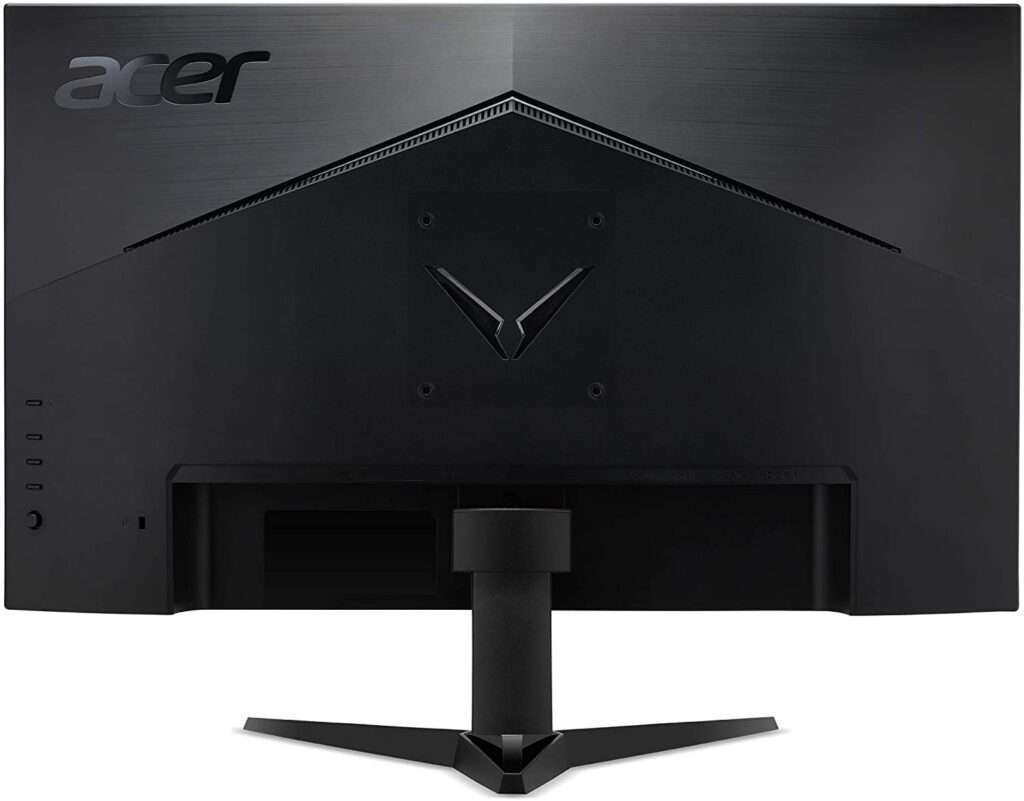 Low or Mid-End Features?
Panel type
Let's start with the most essential aspects of this display and see if it's suitable for a casual screen. On the panel type, we may assume that they were attempting to keep the price of this monitor as low as possible without sacrificing overall quality.
The VA panel is an excellent compromise between good image quality and low pricing. Although it has worse color accuracy than most other IPS panels, it offers higher contrast ratios, which may be a significant advantage if you want to watch movies on a monitor.
The lack of IPS glowing on VA displays is another advantage of the VA panel over the IPS. If you work on digital media or similar fields, on the other hand, an IPS panel is a must. Fortunately, there are numerous excellent options at this price bracket, with an IPS panel, such as the Acer K243Y.
They retained the standard color support of 16.7 million, which is standard for IPS screens. It's worth noting that the panel in both versions is identical.
Overall, the VA panel is a solid option for good image quality and low costs. Due to the limited total viewing angles, the overall brightness of the monitor becomes more essential than IPS for VA panels.
Basic but Solid Brightness
I'm not going to lie, I was a little underwhelmed by this display when I first saw its overall brightness. Given the VA panel of the monitor and the price range at which it is marketed now, they could significantly increase the maximum brightness ratio.
However, depending on where your display is set, 250 nits of full brightness will not disappoint you. If you will be using your computer in direct sunlight, however, a monitor with a brightness of 300-350 nits, such as the Acer Nitro VG272, is recommended.
Because both versions have the same brightness, we can already imagine that the gameplay characteristics of each will begin to differ:
Nice Gaming Experience
The AMD FreeSync technology on the Acer Nitro QG241Y will assist to decrease tearing on the screen during your gaming sessions. Given that this is a casual monitor, it nevertheless boasts some decent gaming capabilities.
In terms of refresh rate, you won't get the best for competitive gaming, but you'll get plenty for a pleasant experience at 75hz. This overall refresh rate will aid you not just in your gaming but also in your daily tasks, making things smoother than a 60hz screen but not quite as smooth as 144hz screens. 
Aside from that, you'll have a 1ms response time, which may be of little value if you simply want to play casual games, therefore Acer should utilize 4 or 5ms for this display and upgrade the panel quality to IPS, in my view.
After all of that, the answer is yes, you can play your games on this display and get fantastic results. Keep in mind, however, that if you intend to participate in competitive gaming, a 144hz display is required. 
If this is the case, you should choose the Pbmiipx version, which has a 144hz refresh rate and a 1ms response time. And fortunately, on the day I'm writing this post, the Acer Nitro VG270 is on sale at awesome prices and gaming-focused features. 
Image Overall Quality
As previously said, if you want a professional display, this is not the monitor to focus on. Still, you won't have terrible graphics; on the contrary, you'll have excellent image quality that's comparable to that of an IPS display, although not quite as good.
Furthermore, this monitor has a total contrast ratio of 3000:1, which is higher than other IPS panels. Furthermore, because this display is 24″ and has a 1080p resolution, it offers a really beautiful, balanced PPI level, resulting in crisper and clearer pictures. Besides that, it counts with HDR 10, which will help to increase even more the contrast and deepen the darks. As a consequence, this is one of the year's most cost-effective casual monitors.
Final thoughts
When to buy it
If you need a cheap option of a casual monitor, the Acer Nitro QG241Y has one of the cheapest prices for this price range. However, if you invest a little more you can already afford a gaming display, with better quality than this one, with the Acer Nitro VG270.
You may like