Our Conclusion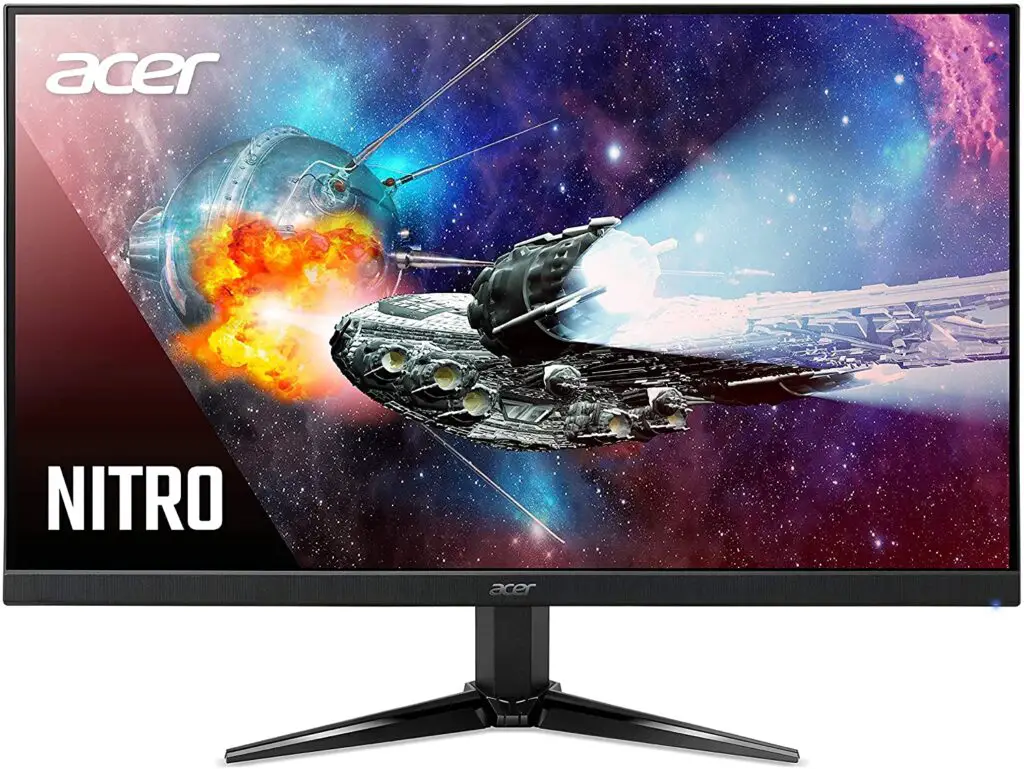 The Acer Nitro QG241Y is a decent monitor, but its upgraded version, the Acer Nitro QG241Y Pbmiipx, outshines it with superior features and a more affordable price, making the Acer Nitro QG241Y Bii less attractive at present. Additionally, if you're in need of a larger screen with improved features and don't mind the VA panel, the Acer ED273UR could be a great alternative.
Pros
✓ Affordable
✓ Nice contrast ratio
✓ 75hz, 1ms
✓ VESA support
✓ HDR 10
Cons
✘ VA panel
✘ Limited Stand adjustments
This week, we're continuing our review of Acer's Nitro line of monitors. In our previous posts, we explored some fantastic gaming options that caught the attention of competitive gamers, with the Acer Nitro VG272 and Acer Nitro XZ270 standing out as top contenders.
Now, let's shift our focus to casual displays, catering to those who enjoy playing laid-back games or even working with video or image editing, all while prioritizing screen quality.
Without delay, let's delve into the Acer Nitro QG241Y Bii Review and find out if it's a worthy choice for your needs.
July 30, 2023 Update: We checked its current prices and compared it to the main budget monitors in this price range. Besides, we corrected typos and added a table with the monitor's specifications.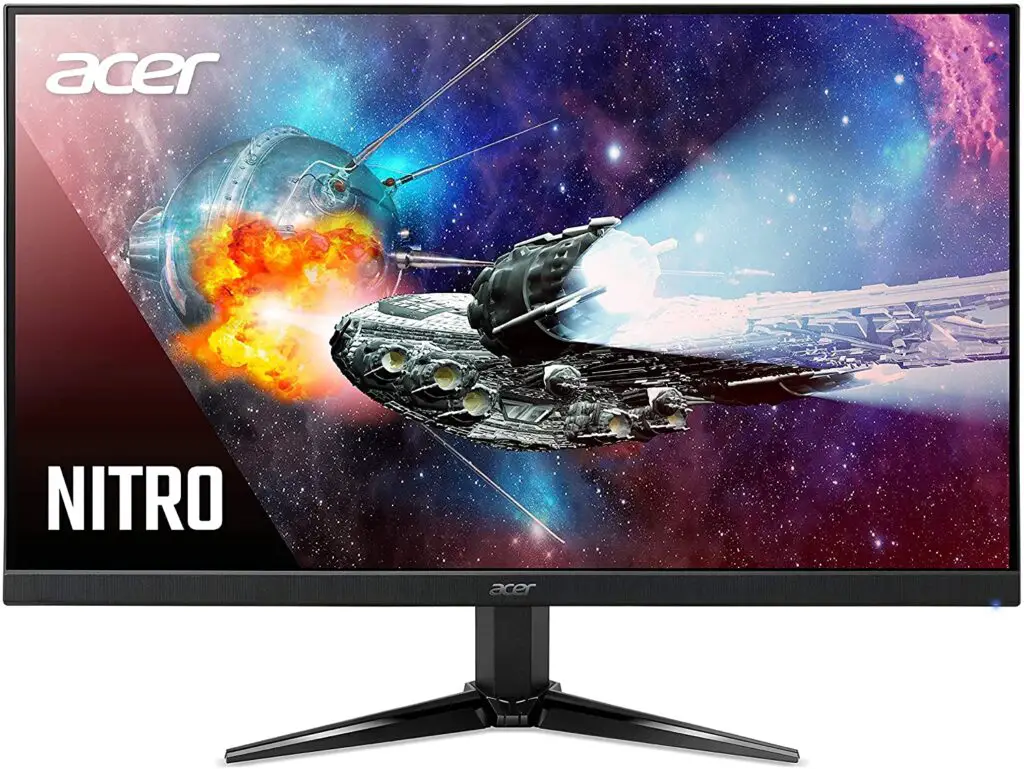 It's important to note that there are two versions of this display: the Bii and the Pbmiipx. The latter was introduced in 2021 and comes with enhanced gaming-focused features.
Now, let's dive into the review and compare both variants to determine which one offers the best value for the target buyers.
Typical but Effective Aesthetics
As expected, this monitor stays true to the Nitro line's design aesthetics, featuring the iconic v-shaped stand. However, it differs from certain versions, like the Acer Nitro VG270, as it lacks the striking red details on its back part.
The stand shares similarities with other models, providing tilt adjustment while omitting swivel and height options. Looking from the rear, it boasts a gaming-inspired design, and though the 3-sided bezels aren't the slimmest we've seen, they are sleek enough to blend seamlessly into your setup.
VESA compatibility is available, but built-in speakers are not, so keep that in mind if audio is a priority for you. If you're on the lookout for good speakers on a budget monitor, the Dell S2422HZ might be a more suitable option. Overall, the design strikes a balance between modern trends, such as borderless bezels, while staying true to the familiar Acer Nitro look.
Both the Pbmiipx and Bii variants share the same appealing aesthetics, offering a consistent visual experience.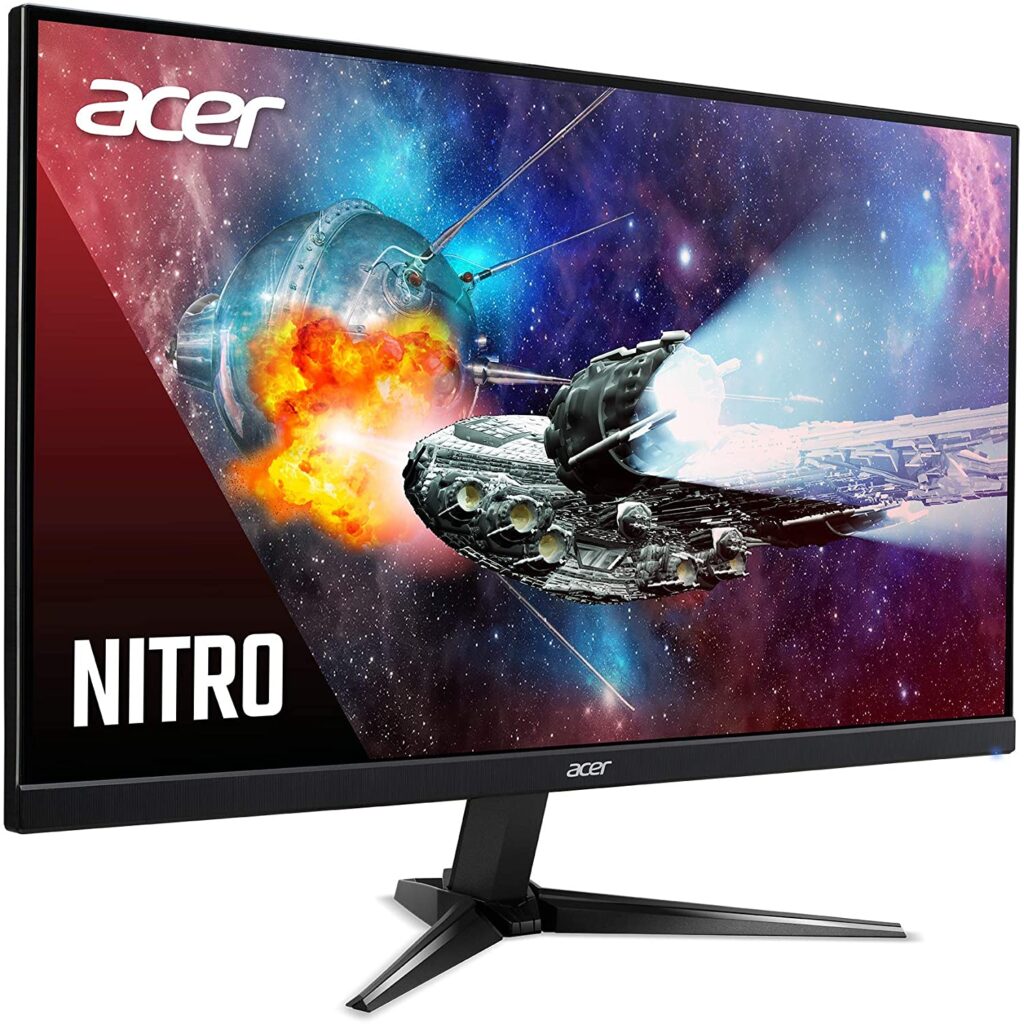 Connectors
Moving on to the back of the monitor, it's important to note that this display does lack some essential ports, which is quite common in monitors at this price range. In terms of connectivity options, they have opted for only 2 x HDMI and 1 x VGA as the inputs for this display.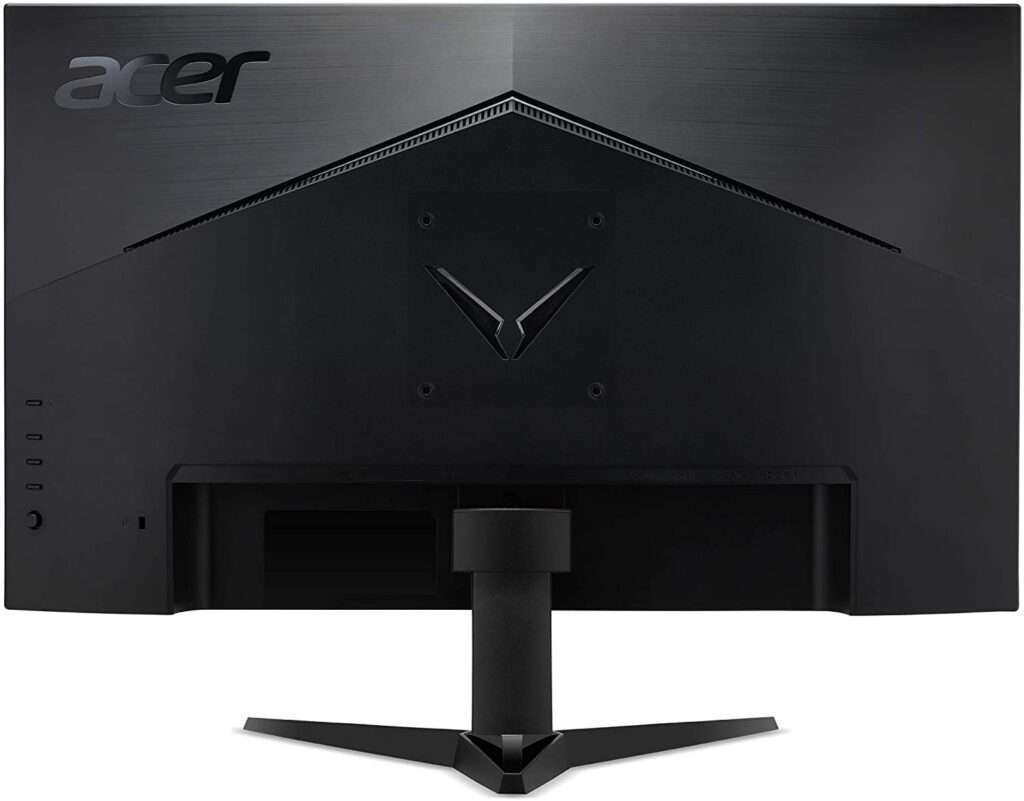 Low or Mid-End Features?
Panel type
Let's kick things off by exploring one of the most critical aspects of this display and determining its suitability for casual use. From what we'll discuss in this section, it appears that the creators aimed to strike a balance, ensuring the monitor's price remains as low as possible without compromising overall quality.
The VA panel emerges as an excellent compromise, offering a blend of good image quality and budget-friendly pricing. While it may not boast the same color accuracy as most IPS panels, it more than compensates with higher contrast ratios, making it an appealing choice for movie enthusiasts.
Another advantage of the VA panel is the absence of IPS glowing, a common issue with IPS displays. However, if your work revolves around digital media or related fields, an IPS panel becomes a must. Fortunately, within this price bracket, you'll find numerous excellent options featuring an IPS panel, like the Acer K243Y.
The display retains the standard color support of 16.7 million, which is typical for IPS screens. It's worth noting that the panel in both versions remains identical.
All in all, the VA panel offers a solid choice for achieving good image quality without breaking the bank. Keep in mind that due to the limited total viewing angles, the monitor's overall brightness becomes more crucial for VA panels compared to IPS panels.
Basic but Solid Brightness
I have to admit, my initial impression of this display left me slightly underwhelmed, particularly with its overall brightness. Given the VA panel and the current market price range, I expected the maximum brightness ratio to be significantly higher.
However, if your display is set up in an environment with suitable lighting conditions, the 250 nits of full brightness should suffice and won't disappoint. But if you plan to use your computer in direct sunlight, a monitor with a brightness of 300-350 nits, like the Acer Nitro VG272, would be a more recommended option.
Now, since both versions share the same brightness, we can anticipate that the gaming characteristics of each will start to diverge:
Nice Gaming Experience
The Acer Nitro QG241Y comes equipped with AMD FreeSync technology, which helps reduce screen tearing during your gaming sessions. While this monitor is designed for casual use, it still offers decent gaming capabilities.
In terms of refresh rate, it's not the best for competitive gaming, but 75hz provides a pleasant experience. This refresh rate works well for both gaming and daily tasks, offering smoother visuals than a 60hz screen, though not quite as smooth as a 144hz display.
Its 1ms response time might not be essential for casual gamers. Personally, I believe Acer could have opted for a 4 or 5ms response time and upgraded the panel type to IPS.
Overall, you can play games on this monitor and achieve fantastic results. However, if you plan on participating in competitive gaming, a 144hz refresh rate is still the minimum requirement.
If that's the case, I recommend considering the Pbmiipx version, which offers a 144hz refresh rate and a 1ms response time. Besides, on the day of writing this post, the Acer Nitro VG270 is on sale at awesome prices and features that cater to gaming needs.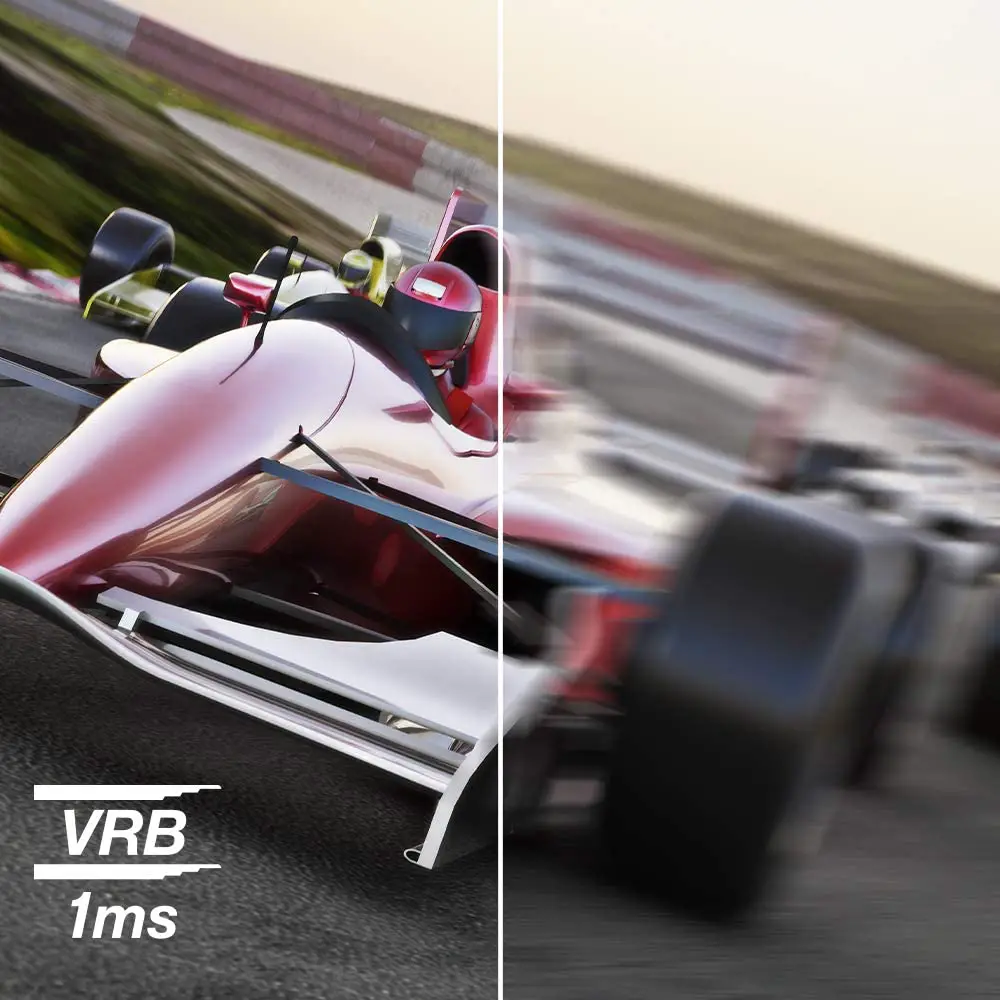 Image Quality
As mentioned earlier, if you're seeking a professional-grade display, this might not be the ideal choice for you. However, don't fret; this monitor still delivers excellent image quality, comparable to that of an IPS display, although not quite reaching the pinnacle of perfection. Nonetheless, if we were to compare it to those high-end, high-priced screens, it might fall on the lower end of the spectrum. Yes, some of those monitors come with a hefty price tag, but when it comes to image quality alone, this one might not stand a chance.
Surprisingly, the colors out of the box are far from being washed out, which is not a common feat in VA panels, especially in the budget-friendly category. The good news is that you can easily fine-tune the colors to your liking by adjusting the RGB tones in the menu.
Moreover, this monitor boasts an impressive total contrast ratio of 3000:1, surpassing many IPS panels in this regard. Additionally, with its 24″ size and 1080p resolution, it strikes a beautiful balance in PPI (pixels per inch), resulting in crisper and clearer visuals. To top it all off, it comes equipped with HDR 10, which further enhances contrast and deepens dark colors. Consequently, this monitor stands as one of the most cost-effective casual options you can find this year, even though the Acer ED273UR still takes the crown as the king of the 27-inch class.
Final thoughts
When to buy it
The pricing discrepancy between the Acer Nitro QG241Y and its upgraded (Pbmiipx version) is quite perplexing, especially considering the latter boasts superior features overall. Despite its age, the Pbmiipx version remains one of the top choices for a 24-inch VA monitor today, making it a highly recommended option. Alternatively, if you require more screen real estate, the Acer ED273UR might be a suitable fit for your needs.
You may like