Our Conclusion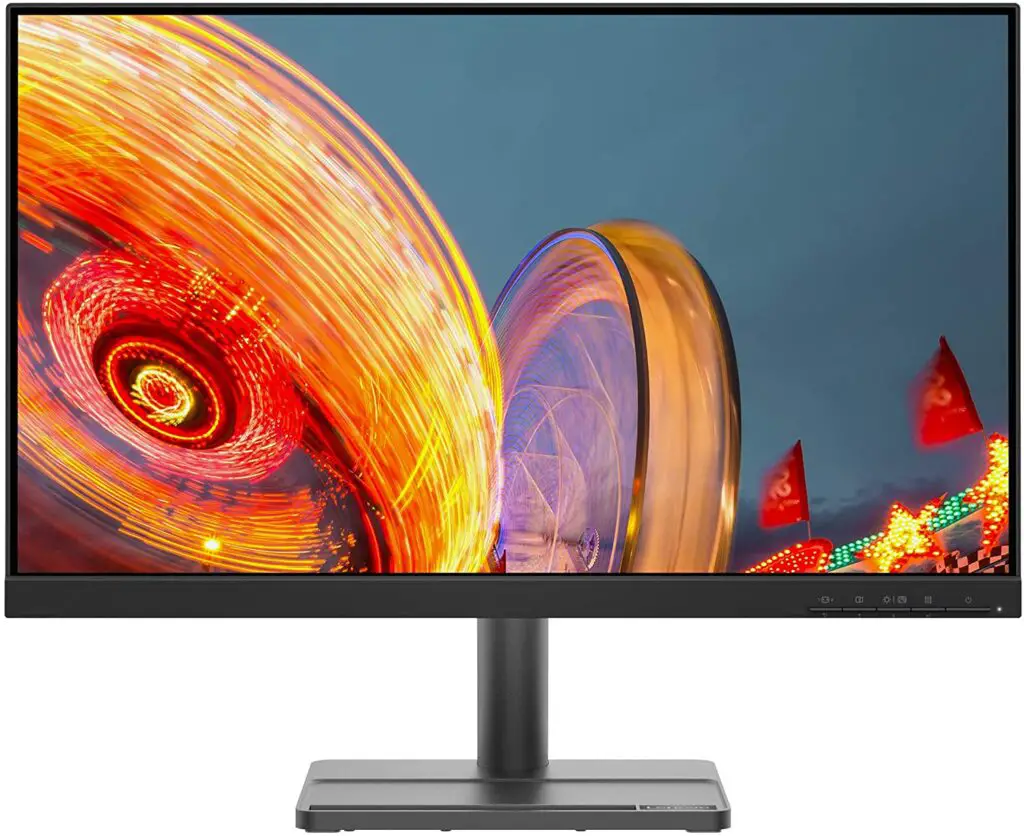 If you're looking for a low-cost VA screen, the L24e-30 is a great choice. It has good visuals and features for a casual display. However, keep in mind that monitors with the same price range and the IPS panel, such as the Acer K243Y and the Dell S2421HS, are available currently.
Pros
✓ 75hz
✓ VESA support
✓ Thin overall aesthetics
✓ 4 ms
Cons
✘ Lack of some stand adjustments
✘ VA panel
This is the first Lenovo monitor we've ever reviewed on reatbyte, so today's article will be particularly special. And, to get things off to a good start, we chose a monitor for those looking to save money these days. 
This year, Lenovo released a monitor with some attractive pricing. Glancing at the Lenovo L24e-30's specifications, we can see that it could possibly fall into the professional display category. However, it does have some downsides that we're going to see further in this review. 
So, without further ado, let's take a look at the Lenovo L24e-30 to see if it's a worthwhile investment or a flop.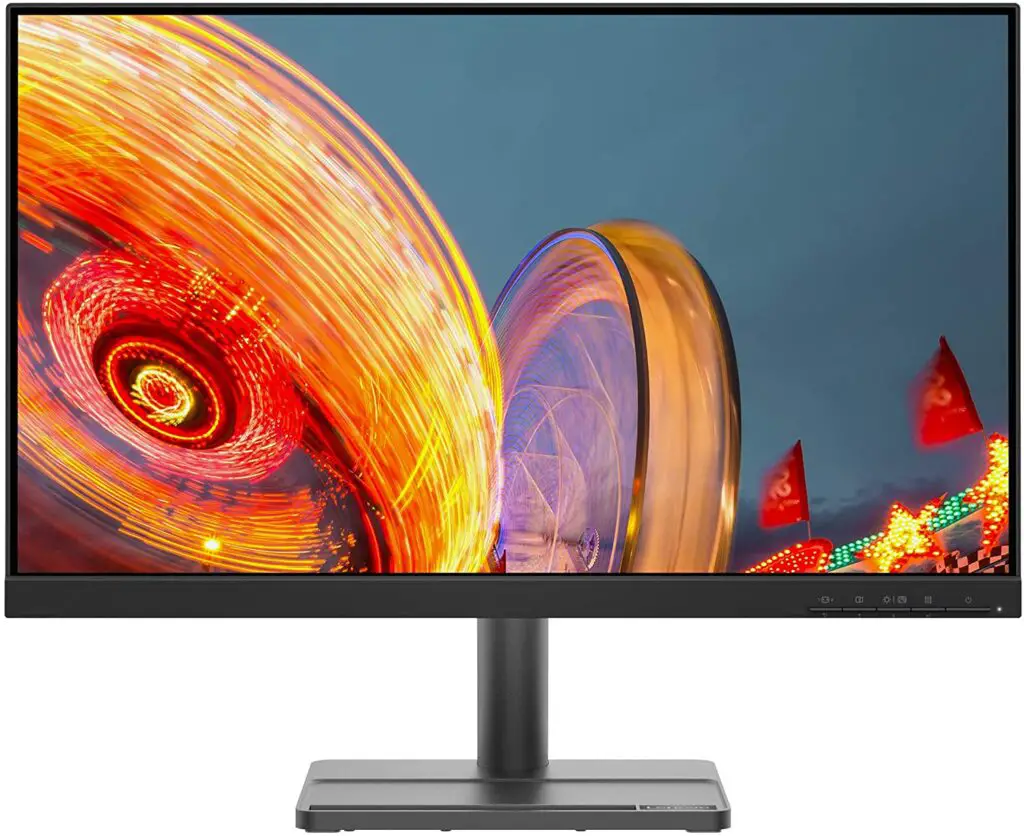 Design
When we first saw commercial images of this display, the first thing that caught our eye was its extremely thin bezels, which are supposed to display the image all the way around the panel. 
However, in real life, the screen does have certain inches with no displayable areas, widening the monitor's bezels slightly. Well, that's not a genuine issue either, because the bezels on most modern displays like this one are still pretty narrow.
Aside from that, as is Lenovo's tendency of placing their logo on unexpected parts of the display, you'll notice that their logo is nowhere to be seen on the bottom bezel, where is the usual for other manufacturers.
So, you could ask, where the hell is the Logo? And, well, you might get your answer if you check at the back of the display. They chose to place the logo on the top corner of the display's back, which sets this monitor design out from the norm.
Also, the display buttons are on the bottom bezel instead of below it. This bezel would be weirdly vacant if those buttons weren't there, and it would surely get in the way of the overall aesthetics.
Looking at the monitor from the side, we can see that it is quite thin, measuring 6.5 x 21.28 x 17.1 inches and weighing only 11.28 pounds, which is a significant bonus for those looking for a minimalist setup.
Going all the way down to the stand, we can notice that it has, again, the Lenovo Logo, situated on its bottom right corner. Also, unfortunately, this stand does not has wide adjustments, so you may content with only tilt support.
In addition, this monitor has 100x100mm VESA support, allowing you to place it on the wall with no headaches. On the other hand, it lacks out speakers, so if you need those, this is not the display for you, instead, you should check the: Acer Nitro KG252Q.
Connectors
Lastly, this monitor has standard connectors for its price range, including 1 x HDMI 1.4, 1 x VGA, 1 x Audio Out (3.5mm), and you'll find an HDMI cable on the box.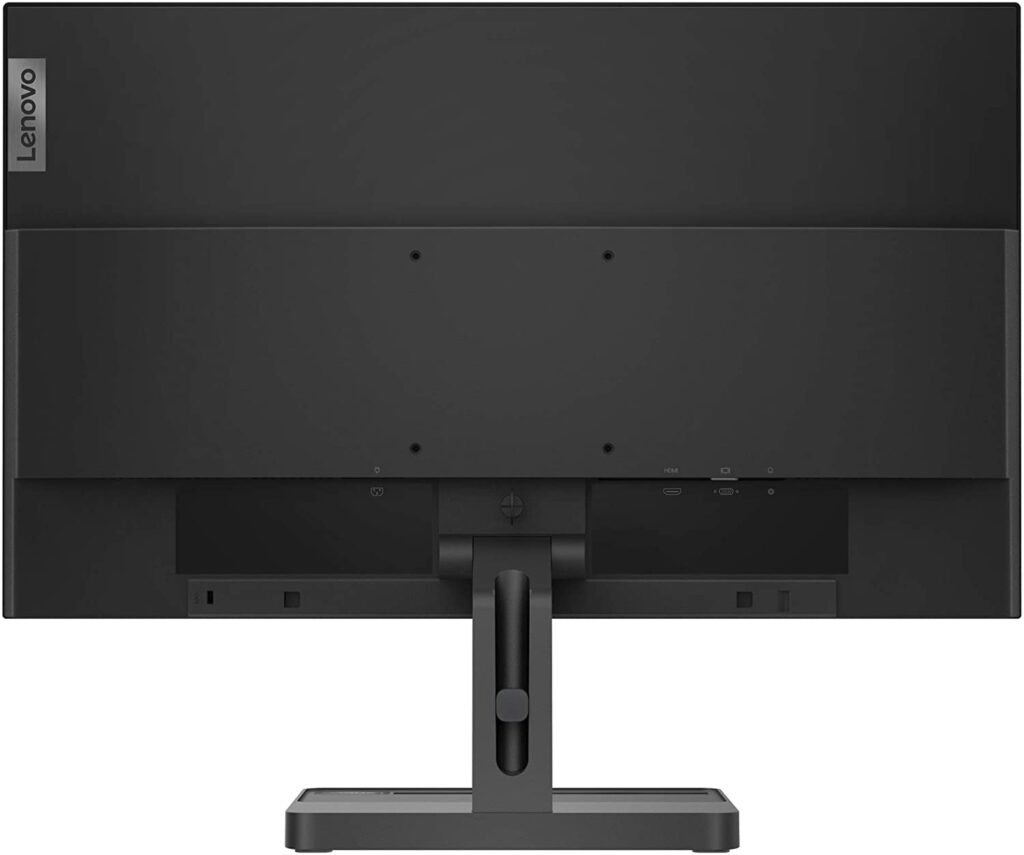 Features
Panel type
Now, let's look at the monitor's features and see if they're as out of the ordinary as the display's aesthetics. On the panel type, we have the first feature of this model that disappointed me, which is its VA panel.
Although not the worst of the three, this panel falls short of the IPS panel in terms of color accuracy. And its price isn't even an excuse since monitors with an IPS panel such as the Acer K243Y and the Dell S2421HS are available for the same prices currently. 
Aside from the drawbacks, the VA has some advantages, such as the lack of IPS glowing and higher contrast ratios. This monitor has a 3000:1 total contrast ratio, so if you like a great contrast screen, this is a nice choice.
In addition, this display supports 16.7 Million colors and 72% NTSC color coverage, which is a little bit better than the sRGB 99%, but nothing perceptible to human eyes. So, in the end, it is all in the standard category here on panel type.
Brightness
As expected, its overall brightness matches its low pricing, but this time, it's the standard ratio for a low-cost panel. Although some argue that 250 nits are insufficient for daily tasks, I can assure you that if you use it at 100%, you will have no problems at all.
However, if your desktop is in front of a window, this low ratio can be a problem and, depending on the quantity of sunlight on the screen, it may spoil the displayed images. 
Yet, if this screen had an IPS panel, this brightness would be even less of an issue, but since it doesn't, we'll simply have to live with it.
Refresh rate and Response time
As the L24e-30 has an average price of $150, it is quite predictable that it won't have great gaming features for competitive gamers.
Fortunately, they did not cut corners and chose to use 75hz, which makes a significant difference in the smoothness of daily usage.
On the other hand, it has a response time of 4ms, which is average for this price range and is not a good number for competitive gaming. 
In contrast, if you do not intend to play competitive gaming with this monitor, this feature is unimportant because the differences in daily usage are almost inexistent.
Image Overall Quality
The L24e-30 is a 24-inch display with a Full HD resolution, so it has an average PPI number, delivering sharp images with good clarity and making it difficult to spot a pixel on the screen. 
In addition, the display's VA panel contributes to images with improved contrast and color accuracy. In general, this panel will provide you with the fundamentals for having a good experience with a casual monitor, but not enough to place you in the professional category.
Final thoughts
When to buy it
If you really need the VA panel, the L24e-30 monitor is one of the most affordable releases of the year. However, you can easily find IPS monitors at the same price range, with better color accuracy such as the Acer K243Y and the Dell S2421HS.
You may like