Our Conclusion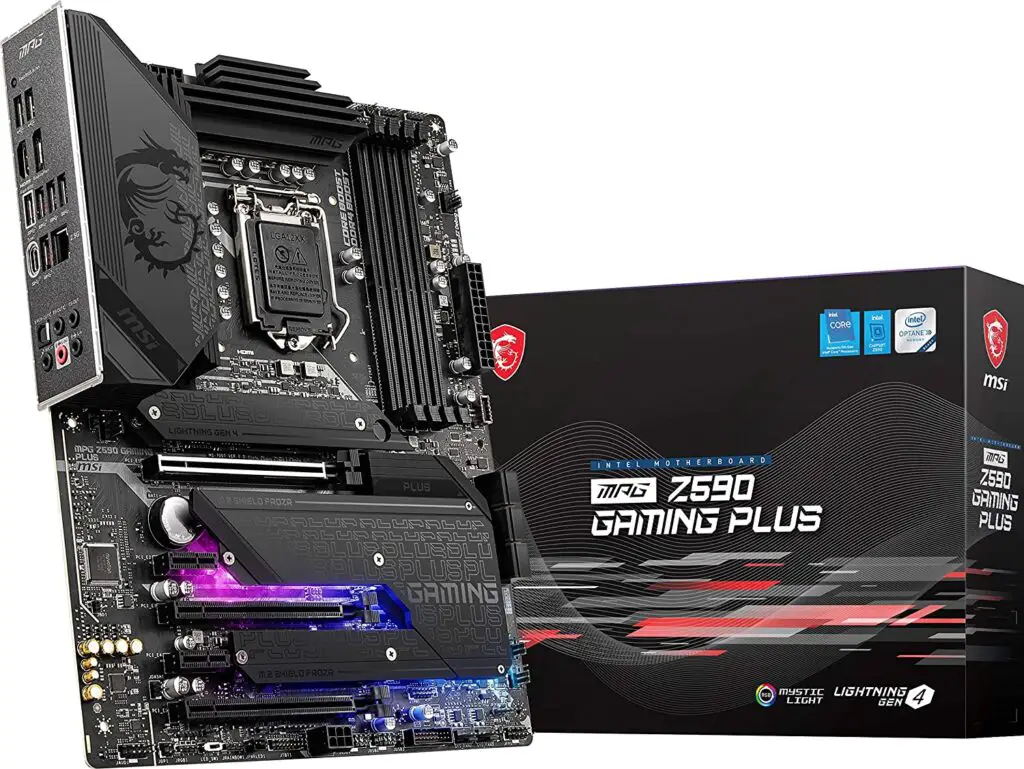 The MSI MPG Z590 Gaming Plus is one of the greatest high-end budget Intel motherboards on the market right now, especially at its present pricing. MSI did a good job on this model, providing some nice features without raising the price. On the other hand, this motherboard is recommended if you need a high-end board to overclock your CPU, but if you don't, the B series, such as the ASUS Prime B550-PLUS board, can save you money.
Pros
✓ Up to 5300Mhz Memory OC
✓ Fully shielded style
✓ RGB LED under the chipset
✓ PCIe 4.0 support
✓ Good VRM circuit number
Cons
✘ RAM slots without protection
✘ Only 1x PCIe x16 with steel shield
Surprisingly, compared to previous years, high-end motherboards are now much more affordable, particularly new releases such as the: GIGABYTE Z590 AORUS Elite.
As a result, depending on the mid-range motherboard you choose and its deals, it is far more worthwhile to go with a high-end motherboard at roughly the same price nowadays. 
And for this post, we have a new MSI motherboard release of the Z590 that has all the makings of being one of the company's best releases of the year in terms of features and pricing.
So, without further ado, let's dive right into the MSI MPG Z590 Gaming Plus and see if it's a worthwhile high-end motherboard.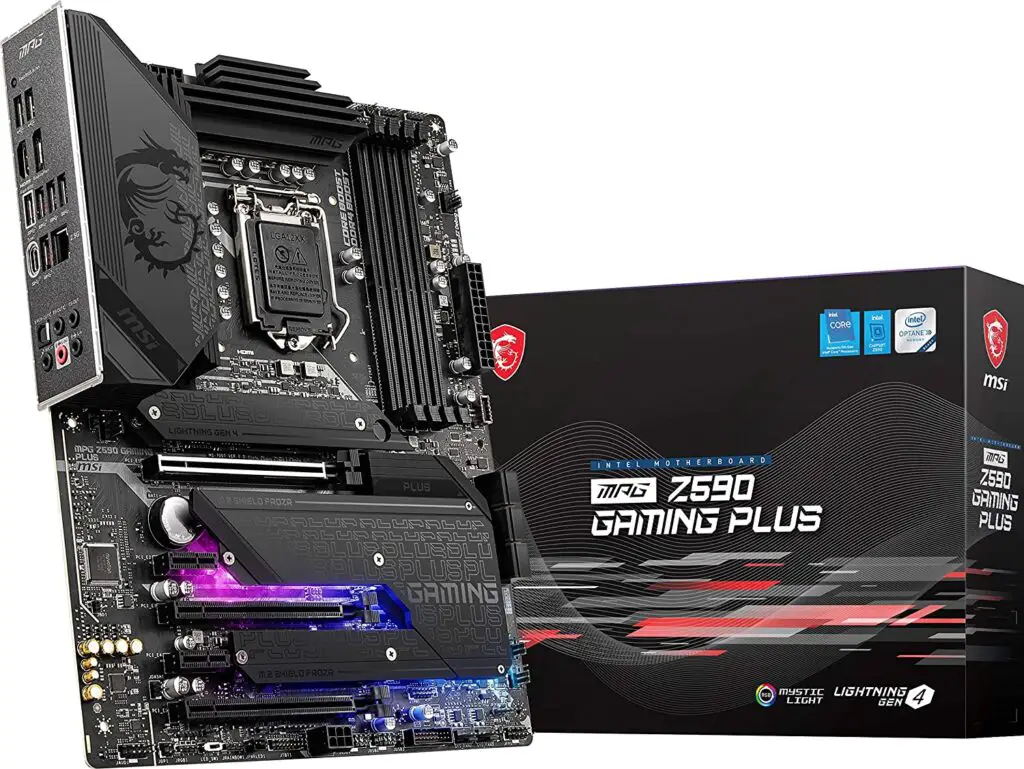 Design
At first glance, we can see that this board adheres to gaming-like aesthetics, with its robust overall design, numerous shields and heatsinks, and RGB LEDs.
Starting with the heatsinks, those are quite enlarged, transmitting reliability right away, and the drawing patterns on them are among my favorites of all MSI motherboards.
Going all the way down to the M.2 shields, we can see the "plus" name repeated as a pattern with some gray colors, giving this motherboard even more of a plus charm.
Also, because the board is almost entirely shielded, there was no room to add plus details on the motherboard itself, so it has nothing special.
The RGB LEDs on the chipset extend all the way through the M.2 shields, creating a stunning illumination effect. In general, this motherboard, in my opinion, has one of the nicest styles and drawing patterns of all the MSI boards thus far.
But now it's time to examine the model's specs to determine if it's more than just a pretty motherboard.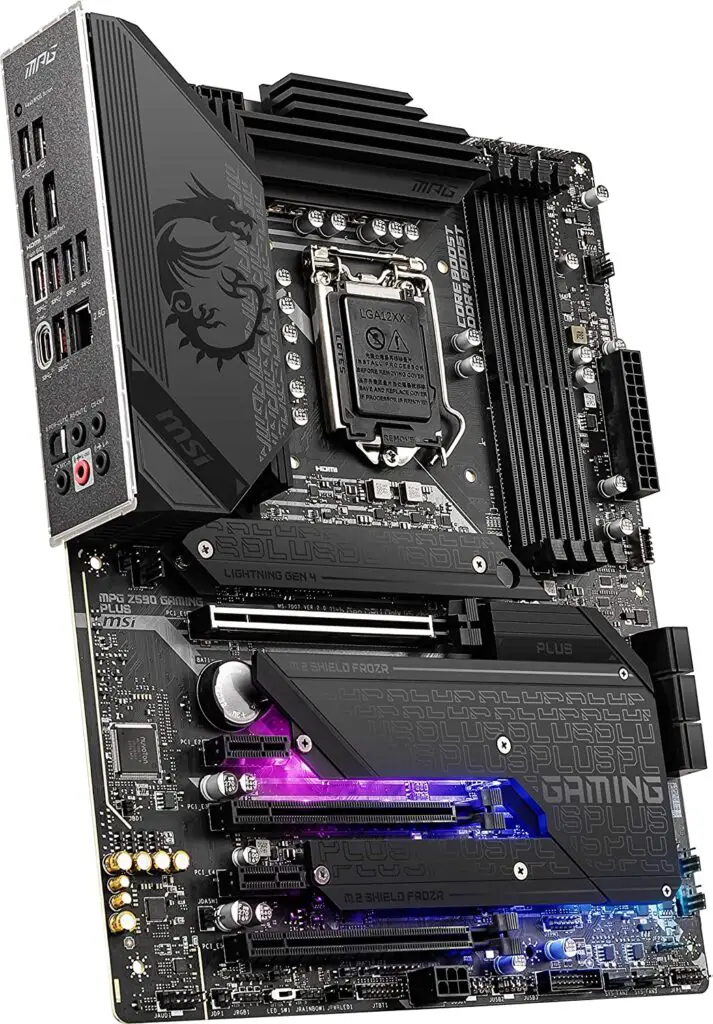 Socket and Chipset
You can't expect anything less than one of the best sockets and chipsets on the market for a high-end motherboard. So it has the Z590 chipset, which is currently one of the best and will provide you with one of the highest overclock margins. 
Because this chipset is part of the Z series, it supports CPU overclocking, so if you are an enthusiast, this is the series to choose. Furthermore, this chipset already supports the PCIe 4.0 pattern, which significantly increases the speed of your connectors.
Furthermore, you'll have an LGA 1200 socket, giving you a wide range of CPU options, from the Comet lake (10th gen) to the Rocket lake (11th gen).
Memory
As previously stated, this chipset enables high overclocking thresholds for motherboard memory sockets. This means that you'll be able to overclock your memory to 5333 Mhz, which is one of the finest ratios among all the motherboards evaluated on Reatbyte.
The MSI MPG Z590 Gaming Plus motherboard will provide you with 4x slots, dual-channel support, and a total storage capacity of 128GB.
Furthermore, if you use an 11th generation CPU, these motherboard slots can reach native speeds of 3200 MHz; however, this number drops to 2933 MHz for 10th generation CPUs.
Overclock and Recommended Processors
Given its features, the MSI MPG Z590 Gaming Plus is unquestionably a high-end motherboard. As a result, when choosing the proper CPU, you'll need to consider if it will fully utilize the capabilities of this board.
There's no point in spending more money on a high-end board like this one if you're not going to use it to its full potential. 
So, for this board, we recommend an 11th generation CPU because you'll get PCIe 4.0 and higher memory overclocking margins with that line.
Also, as I've always said, if you have no intention of overclocking, there's no reason to spend the money on a high-end motherboard like this; instead, go with the B series, such as the ASUS Prime B550-PLUS, and save a lot of money.
As for a recommendation, keep in mind that you'll have no limitations because this motherboard was designed to support energy-hungry CPUs. Nonetheless, I recommend the i5-11600K and the i7-11700K, which are two of the greatest options for this new generation.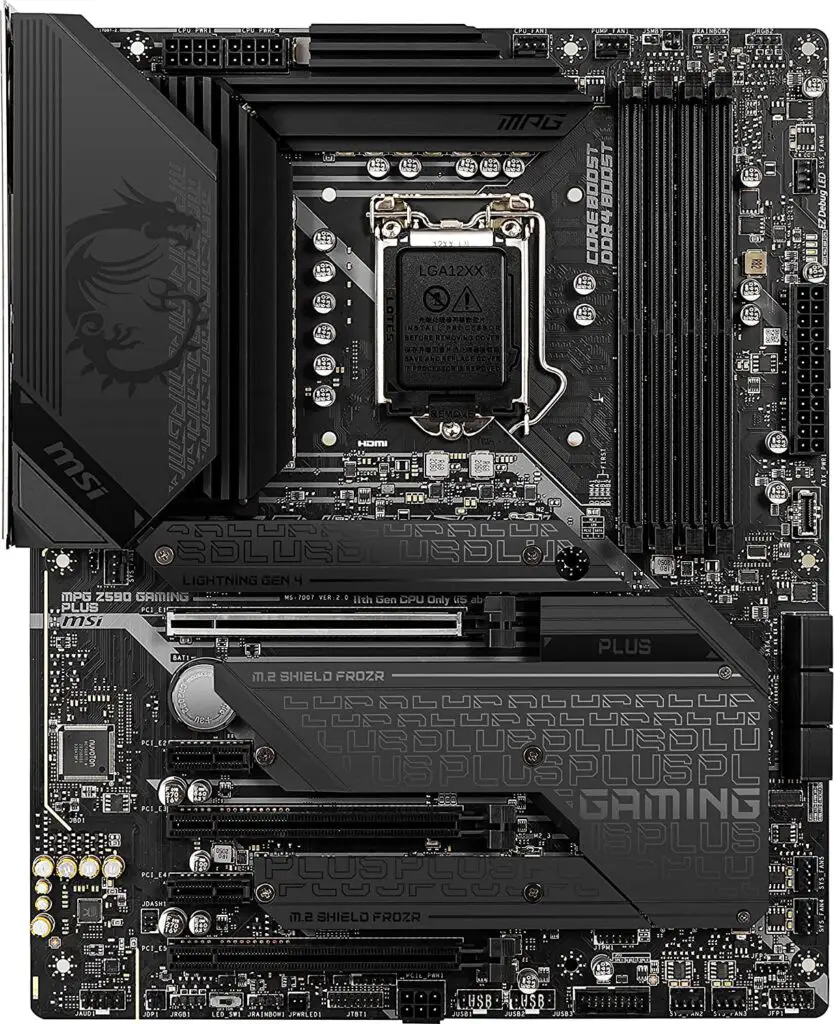 VRM and Connectors
The MSI MPG Z590 Gaming Plus has 14 + 1 +1 VRM circuits, which is definitively a high-end average number, which is better availed by those who want to overclock the CPUs without overheating issues.
In addition to that, this motherboard also has some connectors that really match the motherboard's prices. So, let's check now which connectors this motherboard provides:
Power connectors and SSD
Starting with power connectors, this motherboard needs the 1x 24-pin ATX main power cable. However, it has 2x 8-pin ATX 12V power connectors and a 6-pin ATX PCI-E power connector, so it is a really energy-demanding motherboard.
Also, note that it features 3x M.2 slots (Key M), with all of it with shields to ensure low temperatures. In addition, note that the 1st slot has PCIe 4.0 support (if you are using an 11th gen CPU), so it is advisable to always use your main SSD in this slot.
Fan, RGB, SATA
Besides that, this board also features:
6x SATA 6Gb/s connectors
1x USB 3.2 Gen 2 10Gbps Type-C port
1x USB 3.2 Gen 1 5Gbps connector (supports additional 2 USB 3.2 Gen 1 5Gbps ports)
2x USB 2.0 connectors (supports additional 4 USB 2.0 ports)
1x 4-pin CPU fan connector
1x 4-pin water-pump fan connector
6x 4-pin system fan connectors
1x Front panel audio connector
2x System panel connectors
1x Chassis Intrusion connector
1x TPM module connector
1x Clear CMOS jumper
PCI connectors
Lastly, the MSI MPG Z590 Gaming Plus has 3x PCIe x16 slots, which is a great plus point for its price range. Note that only the first one has steel protection to ensure holding the heavy graphics cards. 
Also, it is the only one of the three that supports the PCIe 4.0 feature (again, if you are using an 11th gen CPU). So, ensure to use your graphics card in this slot. Also, this motherboard features 2x PCIe 3.0 x1 slots, but neither has support to PCIe 4.0 or a steel shield.
Back panel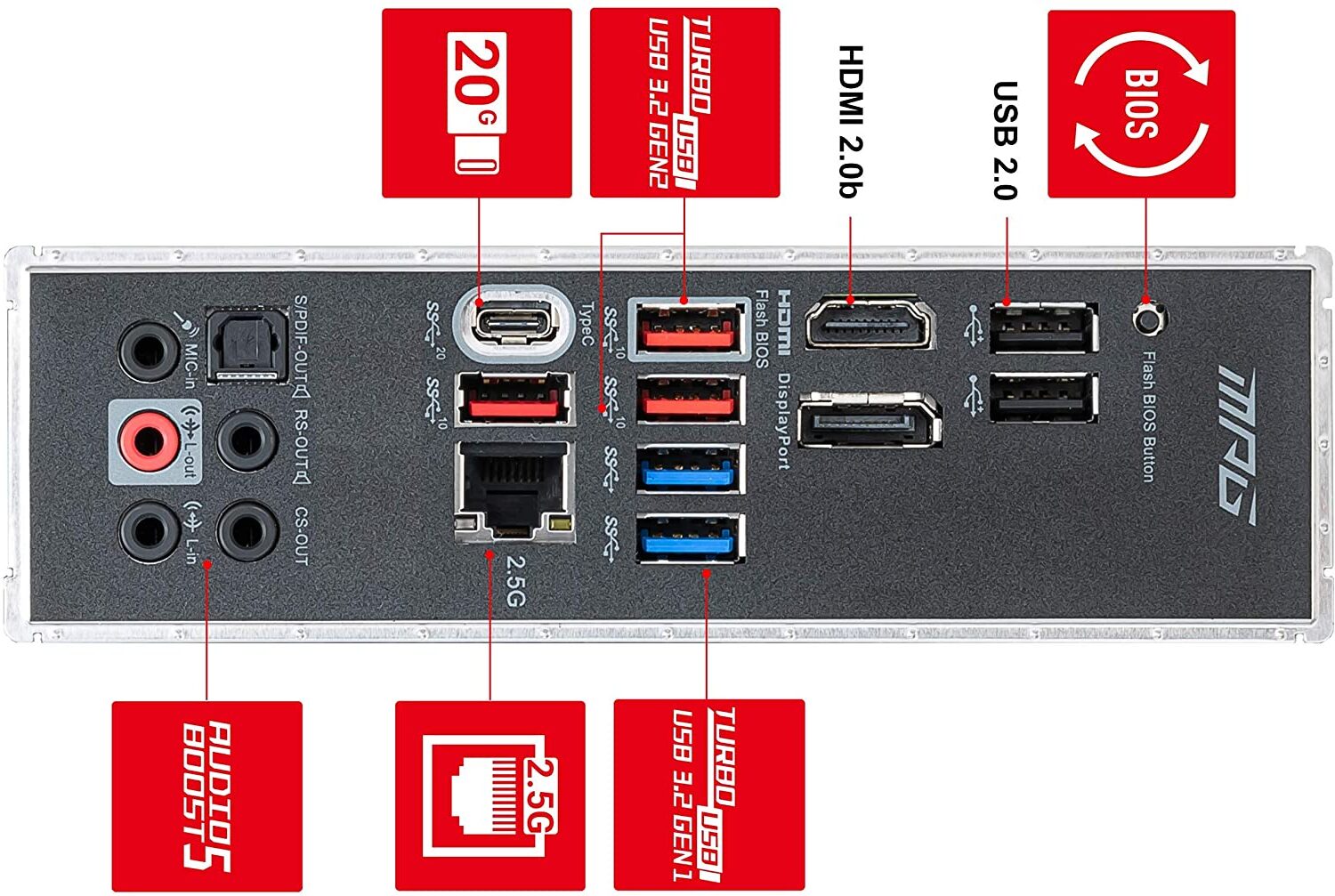 Fortunately, the MSI MPG Z590 Gaming Plus follows the aesthetics trends for high-end graphics cards, using the pre-installed I/O plate, which, will enhance the building speed and add a plus charm to the motherboard's overall design. Now, let's take a look at the back panel connectors:
DisplayPort
USB 3.2 Gen 1 5Gbps Type-A
2.5G LAN
Audio Connectors
Flash BIOS Button
USB 2.0
HDMI
USB 3.2 Gen 2 10Gbps Type-A
USB 3.2 Gen 2×2 20Gbps Type-C
Optical S/PDIF Out
Note that this board has a USB-C port, which gives it is a huge plus point. It also has the Flash BIOS button, which allows you to update your motherboard bios with just a flash drive. For further information about this feature, you can check this post.
Final thoughts
When to buy it
If you need a high-end motherboard with awesome features and good prices the MSI MPG Z590 Gaming Plus has one of the best price-performance ratios of all the high-end boards released in 2021. 
However, these types of models are not quite recommended if you don't have plans to overclock your CPU due to the potential waste. 
So, consider affording a motherboard of the B Line like the ASUS Prime B550-PLUS, which has cheaper prices and does not support CPU overclocking.
You may like