Our Conclusion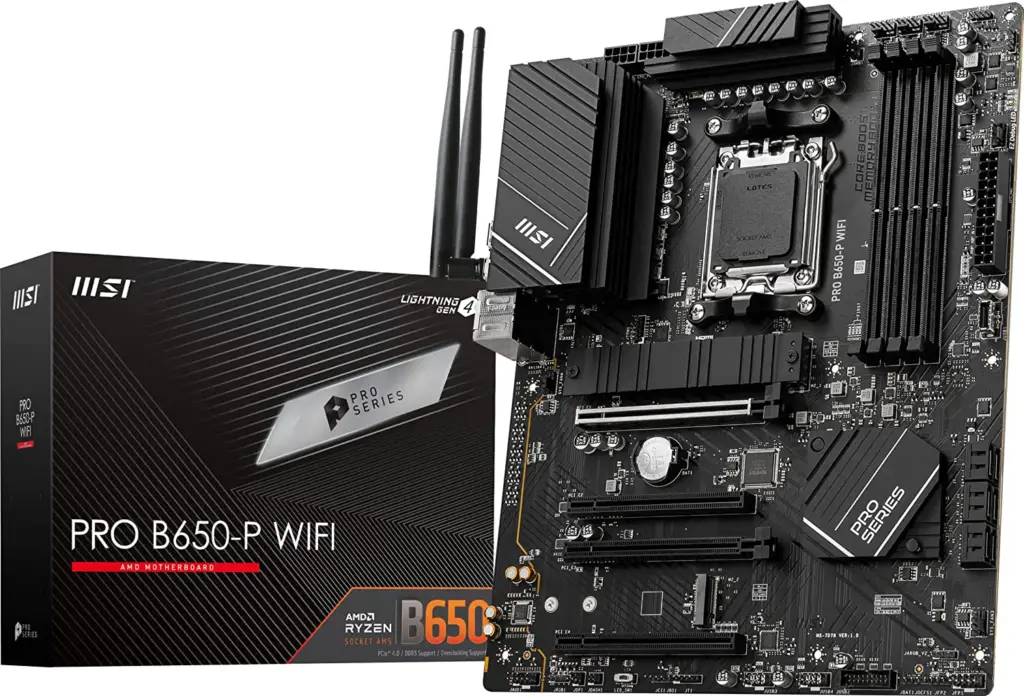 The MSI Pro B650-P WiFi is now $50 cheaper than the MSI Pro X670-P Wifi. It's two chipsets away from that one, and as a result, it does have some shortcomings to take into account. Still, its cooling is almost as good as the latter. Even so, unless I were on a very tight budget, the X670-P would be my go-to choice. Of course, if you find the B650-P at a more affordable price, you can go for it blindly, since it's another great contender for the best motherboards for 7000 CPUs.
Pros
✓ Affordable
✓ Good Cooling performance
✓ M.2 and PCIe shield
✓ AM5
Cons
✘ Low-end audio codec
✘ Only 2 M.2 slots
Earlier this week, we reviewed the Msi Pro X670-P Wifi. That motherboard really surprised us with its cooling performance, amount of M.2 slots – and most importantly, its affordable price. The only downside of it came from all the issues we faced with its BIOS. It was not a very good first impression of this MSI series if you'd ask me, but we still hope that one was an exception. 
And today, we've got the MSI Pro B650-p WiFi – a board from the same lineup as the Msi Pro X670-P Wifi but with a price tag that's $50 lighter on the wallet. Does it offer a better bang for your buck? Or would you be better off shelling out a little extra for the X670-P? That's what we'll find out in today's MSI Pro B650-p WiFi Review.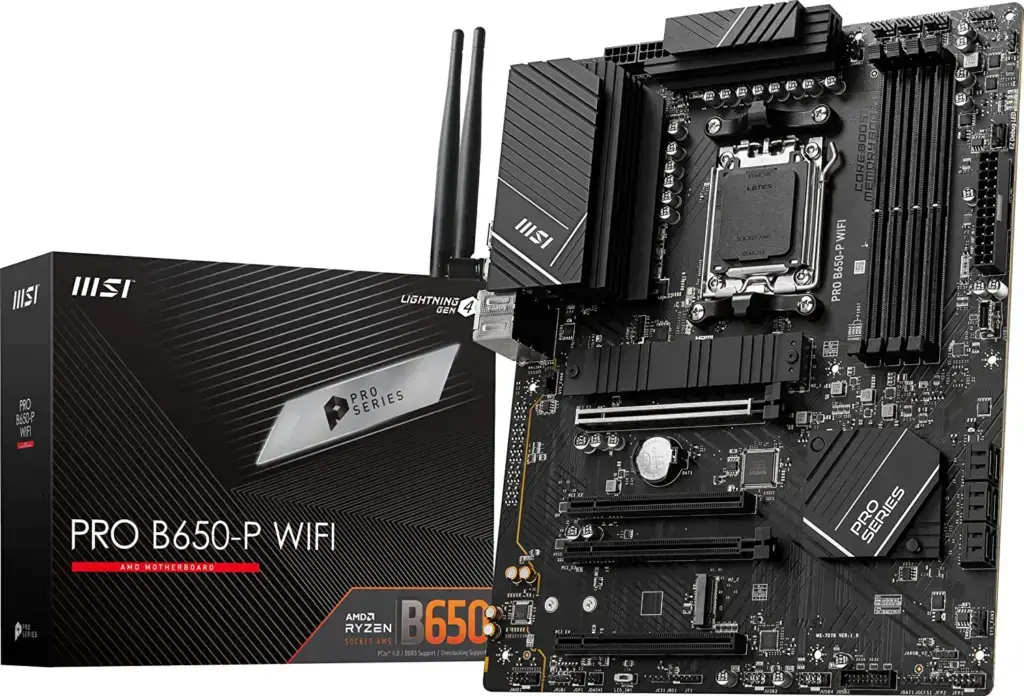 Design
I feel like I'm repeating myself here, but as I said in the MSI Pro X670-P Wifi Review, this is one of my least favorite designs MSI has ever come up with for their new motherboard series.
This one, though, has some slight deviations that make it marginally better than the other one, in my opinion, but I still can't think of it as an aesthetically good motherboard.
First, it has smaller heatsinks, which obviously stems from the fewer VRM phrases this board has.
Those fewer phases might make a difference in the cooling performance in a bad way. But we'll check all of that in the recommended processors section.
One noticeable difference between the MSI Pro B650-P WiFi and the X670-P model is that its main heatsink doesn't extend all the way down to the M.2 slot. Instead, it stops short a few inches above it. You can see the comparison below.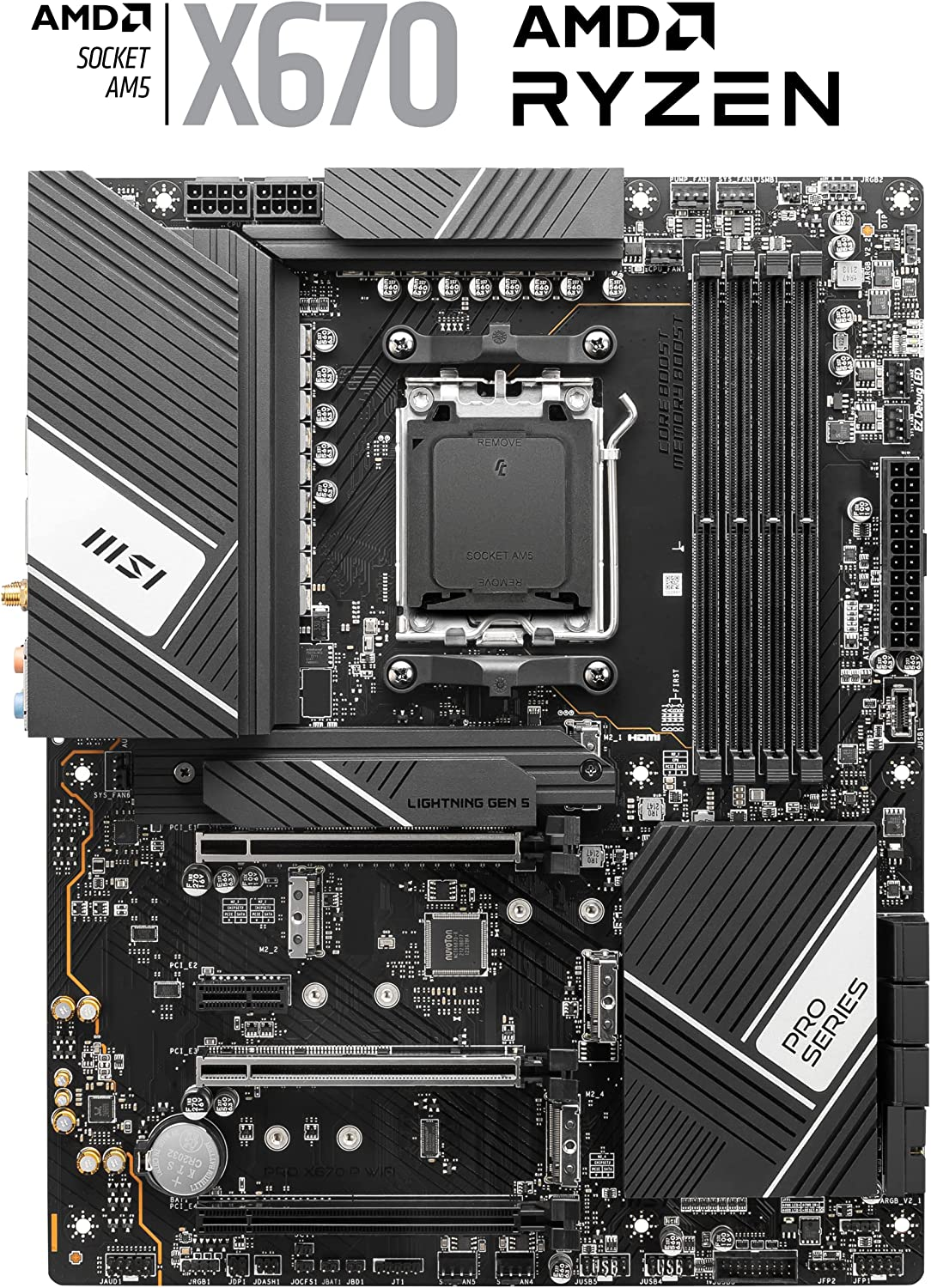 While this design may not be to everyone's taste, I do appreciate the absence of the grey area with the MSI logo that was present on the X670-P.
Additionally, the chipset on this motherboard lacks that feature and is shorter, which could potentially result in less efficient cooling. The one thing we can't deny though, the M.2 shield of the X670-P looks way better than the B650-P.
Of course, design is a matter of personal preference, so feel free to share your thoughts in the comments section.
I have to say, now that I'm comparing both side by side, the first one is starting to grow on me, but let's leave that behind.
As expected, while the heatsink is shorter and the board is less sturdy, the materials used for the board are exactly the same.
It is an ATX motherboard, with around 243.84mmx304.8mm. Be sure to take that into account when choosing the case to use with it.
In terms of design, the MSI Pro B650-P WiFi is another board that leaves (almost) nothing to be desired. It has simple aesthetics, 0 flashy colors, only gray stripes here and there, and matte black for its major part.
It has no RGB LEDs and a very minimalist style all around. Due to all that, it is definitely not the part that will mostly stand out inside your case.
Socket and Chipset
Out of all the other chipsets in this series, the b650 is by far the most affordable one.
They are perfect if you are on a budget and don't need a vast amount of SATA ports or USB ports. In my opinion, if you want to buy a budget-oriented setup, this is your go-to. 
Of course, it does have fewer features than the high-end ones.
First and most important, is the lack of a PCIe 5.0 for the NVME and for the graphics card. In fact, B650 boards can have PCIe 5.0 NVME optionally, but this one doesn't have it either way.
Second, is the 4-slot maximum limit for SATA SSDs, which is not as bad as the first one for sure. Bear in mind though, at the moment I'm writing this, there are no PCIe 5.0 graphics cards or M.2 SSDs on market, so you shouldn't concern with the lack of support for these features. 
Lastly, it has an AM5 socket. This one doesn't have a vast amount of supported processors like the AM4, but it will have it in the future, so you can call it a futureproof characteristic.
Speaking of futureproof, if you plan on making use of a PCIe 5.0 graphics card and NVME slots, 50 dollars more for the Msi Pro X670-P Wifi doesn't look like a bad deal in the long run.
Memory
Adding to the list of downsides of this low-end chipset, we have the low memory OC threshold. Surprisingly, it's not as much of a problem as it might seem, as it can still reach speeds of up to 6400MHz. 
Personally, I don't see that as a major problem since anything above 6000mhz is enough for the 7000 CPU series. In fact, as promoted by AMD itself, using above 6000MHz is recommended since it'll align better with the CPU's infinity fabric. 
Having said that, be sure to go for a 6000MHz memory for optimal performance unless you're on a restricted budget and need to save money for other components. 
Anyway, even the Msi Pro X670-P Wifi, which is considered two steps above this one in ranks, didn't have memory steel protection, so it's only natural that this one doesn't have it as well. Of course, that feature doesn't help against sagging or anything of the sort, but it does give you a better security label. 
Overclock and Recommended Processors
Before we go on with the best processors for this motherboard we should note something. If you've read our review of the Msi Pro X670-P Wifi, you probably have seen how we had some problems with the BIOS of that one. 
Surprisingly, the MSI Pro B650-P WiFi didn't give us any headaches, and everything went smoothly from the moment we boot the PC to all the gaming and rendering tests.
Indeed, we tested it with the main and most popular 7000 CPUs, namely the: Ryzen 5 7600x, Ryzen 7 7700x, Ryzen 9 7900x, and even the Ryzen 9 7950x.
And as you can imagine, the higher-end ones with above 190W of TDP all gave this board a hard time. 
The best thing is that, even though it has inferior VRM cooling, it managed to keep the temperature below the 100 degrees recommended. It did come close to that, but it didn't get past it, fortunately. Of course, that only applies if you use the processor without any overclock.
Yet, I don't recommend you use this board with the 7900x or the 7950x even if you won't overclock them. The constant high temperatures will make it unstable and risk potential damage to the board. 
That said, the 7600x and 7700x worked fine, and the VRM temperatures during overclock were fine at around 80 degrees. As for my recommendation, the 7600x should be the most obvious and optimum choice for a budget-oriented build. 
Still, I would personally go with the 7700x to have that extra edge for multitasking. 
VRM and Connectors
Not deviating too much from its older brother's, this one has 12+2+1 phases, with 12 PHASE CORE POWERSPS/75A, 2 PHASE SOC POWER, and 1 PHASE MISC POWER. That explains why this board shows very similar, if not just a little bit worse cooling power to the Msi Pro X670-P Wifi. Still, it has a shorter heatsink as we mentioned, so it can't keep up with its competitor in the end. 
Power connectors and SSD
Due to chipset and price limitations, this board doesn't have a very large number of SSD slots. Having said that, it definitely has a sufficient amount for casual users. 
Starting with the NVME, it has 2x M.2 ports, but only the first one has protection against heat. As it is placed right underneath the graphics card, this shield will protect it against the heat the card will generate.
Either way, if you have a decent airflow in your case, I wouldn't use my M.2 in this first slot. Both slots have PCIe 4.0 support, so you won't be losing performance by doing so. And using the secondary slot will make it easier if you want to take the SSD off in the future. 
A thing that wouldn't be as easy to do if it were in the first slot since you'd have to remove the graphics card first, and then the SSD. 
In any case, due to chipset limitations, it has "only" 6 SATA6G ports, which, once again, is enough for most part of users. Lastly, it also has 2x 8-pin power connectors, so you can have a backup in case the first one fails.
Fan and RGB
RGB and Fan headers were definitely not the main strength of the X670-P, and it is the same for this one. It does have 2x slots for addressable RBG, and considering how motherboards in this price range used to hold only 1x, this is already an improvement.
On the other hand, it only has 2x slots for normal JRGB headers. Due to that, if you plan on matching all RGB colors in your case, buy yourself a hub, or use the one that often comes with the case or AIO. Besides that, it has only 4x Fan headers, which emphasizes the necessity of getting a proper hub to do the hard job.
PCI connectors, WIfi, and Audio
Even though it is not commonly used nowadays, this board supports multi-GPU. It has 2 slots for the graphics card, the first one is x16 with PCIe 4.0 support and a steel shield to prevent sagging and damage to the slot.
The second one works with x4 and also has PCIe 4.0 but don't use your graphics card in that one, as you'll be losing performance. Also, it has 2x PCIe x1 slots.
The Wi-Fi has native support to WIFI 6Ghz, and the wireless module is pre-installed in the M.2 (Key-E) slot. Literally the same as the x670-P. Another thing that is the same on this board is Bluetooth® 5.3. However, once we reach the audio codec, the similarity falls apart.
It has a Realtek® ALC897 Codec, which is considered to be a lower-end codec compared to other options on the market today. Even so, we didn't notice any audio artifacts and noises, but just to be on the safe side I would buy a DAC for my headphone.
Back panel
Even the x670-P, which is considered a high-end in this series, didn't have a pre-installed I/O shield, so it isn't a surprise to see that this one also lacks that feature. As usual, installing the plate is quite clumsy, but it doesn't have a bad design, at least.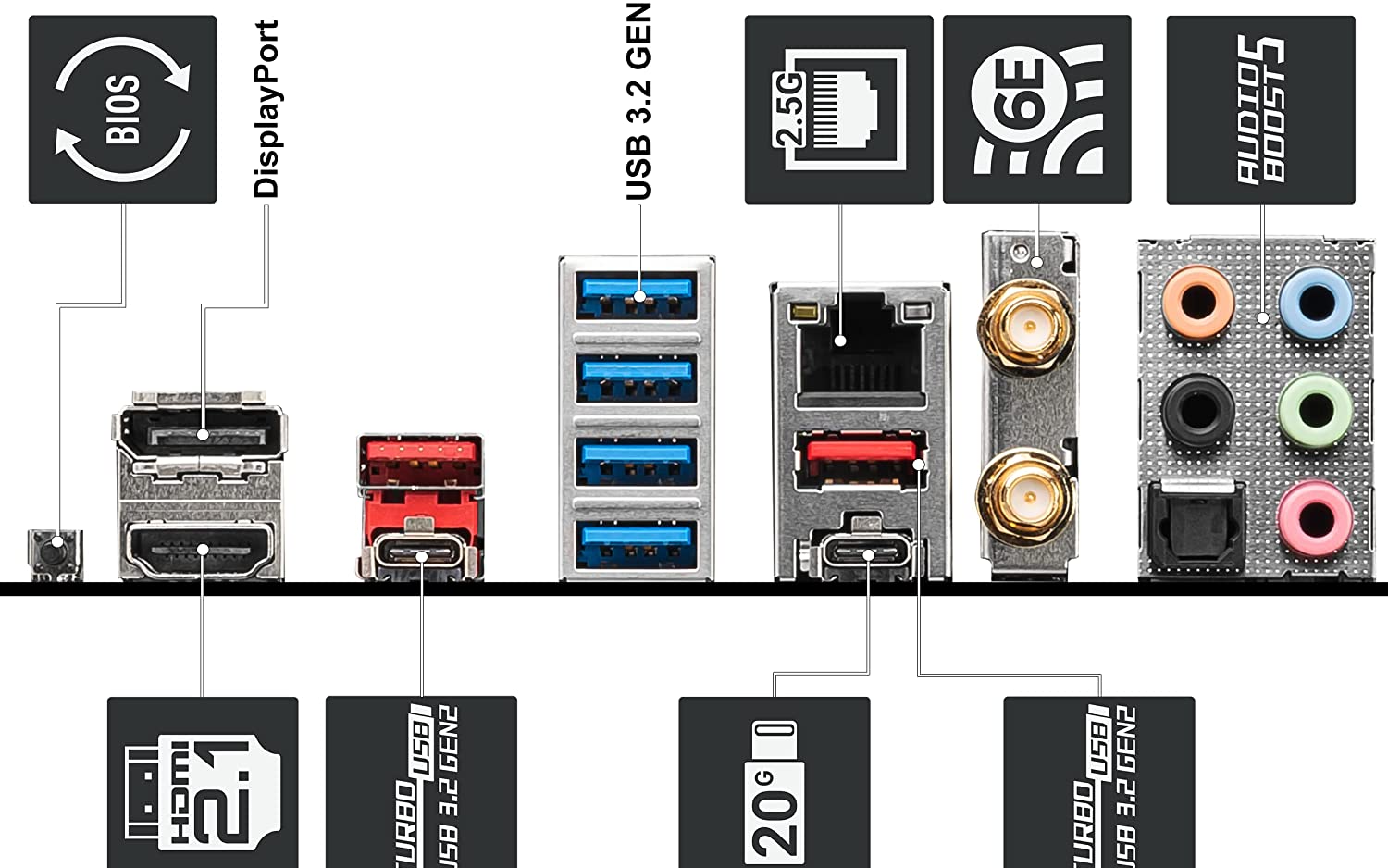 1x DisplayPort
1x 2.5G LAN
Wi-Fi / Bluetooth
Audio connectors
1x Flash BIOS Button
1x HDMI™
4x USB 2.0 ports
2x USB 3.2 Gen1 Type A ports
1x USB 3.2 Gen2 Type C ports
Here we can see clearly how the chipset limits the features of the motherboard, as it only has so many USB ports. Fortunately, it also has a flash bios button, so it'll be easier to update the BIOS if needed. Lastly, the antennae are basically the same as the x670-P, very cheap looking with also cheap materials but do the job as it is supposed to.
Final thoughts
When to buy it
As we've seen, the MSI Pro B650-P WiFi has a few sets of downsides compared to the Msi Pro X670-P Wifi, which reduces its final price by around $50 compared to the X670-P. Having said that, I wouldn't choose this one unless I were on a very tight budget, since with 50 dollars more I can have a better board with a more advanced chipset. 
The point is, between the B650 to the x670, there are two chipsets of difference, so the technology contrast is not minimal. Of course, this board might be more cost-effective during a sale, so be sure to check out the prices of both and choose whichever fits your budget. All in all, this is a very good motherboard, but it should have a more affordable price.
You may like