Our Conclusion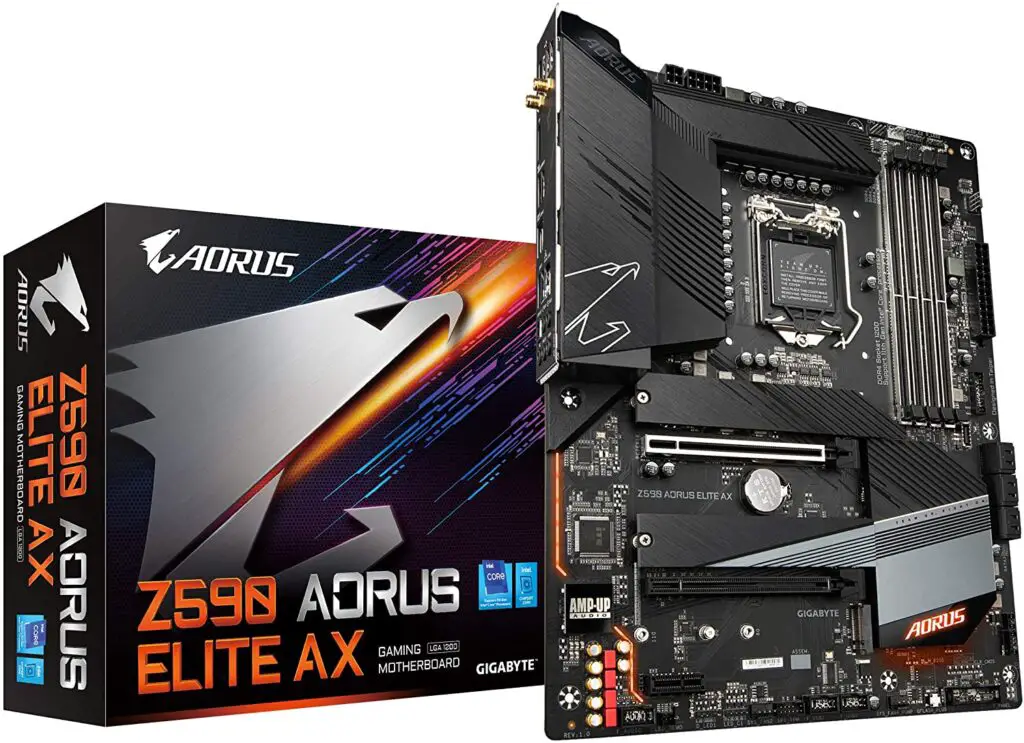 The GIGABYTE Z590 AORUS Elite AX is a high-end motherboard that falls into the entry-level category, with reasonable costs and well-balanced features. It's an excellent choice if you want to get your first high-end Intel motherboard at a reasonable price. However, If you require more premium features, such as more connectors and VRM circuits, you should consider the MSI MPG Z590 Gaming Plus.
Pros
✓ Up to 5400Mhz Memory OC
✓ RGB LED under the chipset
✓ Budget Z590
✓ RAM slots with steel protection
Cons
✘ Polarizing overall aesthetics
✘ Only 2x PCIe x16
When it comes to price performance, Gigabyte's Aorus, one of the top gaming motherboard series, is often a step ahead of the competition. In the previous five years, Gigabyte has focused on building motherboards that are a little more economical, leaving the consumer wallet unaffected.
We have among the top models in the inexpensive category of 2021 launches, the GIGABYTE Z590 UD AC and the Gigabyte B450 Aorus Elite V2, both with fantastic high-end features and reasonable pricing.
In today's review, we'll look at another 2021 release, this time with average prices for a high-end chipset. So, without further ado, here is the GIGABYTE Z590 AORUS Elite AX Review, complete with all of the board's advantages and disadvantages.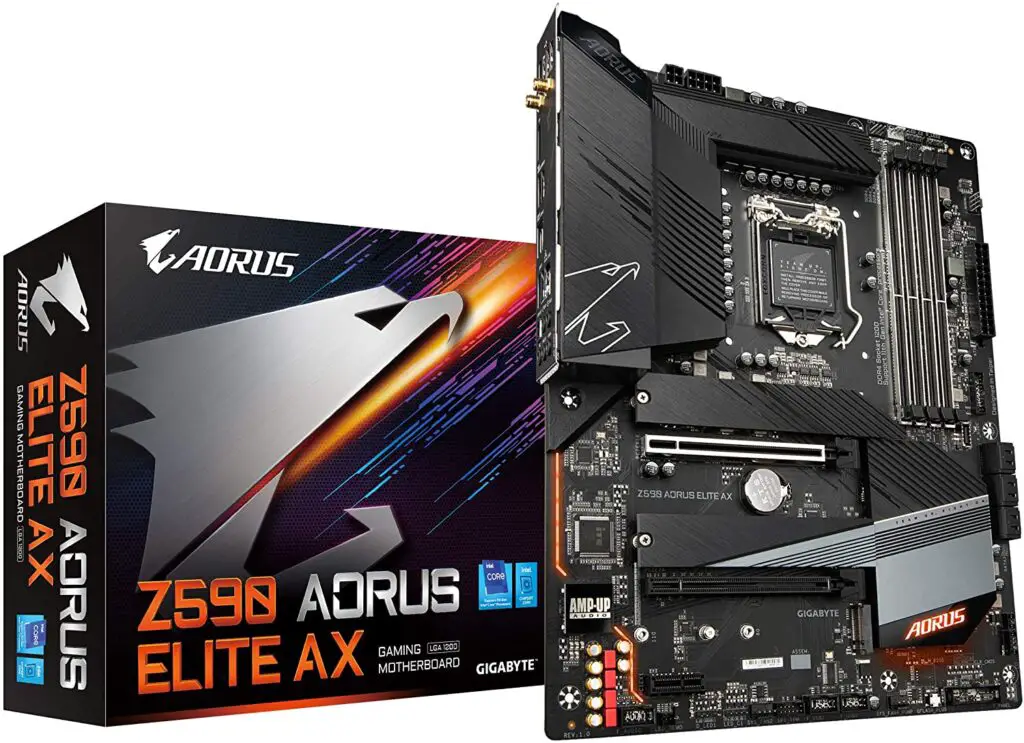 Design
On the design side, it appears that they opted to cut some corners in order to lower pricing and eliminate some visual aspects, such as RGB LEDs on the heatsinks, which this motherboard lacks.
On the other hand, they ensured that the high-end style was maintained, with a significant number of M.2 shields and enlarged heatsinks, conveying reliability at a glance.
Furthermore, the cooling shield pattern on this board is one of the simplest in the Z590 Aorus family. It's worth noting that there's an RGB LED under the chipset, which may be a bonus for some but a disadvantage for those who like a more solid look.
In general, this motherboard has all the makings to be a high-end-looking one, but at the same time, it has a solid style to keep the prices more affordable.
Socket and Chipset
As previously stated, one of the key reasons for this board's high-end status is its chipset. Due to its high overclocking thresholds, the Z590 chipset is now the most popular among enthusiasts.
This chipset not only allows your memory and CPU to run at greater speeds, but it also supports PCIe 4.0, which significantly increases the performance of supported connectors. 
However, keep in mind that this feature is only available if you have an Intel processor from the 11th generation. 
The GIGABYTE Z590 AORUS Elite AX's socket then comes to the party. This board's socket is the LGA 1200, which is currently the most advanced for Intel boards, allowing you to use Intel processors from the 10th and 11th generations.
On the other hand, do not try and use a 9th or 8th intel processor on this socket, or else you'll break it to no use.
Memory
This motherboard includes 4 DIMM slots, with the added benefit of a steel shield in each slot, which increases durability. In addition, each slot supports 32GB, for a total of 128GB. 
Furthermore, it features dual-channel technology, which will boost your FPS somewhat throughout your gaming sessions. 
You can also use the XMP to overclock your RAM, with the following limit: This motherboard has a higher threshold for 11th generation processors, with a maximum speed of DDR4 5400 Mhz, which is greater than some $300+ motherboards reviewed on Reatbyte, therefore this is one of the advantages of this motherboard.
This motherboard is able to support natively DDR4 2933 Mhz (for i9 / i7) and DDR4 2666 Mhz (for i5 / 13 / Pentium/…) for 10th Gen Intel processors. Check the support list if you're not sure if your RAM will function with your motherboard.
It's worth noting that each slot includes a steel shield, ensuring a high level of overall durability.
Overclock and Recommended Processors
Because it uses a Z line chipset, the GIGABYTE Z590 AORUS Elite AX supports CPU overclocking, as previously stated. Keep in mind that due to their overclocking capabilities, high-end boards like this one normally cost a little more. 
That is, if you do not intend to overclock your CPU in any way, you can save money by purchasing a motherboard from the B line, such as the MSI B560M PRO-VDH WiFi, which is currently one of the cheapest Intel motherboard lines. 
If you do wish to overclock, you may be confident that this motherboard has a good cooling system and will not leave you empty-handed.
So, with that said, I recommend you go with an 11th gen CPU so that you'll avail of the PCIe 4.0 support and the higher overclocking thresholds for your memory. 
Among this line, there are really awesome options such as the i5-11600K and the i7-11700K, both are some of the best choices and will deliver you the right thing that you want, either gaming or rendering power.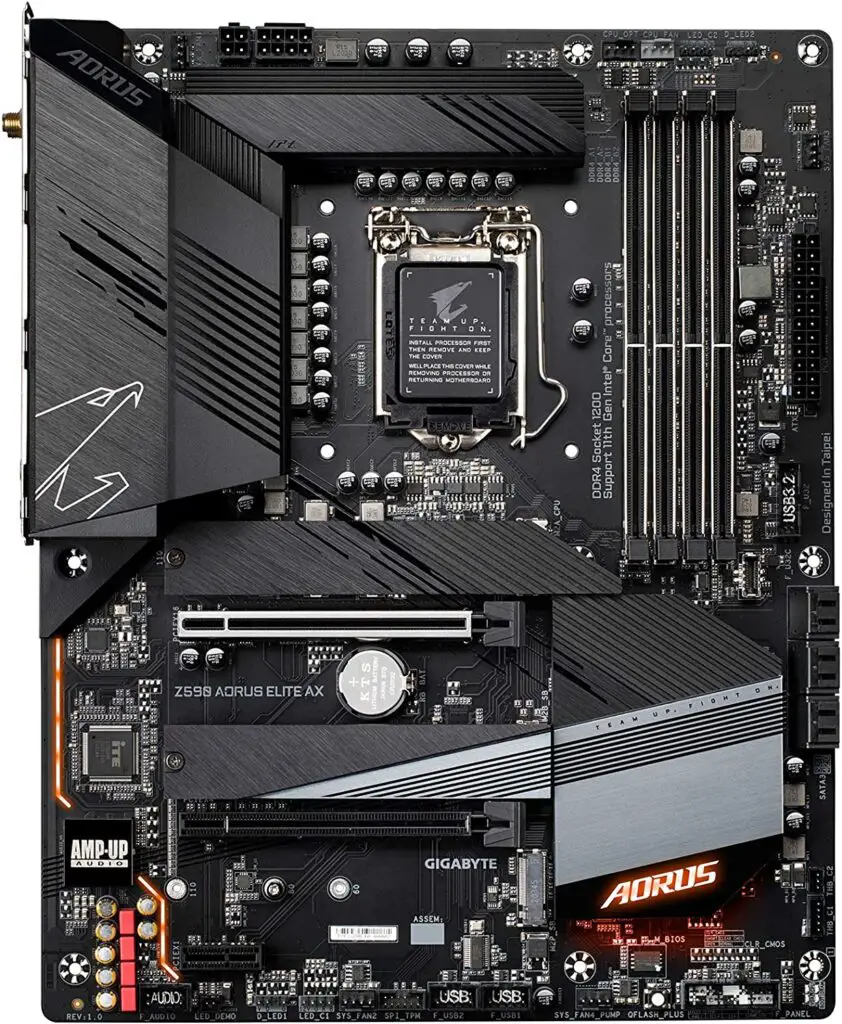 VRM and Connectors
There are no limits for the motherboard overclocking allowed due to its high number of VRM phases. 
It has 12+1 VRM phases, which is indeed a high-end number that won't disappoint you by giving enough and filtred energy to the CPU.
That said, let's now take a look at the connectors provided by this motherboard.
Power connectors and SSD
This model is surprisingly a non-energy-demanding board, featuring just the usual 1 x 24-pin ATX main power connector, 1 x 8-pin ATX 12V power connector, 1 x 4-pin ATX 12V power connector, so check first if your power supply has these cables available. 
In addition, you're going to find 3 x M.2 Socket 3 connectors, being only the first one with support to PCIe 4.0, so be sure to use your main SSD on it, to avail of this feature. Note that only the two first ones have shield protection to ensure the SSD will run at low temperatures.
Fan, RGB, SATA
Aside from that, the GIGABYTE Z590 AORUS Elite AX board also counts with a wide range of connectors, including:
1 x CPU fan header
1 x water cooling CPU fan header
3 x system fan headers
1 x system fan/water cooling pump header
2 x addressable LED strip headers
2 x RGB LED strip headers
6 x SATA 6Gb/s connectors
3 x M.2 Socket 3 connectors
1 x front panel header
1 x front panel audio header
1 x USB Type-C® header, with USB 3.2 Gen 2 support
1 x USB 3.2 Gen1 header
2 x USB 2.0/1.1 headers
2 x Thunderbolt™ add-in card connectors
1 x Trusted Platform Module header (For the GC-TPM2.0 SPI / GC-TPM2.0 SPI 2.0 module only)
1 x Clear CMOS jumper
1 x Q-Flash Plus button
Note that the Q-Flash Plus button isn't situated on the back panel, as usual, instead, it is hidden on the motherboard itself. You can see it if you go all the way down to the motherboard bottom right, it has Q-flash writing below, and it is finished in white.
PCI connectors
Lastly, the GIGABYTE Z590 AORUS Elite AX features 2x PCIe x16 slots, being the first one running at x16 and the unique one with a steel shield and the PCIe 4.0 support. 
As mentioned, you're only able to use the PCIe 4.0 feature, if you combine this motherboard with an 11th gen intel processor. In addition, it also features a 1x PCIe x1 slot, running at the PCIe 3.0 standard.
Back panel

This motherboard counts with a pre-installed I/O shield, which gives the board some style as well as increases the building facility. If we look at the back panel, we can see:
1 x USB Type-C® port, with USB 3.2 Gen 2×2 support
2 x USB 3.2 Gen 2 Type-A ports (red)
3 x USB 3.2 Gen 1 ports
4 x USB 2.0/1.1 ports
2 x SMA antenna connectors (2T2R)
1 x DisplayPort
1 x RJ-45 port
1 x optical S/PDIF Out connector
5 x audio jacks
Final thoughts
When to buy it
If you need an affordable high-end Intel motherboard, the GIGABYTE Z590 AORUS Elite AX is currently one of your best choices for this price range. You can compare its prices to other similar models such as the GIGABYTE Z590 AORUS Elite or the MSI Z590 PRO WiFi. And if you need plus features, you will find those in motherboards such as the MSI MPG Z590 Gaming Plus and the ASUS Prime Z590M-PLUS.
You may like