Our Conclusion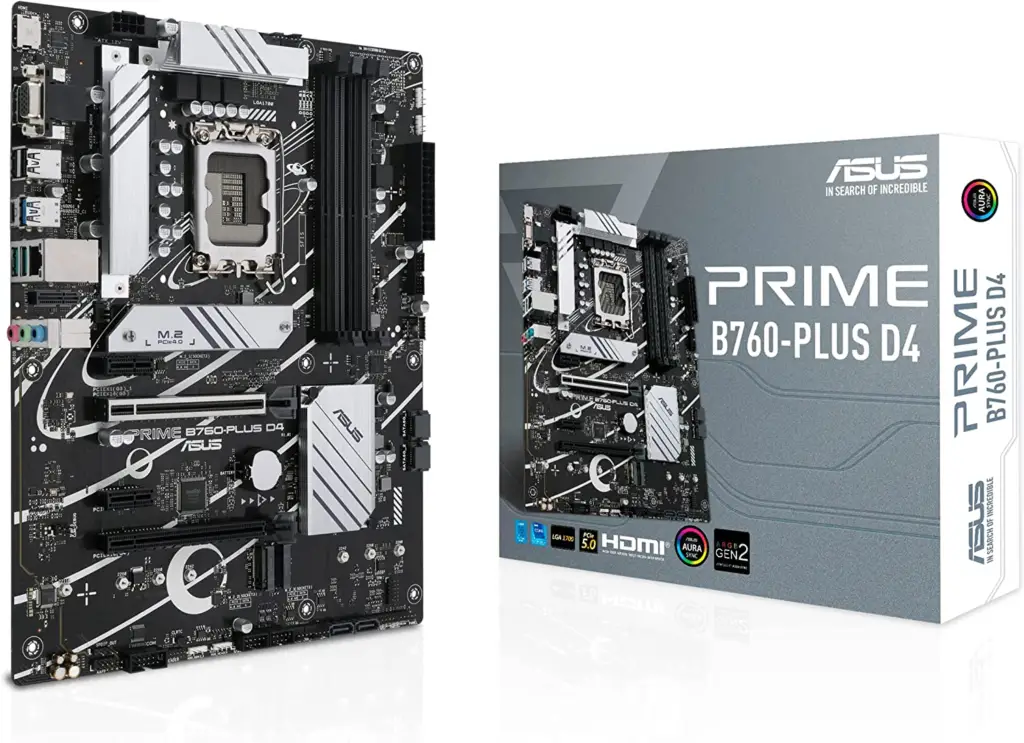 The ASUS Prime B760-PLUS D4 is right now the most affordable B760 ATX motherboard in the market. But that comes with a cost. When it comes to future-proofing, it fails badly at ticking all of the boxes. Of course, if you don't need the DDR5 or better VRM cooling, then this is a perfect choice. But keep in mind that for $10 more you can go for something like the GIGABYTE B760M AORUS Elite AX and ensure you won't have to buy another one in the near future.
Pros
✓ LGA 1700 and B760
✓ Affordable
✓ PCIe 5.0 x16 slot
Cons
✘ Fewer VRM Phases
✘ Doesn't support PCIe 5.0 NVME
✘ Limited RAM speeds
Even though some robust and bulky high-end motherboards look better than the cheaper ones, the surplus of features they often have aren't essential for everyone.
If you need to build a PC for casual gaming and normal day-to-day tasks, and you won't need to push all your components beyond their intended capabilities through overclocking, an affordable motherboard is always the right choice.
Yes, by paying a premium you can ensure support for future technologies such as PCIe 5.0, but in the end, we all know the impact may not be significant for the casual user.
Having said that, the motherboard being reviewed today might be perfect for you that need a budget-friendly build, pay cheap for a motherboard, and spare money for the other components. With that in mind, let's see if this is really a motherboard worth the investment in today's ASUS Prime B760-PLUS D4 Review.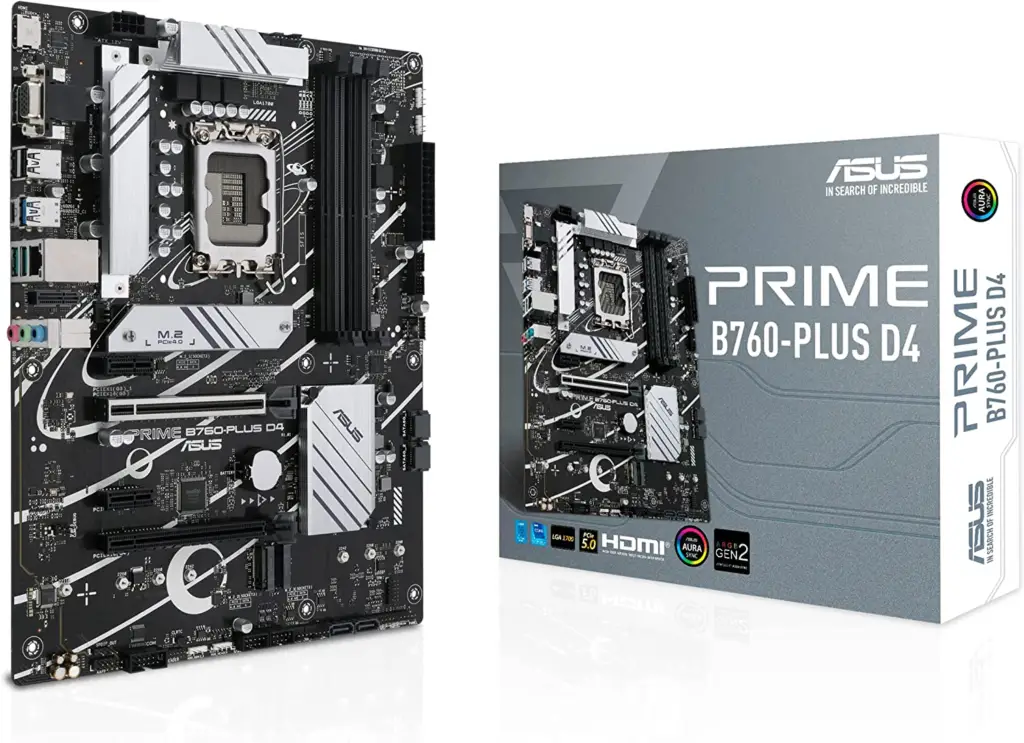 Design
As usual for ASUS Prime boards, this one follows the trend of metallic brushed gray for its heatsinks, and matte black as the primary color. On the other hand, it has some circular white patterns reminding the solar system that pulls it apart from its siblings. 
It is really an innovative and clever addition by ASUS, and just because of that, this board's design wins some points.
If I have to mention a similar board, I can't think of any other but the: ASUS Prime B550-PLUS. Sure, it is not identical, but it does have some similarities such as the brushed metal style. You can compare them below. 
I have to be honest, the budget category of ASUS Prime boards isn't really my favorite when it comes down to aesthetics. Even so, the top-tier ones are at the top of my list of favorite motherboard designs.
Take the ASUS Prime Z590-A for example, it has a similar vibe to the ASUS Prime B760-PLUS D4, while being way more sturdy and good-looking. 
That aside, as expected for an affordable motherboard, it has very narrow heatsinks. If we take it from another perspective, even having a heatsink in this category is, by itself, a huge plus, so we shouldn't nitpick too much here. 
Certainly, you can expect it to fall short of all those boards we previously checked out this week, like the MSI Pro Z790-A Wifi and the Msi Pro X670-P Wifi, but we still hope it will fare well in terms of cooling. 
Bear in mind, it is an ATX board, so be sure your case will support it. It has around 12 inches x 9.6 inches. 
Upon a quick glance, I can see that one of the M.2 slots was placed in a very different position: right below the bottom left part of the PCH heatsink. It is a very unusual but creative use of free space on the board, and I actually think it makes sense in the grand scheme of things. Also, it has a 1x PCIe slot. But we'll get further into that in future sections. 
For now, we can say that this is a typical budget Asus prime board. It has a very characteristic style, that is quite polarizing, but one thing is for sure: the ASUS Prime B760-PLUS D4 won't be the centerpiece of your setup.
Socket and Chipset
If we take all of the 700 series into consideration, the B760 is the one at the bottom of the list. Not that it is a bad chipset, but it has fewer features and technologies than the others in the 700 series. 
One of the standout features of this motherboard is its affordability, making it a budget-friendly option that won't break the bank. In fact, when it comes to cost-effectiveness, the ASUS Prime B760-PLUS D4 truly shines above the rest. Even so, it is important to remember that all B chipsets don't have CPU overclocking support. So for all of you enthusiasts out there, stay away from this one. 
Once again, you don't actually need to overclock your CPU for casual gaming, so this shouldn't be your biggest concern depending on your needs. 
Aside from that, you'll basically get limited SATA and USB ports. Surprisingly, it has support for PCIe 5.0 for the x16 slot. But for it to have NVME PCIe 5.0 as well would be asking too much. In fact, even the Msi Pro X670-P Wifi, which has a top-of-the-line chipset, didn't have a single PCIe 5.0 slot, so I can see why this wouldn't have one as well. 
With the LGA 1700 socket, this board has an ample list of supported CPUs you can choose from. It is ready for the 13-gen and 12-gen, and it supports Turbo boost technology 2.0 and max technology 3.0.
The extensive list of supported CPUs may make it difficult for some to make a decision, but in the Recommended CPU section, we will provide guidance on selecting the best option for your needs.
Memory
It has 4X DDR4 DIMM slots, and two of them have different colors, making it easier for you to seat your modules in the right slots for the dual channel to work. 
You can overclock the RAM since it has XMP but don't expect them to reach those excessive +7000MHz the higher-end models are able to. 
Here your Modules will be limited to 5066MHz, which may be considered insufficient even by non-enthusiasts, so we can take that as a considerable downside of this board. 
In fact, that limitation comes from the DDR4 technology, which spares you from having to buy new RAM if you had just upgraded your pc, but significantly limits the speed your memory can achieve. 
Well, that all should be factored in by the consumer before making the purchase, but as we all know, swapping to DDR5 right now won't get you a huge boost in overall performance. 
Still, those lower-than-average features serve as a reminder of how big of a toll is placed on the board for having such affordable prices. 
For around 80 dollars more you can go for the MSI Pro Z790-A Wifi which will have all the features this one lacks, so consider that one as well if you need future-proofing. 
As expected, the slots don't have steel protection, but we all know that having it or not won't make a difference at all for the normal user.
Overclock and Recommended Processors
Unfortunately, you can't overclock your CPUs with this motherboard. On the plus side, the list of recommended processors gets wider due to the same thing. During overclocking some CPUs may be too much for this board to maintain the low temperatures, especially the 200W TDP ones. However, without overclocking, things weren't looking that bad at all.
Even so, the most power-demanding CPUs like the Intel Core i9-13900KF still gave this board a very hard time. During our tests with that CPU, the VRM temperature was almost reaching 100 degrees Celcius, which is the limit threshold. Anything above that would increase the risk of instability and damage to the board.
It also raises the internal case temperature, which makes every component considerably warmer. Due to that, even the CPU itself was much hotter than usual, especially during demanding tasks. With that, I don't recommend you pair this board with any of the 13-gen flagship CPUs. 
Remember, this is a budget-friendly motherboard, and a budget CPU is the most plausible choice in this case. As for my recommendations, I would go with the i7 13700f if I needed more headroom for multitasking or the Intel Core i5-13600KF for gaming only.
Also, as this board doesn't support CPU OC anyway, getting a CPU that has support for overclocking is unnecessary and would only be a waste of money.
VRM and Connectors
With a 6+2 phase design, the ASUS Prime B760-PLUS D4 falls way below those 18-phase ones you can get for around $80 more. Sure, it isn't designed to have many features for enthusiasts, but it could have more VRM phases in the end.
Still, as we just said, it supports the low-end and mid-end categories of intel processors without breaking a sweat due to its good heatsink.
Power connectors and SSD
Unfortunately, the chipset of this motherboard places a very narrow boundary to the features the board can and cannot have. One of those lines that B760 boards can't cross, is to have more than 4x SATA ports. As you can figure out from that, this board only has 4x SATA slots. 
Regardless, the M.2 type is the one that's becoming more trendy and easily overshadowing the SATA ones. Those are miles ahead in terms of speed, and they are still improving with new technologies such as PCIe 5.0. The point is, 4x SATA slots nowadays are more than enough for most part of users. 
When it comes to M.2 slots, the manufacturer luckily didn't cut corners. 3x slots of PCIe 4.0 M.2 is definitively a feature we weren't expecting to see, more so when we consider how this board has been failing to meet our expectations. 
Bear in mind though, only the first one has a heatsink to dissipate the heat coming from the graphics card, so place your main SSD there. The second slot also has PCIe 4.0 but it doesn't have the heatsink, and the last one is x2 rather than x4. 
In any case, this motherboard has only 1x Power connector. In the event of this one breaking or getting damaged, your whole board is doomed. Indeed, the chances of such an event actually happening are rather slim, but it doesn't mean it can't happen at all. 
Fan, RGB, SATA
If you are looking for a motherboard with advanced RGB and fan control options, this may not be the ideal choice for you. This motherboard features only the bare minimum headers for these functions, including one Aura Sync header and three normal RGB headers. With just three fan headers, it may be challenging to maintain optimal airflow in your case without an additional hub.
However, it's worth noting that most users already have a hub that can handle these tasks. While the lack of headers may be seen as a drawback to some, it ultimately allows for a more affordable price point without sacrificing other important features.
PCI connectors
Unlike the M.2 slots, in which every single one had PCIe 4.0 support, here we have only the main PCIe slot with the 5.0 feature.
Due to that and the metal shield it has to prevent the sagging of the graphics card, that slot is the one you should seat your card. Naturally, the secondary slot has support for PCIe 4.0 instead and doesn't have anti-sag protection.
Even so, it serves pretty much decently as a backup slot, since it still has PCIe 4.0, so in case the other one breaks on you, this will most likely be as good as, unless you're using a PCIe 5.0 card. In any case, it has 3x PCIe x1 ports.
It doesn't have integrated WIFI and Bluetooth support, but it does have more than enough ports for you to address that.
As expected, its codec is one of the most basic ones out there, and we did find some annoying interference and noises with the microphone while using the analog channel.
On the other hand, the front panel is surprisingly one of the best in this price range, even though it doesn't support the so-called 7.1 surround effect. In any case, a DAC is still the best choice for enthusiasts.
Note that, aside from microphone buzzing noises, the audio was quite clear, and we're still in search of the differences between this and those high-end codecs when it comes to audio performance.
Back panel
If I had to give my opinion, the best way to describe this back panel would be skimpy. It lacks pretty much everything even some cheaper boards have. It at least has a USB-C port that makes up for the lack of more for the other ones. It has: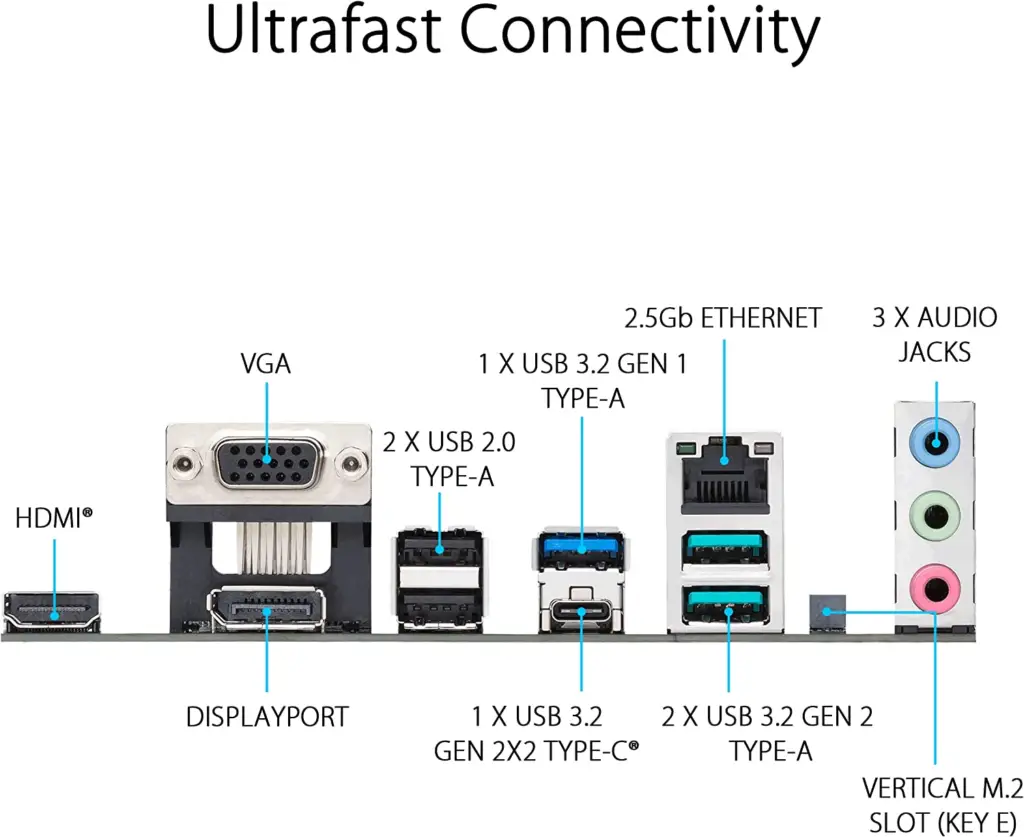 It doesn't have a pre-installed I/O shield, which does nothing less than difficult the installation of the board in the case. On top of that it makes the board look cheaper than it should, even though it is not cheap at all.
Final thoughts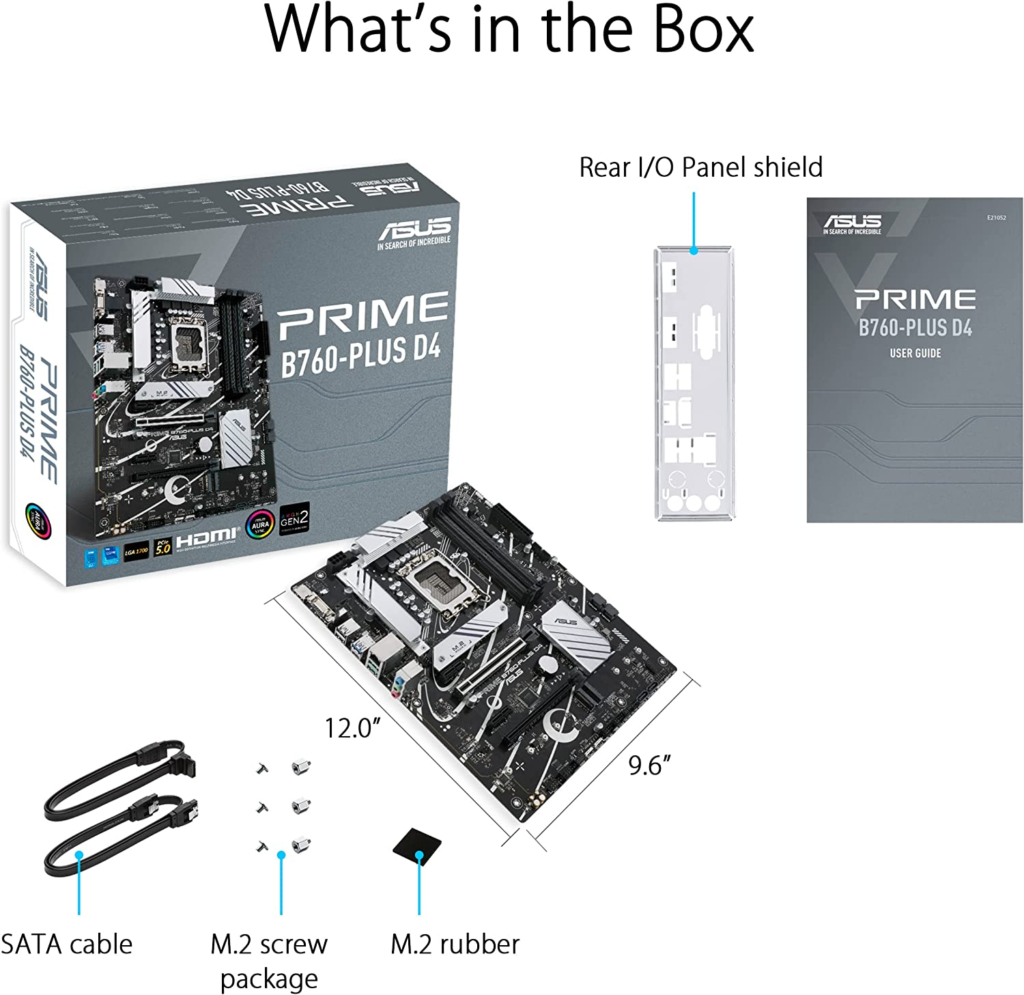 When to buy it
Right now, the ASUS Prime B760-PLUS D4 is still a recent motherboard. Its price isn't really the most attractive one, especially when we consider all the features it lacks. Yes, it could be a better deal given some time for its prices to go down a notch, but currently, it is indeed the most affordable B760 ATX motherboard. 
If you need a budget motherboard with a recent chipset and socket, then this is a perfect choice. On the other hand, if you need a strong choice for future-proofing you can go for the GIGABYTE B760M AORUS Elite AX as it will most likely be the best for your needs.
You may like