Although 4K is considered the ultimate resolution for an immersive gaming experience, 1440p is still the most cost-effective choice that provides great value for your money.
By paying cheaper than a 4k 60hz screen, you can get a 1440p 144hz and ensure an extra edge in smoothness. The best thing is that assuming the screen size range from between 27 inches to 32 inches, the sharpness you'd lose from 4k to 1440p isn't that impacting.
In fact, the impact would fall heavily on the graphics card to render that huge amount of pixels for demanding games. You'd need a very powerful graphics card to run those titles at smoother frame rates. Due to that, the term "budget" doesn't really fit well with the 4k resolution.
The point is, it is way easier to find a "budget deal" in the 1440p 144hz category than on the 4k 60hz one. You can save even more money to have a similar or better experience if you can find those hidden gems.
To help you on that front, today, we've rounded up our top picks for budget monitors in this class. But before that, let's go over a quick rundown of what you should consider when selecting the best monitor for you.
How to choose the Best budget 1440p 144hz Monitor
Image quality
Although not equally as important for gaming as it is for professional use, image quality should be one of your top priorities. With better color accuracy, you can have an enhanced gaming experience. Also, with a higher color gamut range, you can tweak the colors to be more vibrant, or more accurate, thus placing them in line with your preferences.
color gamut standard
sRGB is a standard color space that is commonly used in consumer-grade monitors, digital cameras, and web graphics. It has a narrower gamut than DCI-P3, covering around 72% of the visible colors in the CIE 1931 color space.
DCI-P3, on the other hand, is a wider color gamut standard used in professional-grade displays, including cinema projectors and some high-end monitors. It covers a larger portion of the visible color spectrum, about 45% more than sRGB, and is capable of producing more saturated and vibrant colors.
Those two are the main ones you will find for this type of screen, and they will play a major role in the final color reproduction performance of your monitor. Note that with the DCI-P3 you will often get more vibrant colors out of the box. On the other hand, in comparison, the sRGB colors will often be much more washed out. By calibrating both with a colorimeter, the DCI-P3 is always the one that comes up ahead when it comes to overall accuracy. So always aim for that one if you need that extra room for tweaking.
Panel type
There are 3 main panels for monitors currently: IPS, VA, and TN. 
IPS Panels: Benefits include wide viewing angles, accurate color reproduction, and good color consistency. However, they tend to have slower response times and lower contrast ratios than other panel types. Also, those panels have the IPS glowing, which often reduces the monitor's capability of having a good black consistency.
VA Panels: Benefits include high contrast ratios and deep blacks, and they also tend to have a lower price tag than IPS. However, they can suffer from black smearing, have limited viewing angles, and may exhibit color shifts at extreme angles.
TN Panels: Benefits include fast response times, high refresh rates, and low input lag. However, they have poor viewing angles, and limited color gamut, and tend to have lower color accuracy and contrast ratios compared to other panel types.
Although TN panels used to be the preferred choice for gaming a couple of years ago, currently, IPS and VAs are leaving it in the dust with the newer technologies. That's why you won't see any monitor with a TN panel in this list. 
At this point, there is a whole war between the IPS and VA panel fans. Some favor one or the other, and as both panels have their own benefits and downsides, they never reach a definite conclusion on which one is the best. 
Do you prefer deeper blacks and better black consistency to use the monitor in a dark room, then you are team VA. However, if you favor good accurate colors and viewing angles, IPS is your right choice. 
10 bit vs 8 bit
10-bit color allows for more accurate and detailed color representation than 8-bit color. However, it requires more processing power and is typically only found in higher-end displays. 
With 10-bit you will get smoother gradients than 8-bit due to the over 1 billion supported colors. Still, as this is something you usually find in higher-end screens and it caters more to professionals, we won't get further into this specific feature. 
Size
By dividing the total number of pixels in the display by its physical size in inches we have the PPI. Standing for Pixel Per Inch, this feature is basically what its name implies, the number of pixels there are in every usable inch of the monitor's screen.
Logically, the higher the number of pixels in a single inch, the smaller the pixels will be and the sharper the overall image. With that, the higher the PPI, the clearer will be the image the monitor will give you. Here is a list of the PPI of all the main screen resolutions and sizes: 
| | | |
| --- | --- | --- |
| Size | Resolution | PPI |
| 24-Inch | 1080p | 91.79 |
| 27-Inch | 1080p | 81.59 |
| 32-inch | 1080p | 68.84 |
| 24-inch | 1440p | 122 |
| 27-inch | 1440p | 109 |
| 32-inch | 1440p | 93 |
| 24-inch | 4k | 184 |
| 27-inch | 4k | 163  |
| 32-inch | 4k | 140 |
Note that a higher resolution and lower screen size result in a higher PPI. Due to that, it is always good to find a good balance while using the resolution and size of the monitor as a base. For 1440p the recommended is 27 inches, as you'll have a good amount of screen real estate, without compromising clarity.
32-inch is also usable, but as you can see above, the PPI will be similar to that of a 1080p 24-inch monitor. In the end, as long as you don't go overboard with the size of the screen, 1440p can handle well a good range of monitor sizes, at least the main ones.
Lastly, note that ultrawide monitors have slightly higher horizontal pixel quantity. With the higher amount of pixels, you won't be losing much compared to the normal 16:9 monitors.
Performance
The screen's performance is another thing you shouldn't overlook, especially if you plan to play some games with the monitor.
Refresh rate
First, some of the monitors we will cite today will have native 144hz, but a good part of them will also be able to push this ratio to around 170hz or so.
As we all know, the higher the refresh rate, the smoother the gameplay will be. However, the difference between 144hz to 170hz is not as big as 60hz to 144hz, but there's no harm in pushing that limit if the prices aren't driven up as well.
Brightness
Aside from that, you should also take into account the monitor's peak brightness. It doesn't matter if the monitor can deliver a good image quality if you can't see anything due to glare on the screen during the day.
Even if you play mostly during the night, it is always good to look for higher nits and good reflection handling, since it may come in handy someday. 250 nits are the current bare minimum, and 400 is where you can call things high-end. Even so, it doesn't mean that all the monitors with the same amount of nits on paper will perform the same in that regard. There are always other factors to consider such as reflection handling and black consistency, but we'll cover that in our list.
Response time and Black smearing
Next, we have the motion blur and response time. As those are features that will help mainly for professional gaming rather than casual, you shouldn't be too concerned about that.
Still, some fast-paced games will fare better with a lower response time and reduced motion blur, so it's not a bad choice to aim for the faster ones.
If your panel choice is a VA, then there is a typical downside that can easily spoil your gaming experience: the black smearing. In VA panels, black smearing can occur when black pixels take longer to change to lighter colors, resulting in a trail or smearing effect behind moving objects. It's worth noting that while black smearing can be a visual annoyance, it may not be noticeable or bothersome to everyone. Additionally, the severity of black smearing can vary depending on the specific display model and the user's individual preferences. You can get used to the black smearing over time, but depending on the amount of smearing the monitor has, even that will be hard.
Price
Last but not least, we have the price. It matters nothing if a monitor has all the good features we mentioned above if it'll make you go bankrupt after the purchase. Still, as we only selected the most affordable ones to this list, it will only be a matter of whether you can or cannot afford it at its current prices.
Remember, although 1440p 144hz screens are cheaper than 4k ones, they aren't the most affordable monitors out there, and in the worst-case scenario, you could go with a 1080p 144hz one and spare around $100, in exchange for all the benefits of a higher resolution would give you.
Consider your own needs
Having said all that, the most important thing you should do after knowing which one you should go for, is to find out if it'll align with your needs. And that's why we made a broader selection of monitors today.
Do you prefer the contrasting colors of the VA panel over the IPS' viewing angles and accuracy – we have that one on this list. Or you'd rather have a higher screen size – we have just the right choice for that as well.
So with that all in mind, let's dive into the list of Best Budget 1440p 144hz Monitors you can find currently without further ado.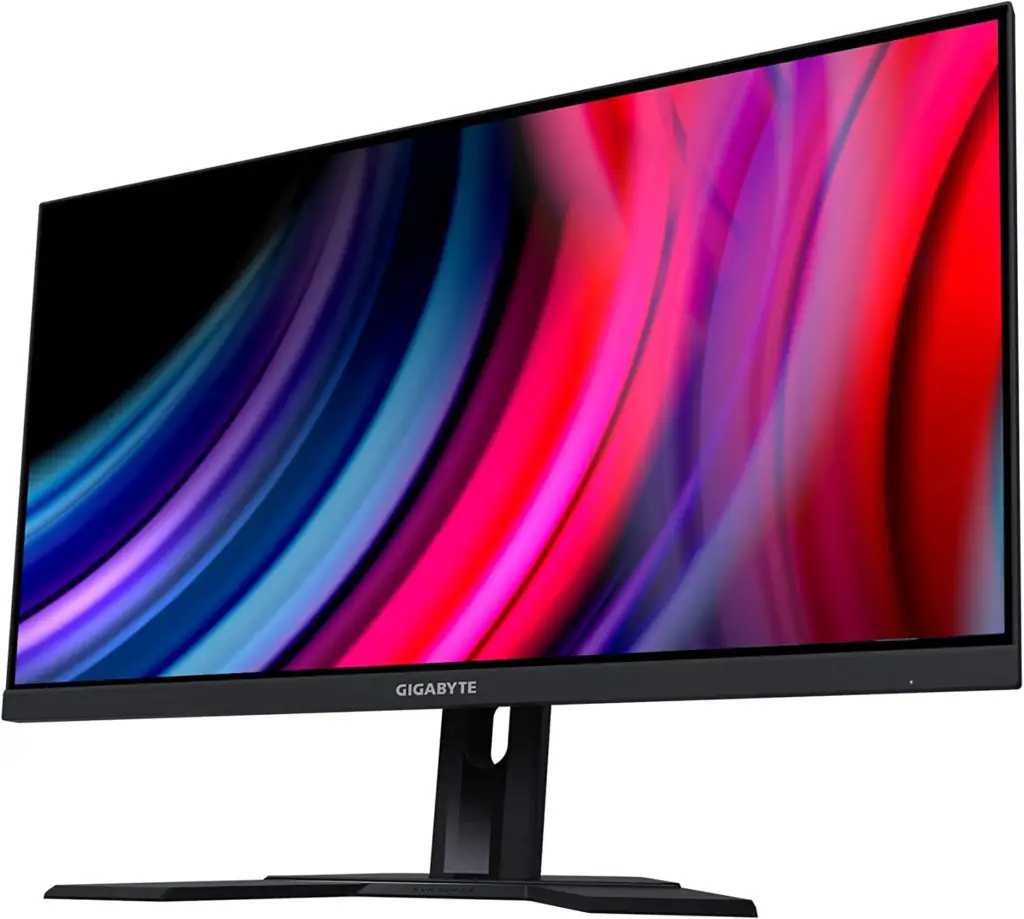 The Best Budget 1440p 144hz Monitor
Pros ☑
Affordable
Awesome colors out of the box
Great response time and refresh rate
High Peak brightness
Cons ✖
BGR subpixel may be bothersome
IPS glowing
Specifications:
Resolution: 1440p
Size: 27″
Response time: 0.5 MPRT
Panel Type: IPS
Refresh rate: 170hz
Brightness: 350 nits
See Prices:
It's been a couple of years since this monitor has claimed the top of many lists for this category. And surprisingly, it is still holding its flag in 2023. If I had a constricted budget to buy a 1440p 144hz monitor, this would be the first one to pop up in my mind.
Its colors are awesome and vivid with some tweaking. You may notice that before calibration, the colors may appear slightly cooler than normal. Fortunately, after calibrating the color temperature to R: 99 G: 100 B: 93 it managed to reach an awesome accuracy while being more vibrant. Besides that, the brightness is great, and only around 24% is what I am using right now for day and night. The motion blur is minimal and it can reach a 170hz of refresh rate.
However, it does have its downsides such as the poor black consistency and BRG subpixel layout. Personally, I didn't find both to be that big of a deal for normal use. The latter specifically is easily solvable if you use the Windows Clear Type. While the former can be alleviated somewhat if you play in a well-lit room.
That said, when we consider all this monitor has to offer, and its price, there is not a better place for it instead of at the top of our list as the best budget 1440p 144hz monitor in 2023. When it comes to price to performance, there's just no beating it.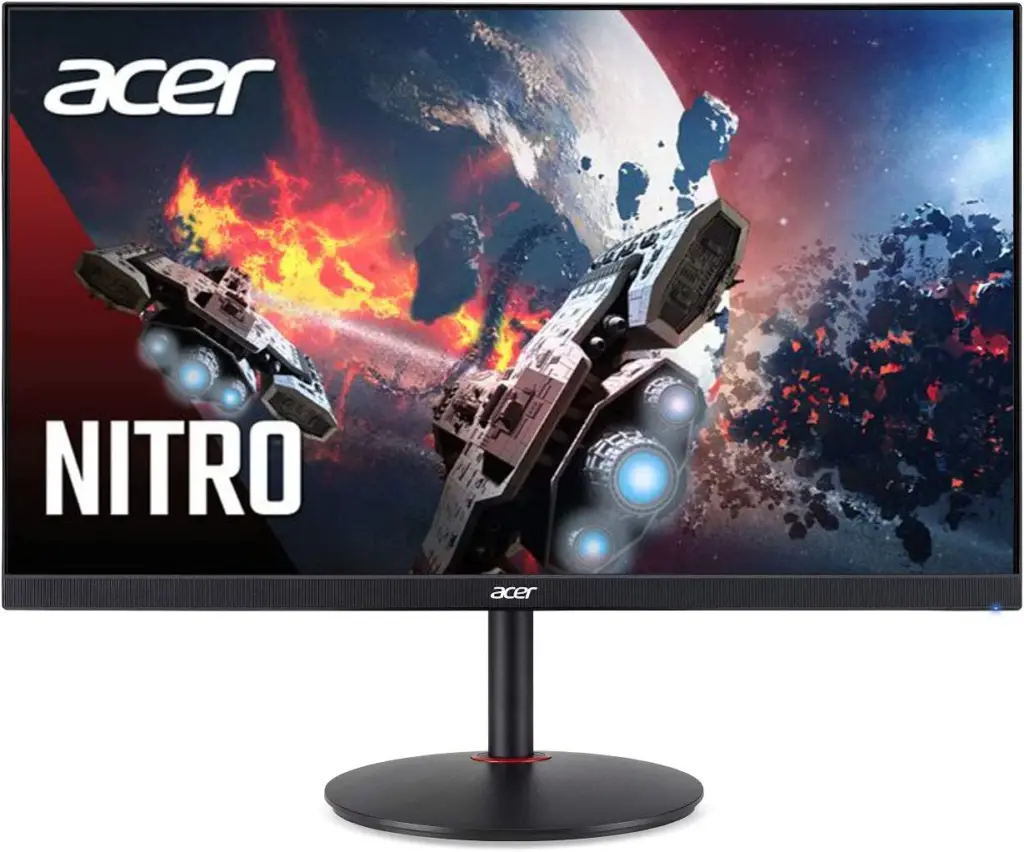 The Best Budget Mid-Range 1440p 144hz Monitor
Pros ☑
Better than the M27q for gaming
Ergonomic stand
Great colors after calibration
Cons ✖
Slightly lower peak brightness
No USB-C port
Specifications:
Resolution: 1440p
Size: 27″
Response time: 1ms VRB
Panel Type: IPS
Refresh rate: 144hz
Brightness: 350 nits
See Prices:
The Acer Nitro XV272U is an obvious alternative to the M27q if you don't want to deal with the BRG subpixel layout. It has basically the same prices as the other one but very similar features. 
First, it has a slightly worse peak brightness and doesn't have a USB-C port. Besides, when it comes to accuracy before calibration, the M27q takes the lead. Even so, both are practically the same after calibration.
If competitive gaming is going to be your primary use, then this is your go-to, since it has a faster response time and less motion blur. Personally, comparing both side by side, unless you are very nitpicky, it is almost impossible to find the slight difference while playing casual and story-focused games. 
Lastly, unlike the M27q, it comes with a range of ergonomic features, including swivel and pivot, ensuring that you can always find your ideal viewing angle.
In the end, both are great with their own set of advantages and downsides so choose whichever one meets your needs the most.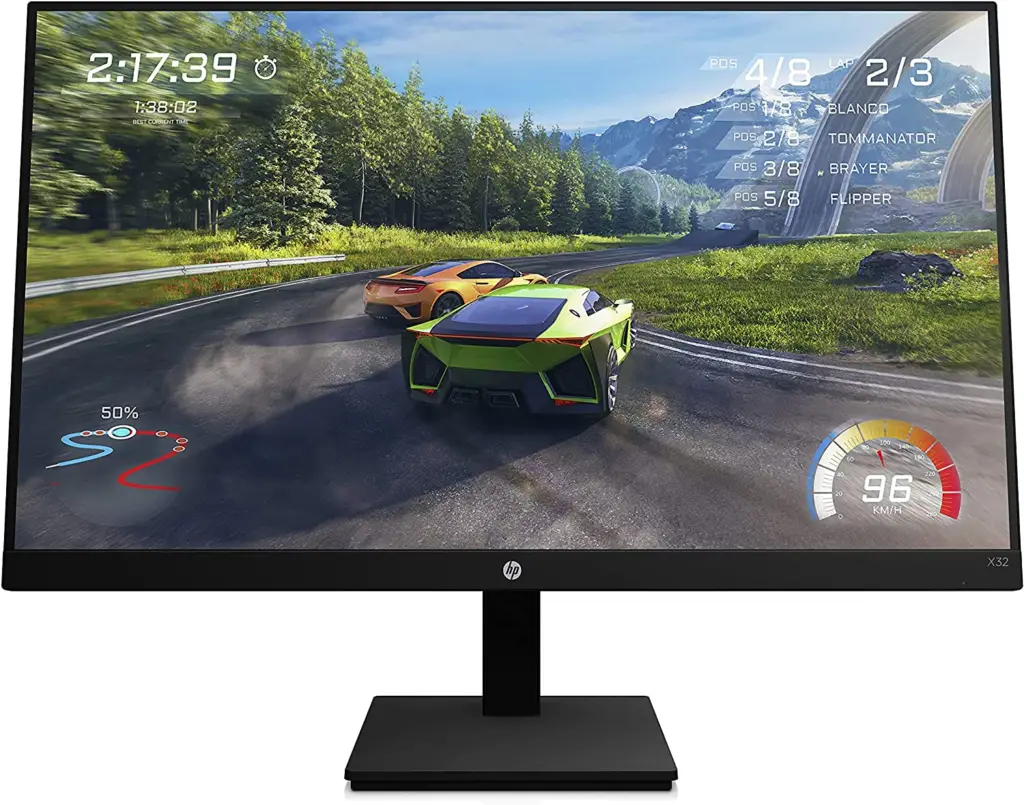 Best budget 32-inch 1440p 144hz monitor
Pros ☑
Much more affordable than the norm
Decent color accuracy out of the box
Awesome peak brightness
Cons ✖
Not very good for gaming
A significant amount of IPS glowing
Specifications:
Resolution: 1440p
Size: 32″
Response time: 1ms GtG
Panel Type: IPS
Refresh rate: 165hz
Brightness: 400 nits
See Prices:
Our review:
HP X32 Review | Budget 32-Inch Gaming Monitor
The HP x32 is not only the best 32-inch affordable 1440p 144hz monitor but also one of the most affordable 32-inch monitors out there. It is almost a steal when you consider all of the features it has and its current prices. Despite the additional size, which would typically mean a higher price point compared to the other models mentioned, this one surprisingly comes in at a lower price than most. This is precisely why it deserves a spot on this list.
Of course, it can't be this cheap without compromising on some features. Granted, it isn't as great as some other models we mentioned for gaming. On the other hand, its brightness and reflection handling is way over what one would expect at this price range. Besides, although it has sRGB 99%, the colors are vivid out of the box.
So, when we consider this a 32-inch monitor with up to 165hz and 1440p resolution that costs around $250, all of those "downsides" become quickly overshadowed.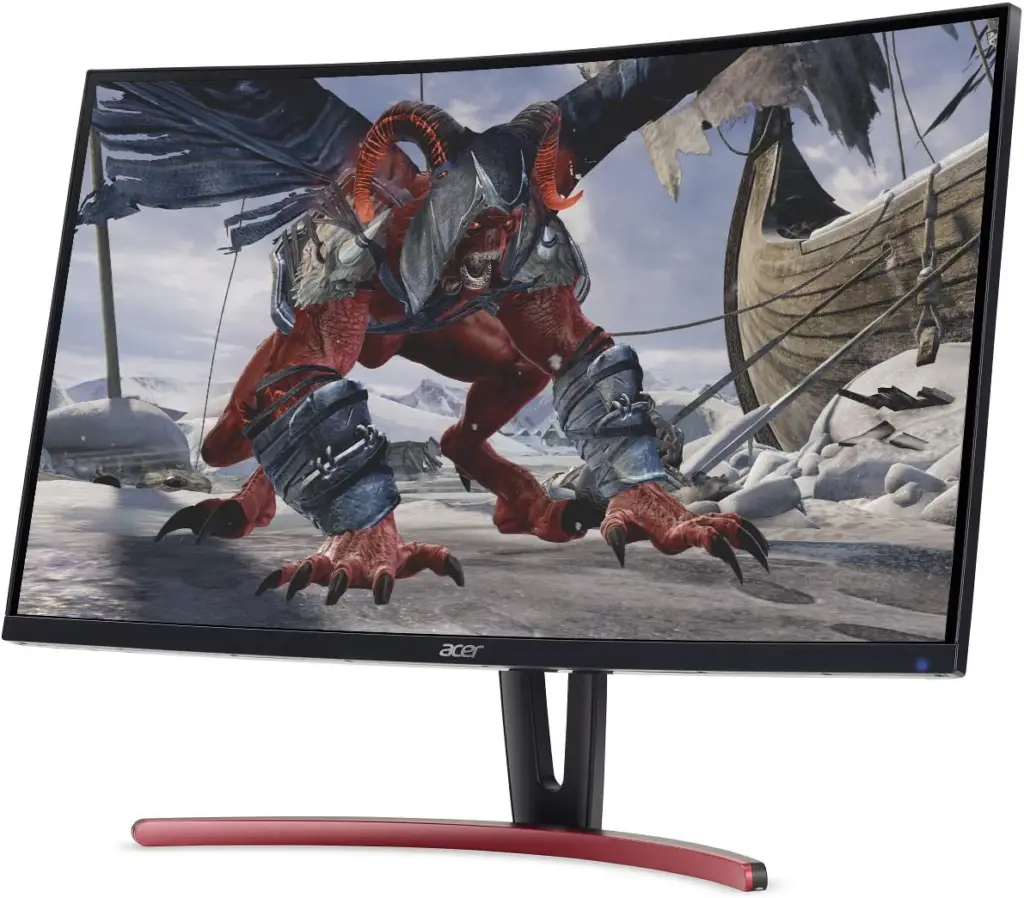 Best budget VA 1440p 144hz monitor
Pros ☑
One of the cheapest VA 1440p monitors
Vibrant colors
Low black smearing amount
Cons ✖
Polarizing design
High motion blur in fast-paced games
Specifications:
Resolution: 1440p
Size: 27″
Response time: 4ms GTG
Panel Type: VA
Refresh rate: 144hz
Brightness: 270 nits
See Prices:
Our review:
Acer ED273UR Review | One of the best VA monitors
Coming as a surprise release from Acer, the Acer ED273UR is truly a hidden gem. When you first lay eyes on it, you definitively wouldn't think of it as a great budget choice due to its somewhat outdated style. However, proving once again that we can't judge a book by its cover, it is the most adequate option for the VA monitor in this list.
As expected, it does have black smearing, but it wasn't bothersome enough during gameplay. Still, motion blur was easily noticeable during fast-paced shooting titles. 
The colors are one of the masterpieces of this monitor, on the other hand. Usually, VA panels tend to have washed-out colors, but this one defied all expectations with its vibrant colors out of the box. When we take those striking colors and pair them with the deep blacks and good contrasting ratio, this monitor becomes one of the rarest cheap VAs that are actually good. Yet, its polarizing stand design may detract some consumers, so you should factor that in as well.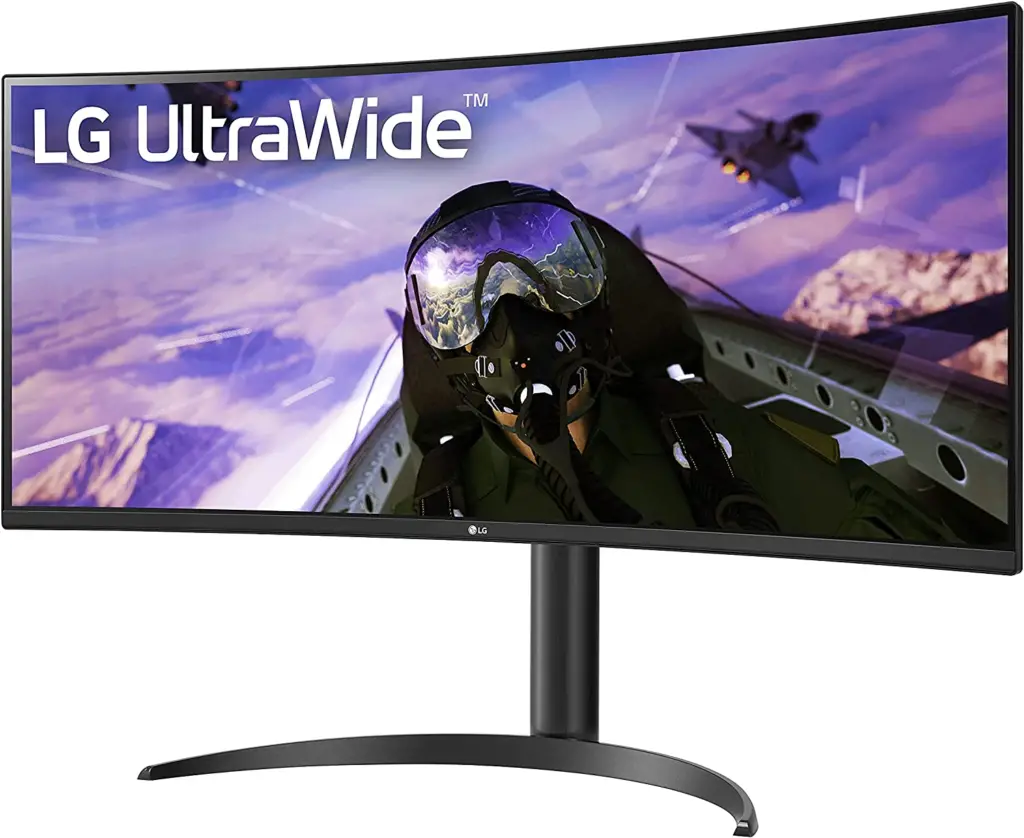 Best Budget Ultrawide 1440p 144hz monitor
Pros ☑
Budget-friendly
It has one of the best speakers
Native 10-bit support
Awesome black consistency and deep blacks
Cons ✖
Average color accuracy
It has a decent amount of black smearing
Specifications:
Resolution: 3440 x 1440
Size: 34″
Response time: 5ms GTG
Panel Type: VA
Refresh rate: 160hz
Brightness: 300 nits
See Prices:
Our review:
LG 34WP65C-B Review | One Of The Best Ultrawide Monitors
Ultrawide and budget don't usually go well together in the same sentence, but this one is an exception to the rule. Due to its VA panel, its prices are way lower than average. And aside from that, its other features are great. 
It holds one of the best speakers you can find at this price tag, as well as up to 160hz and a decent brightness ratio. Granted, it is the VA monitor with the highest level of black smearing in this list, but we grew accustomed to it with some time. It does have 10-bit support, but other than that, its colors are average. Contrarily, the black consistency is great and perfect if you will use the monitor in a dark room. So, this is indeed one of the most basic in this list in terms of features, but 1440p and 144hz for an ultrawide monitor this cheap makes up for all the other things it lacks.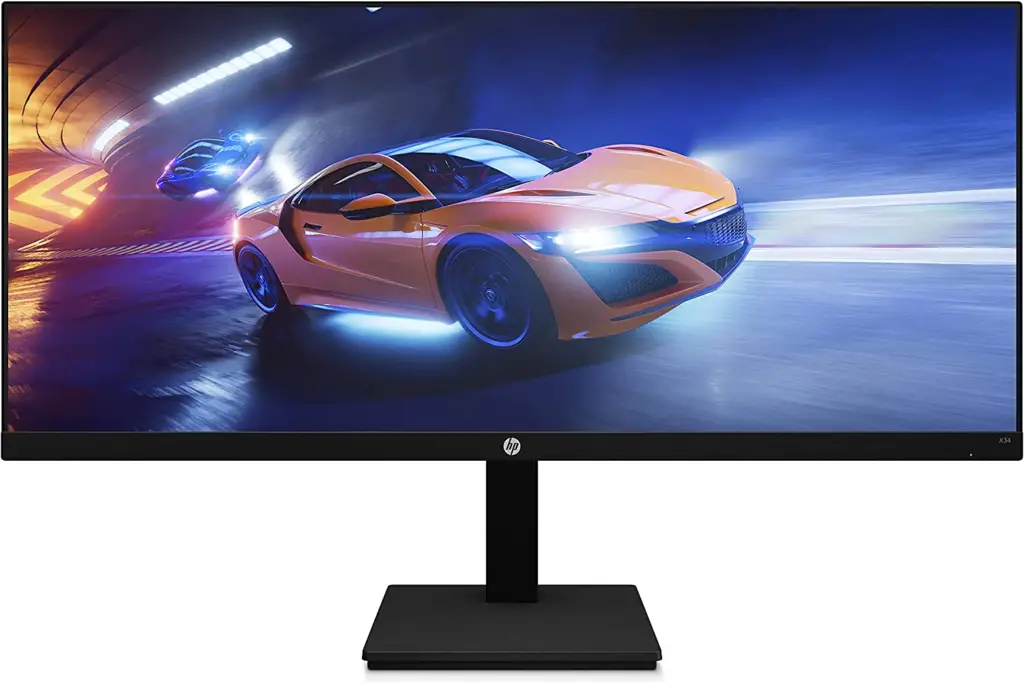 Best Budget Ultrawide 1440p 144hz Monitor With An IPS Panel
Pros ☑
High peak brightness
Accurate colors
More affordable than other IPS ultrawide monitors
Cons ✖
More expensive than its VA competitor
Low black consistency
Poor reflection handling
Specifications:
Resolution: 3440 x 1440
Size: 34″
Response time: 1ms GtG
Panel Type: IPS
Refresh rate: 165hz
Brightness: 400 nits
See Prices:
Our review:
HP X34 Review | Is It The Best HP Ultrawide Screen?
Now, if VA panels aren't really your thing, and you are willing to save slightly more for an IPS, the HP X34 is your choice. When it comes to manufacturing budget-friendly monitors, HP really rocks. And, standing on the same "X" series as the Hp X32, this one is an ultrawide version of that masterpiece. 
Once again, for being quite affordable, it does lack a couple of things that you should take into consideration. First, unlike the LG 34WP65C-B, it doesn't have a huge amount of ports or any speakers. On the other hand, it has a better response time and more accurate colors. Yet, as an IPS monitor, it is substantially more expensive than its VA competitor. Which in turn, isn't enough to place it off this list. 
Honorable mention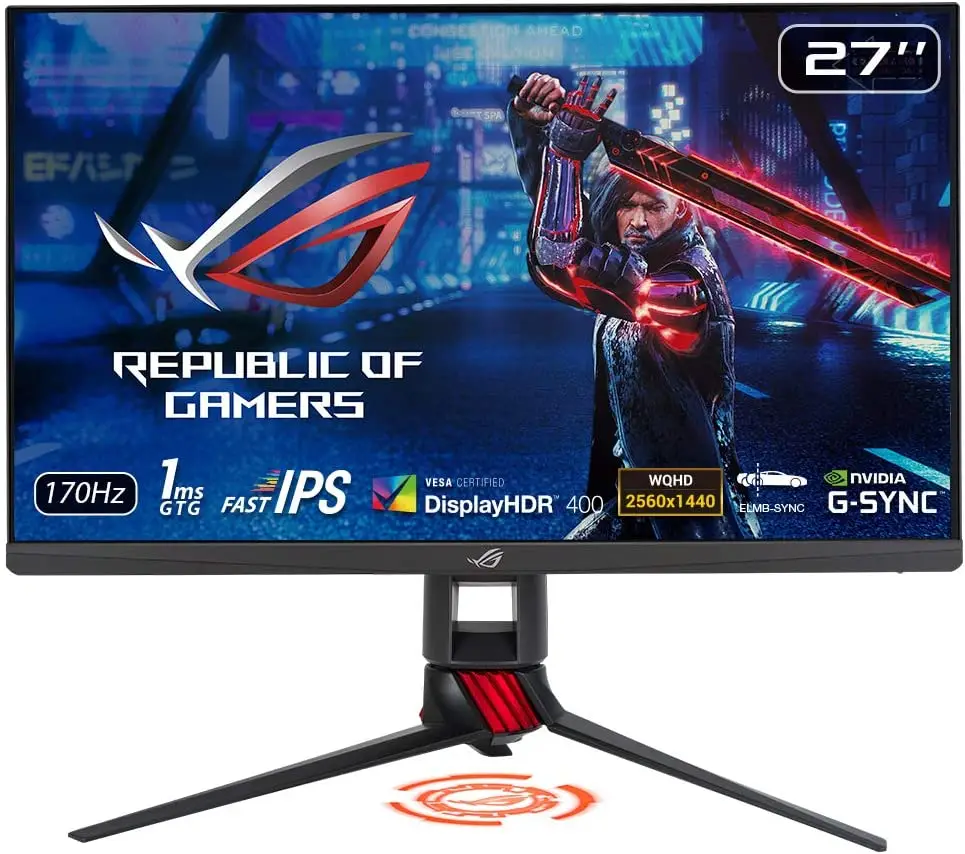 Best 1440p 144hz Monitor
Pros ☑
The higher brightness ratio in this list
Vibrant colors
Fast Response time
Specifications:
Resolution: 1440p
Size: 27″
Response time: 1ms GTG
Panel Type: IPS
Refresh rate: 170hz
Brightness: 400 nits
See prices:
Depending on your budget, you can opt to get the best of the best for 1440p 144hz monitors. In this case, there is no better option than the ASUS ROG Strix XG279Q. In comparison to the M27q the ASUS ROG Strix XG279Q is better in every way, with richer colors, better brightness ratio, lower motion blur, and so on. Yet, costing around 700 dollars currently, it is definitively not for everyone, but due to its good features, it actually deserves a spot in this list as an honorable mention.
You may like