Our Conclusion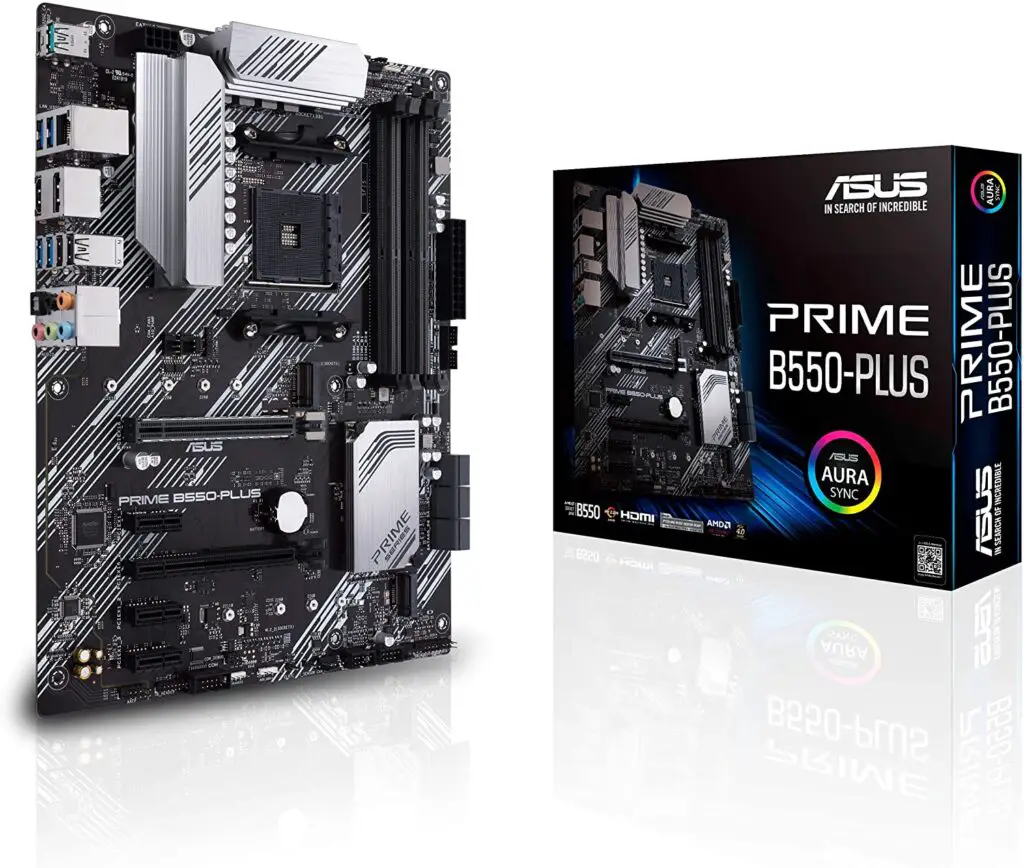 The ASUS Prime B550-PLUS is a great option for those of you searching for a mid-end Ryzen-CPU motherboard balanced with good features and affordability. But note that Asus decided to remove aesthetics features for this board to decrease the final prices. Still, this is not an advisable choice if you want to overclock, since there is the Gigabyte B550 Gaming X V2 with a better cooling system and the same prices.
Pros
✓ Enlarged heatsinks
✓ PCIe x16 with steel protection
✓ HDMI connector
✓ Affordable
Cons
✘ M.2 slots witouth shield
✘ Low amount of VRM phases
The B550 boards have become really popular in recent years due to their balanced prices and features. This chipset is also popular because it supports the 5000 Ryzen CPU line, making it a great long-term investment.
However, some manufacturers seem to be pushing the capabilities of this chipset to its "limits", adding a slew of high-end niche features for a mid-range chipset, all of which raises the final price unnecessarily.
Avoiding this example, we'll look into this Asus motherboard for today's post, which appears to be an inexpensive B550 board at first glance. Check out the ASUS Prime B550-PLUS review below to see if this is a good fit for you.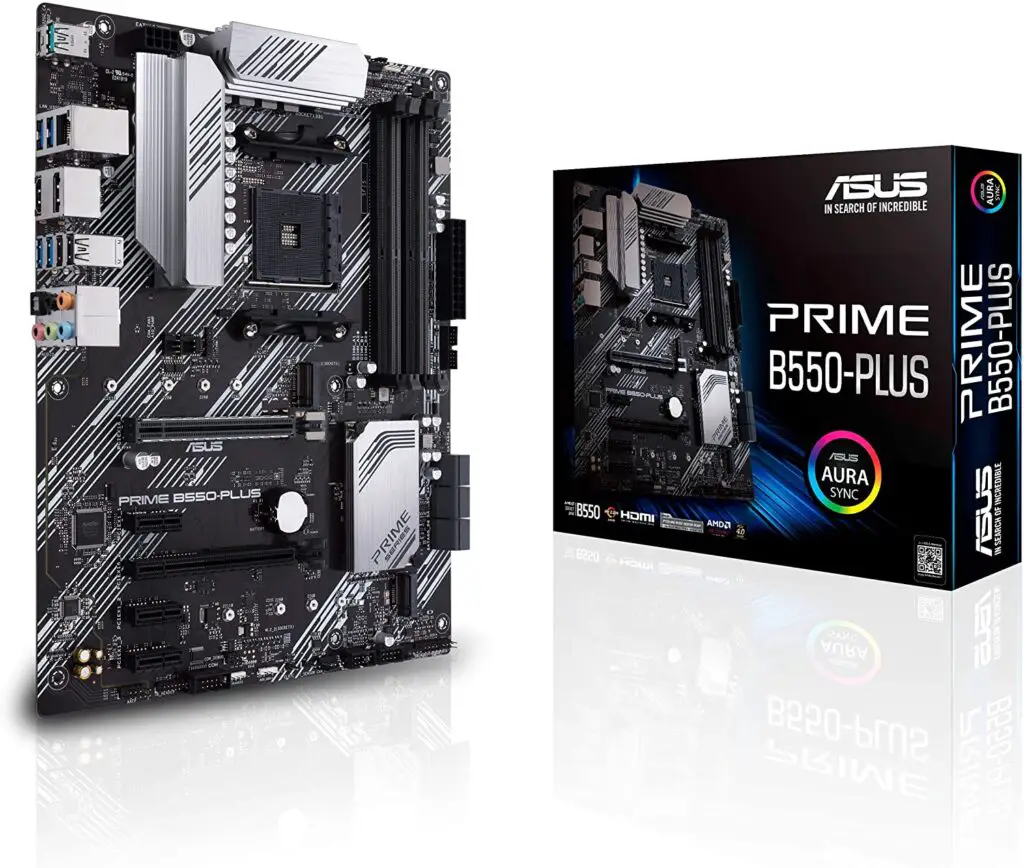 Design
At first glance, we can see that this is another of those classic choices where they strip any "gamer" aesthetics and concentrate on the "important" features. Unfortunately, there is no RGB LED on this board, and there is also no pre-installed I/O shield.
This board has an entirely black finish, with some white stripes patterns passing across it. It also has some brushed gray enlarged heatsinks, which seem to transmit reliability in keeping the VRM circuit at low temperatures.
It's also worth noting that, unlike with the ASUS Prime X570-P model, they didn't provide a cooler on the chipset, presumably to save money. 
Overall, we can say that this board has nothing gaming-related on it concerning design, but we have yet to see if the gaming features will make up for this simple aesthetics.
Socket and Chipset
As previously stated, this board also includes the B550 chipset, which is one of the most well-balanced options in terms of good features and low prices.
This chipset will provide mid-range overclock margins for your CPU and memory, as well as support for the new PCIe 4.0, which will greatly increase the speed of this board's connectors.
Aside from that, this board features the AM4 socket, which supports an incredibly wide range of Ryzen CPUs, from Zen to Zen 3, as well as the brand new 5000 line, making it a great future-proofed choice.
Memory
Besides, the B550 chipset will give this board a decent average overclocking threshold. According to the Asus website, the maximum OC for AMD RyzenTM 5000 Series/ 3000 Series Desktop Processors is 4600 Mhz, and 4800 Mhz for AMD RyzenTM 4000 G-Series Processors.
Furthermore, this board has 4 x DIMM slots, with a total capacity of 32 GB per slot and a maximum capacity of 128 GB. You can also rely on Dual channel memory architecture and XMP support to easily overclock your memories.
Overclock and Recommended Processors
One of the main benefits of AMD boards, in my opinion, is the broad range of CPU options support offered by the AM4 socket. While an Intel board requires you to swap it out to a recent one any time you want to update your CPU, the AM4 socket allows you to select any CPU with the Zen microarchitecture, including the latest 5000 line.
Another advantage is that PCIe 4.0 is available in an inexpensive mid-range motherboard like this one. 
Unfortunately, the ASUS Prime B550-PLUS doesn't have a very good cooling system for a B550 board; it does have an enlarged heatsink, yet just a few VRM phases. So if you want to overclock, I wouldn't suggest this board because there are cheaper alternatives with better cooling systems, such as the Gigabyte B550 Gaming X V2.
If you don't plan on overclocking, you can use some decent powerful CPUs with this board, such as the Ryzen 5 5600X or even the Ryzen 7 5800X as a threshold choice.
However, keep in mind that this is a mid-range motherboard, so don't push it to its limits with a CPU that consumes more than 105W, or you'll risk overheating.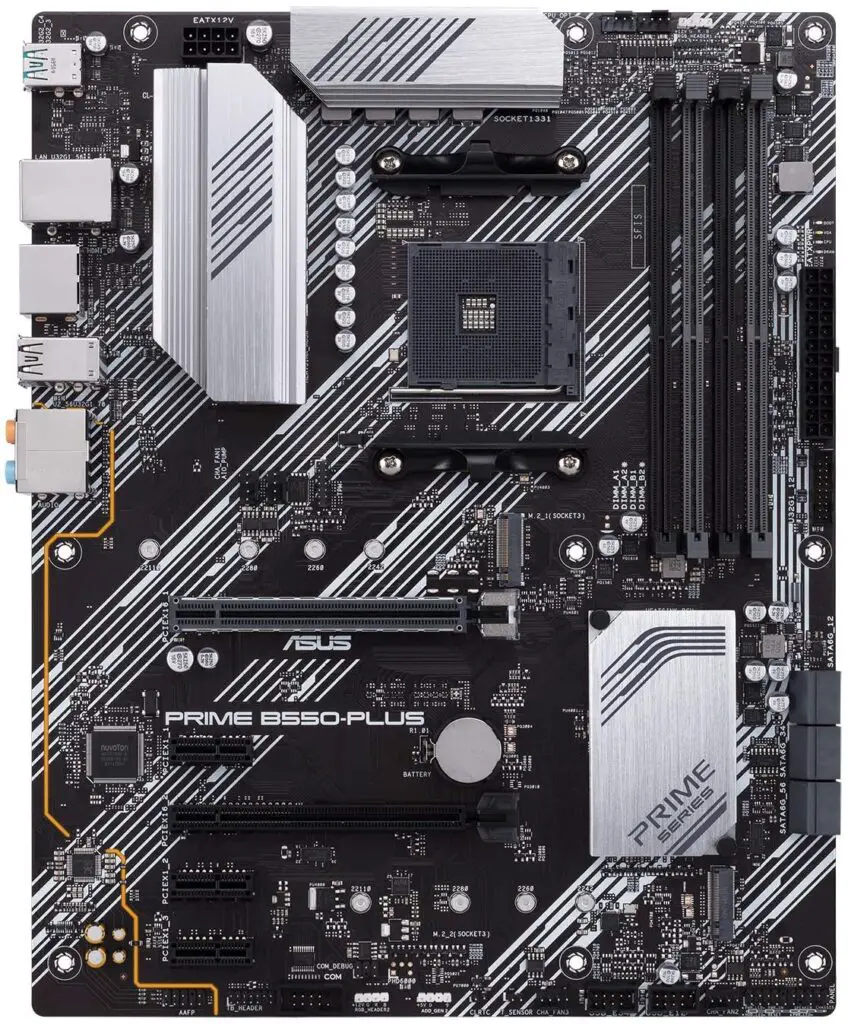 VRM and Connectors
As mentioned, one of the main drawbacks of this motherboard is its low number of VRM phases. It has only 8+2 phases, becoming a non-reliable choice for those who need a good overclocking motherboard. If you need more power, the Gigabyte B550 AORUS Elite V2, which has 12+2 VRM phases, is a better choice for you.
Power connectors and SSD
The ASUS Prime B550-PLUS needs the usual 24-pin Power cable and an 8-pin 12V Power cable in order to receive enough energy. Besides that, this board provides 2x M.2 connectors, none with a shield.
The first M.2 slot is the only one connected to the CPU; thus, it is the only one with PCIe 4.0 support, which can be availed only in combination with a 5000 line CPU.
Fan, RGB, SATA
Besides, this board features: 1 x CPU Fan connector, 1 x CPU OPT Fan connector, 3 x Chassis Fan connectors, 1 x AIO_PUMP connector, 2 x Aura RGB Strip Headers, 1 x Addressable Gen 2 header.
PCI connectors
Lastly, with this board, you're going to have 2x PCIe x16, with the first one having a steel shield to enhance durability and capability of holding heavy graphics cards firmly.
This specific PCIe connector also has PCIe 4.0 support, but, again, you need to be using a 5000 CPU on this board. Aside from that, you also have 3x PCIe 3.0 x1, none with steel protection.
Back panel
As previously mentioned, Asus chose not to include the pre-installed I/O shield on this unit, compromising the board's overall aesthetics and making installation a little more difficult.
That aside, let's take a look at the back panel and see what this board has to provide on it.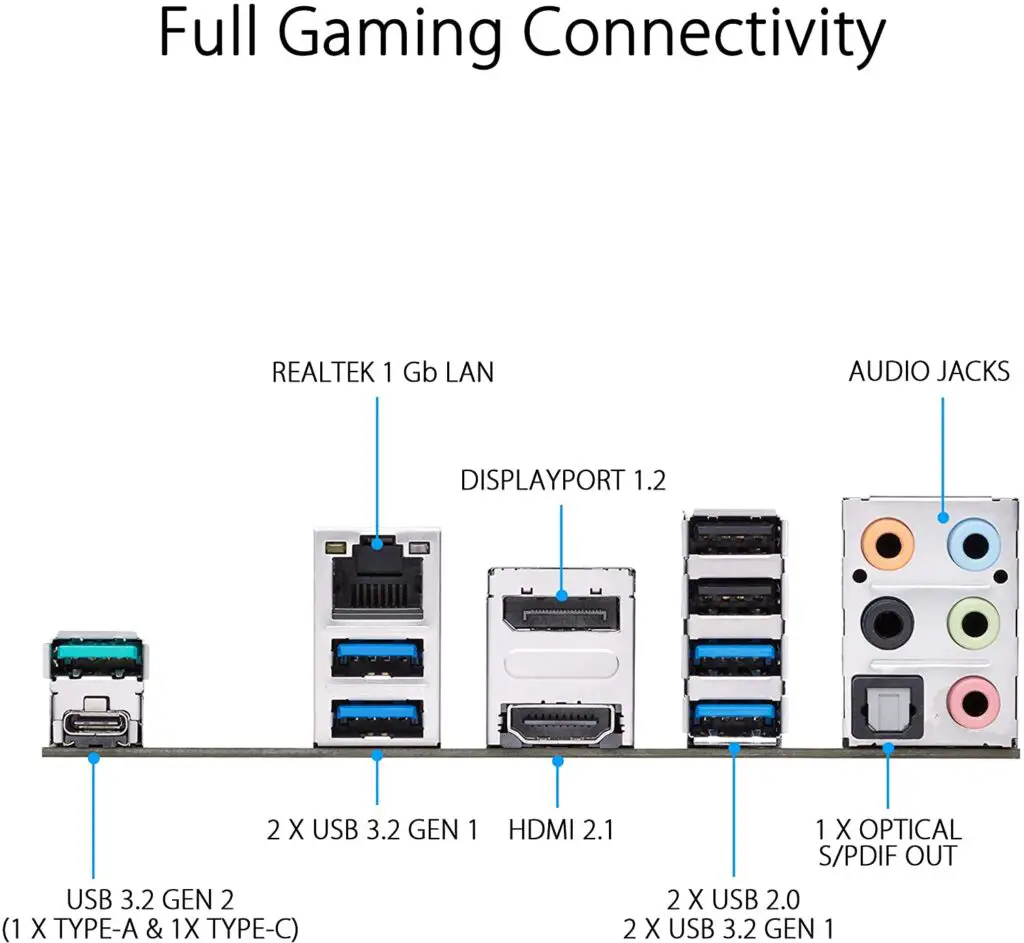 1 x DisplayPort
1 x HDMI
1 x LAN (RJ45) port(s)
2 x USB 3.2 Gen 2 (teal blue) (1 x Type-A+1 x USB Type-C®)
4 x USB 3.2 Gen 1 (blue) Type-A
2 x USB 2.0
1 x Optical S/PDIF out
5 x Audio jack(s)
Final thoughts
When to buy it
If you don't really care about the poor aesthetics of this board and need a cheap B550 choice, the ASUS Prime B550-PLUS is for sure one of your best options.
When not to
However, if you want to overclock, I advise you to take a look at the Gigabyte B550 Gaming X V2, which has a better cooling system than the Asus one.  
You may like