Our Conclusion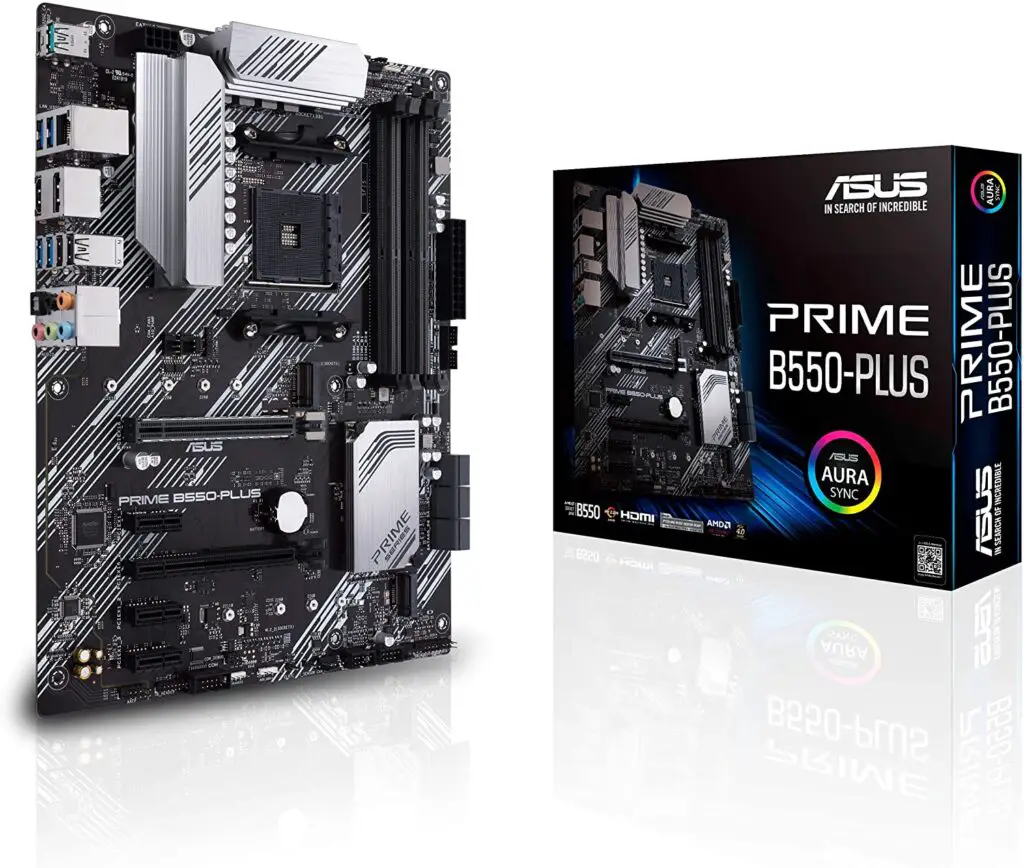 The ASUS Prime B550-PLUS emerges as an excellent choice for those in pursuit of a mid-range Ryzen CPU motherboard that strikes a pleasing balance between features and cost-effectiveness. It's worth mentioning that Asus opted to forego aesthetics to ensure more affordable pricing for this board. However, if your intention is overclocking, it's worth considering the Gigabyte B550 Gaming X V2, which offers an improved cooling system and comes at a comparable price point.
Pros
✓ Enlarged heatsinks
✓ PCIe x16 with steel protection
✓ HDMI connector
✓ Affordable
Cons
✘ M.2 slots witouth shield
✘ Low amount of VRM phases
B550 motherboards have gained quite a fan base lately, thanks to their attractive blend of price and features, even though it is still slightly overshadowed by the latest AMD chipsets. What's even cooler is that this chipset plays nice with the Ryzen 5000 CPU series, granting you a wide list of great CPUs to choose from.
Yet, here's the twist – nearing the end of its support for upcoming processors, some manufacturers were going all out, loading up this chipset with high-end bells and whistles, and that doesn't always do wonders for the wallet.
But fear not, we're diving into an Asus gem today. The ASUS Prime B550-PLUS might seem like your usual affordable B550 board, but there's more to it. Check out the review below to see if this could be your perfect match!
August 8, 2023 Update: Corrected typos and more info about the motherboard.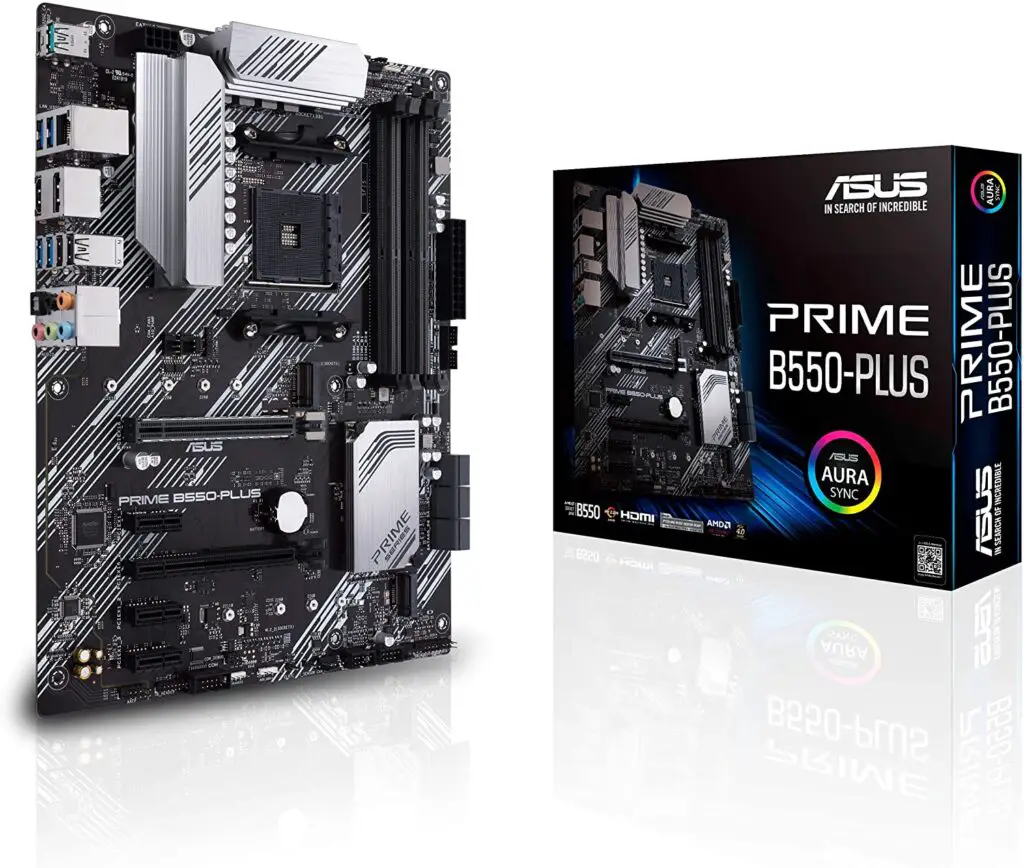 Design
When we first take it out of the box, it's evident that this is one of those timeless choices where the emphasis is placed on essential features rather than flashy "gaming" aesthetics. Regrettably, there's no RGB LED lighting on this board, and the pre-installed I/O shield is also missing.
The board boasts a sleek black finish adorned with white striped patterns traversing its surface. Additionally, the inclusion of brushed gray enlarged heatsinks implies a focus on maintaining a reliable VRM circuit at optimal temperatures.
Unlike the ASUS Prime X570-P model, it's worth mentioning that they've omitted a cooler on the chipset, presumably as a cost-saving measure.
In summary, this board steers clear of gaming-centric design elements. However, the true test lies in whether the gaming features can compensate for this understated aesthetic approach.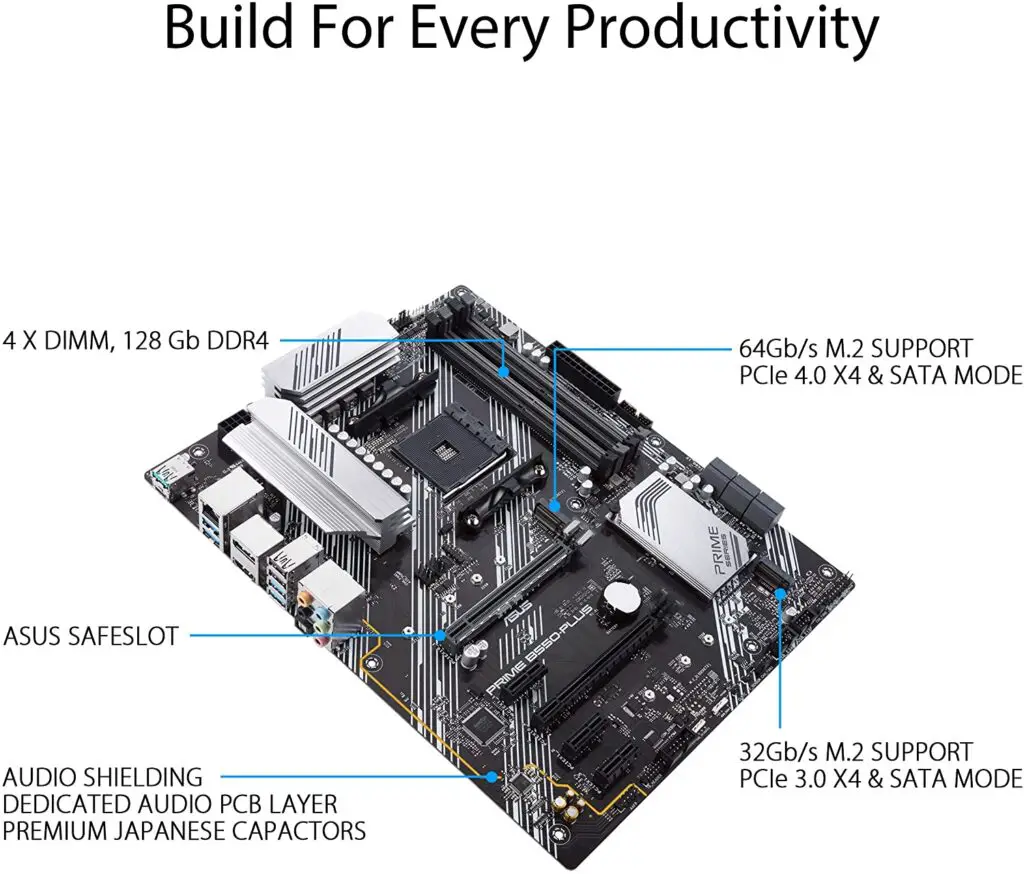 Socket and Chipset
Like I mentioned earlier, this board comes with the B550 chipset, which strikes a fantastic balance between impressive features and budget-friendly pricing.
With this chipset, you can expect moderate overclocking capabilities for both your CPU and memory, plus the added benefit of PCIe 4.0 support, significantly enhancing the speed of the board's connections.
Moreover, this board boasts the AM4 socket, offering compatibility with an extensive range of Ryzen CPUs, spanning from Zen to Zen 3, including the 5000 line. This feature makes it an excellent future-proof option.
Memory
Moreover, the B550 chipset ensures that this board maintains a solid and respectable threshold for memory overclocking. As detailed on the Asus website, the highest achievable overclock for AMD RyzenTM 5000 Series/ 3000 Series Desktop Processors is 4600 MHz, and for AMD RyzenTM 4000 G-Series Processors, it's 4800 MHz.
In addition, this board offers 4 x DIMM slots, each capable of accommodating up to 32 GB, resulting in a grand total of 128 GB maximum capacity. The convenience of Dual-channel memory architecture and XMP support is at your disposal, making memory overclocking an easy endeavor.
Overclock and Recommended Processors
In my view, one of the standout advantages of AMD boards is the remarkable flexibility of the AM4 socket in terms of CPU compatibility. Unlike Intel boards that often necessitate upgrading to a newer one whenever you change your CPU, the AM4 socket lets you pick from a wide array of CPUs featuring the Zen microarchitecture, including the 5000 line. The 7000 line is out of the question for this one, though.
Another noteworthy perk is the inclusion of PCIe 4.0 even in an affordable mid-range motherboard like this.
Regrettably, the cooling system of the ASUS Prime B550-PLUS doesn't quite measure up for a B550 board. While it does come with an expanded heatsink, the VRM phases are rather limited. So, if you're aiming to overclock, I wouldn't recommend this board, especially with more cost-effective options available that offer superior cooling solutions, such as the Gigabyte B550 Gaming X V2.
For those not planning to overclock, this board can handle some robust CPUs quite well, such as the Ryzen 5 5600X or even the Ryzen 7 5800X as a solid choice.
Nonetheless, bear in mind that this falls within the mid-range motherboard category. It's wise not to push it to its limits with a CPU consuming more than 105W, as you run the risk of overheating.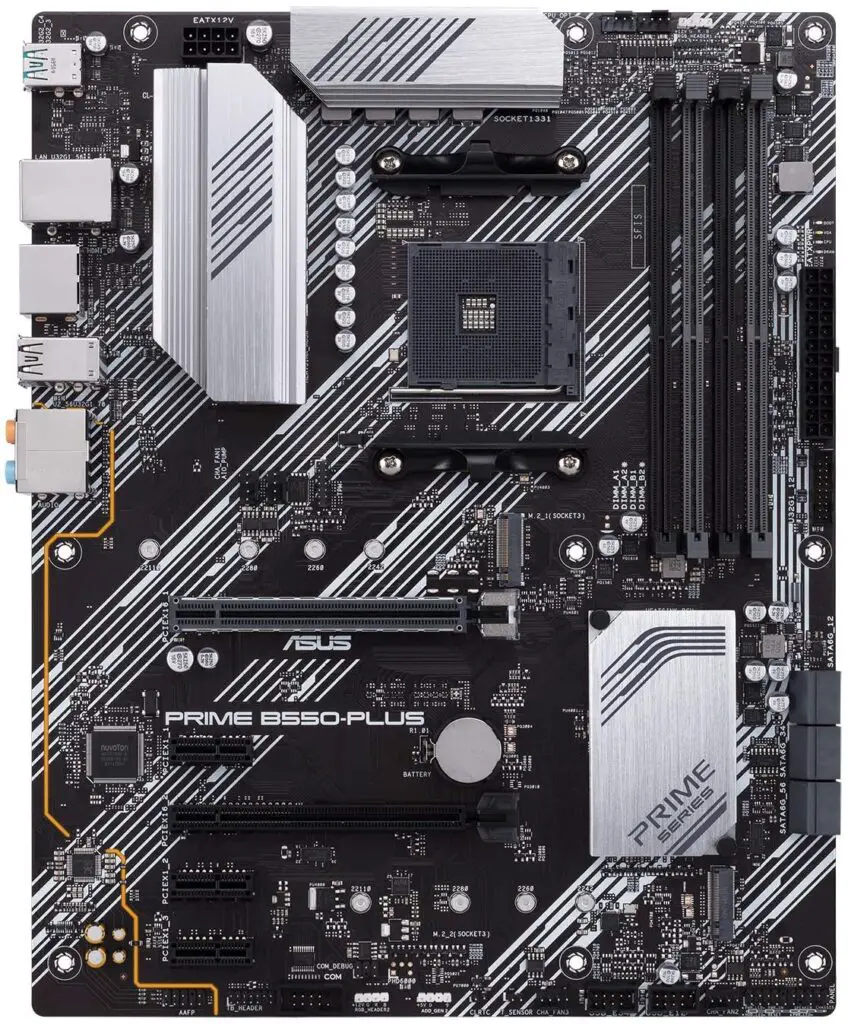 VRM and Connectors
As previously noted, one of the significant drawbacks of this motherboard lies in its limited number of VRM phases. With just 8+2 phases, it falls short as a reliable option for those seeking a robust overclocking motherboard. If you require more power, the Gigabyte B550 AORUS Elite V2 presents a better alternative, boasting 12+2 VRM phases.
Power connectors and SSD
To ensure an adequate power supply, the ASUS Prime B550-PLUS  necessitates the standard 24-pin Power cable and an 8-pin 12V Power cable. Additionally, the board offers 2x M.2 connectors, both lacking shields.
The initial M.2 slot exclusively connects to the CPU, providing PCIe 4.0 support exclusively when paired with a 5000 line CPU.
Fan, RGB, SATA
Besides, this board features: 1 x CPU Fan connector, 1 x CPU OPT Fan connector, 3 x Chassis Fan connectors, 1 x AIO_PUMP connector, 2 x Aura RGB Strip Headers, 1 x Addressable Gen 2 header.
PCI connectors
Lastly, the board offers 2x PCIe x16 slots, the first of which features a reinforced steel shield for enhanced durability and secure accommodation of heavy graphics cards.
This particular PCIe connector also supports PCIe 4.0, although, as before, a 5000 CPU is required. Beyond that, there are also 3x PCIe 3.0 x1 slots, none of which feature steel protection.
Back panel
As previously mentioned, Asus chose not to include the pre-installed I/O shield on this model, compromising the board's overall aesthetics and making installation a bit more difficult.
That aside, let's take a look at the back panel and see what this board has to provide on it.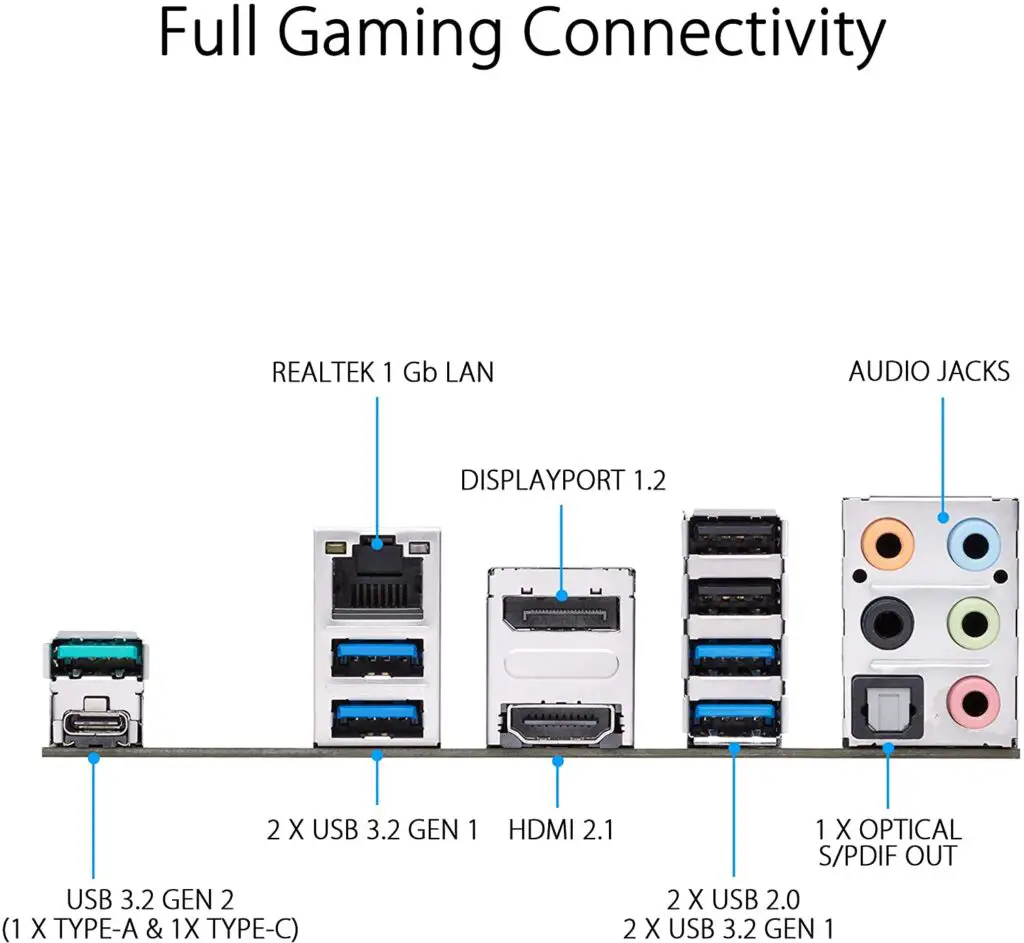 1 x DisplayPort
1 x HDMI
1 x LAN (RJ45) port(s)
2 x USB 3.2 Gen 2 (teal blue) (1 x Type-A+1 x USB Type-C®)
4 x USB 3.2 Gen 1 (blue) Type-A
2 x USB 2.0
1 x Optical S/PDIF out
5 x Audio jack(s)
Final thoughts
When to buy it
If you're not too concerned about the board's lackluster aesthetics and are looking for an affordable B550 option, the ASUS Prime B550-PLUS is undoubtedly among your top choices. Yet, if overclocking is on your agenda, I recommend checking out the Gigabyte B550 Gaming X V2, which outshines the Asus in terms of its cooling system.
You may like