Our Conclusion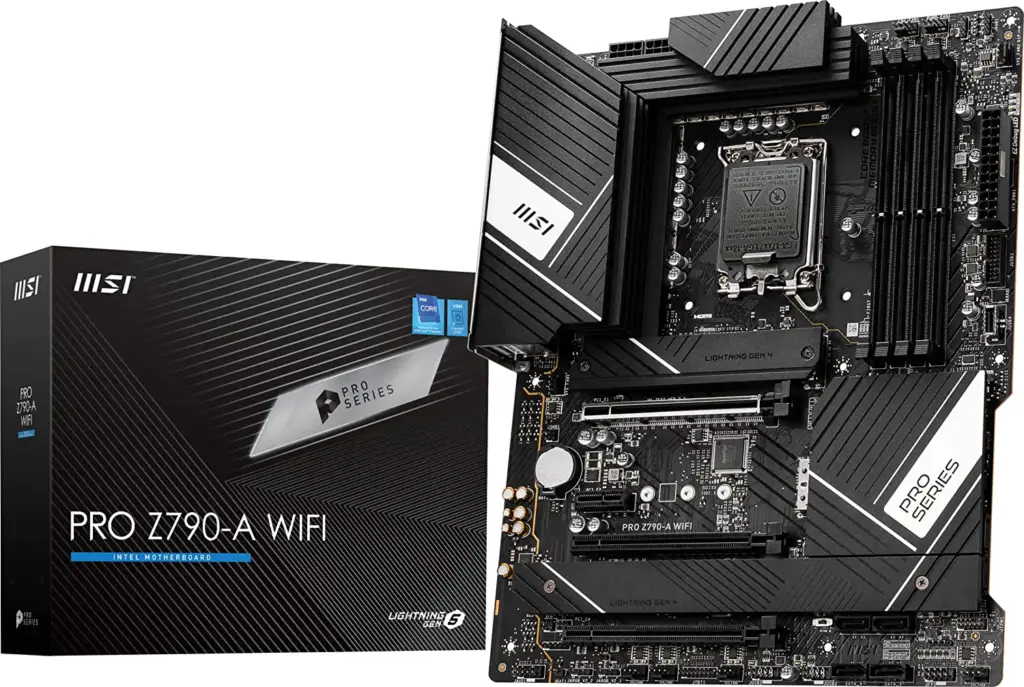 The MSI MSI PRO Z790-A WiFi is a highly commendable choice for enthusiasts, offering an impressive memory OC threshold and effective VRM cooling at a more budget-friendly price point. However, its lack of support for PCIe 5.0 M.2 slots means it falls slightly short in comparison to other options. Due to that, I would wait for a sale before affording it, since it does have some significant downsides over the competition. Keep in mind that it often goes on sale on Amazon, so it's worth checking the link below before making your decision.
Pros
✓ Up to 7200MHz RAM OC
✓ PCIe 5.0 x16 slot
✓ 2x M.2 with steel shields
✓ More affordable than usual
✓ Great cooling for its price
Cons
✘ Polarizing Design
✘ Lack of PCIe 5.0 support for NVME
The MSI pro series is, currently, one of the most affordable motherboard lineups with support for the latest generations of Intel and Ryzen CPUs. You can tell it is made to be more inexpensive just by glancing at its characteristic design. 
It is not nearly as sturdy as some of the high-end models from MSI, like the MSI MPG Z590 Gaming Plus, even though it has a top-tier chipset, like the one we'll be checking out today. 
In previous reviews, we looked at the Msi Pro X670-P Wifi, and the MSI Pro B650-P Wifi, but now it's time to go for the blue side of the force and look into an Intel motherboard. Let's dive in and see if this board can meet the high expectations the other ones gave us. Check out the MSI PRO Z790-A WiFi review.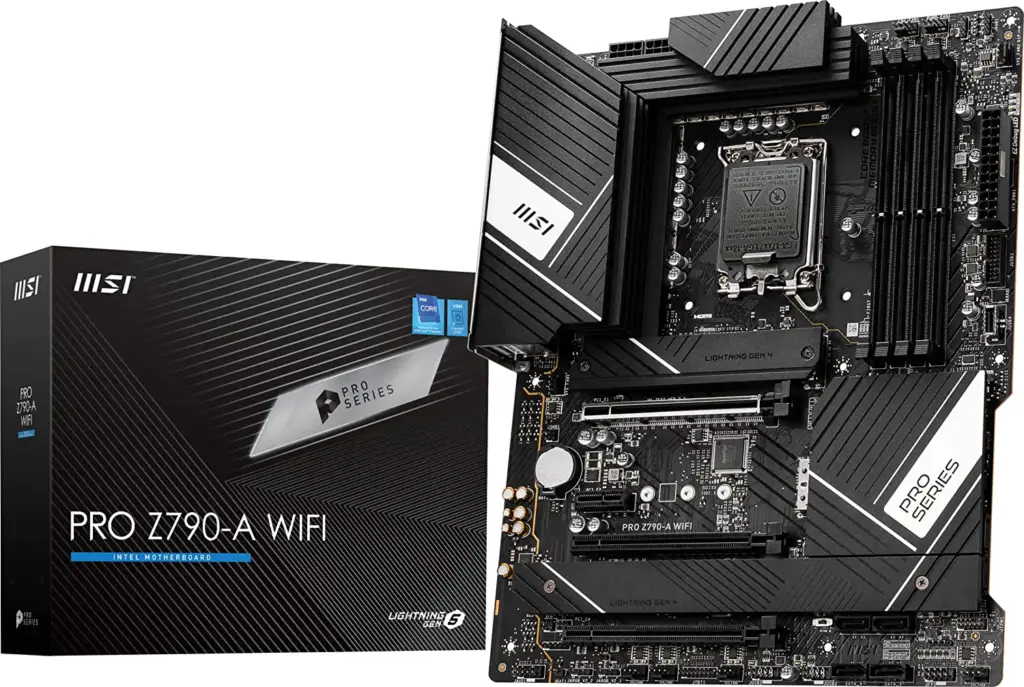 Design
As we mentioned before, the pro series motherboards, even the higher-end ones like this, aren't known for their aesthetic gaming features. 
Of course, the top-of-the-line ones such as this do have some specific things that make it slightly distinct compared to the others we checked out before.
 If we compare the Msi Pro X670-P Wifi, which has the best AMD chipset, and this one, also featuring the best chipset, the latter is the one that comes up ahead in terms of design.
It looks more robust and sturdy and possibly has better cooling performance due to its enlarged heatsink. You can compare them below.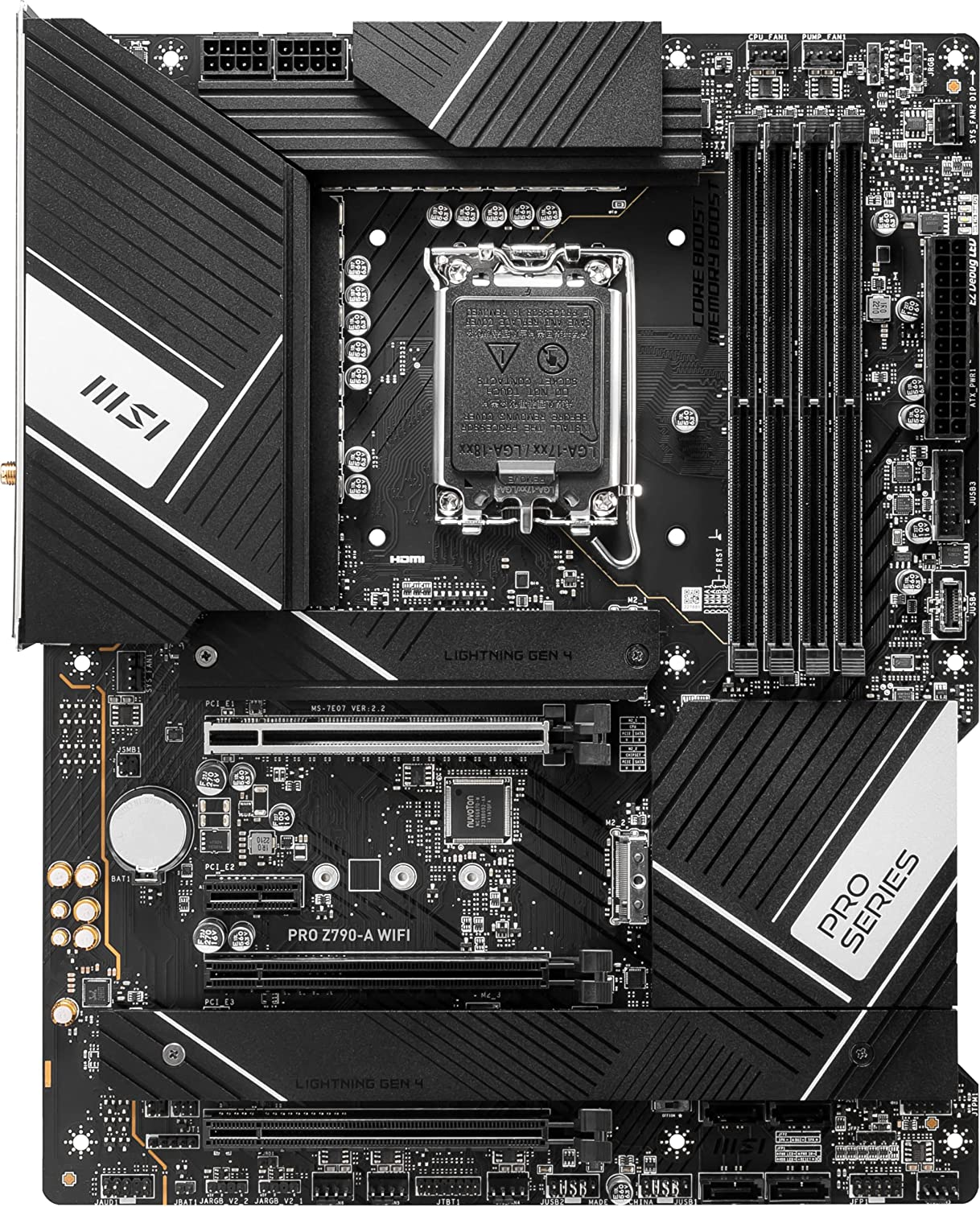 Taking a closer inspection, we can see that one of the main differences is how the latter has more shields and protections across its surface. Its heatsink is taller and bulkier, and it has another M.2 shield for the second slot, while the former only has this protection on the first slot.
Due to all that, even though this series style isn't really my cup of tea, this is my favorite design out of all the other ones we looked at this week. Yet, if you need the motherboard to stand out with some RGB LEDs and other features, this is definitely not your best choice.
It has dull colors with some gray stripe patterns here and there and matte black as a dominant color. Also, it is a large board, so be sure to check out the right case to use with it before purchasing it. It has around 243.84mmx304.8mm.
In the end, we can say that this is the perfect choice for those who don't want the board to be the component that sticks out the most inside the case. With a board like this one, having this simple design with no flashy colors, you can let your graphics card, RAM modules, and AIO cooler take center stage.
Socket and Chipset
Featuring the Intel flagship chipset, the MSI PRO Z790-A WiFi leaves almost nothing to be desired when it comes to support for new technologies.
It has a large number of SATA and USB ports, although for the majority of users, this may be a bit overkill.
It also allows your RAM modules to reach very high MHz speeds and has overclocking support for CPUs, as well as support for PCIe 5.0 graphics cards and NVME, even though these features aren't widely available in today's market. However, they may become more important in the future, making this a future-proof investment for enthusiasts.
Casual users may not need to pay the premium for features they won't use and may find a better budget chipset like the B690 to be a better value. Additionally, the board has the LGA 1700 socket, which gives users two generations of CPUs to choose from, the 12th and 13th.
Currently, it supports more CPUs than the AM5 socket, but given Intel's frequent socket changes, the AM5 may catch up and surpass its competitor in the future.
Memory
Fortunately, or unfortunately for some, this board has 4x DDR5 RAM slots. Obviously, you can't pair DDR4 Ram with them, so if you are coming from an old build, prepare your wallet for some of those pricey RAM. 
Either that, or you could go with the DDR4 version of this motherboard, the: MSI PRO Z790-A WiFi DDR4. The thing with that version is that it is slightly more expensive. So, in the end, you'll have to weigh the choices of, either affording the new RAM, or using your old modules while having that cap in technology.
The problem with all that is that depending on what the future has in store for us, DDR5 memory can reach break new boundaries that DDR4 will never be able to. Right now, though, the difference in gaming between both is not very significant. It can be in the future though, which is the whole point. 
Anyway, this chipset can make your memories go up to 7200MHz, which is leagues above what the Msi Pro X670-P Wifi can do, and that board has the best AMD chipset at the moment. 
Aside from that, it has XMP 3.0 and dual-channel support. Surprisingly, the memory slots on this board don't have steel protection, which seems like a normal trend for the pro series boards. 
So far, even though the Msi Pro X670-P Wifi was able to do some great things, this board is really showing how it's done, providing even better features; it is more expensive though, we can't forget that.
Overclock and Recommended Processors
If you want to go for a high-end board like this one, the most plausible thing to do is to aim for top-tier processors as well. 
The MSI PRO Z790-A WiFi has a very wide number of VRM Phases, as well as a very enlarged heatsink. All of these will play a major role in keeping the VRM within safe temperature levels while you overclock.
In fact, even the intel i9 13900k, with its absurd 253 TDP, didn't make this board even come close to breaking a sweat. During overclock and rendering tests, the CPU itself was quite hot, but that is normal. On the other hand, the VRM temperature was around 80 degrees, which is awesome when you consider how much energy this CPU needs during its maximum capacity. 
Having said that, be sure to choose the best CPU that will meet your needs. My recommendation is that you keep your choice based on the 13 gen since it has one of the best price and performance balances of all CPUs on market today. 
All processors in this generation have a very high amount of cores and threads, and literally, every single one is a beast for gaming. Of course, if you need a motherboard like this one, you're probably more of an enthusiast than a gamer. So something like the: Intel Core i9-13900KF or even the Intel Core i9-13900KS, which ends up being more expensive, are both perfect choices to pair with this board. 
In any case, unlike the Msi Pro X670-P Wifi this board didn't give us any headaches with its un-updated BIOS, and it showed great performance from the get-go. Truly one of the best affordable motherboards with high-end chipsets we checked out on this website. 
VRM and Connectors
Again, as if showing off the major benefits of being a top-tier board, the MSI PRO Z790-A WiFi boasts one of the highest amounts of VRM phases you can have nowadays. It has a 16+1+1 POWER DESIGN, with 18 phases in total. 
This huge amount of phases is one of the main reasons why this board can dissipate heat with ease. Of course, the enlarged heatsink is likewise important.
Also, this amount of phases gives you no limitations to overclocking, since it'll keep the stability regardless of the scenario. Even so, temperatures may vary depending on the airflow of your case. 
Power connectors and SSD
Just like the Msi Pro X670-P Wifi, this board has 4x M.2 slots, which is great, since those types of SSD are becoming more and more common currently. However, there is a catch here.
While the Msi Pro X670-P Wifi has 4x M.2 slots and only 1 had PCIe 5.0, on this one, all 4 slots only support PCIe 4.0. Once again, this is not a pressing problem since there are no PCIe 5.0 M.2 available at the moment. Yet, it feels like they chose the wrong place to cut corners here.
The whole point of affording a motherboard like this one with all of those features for future devices is that you have something that will last for years with no need for switching. In this case, you won't be able to make use of all the possible speeds the PCIe 5.0 NVME will provide, which ends up being one of this board's main downsides.
That aside, this board has 2 slots with a shield for the M.2, so it's recommended to install your primary SSDs in these slots to keep them from the heat the card will generate.
Other than that, this motherboard has 2x 8-pin power connectors. Now that CPUs are more and more power-hungry, I can see a close future where these additional connectors will become a must.
Fan, RGB, SATA
By the way, we were expecting it to have slightly more, I mean, a lot more RGB headers, as it features only 1x RGB LED connector(JRGB). On the other hand, some may even argue the 3x Addressable V2 RGB LED connectors will make up for that. And it may be true since we all need a proper RGB hub to sync all RGB in the case. 
It also has a 1x CPU Fan and 1x Pump Fan. That aside, it has 6 system fan headers, which turns out to be a perfect number for your case fans, unlike 4x as we've seen being implemented in the Msi Pro X670-P Wifi. 
Lastly, with 6x slots for SATA 6G and 4x m.2 slots, there is no such thing as a lack of support for SSDs. It could have had eight slots, but that would end up being an unnecessary number, and would only increase the price of the board even more. 
PCI connectors
If you want to, you can use 2 graphics cards with the MSI PRO Z790-A WiFi. Of course, it is not a common practice these days, so the extra slot will serve as a backup for the most part of users.
Obviously, only the first one has support for PCIe 5.0, and it has direct contact with the CPU, so that's where you'll use your graphics card. The single PCIe 5.0 one is also the only one with anti-sagging protection, which is another reason you should use your card there.
The other PCIe slot powers up via chipset, so it is slower but still supports the 4.0 technology. Also, it has another one with Pcie 3.0 and a PCIe x1 slot.
As expected, the codec employed here is top-of-the-line, being one of the best we have in the market today. With a high-end codec like this, audio interference and artifacts are close to or even 0. Still, a proper DAC will do the job better in the end.
And as you can imagine, the frontal panel audio is as cheap sounding as usual, and not the one you should plug your headphones into.
Lastly, it also supports 6G WiFi and comes with 2 cheap-looking antennae. Those antennae are as cheap as they seem, but the worst part is that they are used with all of the boards in the pro series. If you bend them unwittingly, they'll probably break, even though you wouldn't apply too much force to them. But, in the end, they do the job as they're supposed to, so we can put that aside.
Back panel
Here, the MSI PRO Z790-A WiFi didn't quite meet our expectations. Yes, it has the most required ports, but as a high-end board with a high-end chipset, we were expecting it to have slightly more USB ports. USB 2.0 was definitely something we weren't expecting to see, since even the MSI Pro B650-P Wifi which is way more affordable than this one, didn't have it. 

It does have the flash bios button, but at this point, I wouldn't find it strange if it didn't. In any case, the pre-installed I/o shield helps a lot with the installation of the board and is a nice subtle addition that really makes a difference.
Final thoughts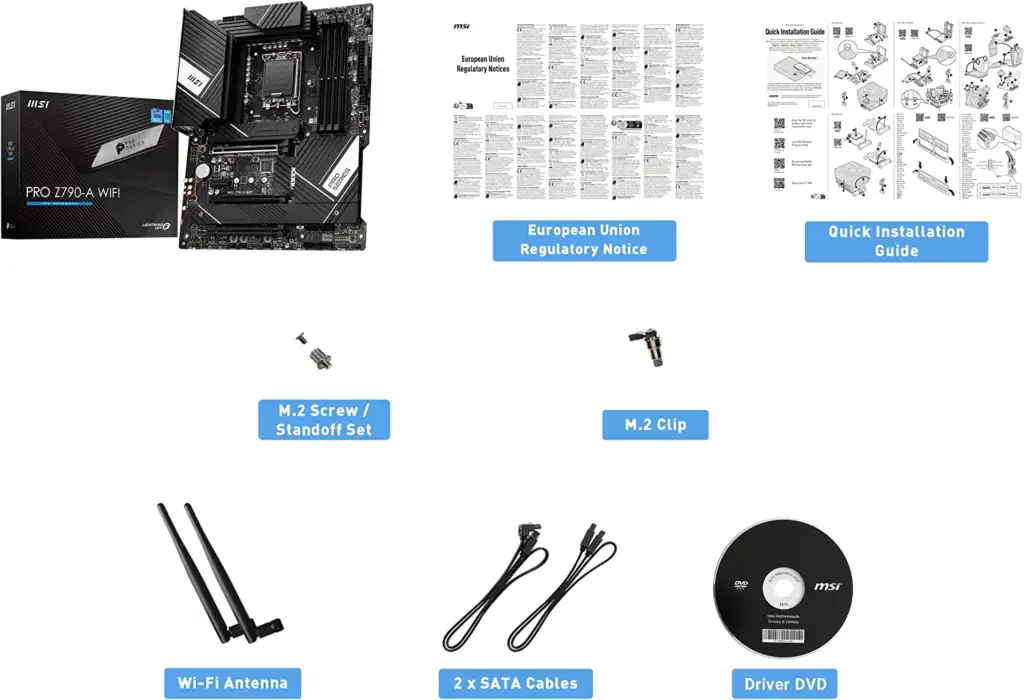 When to buy it
Even though it has some letdowns, the MSI PRO Z790-A WiFi has pretty much all the requirements for an enthusiast. It supports very high memory overclocking, and the VRM phases are highly numbered with an enlarged heatsink on top, all of which keep the temperature under limits even during the most demanding applications.
Yet, it doesn't have PCIe 5.0 for its M.2 slots, which is a shame for a high-end motherboard like this one. Having said that, I can say that this board is currently costing slightly more than it should. But it could be a great deal for around 200 dollars.
It is indeed the most affordable Z690 board at the moment, but as we have seen, that did come with a price.
You may like