Our Conclusion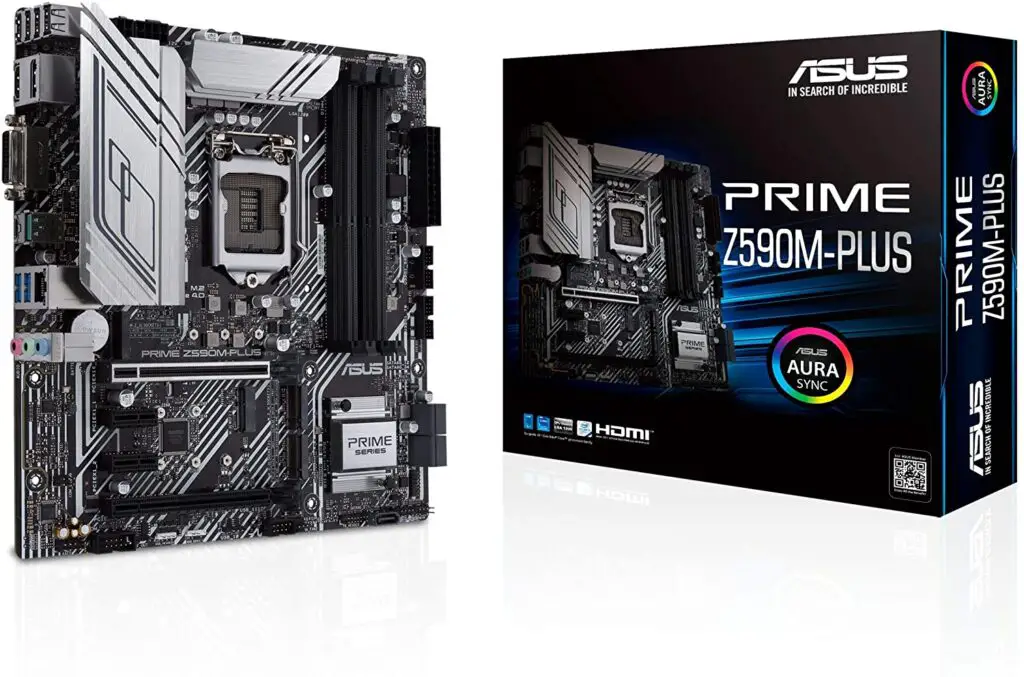 The ASUS Prime Z590M-PLUS motherboard is currently THE cheapest Z590 motherboard we reviewed here on Reatbyte. You can't lose this opportunity to afford this board while it is on the $170 budget. On the other hand, if you don't need all the features the Z590 chipset can provide, you can check out the MSI MPG Z490 Gaming Plus, which is another affordable high-end option.
Pros
✓ Up to DDR4 5133MHz OC
✓ PCIe 4.0 support
✓ Affordable
✓ Z590 chipset
Cons
✘ Basic design
✘  M.2 slots without shield
This year, Asus has released some awesome price-performance Z590 prime series motherboards. We just reviewed the Asus Prime B560M-A, which is likely one of the greatest value-for-money Intel motherboards available this year. Aside from this one, we also looked at the ASUS Prime Z590-A, which is less expensive than the average high-end Z590 boards.
And in today's review, we'll look at one of the Asus 2021 Z590 releases, the ASUS Prime Z590M-PLUS. So, without further ado, let's get into the advantages and downsides of this motherboard.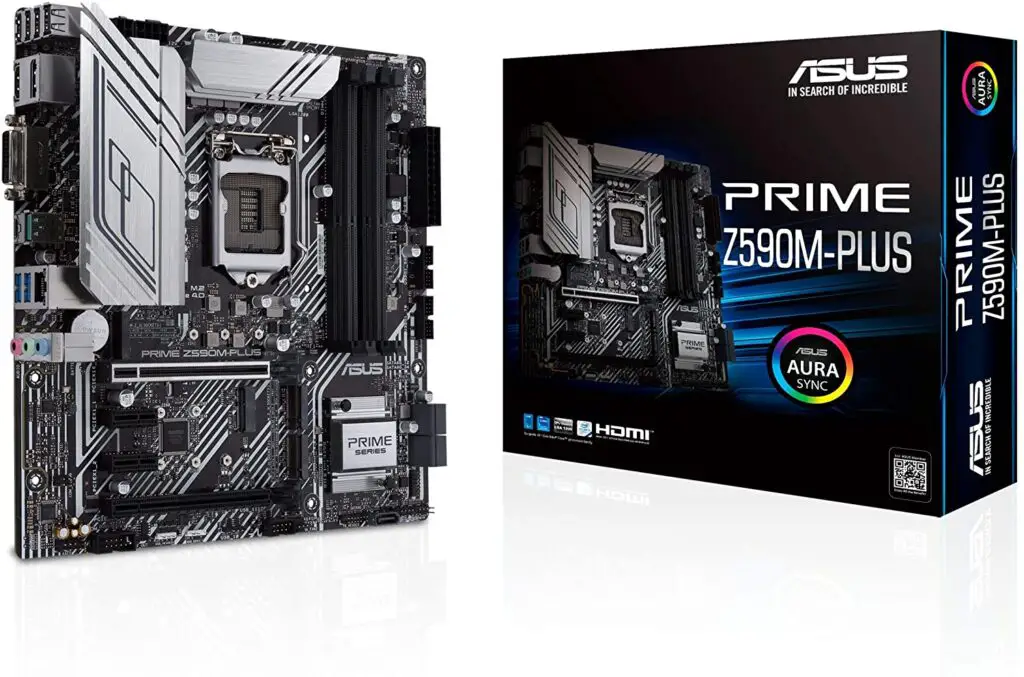 Design
Starting with the design, we have the Prime series' standard pattern, which includes light-gray heatsinks and shields, as well as a black main color finish. You can notice the brushed style on the heatsinks of this board, which passes reliability to overclock for being enlarged.
Furthermore, this board features a white striped pattern that extends across it. Note that this is a Micro ATX motherboard, with dimensions of 9.6 x 9.6 x 2 inches. Unfortunately, there are no RGB LEDs on this board, thus it does not fall into the "gaming" design category for some.
Overall, we can conclude that this is another example of a board where the manufacturer strives to keep the design basic and sturdy while focusing on the most critical functions in order to keep the final price low. And it looks like they managed to do it pretty well since this board has awesome prices currently.
Socket and Chipset
The Z590 is one of the best Intel chipsets available right now, and it's added to this board. Unlike the Intel B-line found in the previously reviewed motherboard, the Asus Prime B560M-A, the Z590 chipset having the Z-line, usually chosen by enthusiasts, supports CPU overclocking. 
Furthermore, being a high-end chipset, you'll benefit from one of the highest overclocking thresholds currently available, as well as increased connector speed thanks to PCIe 4.0 compatibility.
Aside from that, they installed the LGA 1200 chipset on this board, which supports Intel's 10th and 11th generation CPUs, giving you a wide range of choices and becoming a futureproofed option.
Memory
Aside from that, this chipset will provide higher memory overclocking margins than conventional. To be more specific, you'll be limited to DDR4 5133MHz overclocking, which is a high number but still within the Z590 average. 
In terms of native numbers, the total will be mostly dictated by the CPU you're using, with 10th generation CPUs running at 2933 MHz natively (with I7 or I9) and Rocket lake CPUs (11th gen) at 3200 MHz. 
This board also features 4x DIMM slots with Dual Channel Memory Architecture with a total capacity of 128GB. Also worth mentioning is the XMP support, which lets you quickly overclock the RAM on this board to meet your specific requirements.
Overclock and Recommended Processors
Even though it belongs to the high-end motherboard category, the ASUS Prime Z590M-PLUS has restrictions compared to other high-end versions. Because this board lacks a significant amount of VRM phases, users need to exercise caution while overclocking high-TDP CPUs using it. 
Even so, because this is an enthusiast-focused motherboard, you can overclock, but you mustn't abuse the board's limits, or you'll risk overheating.
However, I would not use a 10th generation CPU on this board since I would lose PCIe 4.0 compatibility as well as the high memory overclocking margins provided by Rocket Lake CPUs.
But we have to remember that almost every unlocked 11th intel processor (K-line) has 125W, so you have to pay double attention to the temperatures regardless of the CPU.
Even so, we must keep in mind that practically every unlocked 11th Intel processor (K-line) consumes 125W, thus regardless of the CPU, you must pay extra attention to temperatures. 
I'd recommend the Intel Core i7-11700K for this board since it's one of the most well-balanced and futureproof Rocket lake CPUs.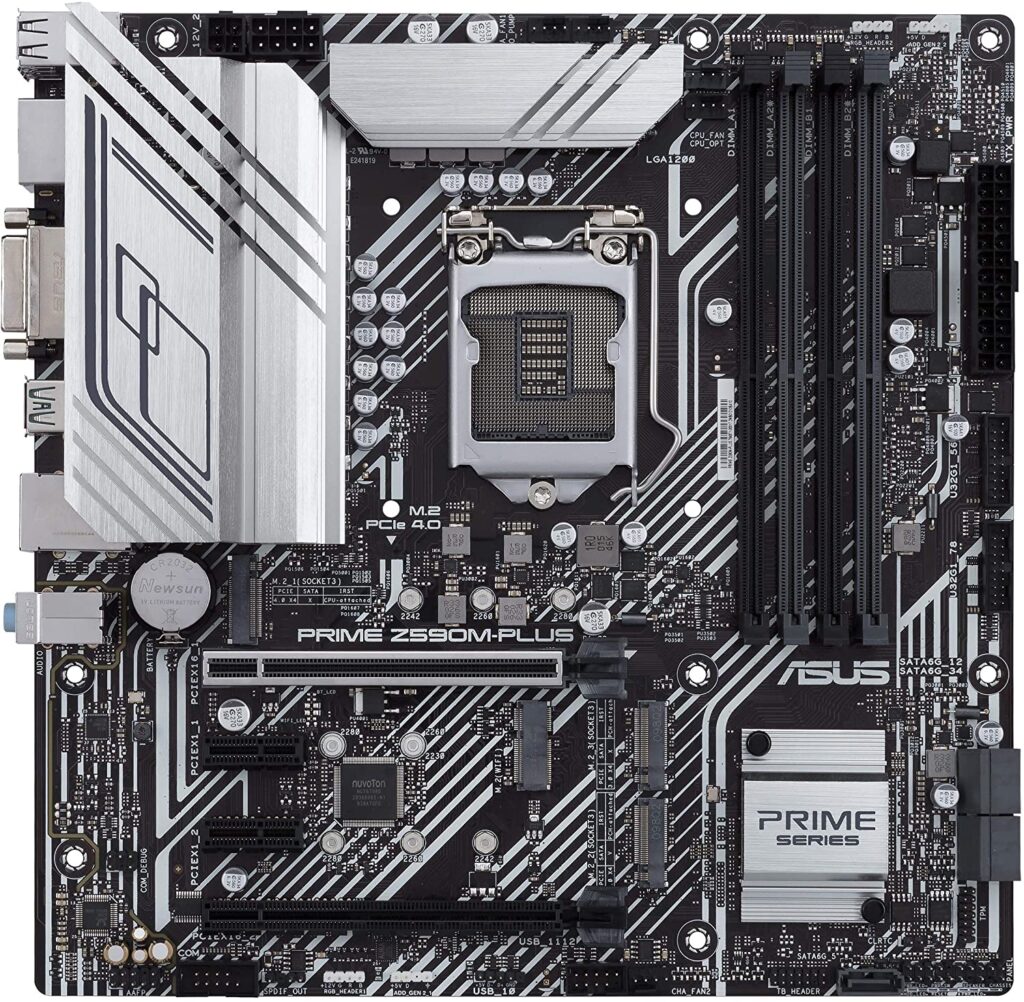 VRM and Connectors
Power connectors and SSD
For being a high-end motherboard, this model has an 8-pin connector together with a 4-pin +12V Power connector and a 24-pin Main Power connector, requiring a good amount of cables to receive enough energy to work.
Besides that, this board also features 3x M.2 slots, but unfortunately, none has a shield to keep it running at low temperatures. The first slot is the only one with support to the PCIe 4.0 feature, but bear in mind that this feature will only work if you're using an 11th gen intel CPU.
Fan, RGB, SATA
Aside from that, this board also features:
2 x USB 3.2 Gen 1 header support additional 4 USB 3.2 Gen 1 ports
2 x USB 2.0 headers support additional 3 USB 2.0 ports
2 x AURA Addressable Gen 2 headers
2 x AURA RGB headers
1 x Clear CMOS header
1 x COM Port header
1 x Front Panel Audio header (AAFP)

1 x M.2 slot (Key E)

1 x S/PDIF Out header
1 x SPI TPM header (14-1pin)
1 x 20-3 pin System Panel header with Chassis intrude function
1 x Thunderbolt™ header
It also counts with 5 x SATA 6Gb/s ports.
PCI connectors
Lastly, this board counts with 2x PCIe x16 slots, being the first one featured with support for the PCIe 4.0 ( If using a Rocket lake processor) and a steel shield to hold firmly your graphics card. Also, you'll have 2 x PCIe 3.0 x1 slots.
Back panel
Finishing on the connectors of this board, now it's time for us to take a look at its back panel and see which connectors ASUS decided to implement here. Note that they decided not to implement the pre-installed I/O shield in this board, making it a little harder to install in your pc case.

1 x USB 3.2 Gen 2×2 port (

1 x USB Type-C®

)
1 x USB 3.2 Gen 2 port (1 x Type-A)
2 x USB 3.2 Gen 1 ports (2 x Type-A)
4 x USB 2.0 ports (4 x Type-A)
1 x DisplayPort
1 x DVI-D port
1 x HDMITM port
1 x Intel® I219V 1Gb Ethernet
3 x Audio jacks
Final thoughts
When to buy it
If you need a cheap high-end motherboard with intel 11th ready support, the ASUS Prime Z590M-PLUS won't disappoint you surely.
When not to
However, if you are not an enthusiast, you will be losing some features with this board. In this case, you should check out the Asus Prime B560M-A instead, which has an excellent relation price-performance.
You may like