Our Conclusion
In contrast to the absence of overclocking support, the B560 chipset on this board resulted in a significant reduction in final pricing due to the shortening of several VRM phases. This, along with the lack of some aesthetics features, pushes the ASUS Prime B560M-A to the finest value-for-money mid-range Intel motherboard release of 2021 so far. On the other hand, if you require a board that supports overclocking and has similar costs, you may look at the GIGABYTE Z590 UD AC.
Pros
✓ Up to 5000Mhz Memory OC
✓ M.2 and PCIe x16 shielded
✓ PCIe 4.0 support
✓ Affordable
Cons
✘ RAM slots witouth protection
✘ Lack of CPU overclock support
This year, Asus has been producing some really outstanding high-end motherboards, with the ASUS Prime Z590-A being one of the top Z590 motherboard options of this year.
They're also releasing some budget-friendly mid-end motherboards, such as the ASUS Prime B550-PLUS, which has a little flaw on the VRM circuit but is still a fine choice for non-enthusiasts.
And for today's post, we'll be looking at an Intel mid-range motherboard from Asus, released in 2021, to see if it's a viable alternative for those looking for a balanced motherboard. Check out the Asus Prime B560M-A Review to see whether this is the right choice for you or not.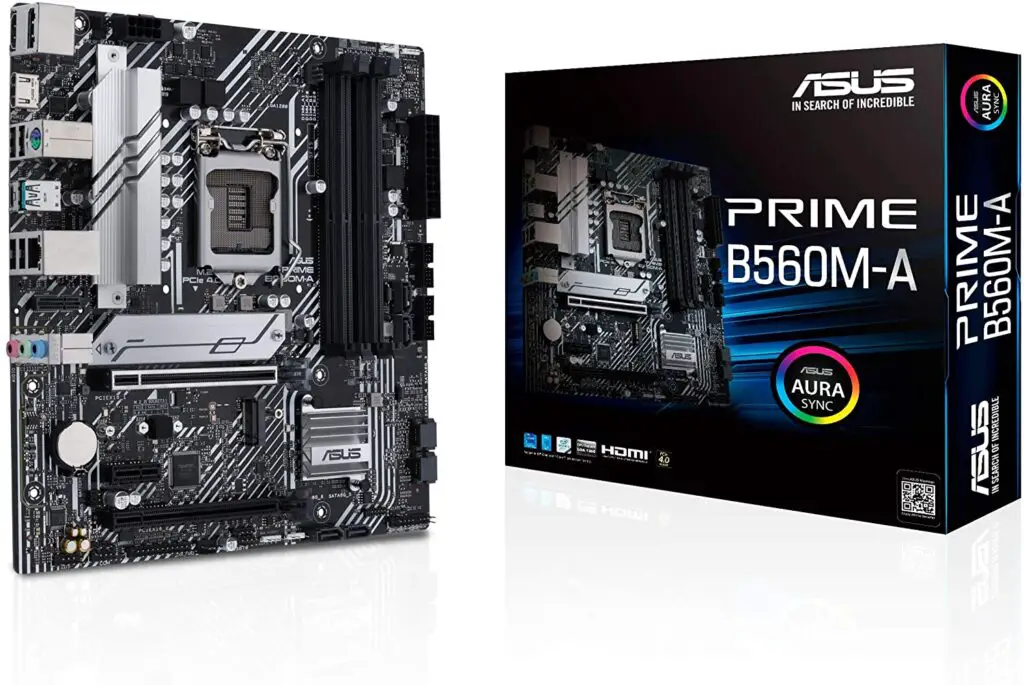 Design
When we took this board out of the box, one of the first things we noticed was the lack of a heatsink on the integrated graphics VRM circuit, which is unusual, especially in a mid-range motherboard.
However, this had a far larger influence on the final costs than expected, making this board much more affordable. In contrast, they chose not to put a lot of emphasis on the chipset finish, boldly adding a shield on the first M.2 slot instead.
As a result, this boar has, without a doubt, one of the oddest aesthetics decisions we've ever seen on Reatbyte. With this model, it looks like they opted to go against the grain.
Still, overall, this board has the basic and solid Asus mid-end board usual aesthetics, entirely in black, with this brushed metalized gray finish on the shields and heatsinks. As also, some white stripes patterns passing across the board, adding to its allure.
Socket and Chipset
Asus opted to include a not-so-popular chipset, the B560, on this board, which is good for some but bad for others. Because it is a component of Intel's B line chipsets, it is a little out of the way for certain folks.
If you haven't heard, Intel's B-series chipsets are known for their lack of CPU overclocking support. That's one of the reasons why we don't see many people commenting on this chipset series. 
However, because of the absence of overclocking support, the B-series Intel boards often have very low costs when compared to the Z line, making them a great price-performance alternative for non-enthusiasts. 
Besides that, the Asus Prime B560M-A features the LGA 1200 chipset, which supports the 10th and 11th intel processors series (Comet lake and Rocket lake).
Memory
It hasn't been long since Intel upgraded the B560 and H570 chipsets, finally enabling memory overclocking. Since then, these chipsets have become a little more popular and worthy than they were previously.
Still, there is plenty of time for these chipsets to gain popularity, given this upgrade was released in January 2021. Because of this upgrade, this $100 budget board can now overclock to 5000 Mhz, making it one of the cheapest motherboards with a 5000 Mhz OC threshold on the market.
In addition, the Asus Prime B560M-A has 4x DDR4 memory slots, each with dual-channel and XMP capability.
While 10th Gen Intel® Core™ i7/i9 supports a maximum of DDR4 2666MHz natively, the 11th Gen Intel® CPUs support 3200Mhz natively. That said, let's take a look at the recommended CPUs for this board.
Overclock and Recommended Processors
As previously said, the B560 chipset usually offers outstanding affordable prices and some nice features, making it a solid price-performance alternative.
Aside from that, you'll save money while selecting the proper processor for this board because there's no need to spend money on an unlocked Intel CPU (K series) as this board's chipset can't overclock it. 
As a result, you'll have an even larger variety of CPU options, as K and KF Intel CPUs typically exceed the 100W margin, which isn't suggested for this board owing to the limited amount of VRM phases. Due to that, the 11th generation Intel CPUs are ideal for this board.
If I had to pick, I would go with a CPU ranging from the i5 11400 for a low-cost choice to the i7 11700 for extra performance.
VRM and Connectors
Because this chipset does not enable overclocking, Asus has the required leeway to reduce the VRM phases, lowering costs without affecting the board's overall performance.
The Asus Prime B560M-A features just 8 VRM phases, which is low for a Z-series motherboard but average for the B560 chipset.
Power connectors and SSD
This board needs a 24-pin Main Power cable, as well as an 8-pin +12V Power cable, in order to receive enough power to start working. Also, it features 2x M.2 slots being the first one with a shield to enhance durability and lower the temperatures.
Note that this slot supports the PCIe 4.0 but only when you're using an 11th gen intel processor, enforcing, even more, the 11th gen CPUs recommendation for this board.
Fan, RGB, SATA
Besides, this board also counts with 1x 4-pin CPU Fan header(s), 1x 4-pin CPU OPT Fan header(s), 2x 4-pin Chassis Fan header(s). As well as 2x AURA Addressable Gen 2 header(s), 2x AURA RGB header(s), 1x Clear CMOS header, 1x COM Port header, 1x Front Panel Audio header (AAFP), 1 x LPT header, 1x S/PDIF Out header, 1x SPI TPM header (14-1pin), 1 x 20-3 pin System Panel header with Chassis intrude function.
PCI connectors
Lastly, the Asus Prime B560M-A features 2x PCIe running at x16, being the first one covered with a steel shield in order to handle big graphics card, as also with PCIe 4.0 support (only with the 11th CPUs).
Back panel
Unfortunately, they decided not to implement the Pre-installed I/O shield on this board. Again, reducing prices, but prejudicing the overall aesthetics. Now, let's take a look at what this back panel has to offer:

2 x USB 3.2 Gen 2 port(s) (1 x Type-A, 1 x USB Type-C®)
4 x USB 2.0 port(s) (4 x Type-A)
1 x DisplayPort
2 x HDMI™ port
1 x Intel® I219-V 1Gb Ethernet port
1 x V-M.2 slot (Key E)
3 x Audio jacks
1 x PS/2 Keyboard/Mouse combo port
Final thoughts
When to buy it
If you need an affordable mid-end motherboard with awesome features and support for the new 11th intel gen, the ASUS Prime B560M-A is for sure the right and cheapest choice for this year.
When not to
However, due to the lack of CPU overclocking support, this board isn't recommended for enthusiasts. In contrast, you can check out the MSI Z590 PRO WiFi, which has great price-performance, together with a good amount of VRM phases.
You may like