Our Conclusion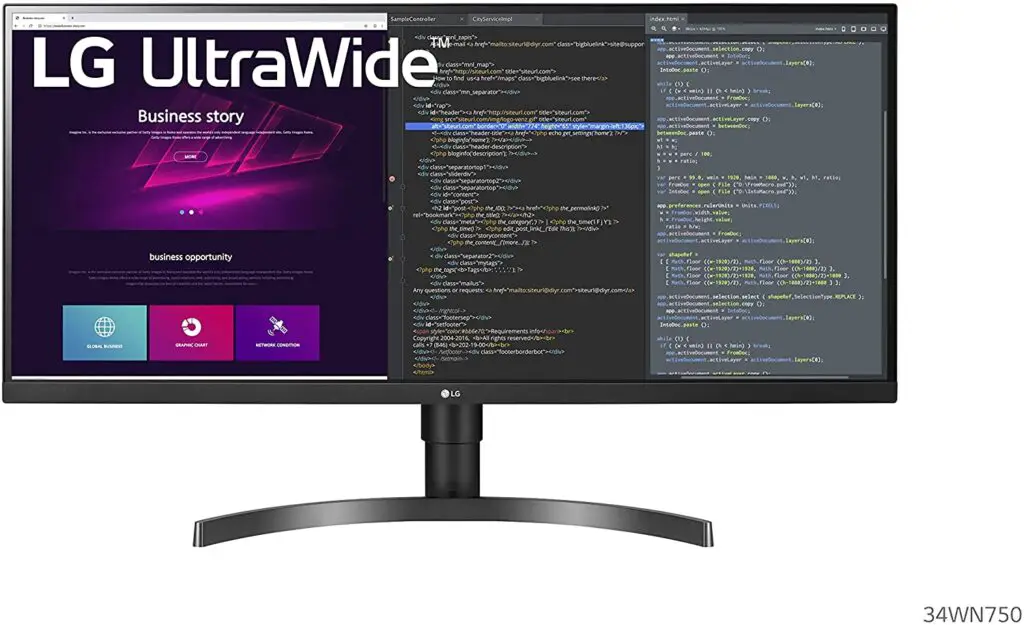 The LG 34WN750-B is currently the cheapest 34-inch monitor with 1440p resolution and HDR support on the LG portfolio. If you want to save money, you have other cheaper 34-inch options, but you'll have to either spare the IPS panel to a VA (LG 35WN65C-B) or the 1440p resolution to 1080p (LG 34WP65G-B).
Pros
✓ 1440p
✓ 2x 7W out speakers
✓ Ips panel
✓ 75hz
✓ HDR 10
Cons
✘ No USB-C ports
✘ Overused design
So far, among all LG ultrawide models tested, the LG 34WP65G-B and the LG 38WN75C-B are unquestionably the best in terms of price-performance ratios, with the latter boasting professional-level image quality. 
Continuing our ultrawide model review of the week, today we'll take a look at another LG model, this one from 2020, which is presently on sale at a reasonable price for a monitor with those specs. 
At its present pricing, it certainly qualifies for inclusion in the top ultrawide models of the week list. So, without further ado, let's have a look at the LG 34WN750-B Review and see if it's a worthwhile purchase.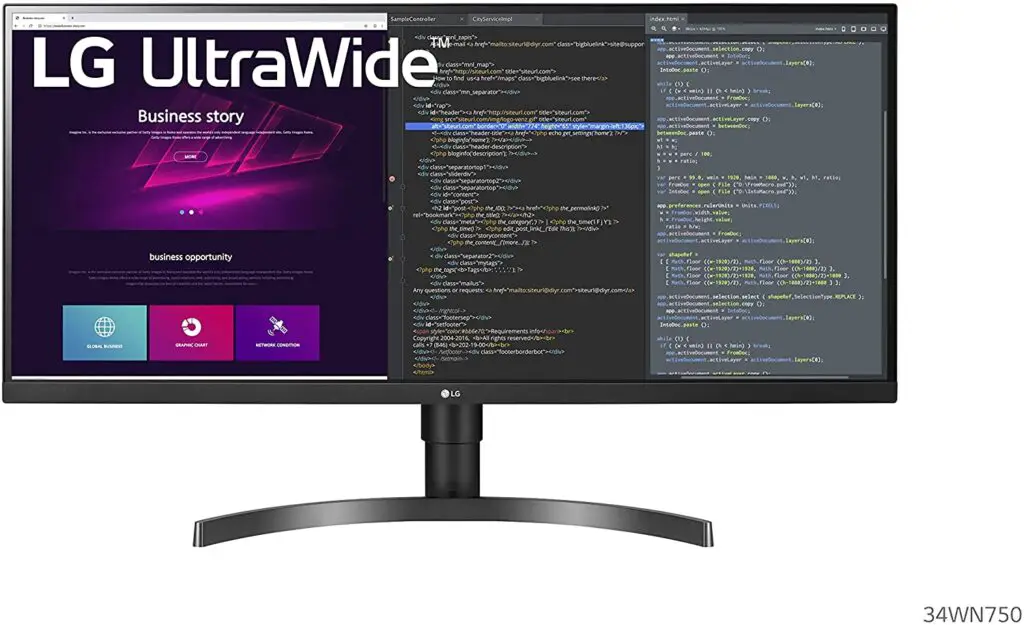 Design
Taking it out of the box, we already note that it appears LG did not try to innovate on the display's aesthetics, sticking to a simple but solid design. 
Fortunately, it avoids dated aesthetics by incorporating borderless bezels, giving the display a greater charm and increasing the viewing area. 
Apart from that, this model's stand reminds me of the LG 34WN650-W and a slew of other displays, because, as previously stated, this is an overused general aesthetics.
It boasts a half-circular pattern and a wide range of adjustments for an ultrawide at this price point, including tilt and height compatibility. 
Looking at the back of the monitor, we can see that it's basically a black version of the LG 34WN650-W, with even the same dimensions. In general, this is not an unsightly design, but it is overused, which can be a negative point to some.
On the back, we can see that it has VESA support, which means you can mount it on the wall if you want to. It's also worth noting that it contains 2x 7W out speakers, which have a great volume but lack a little bass, which is to be expected at this price point. 
Connectors
It has some unusual ports for the price, such as 2x HDMI, 1x Display port, 2x USB Down-stream, 1x USB Up-stream, and 1x Headphone out. Unfortunately, it lacks a USB-C port, which would be perfect for this monitor.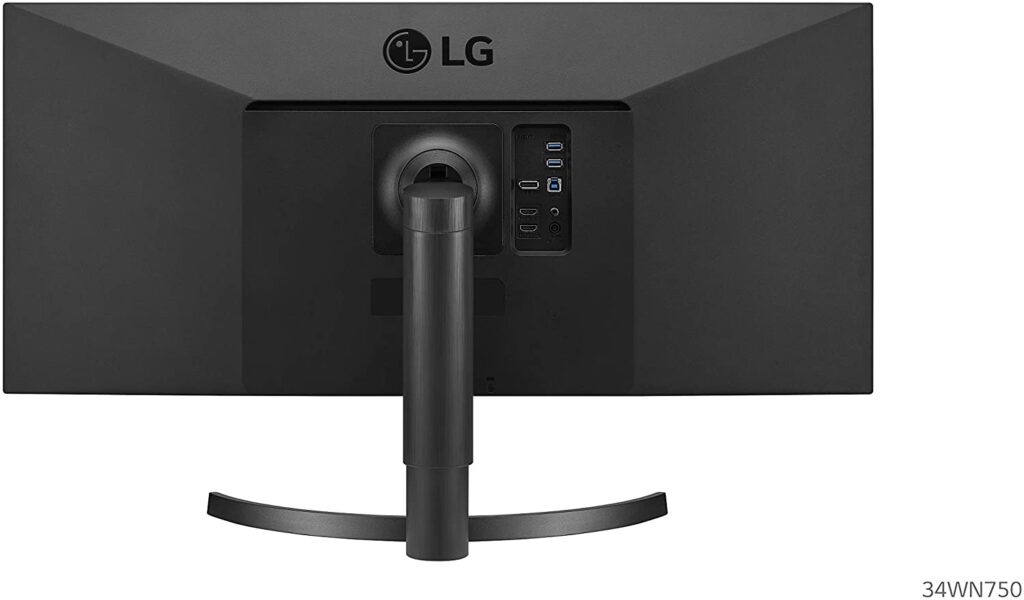 Features
Panel type
Unfortunately, on the display's features, things start to get a little disappointing. When we saw the pricing range of this display, we expected it to have at least a few premium features. 
IPS panels are one of the best for color accuracy and image quality, however, it all relies on the IPS building quality. This display's panel only supports 16.7M colors, which is normal for low-cost monitors but well below the 1.07B required for professionals. 
Aside from that, it has sRGB 99 %, which can be a disadvantage or a benefit depending on your needs. In general, featuring this panel, this monitor can reproduce vivid and realistic colors, but also not the best for this type of monitor.
Brightness
When it comes to producing realistic colors, brightness is a significant help. And this monitor maintains its average level of brightness, with 300 nits of overall brightness, which could be higher. 
With 300 nits, you'll be able to utilize your monitor on a daily basis without further concerns. However, it is not best if there will be sunlight pointing on your display, which will prejudice the image precision. 
I'm currently using it at 80% brightness, which has worked out well so far and is definitely not too harsh on the eyes. Finally, it's time to look at the gaming capabilities of this panel, although with all of these features, we're already setting low expectations.
Refresh rate and Response time
The LG 34WN750-B as a casual ultrawide display has a casual number of gaming features as well. 
It features a 75hz of Refresh rate, which has indeed better performance and noticeable differences from the 60hz ratio, but it is not the best for the competitive scenario. 
On the other hand, for casual displays like this one, I always recommend opting for a 75hz refresh rate because daily tasks become a little smoother. 
Apart from that, it has a 5ms response time, which is a common feature in casual displays and won't prejudice your use, at least not if you don't play competitively.
Lastly, It also has AMD FreeSync Technology, which will remove screen tearing, increasing the softness of the visuals of your gameplay.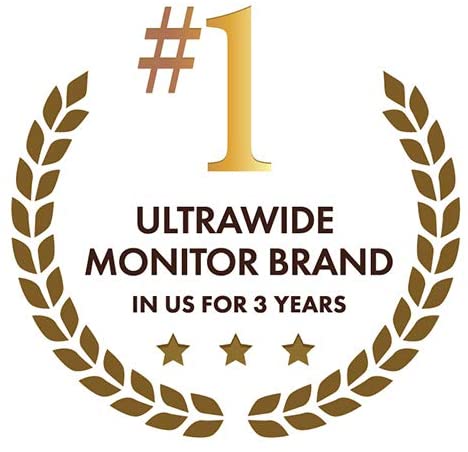 Image Overall Quality
As previously said, despite having average panel characteristics, this monitor is capable of reproducing clear and vibrant images. One of the reasons for this is its 1440p resolution, which is widely regarded as the most balanced since the introduction of the Nvidia 3000 graphics card series.
With this resolution, we can clearly conclude that the LG 34WN750-B is worth it, as affordable ultrawide 1440p monitors like this one are hard to come by.
It also includes HDR 10, which enhances the contrast ratio by offering vivid colors and deep darks in addition to the resolution. Still, as I usually say, if you need a focused HDR monitor, the HDR 10 isn't the best option because it uses the most basic overall brightness pattern. 
If you're looking for the best HDR options, keep in mind that the costs are rather high, and right now, the LG 32UL750-W is the best HDR 600 monitor option if you're looking to save some money. 
In terms of overall image quality, this monitor features one of the best of any 34-inch monitor reviewed this year, thanks to its higher than the average resolution.
Final thoughts
When to buy it
Although featuring a bunch of average features, the LG 34WN750-B is still worth it due to its 1440p resolution and the IPS panel, together with the HDR support. 
On the other hand, if this display is out of the budget for you, you also have other 34-inch ultrawide choices like the LG 35WN65C-B or the LG 34WP65G-B, but bear in mind you're going to lose some important features.
You may like