Our Conclusion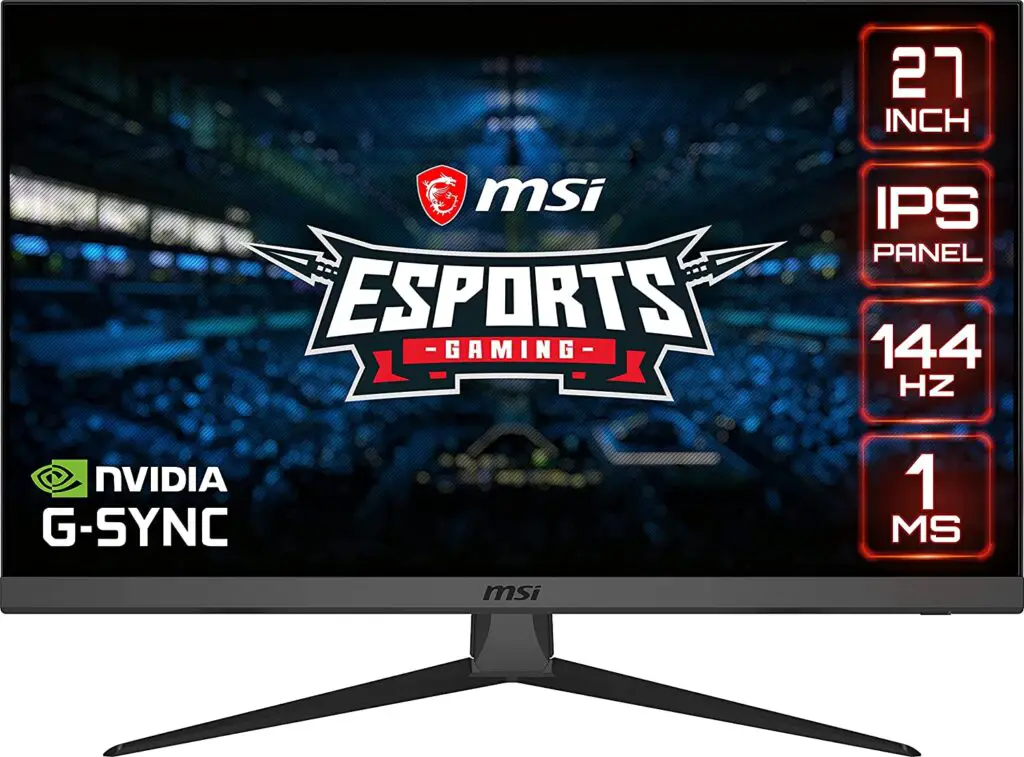 Currently, the MSI OPTIX G272 is a monitor that costs a bit more than it should. It features a standard IPS screen, but the MSI Optix G273QPF is available in the same price range and has a Fast IPS panel, which is a better alternative for competitive gamers. Even so, if you can find this one for around $250, it may be a nice buy.
Pros
✓ 144hz, 1ms
✓ IPS panel
✓ "Gaming" aesthetics
✓ Vivid colors
Cons
✘ Lacks further stand adjustments
✘ Lacks out speakers
Over the years, it has become increasingly common to see non-gaming consumers purchasing gaming displays.
Indeed, even for everyday casual use, having some extra smoothness, which is offered by the high refresh rate of gaming displays, is quite beneficial. 
The primary disadvantage of this sort of panel is its cost, which is greater than that of ordinary casual-oriented screens. 
Fortunately, with a little digging, you may find several decent, low-cost options, such as the MSI Optix G24C6P.
And for today's article, we've got another gaming display to see which category it belongs in, whether it's just for gaming or can also be used by casual users. Check out the MSI OPTIX G272 Review and find out if it is a good choice for you.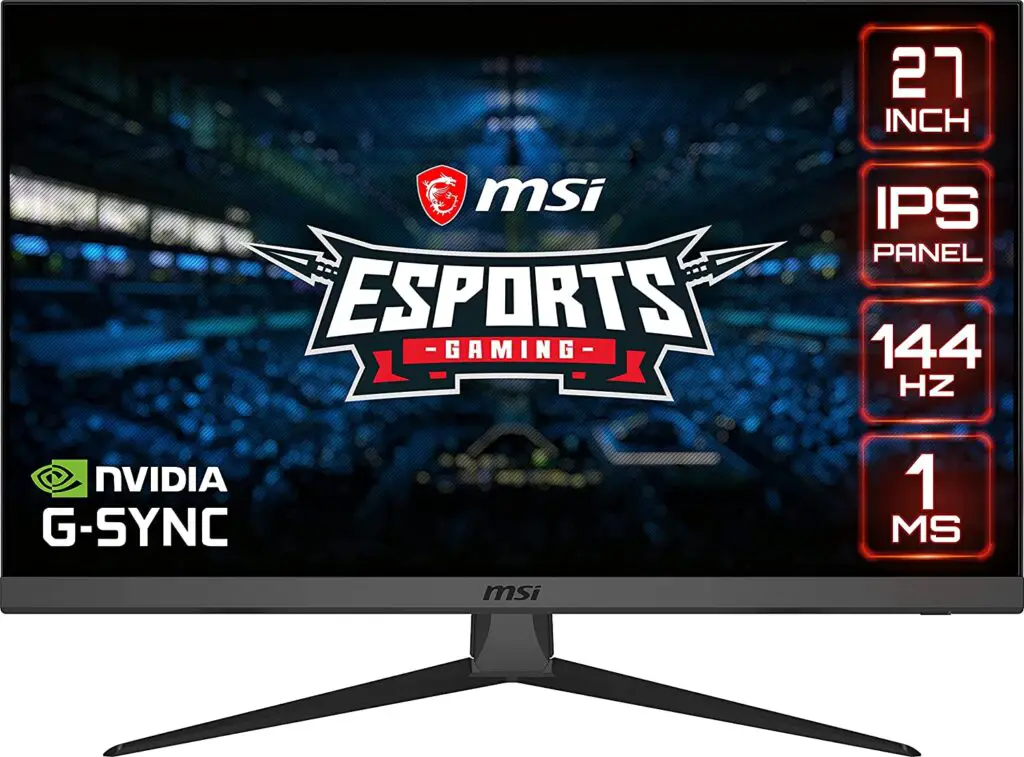 Design
Its general appearance does not give a clear indication of whether it will be a gaming model or not. 
It blends certain solid aesthetics, which are often found on casual displays, with gaming characteristics and details. 
Even yet, when we first saw it, we were reminded of the MSI OPTIX G241V since they both had the same stand and comparable characteristics.
Of course, being part of a premium yet cheap line of MSI monitors, you can't expect anything less than high-quality materials from this model. 
When you touch it, it gives off a nice, well-built vibe, which can, in fact, have a significant impact on the ultimate cost. 
This is a 27-inch monitor that is aesthetically really thin for its category. 
As previously said, the MSI OPTIX G241V and the MSI OPTIX G272 share essentially the same stand, and regrettably, they also share the same adjustments, enabling you to simply tilt the display forward and backward, which may be insufficient depending on your requirements. 
This monitor, on the other hand, can be mounted on the wall using the VESA support, which helps to compensate for the absence of plus stand adjustments. 
When we glance at the rear of the display, we can see that the similarities between the two come to an end. I prefer the MSI OPTIX G272 one since it has some solid and crisp elements that lean toward a solid overall look.
It's also worth noting that both include a joystick for navigating the menu on the display, which is a much-desired feature at the moment because it provides the user with more facility to navigate on the menu.
Connectors
Also, given its current price range, we were expecting to see some good connectors, but unfortunately, they managed to disappoint us, providing only:
1x Display Port (1.2a)
2x HDMI (1.4)
1x Headphone-out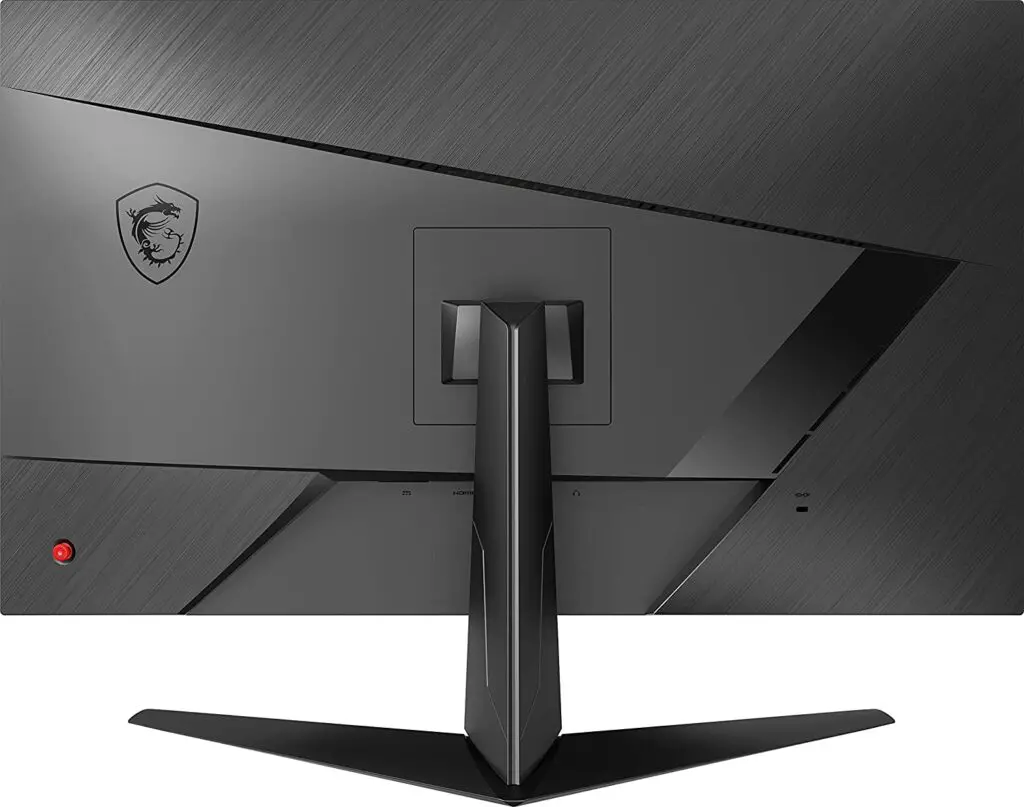 Features
Panel type
We can't claim that this monitor didn't disappoint us with its standard IPS feature, especially because it costs the same as the MSI Optix G273QPF and that one features Fast IPS technology.
Despite the fact that the basic IPS panel has excellent color accuracy, it is not commonly utilized for gaming displays due to its slower response time than the other two options (VA, TN).
The Fast IPS, on the other hand, can combine color fidelity with a fast response time, making it a better choice for gaming displays. 
The MSI OPTIX G272 may fall into the casual-focused category due to its IPS screen, but we'll confirm that as we move through the review.
Another benefit of the IPS screen is that it has the potential to provide good viewing angles, which would be even better if this monitor had a wide range of stand adjustments.
Brightness
The overall brightness is another factor that aids viewing angles. Unfortunately, when a manufacturer utilizes an IPS panel for a low-cost display, the likelihood of a monitor with a poor brightness ratio is considerable.
The IPS panel has a significant influence on the display's ultimate price, and it also offers excellent viewing angles, allowing the manufacturer to overlook the peak brightness.
And that's exactly what they did for this monitor, with an overall brightness ratio of just 250 nits, one of the lowest available today. 
Although 250 nits are sufficient for use even throughout the day, if sunlight will directly strike the screen, a monitor with a greater peak brightness would be a better choice.
Refresh rate and Response time
With that stated, it's time to see if this display qualifies as a gaming monitor or if it lacks the required features. 
G-Sync technology is used in this monitor to eliminate screen tearing and make the displays a little smoother during games. 
It also has a 144hz refresh rate to aid with the buttery smoothness even more. 
A high refresh rate, such as this one, is essential for professional gamers, but it may also be beneficial for casual users because it improves smoothness, allowing you to be more efficient in whatever you're doing, whether it's gaming or not. 
Aside from that, this monitor has an excellent response time of 1ms. Nonetheless, due to the IPS panel limitations noted above, this ratio may be worse than 1ms for VA or Fast IPS panels, for example. 
As a result, if you're a competitive gamer, I recommend getting a monitor with one of the aforementioned panels, such as the Dell S2522HG.
Even so, the differences between an IPS 1ms and a VA 1ms are difficult to discern, thus the IPS panel will suffice for most casual gamers.
Image Overall Quality
Almost every MSI monitor in this price range, regardless of whether it is a gaming monitor or not, boasts vibrant colors and a broad color gamut, as is typical of the company's displays. 
The MSI OPTIX G272 has an sRGB color gamut of 120.3 percent, which is far greater than the required 100 percent for accuracy. 
As a result, if you require accurate colors for your work or something, you should avoid this monitor. 
Even so, it has amazing contrasting hues with deep darks and vibrant colors, making the displayed images at least pleasant to the eyes. 
This monitor has a 27-inch screen and is 1080p. This combination yields an average PPI, resulting in pictures that are crisp and clear. 
So due to all that, we can confirm that this monitor delivers an acceptable image quality for its current price range. 
Final thoughts
When to buy it
If you need a casual-focused monitor with a high refresh rate and vivid colors and found the MSI OPTIX G272 at around $250, it is an awesome choice for you.
However, it can be a little overpriced for $300, which is the price it is showing these days. At this price range, you can find better options such as the MSI OPTIX G241V and the MSI Optix MAG274R2.
You may like