Our Conclusion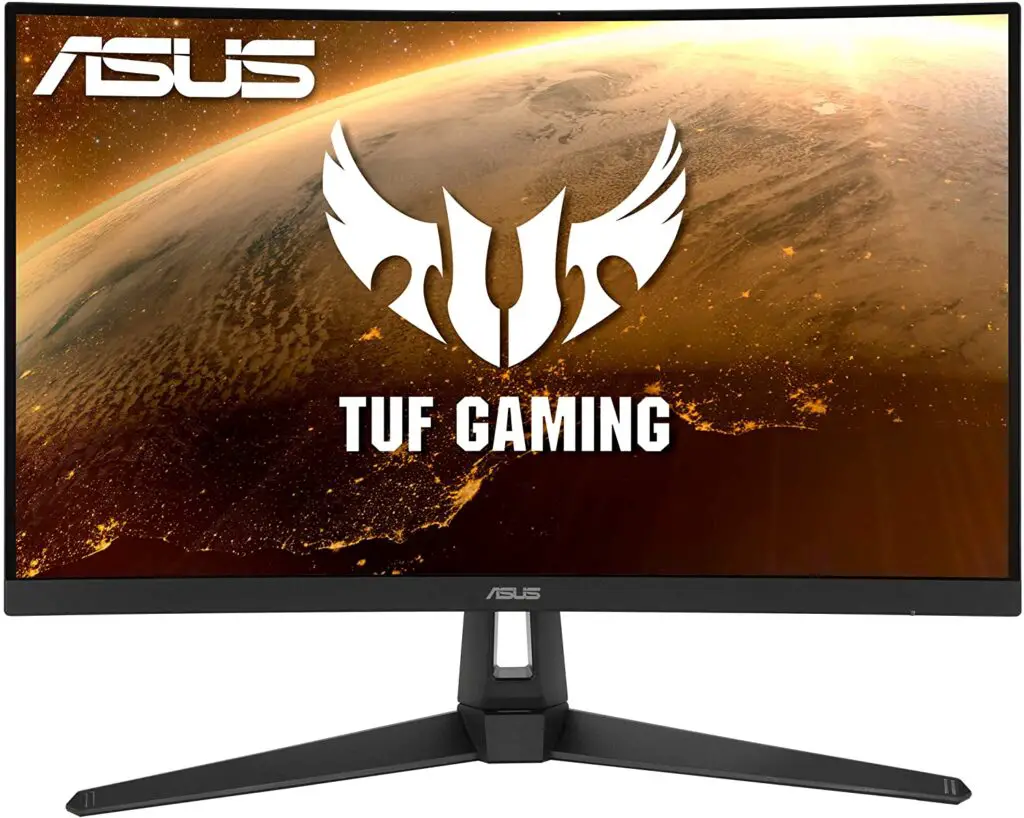 The ASUS VG27VH1B boasts one of the fastest response time ratios in this price range, as well as a 144hz refresh rate, so if you're looking for a gaming monitor to get into the competitive scene, this is one of your best options. However, it has a VA panel, and, depending on your needs, you may prefer one with the Fast IPS such as the MSI Optix G273QPF.
Pros
✓ 1ms (MPRT) 
✓ Budget prices
✓ Sturdy
✓ Vivid colors
Cons
✘ Bulky aesthetics
✘ Short range of ports
The 24-inch screen size is usually the most popular among gaming monitors. The reason for this is that gaming displays are typically produced with a 1080p resolution. The 1080p is low-demanding on the graphics card and so makes reaching the high FPS this type of screen can exhibit much easier.
Furthermore, the 1080p 24-inch combo produces a high PPI ratio, resulting in crisp and clear pictures.
And for today's topic, we'll take a look at a 27-inch gaming monitor to see if it's worth the money. Check out the ASUS VG27VH1B Review for a complete list of the display's advantages and disadvantages.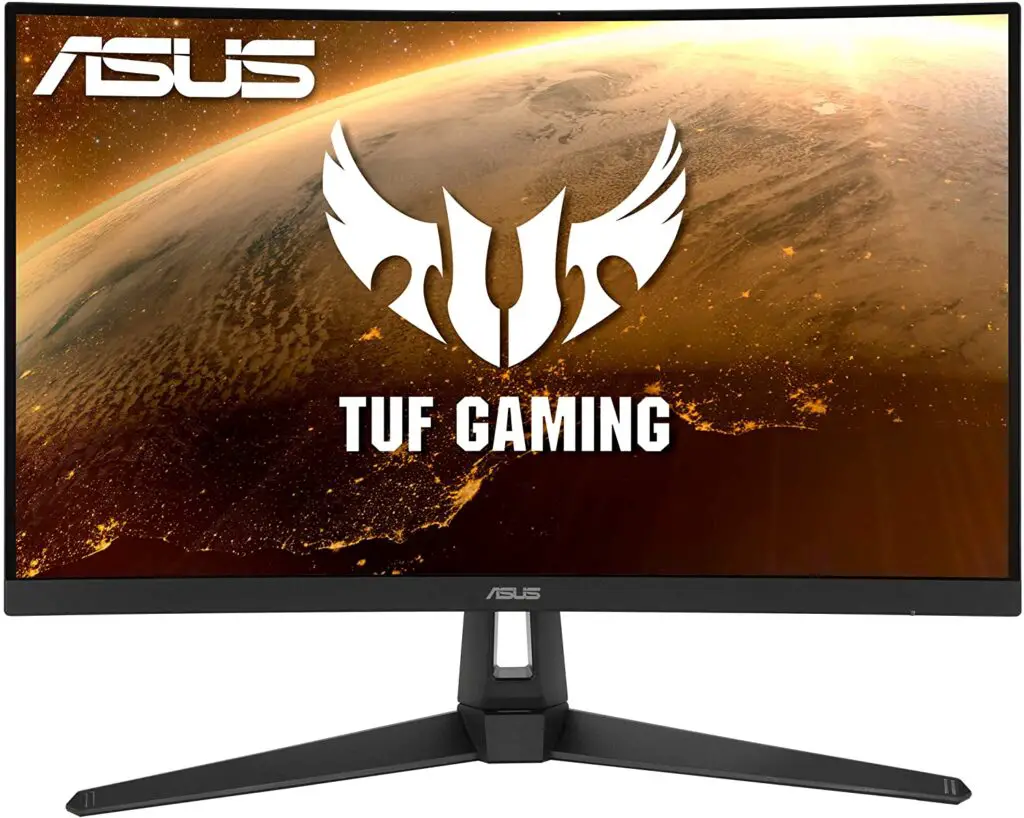 Design
Although this monitor has a very sturdy appearance, it is very thick when compared to comparable 27-inch gaming monitors like the Asus XG27AQM and the MSI Optix G272. 
It, on the other hand, has 3-sided borderless bezels, which give it a nice modern look while also expanding the screen's viewable area.
Aside from that, it's completely coated with the overused matte black color pattern, which is increasingly becoming a stumbling block for certain users. 
This monitor's stand appears to be extremely strong, but it is also pretty hefty. Unfortunately, it only has a limited number of adjustments, enabling you to just change the tilt and swivel.
When we examine the rear of this monitor, we can see that it fails to convey a gaming vibe, as it lacks eye-catching characteristics and other elements that are typical in current gaming displays.
If you wish to mount this monitor on the wall and require some out speakers, you can rest assured that this monitor comes with 2x 2W out speakers and VESA support. 
In general, the style of this monitor may be said to follow the ASUS line's trend, although it lacks gaming features and isn't the slimmest. It is, however, rather sturdy, as befitting an ASUS quality mark, and is extremely well made with high-grade components.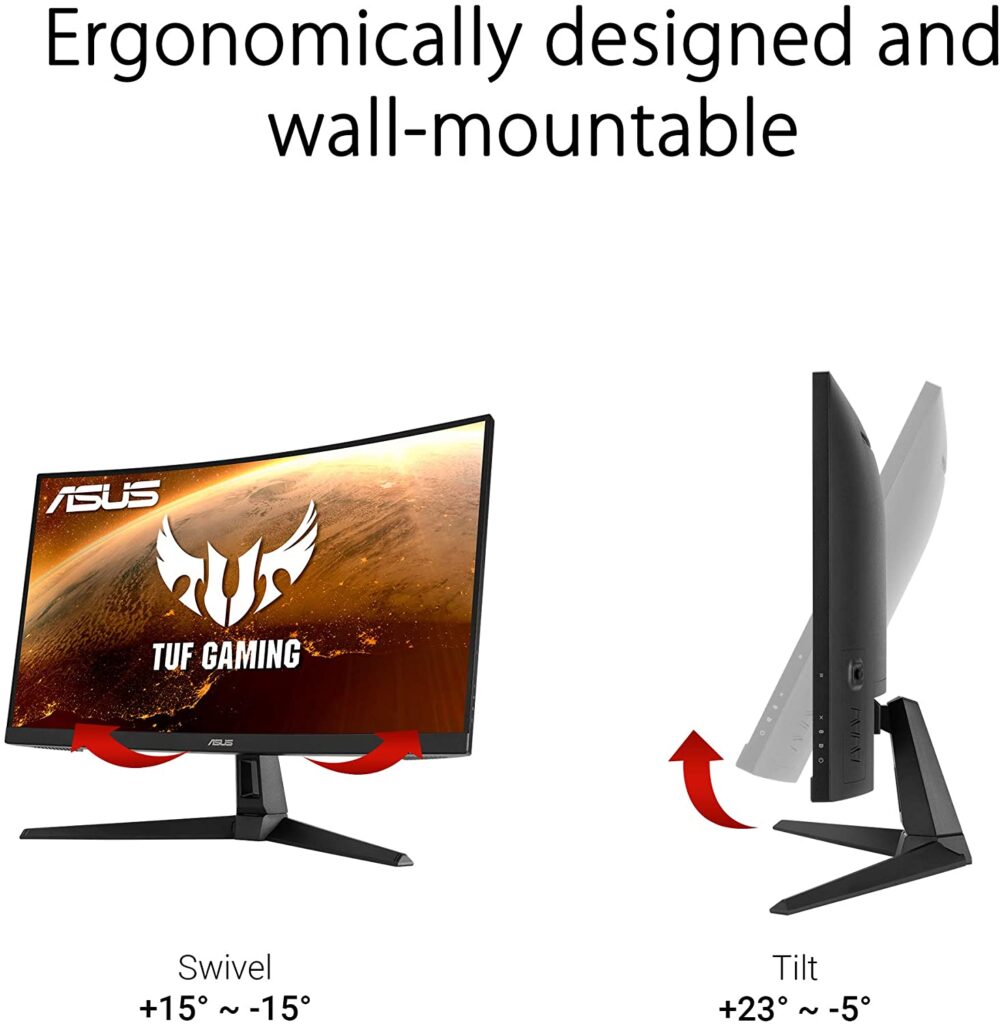 Connectors
As for connectors, they did miss the hand at some point here. Given its price range, some USB ports are to be expected, but they decided not to add such and to use only one HDMI port. It includes only: 1x HDMI, 1x VGA, 1x Headphone-out.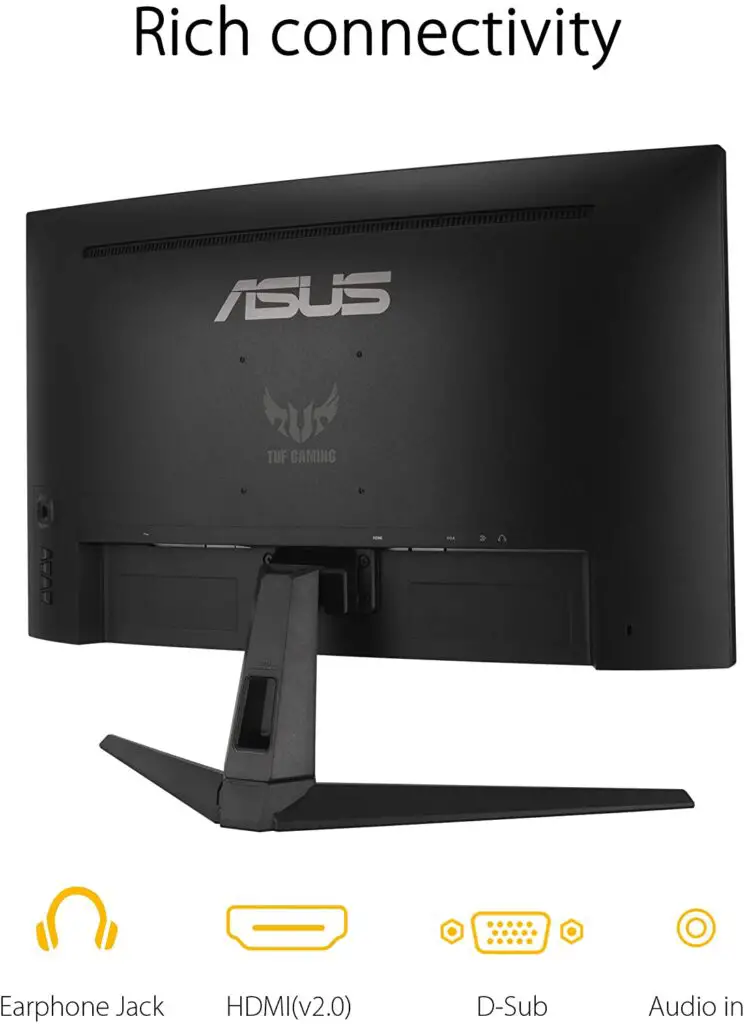 Features
Panel type
They decided to implement the VA panel for the ASUS VG27VH1B.
When it comes to competitive gaming displays, the VA panel can still outperform the conventional IPS panel, at least in terms of response time. Although the IPS panel offers better color accuracy, you typically have to pick between accuracy or speed for a cheap gaming monitor. 
Keep in mind that if you can afford a monitor with fast IPS technology, you can have color accuracy and a decent response time combination, and you can get one for almost the same price as this one like the MSI Optix G273QPF.
The VA panel also provides higher visual contrast and somewhat deeper darks, which helps to compensate for the lack of precision. Still, depending on the color gamut and the color accuracy (we'll check further about those in the image quality section), the VA can provide similar accuracy to an IPS at this price range. 
Brightness
The VA offers outstanding viewing angles as well, but it is not as good as an IPS in this regard. As a result, depending on the price range, manufacturers prefer to place a greater emphasis on the display's brightness ratio in order to provide the user with clear and exact images. 
But, for whatever reason I don't understand, they chose to set this model aside, including only 250 nits as peak brightness. As a result, playing on this monitor during the day may be difficult, and it's considerably worse when direct sunlight hits the screen. 
Fortunately, if you think you'll need a brighter monitor, you may purchase one in a comparable price range to this one, such as the MSI Optix G273QPF. 
You may feel certain that this display will satisfy your demands if you use it at night or if the location where it will be placed isn't lighted enough by sunlight during your gameplay.
Refresh rate and Response time
One of this monitor's genuine masterpieces is its 1ms (MPRT) response time, which is one of the finest in this price range, providing you a very quick command to screen speed with little motion blur. 
This functionality is only possible because the VA panel, as previously stated, has a faster typical response time than the IPS panel. 
Even so, because this monitor isn't a 240hz one, but rather a 144hz one with a 165hz maximum, you may detect a little motion blur if you concentrate hard enough. 
However, you can only get such high response time ratios if you use the Extreme Low Motion Blur option, so make sure to enable it if you want to excel in competitive games. 
This display also lets you use the FreeSync Premium technology to assist increase the smoothness of the pictures even more, reducing a large portion of screen tearing during games. 
As a result of all of this, this monitor is presently one of your finest options in this price range, offering an excellent response time for a budget gaming monitor.
Image Overall Quality
Last but not least, let's take a look at this monitor's general image quality, keeping in mind that it's a cheap gaming monitor with a VA panel. 
As previously said, the ASUS VG27VH1B is a 27-inch 1080p monitor with a decent PPI ratio, but not the greatest. If you want excellent visual sharpness, a 24-inch 1080p monitor is highly suggested. 
For featuring a VA panel, it will provide you with contrasted pictures with deep darks, as it has a 3000:1 contrast ratio, which is far superior than IPS screens' 1000:1 pattern. 
Apart from that, you'll note that it has incredibly vibrant colors for its price range, and that's thanks to a combination of VA contrast and DCI-P3 90 percent, which covers a large portion of the color spectrum. 
If precision is important to you, keep in mind that it still uses an 8-bit color pattern with up to 16M colors, despite the fact that the suggested for experts is 10-bit/up to 1.06B colors.
As a result, if you're looking for a professional screen, you may get the Dell U2722D, presently on sale for a great price. 
Given its price range and VA panel, the ASUS VG27VH1B performed even better than we expected, thus we can say that it is well worth it for the prices it is presently being marketed at.
Final thoughts
When to buy it
If you want a budget gaming monitor to join the competitive scene, the ASUS VG27VH1B is one of the best you can find due to its great response time ratios. 
However, if you truly want to invest in this, I recommend you going for a 240hz display, which will give you even higher performance. 
You may like