Our Conclusion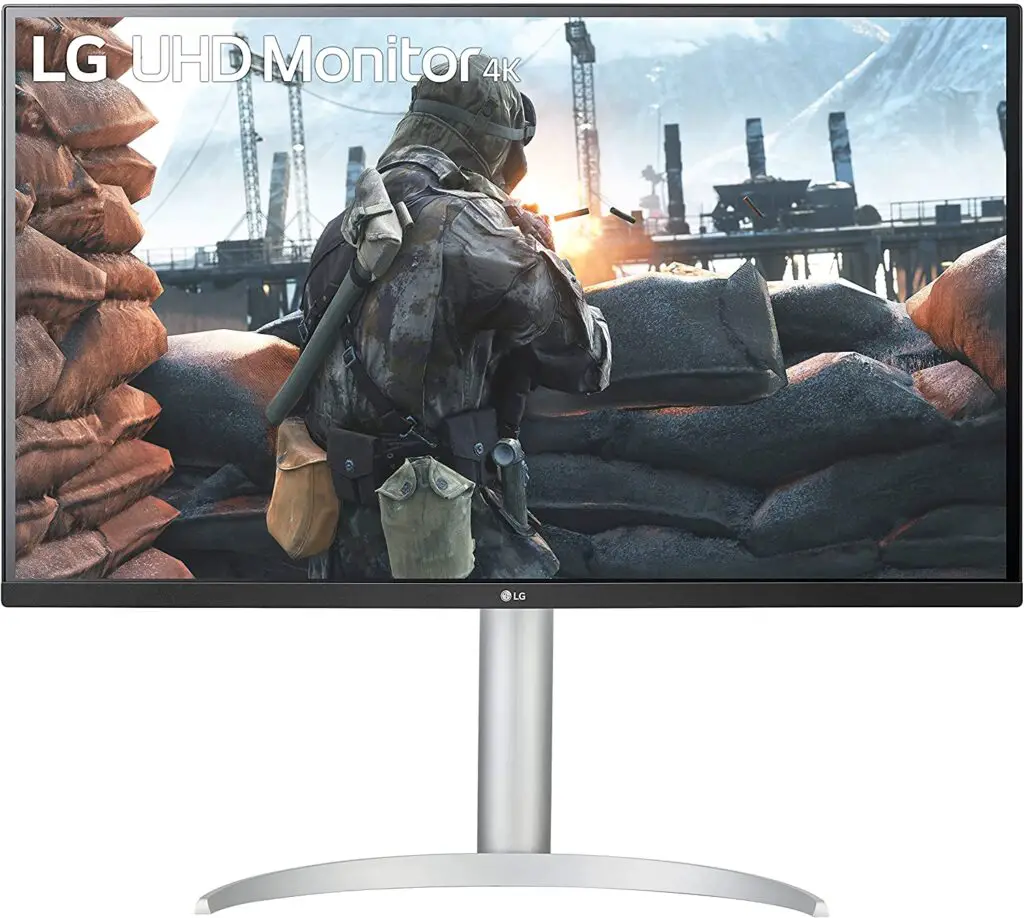 After calibration, the LG 32UP83A-W is one of the most affordable 4k professional screens on the market, with some outstanding colors. On the other side, it is just useful for that, with its slow refresh rate and response time, which can make scrolling around the web and gaming problematic. So, if you want the best of all worlds, I recommend a hybrid screen such as the Asus XG27AQM.
Pros
✓ Vivid and accurate colors
✓ 5W out speakers
✓ Good prices
✓ USB-C port
✓ Great image clarity
While every well-known manufacturer had already produced their 32-inch professional display to compete in the game by late 2021, no one could understand why LG had not responded. Among the other manufacturers' launches, the: ASUS PA329CV was one of the most well-received in Q2 and remains one of the finest in its class in 2022.
LG did introduce a professional screen with a larger size in September, to everyone's surprise, but that screen didn't get much attention during the Black Friday sale. Part of it is due to the little price drop during that promotional period, but this monitor now appears to be offering some excellent value for money. 
And, in order to determine whether this is the best option for you, we'll examine all it has to offer. So, without further ado, let's get started with the LG 32UP83A-W Review, including all of the monitor's advantages and disadvantages.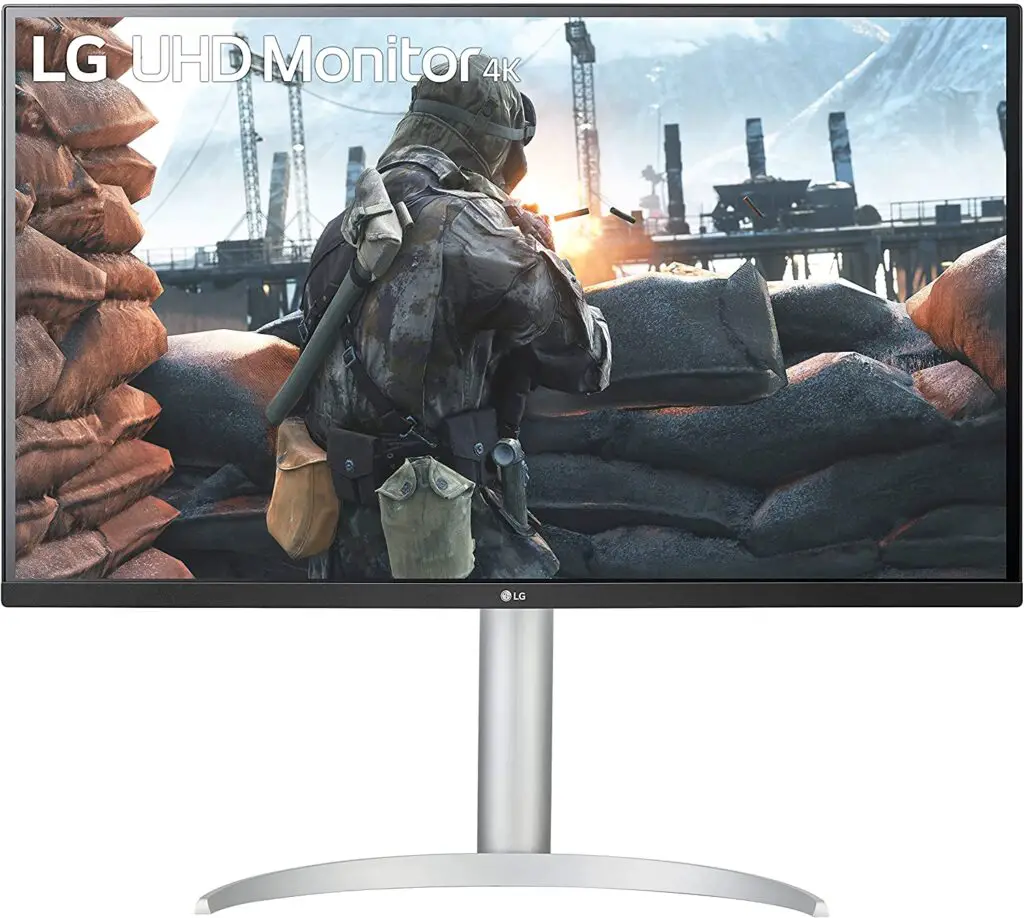 Design
Unlike their UltraGear displays, they want to keep both casual and professional screens aesthetically simple. In truth, LG's aesthetics aren't among the finest among casual and professional monitor manufacturers in our opinion. 
When compared to other manufacturers, the LG design, in my opinion, leans towards a classic style, which may appeal to some, but not to me. 
The LG 32UP83A-W has the makings of a modern monitor, with "borderless 3-sided bezels" and a "slim" bottom bezel, albeit it isn't as small as the: ASUS PA329CV, although to be fair, that isn't a fair comparison because the PA329CV costs much more nowadays and has a premium finish.
Although the size of the bezels is something important to note, you won't be affected by them during use unless they are full-frame like old monitors.
LG did an excellent job with the screen's durability; it is plainly made of high-quality materials, and you can tell just by looking at it and comparing it to cheaper displays.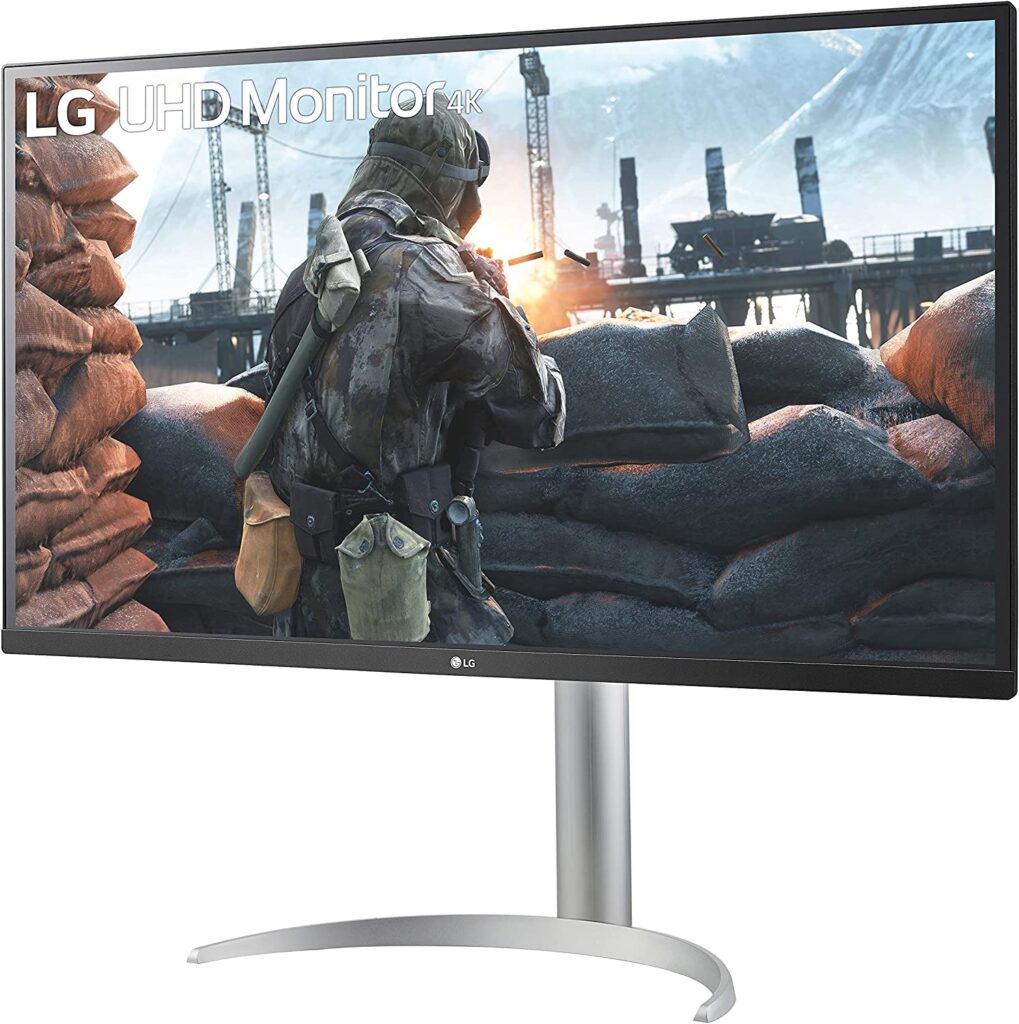 This monitor, by the way, features a three-color design, with matte black bezels, white on the back, and grey on the stand. That is, in fact, our preferred LG screen type, as it avoids the overdone matte black. 
Of course, if those things are important to you, matching the colors to your workplace or setting with this screen might be difficult.
The thinness of this display astonished us the most and gave us a glimmer of optimism for LG's monitor designs. It is, without a question, one of the thinnest we've ever evaluated, and this may make a big difference in your setup, freeing up some desk space and making the screen look nicer. 
Speaking of desk space, this monitor has a pretty good stand, with a nice ) shaped style and some wide adjustments including tilt, pivot, and height.
Overall, this is a great and clean monitor in terms of aesthetics, and definitively we're seeing a huge improvement in LG's monitors' designs, and hopefully, they'll remain like that.
Connectors
Besides that, the steep prices cleared them room to improve the screen in terms of connectors. Knowing that adding some good connectors for a professional screen is crucial, they decided to add: 2x HDMI, 1x DP, 2x USB downstream, 1x USB-c, 1x Headphone-out. Also, they installed a nice pair of 5W out speakers, which performed quite well, with good volume and balance, but nothing too out of the curve.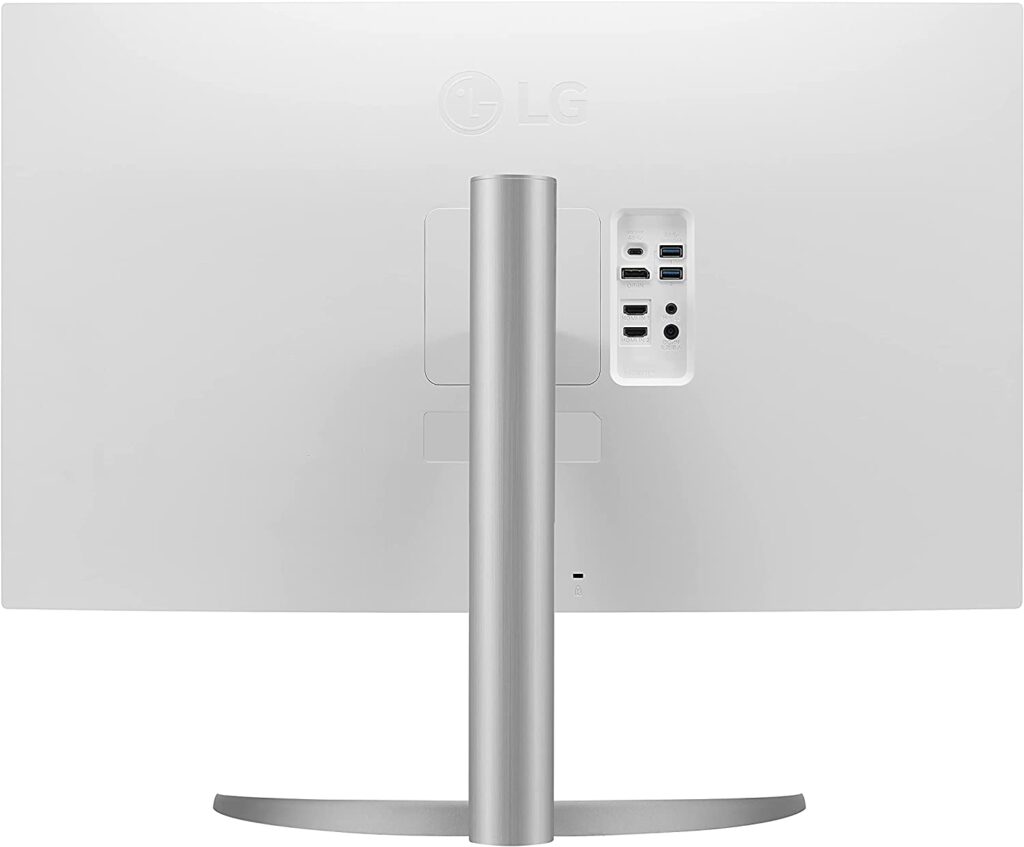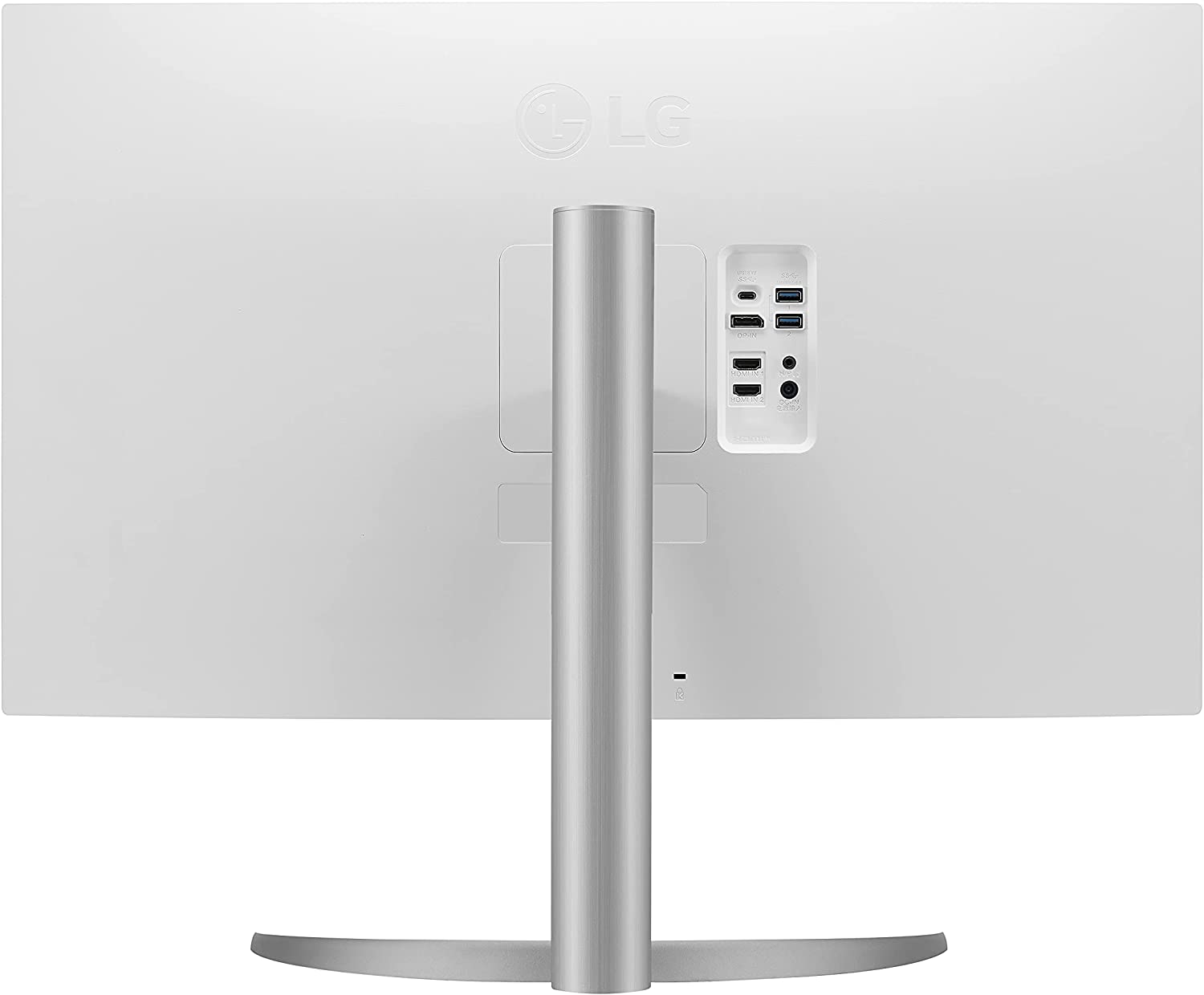 Features
Panel type
Without high-accurate colors, a decent high-resolution display isn't the same. To that end, the panel included in this screen performs admirably. The VA and IPS panels are now the most popular in terms of color performance.
Both have a different target audience. While the IPS is best for individuals who need the most accurate colors and viewing angles, the VA is ideal for those who will be using the display in a dark area since the panel has stronger contrast and deeper blacks.
They went with an IPS panel for this one. Despite the fact that both are rather good, they each have their own drawbacks. In a dark room, the IPS glow, which is plainly seen as some glowing lights in the corners of the monitor.
In this case, the VA panel outperforms the IPS panel in terms of black uniformity, but it lacks the accuracy of the IPS panel in terms of color accuracy. In the right corner, the LG 32UP83A-W had a significantly brighter IPS glow than in the left. Please keep in mind that this differs each piece and may not be the same for your model.
Brightness
This screen's maximum brightness is very ordinary. It just meets the bare minimum requirements for HDR 400. When set to full brightness, this screen is excellent for playing games throughout the day and handles reflections admirably. 
If you don't do that, though, this screen falls short of competing monitors, which is to be anticipated with a peak brightness of 350 nits.
The IPS panel's excellent viewing angles also make this screen operate well throughout the day, so you'll probably be OK with it whether you use it during the day or at night. In a dark setting, the maximum brightness of this screen is not essential and may be harmful to the eyes.
During our tests, the 85 percent ratio performed the best in meeting our demands, and it was the greatest for usage in a dark space. Overall, this screen features everything you'd expect from a mid-to-high-end professional display in terms of brightness ratio.
Refresh rate and Response time
Unfortunately, for those who want to use the LG 32UP83A-W primarily for gaming, it has a number of drawbacks here. To begin with the positives, it offers the FreeSync function, which does an excellent job of preventing screen tearing while the frame rate is within the specified range.
However, because of the low refresh rate used for this monitor, this range is rather limited. To be honest, 60Hz isn't a nice feature to have on a high-end display or even a low-cost screen right now. 75hz is the go-to for any professional screen with higher-end features at this point in the game, since it provides a fair level of smoothness with a small price increase.
If you've ever utilized a frequency greater than 60hz, you'll probably regret coming back to this ratio. As a result, I can't really suggest this screen to anyone who does a lot of online browsing or mostly plays games.
Although it is not ideal for smoothness, it is very usual for professional monitors to be devoid of several useful gaming capabilities. 
As predicted, this monitor has a poor response time ratio, reaching a maximum of 5ms when using GTG at maximum, which I don't suggest because it degrades the monitor's colors and brightness in an attempt to shorten response times. 
If you're using it as a secondary monitor for work, you're making a wise decision because the colors and image quality are excellent. However, this is definitely not a screen you'll like watching while playing games at high frame rates.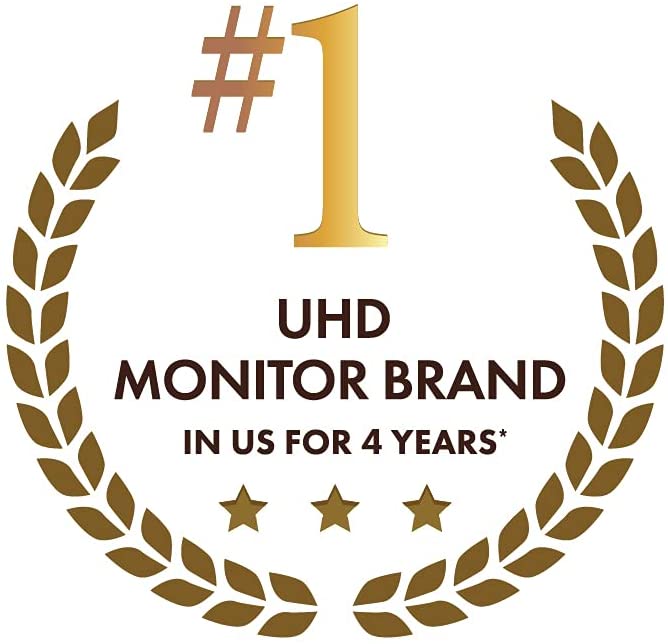 Image Overall Quality
By the way, outstanding colors and image quality are the key qualities of the LG 32UP83A-W, and these are the features that distinguish it as a professional monitor.
This monitor boasts rich and realistic colors right out of the box thanks to an IPS panel with DCI-P3 95 percent Color Gamut and a 10-bit color pattern.
Due to the DCI-P3 95 percent and the pre-configured default, this screen exhibited some extremely warm colors without calibration. If you don't like it that way and would rather have more realistic colors, you should calibrate it beforehand.
In fact, if you deal with media editions in general, you should calibrate this screen because of the bright hues, which might make accuracy difficult. However, for games, which are not the primary emphasis of this screen, warm colors may be preferable.
This monitor's 138 PPI makes it nearly hard to distinguish a pixel at a regular viewing distance, while the 4K resolution provides excellent visual quality. According to some, a 32-inch display is the bare minimum for the 4k resolution.
After being accustomed to 1440p 27-inch monitors and using this one, the items on the screen appeared to be rather little, but that may be something I can adjust to with time.
Finally, we must emphasize the HDR 10 function, which operated admirably despite the screen's low brightness ratio. Still, as I often say, if you truly want an HDR experience, hdr 600 or 1000 is the way to go; nits lower than that don't make much of a difference.
Overall, the colors and clarity of this screen are amazing, although it performs poorly in gaming scenarios. This monitor is designed for folks who require a professional display and either do not play at all or will utilize a second monitor in conjunction with it.
Final thoughts
When to buy it
If you merely need a monitor to work with media content or production, the LG 32UP83A-W, after calibration, is a solid choice. However, if you intend to use this monitor for gaming and online browsing, the low refresh rate and response time may be a problem.
As a result, if you require a monitor for more than simply generating the content, a hybrid screen, such as the: Asus XG27AQM, is preferable. And if you're ready to pay a little more money, the ASUS PA329CV has superior post-calibration colors and image quality, but at a higher price.
You may like