Our Conclusion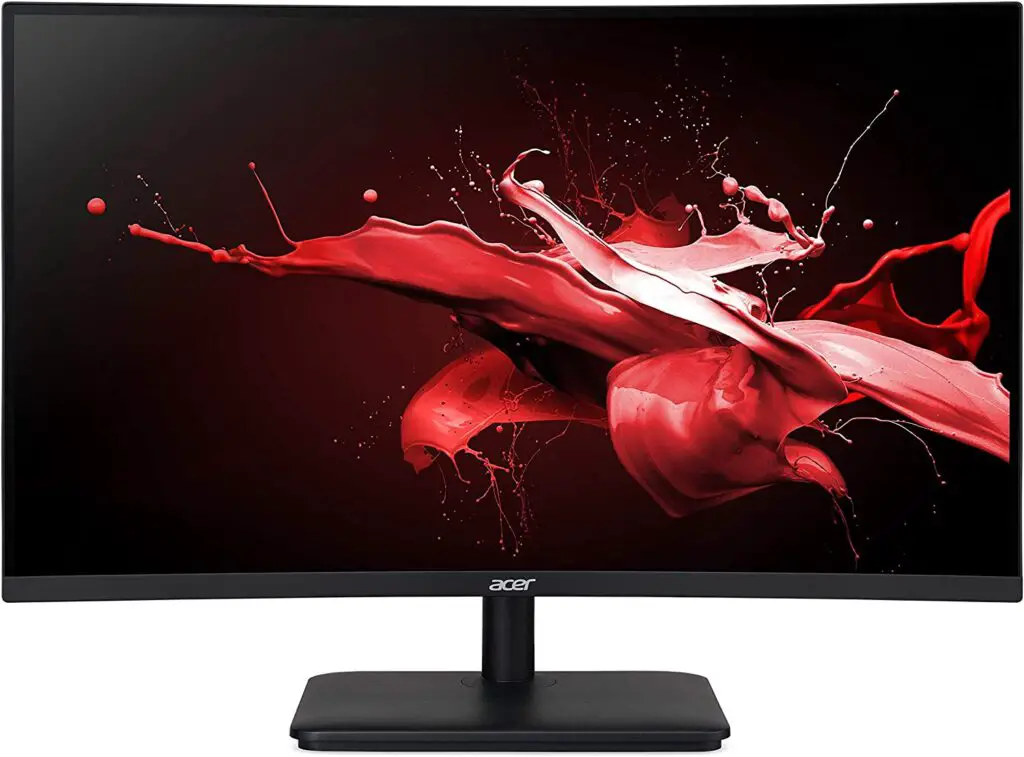 The Acer ED270R's bulky style, combined with a huge deal of low responsiveness and low PPI, all help make this one of the worst Acer gaming displays in terms of price to performance. If you can save $40 more, you can easily find the: HP X27, which is practically better in every way than this one, or the: MSI Optix G24C6P if you need the VA panel.
Pros
✓ Budget
✓ Fast Refresh Rate
Cons
✘ Bulky
✘ Low Image Sharpness
No matter what kind of monitor you choose, it is always wiser to compare it to as many other models as you can to see if there are better options with comparable features and pricing.
While doing that is generally a good idea, it becomes much more crucial when it comes to low-cost monitors. The cheap category now has the most variety of monitors—from various manufacturers, with marginally varied price points and features—in it. Additionally, low-end monitors frequently operate in the danger zone, often being less than ideal in terms of price and performance.
And in today's post, we'll take a look at one of Acer's 2022 budget display lineup's most affordable models. Did they manage to maintain features on pace with such affordable prices? In today's Acer ED270R Review, we'll find this out.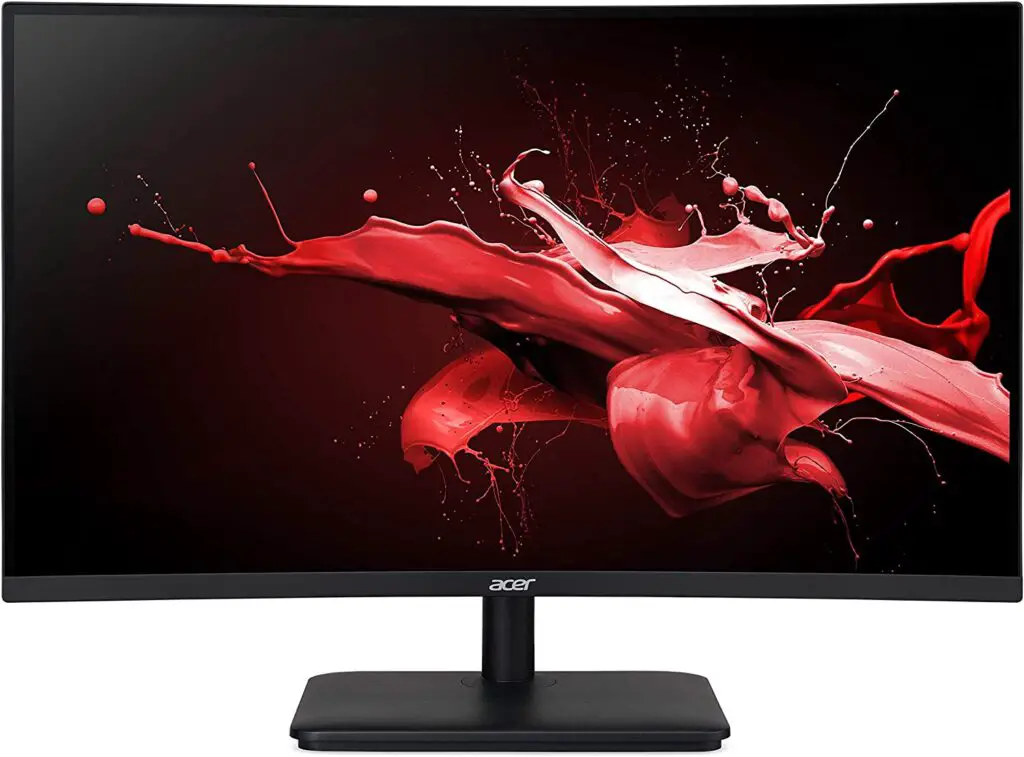 Design
While the final prices can significantly impact how the monitor looks, it is not an excuse if the monitor isn't able to keep up with modern trends at all. 
Still, if one likes the overall aesthetics of the display or not, is something subjective to everyone's tastes, and varies from person to person. 
I, for example, don't think this is quite the most aesthetically good-looking display out there in the budget category, losing by a landslide to others like the: HP M27FQ or the: Acer ED273U, but you may find it better than both.
The thing is, this monitor does lack a little bit when it comes to sturdiness. Its materials are clearly and visibly worse than some displays in this price range, such as the ones mentioned above – unlike some other displays in this category that can hide it well.
It is not as though this is a huge dealbreaker, but it can add up to the cons of the display's design. In the long run, we can say this is a price to pay if we want to have a budget screen like that, and it can truly be: if this monitor's features make up for it. We'll check that out in the next section. 
Before we go to the plus points of the design, we can't forget to mention one of our major complaints about this display: the stand. This is a huge one, it is one of the bulkiest we've seen on every screen we tested on this website, and it engulfs a huge portion of your desk space. 
On the good side of things, for being flat square-shaped, you can actually put things on it, but that doesn't change the fact that it is too much more elevated than it should be. On top of that, it also lacks a huge deal of adjustments, bearing only the "required" tilt support, which, once again, adds to the drawbacks.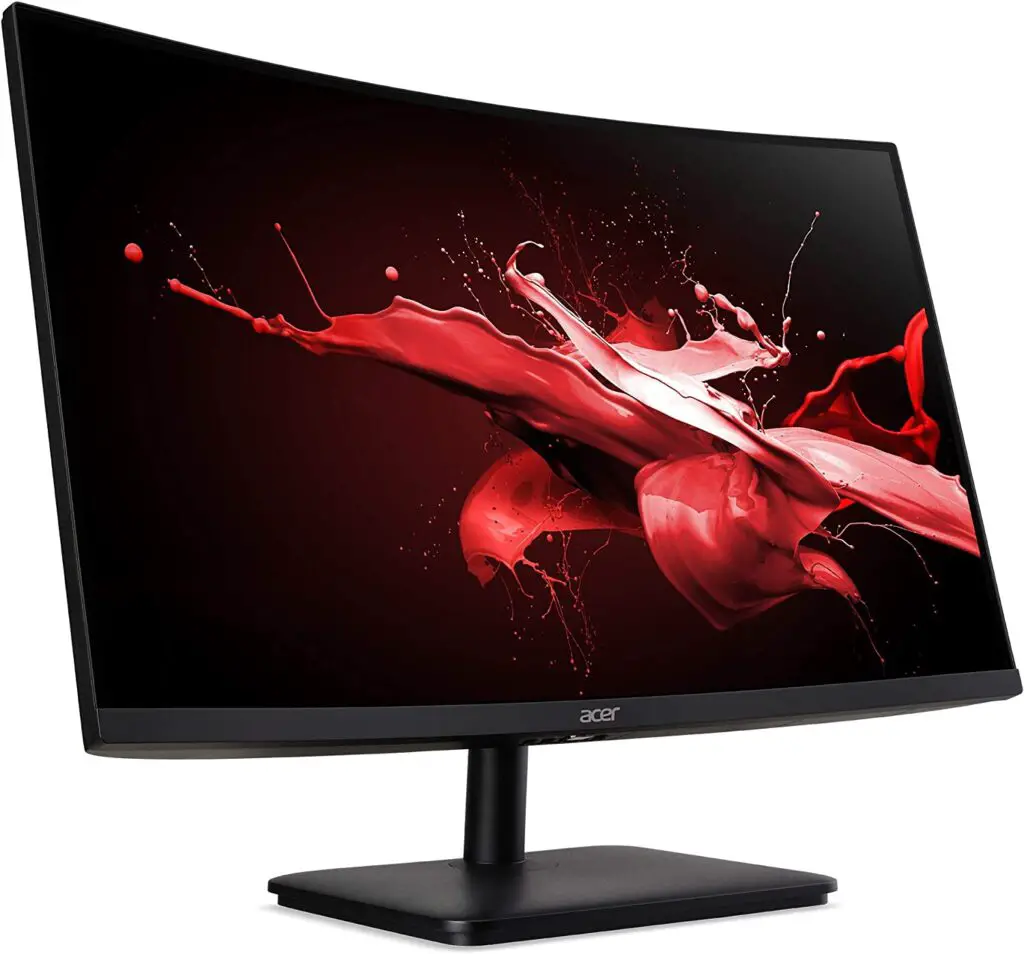 Fortunately, you can use the VESA support and get a better stand, and that is personally the first thing I would do after buying this screen.
Now moving to the plus points, we have to mention this is a quite thin monitor, especially when we consider it has a curvature of 1500R. It also has a very small-sized bottom bezel, but average 3-sided ones. 
It was entirely finished in the matte black color, which is an easy color to match with the rest of your setup. On the other hand, it lacks speakers and a joystick for easy menu navigation, which is something to be expected really. 
In the end, if we disregard the stand, this is quite an aesthetically solid screen compared to the common base in this price range. And it is even better when we consider this is a $150 screen on sale. Of course, it is not the most recommended for an office setting, but it is good enough for a casual or even a gaming screen.
Connectors
Predictably, they didn't add a good amount of ports, leaving only the necessary ones for video and audio input: 2x HDMI, 1x Display port, and 1x Headphone out.
Features
Panel type
The Acer ED270R carries one of the cheapest VA panels you can find nowadays. That said, it does come with a couple of downsides that we should mention. But before that, let's check out the plus points first.
First of all, as we all know, VAs are known for their good contrasting colors and deep blacks, and while this one doesn't have the best of the best, it does have an edge over some IPSs in the same price range. 
Due to pricing limitations, the blacks aren't as deep as they were on our previously reviewed monitor, but it can still hold its own against its competitors. 
However, bear in mind that colors aren't nearly as good as an IPS' here, and the IPS is always your best choice if you favor color accuracy over contrast. We'll go further into color accuracy in the image quality section. 
For what it's worth, this panel usually has higher responsiveness than the others, but in this price range, responsiveness usually is rather poor. Fortunately, the curved style helps the somewhat subpar horizontal viewing angle accuracy, while the vertical is clearly worse than your top-of-the-line VAs.
Of course, it is not bad to the point the colors will be completely off the track, but it can be noticed if you are nitpicky enough. To that end, IPSs are, again, the ones to choose. 
In my opinion, the IPS panels are almost always the best bet in this price range, as they usually have a higher consistency when it comes to balancing benefits and downsides. Of course, I can understand why some still prefer VAs, but regardless, the IPS is still the one I'd go for.
Brightness
One of the big rocks that can weigh cheap VA panels down is the low brightness ratio. Comparing it to the: HP X27 or the: MSI Optix G272, which are at least twice as good and are barely in the same price range, the brightness this monitor has is clearly among the worst within its price range. 
Being able to crank up the brightness to the maximum in a dark room without having your experience hindered by some IPS glowing is easily one of the most appealing features of VA panels. With that, when this type of screen has a lower peak brightness than usual, the pro/con balance starts to tilt in favor of the cons. 
Fortunately, though, this panel surprisingly has good reflection handling, which allows you to use the display near a window without huge problems, assuming you set the brightness at its peak. 
Depending on what time of day you'll use the panel the most, keep in mind that this low peak brightness is generally not a problem at all at night. 
In the end, the Acer ED270R isn't all bad when it comes to brightness, but you should definitively know you can find something better, and this difference can greatly change your experience and opinions about this type of panel.
Refresh rate and Response time
As we tend to mention in almost every VA screen review, the VA panel helps with responsiveness, and they are usually better than the IPS in this regard. 
Still, IPS is still developing over time, and some features, such as fast IPS implemented for high-end gaming displays, can give a VA panel in the same category a good run for its money. 
Of course, the top-of-the-line IPS displays still beat the mid/high-end VA monitors, but when we speak about low-end lineups, things start to look quite good for the VAs.
That said, this monitor will deliver you pretty much what you expect from a gaming monitor in its price range. Yes, it does have a good amount of motion blur that you'll have to put up with while playing fast-paced games, but at the same time, you have to keep in mind it would've been probably worse if it had an IPS panel instead.
On the good side of things, it has a pretty fast refresh rate that'll sometimes make up for its high response time.
This monitor is awesome for casual games. It has a low resolution which allows your graphics card to work at ease while rendering a high FPS ratio, helping you make full use of the display's features. 
On the flip side, the lower resolution can also be a shot in the foot if you care a lot about image crispness, but that is a topic for the following section. The thing is, reaching up to 165 Hz, this display has pretty much the necessary smoothness for the majority of users who are not interested in entering the competitive gaming scene.
It's great to see that high refresh rate monitors are quickly becoming a mainstay of the low-end display market, meaning 60 hertz is quickly becoming a thing of the past.
In conclusion, we can say this monitor is casual-oriented. You can play some games with it with the help of the FreeSync Premium handling screen tearing, but its motion blur, as well as the below-240hz frame time, makes it less than advisable for competitive gamers. 
In that case, you would need a slightly higher budget to get something like the: Dell S2522HG or the: Asus XG27AQM.
Image Quality
As mentioned before, if you do care about the sharpness of the monitor's image, this is clearly not the one you should go for. And that is due to its low PPI of 81 – delivering images practically blurred if you compare it to a 24-inch 1080p screen which is a more recommended combination.
When you mix this natural blurriness of stretched pixels with the motion blur this monitor abundantly bears, things get pretty ugly, through and through.
Of course, you can't have all the good features in a cheap monitor like this one, but at the same time, you can also get something with better image clarity in this price range if you search well enough, like the: HP X27. 
Fortunately, the Acer ED270R's VA keeps it going against the grain, as pretty much every monitor in this category currently has an IPS panel. With this differential, you are at least getting better contrasting colors and deep blacks and vibrant whites. 
By the way, assuming you are using the out-of-the-box preset, this monitor has far away from the recommended color accuracy to deal with the media edition. Even if you have a colorimeter to use, the short gamut will be on the way to stymie the colors within a cold/dull range, and you'll often have to live with it if you still want the VA panel. 
The out-of-the-box colors are pretty drab, but you can change that to an acceptable level if you adjust it manually. That said, if you want to join in the professional media edition but don't want to go bankrupt to get one, I recommend you check the: MSI Optix G273QPF, which has awesome colors after calibration and it is pretty similar to this one in terms of features, but with some better responsiveness and colors. 
In the end, as much as I said the: Acer ED270R' is a good casual monitor, I still can't recommend it for $210 dollars. It has a good amount of drawbacks, and its price to performance just isn't right. If you can live with the mentioned drawbacks and find it at a good sales pricing, I recommend you before comparing it to the ones I'll mention below.
Final thoughts
When to buy it
Considering how the Acer ED270R has a huge amount of downsides that will hugely influence your experience with it, I recommend you wait for it to get better pricing or go for something better in the same price range, such as the: MSI Optix MAG274R2 or the: HP X27.
If you need a true gaming monitor, the: Dell S2522HG is one of the cheapest you can get right now. On the other hand, if you only need a good VA panel and are willing to spare a little bit more, the: MSI Optix G24C6P is a better choice to go for. 
As much as I say this monitor is not all that good, I have to give it credit for the high refresh rate, which is a rare thing to see in this price range. 
With that, this could be a great option for your list if it was cheaper, so if you find it at better prices, I could really see it being a better deal then, but for $210, there's definitively something better you can get right now.
You may like