Our Conclusion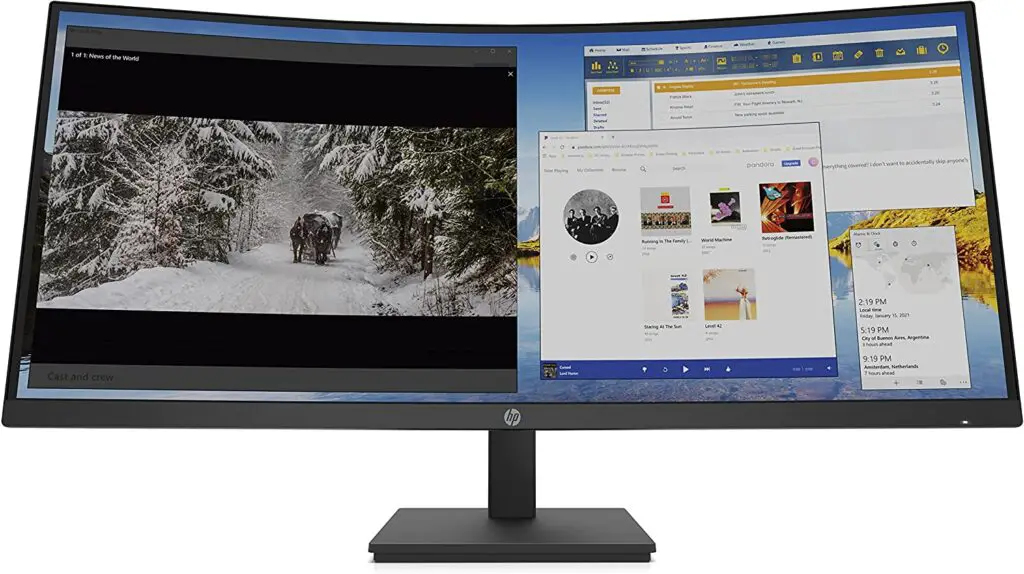 Unfortunately, the KVM feature and a large number of connectors are the only things that make the Hp M34D monitor cost somewhat more than the norm. You have far better options, such as the: HP x34 and the: Acer EI342CKR, if you don't require that at all. (Update): right now it is on sale at $420 on Amazon, which makes it a way better cost-benefit to consider.
Pros
✓ Crisp images
✓ Good amount of ports
✓ Often On sale
✓ Built-in Speakers
Cons
✘ Above-average prices off sale
✘ Low color accuracy
The cost of purchasing two monitors to increase workspace might occasionally be higher than the price of a single ultrawide monitor. When it comes down to high-end displays, whether they are gaming or non-gaming oriented, the price discrepancies are even more pronounced. 
Thankfully, for those who decide to buy a single large widescreen monitor, this type of screen isn't actually the most targeted, making it easier to find out amazing prices because of the overflowing stock.
For today's article, we have one of the newest HP displays, featuring some excellent pricing and features that other screens may find difficult to go against. Will it provide a better price-performance ratio than the HP x34, one of the year's greatest ultrawide releases? In today's Hp M34D Review, we'll check that out.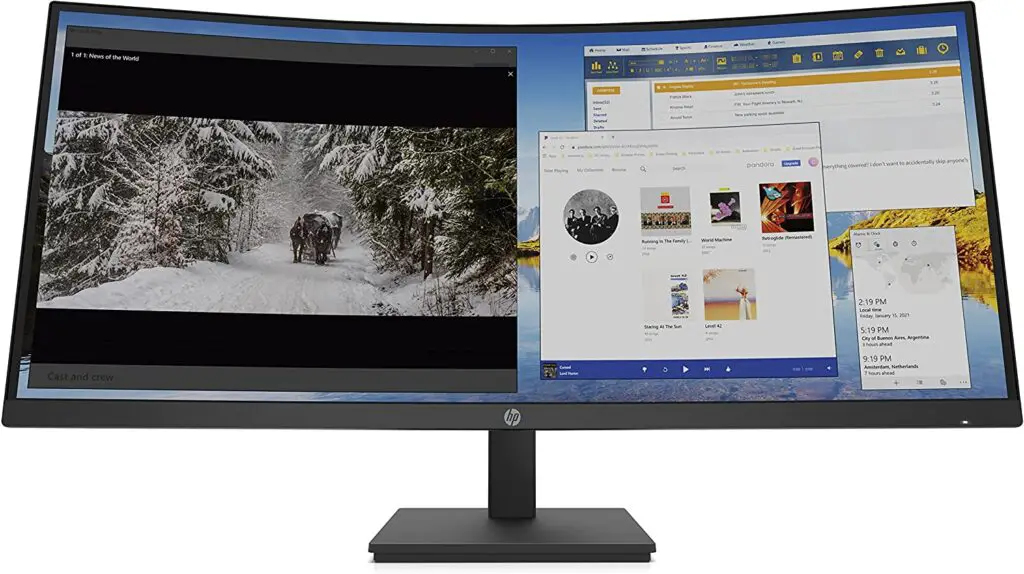 Design
The curved design of this monitor is one of the key features that caught our attention. While it may be excellent for some, it may be unappealing to others depending on personal preferences. 
In either case, the curvature is rather significant, so individuals who personally hate curved displays should avoid this one and go instead for the: HP x34. 
In relation to aesthetics, the HP X34 feels cleaner than this one, even if it has unquestionably worse materials. Still, some of my writers believe the HP x34 has a more traditional aesthetic than this one, which keeps up with modern trends. 
This monitor is considerably thicker than the norm due to its curvature, and it is also heavier because of the same. We can say, however, that the materials are impressive given the price. 
As you may already know, the M HP line isn't the one you should acquire if you require your monitor to serve as the centerpiece of your entire setup; instead, you'd be better off with something from MSI like the: MSI Optix MAG342CQR with some RGB LEDs and other flashy features. 
On the other hand, if you prefer something minimalistic – if we can describe it that way given the size of the screen – this design follows a simpler pattern that you may like. In any case, it was completely finished in matte black and without any aesthetic feature that makes it stand out. 
The good news about it is that, unlike the previous monitor we examined, you won't have trouble matching the colors of your setup with this screen.
Since this is not the smallest monitor you can have and requires a sizable amount of width and depth from your desk, the one aspect of your setup that you should be concerned about before buying this monitor is whether your desk has the room to handle it.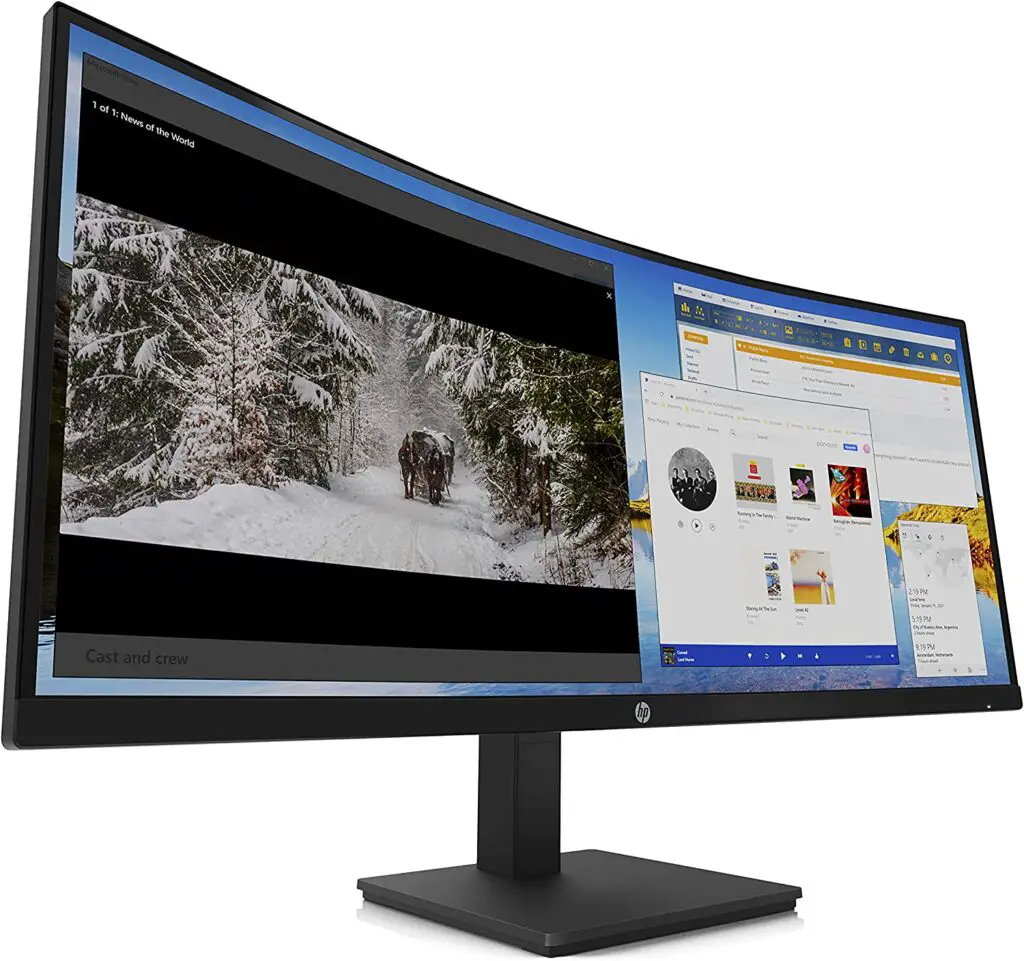 It is fairly heavy at 23.17 lbs, so make sure your desk can support its weight as well. Assuming you won't place the computer on it, this shouldn't be an concerning weight for most desks. In order to fit this monitor, you should have at least: 31.89 x 9.25 x 20.4 inches of free space. 
If you don't, you may mount it on the wall using the VESA support or buy a better stand. Speaking of which, the monitor's stand isn't exactly the most ergonomic, just allowing for height and tilt adjustments, which is standard for ultrawide displays.
It's unfortunate that this display follows the X34's lead and lacks a joystick to facilitate menu navigation, but as long as you don't need to use it regularly, this shouldn't be a big concern either. 
Overall, we can conclude that this monitor doesn't look very innovative; rather, it has all the essentials of a low-cost ultrawide screen. Apart from the curved design, it follows the grain, which is great for its final costs and enables the manufacturer to accentuate the most relevant features.
It also boasts a pair of integrated speakers with 3W, but they only provide a basic sound signature, so you shouldn't count on them to sound crisper or louder than your headphones.
Connectors
And the good news is they did not skimp here and used a wide amount of good inputs, all of which can even place this monitor in the professional category, including 1 USB Type-C; 1 HDMI 2.0; 1 DisplayPort; 4 USB-A 3.2 Gen 1.
Features
Panel type
For professionals, the Hp M34D can be an excellent option based on the volume of inputs, however, those who work in the media field may find the following aspects to be a little disappointing. 
With such a low-grade VA panel, this monitor fails to live up to our high expectations. Although the VA panel is not poor in itself, it is problematic for this specific screen because it isn't a gaming monitor, and there are some more affordable choices with superior panels.
Because VA panels offer a greater edge in responsiveness, we said that this monitor is not suitable for gaming as a drawback. Besides, the VA does not consistently match the standards set by the media industry for color fidelity. 
Regarding the positives, there is no denying that this panel is the finest of the main three (VA, IPS, TN) for users who require high contrast. In a dim environment, this monitor worked admirably, something that wouldn't have happened if it had an IPS panel instead. Additionally, the black images on this type of panel are stunning.
All things considered, this panel is adequate for its category, but this feature alone should disqualify it from the media professionals displays' list.
Brightness
Unfortunately, this screen's maximum brightness is another drawback. Brightness is even more advantageous for VA panels since it enhances the whites' performance, letting them stand out against the blacks even more. 
Additionally, at only 250 nits, this monitor's peak brightness is not particularly impressive. Given that this monitor has intermediate-level costs and that 250 nits is now the lowest and most prevalent ratio available for low-grade screens, we can't help but flag it as a major drawback. 
With its low peak brightness, this monitor has a number of limitations, including poor reflection management and glare that restrict it from being used in excessively bright environments. However, most users find that the 100% set brightness is sufficient for use at night. 
If you want a monitor that you will use primarily throughout the day, I advise against purchasing this one and instead opting for the: HP x34. But if those drawbacks weren't enough to dissuade you from this purchase, let's talk about its gaming capabilities.
Refresh rate and Response time
I won't lie to you, as soon as we saw the VA panel, our expectations that this monitor would be a gaming display went sky-high. However, after we saw its responsiveness performance, those hopes were quickly dashed.
I'm not really clear why they went with such an unusual refresh rate of 100 Hz and kept the response time at a low level. This combination, which is worrisome, to say the least, only assisted with the sense of motion blur while using this screen to play a game. 
Furthermore, believe it or not, the additional 44 hertz over the standard 144 hertz actually makes a difference, and you can tell that 100 hertz is not as smooth. In either case, this refresh rate can already represent a significant improvement in smoothness for people coming from 75 Hz or below. 
Although the Hp M34D is not as excellent for gaming, it can be more than enough for ordinary tasks like web browsing. As previously mentioned, this monitor performed quite poorly during our gaming testing, particularly in fast-paced shooters where the motion blur of the 5ms GTG was more obvious.
Additionally, the fact that overdrive is required to achieve those figures makes the situation worse because this function has a significant influence on brightness and, as noted in earlier sections, brightness isn't really one of the features this screen can brag about.
However, for other casual games, the experience was acceptable, so if that's how you intend to use this screen, you should be well taken care of. In any case, if your primary motivation for purchasing this monitor is gaming and you don't want additional features like the KVM switch and plenty of ports, you may save your money and purchase something more fitting and cheaper, such as the: Acer EI342CKR. 
By the way, if you have multiple setups, KVM switches are highly worthwhile since they let you connect your keyboard and mouse to the display and switch between computers with a single button press.
Features
The KVM and PBP features are undeniably one of the best points of this screen. The former allows you to plug your mouse and keyboard into the display and use the KVM button to switch between main setups, sparing you the burden it is to do it manually.
You can do that, or use the PBP feature and display both setups on the screen, as the feature will divide the display's viewable area in order to simulate a dual monitor setup. Those are great accessibility features if you have more than one rig.
On the other hand, those features tend to have a great impact on the monitor's final price and if you don't need those at all, you can go for a similar but cheaper screen like the: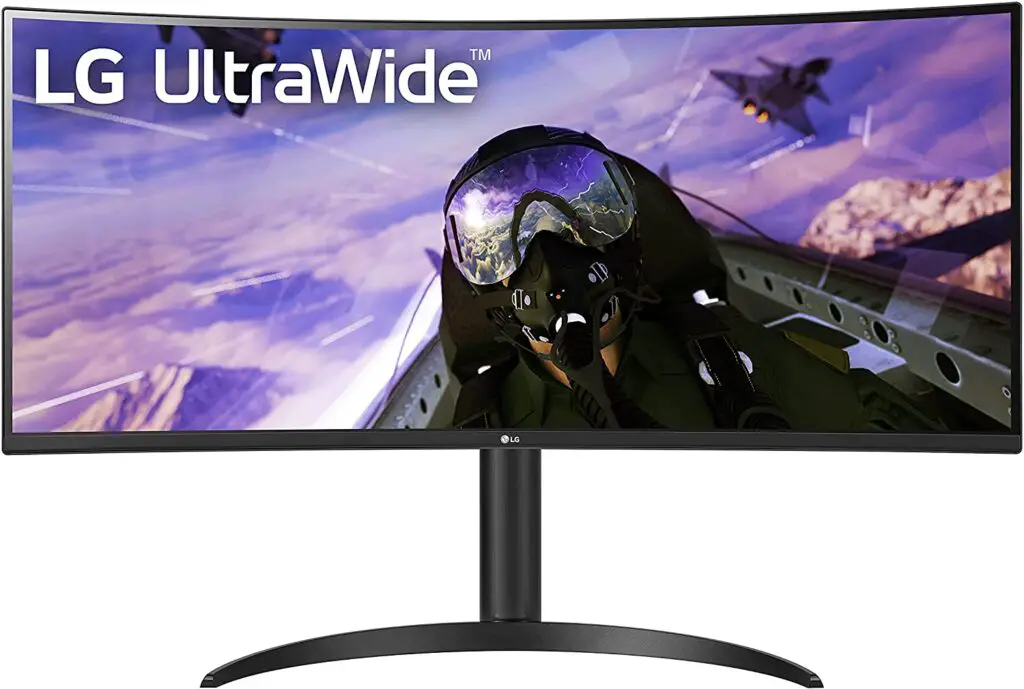 .

Image Quality
Even if media editors and gamers shouldn't have this screen on the list, if you work with something else that requires a wide workspace, like programming, it can be a better deal. 
This ultrawide monitor's 1440p resolution provides you plenty of room for worry-free multitasking, and when paired with the PBP function, it really shines in this area. 
When dealing with media editions on this screen, things might immediately go blank. When compared to our prior VA monitor, this screen covers 99 percent of the sRGB gamut. And as we could see on that monitor, even a little gamut variance of 5% may have a significant impact on color fidelity.
Having said that, professional displays often either exceed 99 percent of the color gamut or remain at 100 percent, but frequently such monitors have 1.6 billion supported colors, which is far more than this monitor can provide(16M).
Sad to say, if you want an ultrawide monitor with excellent color accuracy, you'll have to spend an even larger premium for panels like the: LG 38WN75C-B and the: ASUS XG349C. 
However, if you don't require a great deal of color accuracy, this screen will suit you well because it has a decent pre-calibration (within its VA boundaries of course) —something HP is frequently known for. 
If they can maintain the consistency, you might not even need to calibrate it to get some decent colors. At least our unit didn't show that much of a change after calibration at all. 
By the way, this monitor shines in its ability to display deep blacks because of the VA panel's high contrast ratio, making it ideal for usage in dimly lit environments. 
Finally, we can say that this is a rather niched monitor; it doesn't offer many surprising features, but it does have a variety of ports, which some may view as a professional-oriented screen's characteristic.
Final thoughts
When to buy it
In addition to having a reasonable number of ports, the Hp M34D also offers average features and some median costs when compared to those of other monitors in its class.
As previously said, the VA panel of this monitor isn't the one you should go for if you need to deal with media editing or other tasks that need a high level of color accuracy.
On the other hand, if you can afford it for a cheaper cost and need a nice workspace to work with something like programming, this might be an excellent offer.
This monitor is not the finest in its class at $550, and there is a huge gap in price performance between this and the: HP x34, which is now $100 less expensive and has greater features. Therefore, unless you absolutely want the ports, it is not a good deal to afford this one right now.
You may like