Our Conclusion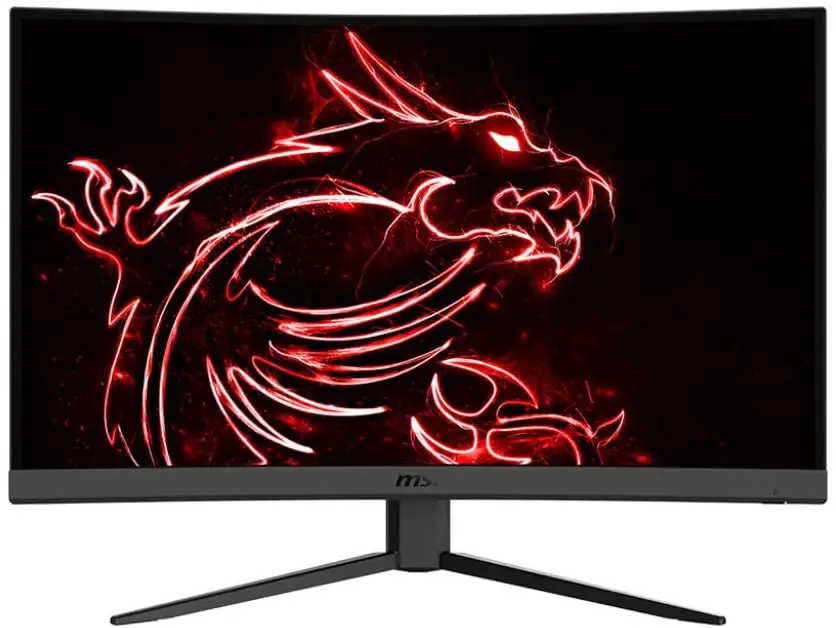 The MSI OPTIX G32C4 is currently one of your cheapest choices if you need a 32-inch gaming display with vivid and contrasting colors as well as a good Refresh rate and Response time number. However, bear in mind that it has only the Full HD resolution, which results in washed images. Due to that, I recommend you check out the MSI Optix MAG274R2 with is a 27-inch one, not showing this issue at all.
Pros
✓ 165hz, 1ms
✓ VA panel
✓ 32-inch
✓ Curvated
✓ Affordable
Cons
✘ Low PPI
✘ 250nits of brightness
In terms of the gaming display standard, we chose to go against the grain for today's topic. The bulk of monitors manufactured with gaming-focused features are 27-inch or 24-inch in standard size.
However, higher-resolution displays with a high refresh rate are already available for people who require a high level of smoothness.
Those people are also the target market for MSI's newest release, the MSI OPTIX G32C4. Check out the MSI OPTIX G32C4 review for all of the benefits and drawbacks to see if this is a display worth investing in.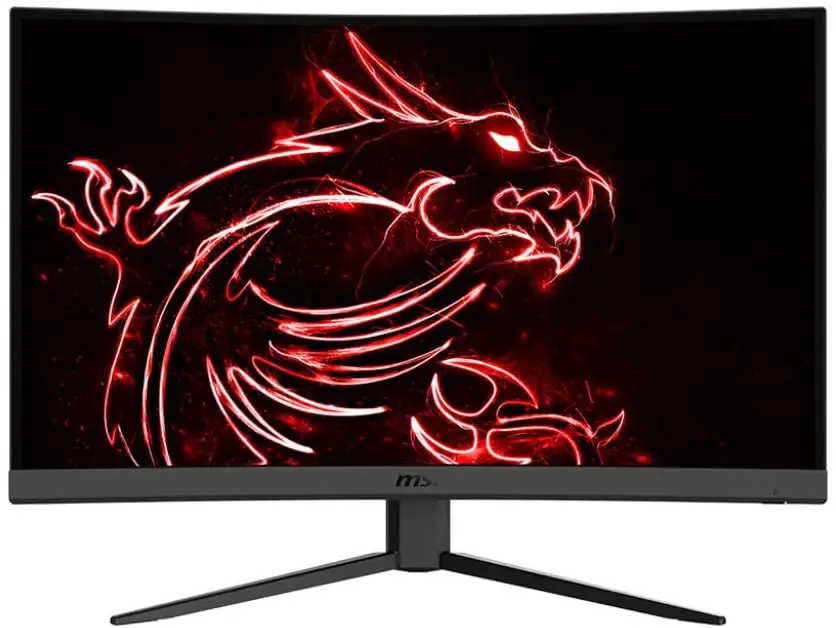 Design
This monitor reminded us a little of the MSI OPTIX G241V, which is probably since both are part of the same line. The MSI OPTIX G32C4 is entirely finished in a matte black pattern, which is becoming way more mainstream for monitors nowadays. 
To keep into the modern category, they decided to implement the borderless 3-sided bezels to this monitor. As mentioned, it is a high-sided display, being a 32-inch one with dimensions of 28 x 9.8 x 20.1 inches and a weight of 14.11 lbs.
So, be aware of the space your desk must have before affording a huge display like this one. It has a thin bottom bezel but not one of the slimmest we reviewed on reatbyte for a 32-inch monitor.
As for its stand, it has a half-triangular one, being likely a typical pattern commonly seen in new MSI releases. This stand will allow you to only tilt, leaving a little to be desired for stand adjustments.
This monitor's rear is basically the same as the MSI OPTIX G241V, but for this one, they decided to remove the brushed part to keep the design solid and casual-looking.
You can notice the VESA support right away when you look at the display's back, being a great plus point for you if you need to place this monitor on the wall. 
Lastly, this monitor has a 1500R curvature which is really good and somewhat important for a high-sided monitor like this one. 
In general, this display's aesthetics is basically one of the most solid and simplest ones of all the MSI monitors we reviewed here on reatbyte, which is a plus point for some, but a downside for others.
Connectors
As for connectors, again, to keep the prices solid, they decided to implement: 2x HDMI, 1x Display port, 1x Headphone-out. Finishing on the aesthetics-related features of this display, now it is time for one of the most important features for a monitor: its panel type.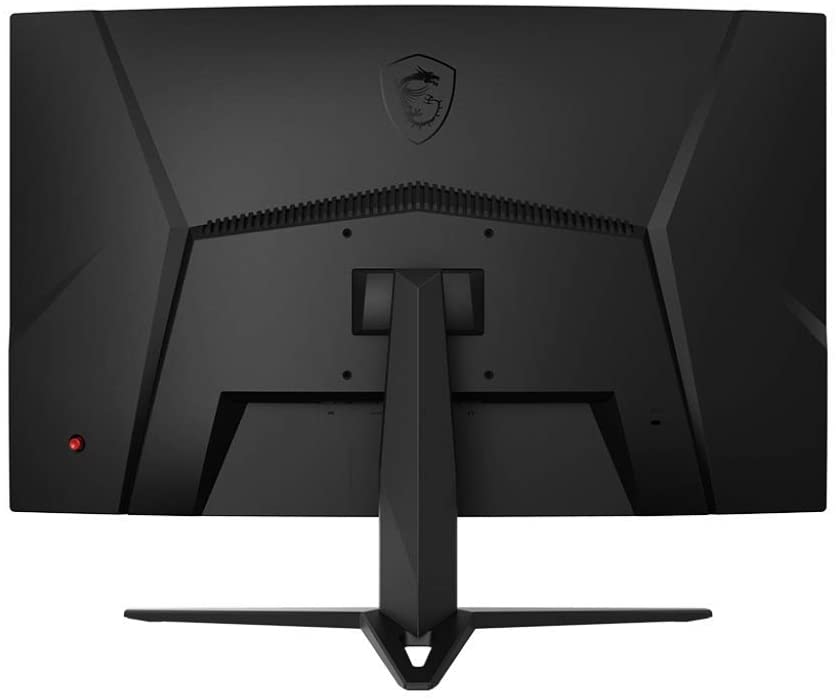 Features
Panel type
The panel type is basically the thing that divides the target buyers of the display. Typically media professionals tend to choose the IPS panel due to the further color accuracy and viewing angles provided. 
Gamers usually choose TN since it has low Response time ratios and cheap prices as well. 
As for the VA panel, it is most of a common choice among casual users since it is not too expensive as the IPS but not too cheap as the TN, at the same time, it does not have the same quality as the IPS, but it has over the TN. 
And the VA was the one selected for this display. Indeed you can find IPS 32-inch monitors at the same price range like this one, such as the LG 32GP850-B, so I hope MSI had something in mind while choosing the VA panel for this display.
Brightness
For panels such as the TN or the VA, usually, the manufacturers have to focus a little more on the monitor brightness since the ratio discrepancies are way more noticeable for those panels. 
Due to that, you can frequently see a budget TN or VA monitor with 300 or 350 nits of overall brightness, which is a safe ratio for that kind of panel. 
However, MSI had to save room for the gaming features of this display, including only 250 nits for this monitor.
Indeed, you're going to have problems using the MSI OPTIX G32C4 during the day, as it is a really huge one with the VA panel and a low brightness ratio, and if the sunlight hits it, it'll become way harder to discern the images properly.
On the other hand, you can rest assured if there won't be sunlight hitting the screen, or if you'll play your games mostly at night time, that this brightness ratio can do the job.
Refresh rate and Response time
Speaking of which, now it is time to check out the gaming features of this display. Indeed we have high expectations since I've seen a bunch of not that good features so far, and this is a gaming categorized display.
As typical for MSI monitors on this budget, it has 165hz of Response time, which is definitively good for gaming numbers. It is a little higher than the 144hz expected for a gaming monitor, providing you more smoothness for your gameplays or daily tasks. 
Also, keeping on the mainstream, they decided to use 1ms of Response time for this monitor, which is another gaming-focused number. 
Indeed, a lower response time won't make such a difference during daily casual use, but it will for your competitive gameplays, reducing the command to screen speed. 
So, in general, if this monitor had a good image quality, I would surely recommend you even for casual users, due to the high Refresh rate number. But due to its VA panel and low brightness ratio, it is more of an affordable big-sized display for competitive gamers.

Image Overall Quality
To finish on the features of the MSI OPTIX G32C4, let's take a look at its overall image quality. Indeed do not expect much coming for a VA panel, but it can be good still.
The MSI OPTIX G32C4 is one of the typical monitors you should not go for if you want image crispness due to its low PPI. It is a 1080p monitor with a 32-inch size, resulting in easily discernable pixels on the screen and blurred images. 
Some say the size threshold for a 1080p resolution display must be the 27-inch, above that, images start to get washed. 
On the other hand, this is the price to pay if you want a high-sized gaming monitor since the Full HD resolution is the most recommended for competitive gaming.
Aside from that, when it comes to color accuracy, things start to become standard. The VA panel is the best choice if you prefer colors with more contrast since it delivers you the higher contrast ratios of all displays. 
This one has 3000:1 of overall contrast and 16.7M of supported colors, being the standard for this type of panel. However, it also has a DCI-P3 95%, which is frequently seen in high-end monitors, delivering vivid and contrasting colors, becoming then a huge plus point for this display. 
So, in general, this monitor has Vivid and contrasting colors due to the mentioned features, but in contrast, it has blurred images due to the low PPI ratio.
Final thoughts
When to buy it
As the MSI OPTIX G32C4 is a 32-inch display with only a Full HD resolution, if you compare it to other displays you can notice that it has washed images, and that is due to the low PPI ratio.
On the other hand, it will provide you a huge space on the screen, a nice Refresh rate and Response time, and vivid images.
So, you can surely go to it if you don't care about the washed images and just need a competitive gaming display. But if you do, I recommend you opting for a 27 or 24-inch display such as the Acer Nitro XZ270 and the VIOTEK GFV24CB.
You may like