Our Conclusion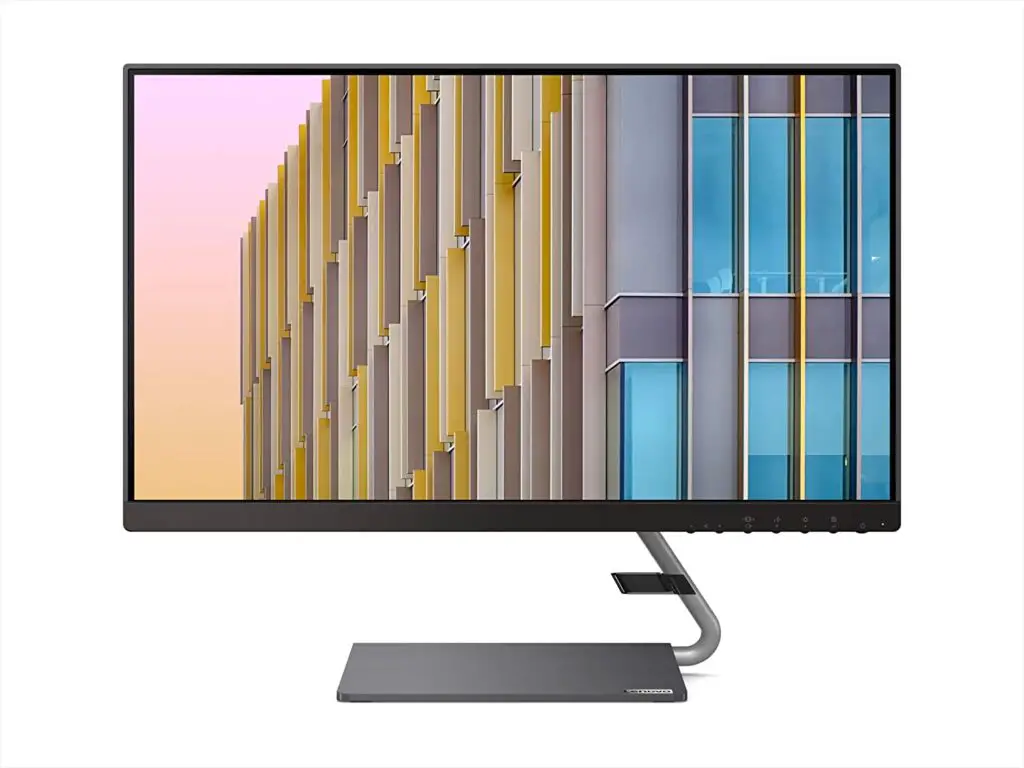 The Lenovo Q24h-10, along with the LG 24QP500-B, is one of the year's finest 1440p monitors. It offers incredible value for a 1440p resolution and USB-C connectivity, making it one of the greatest casual/professional monitors available. It has a lot of great features for the price, and it's definitely a monitor to consider if you need a "cheap" 1440p screen.
Pros
✓ 1440p
✓ 75hz
✓ USB-C
✓ Affordable
✓ IPS panel
Cons
✘ Limited stand adjustments
✘ Polarizing stand aesthetics
As we can see in some displays like the ASUS VL249HE and the ASUS VZ249HE, a good slim, well-looking casual monitor with excellent aesthetics may certainly pose as a professional-focused monitor.
When choosing a monitor for an office, the fewer eye-catching details on the screen, the better. And for today's article, we've got a monitor that definitely fits the casual yet professional-looking display category, and it's presently available at a great price.
So, without further ado, let's have a look at the Lenovo Q24h-10 Review to see whether this monitor is the right fit for you.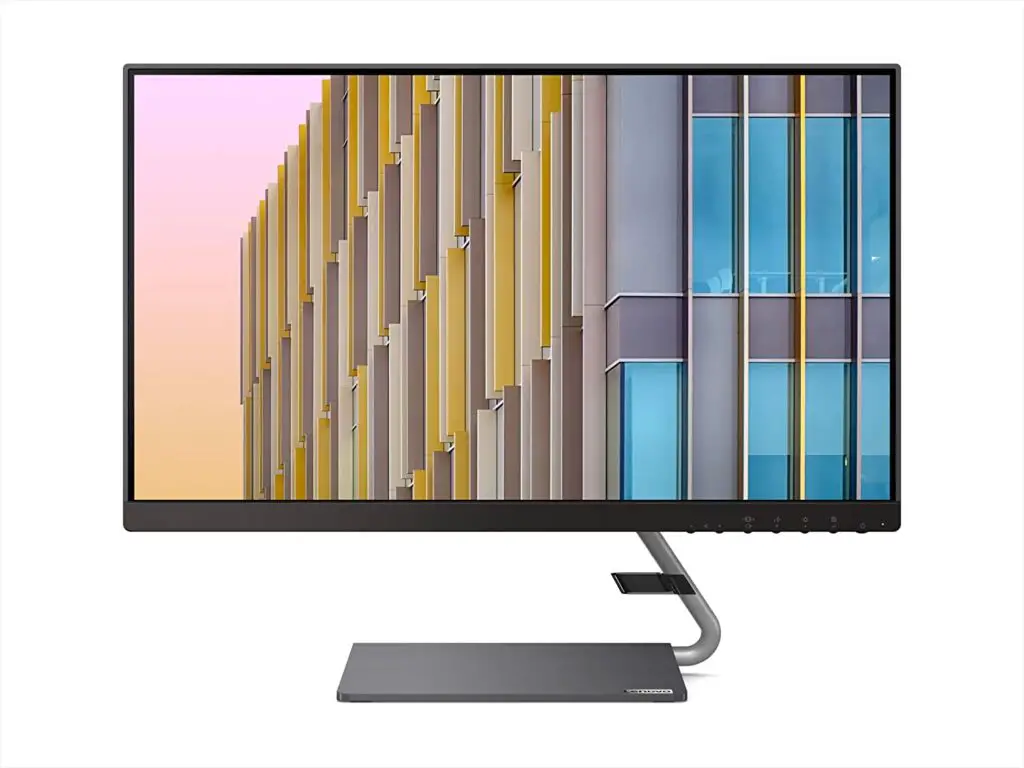 Design
The overall slimmest of this monitor is the first thing that catches our attention at first sight. This is a 24-inch display with remarkable dimensions of 7.07 x 21.38 x 17.23 inches, making it ideal for the modern kind. 
The must-have 3-sided borderless bezels, which assist to transmit the professional feeling when paired with the amazing display dimensions, are also what keep it firmly in this category.
The front bezels of this monitor are finished in dark gray, while the rest of the panel, including the stand, is coated in a warm gray pattern.
Of course, its overall slimmest isn't all of the masterpieces they made for this display. 
The actual feature that sets this display apart from the rest is its aesthetically out-of-the-ordinary stand. 
The stand itself is square in design, with the stand support curving until it reaches the display, deviating from the typical straight pattern.
Of course, anything out of the ordinary like this will polarize opinion, but it is, in my opinion, a significant step forward for the Lenovo brand.
Keep in mind, however, that this stand only allows for tilt adjustment, so if you want an ergonomic display, look at other options such as the LG 27UN880-B. 
When we look at the rear of the display, we can see that it is quite plain and solid, with no eye-catching features. 
It's also worth noting that it's VESA mountable, so you can rest easy if you choose to install it on the wall. 
Furthermore, they chose to use two 3W out speakers for this monitor, with both providing an overall sound that is acceptable for this price range but not exceptional.
Connectors
As for connectors, they decided to implement some good ones such as standard USBs and USB-C ports, which is really an odd thing to see in this price range. This monitor includes:
1 x USB Type-C 3.1
1 x HDMI 1.4
1 x DP 1.2
2 x USB Type-A 3.0 with 1 x BC 1.2
1 x Audio Out (3.5mm)
Note that this is currently one of the cheapest USB-C monitors with high-resolution and professional-looking aesthetics.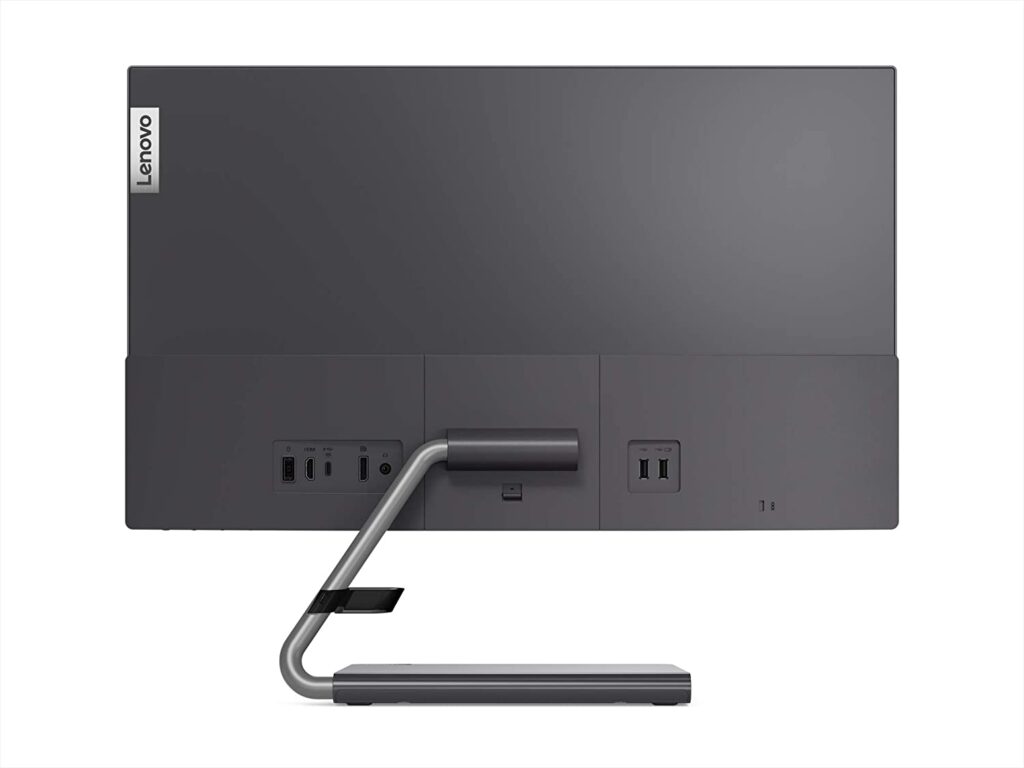 Features
Panel type
The fact that the Lenovo Q24h-10 has an IPS panel alone may qualify it as a professional display. 
However, other variables like color gamut and coverage must be considered, but, in general, the IPS panel is one of the most important features for a professional model.
For media professionals, this panel is a must-have since it has the best color fidelity of the three (IPS, VA and TN).
The VA can replicate the same good viewing angles as the IPS, but it still lacks color accuracy. 
Nonetheless, the VA is a more balanced casual choice than the IPS, with greater contrast, no IPS shining, and lower pricing.
The IPS panel is the most accurate in terms of color, but it is also the most costly. Fortunately, they were able to keep the costs of this display very consistent, which is a major bonus.
Brightness
When you combine the IPS's wide viewing angles with the display's overall brightness of 300 nits, you get beautiful visuals with plenty of brightness no matter from which point you view the screen. 
This ratio is a notch higher than the 250, which is the standard for casual displays in this price range.
Despite the minor difference, this upgrade may be the deciding factor in your capability to use this display throughout the day without further issues. 
Even though you can use it throughout the day, if sunlight strikes the screen at that time, you may have trouble seeing the images. In this situation, a display with 350 or 400 nits is recommended.
Refresh rate and Response time
As if the USB-C ports, IPS panel, and low pricing weren't enough, they also included excellent features for the Refresh rate and Response time of this model.
Although 75hz and 4ms aren't ideal for competitive gaming, they're ideal for professional and casual screens like this one.
Currently, the 75hz function is rather popular in casual displays. This frequency has a somewhat higher smoothness than the well-known 60hz, all without cost increases. 
We anticipated that, given its low price for what it offers, this monitor would have poor performance in terms of "gaming" characteristics. And fortunately, it isn't like that.
When it comes to casual and professional displays, the response time number isn't as crucial as it is for competitive gaming scenes, as a lesser number might reduce the command to screen speed. 
Also, 4ms is a fantastic feature for casual displays since it is a balanced figure that does not exceed gaming levels but does not fall into the slow category.
Image Overall Quality
To everyone's surprise, the Lenovo Q24h-10 monitor also has a 1440p resolution, which is fantastic for this price range and screen size because it boosts the total PPI to incredible levels, improving image clarity.
However, some may not consider this monitor to be professional because it has an 8-bit color pattern that covers 16M colors, which is less than the 1.06B amount required for professional accuracy.
It, on the other hand, offers a sRGB color gamut of 99 percent, which is pretty much the industry standard for this sort of casual display.
So, because of the IPS screen, the colors on this display will be realistic, but don't anticipate anything out of the ordinary for casual displays.
One thing we can say after seeing all of the display's characteristics is that, given its current pricing and USB-C connection, this one can definitely contend for the finest 1440p monitor of the year.
Final thoughts
When to buy it
The Lenovo Q24h-10 is currently one of the cheapest monitors you can find with USB-C support and 1440p of resolution, making it one of the best monitors of the year.
In case you don't need the USB-C port at all, you can save a little money affording the LG 24QP500-B, which is another one of the best 1440p monitors of the year.
You may like