Our Conclusion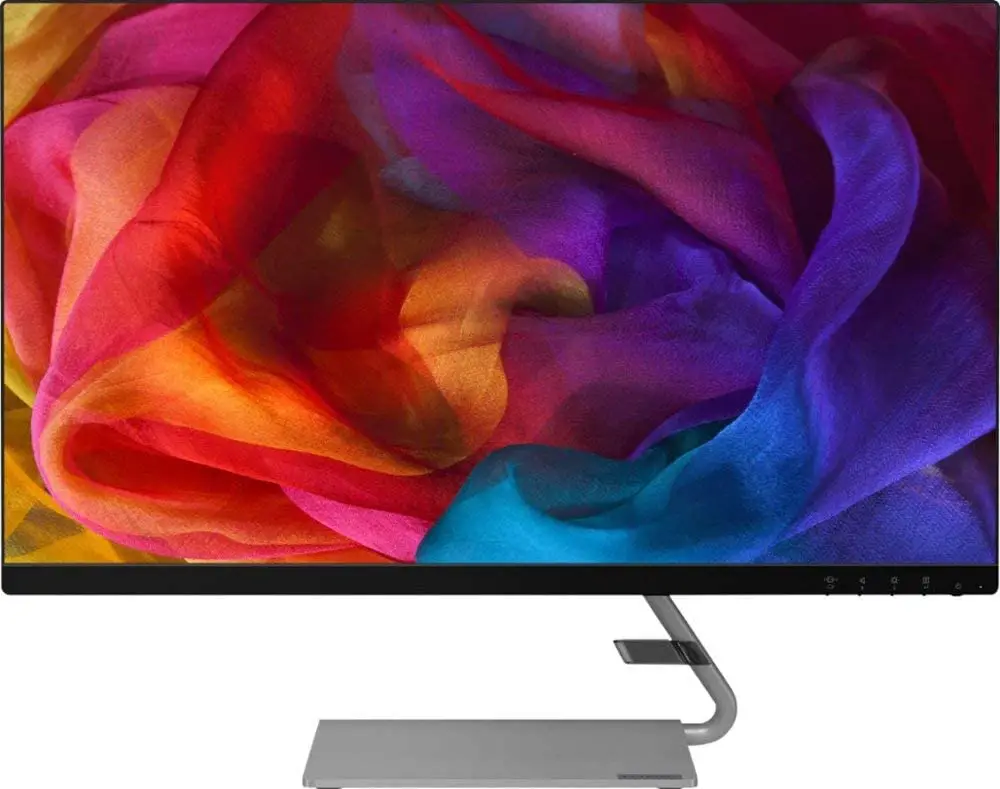 The Lenovo Q27q-1L indeed has some nice characteristics, such as IPS and 1440p resolution, but it is presently not worth it because you can get inexpensive screens with similar features. The Lenovo Q24h-10 is presently one of the cheapest 1440p, USB-C monitors available, so if you can only afford a 24-inch panel rather than a 27-inch, this is the one I would recommend.
Pros
✓ 1440p
✓ IPS panel
✓ Slim aesthetics
✓ 75hz
Cons
✘ Short amount of inputs
✘ Significant amount of IPS glowing
Because we've been reviewing professional-looking displays with good price-performance ratios recently, and the last Lenovo display we reviewed was a huge plus for this category, we decided to take a look at another Lenovo display from this line today to see if it can reach the same level of worth as the Lenovo Q24h-10. 
This monitor was without a doubt one of the greatest we've ever evaluated on this website. It's also one of the greatest 1440p USB-C screens on the market right now. 
So, without further ado, let's have a look at the Lenovo Q27q-1L Review and see whether it can match, if not outperform, its 24-inch competitor.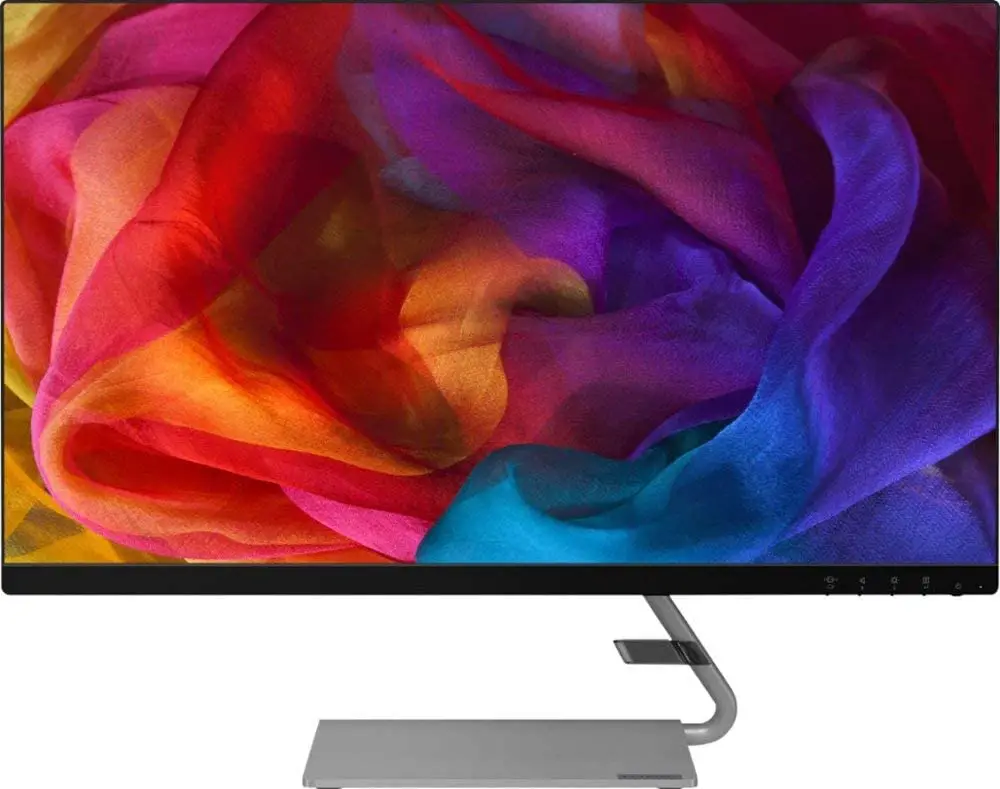 Design
Despite being a 27-inch monitor, it may be as slim as its 24-inch competitor. Its dimensions are 24.2 x 1.5 x 14.4 inches, making it another contender for the thinnest screens of the year category. 
The display itself is completed fully in the usual warm gray pattern, but they chose a different design for the stand.
This stand is essentially the same as the rest of the line, with a gray pattern and a stand support that curves to reach the display. 
The stand, along with the display's overall slimmest, is undoubtedly what distinguishes this display and qualifies it as a professional-looking one. 
Of course, the majority of people appreciate this style, yet it may still be divisive since it is so different from the norm. 
Looking at the rear of the panel, we can see that they intended to keep the aesthetics of the entire monitor basic and sturdy. 
It has VESA support, so you can easily mount it on the wall, and it includes 2x 3W out speakers of ordinary quality. 
On the other hand, we can already see that it lacks a number of connections, which might be a significant disadvantage given the display's present costs.
Connectors
Unfortunately, here we can see one of the first downsides of this display. While a 24-inch, 1440p monitor of the same manufacturer costing around $220 still delivered a USB-C port and some USB ports, this one costing significantly more, includes only: 1x HDMI 1.4, 1x DP 1.2, 1x Headphone Out.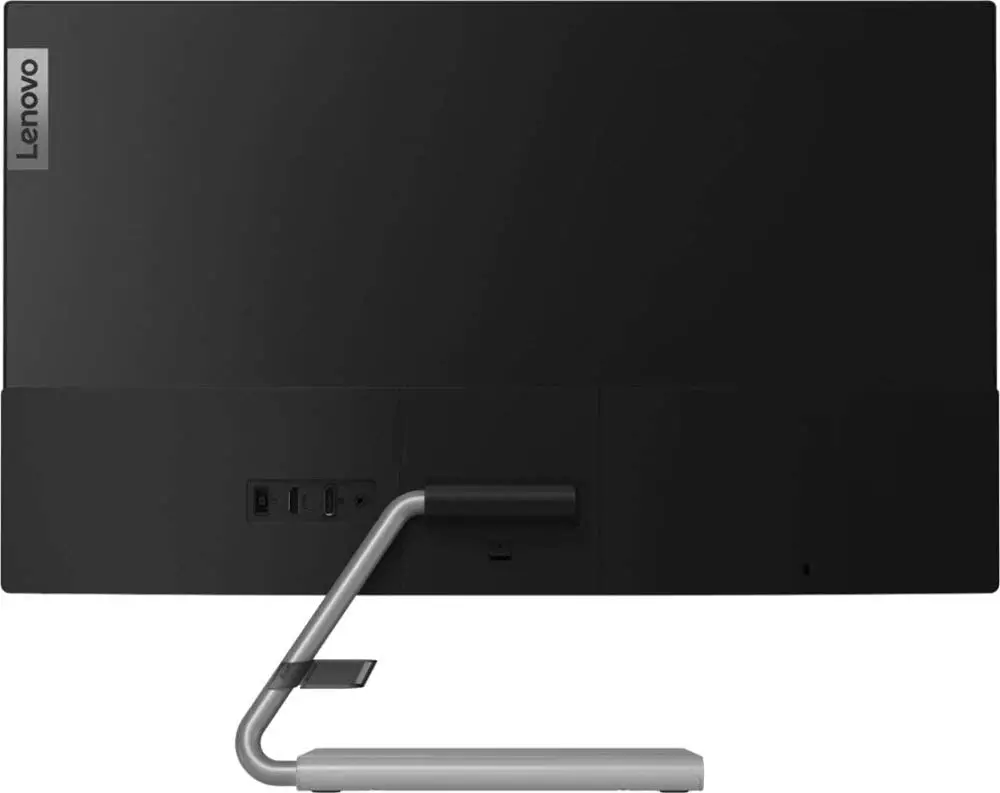 Features
Panel type
Aside from the professional looks, the Lenovo Q27q-1L monitor has the makings of a professional display in terms of features.
That's thanks to its IPS (In-Plane Switching) panel, which is one of the finest in terms of color accuracy and viewing angles.
The VA is still a strong rival to this panel since it can achieve incredible viewing angles, but it lacks image quality still.
The VA, on the other hand, does not suffer from the IPS panel's glowing issue, which is one of the IPS panel's major drawbacks.
The IPS glowing may be observed as some glowing lights on the corners of an IPS panel, which are most noticeable when the displayed image is black, and the brightness is set to maximum.
Fortunately, depending on the manufacturer's building quality, the amount of IPS shining in each IPS display may be lowered.
And it appears that something went wrong with this display, as it has an alarming amount of IPS glowing.
Of course, depending on the remainder of the display's qualities, such as overall brightness, this may or may not be a significant disadvantage.
Brightness
Speaking of which, as we progress through the monitor's brightness options, it begins to disappoint even more. Indeed, the brightness fluctuations are fairly corresponding for this price level. 
Nonetheless, they chose a low-end ratio of just 250 nits for this panel, which is presently the lowest ratio available for monitors. On the other hand, if this monitor had a brightness ratio of around 300 or 350 nits, the IPS glowing would be considerably more noticeable. 
Even so, if you really need more brightness to the screen, you can find 27-inch monitors in the same price range with greater brightness ratios, such as 300 or 350 nits.
Refresh rate and Response time
I'm hoping that things start to focus more on the display's benefits from this point on, but I don't think it'll be able to match the Lenovo Q24h-10's price-performance. 
Given all of the features we've seen thus far if it didn't include anything like 60hz, it would be regarded unworthy of purchase. 
It does, however, have a 75hz refresh rate, which produces smoother images for everyday use but is still not the greatest for competitive gaming. 
As a result of this number, this monitor is either a casual or a professional display, as it lacks "gaming" characteristics. It's possible that it's not professional as well, considering its this price range, but we'll confirm it in the next section. 
This display also has a response time of 4ms, which is insufficient for competitive gaming. The delay between the command and the screen is determined by the response time number; the lower the number, the better.
Finally, AMD FreeSync is included in this display, which helps to eliminate screen tearing and smooth out pictures.
So, in general, we can conclude that this monitor is not a gaming monitor, and if you require one, other choices such as the and the should be considered.
Image Overall Quality
The Lenovo Q27q-1L is a 27-inch monitor with a stunning 1440p resolution that produces clear and clean pictures with a high PPI ratio. 
The 27-inch screen size is considered by some to be ideal for this resolution, offering optimal PPI ratio rather than small text.
Also, it appears that they opted to stay in the average category when it comes to color fidelity, adopting the standard 8-bit pattern with up to 16.7 million supported colors.
This feature is unquestionably worse than the 10-bits pattern, and it is also unsuitable for media professionals.
As predicted for an 8-bit monitor, this one has a 99 percent sRGB, which means it has average color coverage, which isn't ideal for professionals.
Of course, at this price point, we can't expect this monitor to offer the most advanced features on the market, so if you're looking for a professional display, consider the Dell U2722D.
With all of the monitor's qualities, we can safely say that, while the IPS panel and 1440p resolution provide decent image quality, it is still not a professional display.
Final thoughts
When to buy it
If you need a 1440p monitor with slim aesthetics and good image quality, the Lenovo Q27q-1L, surely won't disappoint you. However, I recommend you comparing this display to other 27-inch 1440p displays such as the LG 27QN600-B and the Acer ED273U, to see which one is your better choice as the Lenovo Q27q-1L itself does not have the better prices currently.
You may like