Our Conclusion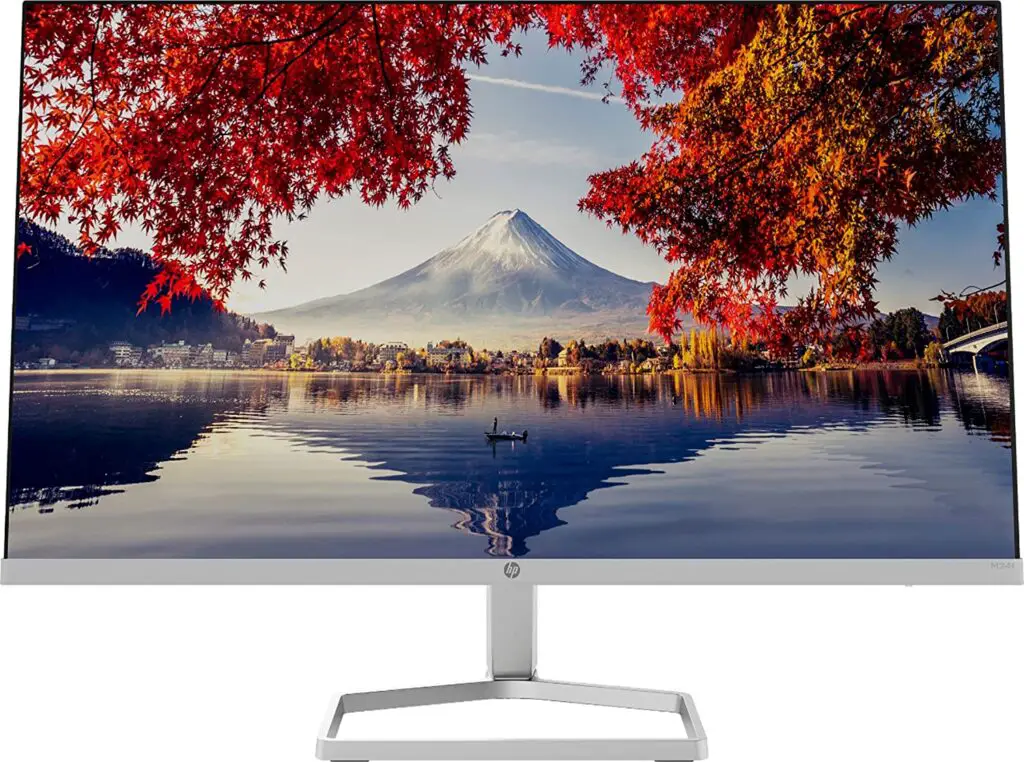 Pros
✓ Great brightness ratio
✓ Affordable
✓ 75hz
✓ IPS panel
✓ Slim aesthetics
Cons
✘ Lacks VESA support
✘ Limited stand adjustments
The rivalry amongst companies to see who releases the finest casual-focused monitor this year has been fierce, with some of the most well-known brands really stepping up with some fantastic alternatives.
As a result, determining this year's finest casual monitors will be challenging. I'd say you may invest your money in the LG 24MP400-B or the HP M24FW, both of which have one of the finest price-performance ratios currently available.
We've acquired an HP monitor for today's post to see if it's actually worth the money. So, without further ado, let's have a look at the HP M24f Review, which includes the monitor's advantages and disadvantages.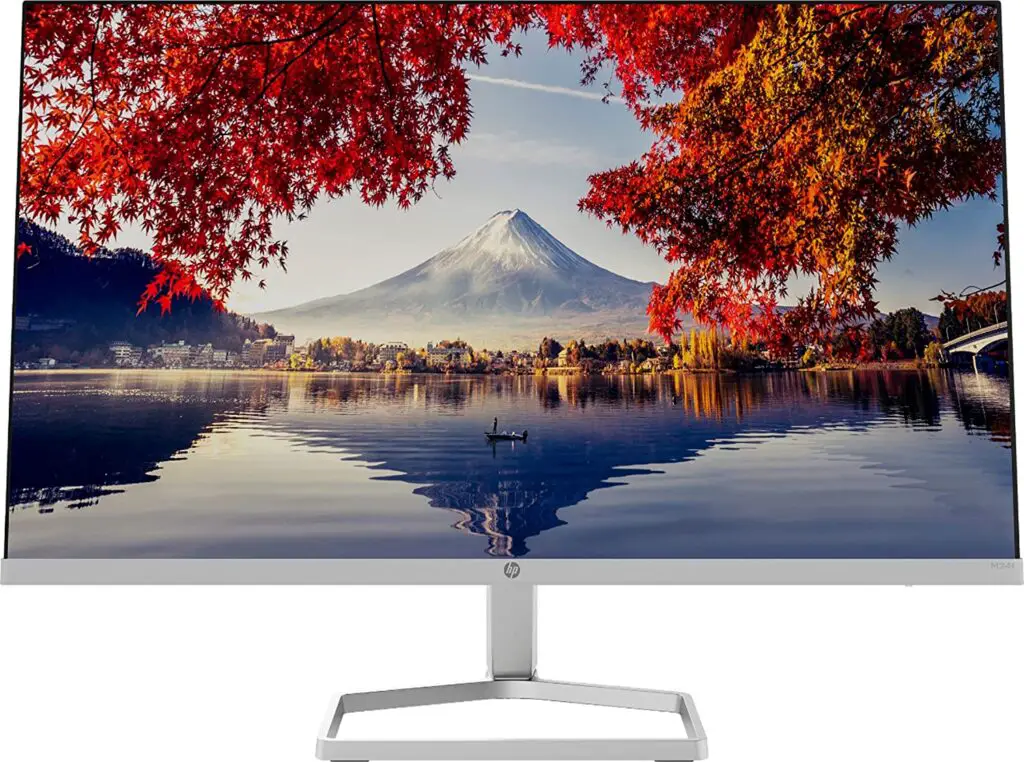 Design
At first appearance, this monitor appears to have premium features, as one would expect from a model in their "M" series. Almost all of the displays in this HP series have a very modern, sleek style, and this one is no exception. 
It has borderless bezels, which maintain it in the modern category for the current trend. The main distinction between this model and its brothers is that it has a three-color design, with black on the back, metallic gray on the stand, and white on the front bezels.
In fact, this monitor's bottom bezel is one of the thinnest in its class, and it also shares the display's overall slimness. They were able to construct the monitor with very slim aesthetics, measuring only 15.62 x 21.09 x 6.97 inches for a 24-inch screen.
It's worth noting that practically every monitor in this range has essentially the same stand, which is a positive thing in my opinion because this stand's style is truly compatible with an office setting.
However, they also share the same adjustments, which is the first flaw we'll notice with this monitor's design. It simply allows you to tilt it forward and backward, which may not be enough for some users.
It also lacks out speakers, which may or may not be a drawback for you, depending on whether you require them. 
For the prices of this monitor, I'm not going to lie: I was expecting at least VESA support, but it doesn't have one, so you're already aware that if you need to mount it on the wall, you're going to face some additional charges.
Connectors
It also disappoints once again in terms of connections, with just 1x HDMI and 1x VGA port. Unfortunately, all of the disadvantages listed above can accumulate into a massive snowball in the end, rendering this screen unsuitable. But we'll see as we go through the review.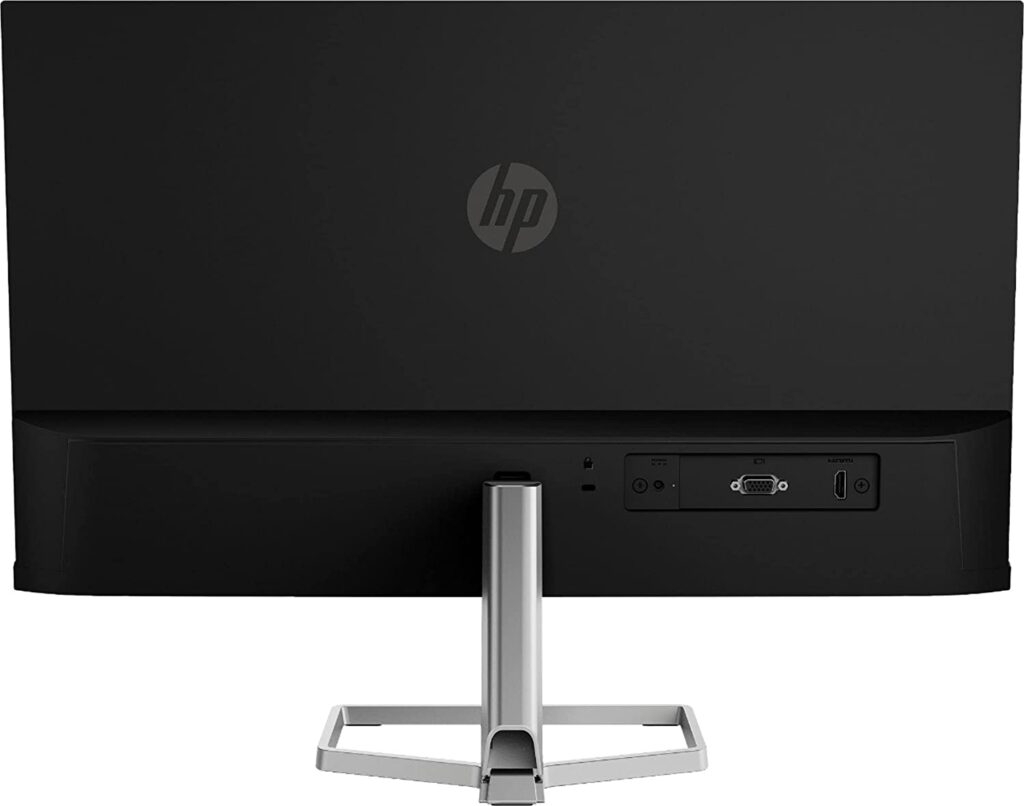 Features
Panel type
As predicted, this monitor features the IPS screen, which is popular in the casual display category. In terms of color fidelity, this panel is the greatest you can get, but it isn't the best in terms of response time ratios.
As a result, most gaming monitors in this price range have a VA panel, which is frequently paired with a strong response time ratio, which is a critical quality for gaming monitors.
The IPS technology allows this display to have exceptionally great viewing angles and very realistic colors, which is even more remarkable given the monitor's low price. So, they surely did a good job here, implementing the best choice of panel for this type of screen.
Brightness
IPS cheap monitors, with the exception of a few uncommon models such as the HP M24FW, typically have the same brightness ratio of 250 nits as mentioned in the previous review. 
However, for this screen, they went a step farther and used 300 nits instead of 250. 
This attribute alone can make a significant difference in the screen's price-performance ratio, as 250 nits is a common ratio for budget monitors. 
As a result of the fact that they didn't skimp on this aspect, this is the first characteristic that distinguishes this monitor. If you mostly use the display during the day, 300 nits is an excellent and reliable choice, since it will deliver even brighter pictures when set to the maximum.
Refresh rate and Response time
With the Freesync technology, this monitor will allow you to play your games with a higher smoothness, as it will reduce screen tearing to a maximum.
Speaking of gaming, this monitor has a 75hz of refresh rate, which is indeed an acceptable number for this type of use. Of course, depending on the games you want to play, 75hz can be not enough, and you may want to go for 144hz instead.
However, for offline games, some say this ratio is surely enough, providing some good smoothness.
Another factor to consider is your graphics card, as higher refresh rates imply higher FPS, which necessitates a powerful graphics card (once again, depending on the games you want to play). 
Given its current price range and casual category, we can state that 75hz is essentially a plus point for this screen. Aside from that, this monitor has a response time ratio of 5ms, which is not ideal for competitive gaming. 
So, if you're looking for a gaming monitor to compete in the gaming scene, this is not the display for you; instead, you should consider the MSI Optix G24C6P.
Yet, if you want to play offline games and want a more relaxed experience, this is a great option.

Image Overall Quality
The IPS panel, as previously stated, provides a superior color accuracy than the others. However, it is simply the foundation of a professional monitor, while other aspects such as color gamut are more crucial for professional accuracy.
So, despite the fact that this monitor has an IPS panel, the 8-bit color pattern only supports 16M colors, which is a little less than the 1.06B/10-bit suggested for professional displays. 
Still, this does not imply that the display's accuracy is poor; rather, it just implies that this monitor lacks the precision of, say, an $800 professional monitor. 
So, to return to the casual side of things, this monitor may deliver excellent color reproduction, certainly a high end within its price range limits, as is usual of HP budget displays. 
This is a 24-inch, 1080p monitor, which is a combination that some claim is ideal for image sharpness, so you can be confident that the visuals on this monitor will not be blurry, but rather sharp and clear.
Overall, we can conclude that this is another one of the finest casual monitors of the year, with the key feature that distinguishes it being the 300 nits brightness ratio, which results in more vibrant images than its 250 nits competitors.
Final thoughts
When to buy it
As mentioned earlier in this post, the HP M24F monitor and the HP M24FW are the only ones that we reviewed on this website, with cheap prices, an IPS panel, and 300 nits of brightness.
Due to that, before affording this one, I recommend you check the other one, and find out which is your best choice. 
Regardless of which one you chose, bear in mind that both are surely one of the best casual monitors of the year when it comes to price-performance rates. 
You may like