Our Conclusion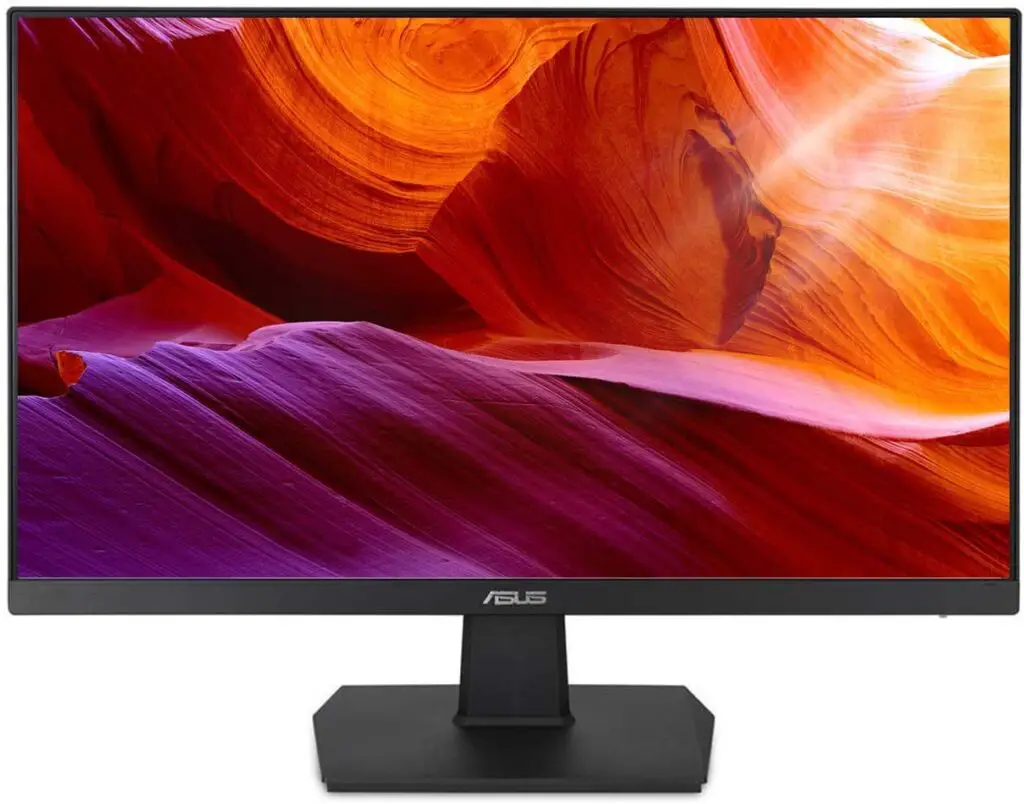 The ASUS VA27EHE is a casual monitor that is worth considering right now. You will not be disappointed by the performance it provides, especially at the pricing it is now being marketed at. Nonetheless, because this is a typical display pattern, I recommend comparing its prices and features to similar screens like the Dell S2721HN and the HP M27F before affording.
Pros
✓ 75hz
✓ IPS panel
✓ Good colors
✓ Affordable
Cons
✘ Limited stand adjustments
✘ Lacks further connectors
When it comes to gaming displays, Asus is undoubtedly one of the top monitor manufacturers. They introduced some fantastic options in this area this year, including the Asus XG27AQM and the ASUS VG27VH1B. Both come with a lot of useful features and are reasonably priced. 
Although their true brilliance is in gaming monitors, they are nevertheless launching several excellent casual monitors this year, with a reasonable price-performance ratio. 
And for today's article, we've got this ASUS casual-focused monitor on sale right now at a lower price than usual. So, without further ado, here is the ASUS VA27EHE Review, which includes all of the display's advantages and disadvantages.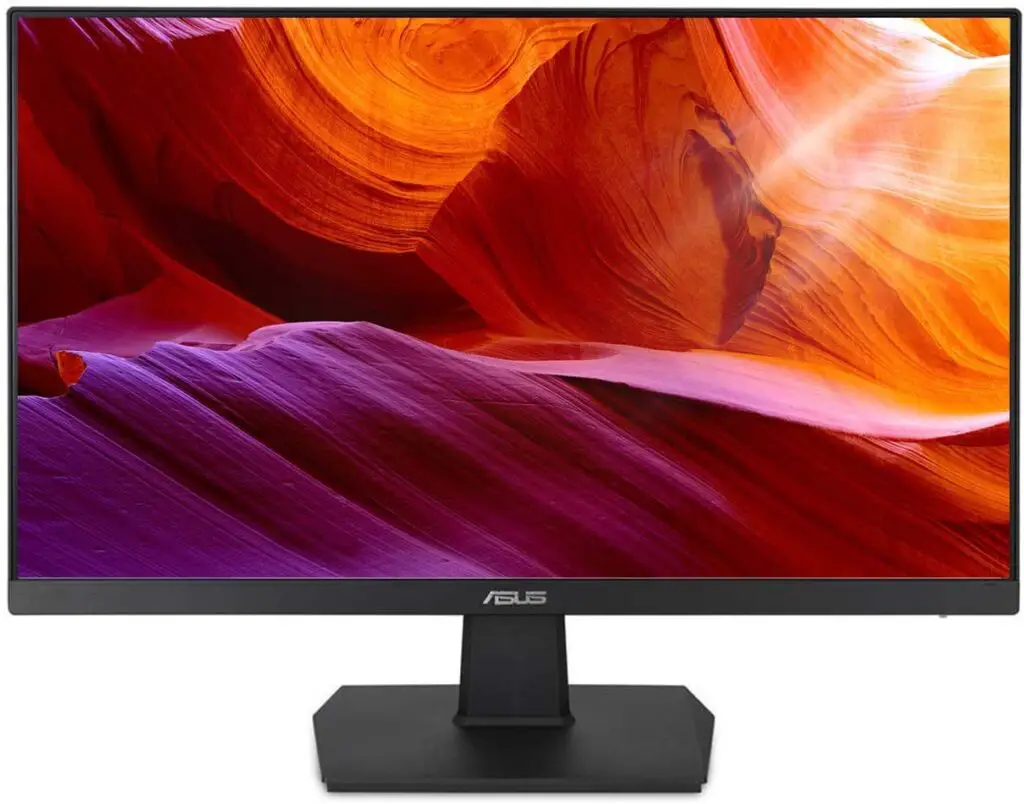 Design
Although this monitor has a very modern overall design, with some slim aesthetics and solid borders, it fails to transmit a decent degree of sturdiness, which may be explained by the display's total pricing. 
On the other hand, they did not sacrifice quality, since these materials are far superior to the typical for this price range. It does, however, have 3-sided borderless bezels, which is a crucial element for a monitor to be considered modern. 
Its bottom bezel is within the norm, but it isn't one of the thinnest we've ever seen for a casual-focused panel. 
They used a square-shaped stand with just tilt as an adjustment, so if you need additional adjustments, you'll have to pay a little more money and get a monitor like the Asus XG27AQM. 
Unfortunately, as is to be anticipated in this price level, ASUS did not employ the joystick menu navigator for this screen, which may have made it easier to navigate the menu. 
Instead, the buttons were put on the back of the panel, which detracts from the monitor's overall appearance. 
By the way, this monitor includes VESA support, so you can easily mount it on the wall, but it lacks speakers, which is to be anticipated. 
In general, we found this monitor to have one of the nicer overall designs we've seen in this price range. Even if it is less expensive, it nevertheless offers modern aesthetics and ideal attributes for an office setting.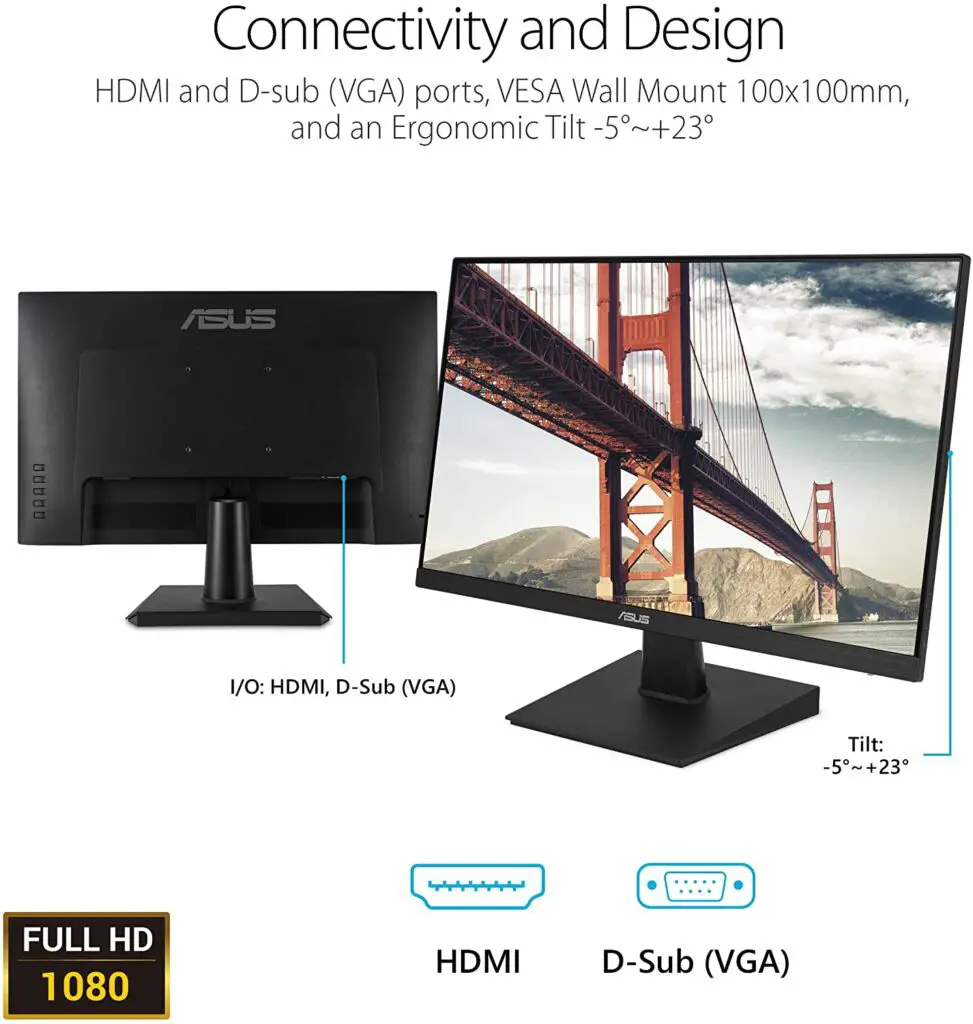 Connectors
To maintain low prices, they decided to use just the essentials on the connectors part, including only: 1x HDMI and 1x Display Port.
Features
Panel type
Fortunately, they used an IPS panel for the ASUS VA27EHE.
The IPS panel is the one to choose for if you want a casual-focused screen at a reasonable price. The reason for this is because an IPS panel is now found on practically every monitor with a low price tag and basic functions.
So, if you discover a VA casual monitor for between $150 and $200, you can be confident that you will also find a monitor with an IPS panel in the same price range, giving the monitor an outstanding plus point.
The VA is the better choice for individuals looking for a low-cost gaming monitor, as it offers a faster response time than the IPS. IPS displays, on the other hand, have superior colors and viewing angles than VA monitors, making them the ideal choice for the casual category.
The VA has other differences than the IPS, but we'll get into that later in the image quality section.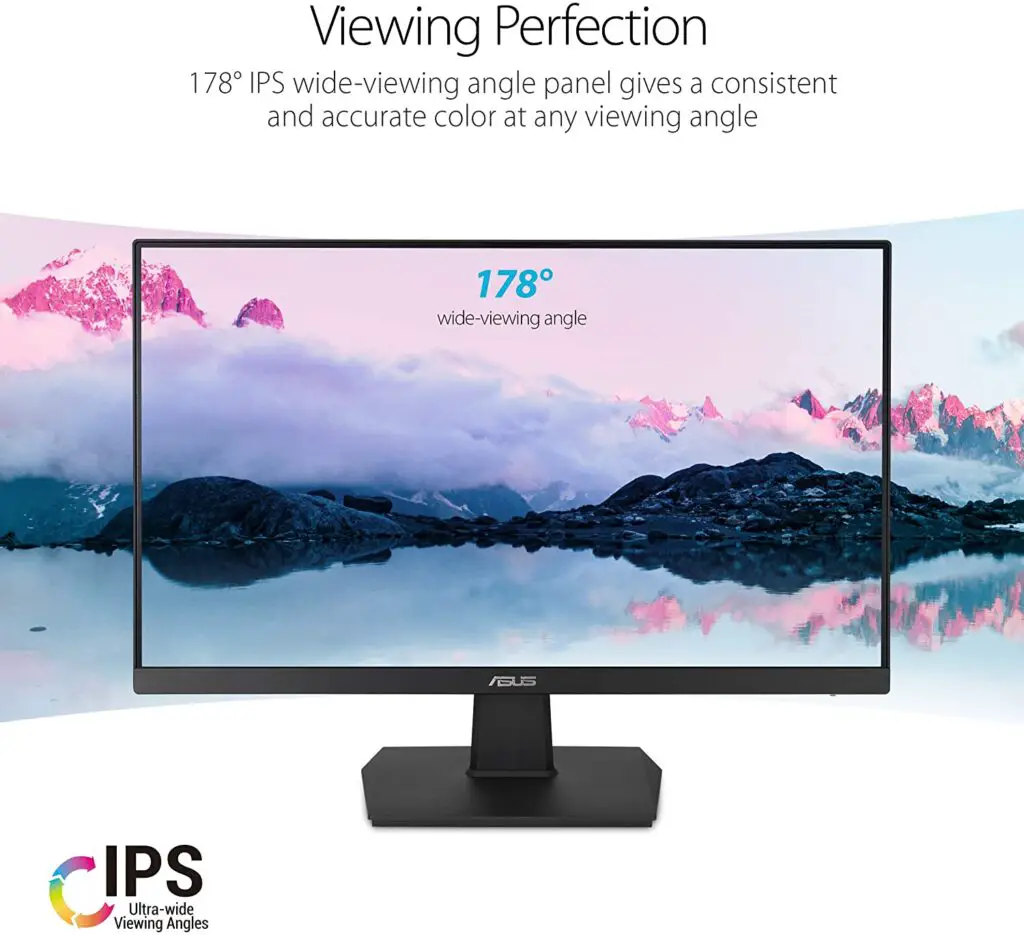 Brightness
Besides the IPS panel, the casual monitors in this price category have another thing in common: the total brightness of 250 nits. Some argue that this aspect ratio is insufficient for use during the day, yet we had no problems using this screen throughout the day. 
However, you should be aware that if sunlight strikes the screen directly, this ratio may have an influence on visibility, which can be difficult even for a 300 nits monitor.
In this instance, a monitor with a brightness of 400 nits is the way to go. Aside from this unique case, this ratio will suffice for your needs, and you'll have no trouble viewing the accurate images thanks to the superb ips' viewing angles.
Refresh rate and Response time
They chose a refresh rate of 75hz for this screen, putting it in the trendy category. 
It's getting increasingly unusual to see a 60hz casual monitor released these days, despite the fact that they were relatively prevalent a few years ago.
The typical refresh rate for a modern casual monitor is 75hz, and some even say that 144hz will become the next popular rate as time goes on. 
The 75hz has a noticeable difference when compared to the 60hz, and the greatest part is that it does not significantly increase the monitor's ultimate price, which is most likely why it is becoming a need for this sort of screen.
As with the VA panel, I would not recommend purchasing a 60hz 150-$200 monitor at this time. 
Aside from that, this monitor boasts a 5ms GTG response time, which isn't ideal for gaming screens but sufficient for everyday usage. Although this ratio does not reduce motion blur by a lot, it is scarcely noticeable in normal use. 
Finally, this isn't the display for you if you're searching for a low-cost gaming monitor; instead, check out the Acer Nitro XZ270 or the MSI Optix G272. Note that the ASUS VA27EHE supports the Freesync technology.
Image Overall Quality
The ASUS VA27EHE monitor has a 1080p resolution and a 27-inch screen, which is a respectable but not ideal combination, so you'll notice that it's not as crisp as a 24-inch 1080p display. 
Almost every Asus monitor we tested on our website, whether it was a casual or gaming monitor, did not disappoint in terms of image quality. Fortunately, they maintained the monitor's quality, allowing it to display decent colors despite its low price. 
Indeed this monitor does not have a professional degree of accuracy, but it may in fact be included as one of the finest in its category.
This monitor has the standard sRGB 99 percent color gamut, an 8-bit color pattern, and 16M colors supported, which are qualities that are far from the recommended for professional media editions.
It also has an excellent contrast ratio of 1000:1, but if it had a VA panel, it would be the finest in this regard. Typically, VA panels have a contrast ratio of around 3000:1, so if you value contrast above accuracy, a VA monitor is the way to choose. 
That so, you can rest confident that this monitor will give the visual quality that you would expect from a low-cost casual screen.
Final thoughts
When to buy it
If you want a standard 27-inch casual monitor with good image quality and a good overall design, the ASUS VA27EHE is one of your best choices currently. 
However, I do recommend you compare it to other screens, since you may find better prices and similar features, but if you do not, this is surely one you won't go wrong. 
You may like