Our Conclusion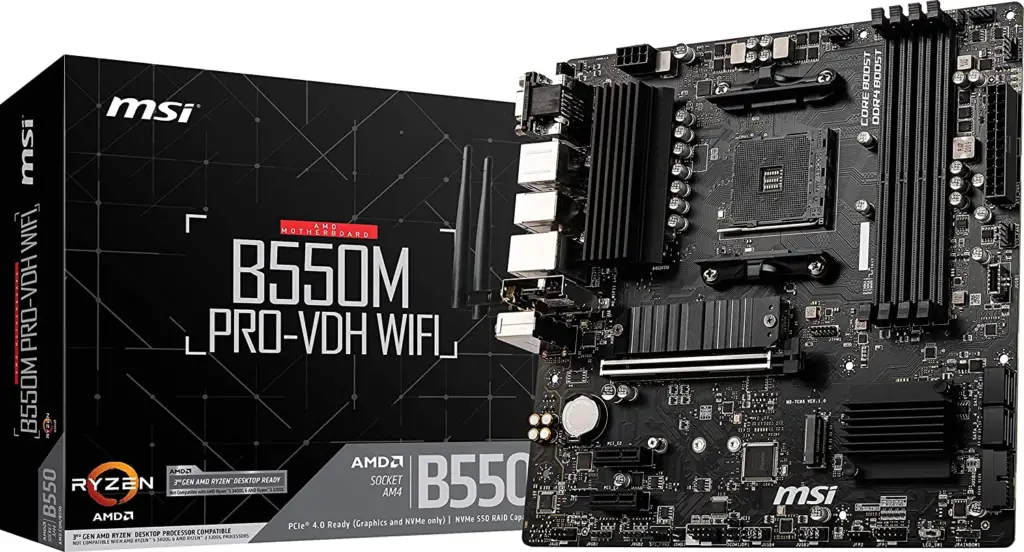 If you're looking for a motherboard that can handle day-to-day casual tasks with ease, the MSI B550M Pro-VDH Wifi is a solid choice. It's well-suited for use with mid-range CPUs and provides the essential features and connectivity options that most users need. However, it may not be the best choice if you plan on doing demanding activities such as overclocking. In this case, a higher-end model like the: Gigabyte B550 Gaming X V2 may be a better choice.
Pros
✓ Budget prices
✓ B550 chipset
✓ Built-in Wifi
Cons
✘ Very low cooling performance
✘ Could have more RGB headers
AMD has long had one of the finest price-to-performance CPU/mobo pairings available. Budget AMD motherboards and CPUs were undeniably popular in their previous socket generation, selling like hotcakes.
Now that they've finally chosen to upgrade to the AM5 to enable the PCIe 5.0 feature and DDR5 memory slots, we're left with a major question. Should we bother upgrading to a b600 chipset line while having to switch pieces of the complete build in order to do so?
Whatever the answer is, one thing is certain: the AM4 socket is still one of the greatest versions, and AM4 motherboards are getting increasingly affordable. This is the case for the one we have today with awesome prices. is it the best choice for your setup? We'll check it out in today's msi b550m pro-vdh wifi review.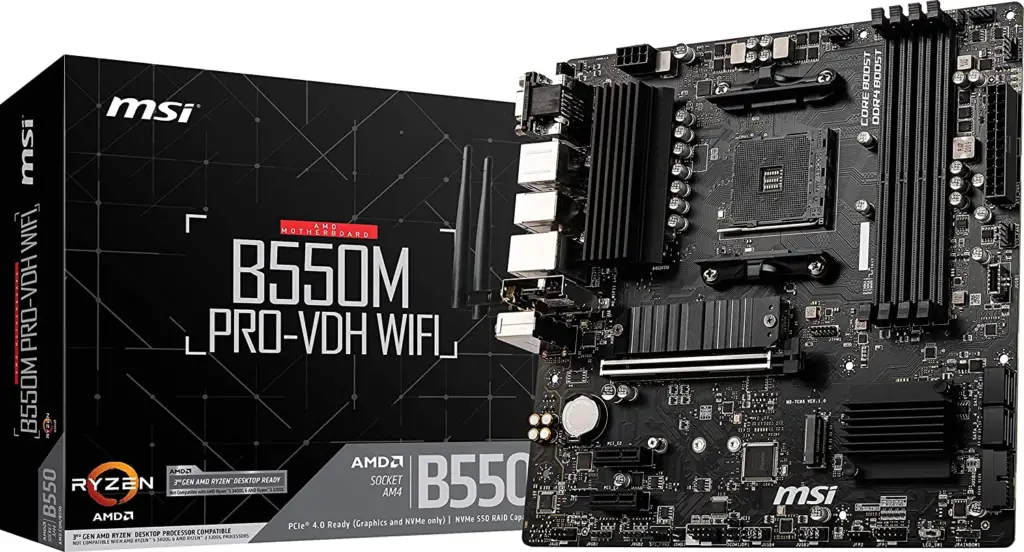 Design
This is a very basic motherboard with no frills. It has a straightforward appearance, with only one color—black—across the entire surface and no elaborate patterns or RGB LEDs. Despite having an MSI stamp under the heatsink and other printed details next to the motherboard sockets, it isn't even close to having all of the flashy features you can find in certain high-end boards, such as the: MSI MPG Z590 Gaming Plus.
Because it is a micro ATX motherboard, it is ideal for a smaller case, but you can use it with the full-tower or mid-tower ones just fine. In any event, it has 24.4 cm x 24.4 cm and weighs about 2 pounds.
In addition, its heatsink is not bad, with a height that is typical for a motherboard of this type. On the other hand, the upper phases aren't protected by a heatsink, which might be detrimental to overclocking at an enthusiast level.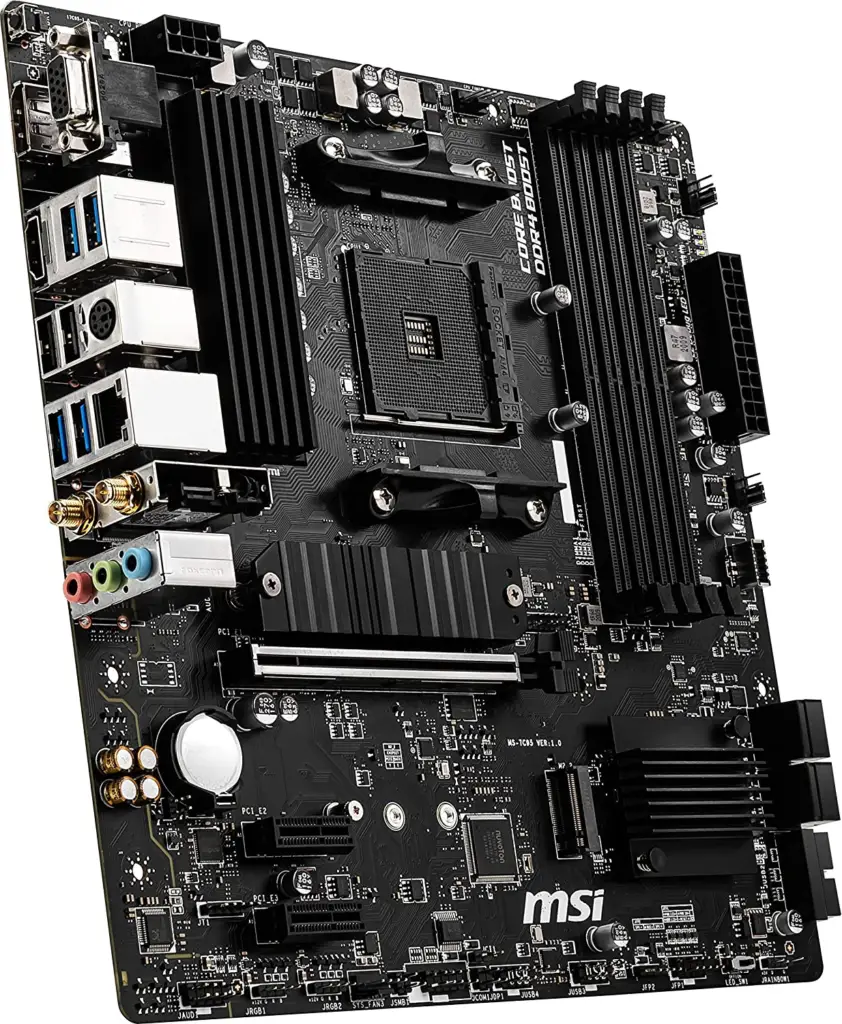 Of course, a small heatsink like that is not the finest available right now; likely there is one that is better and costs about the same as this one. Still, you'll be OK with this as is if you don't intend to overclock or use a very power-hungry CPU. But that is a subject for another section.
In the end, the MSI B550M Pro-VDH Wifi is ideal for individuals who don't want the motherboard to be the focal point of the build and detract from the other components' brilliance. It features just one color and a pretty straightforward design.
Socket and Chipset
Believe it or not, there was a time when the price difference between the b450 and the b550 was so wide that the b450 was nearly always the better choice if you wanted to save money.
Right now, however, you can get both chipsets on some motherboards at very similar prices, which means you may take advantage of all the benefits of the most recent chipset without having to pay a large sum of money.
The benefits are mostly PCIe 4.0 capability, providing you utilize a Ryzen CPU from the 3000 series or higher, such as the well-known 5000 line. And, given that the PCIe 4.0 nearly quadrupled the bandwidth of its predecessor, the 3.0, it's not a bad value at all.
By the way, unlike the newborn AM5, the AM4 is still the one with the most supported processors right now, allowing you to choose all the way from the: Ryzen 3 1200 to the Ryzen 9 PRO 5945.
Memory
Fortunately, if you're considering upgrading to the MSI B550M Pro-VDH Wifi, you probably won't need to switch out the RAM either, provided you weren't previously using anything like a DDR3 module.
It has four DIMM slots that can each hold up to 32 Gb. Naturally, the slots lack the steel protection that we would expect to see in more mid- or high-end boards. However, that protection is typically pointless, thus having it or not is not a significant concern for low-end boards.
Of course, if you have DDR5 memory, you shouldn't buy this motherboard; instead, you should choose anything from the 600 range of chipsets.
Moving on, even if it is not suggested to utilize it at a frequency higher than 3600 MHz for the Ryzen AM4 CPUs, you may still overclock them to a maximum of 4400 MHz.
Overclock and Recommended Processors
Speaking of which, this socket supports a very diverse variety of processors, as we just mentioned, but if you want to choose the most balanced combination, we have some suggestions for you.
The Ryzen 5 5600 is the logical choice for any AMD mid-range build, to starters. Even if you overclock this CPU, the VRM circuit won't be stressed because of its excellent performance for its price range, and low TDP.
Of course, you could go with a Ryzen 7 5800x, but during our testing, the CPU itself was burning like hell, and the VRM circuit also wanted to join in the fun, keeping up with the processor's high temperature as if it were no big problem.
All of this, of course, with the highest overclocked settings and some major rendering stressing. While things were really hot in that case, with the CPU running at its stock clock and gaming regularly, the VRM temperature wasn't too concerning.
Of course, if you require a high-end CPU, such as the: ryzen 9 5900x, this is not the motherboard for you, and something in the mid-range or high-end category is preferable.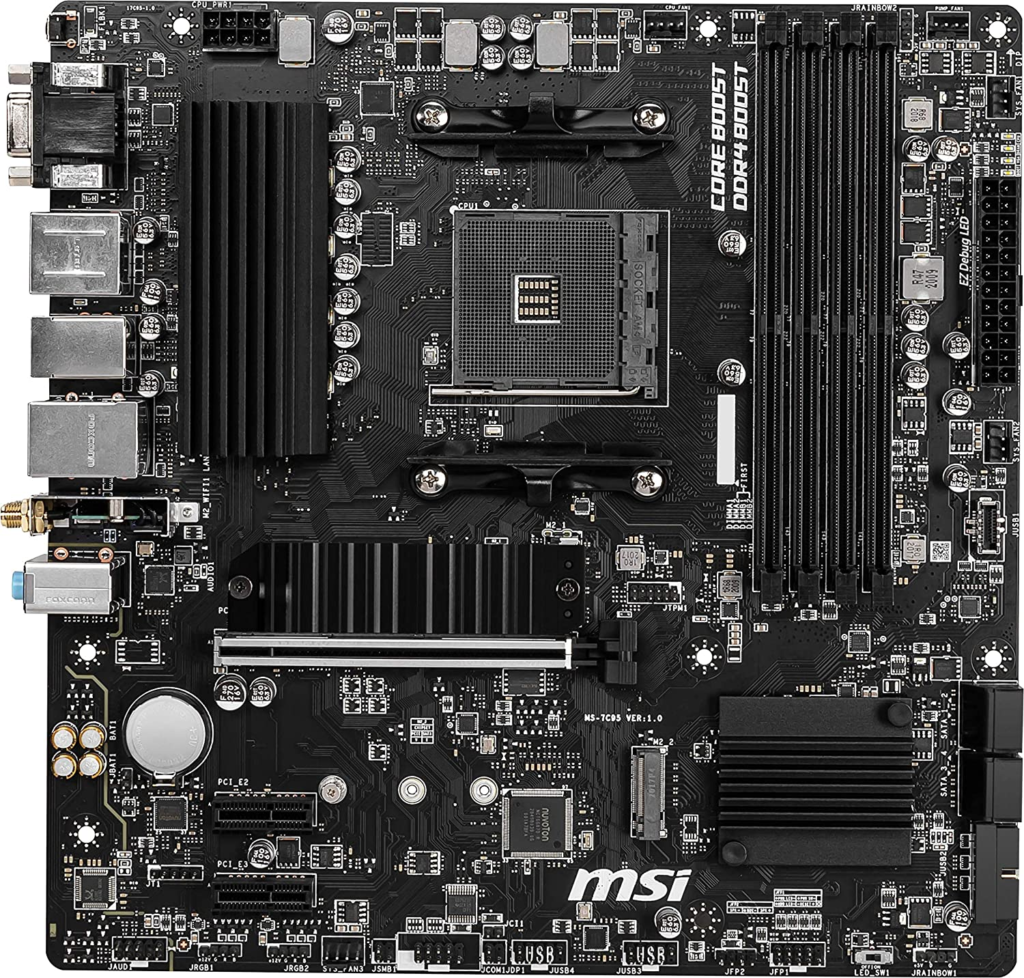 VRM and Connectors
It is only natural for a motherboard like this one to have a low amount of VRM phases, therefore, using a very power-hungry processor with it may not be a very great idea. Besides that, this could also be why it overheats with an overclocked R7 5800x.
Power connectors and SSD
It has only 1x 8-pin power connector for the processor without the extra one we find in high-end boards, so in the event this one stops working the board is pretty much doomed.
That said, it also has the normal 1x 24-pin ATX connector to supply the board itself. Aside from that, it also has 1x M.2 port with support for PCIe 4.0, so be sure to use your PCIe 4.0 SSD in that slot.
This slot also has a shield included to dissipate the heat coming from the graphics card, in case your SSD doesn't have one included. It also has one other M.2 port, but this one doesn't have the heat protection shield and also naturally lacks the PCIe 4.0 support.
Fan, RGB, SATA
Fortunately, for those of you who need a lot of RGB headers to make the LEDs in the case stand out, this board has got you covered with its 2x 4-pin RGB LED connectors and 2x 3-pin RAINBOW LED connectors. Still, it has 4x SATA ports, which is enough for the most part of consumers, but some may still need more than that. In addition, the MSI B550M Pro-VDH Wifi also includes:
1x USB 3.2 Gen 1 5Gbps Type-C port
1x USB 3.2 Gen 1 5Gbps connector (supports additional 2 USB 3.2 Gen 1 5Gbps ports)
2x USB 2.0 connectors (supports additional 4 USB 2.0 ports)
1x 4-pin CPU fan connector
1x 4-pin water-pump fan connector
3x 4-pin system fan connectors
1x Front panel audio connector
2x System panel connectors
1x Serial port connector
1x Chassis Intrusion connector
1xTPM module connector
1x Clear CMOS jumper
PCI connectors, WIfi, and Audio
Surprisingly, this board does support 5ghz wifi and dual-mode Bluetooth 2.1. When it comes to its audio, it does the job just fine, but it is still recommended to get a proper DAC/Amp for a high-end audio setup. It has a very generic sounding "7.1-Channel High Definition Audio".
Naturally, for a micro ATX motherboard like this one, it only has a 1x slot for the graphics card. This slot has a steel shield design that is said to be 4 times stronger than normal. Whether it is that effective or not, it does help with preventing the connector from being damaged with the heavy graphics card we have nowadays. Other than that, this connector also has support for PCIe 4.0. Lastly, it has 2x more PCIe 3.0 x1 slots.
Back panel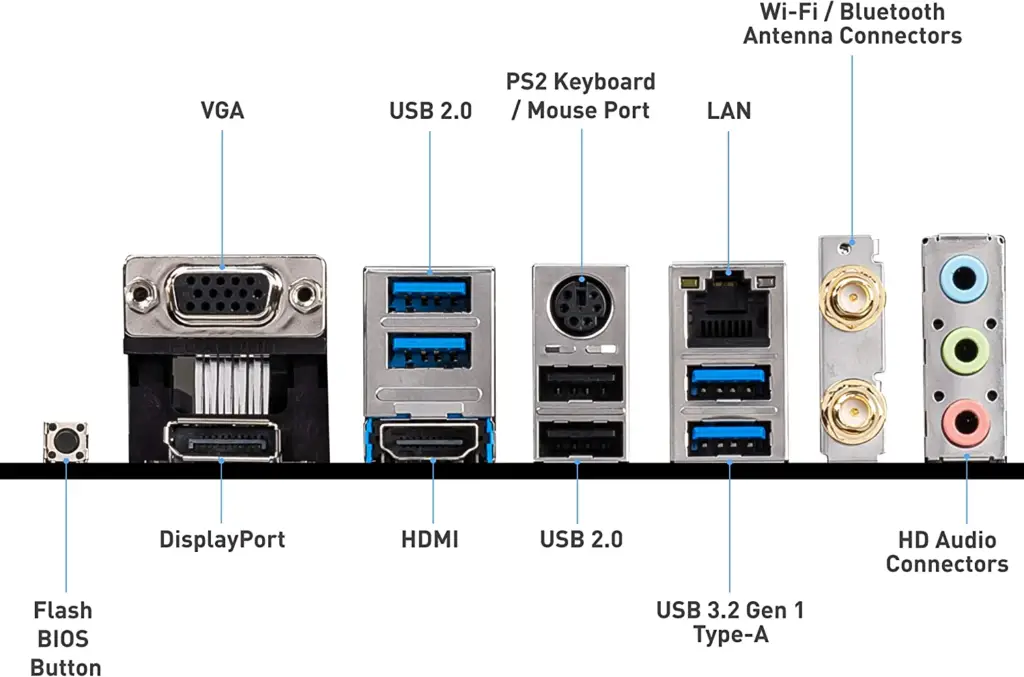 This board lacks the pre-installed I/O shield, so the installation was a little bit clumsier to manage, and it also doesn't look as good. It includes:
USB 3.2 Gen 1 5Gbps Type-A
Keyboard / Mouse
LAN
Flash BIOS Button
DisplayPort
HDMI
USB 2.0
USB 3.2 Gen 1 5Gbps Type-A
Wi-Fi Antenna connectors
3x Audio jacks
It lacks a least a single port of USB-c but fortunately has the flash bios button, allowing you to update the bios with only one button press and a flash drive.
Final thoughts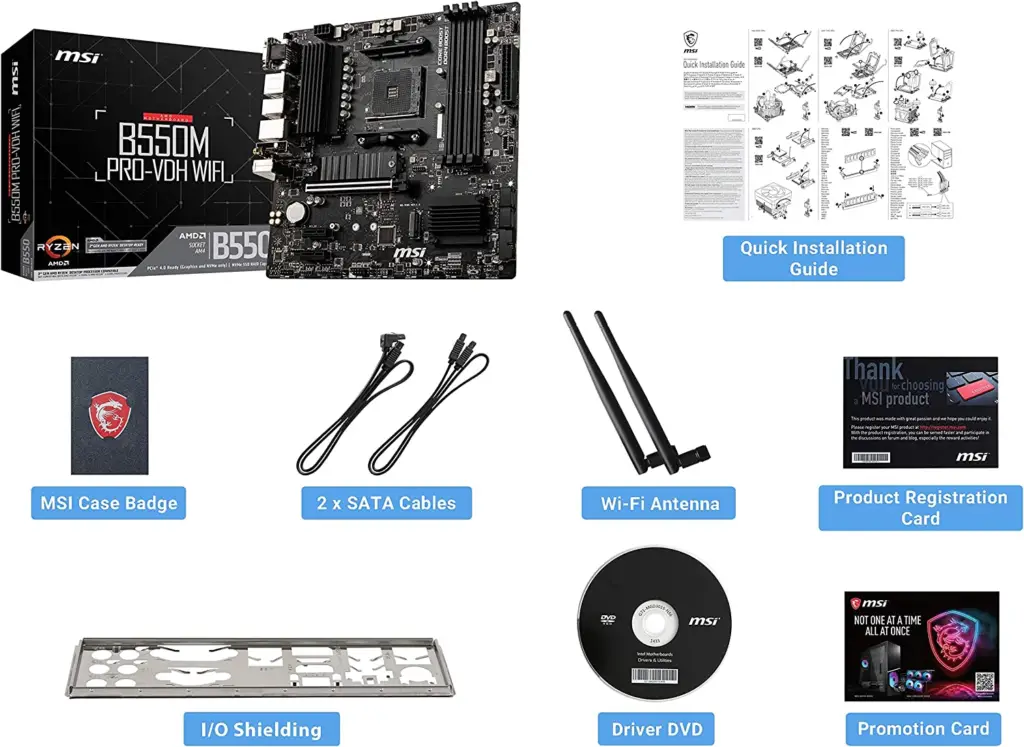 When to buy it
The: MSI B550M Pro-VDH Wifi is one of those low-end boards that do the job perfectly for those not wishing to do anything enthusiastic with their pc. It surely lacks in some portions such as VRM cooling and with some ports, but in the end, it pairs very well with a mid-range CPU.
It is probably not the cheapest b550 board out there, but when it comes to balancing the features with the pricing, this motherboard does the job like a true master.
All of that, makes it one of the best motherboards you can get right now for its prices. But considering how there are a couple more boards in this price range right now, it may be better comparing it to other ones in the same price tag like the Gigabyte B550 Gaming X V2 before making your decision.
You may like