Our Conclusion
The Dell S2721HS is quite similar to the previously reviewed Dell monitors – it has good colors, average responsiveness, and good aesthetics, but it isn't particularly bright in one area. I'm sure you can get something better and with greater image clarity for $230, such as the MSI Optix G272 and the HP X27, during a sale. However, if you can get this monitor on sale for cheaper and less than $200, it could be a better alternative to consider.
Pros
✓ Highly adjustable stand
✓ Sturdy
✓ Budget prices on sale
✓ Good for casual use
Cons
✘ Low Pixel density
✘ Lacks out speakers
In the last year, as the supply of gaming monitors on the market improved, the casual ones became increasingly overshadowed. This year, even those who plan to buy a monitor just to deal with media material opt for a greater refresh rate for smoother performance throughout regular tasks.
The reality is that more and more individuals are getting their hands on higher refresh rate displays, and once you sample one, you'll never go back to a lower refresh rate like 75 Hz.
Surprisingly, despite the increased demand, "gaming" displays are gradually reducing in price, to the point where a casual monitor can be found for the same price but with inferior features.
That may be the case with the monitor we have today, which is classified as a casual display owing to its characteristics, but we'll see if it's worth your money. Follow below the Dell S2721HS Review.
Design
As is typical of casual Dell monitors, this one lacks a lot of enticing nuances and aesthetic details, relying instead on a simple three-color design. The bezels are matte black, the stand is gray, and the back is white. 
The rear, by the way, is texturized, as seen on other recent models such as the: Dell S2422HZ.
The highly adjustable stand, which allows you to adjust the height, tilt, swivel, and pivot, is the one feature that stands out among the current Dell monitors in this price range.
Also, because of the improved adjustments, the arm of this stand has a distinct design, making this monitor a little bit different than its predecessors and one of the most affordable with such a superb stand. 
This monitor makes an excellent impression in terms of durability, with superior materials than other similar and even more costly screens. However, it is not very thin and has a bit higher weight than its predecessors, so keep that in mind as well.
Despite its 27-inch size, the square-shaped stand will assist this screen take up less room on your desk, so that should not be an issue. Even if it is, you can utilize a better aftermarket arm stand with VESA compatibility to use multiple monitors or have a better ergonomy and save some desk space.
Given the present costs of this screen, we expected to see some out speakers, but that didn't happen, which is unfortunate given that similar alternatives in the same price range with speakers are available. 
Besides, the Dell s2721hs also features a gap in its stand through which you may run cables.
The ergonomic stand, clear design, and simplicity are more than enough to indicate this is a monitor for office environments; nonetheless, it is not the greatest choice for individuals who want the monitor to stand out from the rest of the setup.
Connectors
The connectors are another thing that can easily disappoint. To keep the other features in balance with the prices, they had to remove some inputs from this screen, leaving only the usual: 1x Display port, 1x HDMI, and 1x Audio out.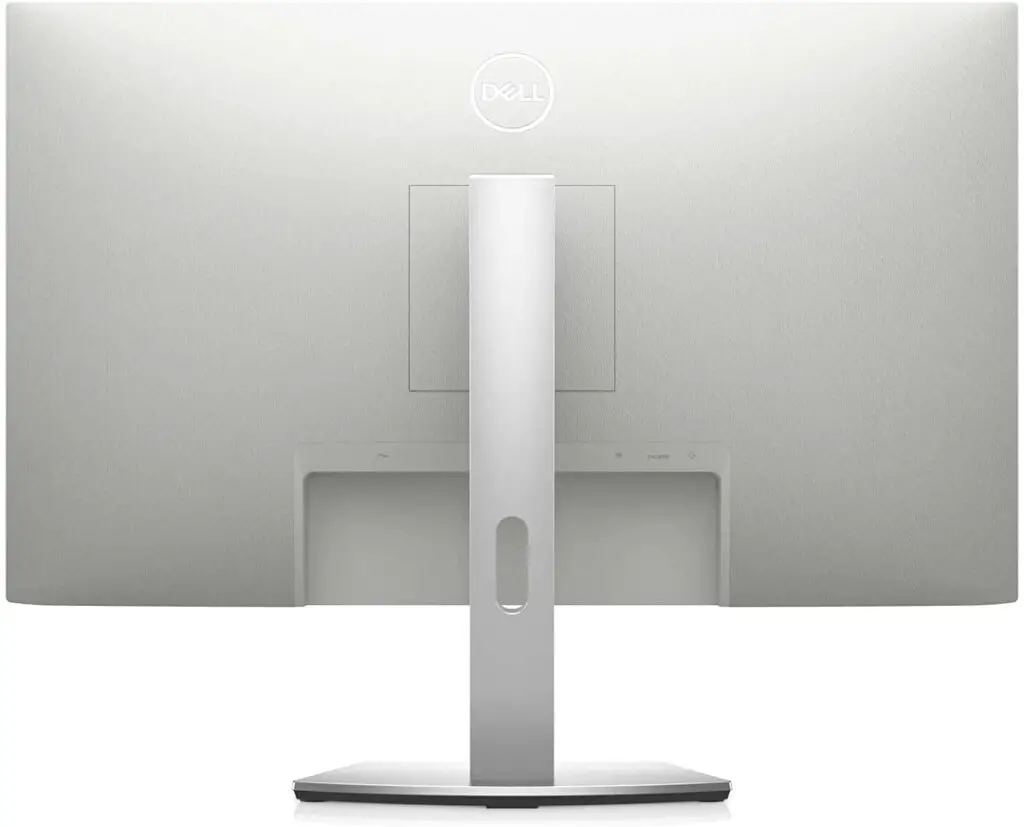 Features
Panel type
Despite the fact that the Dell S2721HS has one of the most renowned panels on the market, it still falls short when it comes to gamut coverage, both sRgb, and DCI-p3 coverage.
On the other hand, these differences may only matter to those who require a monitor for media editing, which is unlikely to be the intended audience for this one.
By the way, despite its lack of top-notch colors, we can pinpoint some accurate ones right out of the box, with a focus on the reds, which look fantastic on this monitor both before and after calibration. In the image quality section, we'll go further into colors.
While the IPS panel's rich and true colors are one of its benefits, it's the viewing angles where these panels generally shine.
As is customary, there are minor differences in viewing angles between different IPS based on the price range. This one, for example, has a slight weakness in the vertical viewing angles, but that can be readily remedied by utilizing the stand height adjustment.
The contrast of an IPS panel is nothing like that of a VA panel, and to top it off, the IPS glow shows up in the bottom left corner of the screen, confirming that the VA is always the better choice for use in a dark environment.
Brightness
You may always lower the brightness to reduce the IPS glow levels, but a dim image isn't enjoyable to view. By the way, this monitor's reflection handling is adequate, but don't anticipate the best, since this is difficult to work with even for expensive displays. 
Even so, at 300 nits of peak brightness, you should be OK using this monitor next to a window; just make sure the brightness is set to maximum to minimize glare. 
In terms of overall brightness, this monitor provides what its price permits. It doesn't have the best of the best to perform well in bright settings, but it's hard to find something better in this price range ( with some rare exceptions like the: HP X27 )
Refresh rate and Response time
The Dell S2721HS, like most office or casual-oriented displays, does not offer the finest responsiveness and smoothness; even in this price range or a little above, you may find something better in this area. 
However, 75hz is the most common substitute for 60hz, providing a substantial smoothness boost without adding too much to the monitor's final price. Still, 75hz isn't even close to what 144hz can offer, and the fluidity differences are like night and day. 
As a result, I wouldn't recommend this since your primary monitor if you want to play games sometimes, as a higher refresh rate screen would give you more bang for your buck. This ratio, on the other hand, is ideal for a secondary monitor that will not be used for primary tasks.
When it comes to response time, things are much worse for gamers, with 4ms GTG having a lot of trail and ghosting when moving the mouse quickly. 
Also, because 75hz and 4ms is a combination that emphasizes motion blur over fluidity, don't expect this monitor to perform well in competitive games. 
In terms of gaming suggestions in this price bracket, I can suggest the: LG 27GP750-B, which is now on sale at a wonderful price, and the: HP X27 which is a little more costly than this one, but well worth it for gaming. Lastly, we can't forget to mention that this monitor supports FreeSync and G sync features to ensure tear-free gameplays.

Image Overall Quality
One of the screen's most significant flaws is visual clarity, which is exacerbated for individuals who use the monitor at a close distance. 
While 27 inches is presently the sweet spot for gaming and general usage, the 1080p resolution isn't the ideal match for this screen size, causing pixels to stretch and blurring the image, which is more noticeable up close and in comparison to 24 1080p and 27 1440p monitors. 
The dell s2721hs has 81 PPI, which may cause certain pictures to appear blurry compared to similar screens with higher resolutions or lower sizes. If that's a worry, I'd propose going with a 1440p screen if you truly need 27 inches, or going 24 inches and 1080p if you can make it work with 24 inches.
The colors on this panel, as previously said, aren't the finest we've seen for casual displays, but it shines on the reds before calibrating.
We can tell that some colors are lacking a little bit after calibration when compared to displays with higher coverage, but it is unquestionably better than before and more enjoyable – not to a professional level of accuracy, but good enough for everyday usage. 
However, our unit arrived with some cool colors, with a focus on green and blue, so if yours has a similar pattern, be sure to lower these values.
Overall, we can conclude that this monitor performs as expected in its price range. It doesn't have much to brag about, but it also doesn't lack the essential features that a monitor in this price range should have. It's also not the most accurate casual display we've seen around here, losing out to the: HP M27F, which has fantastic colors right out of the box.
Final thoughts
When to buy it
By the time we are writing this post, the Dell S2721HS is far from the best casual 27-inch monitor you can afford, due to what it delivers and its price range.
However, things may change with time as this is a recently released screen, and if you are seeing this monitor costing less than 230 dollars while you are reading this, be sure to check out these: LG 27MP400-B, HP M27FW, Lenovo D27-30 before making your choice.
All of those has currently better performance and prices for what they deliver in comparison to the dell s2721hs, so be sure to compare the prices and features to find out which one is better for you.
You may like