Our Conclusion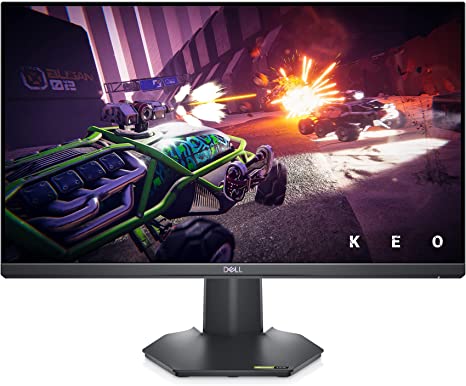 Coming from one of the most expensive in its category last year, the Dell G2422H is right now one of the cheapest gaming monitors you can find on the market. It has fast IPS technology, granting good colors and responsiveness, and on top of that, it also has an amazing design that Dell is so proud of. With all that, it is perfect if you need the best budget gaming monitor currently with good colors and also great smoothness. On the other hand, if you're willing to spend a bit more for a higher responsiveness edge, the Dell S2522HG might suit your needs better.
Pros
✓ Awesome aesthetics
✓ High refresh rate
✓ Decent pixel clarity
✓ Fast IPS
Cons
✘ Lacks USB and USB-C ports
✘ Could have 1ms MPRT
We felt compelled to share something nice from Dell's newest monitor launches on this website after evaluating a no-frills release to their portfolio in the previous post. 
The Dell P2722H was the most recent of Dell's casual monitors we reviewed, with better-than-average features and amazing price performance. 
However, the monitor was from the casual line and the previous 2021 releases, enforcing that for 2022, Dell has been largely overshadowed by competitors on the market, such as the HP X27. 
Even so, with Dell's most recent model, things may turn out to be different and better. Without further ado, let's check out the dell g2422hs review, featuring one of the latest dell gaming monitors that might compete with others in this category.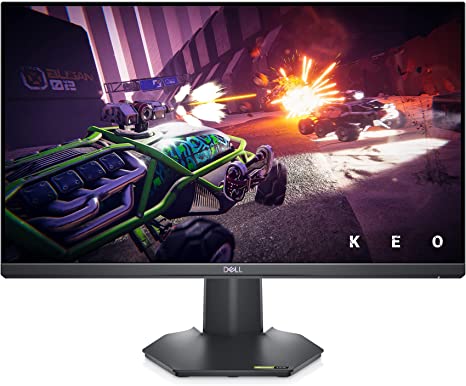 Design
Before we go any further, we should point out that this screen is more expensive than other 1080p gaming monitors on the market right now, with prices starting at $280, so we have high expectations for all of its features and aesthetics. 
This is a really robust and sturdy unit, as you'd expect from Dell standards for monitors, and you can tell it by its weight, which is heavier than what you'd usually find for 24-inch panels.
In fact, because this monitor is so narrow, you won't have to worry about running out of desk space to accommodate it. It weighs only 10.90 pounds and has dimensions of 21.2 x 7.5 x 17.8 inches. 
To provide a point of reference, this screen appears to be pretty comparable to the Dell S2522HG, and it weighs less despite being as good as or even better in terms of sturdiness, demonstrating that Dell is truly upgrading the materials used for this one.
This screen was introduced in early 2022, whereas the noted one was first rounding the market in mid-2021. It's fantastic to see how far they've come in such a short amount of time.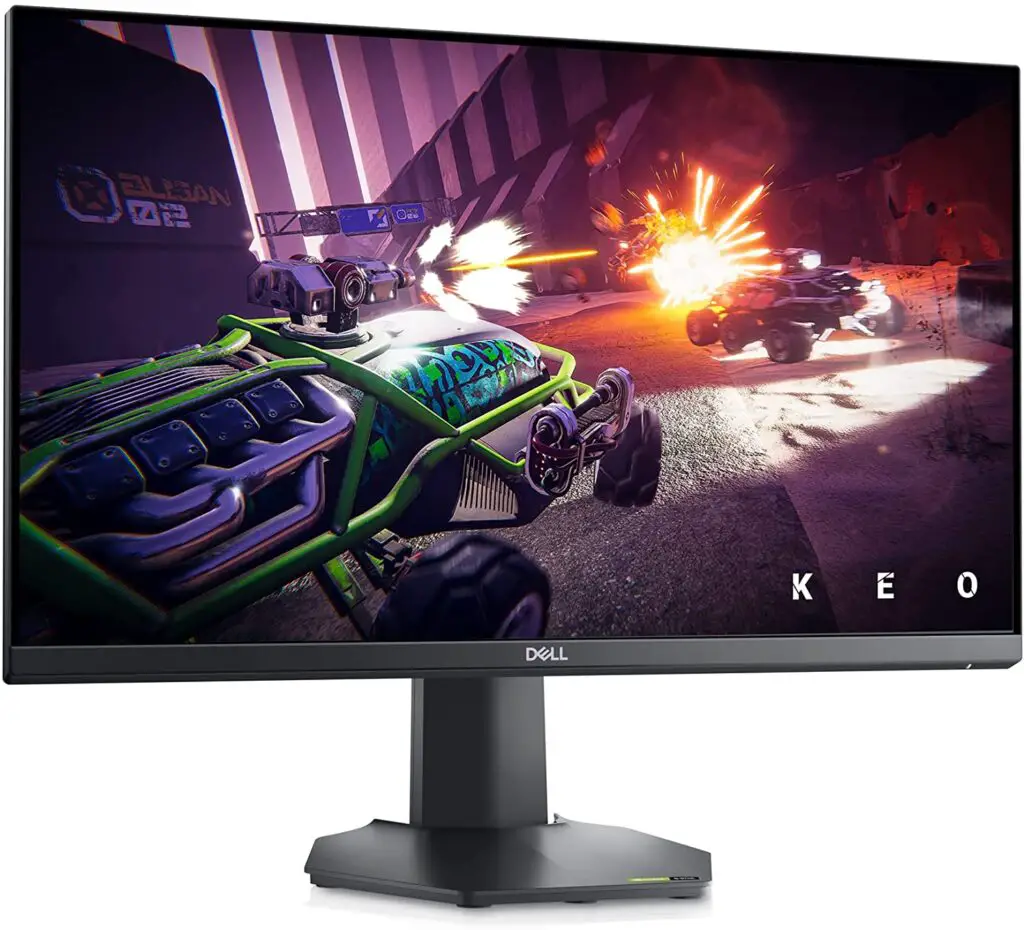 Returning to our comparison, both of these screens are nearly identical, with the exception of the narrower stand, which, as previously said, is superior for conserving desk space. 
Aside from that, while the Dell S2522HG has a dark grayish tint on the back, this one has a matte black finish with a dark gray base. Aside from the colors and the stand, both have nearly identical characteristics. 
By the way, this stand may not suit everyone's demands due to its limited range of adjustments, allowing you to only tilt and alter the height. Fortunately, you can get around this by utilizing a better-adjustable arm stand or mounting it on the wall with the VESA support.
For those who are picky about wire management, this stand contains a hole in the middle of its arm through which you can pass the cables. 
With its borderless borders, narrow bottom bezel, and razor-sharp back aesthetic that distinguishes gaming monitors from casual ones, we can say it has a very modern look. 
On the negative side, this monitor is not one of Dell's thinnest, putting it in an odd position where it is fine for everyday usage but falls short of the high standards of its predecessors. 
It also lacks out speakers – a possible deal-breaker for some niche users, but not for the vast majority of this sort of screen's audience.
Connectors
The one thing this monitor is ordinary at is the connectors section. It has a limited range of ports, which drives away the ones that need USB and USB-c ports, including only 2x HDMI and 1x Display port, together with the usual 1x Headphone-out port.
Features
Panel type
Remember the Dell S2522HG monitor we discussed in the design section? Well, it costs roughly 80 dollars less than this one and has a very comparable design score, so we'll be using it as a comparison from now on to see why this one costs so much more and to confirm which one is the best. 
When compared to our previous tested screen, this one is unquestionably the worse in terms of color fidelity right out of the box. Its hues are yellowish-white, whereas the other colors are oddly cold and dreary. In the image quality section, we'll go deeper into color accuracy. 
On the other hand, this screen offers excellent viewing angles, allowing you to see the images well regardless of your viewpoint. Just bear in mind that vertical viewing angles are not as good as horizontal viewing angles so the height adjustment may come in handy for our unit. 
All of those positive attributes are due to the IPS panel, but I believe they saved a lot of money on this one since I've seen better from Dell in this price bracket. But, after calibration, we'll see what unfolds.
Brightness
Before we go any further on image quality, we should mention that the first thing that attracted our notice in this unit was the lack of a significant quantity of IPS glow, which is unusual for screens in this price range.
While this varies from unit to unit, we can't guarantee that yours will be as good. According to what we can tell about ours, this screen has a greater than expected black uniformity, making it suitable for gaming in a dark environment.
By the way, it has a lower on-paper brightness ratio than the Dell S2522HG, although the differences are difficult to see when comparing the two. Whether they'll be using the monitor during the day in a well-lit room or at night, 350 nits are usually plenty for 99 percent of users.
The Dell G2422HS's versatility stems from its high brightness ratio, which is complemented by its wide viewing angles. However, because the reflection management isn't the finest, I wouldn't recommend using it with the monitor on the opposite side of a window because the reflections would be distracting enough to start being in the way of a good overall experience.
Refresh rate and Response time
The gaming features are the screen's finest, as one would expect from a gamer-oriented display. Still, while these features are excellent, they fall short of those offered by the Dell S2522HG. 
In terms of motion blur, neither screen provides the greatest results, in fact, they are almost identical. While compared to an MPRT monitor, the 1ms GTG function allows a fair degree of motion blur.
1ms GTG is now regarded as the minimal need for a gaming screen, providing acceptable responsiveness but not the best of the best.  
Fortunately, there are other nice MPRT monitors available at a low price right now but don't expect to spend the same costs as this one, since the MPRT function frequently has a significant influence on the price. 
Finally, we can state that 1ms gtg is a middling feature that is neither the worst nor the finest to have in a gaming display. 
With a refresh rate of 165hz, this screen is once again in the center of the pack, offering an ordinary standard gaming experience. However, considering that the Dell S2522HG is now cheaper, with fast responsiveness and a 240hz refresh rate, which is better than 165 for competitive gaming, this one isn't merely adequate. 
As a result, we can only suggest this screen for heavy competitive gamers if it is less expensive than the Dell S2522HG, as that one would better suit your needs. Finally, G-sync and Freesync functions are supported by this display, ensuring tear-free visuals while playing.

Image Overall Quality
As previously said, the Dell G2422HS's out-of-the-box colors aren't the finest in the world, but they may be slightly improved with calibration. When it comes to accurate colors, the normal 99 percent sRGB coverage and 16 million colors don't assist much. 
Of course, those are adequate for and most likely sufficient for individuals who merely wish to use this monitor to play games and perform routine duties. However, if you're looking for a monitor to deal with media, you should go for one with at least real 8-bit colors or simulated 10-bit.
On the plus size, the screen's blacks truly pop after calibration, making it one of Dell's best in this price range and even better than the S2522HG.
By the way, in terms of overall colors, the S2522HG fared similarly to this one, thus neither is very tempting to professionals. The sharpness is acceptable; we'd say it's about what you'd expect from a 1080p 24-inch screen. 
1080p is one of the greatest resolutions for a 24-inch monitor, with a pixel density of 92 PPI, which is a good number of pixels for a good degree of clarity. 
By the way, if sharpness is a concern, I always recommend 1440p monitors, and I recommend the 27-inch models like the MSI Optix G273QPF or the Asus XG27AQM, or you can go even higher and get something even more premium like the 4K, which has its own set of drawbacks for gaming due to the required GPU performance for demanding games at high FPS. 
In the conclusion, we can remark that this monitor's color performance was ordinary; it didn't amaze us, and it isn't even suitable compared to a wide range of budget gaming screens. The truth is, for what it gives, this monitor isn't the best bang for your buck, and you can easily get one with a comparable performance at cheaper prices.
Final thoughts
When to buy it
In fact, the aesthetics of the Dell G2422HS are clearly better than those of the Dell S2522HG, but the latter's features are way more attractive for the consumer, especially in terms of gaming features and ports, as well as stand adjustability. 
Due to that, I recommend you check other offers out like the Dell S2522HG and the MSI Optix MAG274R2, with the latter costing roughly 20 dollars more and featuring twice the performance of the dell G2422HS. 
On the other hand, the dell G2422HS is, without a doubt, one of the best choices if you can find it for less than 200 dollars during a sale, retail, or something.
You may like