Our Conclusion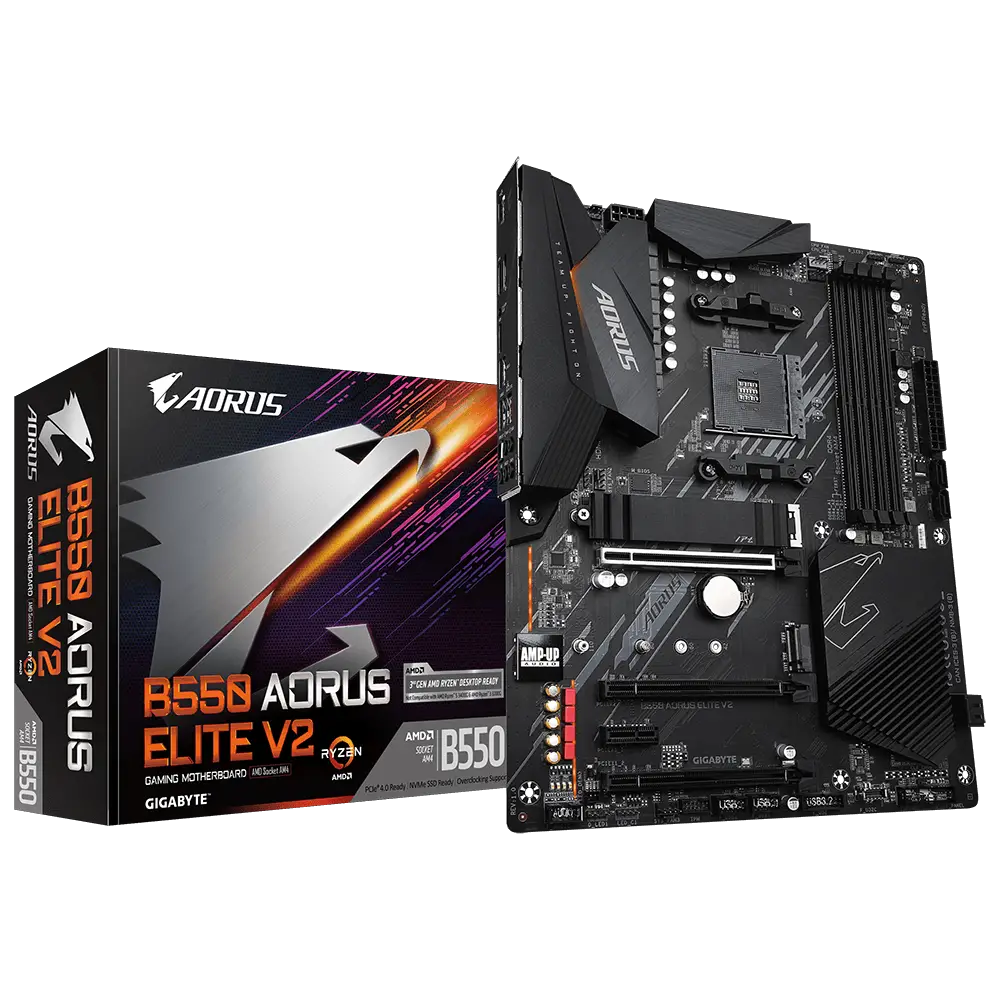 The Gigabyte B550 AORUS Elite V2 is currently one of the best budget B550 boards, even though its price tag is close to the latest AM5 ones. It has excellent features for its prices, but when we consider the future-proof factor, it ends up being wiser to spend +$20-$30 on a board like the ASRock B650M PG Riptide or the MSI Pro B650-P Wifi. In any case, if you can find it on sale and cheaper than $170 it is still a great choice to consider.
Pros
✓ Enlarged heatsinks
✓ Good amount of VRM phases
✓ Shielded PCIe x16 slot
✓ Affordable
Cons
✘ RAM slots without protection
✘ Only 1x M.2 with shield
With the AM5 socket up and running, showcasing all the strengths AMD is known for, the AM4 socket gradually fades into the background.
Due to the decreasing demand, AM4 motherboards are leaning towards more affordable price tags, even those considered high-end.
Now, the biggest question for anyone in search of a new AMD motherboard is: should they opt for the cheaper option and sacrifice future-proofing or invest more for guaranteed support for upcoming features?
Keeping this in mind, today we will examine one of the top motherboards from the previous generation and compare it to its equivalent in the current generation. Following that, we will advise you on whether to choose it or the newer options. So, without further ado, let's find out if this is the ideal choice in our Gigabyte B550 AORUS Elite V2 review.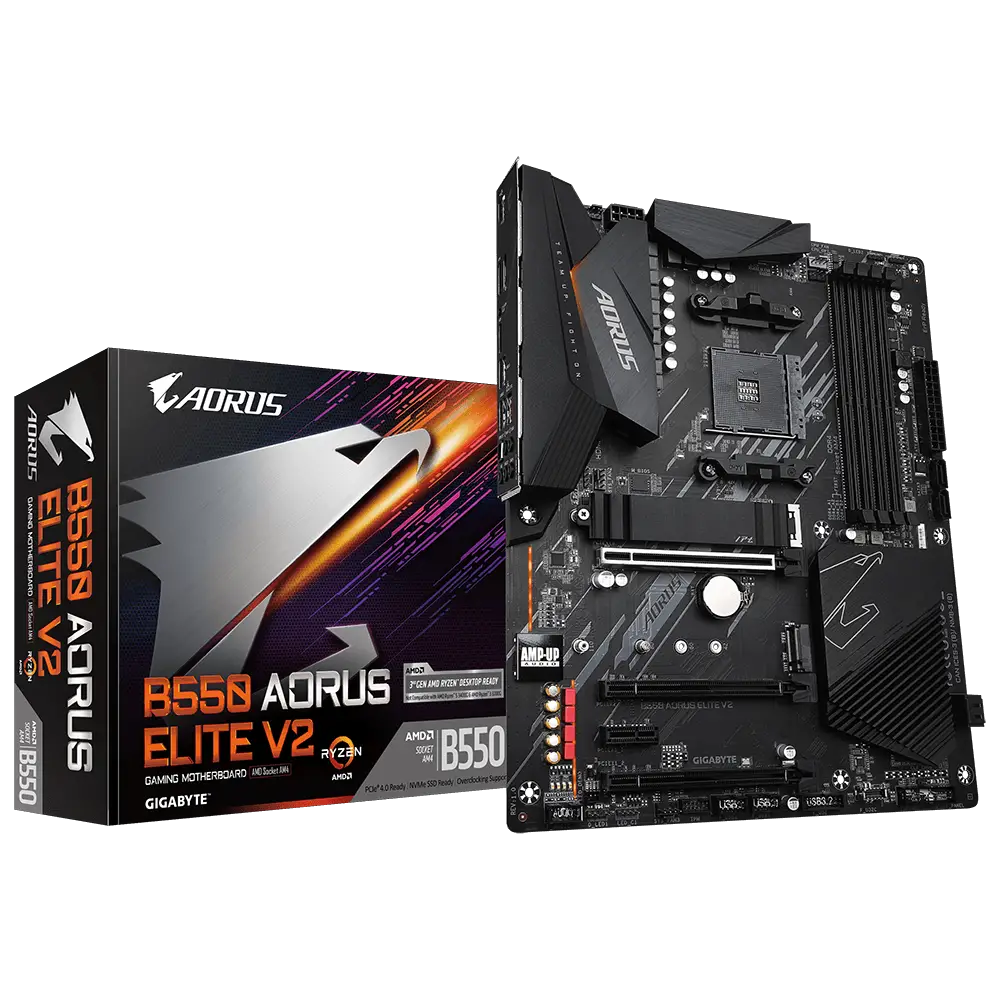 Socket and Chipset
To start, the Gigabyte B550 AORUS Elite V2 utilizes the AM4 socket, offering a wide range of processors to choose from, including the Ryzen 3000, 4000, and 5000 series based on Zen 3 architecture. While the upcoming Ryzen 7000 series is not compatible, the 5000 series still offers fast and powerful CPUs.
It is equipped with the B550 chipset, positioned as a high-intermediate chipset, just one step below the flagship AM4 X570. The main distinction between the two lies in the PCIe 4.0 capabilities. While the B550 supports a single PCIe 4.0 graphics card slot and an NVMe slot, the X570 provides full PCIe 4.0 support. It is worth noting that PCIe 5.0 is already available, but not yet widely adopted, especially in the low and mid-end motherboard segments. Therefore, for most users, PCIe 4.0 will be more than sufficient.
We will discuss the recommended processors to pair with this motherboard in the later part of the review, as it falls into the mid-end category, approaching high-end features. For now, let's delve into the technical specifications of this board.
Technical specifications
| | |
| --- | --- |
| Socket | AM4 |
| Chipset | B550 |
| Memory socket | 4 x DDR4 DIMM |
| Memory OC | up to DDR4 4733(O.C.) |
| Memory capacity | up to 128GB |
| Onboard Graphics | 5120×2880@60 Hz (DP) |
| Audio codec | Realtek® ALC1200, 7.1 |
| I/O controller | iTE® I/O Controller Chip |
| LAN | Realtek® 2.5GbE LAN chip |
| Form factor | ATX Form Factor; 30.5cm x 24.4cm |
See further at the Gigabyte site
Design
About its design, this board has the usual pattern of the Aorus lineup: an entirely matte black style with some orange RGB LEDs on the right side and above the audio capacitors, and on the top of the main heatsink.
Its modern aesthetics make it a versatile choice, allowing it to blend seamlessly with other components' colors and cater to various buyers' preferences. Additionally, the Gigabyte B550 AORUS Elite V2 comes with a pre-installed IO shield on the back panel, ensuring easy and quick installation.
It doesn't have a very enlarged heatsink, but it seems to have a decent amount of VRM phases, which is a good sign for heat management.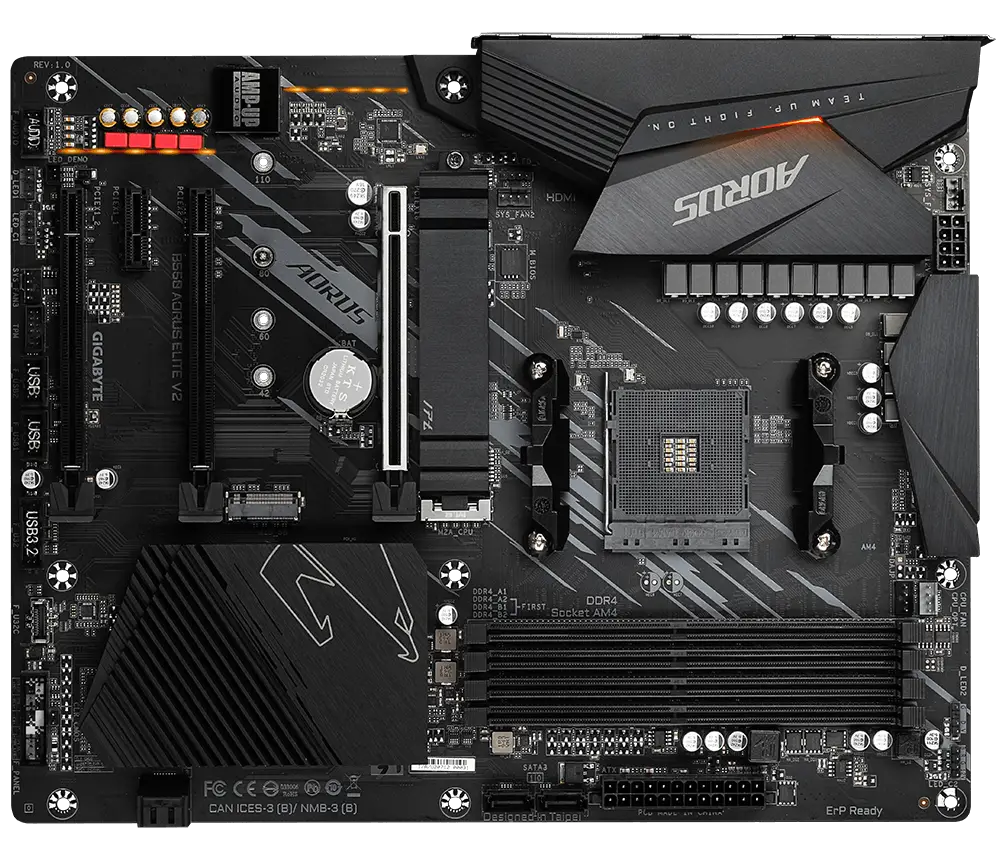 Also, the RGB Fusion 2.0 software allows you to control the RGB patterns and colors on the board. The software even offers a mobile app version, providing a convenient and versatile way to switch between LED colors throughout the entire board
Memory
This board features 4x DDR4 slots that can be placed up to 128Gb of RAM modules, with dual-channel support. Therefore, it is recommended to use either 2x modules or 4x modules to maximize performance and speed during daily usage.
Additionally, if you are using a Ryzen 3rd gen or newer processor, this motherboard supports a frequency of up to 3200MHZ without OC, but overclocking it can go up to 4733MHz.
Considering that the latest boards can currently reach speeds of around 7200MHz due to DDR5 technology, 4000Mhz may start to feel like a low speed, but trust me, it isn't. For example, the recommended speed for a Ryzen 5000 CPU is 3600MHz, so you surely won't need more than 4733Mhz.
VRM and Connectors
This board features a 12+2 Phases Digital Twin Power Design with DrMOS and a heatsink covering it. Speaking of heatsinks, this board has one on top of the VRM circuit to ensure unthrottled performance and enable overclocking at lower temperatures. It also has a heatsink on the main M.2 slot.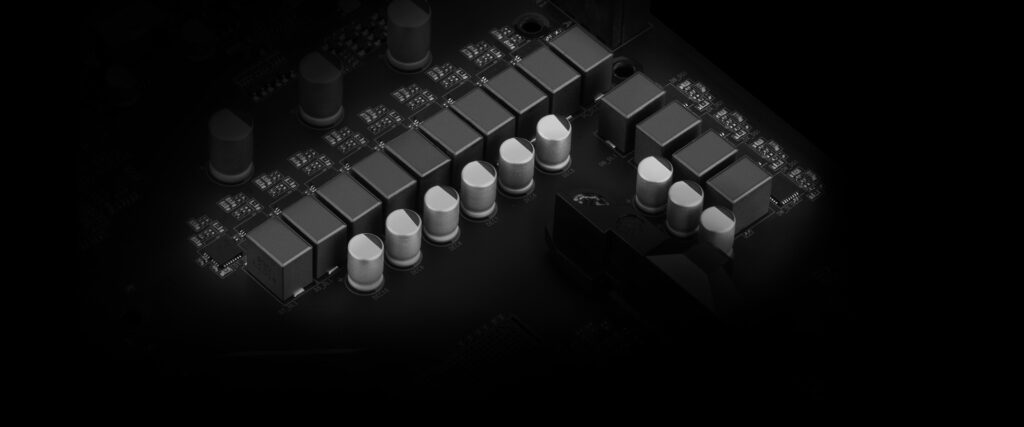 Additionally, this board is equipped with two M.2 connectors that support read speeds of up to 6560MB/s and write speeds of up to 6669MB/s. It also features 4x PCIe slots, being the first one(x16) covered in metal to support a heavier graphics card and prevent sagging, which is also the recommended slot to plug your graphics card to potentialize its performance. This slot supports the highly acclaimed PCIe 4.0, so it is recommended to use your GPU there.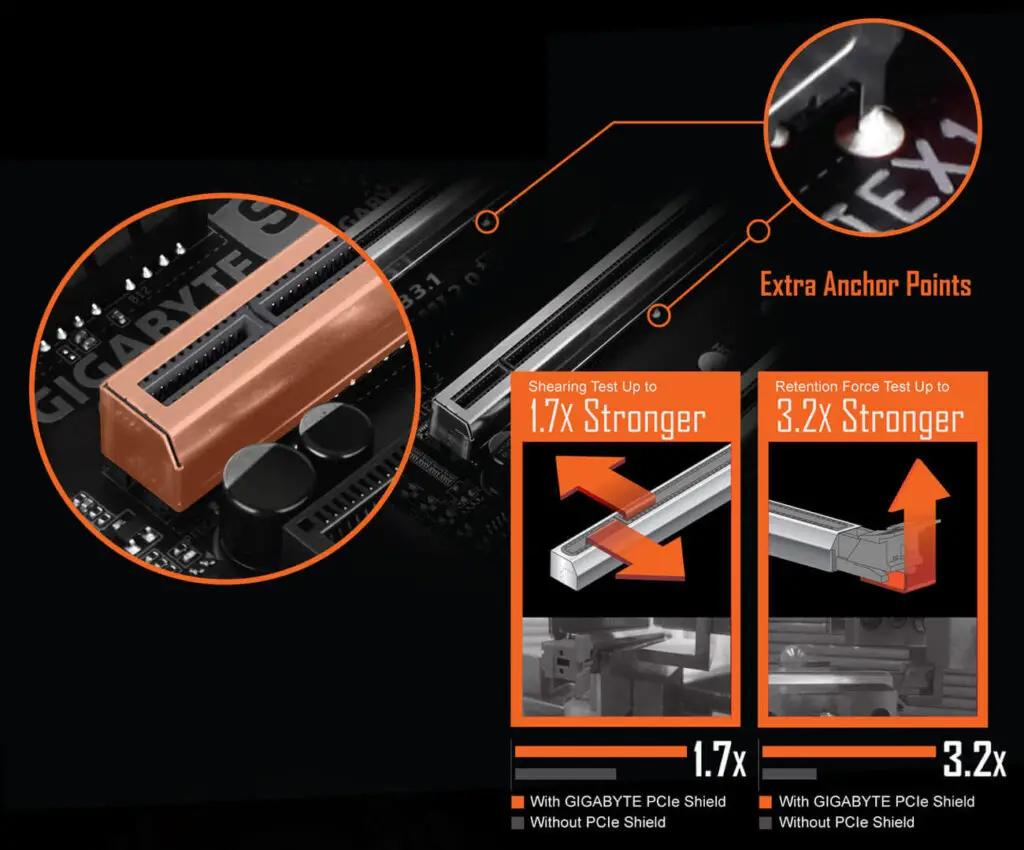 Apart from the primary slot, all the other PCIe slots in this board feature the 3.0 technology. Regarding SATA connectors, this board has 4x split SATA slots with two of them right below the 24-pin slot and the other two set further down next to the chipset heatsink.
Overclock and Recommended processors
Gigabyte has constructed the PCB of the B550 AORUS ELITE V2 with double the amount of copper, thus, making it easier to overclock without breaking high-temperature thresholds, in addition to working with better efficiency, consuming less energy.
Moving on to temperatures, the B550 AORUS ELITE V2 has a 6x temperature sensor to help to manage the temperature on your board easily with software.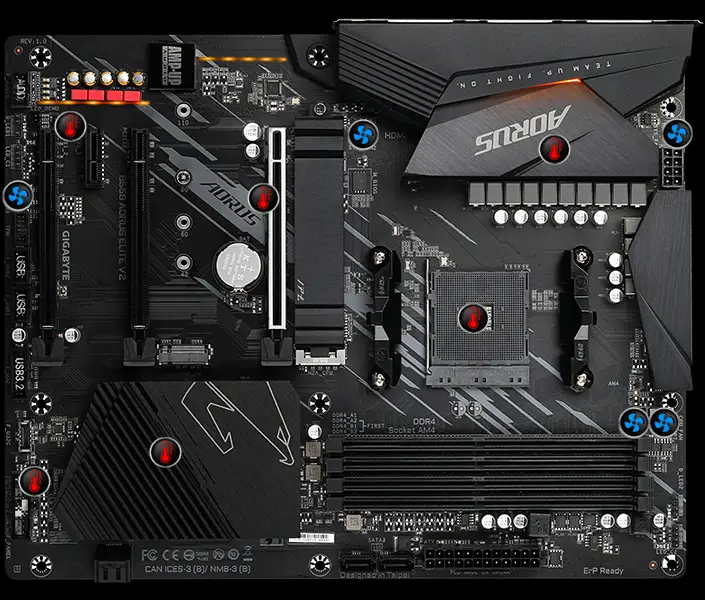 As for our recommended CPUs, the R7 5800X3D and the Ryzen 5 5600 are currently the best choices for high-end and budget CPUs respectively. Go with the Ryzen 7 5800X3D if you need a higher edge for multitasking and gaming performance.
That CPU is currently the fastest in the 5000 line, at least when it comes to gaming. Still, the Ryzen 5 5600 isn't far behind, as it offers one of the best cost-effectiveness ratios among all Ryzen CPUs. In any case, regardless of whichever is your choice, neither will risk high temperatures damage to the motherboard so you can choose the one that fits your budget better.
Back panel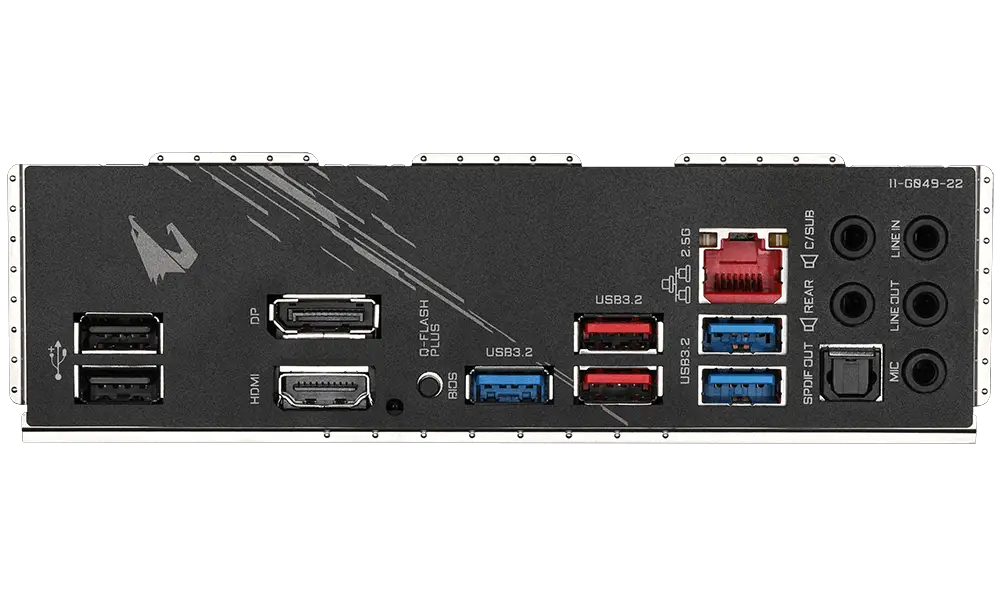 As said, the Gigabyte B550 AORUS Elite V2 features the Pre-installed IO shield. As for the ports, it has 7x USB ports (2x USB 3.2 Gen 2 Type-A, 3 x USB 3.2 Gen 1, 2 x USB 2.0/1.1), 5x audio jacks, 1 x DisplayPort, 1 x HDMI port, 1 x RJ-45 port.
Q-flash plus
Q-flash Plus is an interesting feature that you can use to update your bios without any processor and RAM, just with a flash drive. All you have to do is, download the Bios, unzip it and rename it as "gigabyte.bin" put it on your flash drive, plug it in the USB Q-flash port, and click the Q-flash plus button. Then the installation occurs automatically. Don't forget to connect your 24 and 8-pin power supply cables before the process.
2.5Gbe LAN and Audio
The LAN of this board can hold up to an incredible 2.500 Mbps of internet speed. Audio-wise this board has 1 x optical S/PDIF Out, so in case you have a tougher Audio component, you can use this port. About the audio quality, this board really surprised everyone.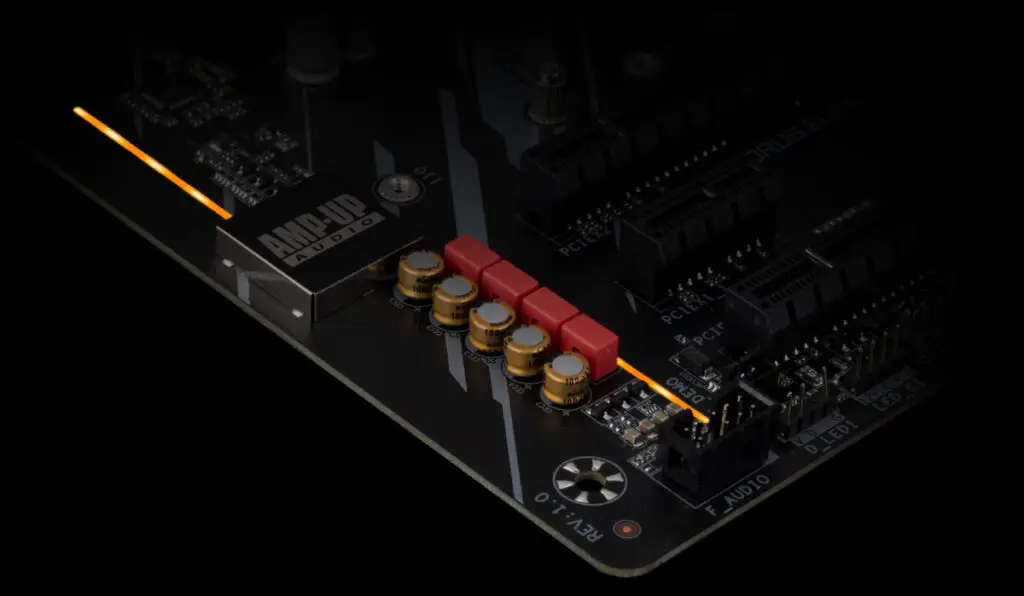 At first, just by looking at the bulky audio capacitors, you can see a red shield that keeps the electricity that passes through the board not interfering with the audio, making it way clearer. Besides that, it has the Realtek® ALC1200 codec. While this is still low-end, it is better than some of the new AM5 motherboards like the MSI Pro B650-P Wifi. 
Ultimately, this board boasts impressively clear audio, indicating GIGABYTE's genuine effort to make it a standout feature. However, for enthusiasts, it is recommended to consider acquiring a dedicated DAC nonetheless.
Conclusion
The Gigabyte B550 AORUS Elite V2 is undeniably a fantastic motherboard, but its current pricing doesn't make it significantly cheaper than some budget AM5 options such as the ASRock B650M PG Riptide. Therefore, if you cannot find it at a favorable price, it would be wise to consider spending an additional 20 dollars and opting for a newer model like the ASRock B650M PG Riptide or the MSI Pro B650-P Wifi, ensuring access to the latest features.
You may like