Our Conclusion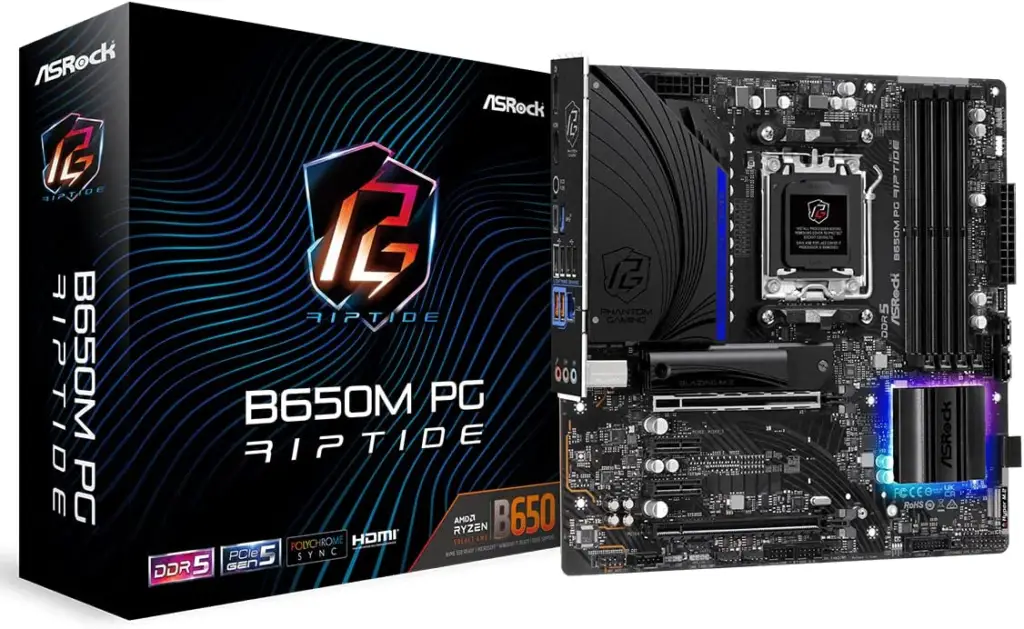 Despite its shortcomings in certain areas, the Asrock B650M PG Riptide stands tall as the ultimate budget motherboard, especially when it's currently on sale for approximately $135. While it may not feature integrated Wifi and lacks the renowned PCIe 5.0 support for the GPU slot, its affordable price more than compensates for these limitations. However, if you require a motherboard with enhanced connectivity and integrated Wifi, the Msi Pro X670-P Wifi is a worthy contender to consider, provided you have the flexibility to expand your budget.
Pros
✓ Affordable
✓ PCie 5.0 M.2
✓ Decent VRM cooling
✓ DDR5 up to 6200 MHz
Cons
✘ Limited RGB and FAN headers
✘ It lacks PCIe 5.0 x16 support
Let's be real here; sometimes, you don't need to spend +200 dollars to get a good motherboard.
Sure, by doing so, you would ensure a higher futureproof factor and better/faster features on paper.
It doesn't, however, change the fact that at least 50% of buyers of said premium motherboard won't be using half the top-tier features it provides. That ratio rises when it comes to gaming-only users.
It is not unusual to see someone trying to build a budget-conscious gaming setup, sacrificing the allocated budget for more impacting components for gaming, like the GPU or CPU, just so that they can buy a higher-end motherboard.
One aspect that those are usually unaware of is the existence of motherboards specifically tailored for budget-conscious gamers. And the one we'll review today is a clear representation of that type.
The Asrock B650M PG Riptide is one of the best affordable motherboards today, but it is definitely not a perfect choice for enthusiasts. Is it worth it for the casual customer? We'll find out in today's Asrock B650M PG Riptide Review.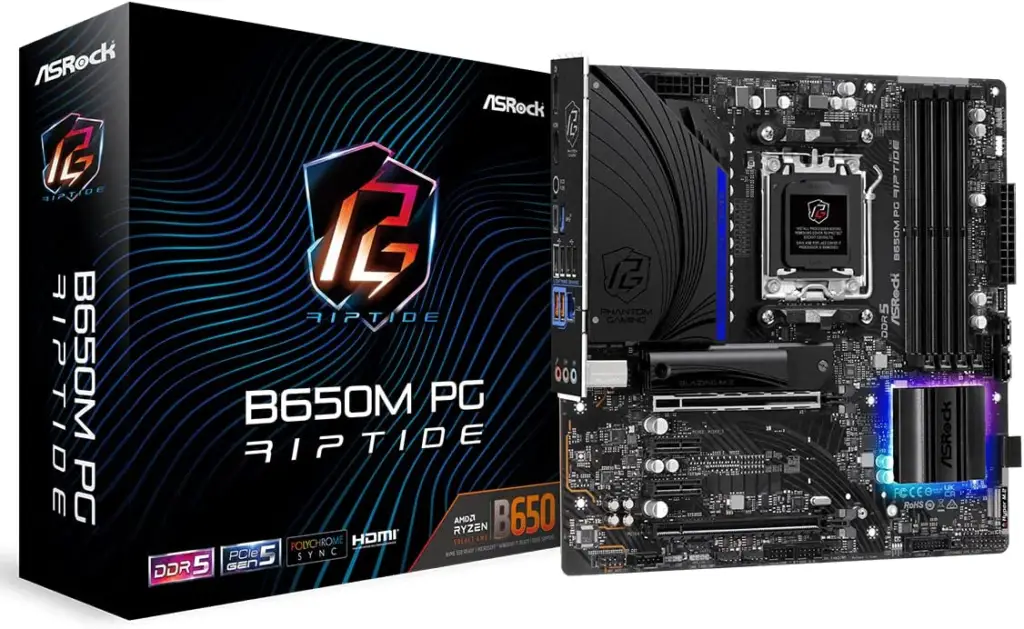 Design
True to Asrock's reputation, the pursuit of a budget-friendly motherboard did not compel them to compromise on the quality of materials or aesthetics.
This is one of the cheapest boards with the new AMD socket and chipset, and even with that disadvantage, the number of high-end boards that couldn't hold a candle to it in terms of aesthetics isn't low. 
For one thing, it has RGB LEDs under the chipset's heatsink, which is naturally not something you'd spot very often in this price range. 
Surely there are other factors to consider, but when we compare it to those +$250 boards like the MSI Pro Z790-A looking dull and without life, this one really sticks out. 
Check them both side by side below. On the right, we have the Asrock B650M PG and the MSI Pro Z790-A on the left. Although the Asrock B650M PG is smaller, it is snazzier. Even so, the first Z790-A does win if the competition is about robustness.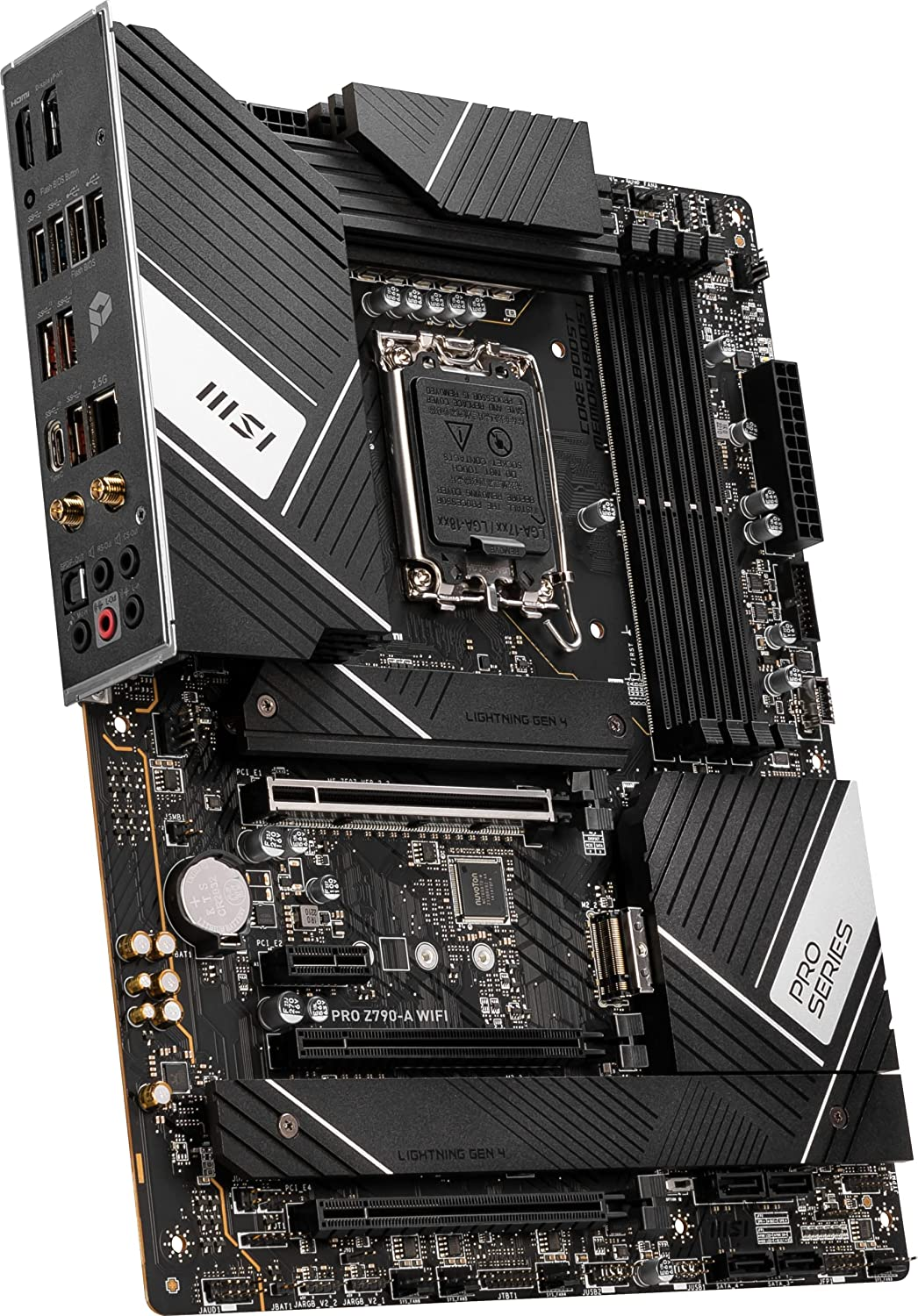 The one thing about the design of this board that will probably not please everyone is the blue stripe on the main heatsink.
In my opinion, it looks out of place there, mostly due to its color, but that's just a matter of personal tastes. In the end, it won't even draw that much attention when you mount the board in the case with the other components. 
By the way, this is a micro ATX motherboard, meaning it'll fit almost all case sizes easily. It measures around 11.89 x 11.15 x 2.76 inches. 
About its heatsinks, it is safe to say that they are normal in size. They're not as tall as the MSI Pro Z790-A Wifi's and not as short as the MSI B450M Bazooka Max Wifi's – we can say they're mediocre at the very least. 
The first heatsink has the Phantom Gaming logo as well as some patterns to enhance its design. The M.2 Heatsink, on the other hand, shows that Asrock definitely wanted to keep away from the mainstream. 
While other cheap boards like this one tend to lean toward the simple: a plain flat heatsink with no details or patterns, this one is miles ahead with its distinct, soft-texturized material and slight curves at the edges.
With all that, we can say that this is definitively a standout among others in its class when it comes to aesthetics. It is straightforward and robust at the same time. And the best part: It is affordable.
Socket and Chipset
Being only one step ahead of the B620, the B650 chipset is still one of the most basic for the new AM5 motherboards. 
The good thing about it is that, unlike the B620, it does have PCIe 5.0 support even while maintaining the board's prices significantly low.
Unfortunately, possibly having support doesn't necessarily mean the motherboard will include PCIe 5.0 for the PCie x16 slot, or the NVME slot. 
And guess what, this board doesn't have one of them: the PCIe x16 5.0, making the customer put up with the good and old PCie 4.0. 
Aside from that, this chipset limits the amount of USB ports to 6x 10Gbps and only 1x 20 Gbps. Even though SATA SSDs and HDDs are less popular nowadays, the up to 4 SATA slots limit may be a huge setback for some. 
If you double all those mentioned limit numbers, you'll have the figures for the higher-end chipsets like the X670. 
Now, if I had to say, the differences aren't sweeping enough to explain the huge price gap between both chipsets. Of course, there's a vast number of variables involved in the equation before defining the board's price, but if you're based on the chipsets alone, either the B650 or the X670 should suffice the majority of audiences.
Back to the main topic, the Asrock B650M PG Riptide has an AM5 socket. 
As it is the latest entry by AMD for new sockets, and given how they usually take their time before releasing the next one, this socket will definitively be up to date for a long time – you can be sure of that. 
Right now, it only supports the Ryzen 7000 line, but assuming AMD will keep up with what they've been doing up until now, it'll support at least two generations ahead.
Memory
Another big disadvantage this chipset has is the low memory OC frequency limit.
At least it is supposed to be a huge drawback, but this one defies that rule. 
It has up to a 6200 MHz limit, nearing 6600MHz of the Msi Pro X670-P Wifi, which costs significantly more and holds the flagship AMD chipset. 
In any case, we could explain this with: both share the DDR5 feature. That feature allows the RAM to reach way higher frequencies than the previous technology (DDR4). Right now, you don't necessarily need to have DDR5 to play at high framerates, so it is still considered an enthusiast option.
It is worth mentioning that Intel is ahead when it comes to memory frequency limits for motherboards, with its up to 7400 MHz for the most premium models.
In any case, as stated by AMD itself, any ratio above 6000MHz should suffice for gaming with their new 7000 CPUs. Anything higher than that will create a better alignment with the CPU's infinity fabric. Therefore, you can rest assured that 6200 MHz is more than enough if gaming is your main target. 
Having said that, there is also the downside of getting new DDR5 RAM modules if you only have the DDR4 in hand, but we shouldn't let that concern us if we need future-proofing. In any case, this board has 4x DDR5 DIMM slots with a 128GB limit (32 per slot).
Overclock and Recommended Processors
As a mid-end motherboard, the most recommended choice should be a mid-range CPU as well. Not that this board doesn't support the higher-end CPUs, but in terms of balancing costs with all components, this is the right choice to do.
When we build a budget-friendly setup for gaming, a very important thing to do is not to overspend on a component that won't help increase the framerates. 
Even so, while it is true that overspending on a component that won't significantly increase framerates is not advisable, it is important to have a balanced system where both the CPU and graphics card are adequately matched to deliver optimal performance.
The point is, most of the mid-end CPUs of the actual generation can handle the RTX 4090 easily, so there's no reason to go with a pricey CPU only for the sake of doing so.
Of course, it is a whole other thing if you need to do multitasking besides gaming, but even so, there is a good budget option for those too.
As for our recommendations, for gaming only the Ryzen 5 7600x is the most affordable you can get nowadays. It is low-priced, has great performance, and has one of the best price-to-performance ratios of all CPUs in this gen, intel, and AMD considered. 
On the other hand, there is no beating the Ryzen 7 7700x if performance is the only thing you need. It beats even the top-of-the-line Intel CPUs in gaming and has a good amount of CPUs and threads to help multitasking. 
If we take all of that into consideration, we can confidently say that this CPU is both a multitasking and a gaming beast. 
If you're really on a tight budget, go with the Ryzen 5 7600x but if you can stretch a little to around $259.00 the Ryzen 7 7700x is your clear choice. 
Also, you can rest assured that with their relatively small TDPs, you can overclock them to your tastes, and this motherboard won't even break a sweat.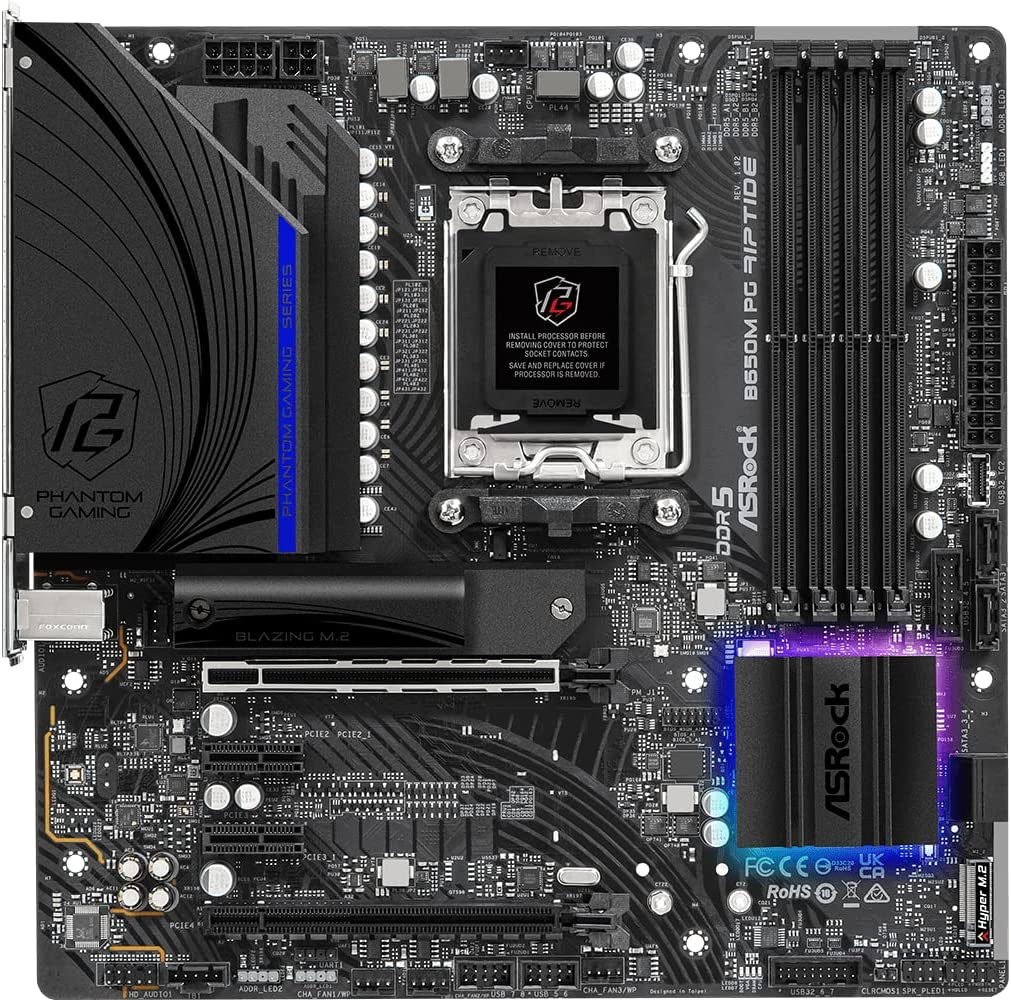 VRM and Connectors
In terms of cooling performance, this board fares equally to the MSI Pro B650-P Wifi performing only slightly better due to its larger heatsink. In fact, both have the same VRM pattern of 12+2+1. 
This board can easily handle the R9 7950x but if you overclock it, things start to get ugly due to the board's high VRM temperatures. If you need a high-end CPU the best budget board to go for currently is the Msi Pro X670-P Wifi, and the best part is that it is only slightly more expensive than this one. 
Power connectors and SSD
Given how the Asrock B650M PG Riptide lacks PCIe x16 5.0 slots, we were very surprised to see that it does, in fact, have a PCIe 5.0 NMVE slot.
For a gaming motherboard, the PCIe x16 5.0 would definitively be more impactful. Even so, we can't deny that the fast loading speeds the 5.0 M.2 will probably give us are appealing enough. 
For now, though, that functionality won't be of much use as there's not an M.2 5.0 SSD available on the market. 
In any case, this board has 2x M.2 slots, the first one has a shield to protect your SSD against the heat the GPU will generate.
That slot is also the only one with PCIe 5.0 support, but even if your SSD doesn't have that tech, be sure to use your main SSD in that slot. 
The second slot doesn't have the heat protection heatsink and runs at PCIe 4.0. Deviating from the standard, they set that SSD slot right below the chipset, rather than below the first PCIe x16 slot. 
If it looks good that way or not is difficult to tell since my graphics card (6900xt) is covering everything in that part of the board, chipset and all. 
The point is, depending on the graphics card, the SSD won't even be visible, so it doesn't matter where it is placed in the end. 
The one thing we can actually see when the setup is fully built is the 2x CPU power connector this board has. Aside from the typical 2x 8 pin, this one has 1x 4 pin and 1x 8 pin instead. 
Fan, RGB, SATA
As mentioned before, the B650 chipset has a 4x SATA limitation, and that is the actual number of SATA ports this board has.
Personally, I'm fine with 2x 1TB SSDs, so this number will be more than enough for me. However, it may not be sufficient if you need a very high amount of internal storage.
In that case, maybe the Msi Pro X670-P Wifi is a better deal for you, since it has both a better chipset and more SATA ports. Moving on, be sure you have a proper hub for your fans and RGB LEDs since this board is pretty lackluster in that department.
It only has 3x Fan connectors, aside from the usual two for the CPU fan or pump. Besides that, it only has 1 x RGB LED Header and 3 x Addressable LED Headers.
PCI connectors
The Asrock B650M PG Riptide has 2 slots for the graphics card. The first, running at x16 and PCIe 4.0, is the one you should use for the graphics card. 
As we said before, it would be preferable if this was a PCie 5.0 slot, but we can't expect too much from a $130 motherboard. This slot is covered in metal protection to help with GPU sagging, even though it still can't handle the massive GPUs of the current gen. 
The second slot, on the other hand, is also PCIe 4.0 but it is limited to x4, so it's not preferable to plug your graphics card there.
Besides that, it also has 2 x PCIe 3.0 x1 Slots (PCIE2 and PCIE3). Just like the MSI Pro B650-P Wifi, this board has a low-end codec. This codec is considered today one of the worse when it comes to quality. 
However, it is still great for normal users. It does the job of reproducing the audio with no interference or poor-quality audio. Of course, when using the microphone on the analog channel, it is still a buzzing mess, but we can overlook that since even higher-end codecs suffer from this disease. 
In any case, if you are an enthusiast in the audio department, don't even think of using this board instead of a proper DAC/AMP build. 
Lastly, it doesn't have either integrated Wifi or Bluetooth, therefore, maybe the Msi Pro X670-P Wifi will be a better deal for you if you need those features.
Back panel

Fortunately, and unexpectedly, it does have a USB-C port, as well as a good amount of USB 3.2 and 2.0. Even better, it has already a pre-installed I/O shield, alleviating the headache it is placing the plate in the case and only then the motherboard. In any case, it has:
1 x HDMI Port
1 x DisplayPort 1.4
1 x USB 3.2 Gen2 Type-A Port (10 Gb/s) (ReDriver)
1 x USB 3.2 Gen2 Type-C Port (10 Gb/s) (ReDriver)
2 x USB 3.2 Gen1 Ports (USB32_23 are Lightning Gaming Ports.)
4 x USB 2.0 Ports
1 x RJ-45 LAN Port
1 x BIOS Flashback Button
HD Audio Jacks: Line in / Front Speaker / Microphone
Final thoughts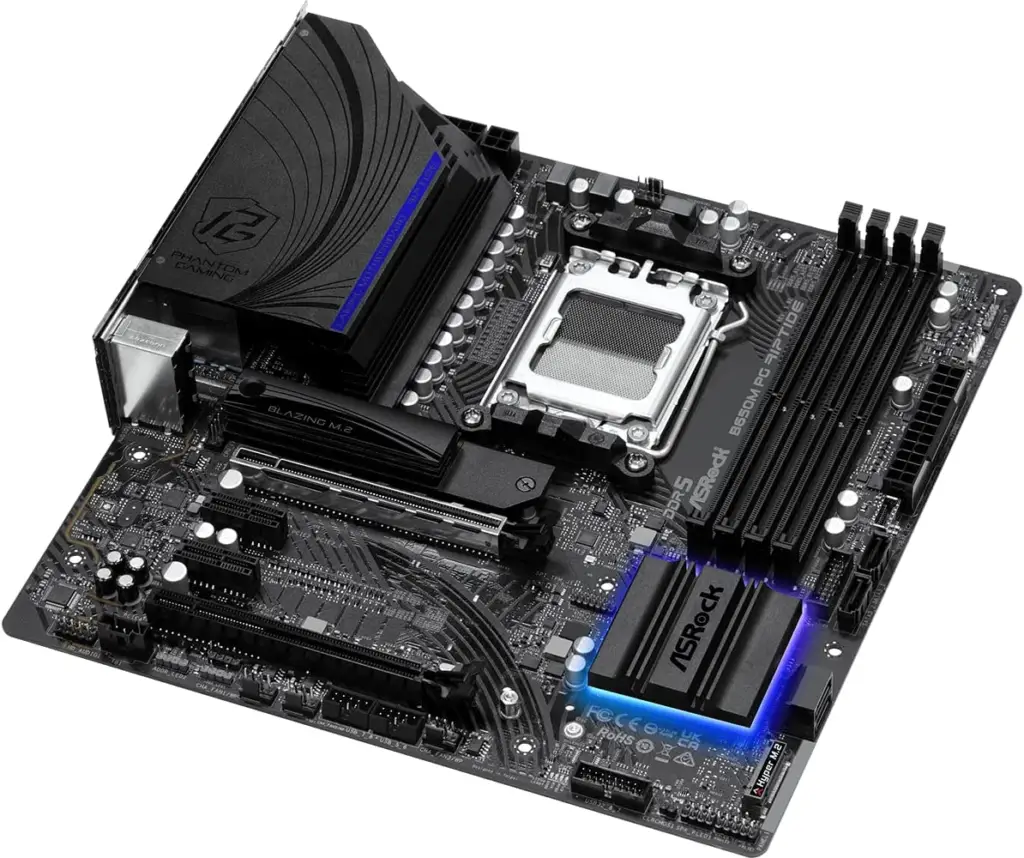 The Asrock B650M PG Riptide motherboard is currently on sale, priced at around $130. At this price point, it stands out as an unbeatable choice for gamers, offering a plethora of impressive features. However, under normal circumstances, its regular price aligns closely with the Msi Pro X670-P Wifi, a motherboard that takes things to a whole new level with its high-end chipset and advanced feature set.
That being said, considering the regular price, it would be wiser to opt for the MSI Pro B650-P Wifi instead, as it offers the same features as the Asrock B650M PG Riptide while also boasting integrated Wifi. It might have a less impressive appearance, but its functionality is undeniable. Nevertheless, the Asrock B650M PG Riptide remains an exceptional motherboard, and with a slight drop in prices, it would undoubtedly become the undisputed champion.
You may like