Our Conclusion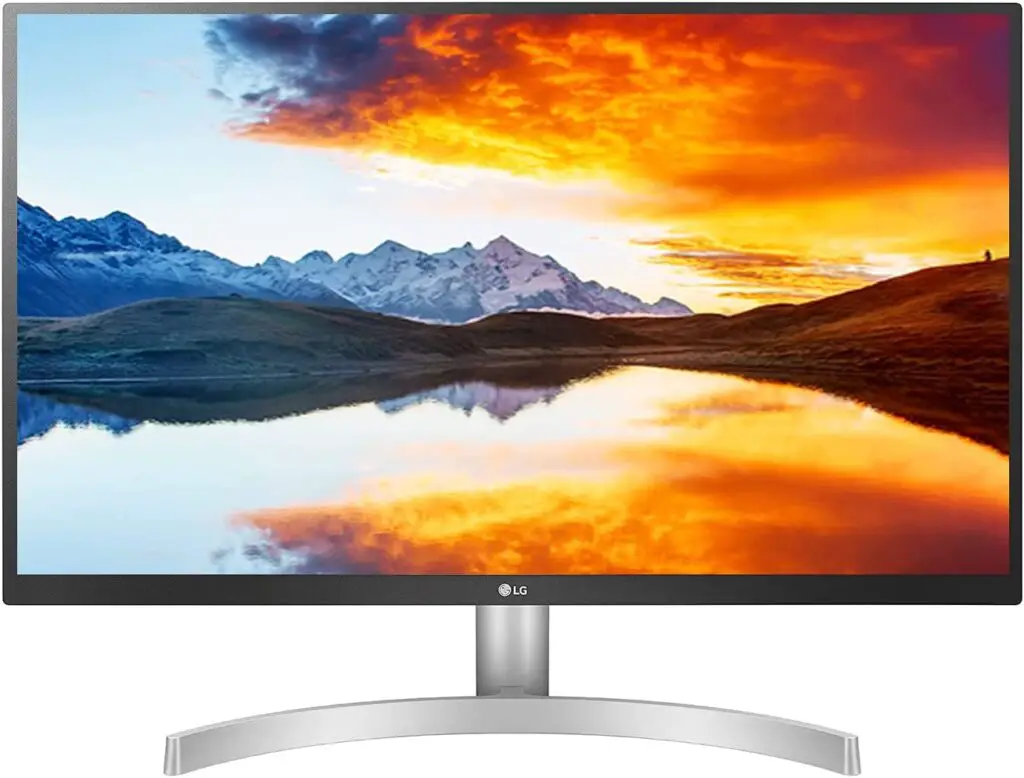 While on sale, the LG 27UL500-W turns into one of the cheapest professional 4k screens out there, but due to its age, it has a couple of drawbacks that could draw people away. If you can find it at around 249 dollars – (its prices right now on amazon) – it is a steal, but you will have to live with the low brightness and thick bezels.
Pros
✓ Crisp Images
✓ Solid out-of-the-box colors
✓ Cheaper than usual
Cons
✘ Dated design
✘ Subpar brightness
After reviewing a number of 27-inch high-resolution monitors, we've come up with the conclusion that, as stated in the Hp U32 post, there is no way around the monitors' typical price range of $350-400 dollars. 
Of course, there are certain variations, such as discount prices and sudden price drops – typically applied to older display sales. And in today's post, we'll examine just this type of screen.
This monitor was first introduced in 2019, and we'll see if it can hold its own against its more recent rivals. We can say in advance that it frequently goes on sale for great bargains. Find out if this monitor is still cost-effective in today's LG 27UL500-W Review.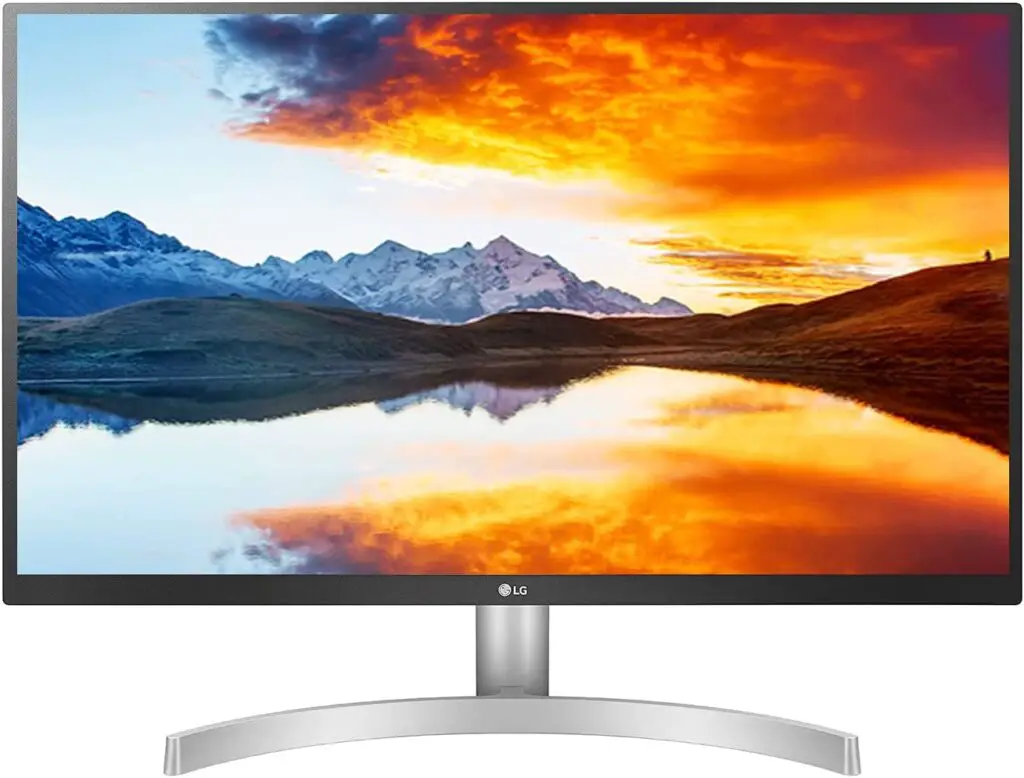 Design
Despite being listed in the low-priced segment, they kept the design extremely sturdy. Compared to a modern screen that is similar to it, such as the: LG 27UP600, there are undoubtedly some differences here and there. 
The bezels aren't really thin; some would even argue that they aren't borderless. Although the 3-sided are thinner than the bottom one, they are still way thicker for the current trend. 
If you only use a single monitor, this might not be a significant deal, but if you intend to use other screens, the bezels' gap could be an inconvenience.
We may use the LG 27UP600 as a point of reference because, although slightly more expensive, it was designed to look nicer, with better materials and narrower bezels. 
However, this one is the lighter of the two, so if your desk has weight restrictions, it might factor into your decision. 
We'll make sure to quickly compare both in the other sections given their similar qualities. In any case, this display uses the three-color design – a pattern that is still present in many LG monitors today. It has a white back, black bezels, and a metallic gray stand.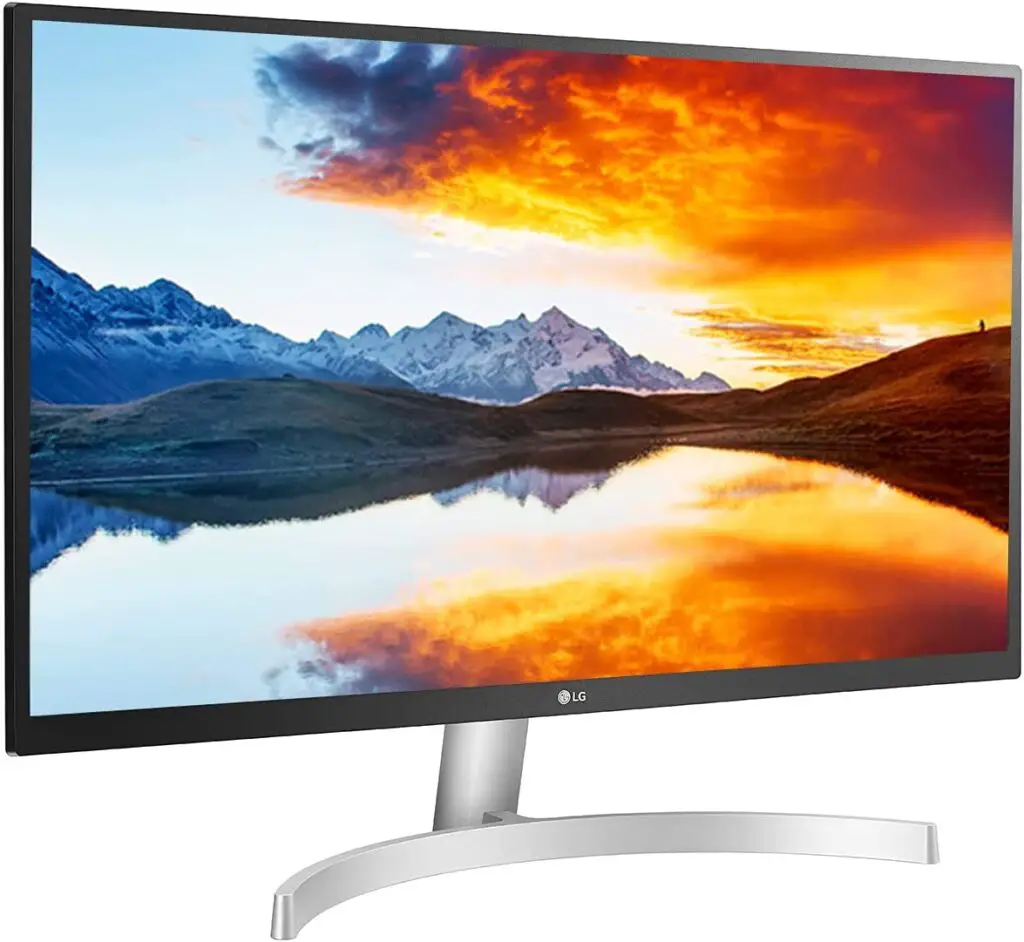 Speaking of which, this stand, sadly, suffers from a lack of ergonomy, featuring merely tilt support. Therefore, if you want additional ergonomic adjustments, you'll either need to utilize a better stand with VESA mounting or spend an extra $50 to buy the ergonomic stand version of this monitor. 
While the LG 27UP600-W feels aesthetically smoother, we also noticed that this monitor's back has sharper details and edges than that one. However, this is purely a matter of preference, and you may prefer it that way.
In the end, even for modern trends, the aesthetics of the LG 27UL500-W are still quite strong. Aside from the thick bezels, it is slim, has a fine overall size, and has good colors, all of which could place it in the professional, office-oriented category.
Connectors
Unfortunately, though, it lacks some USB and USB-C ports, featuring only 1x Display port, 2x HDMI, and 1x Headphone out. Just the same as the LG 27UP600-W.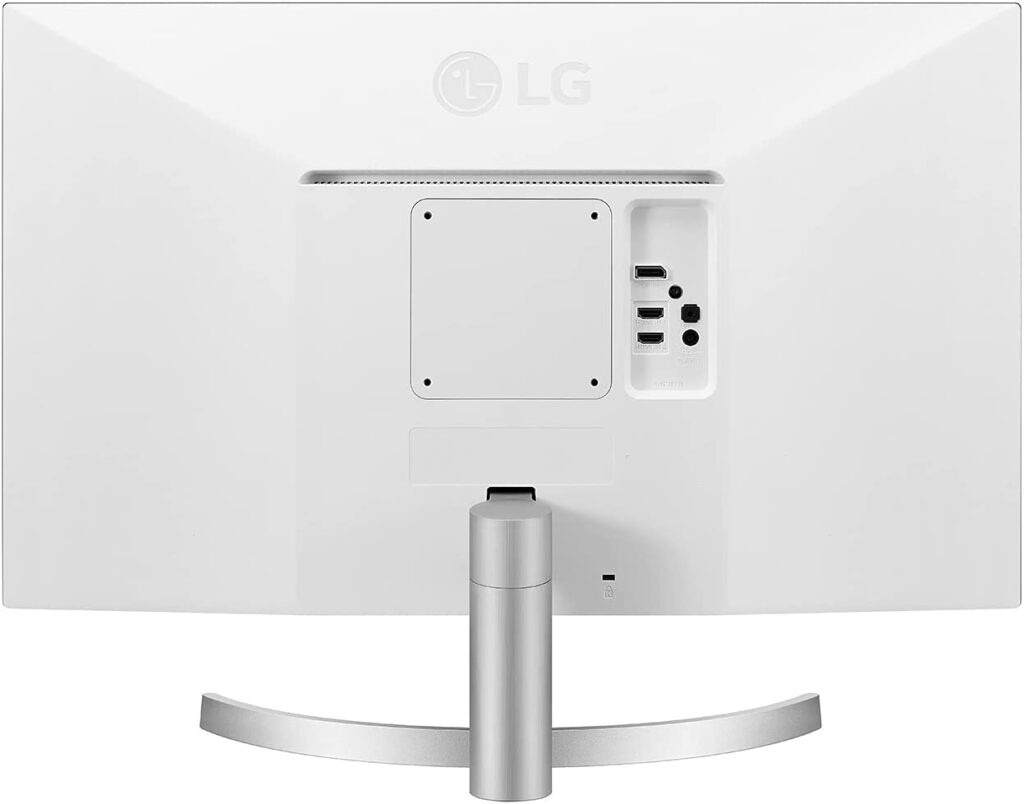 Features
Panel type
This panel's performance was a good surprise to us, especially as this is a relatively old one. We can't deny that there is some room for improvement in terms of gamut coverage and color accuracy right out of the box, but given its age and cost, it's at least respectable. 
In its class back in 2019, this IPS panel was among the best available. Given current trends, we can argue that it has slipped to the mid-high end category, which means that while it is still useful for content creation, it is certainly not the best you can get.
Although the IPS glow on our screen is startlingly high, we can't take it as a definite drawback because it may differ greatly from your unit to ours. However, keep in mind that because of its gray-tinted blacks, this screen is not the greatest to use in a dark room. 
Unfortunately, as usual for IPS panels – especially for elderly panels like this one – the IPS glow is nearly invariably present. Besides, don't expect sharp contrast between whites and blacks; instead, you'll have the typical IPS contrast ratio of 1000:1. 
In spite of this, the VA panels are your best bet if you need to use the monitor in a dark room, as those panels are well known for their deep blacks. The LG 32UN550-W is currently among the best VAs in this price range, so be sure to check that one out if you need a good VA screen. 
On the other hand, the one thing IPS panels do the best is delivering vivid and accurate colors, and compared to a VA screen, this one is still ahead in this regard. Besides the amount of IPS glow, in the end, we can't deny the LG 27UL500-W's panel performed impressively, with surprisingly accurate colors.
Brightness
Unfortunately, the brightness is subpar, and those who use this screen in a bright room may even take that as an understatement.
Although having 300 nits on paper, it performed quite similar to what you will find in modern 250 nits screens. The worse part is, that it even features an anti-glare feature, but that ends up being quite useless, as the brightness is unable to keep up.
With that in mind, we definitively can't recommend this screen if you need to use it across from a window or in a room full of sunlight. 
On the other hand, we can see how this peak brightness may not be everyone's issue, given how, as mentioned, it is pretty similar to a 250 nits screen, and that ratio is still one of the most common to find, especially in cheap screens. 
Due to all that, be sure to put those downsides into balance before making your choice. As this is one of the cheapest monitors in its category, we can at least cut it some slack. 
In the brightness regard, the LG 27UP600-W is definitively your best bet, as it is basically better in every point here. 
Refresh rate and Response time
Here we may find one of the most disappointing features for those who like to play some games. The LG 27UL500-W has good colors and a high resolution, and we can't deny it is good for gaming, even if only casual games. 
On the other hand, it lacks a decent amount of responsiveness and has a significant amount of ghosting due to its high 5ms of GTG response time. That and the low refresh rate of only 60hz are the main hurdles you will have to climb if you need to play some games with this screen.
We can't forget that 4k screens like this one, with some gaming features, like low response time and high refresh rate, are usually costing the earth nowadays, that's why we still recommend the 60hz if you don't want to break the bank and get a 120hz 4k screen like the: MSI MAG281URF.
By the way, if you can live with those responsiveness drawbacks, you'll have the FreeSync feature ensuring tear-free graphics for your gameplays. It goes without saying, if you need a monitor to play competitive games, this is not the one you should aim for. 
Something within the 24-27 inch and 1440p or 1080p with better refresh rate and response time are the most advisable choices, like the: HP X27 and the: Dell S2522HG. 
Besides, given the other features like low brightness, this monitor surely wasn't the best we tested for casual games, so we do not recommend it if you want a monitor mainly to play, as well. 
In addition, this display is more focused on realistic colors than vivid ones. Given its DCI-P3 gamut coverage, the 27UP600-W is your best option if you need vibrant colors.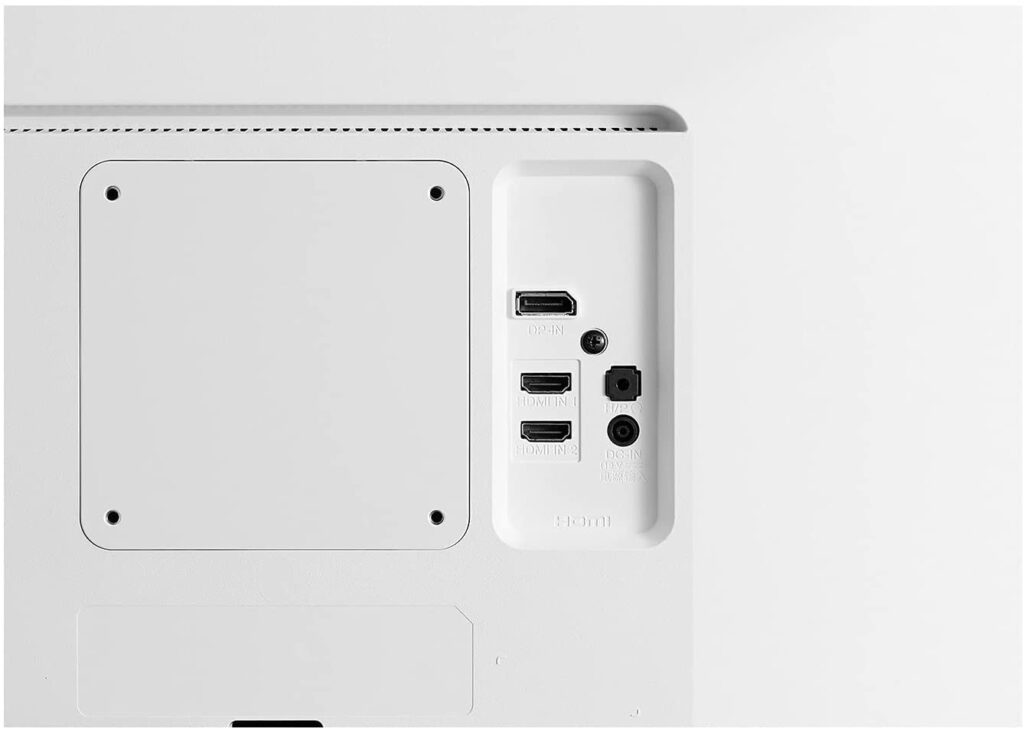 Image Overall Quality
This screen is still a decent choice for individuals who are just getting started in the professional field, despite having a somewhat lower gamut than what is advised for professional media editions.
Due to its 1.07B supported colors and native 10-bit color scheme, it has accurate colors if you calibrate it correctly. In fact, considering it is now on sale for $299, one could even argue that this is one of the least expensive real professional displays available today. 
When we take into account that it provides sRGB coverage, which has a wider application than DCI-P3, the LG 27UL500-W is even better than the 27UP600-W in terms of colors. On the other hand, you may find the LG 27UL500-W's out-of-the-box colors to be colder and drabber than those of the 27UP600-W. 
For the media edition, the DCI-P3 coverage is only a good choice if you work with a program that supports such, otherwise, the colors will be a little off. It is not everyone, but the majority prefer to have some vivid and vibrant colors to play games, and that's why if you're one of those, we can't recommend this one. 
Due to the 4K resolution, the displayed images are crisp to the point it is super hard to spot a pixel from a reasonable distance. Some say the 32-inch is the perfect resolution for the 4k screens, balancing pretty well the size of the pixels, which correlates to the size of the on-screen displayed content, and the sharpness of a higher PPI. 
But instead, this one has 27 inches, which results in pretty small content aside from games if you don't use upscaling. In contrast, things are way sharper than usual, and, at this point, it is impossible to spot a pixel from a normal distance.
Surprisingly, this monitor also supports HDR 10, but that only adds to the prices in the end, given how it barely makes a difference when turned on.
As we always mention, if you really want to have a straight-up HDR experience, the minimum figure to aim for is the HDR 600, but be ready to spend a good premium on it. 
To be honest, we weren't expecting this monitor to perform this well, given how it is relatively old. In the end, it was, in fact, a great choice, and we can go even further by saying this is one of the best 4k screens for those wanting professional screens with reasonable prices.
Final thoughts
When to buy it
As previously mentioned, the LG 27UL500-W is one of those choices you should go for if you need your first professional screen. It has good prices, way better colors, and a high resolution.
It is not the best choice though, if you really need something with high-end accurate colors and features or if you need to have an upgrade from your already running professional screen. 
In that case, you should consider sparing a few – or hundreds – bucks and getter something like the: Dell U2722D or the: ASUS PA329CV.
You may like