Our Conclusion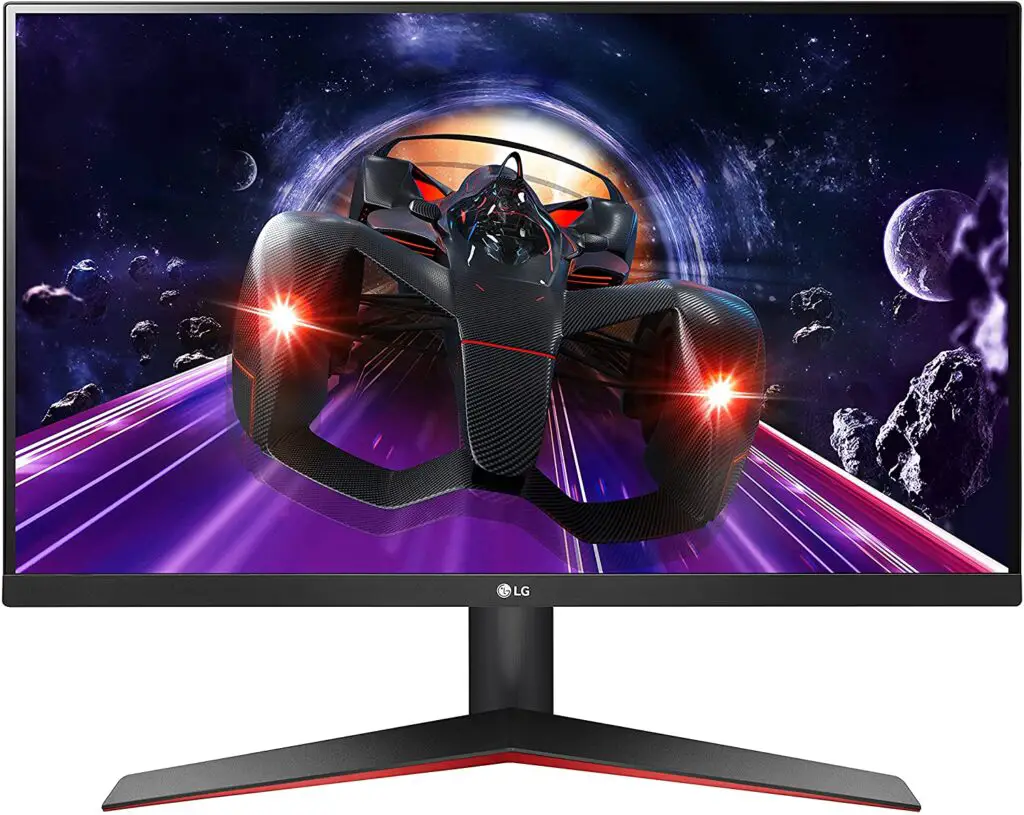 The LG 24MP60G-B is presently one of the most affordable IPS monitors on the market. Aside from that, the 75hz characteristic contributes to good smoothness. All of this combines to make this monitor one of your top options right now. (It'll be even cheaper on Black Friday, so keep an eye on the pricing.)
Pros
✓ 75hz
✓ IPS panel with solid colors
✓ Affordable
✓ Good image sharpness
Cons
✘ Limited stand adjustments
✘ Cheap materials
While looking for the next monitor to test, we came across this incredibly reasonable display with some fantastic features and low costs, which we believe is due to the Back Friday month. 
We examined a professional monitor in the previous post, and it was one of the greatest Black Friday deals. And now, to balance things out, we'll take a look at this casual-focused display to determine whether it meets the criteria for this category. 
If you want a nice gaming monitor to put on the list during this black friday, stay tuned for the next review. Without further ado, let's take a look at the LG 24MP60G-B Review to see whether it's a suitable fit for you.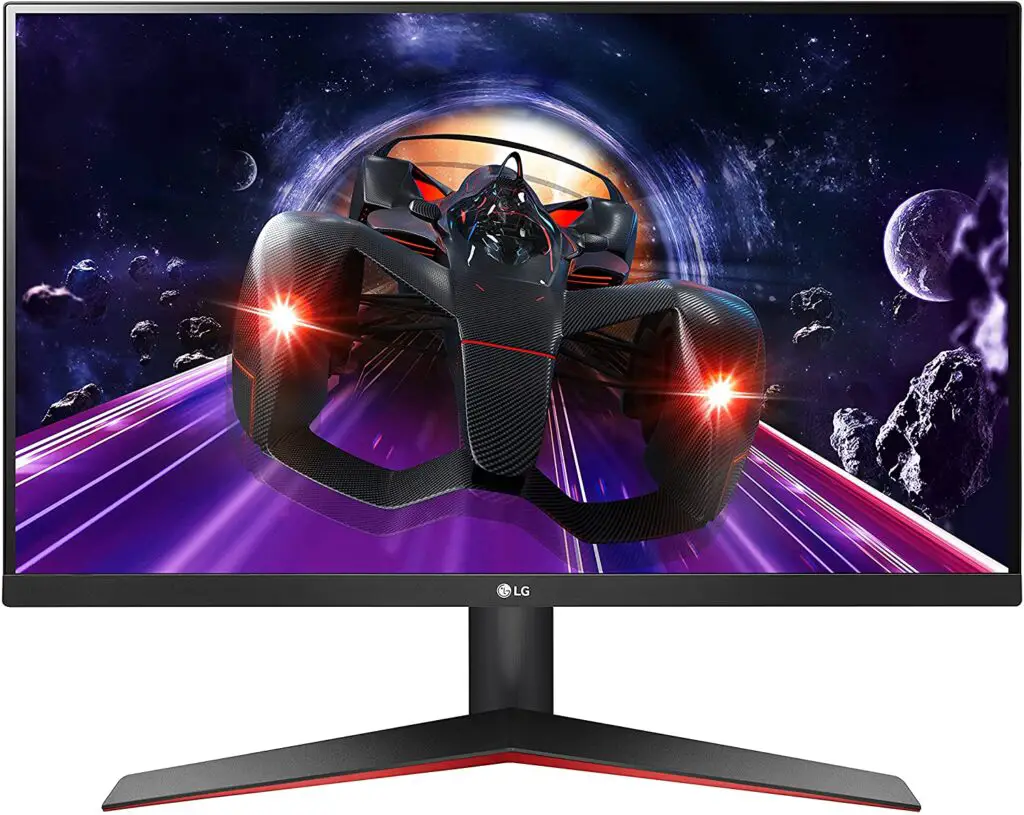 Design
Because it is entirely made of plastic, this monitor does not have a high level of sturdiness. In fact, it isn't really unique, bearing some similarities to the LG 32GP850-B and other LG displays. 
Keep in mind that all of the aforementioned "problems" are due to the screen's limited price range, so we can overlook them. 
This is a 24-inch monitor with some excellent measurements: 21.2 x 8.3 x 16.3 inches. It is not the thinnest LG monitor, but it is still good for a 24-inch monitor. 
Unfortunately, it does not have one of the narrowest bottom bezels among LG's portfolio, but it is still adequate for its overall size. They also chose to use 3-sided borderless bezels, which guarantees that the screen maintains its modern appearance. 
It features a V-shaped stand with red accents and merely tilts as an adjustment, which may be a disadvantage for some users depending on their demands. 
When we glance at the rear of the display, we can immediately tell that they chose to make the monitor's aesthetics as simple as possible, omitting several eye-catching characteristics that are common use in other manufacturers. 
As a consequence, this monitor is an excellent choice for an office environment. In summary, this monitor does not have many flaws in terms of overall aesthetics, which is great for a low-cost model like this one.
Connectors
In terms of connectors, it still does not disappoint, providing you 1x Display port, 1x HDMI, 1x D-Sub, 1x Headphone-out. Of course, if you need USB ports, you may have to spend a little bit more and get a screen like the Lenovo Q24h-10.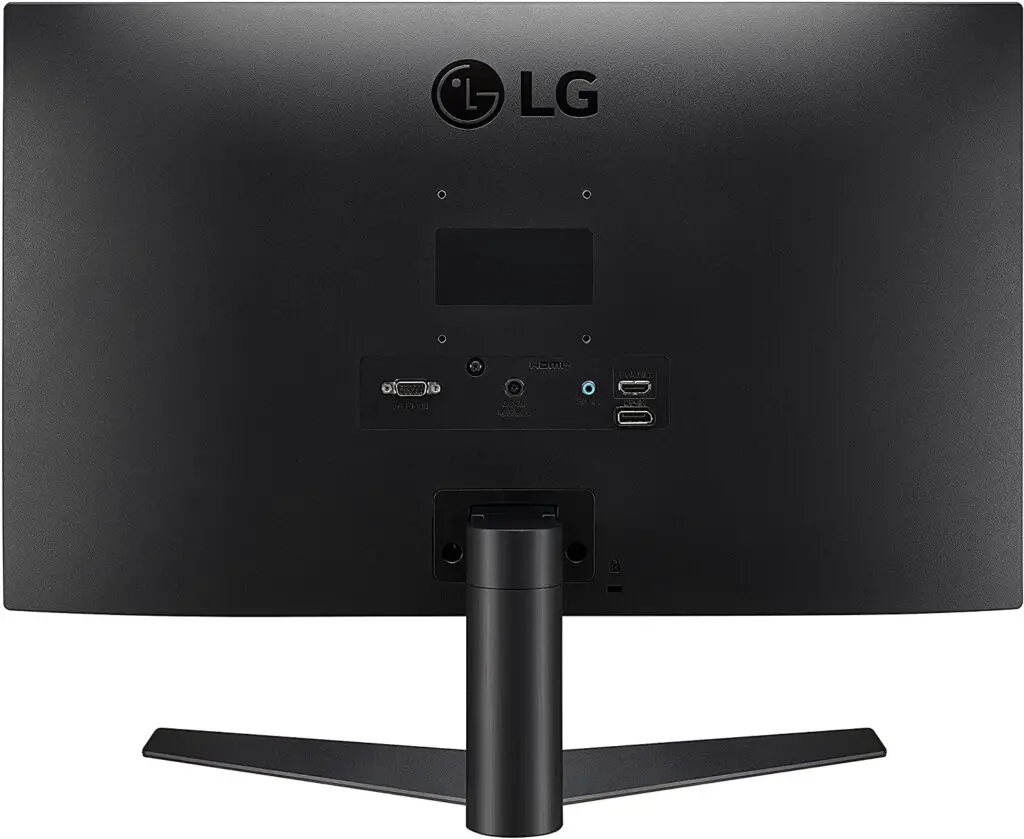 Features
Panel type
One of this monitor's main features is its panel, which is what sets it apart from other displays in the same price range. Although this monitor features an IPS panel, it is an IPS panel for a $150 display, so we didn't anticipate it to perform well.
It's fascinating to observe how panel technology has progressed over time. A few years ago, a low-cost IPS monitor usually offered dreadful colors and a massive IPS glowing. 
The LG 24MP60G-B, on the other hand, offers adequate colors ( we'll see more on that in the image quality section) and a very low amount of IPS glow, giving pretty much what you'd expect from an IPS panel nowadays. 
Of course, this monitor has some flaws that we'll talk about further as we proceed with the review. 
Brightness
Because of the IPS panel and the limited price range, this display is likely to have a low brightness. Unfortunately, this is the case. With a full brightness of 250 nits, this monitor is among the dimmest on the market. 
Indeed, this could've been worse if this monitor didn't have an IPS panel, as the shortened viewing angles of the other low-end panels make them perform worse in this regard. 
Still, this monitor has a good amount of peak brightness for everyday usage, as well as some outstanding viewing angles thanks to the IPS panel. 
Of course, if sunlight strikes the screen while you're using it, 250 nits won't be enough. In this case, a monitor with a brightness of 350 or 400 nits would be preferable.
Refresh rate and Response time
Fortunately, in terms of "gaming" characteristics, this monitor does not disappoint. Of course, we all know that a low-cost display like this won't be able to support gaming features like 1ms MPRT and 144hz. 
Fortunately, low-cost gaming displays are easier to come by this year. As a result, we can say that this is not a gaming monitor, but rather one with some casual functions for everyday usage. 
To begin, it boasts a 75hz refresh rate, which is excellent for casual monitors and provides you with more smoothness than a 60hz screen. 
As previously stated in prior reviews, 60 Hz was more prevalent for casual displays a few years ago, but this has thankfully changed, with 75 Hz now being the new standard. 
On paper, this may appear to have only a little difference, but when you compare the two, you'll notice a significant difference in smoothness. Of course, the difference isn't as great as, say, a 60 to 144hz, but it's still noticeable. 
Aside from that, this monitor features a 5ms GTG response time and a 1ms MPG response time, which helps to eliminate ghosting a little but still falls short of proper gaming displays.
Both of these aspects are quite popular on casual screens. In fact, for casual use, a large amount of response time to eliminate motion blur isn't actually essential. 
Overall, this monitor meets the basic requirements for its category, but it goes a step beyond thanks to the 75hz refresh rate.
The LG 24MP60G-B has Freesync technology, enhancing the image fluidity by reducing screen tearing to a minimum.
Image Overall Quality
Finally, it's time to assess the overall image quality to see whether any compromises had to be made in order to keep pricing so low.
To begin, the LG 24MP60G-B monitor features a 1080p resolution with a 24-inch display, which is a combination that results in a good/solid PPI number, keeping visuals clear and with less visible pixels. 
In truth, the IPS already provides adequate colors for this monitor, but you may adjust it to make it much better. 
It features a basic 8-bit color scheme and 16M supported colors, which is about typical for this type of screen, allowing the IPS panel to make the most impact in terms of color distribution.
It also includes a function that improves vision in dark settings by increasing peak brightness a little, although this would undoubtedly be a better and more acceptable feature if this monitor had a greater peak brightness, since merely 250 nits make a significant difference.
With an NTSC color gamut of 72 percent, this monitor provides somewhat better color coverage than the well-known sRGB 99 percent, at least mathematically, as the variations aren't really evident with the human eye.
It also includes flicker-free technology, which means you won't be distracted by screen flickering, since we didn't observe any during our testing.
All things considered, we can say that this monitor pleasantly surprised us; we expected to find major defects owing to its low price, but it really revealed some solidity in its displayed images.
Final thoughts
When to buy it
If you're looking for a casual-focused display, the LG 24MP60G-B should be at the top of your list. This monitor is without a doubt one of the greatest selections of the year, since it is presently one of the cheapest options with an IPS panel. 
However, it should be noted that it has casual characteristics, so if you want a gaming or professional monitor, the MSI Optix G273QPF or the Dell U2722D may be a better option.
You may like