Our Conclusion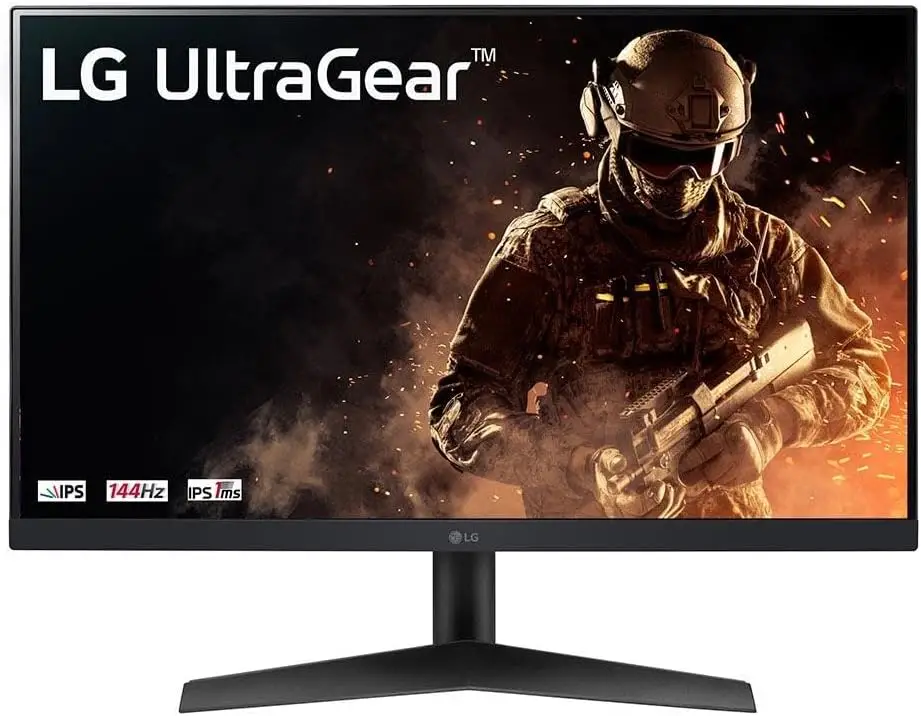 Unfortunately, the LG 24GN60R-B falls short of being the most budget-friendly gaming monitor with exceptional features. It offers average specs, except for its remarkably high peak brightness. If you're seeking an affordable gaming monitor, consider the MSI G2412, which boasts better features at a lower cost. Alternatively, the Dell G2422HS, while slightly more expensive, delivers significantly superior quality features.
Pros
✓ Good peak brightness
✓ 144hz, 1ms
✓ Affordable
✓ Low IPS glow
Cons
✘ Could be cheaper
✘ Lack of vibrant out of the box colors
In our recent review, we delved into the realm of budget-friendly monitors and discovered a true gem on sale – the MSI G2412. This monitor left us genuinely impressed with its outstanding features and affordable price tag. 
Now, stepping into the scene as a strong contender for this coveted spot is the LG 24GN60R-B. However, to truly secure its position, this monitor needs to offer unique features that set it apart from the competition. That's precisely what we're here to explore today. If you're curious to determine if this is the right choice for you, stay with us as we delve into the LG 24GN60R-B review, unveiling its strengths and weaknesses.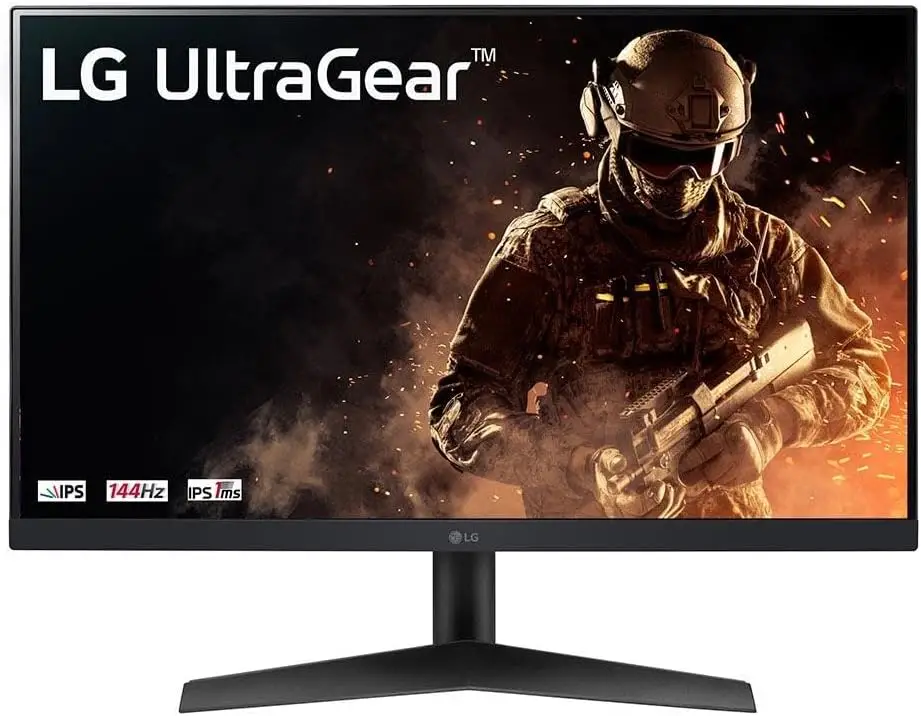 Design
Remaining faithful to its pricing category, the LG 24GN60R-B embraces materials with an affordable appearance, a trait to be anticipated from one of the most budget-friendly options currently circulating in the market.
Interestingly, though these materials might exude a sense of economy, their presence doesn't substantially compromise the monitor's overall visual appeal. However, this choice of materials could render it more susceptible to damage from falls and the gradual effects of aging.
In a comparison with the MSI G2412, the latter unmistakably takes the lead with its sharp contours and an elevated "gaming" vibe infused into its style. Take a glance at both in juxtaposition below: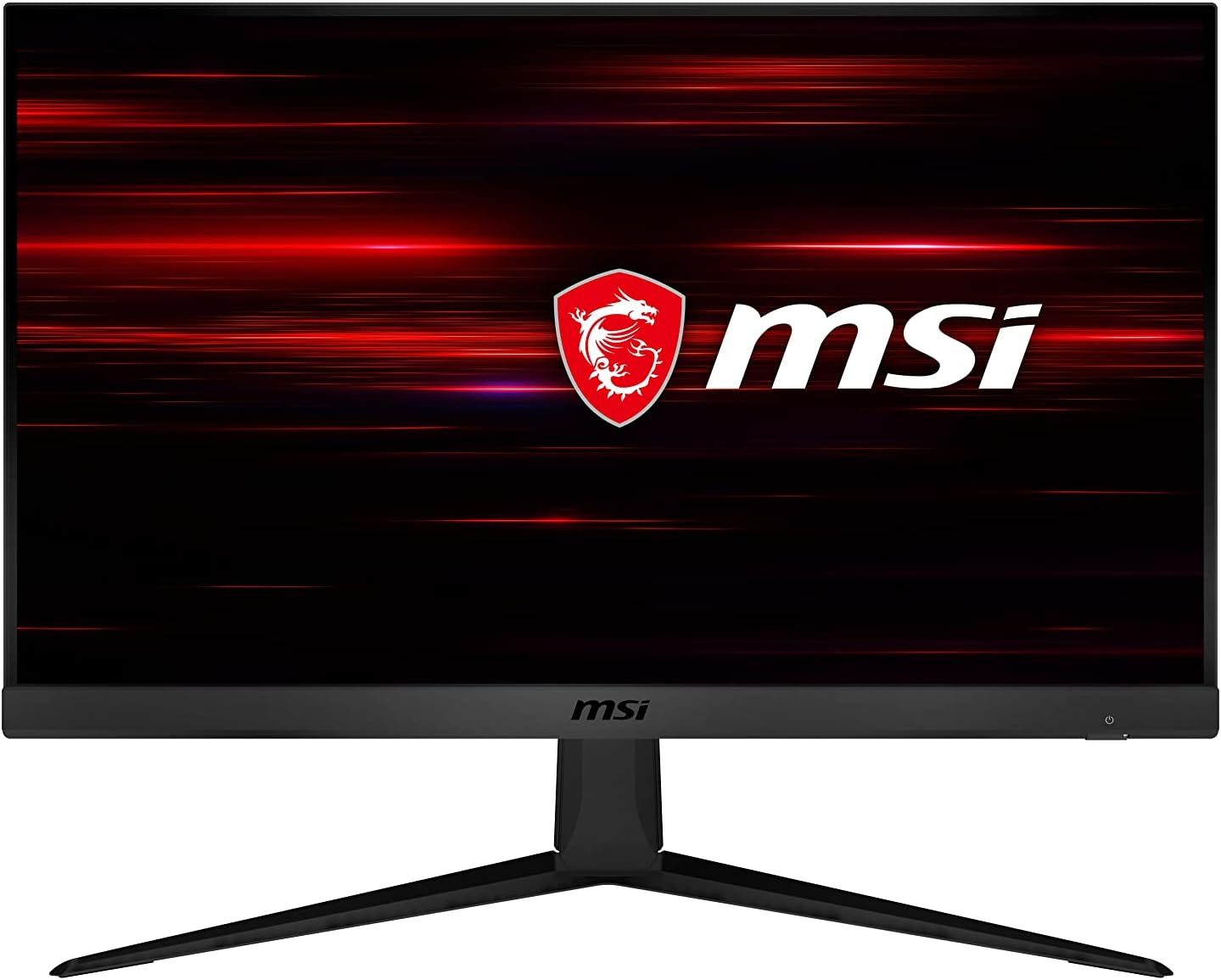 Returning to the LG 24GN60R-B, if there's one design aspect where it manages to outshine the MSI G2412, it's undoubtedly the bezels, particularly the bottom one.
Interestingly, the MSI G2412 seems to have downplayed its lower bezel, resulting in an unusually large size for a 24-inch monitor. Although the three-sided bezels still fall within the bounds of acceptability, they do appear marginally bulkier than the norm.
Here, the LG 24GN60R-B distinguishes itself by featuring an elegantly slender bottom and three-sided bezel arrangement, a step ahead in this regard.
By the way, LG hasn't ventured into groundbreaking design innovations with this monitor, mostly due to its cost constraints. Consequently, it stands far from being unique in any sense. I can readily pinpoint at least four other displays that share an identical appearance with this one, underscoring the monitor's lack of distinctiveness.
However, to balance my critique, I must commend them for their design effort on the rear side. They've retained the classic UG-style logo, albeit thankfully not in red this time, a decision that, in my view, enhances the monitor's elegance by minimizing its flashiness.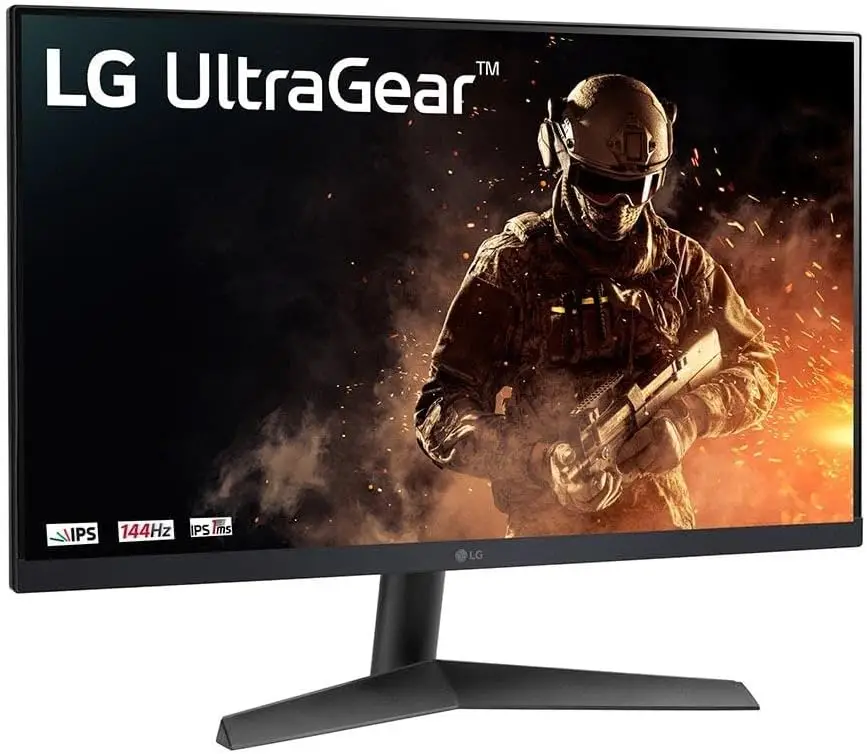 The monitor's stand is somewhat limited in its adjustability, offering only tilt support. Moreover, its V-shaped style consumes a significant amount of desk space, and the top isn't flat, which means you can't place objects on it, further encroaching on your available workspace.
Opting for an adjustable stand might be a worthwhile consideration if enhanced ergonomics are your priority, but regrettably, such stands aren't particularly budget-friendly.
All things considered, this display doesn't boast groundbreaking innovations or standout features that set it apart from the crowd. Nevertheless, it manages the basics admirably, and that's ultimately what holds significance.
Connectors
As expected it doesn't have USB-C or even USB ports, being limited to only an HDMI a Display port, and the usual Headphone out connector. It isn't easy to find a good gaming monitor at this price range with good connectors, but maybe if you're willing to forego a little bit of responsiveness in exchange for the connectors, the Lenovo Q24h-10 will suit your needs.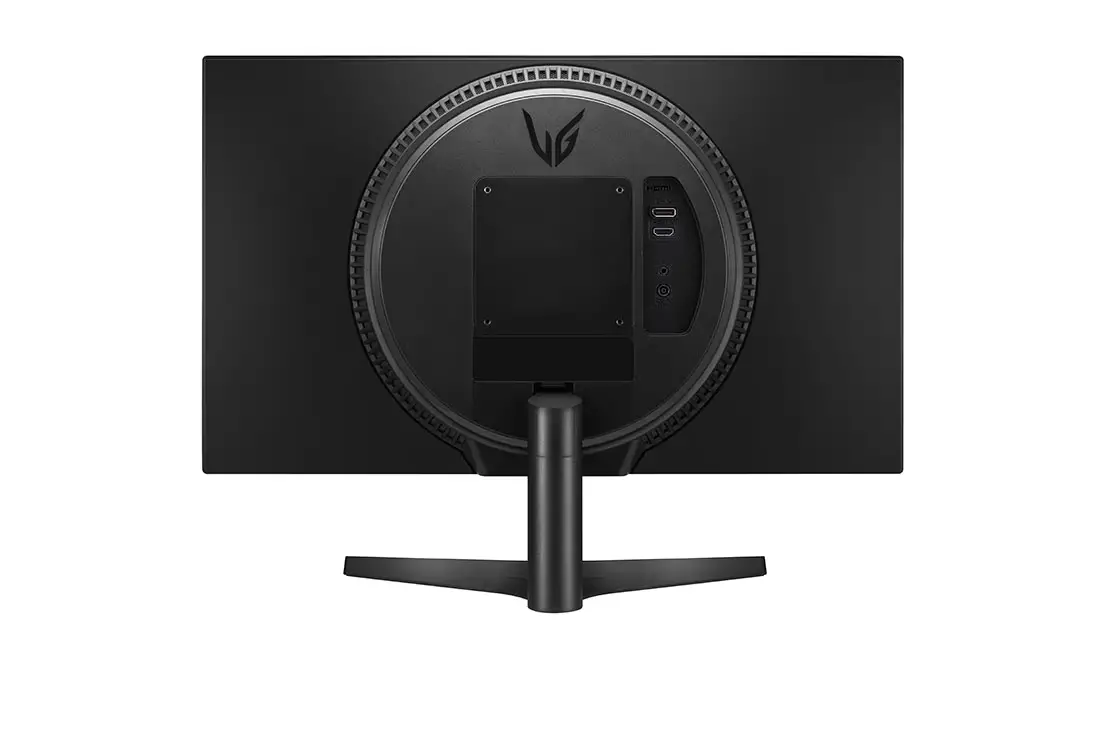 Features
Panel type
In order for the LG 24GN60R-B to claim victory in the competition, it would need to possess distinctive features that set it apart. However, relying solely on its color performance and panel type might not be enough. Not to say that these aspects are subpar, but they fall short of being exceptional.
The inclusion of an IPS panel is a plus, yet its color accuracy falls noticeably behind its competition, even after calibration, owing to its limited color coverage.
Furthermore, the colors lack vibrancy, although this can be improved somewhat through minor adjustments in red and green tones. More details regarding its color accuracy will be delved into in the image quality section.
Interestingly, our unit displayed a relatively low degree of IPS glow. It was so minimal that it prompted us to question whether we were fortunate or if all units shared a similar performance pattern.
While it still proved inadequate for dimly lit or entirely dark environments, it sufficed during daytime usage. Regardless, if your predominant usage occurs in low-light conditions, a VA monitor might be a more fitting choice. However, it's worth noting that VA monitors have their own downsides, such as black smearing and restricted viewing angles.
Brightness
If there's a standout feature this monitor can boast about, it's undoubtedly its peak brightness. It might not be the absolute highest in the market, but it does hold a slight edge at 300 nits.
This level of brightness equips you to comfortably use the monitor in moderately well-lit rooms, maintaining clear image visibility. Nevertheless, direct sunlight hitting the screen proves a bit of a challenge, as its 300 nits aren't quite up to that task.
We battled with glare when employing this monitor in well-lit spaces, even after cranking up the brightness, which made gaming only a barely manageable experience.
Admittedly, in darker settings, the peak brightness was a tad excessive, necessitating a reduction to around 70% for optimal viewing.
Speaking of dark environments, it's worth noting that due to the presence of IPS glow, cranking up the brightness isn't recommended, as it exacerbates the issue. In fact, even utilizing the monitor in a dim room comes with drawbacks, as the edges tend to appear grayed out thanks to the IPS glow, particularly in dark and black scenes.
As previously mentioned, a VA panel is better suited for this purpose, so this consideration is vital. Surprisingly, this level of brightness did confer a slight competitive advantage in gaming, despite not being exceptionally high.
Refresh rate and Response time
Speaking of competitive gaming, let's delve into the responsiveness features of the LG 24GN60R-B. 
While it does tend to stick with the norm once again, we can't help but acknowledge that it managed to pleasantly surprise us in certain aspects in this department.
Starting with the refresh rate, it boasts 144Hz – a pretty standard figure in today's market, with some models offering slight overclocking potential up to around 165/170Hz. 
This refresh rate brings a notable improvement over the conventional 60Hz and 75Hz, rendering images smoother, all the while maintaining the current affordability. It's perhaps the most commonly used rate for budget-friendly gaming monitors today, yet it still falls a bit short of being the prime choice for the competitive realm.
While it certainly delivers a satisfactory smoothness for casual gaming, the most avid competitive gamers might find themselves yearning for the even swifter responsiveness that a 240Hz refresh rate provides, even if it entails a steeper price tag. 
Nevertheless, it's important to note that 144Hz remains more than adequate for the majority of players out there, so don't hesitate to opt for this refresh rate. 
Now, let's delve into the monitor's 1ms GTG response time. 
While this designation is commonly seen on budget gaming monitors, here it actually holds true at a genuine 1ms, which implies superior motion blur management compared to other monitors that sport a supposed 1ms label.
However, the catch here is that this monitor isn't inherently tailored for competitive gaming, where faster motion blur handling tends to hold more significance for professional players rather than casual ones.
During casual gameplay, the reduction in motion blur didn't create a monumental shift, as expected. Undoubtedly, fast-paced games like FPS titles exhibited noticeable improvements, yet we can't extend that statement to every gaming scenario.
In any case, it's worth highlighting that this monitor also offers support for FreeSync, which helps minimize screen tearing and further enhances image fluidity in conjunction with its 1ms response time and 144Hz refresh rate.
Image Overall Quality
As previously mentioned, the LG 24GN60R-B's color performance is rather underwhelming, to put it mildly. Even when factoring in its cost considerations, the colors lack the vibrant quality that one would naturally expect from an IPS panel. 
Post-calibration, there's a slight improvement, yet not everyone can invest in a $300 colorimeter for screen calibration. And even with calibration, the colors won't meet the demands of professionals, so it's best to strike this one off your list if that's your intended usage.
Regrettably, finding a budget screen that meets the color requirements for professional work isn't a straightforward task. The closest option is the Dell U2722D, currently priced at around $300, although it doesn't boast the smoothness of a 144Hz refresh rate. Still, if vibrant colors are your preference, you can manually adjust the red and green tones to enhance image vividness naturally.
Certainly, opting for that enhancement might mean sacrificing accuracy, but it's important to note that this monitor isn't designed for professional image work or media editing. Therefore, accuracy isn't a major concern here. 
The screen offers a moderate level of sharpness, featuring an average pixel density of around 92 PPI. The 1080p resolution aligns well with the 24-inch screen size, ensuring that pixels remain inconspicuous from a reasonable viewing distance. This attribute not only sharpens images but also enriches the gaming experience.
Undoubtedly, a 27-inch 1440p display would provide an even more exceptional visual experience. However, we can't set our expectations too high given the price point of $170 for this screen. 
When considering the overall context, it's unfortunate that this monitor falls short of the mark in terms of having standout features amidst the myriad of budget gaming monitors saturating the market. With the exception of its brightness, it's fair to say that this monitor's attributes fall somewhere in the middle.
Final thoughts
When to buy it
Summing up our assessment of the LG 24GN60R-B in a nutshell, it can be aptly described as "just another member of a vast assembly." Its attributes gravitate towards the average spectrum — from its features to its design, and even its pricing isn't the most economical in the market. If there's a slight edge it holds over the norm, it's in terms of brightness. However, it's worth noting that other screens within the same price bracket, such as the Dell S2522HG, offer better brightness.
Given these considerations, instead of this particular model, I would suggest looking into options like the Dell G2422HS or MSI G2412. Both of these screens have managed to secure positions at the forefront of the budget monitor lineup this year.
You may like