Our Conclusion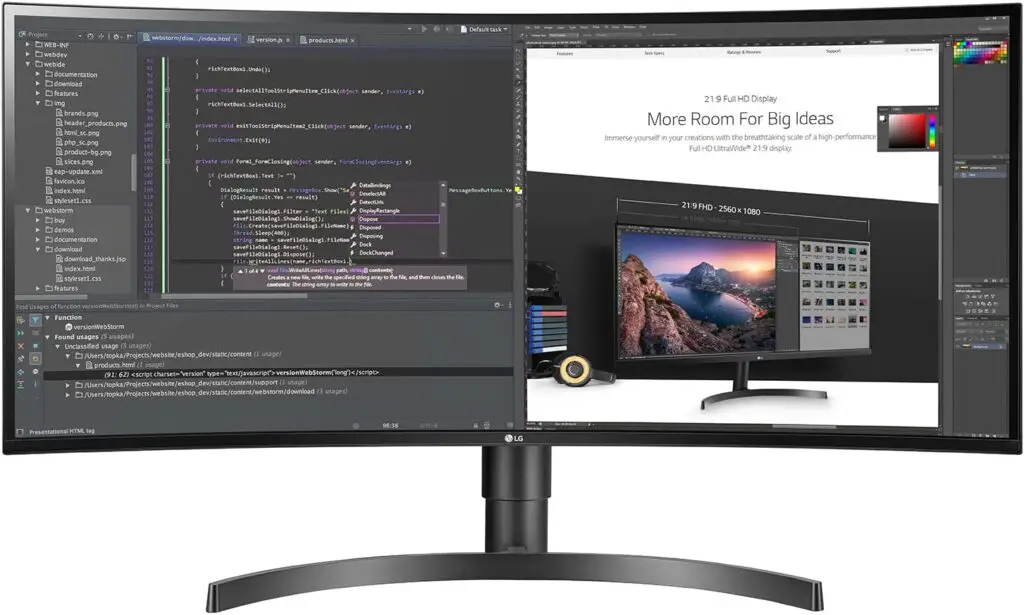 The LG 34WL75C-B is a perfect illustration of what a monitor that has the tagline "not worth the pricing" looks like. It has a poor refresh rate, lacks USB ports, and has a subpar peak brightness, all while selling at around $500. At this price range, you can get the: LG 34WN750-B or the: HP X34 – both are way better monitors in terms of price-to-performance.
Pros
✓ Good color reproduction
✓ Sharp images
Cons
✘ Subpar brightness
✘ Pricey
✘ 60hz
With new high-end graphics cards coming down the pike in December by AMD and the already released RTX 4090 by Nvidia, the high-resolution screens may start to gain popularity due to the absurdly high frame rates those cards can deliver.
Of course, 4k is still the king when we talk about being heavy on the graphics card to rasterize demanding games. But the 1440p of the ultrawide monitors is still up there in terms of quantity of pixels.
The good news for us is that with the increase in demand, not only the prices of older monitor starts to fall down a little, but manufacturers will begin to bring some new screens to the market with attractive prices. The one we have today is still selling at high prices, but depending on the features it holds, I can see it being a huge deal. Knowing that, let's check out if the LG 34WL75C-B is a good screen in today's LG 34WL75C-B Review.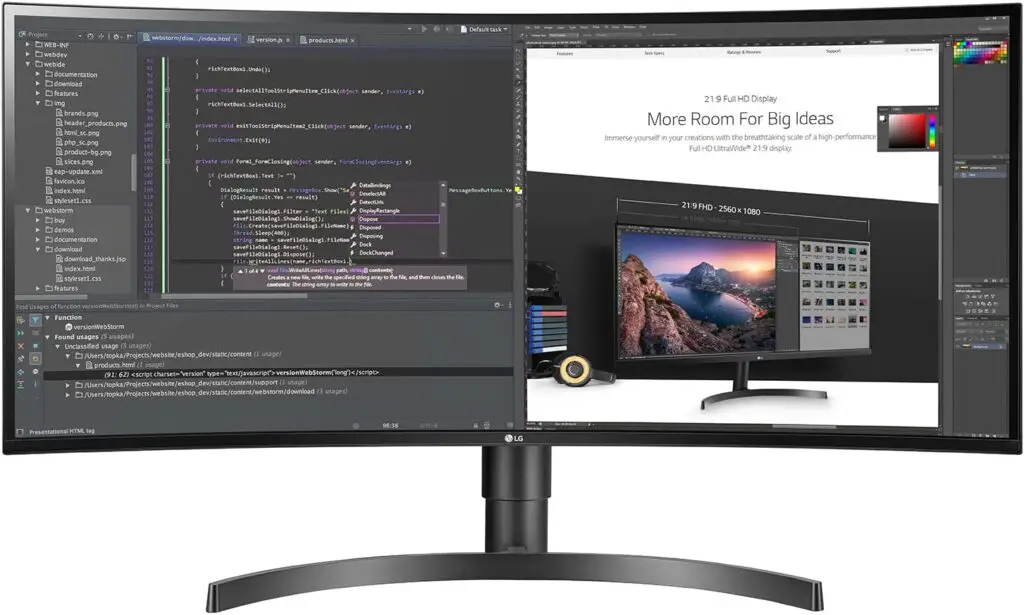 Design
Unfortunately, the bulkiness of this monitor was the first thing that drew our eye. It is a 2020 monitor, yes. And they didn't design their ultrawide screen all that carefully back then. Either that, or they lacked the tools to make it thinner.
The point is, you're probably going to have to double-check the weight that your desk supports, and the available depth space before targeting this screen. However, if there is anything positive to be said about this, it would be the solid construction, which adds to the screen's durability even though it makes it a little heavier than usual.
Of course, you probably won't let it fall anyway, but it's still comforting to have the confidence of safety.
Going back to the main topic, while we understand that this screen's age and its curved style didn't help it to be thinner, we can't overlook this huge stand that engulfs a major portion of the desk's depth space. It is almost comical when you compare this stand to those of LG's more recent screens, such as the LG 34WP85C-B, and you see the discrepancy between the two. 
Knowing this, I advise you to spare some money for a better stand and use the VESA if you dislike the bulkiness of this one or its lack of further ergonomic adjustments like swivel and pivot.
While this stand has tilt and height support, which is sufficient for the majority of customers, there are some that still don't find it to be enough. If you fall into this category and don't want the hassle of buying an adjustable stand and mounting it, you can go for the LG 34WN780-B ultrawide screen, which comes with an amazing stand in the box.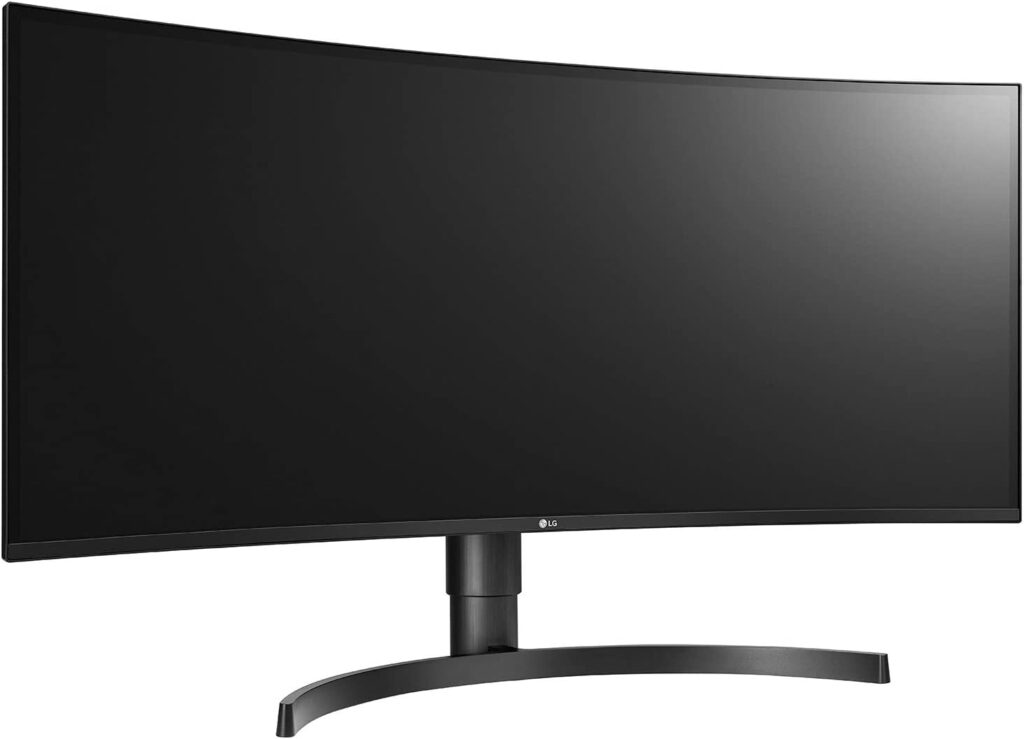 Generally speaking, the LG 34WL75C-B has a pretty decent design. It doesn't have the typical thick bezels of some older screens, but I also don't think the ones we have here can be considered borderless at all. Still, they do the job just fine and won't be a nuisance during everyday use, most likely.
The screen is finished in matte black, which is the standard even today. The best thing about this color is that it is easy to match with others colors of the setup. And the worst thing is that it isn't really innovative, and a monitor with this hue can be viewed as overly mainstream.
In the end, everything comes down to personal tastes, and there's no such thing as color A being better than B.
To wrap things up, we should mention this screen is 32.1″ x 14.1″ x 3.7″ and weighs around 17.6 lbs with the stand and 13.9 lbs without.
Connectors
They could have added some USB ports for a mid-range screen like this, but instead chose to go with the standard layout of only 2x HDMI, 1x Display port, and 1x Headphone out.
If you really require further ports, you should go for the LG 34WP85C-B – a monitor that is similar to this one but with extra ports. 
Additionally, the LG 34WL75C-B lacks external speakers. That said, when we consider the prices of this monitor, such factors are truly a serious drawback.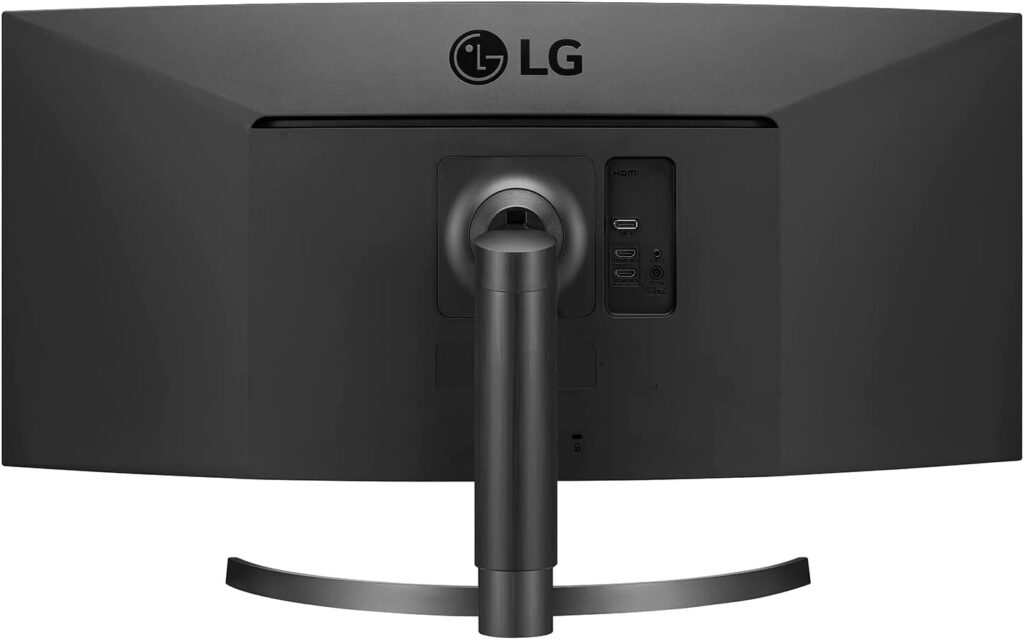 Features
Panel type
It's likely that a VA monitor rather than an IPS would have been used in this display if it were at least $200 less expensive.
Back at the time of this monitor's release, VA monitors were still the mainstream of ultrawide screens, even for high-priced models like this one. 
With a typically good curvature, this type of monitor was supposed to mascarade a little bit of the subpar viewing angles of VA panels. That is why, even today, you're going to find a huge amount of ultrawide screens with the VA panel, especially the budget ones.
That aside, the LG 34WL75C-B has an IPS panel.
The IPS, as we all know, is better in terms of color accuracy and viewing angles compared to VAs. Of course, whether you may find either one better than the other is a matter of preference, as some people tend to prefer the deep blacks and high contrasting of the VAs over the accuracy of the IPS. 
The problem is that this monitor doesn't offer excellent colors like premium IPS displays typically do, which could be viewed as a drawback given its high pricing at the moment. 
In terms of colors, this is still superior to the VA for casual use, but it is still a long way from what is regarded as acceptable for professional use. 
In any case, the colors are rather off-track out of the box but can be manually calibrated to be more vivid or accurate. More on this will be covered in the section on image quality.
Lastly, the viewing angles are also fantastic, which is even more impressive for a large screen like this one. So even though the colors aren't perfect, they won't be hugely affected by changing viewing angles.
Brightness
By the way, the fantastic viewing angles we have here can compensate for the monitor's relatively poor peak brightness. While we wouldn't suggest that a standard ultrawide monitor with 300 nits is bad, we can't let this slide when discussing a $500 screen.
Don't get me wrong; for the vast majority of casual users, the brightness of this display is sufficient. However, the 1% that still needs a little bit more would undoubtedly be disappointed.
If you plan on using this monitor next to a window, you should be prepared to deal with some glare during the day.
Naturally, this brightness is well more than adequate at night; for my purposes, a set of roughly 82 percent was great.
We were surprised to see that the LG 34WL75C-B supports HDR 10, and our anticipation for how well that feature will work has significantly decreased in light of how bright this panel is.
If brightness is a priority for you, you should consider the HP X34 because it has a superior one and is even less expensive. In fact, having a monitor like that one in the market is one of the reasons we are being so harsh with this monitor's below-average brightness performance.
Refresh rate and Response time
This monitor's refresh rate and response time features are just downright bad. There is no even arguing at this point. Right now, it's actually not that difficult to buy a nice screen with a steady refresh rate in the $500 price range. And for whatever reason, this one maintains such high costs while having underwhelming qualities, like a 60hz.
Of course, it's always important to remember that when this monitor was first produced, 60 Hz was the standard refresh rate for ultrawide panels.
The whole point is: the prices don't match up currently.
While testing some FPS games, the sluggish graphics were clearly visible because they were far below 144 Hz, which is the frequency at which things start to get smooth.
Additionally, there was a ton of motion blur, which further reduces the suitability of this monitor for competitive gaming. Because of their size, ultrawide displays aren't often intended for such use, but even in casual games, it was a headache. Naturally, in such games, it will be much more difficult to notice motion blur, but the 60 Hz stuttering fluidity cannot be avoided.
Of course, if you've never used anything higher than 60hz before you may not have a big problem with it. On the other hand, bear in mind that if you're used to higher frame rates, it's probably going to be a big hurdle to go back to 60 Hz.
In fact, there are other things to take into account that can have an even higher impact on the experience such as the resolution and the color accuracy.
And that is just what we'll get into right now.
Before we proceed, though, note that the LG 34WL75C-B has no support for FreeSync or any tear-free feature, so you'll also have to deal with screen tearing on top of all the poor features we mentioned.

Image Overall Quality
One of the LG 34WL75C-B's most outstanding features is unquestionably the resolution.
This 34-inch screen's 3440×1440 resolution produces a PPI of roughly 111, which is only somewhat higher than that of a typical 27-inch/1440p display. It is also more demanding on your graphics card because of the increase in horizontal pixel density, so keep that in mind. However, the visuals become clearer as more pixels are crammed in there.
Nevertheless, this resolution offers even greater clarity than typical 16:9 1440p monitors. Though it comes close, keep in mind that a 4k screen is still superior.
The enormous screen space you'll have with the ultrawide/1440p combination is another positive. The best option is usually to invest in a higher resolution, like this one, if you need a screen to work and need the maximum room feasible for apps and tabs.
Don't misunderstand me; I'm not claiming this monitor is worth $500 or more just because it has a good resolution; if you only need a high-resolution display for work, you could spend much less on something like the HP X34.
By the way, as we've already mentioned, this monitor's colors aren't the best right out of the box. Though I can see it becoming a big thing for media editions with the proper calibration given its high range of 1.6B supported colors.
Simply adjust the blue and green tones, which are slightly off-balance compared to a professionally calibrated screen, if you intend to use it for casual purposes.
This monitor lags behind a few displays that are less expensive than it when it comes to out-of-the-box color reproduction, such as the: LG 34WP85C-B or the LG 38WN75C-B. Consequently, such options may be more appropriate if you need accurate colors but don't want to spend $500 on a calibration tool.
In either case, we have the HDR 10 to bring things to a close with another mediocre feature. Once again, and this should come as no surprise to anyone, the HDR experience with this screen is downright bad.
Even though HDR 10 is already not a solid basis for a positive HDR experience, the LG 34WL75C-B's brightness doesn't even meet the requirements for this feature. If you want a true HDR experience, make sure to choose HDR 600 at the very least, and double-check the monitor's peak brightness as well.
Overall, we can say that with a little adjustment, the colors are good and the resolution is even better, but everything collapses due to the terrible price-to-performance ratio.
Final thoughts
When to buy it
The LG 34WL75C-B, unfortunately, lacks a good deal of features that would've made it a good choice, even with the elevated prices. Right now, it is selling at $720 on amazon, which is just appalling to see, and it's not even a worth-considering deal.
On the LG site, it is at a better value of 500 dollars (compared to $700 on amazon), but it is still too much expensive for what it delivers. To reinforce that, we have the: LG 34WP85C-B, which costs about the same and has way better features, or the: HP X34, which is cheaper but is also better in every way. 
Of course, if you find this monitor at around 400-300 dollars, surely, go for it, but if it's higher than 500, don't waste your money. 
You may like