Our Conclusion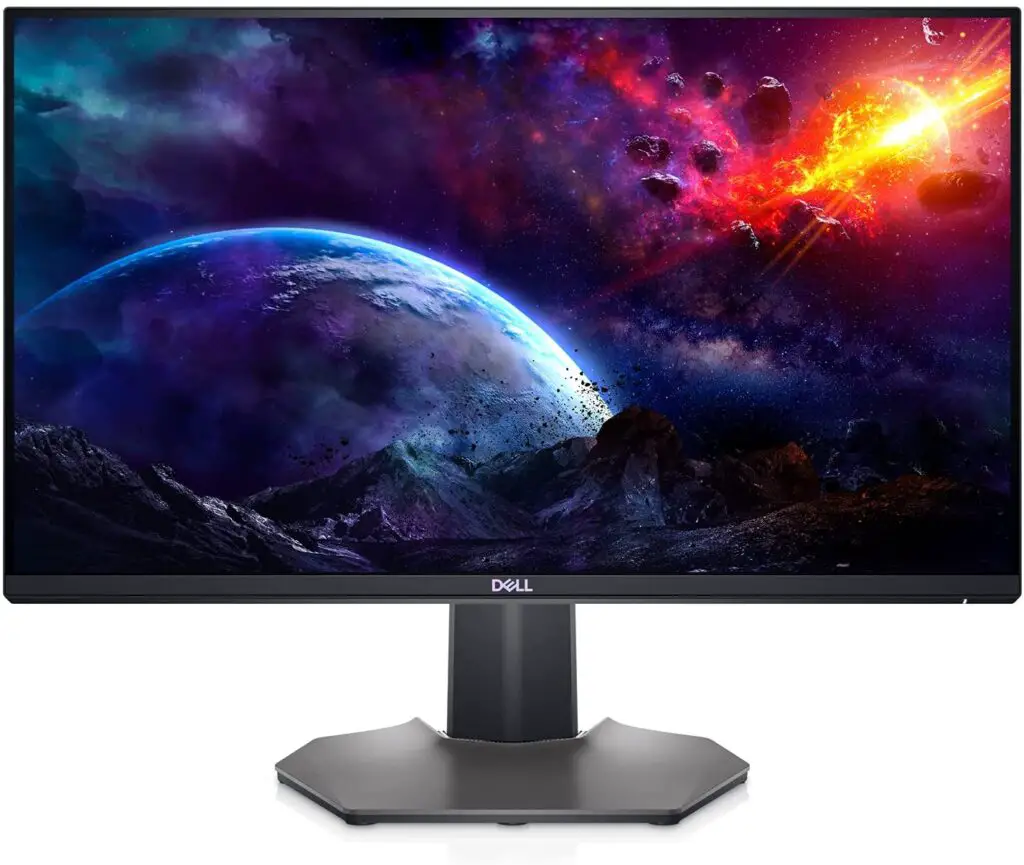 The Dell S2522HG is a new Dell display that is already regarded as one of the top gaming monitors of the year. It boasts fantastic aesthetics and features, like 240hz and fast IPS technology, being both uncommon features to see in the $250-300 price range. As a result, it becomes one of the best gaming-focused choices of 2021
Pros
✓ 400 cd/m2 of brightness
✓ 240Hz, 1ms
✓ Fast IPS Technology
✓ Wide stand adjustments
Cons
✘ Average image quality
✘ Lacks out speakers
We've already covered a number of new gaming monitor releases this year, including the Acer Nitro VG272 and the Acer Nitro XZ270, which are some of the greatest gaming-focused choices.
However, we found that Dell's newer offerings, such as the Dell S2421HS and the Dell P2421D, were focusing a little more on casual and professional features. 
Last month, however, they released the Dell S2522HG, which smashed the competition with its low costs and excellent gaming capabilities. So, without further ado, let's take a look at the Dell S2522HG Review, with all of this display's advantages and downsides so you can decide if it's right for you.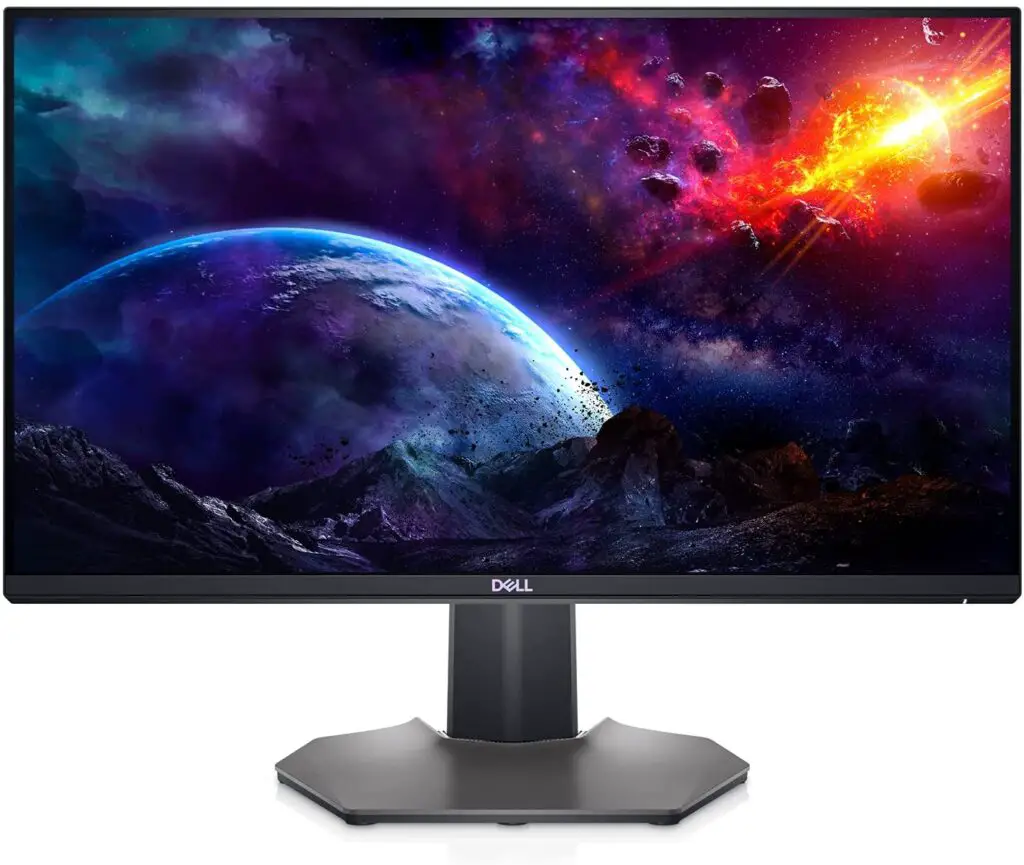 Design
Of all the Dell screens we reviewed, this monitor is certainly in the top three with the most gaming-like design. 
To begin, it uses a 3-sided bezel design with a borderless style, making it appropriate for the modern monitor category. It's also finished in a dark gray pattern, which is a nice change from the usual matte black. 
Furthermore, this is one of the tiniest bottom bezels I've ever seen in all monitors reviewed here. It nicely fits the Dell logo, leaving no unused area. 
Its stand has the same dark gray pattern as the rest of the unit with hexagonal aesthetics and a wide range of adjustments, including height, pivot, tilt, and swivel, which is unusual for a monitor in this price category. 
Looking at the back, we can see that the monitor's buttons are located on the bottom right. This monitor also has VESA support but no speakers, which is to be anticipated for gaming displays. 
In summary, this is one of my favorite Dell gaming monitor designs. It has a current gaming style while yet maintaining the essence of the Dell patterns.
Connectors
One of the main highlights of this display is its extremely diverse port choices, including 2 x HDMI (ver 2.0), 1 x DP (ver 1.2), 1 x USB 3.2 upstream, 4x USB 3.2 downstream, and 1 x Headphone-out.
It's worth noting that both the 2x USB downstream ports and the Headphone out are located on the bottom front bezel, which is a bold move by Dell but offers a nice distinction from other versions.

Features
Panel type
Dell decided to use gaming-focused features for the Dell S2522HG. And they opted not to sacrifice overall image quality in the process.
They were able to combine the outstanding image accuracy of the IPS panel with nice Response time ratios by combining the IPS screen with the fast time technology. 
This technology enables this panel to achieve excellent response times comparable to those of TN panels. The fast IPS, on the other hand, is a feature not frequently seen at this price range for monitors, as they are normally seen in $400+ gaming screens.
To further on the IPS panel, it is without a doubt my favorite and the finest of the three in terms of color accuracy and image quality. On the other hand, it has some drawbacks, such as the IPS glowing and slightly higher costs. 
Some argue that the TN is the greatest option for economical gaming monitors because it is the least expensive of the three. However, I would rather spend a bit more and obtain better color accuracy and viewing angles.
Brightness
One of the biggest benefits of the IPS panel is that when a manufacturer picks it, they don't have to bother too much about the monitor brightness because the differences aren't quite noticeable on these panels.
Dell, on the other hand, chose to maintain quality by using an overall brightness of around 400 cd/m2, which is towards the top of the gaming display category. With this brightness, you won't be bothered by sunlight on the screen, even if you want to play your games during the day.
However, if you find that the maximum brightness is a little too high during the night, you may adjust it to about 80%, which is how I'm now using it.
Refresh rate and Response time
Let's have a look at what this display has to offer in terms of gaming capabilities. I came with high expectations because this is a gaming-focused display, and I'm hoping they'll be met. 
Starting with the refresh rate, this monitor boasts a 240hz refresh rate, which provides incredible smoothness. Some argue that 240hz isn't necessary because the difference between 144hz and 240hz isn't significant, and it can be expensive.
However, in my opinion, the capability of your graphics card to reach those framerates during gameplay is the most important factor, as it makes no sense to use a 240hz monitor with a computer that can only reach 144hz.
The Dell S2522HG boasts a 1ms response time, which is the recommended level for competitive gaming, in addition to the 240hz. Furthermore, this display features FreeSync Premium and G-sync technology, so you'll be able to enjoy no-tearing gaming sessions regardless of your graphics card.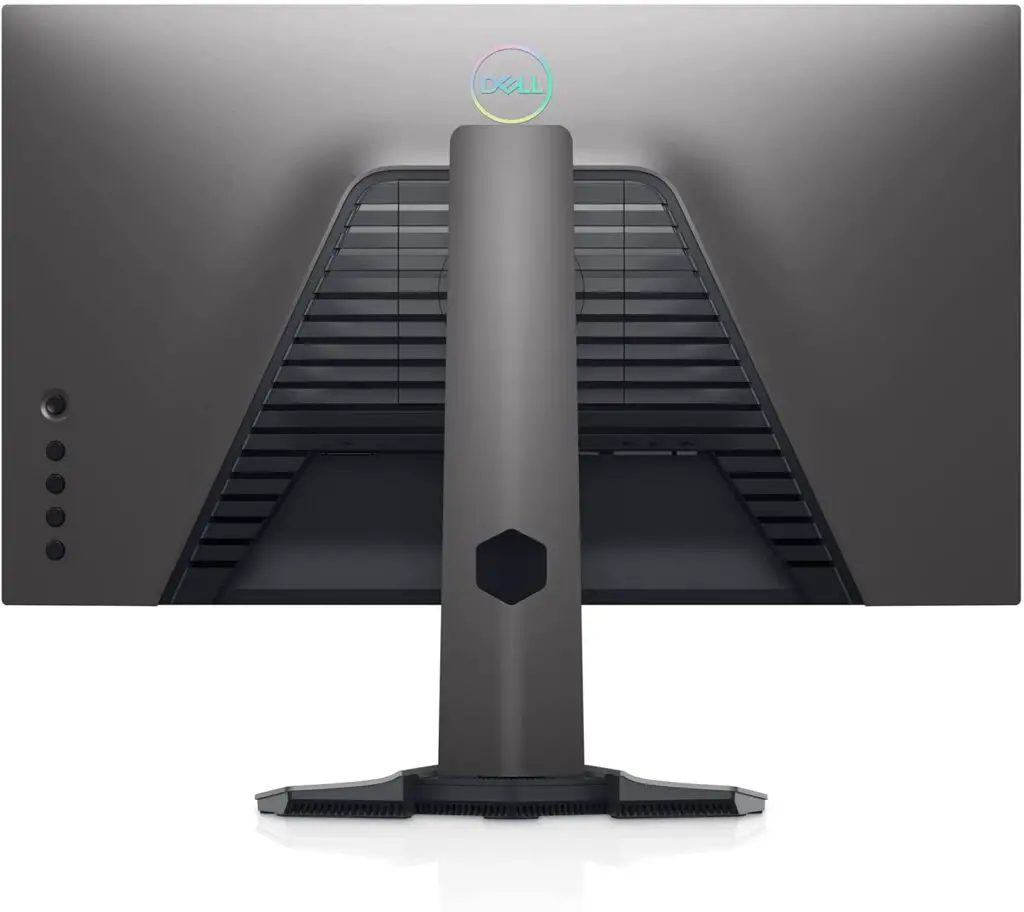 Image Overall Quality
Finally, we'll look at the Dell S2522HG's overall image quality to see if it meets our expectations. Because this monitor is a 24.5-inch 1080p display, it will have average PPI ratios, which will aid to improve the overall crispness of the image.
Aside from that, this resolution is ideal for gaming because you won't need a high-end graphics card to achieve the display's maximum frame rates. 
Aside from the IPS panel, it has nothing unusual for a gaming display, and it meets all of the industry's image quality criteria. It supports 16.7 million colors and is sRGB 99 percent, which is the average for this price range.
About contrast ratio, it has the expected for the IPS screen being 1000:1 of the total. If you need higher contrast ratios, I recommend you opting for the VA panel, which will provide you with around 4000:1 on average.
In general, the Dell S2522HG will deliver the color accuracy of an IPS panel, but it won't be on professional levels of image quality, which indeed matches its prices. 
Final thoughts
When to buy it
If you want a great gaming monitor with awesome response time but don't want to spare the IPS panel for it, the Dell S2522HG is currently one of the best gaming-focused options that will surely meet your needs. 
On the other hand, if you want a cheaper option for a gaming display, you can check out the Acer Nitro XZ270, which has worse aesthetics than this one, but it has almost the same features so that you can compare the prices of both and see which one is the best for you.
You may like