Our Conclusion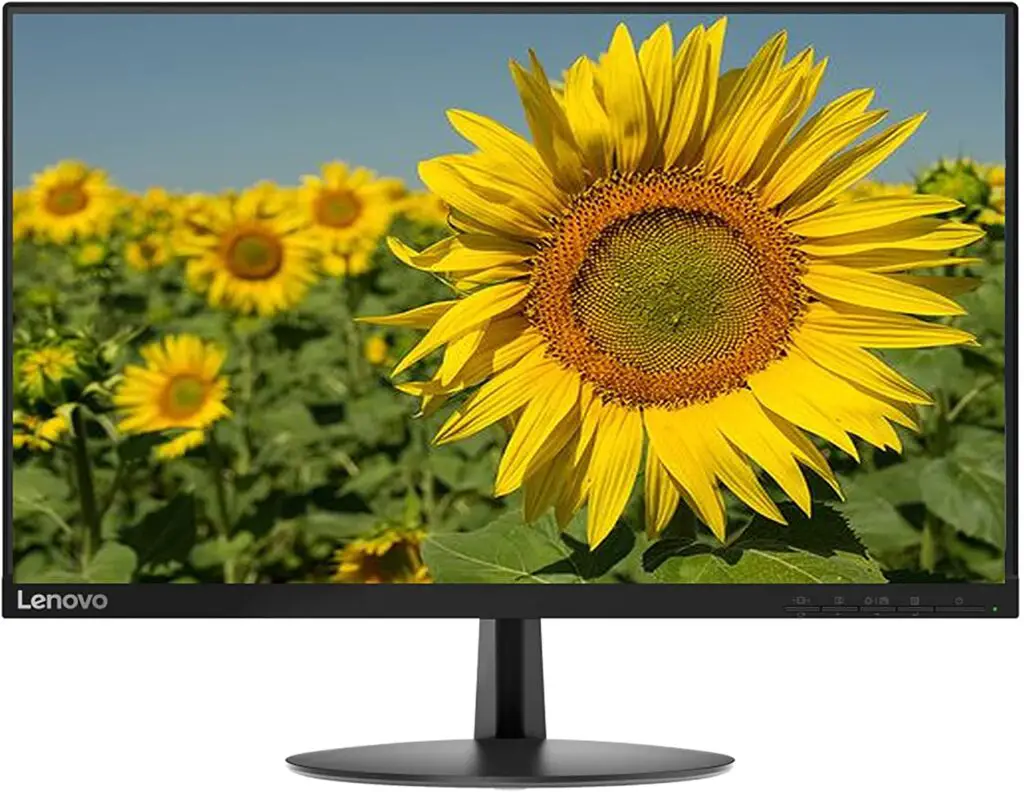 Pros
✓ NTSC 72%
✓ VA panel
✓ VESA support
✓ Affordable
Cons
✘ 1000:1 of contrast ratio
✘ 60hz
We reviewed the Lenovo L24e-30 last week, which was our first Lenovo monitor on the site, and it made an excellent first impression. As a result, we've chosen to look at another Lenovo release for 2021, this time with lower costs but nearly identical casual features.
Although it had some fantastic prices, the previous one reviewed disappointed a little in some areas, so let's see if it will be the same for this one. So, without further ado, let's have a look at the Lenovo D24-20 Review to see if this is a nice release or if they missed the mark.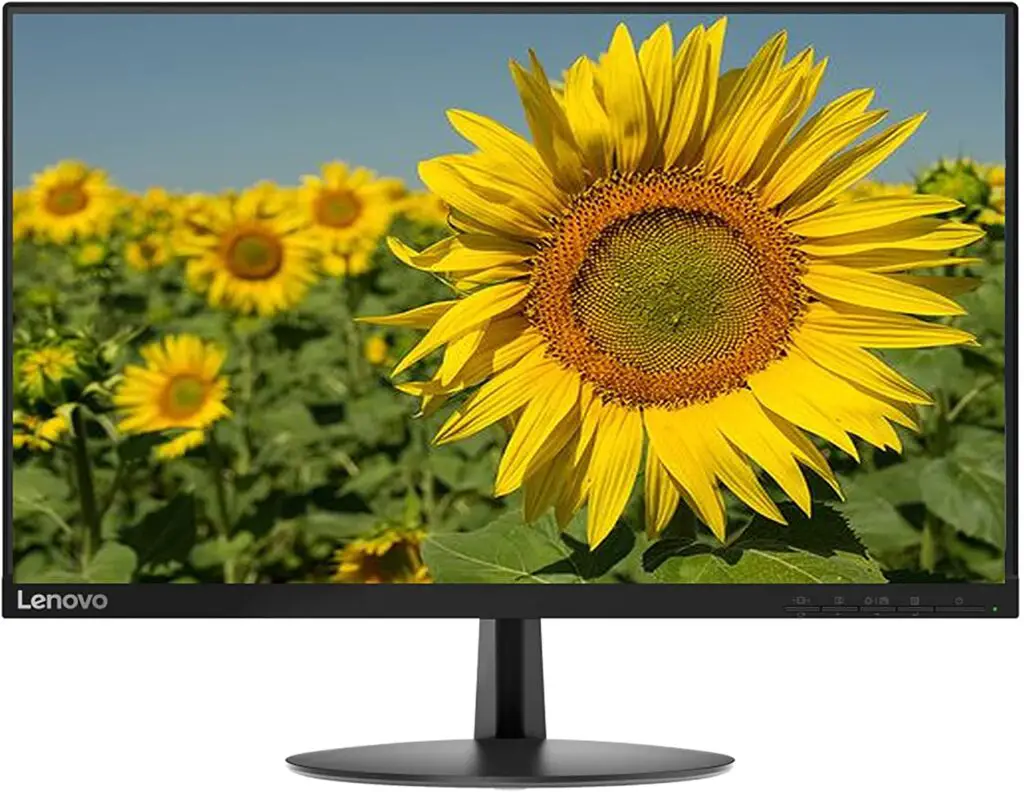 Design
Lenovo's monitor designs are, in my opinion, one of the most unique. They chose to put their logo on the back of the Lenovo L24e-30 rather than on the bottom bezel.
However, for the Lenovo D24-20, instead of using the logo on the middle of the bottom bezel as typical, they decided to utilize it on the left side of this bezel to make it stand out.
Apart from that, it thankfully follows the trend of having borderless bezels for the 3-sided ones, giving it a modern design. Also, the buttons are on the right side of the bottom bezel, which I don't know if this is a Lenovo monitor pattern because it's the same way on the L24e-30.
It has a circular stand with only a basic adjustment: tilt, which is to be expected at this price point. Going all the way back, we can see that it supports VESA, which is a huge plus if you need to mount it on the wall.
The rear of the L24e-30, in my opinion, is a little better designed than this one. It's also worth noting that it's not as slim as the L24e-30, and it costs a little more, therefore this monitor hasn't proven to be worthy thus far. But the review is just beginning, so let's see if this monitor will surprise us with its features.
Connectors
Finally, when it comes to connectivity, this monitor offers nothing unique, with 1 x HDMI 1.4, 1 x VGA, 1 x Audio Out (3.5mm), and no out speakers.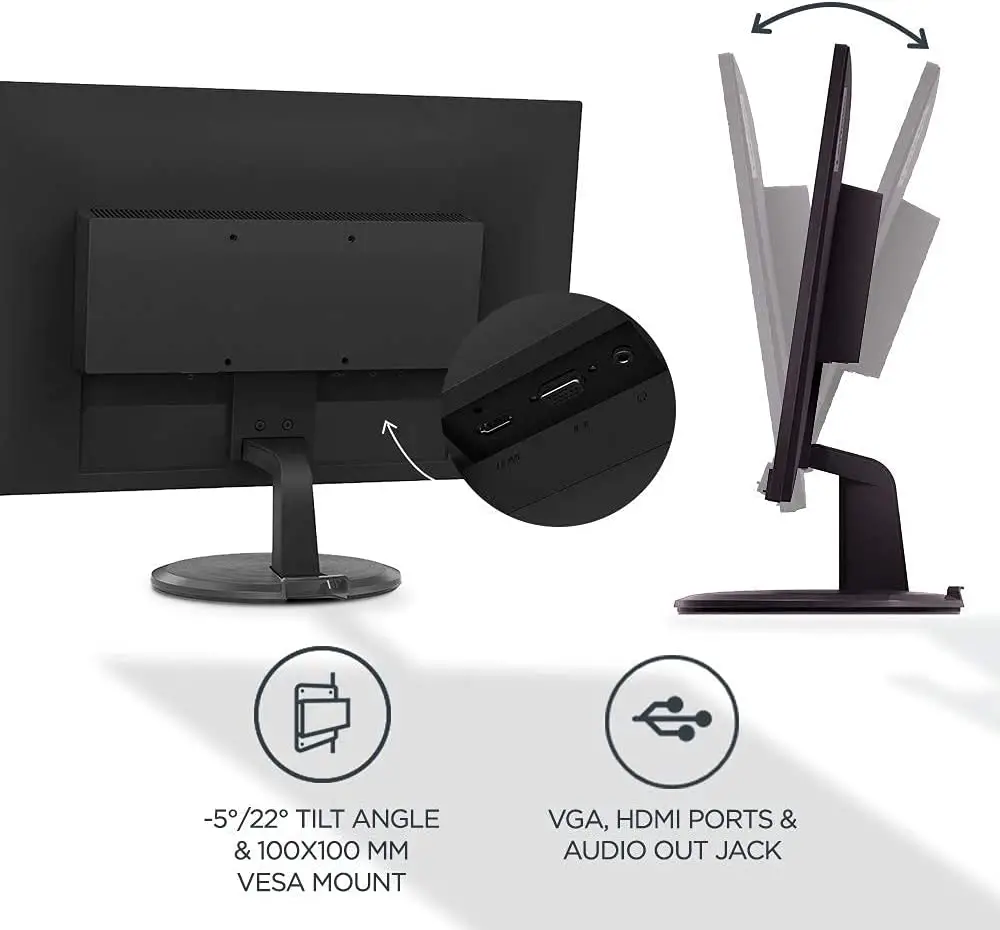 Features
Panel type
Lenovo has selected a mid-range panel type for both displays. That was not my cup of tea. Despite the fact that the VA panel is still well-balanced in terms of image quality and affordability, it still has poorer color reproduction than an IPS display, especially in low-end models like this one.
Nonetheless, it is currently much easier to obtain an excellent IPS display at a reasonable price, such as the Acer K243Y and the Dell S2421HS. The VA panel, on the other hand, is ideal for those who value color contrast above color accuracy.
Another advantage is that this screen does not have the same IPS glow as the IPS panel. When it comes to image quality, you'll get similar results as IPS, although not quite as good.
Brightness
Furthermore, if they choose to utilize a VA panel for the display, they must place a greater emphasis on overall brightness, as the differences between brightness levels are much greater on VA panels. 
Even knowing that if they intended to keep the display's price low, Lenovo had no alternative but to use only 250 cd/m2 nits of full brightness.
As a result, if you use your computer during the day and the display is exposed to sunlight, this monitor is not recommended. Again, you can get monitors with similar pricing and better brightness, but models at the same or lower prices are extremely difficult to come by.
Refresh rate and Response time
When it comes to a $150 casual display, we can already anticipate a standard number of gaming features. As a result, it's unsurprising that this monitor merely has the typical number for low-cost casual screens. 
It has a response time of 5ms, which is adequate for casual use but insufficient for competitive gaming. Still, if you're not planning on playing FPS or other similar games, this feature isn't something to be concerned about.
Aside from that, this monitor only has a 60hz refresh rate, which makes a significant difference even in everyday tasks, resulting in less smoothness than a 144hz screen.
To sum up, just because this monitor lacks gaming capabilities ideal for competitive gaming does not mean it is unsuitable for casual gameplays.
Even so, if you prefer a faster refresh rate, the Acer Nitro XV240Y is one of the most cost-effective options of the year. Now let's take one more look at the overall image of this monitor to see if it will give a nice gaming experience for you.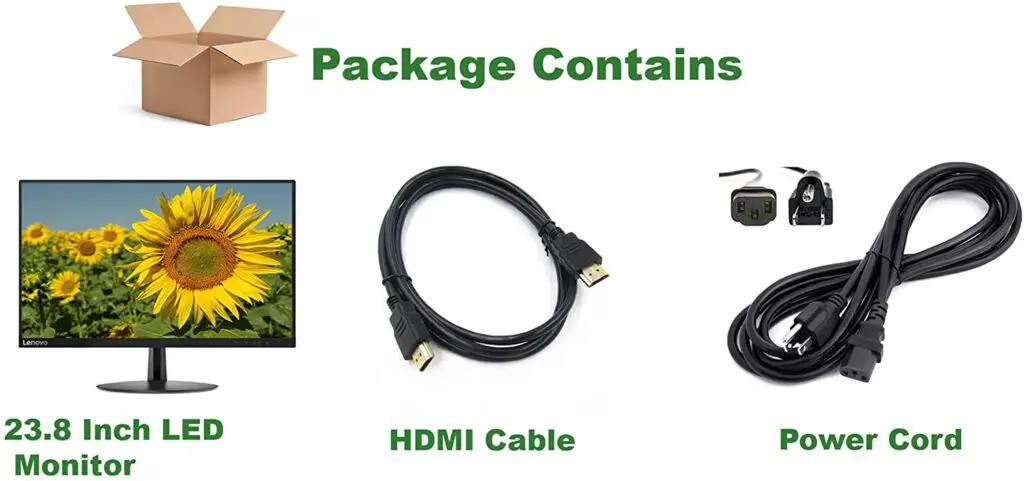 Image Overall Quality
The first advantage I'd like to bring out is the D24-20's color gamut of 72 percent NTSC, which, although not a tremendous difference, is nevertheless slightly better than the usual sRGB 99 percent. 
Aside from that, for a 24-inch display with Full HD resolution, it has a good PPI number. As a result, it's quite difficult to perceive pixels on the screen, resulting in clean graphics that aren't quite as good as 1440p. 
However, not everything is flowers, and this monitor only has a 1000:1 contrast ratio, which is not a frequent pattern for a VA screen, resulting in an average IPS panel. 
So, if you need better-contrasted images, the L24e-30 is the one to go. About the remaining, it features the standard 16 million supported colors and 8 bits of color depth.
Final thoughts
When to buy it
If you need a good casual display and want to spend your money with a good VA casual display, do NOT go with the D24-20, instead, I recommend you the first reviewed Lenovo monitor on this website L24e-30, which has better features and prices, and if this isn't enough, it has better aesthetics as well. 
You may like