Our Conclusion
The Asus VG289Q1A is still one of the finest in terms of costs and feature balance even though it was released over 3 years ago. It is one of, if not the cheapest 4K monitor available. If that wasn't enough, the other qualities it offers are equally as capable. Still, depending on your needs, you can spend a little bit extra for better speakers and ports on the: LG 27UN850-W.
Pros
✓ Awesome crispness
✓ Great price-performance
✓ Good brightness
Cons
✘ 60hz
✘ No USB ports and speakers
Today, we're checking out one of ASUS's early attempts to classify one of their new TUF line models as a mid-range "professional." It ultimately led to one of their current portfolio's least expensive high-resolution models.
The placement of this monitor in the TUF series, which is known for having gaming monitors as its majority, is what's most intriguing about it. In a perfect world, it would include some gaming functions as well, but that is quite improbable for a monitor of this price range. Enough blathering; let's get to the ASUS vg289q1a review so you can decide if it truly is the display you've been looking for.
Design
At first glance, it looks exactly like almost every other mid-ranged TUF monitor. However, there are a few changes here and there when we glance at its back.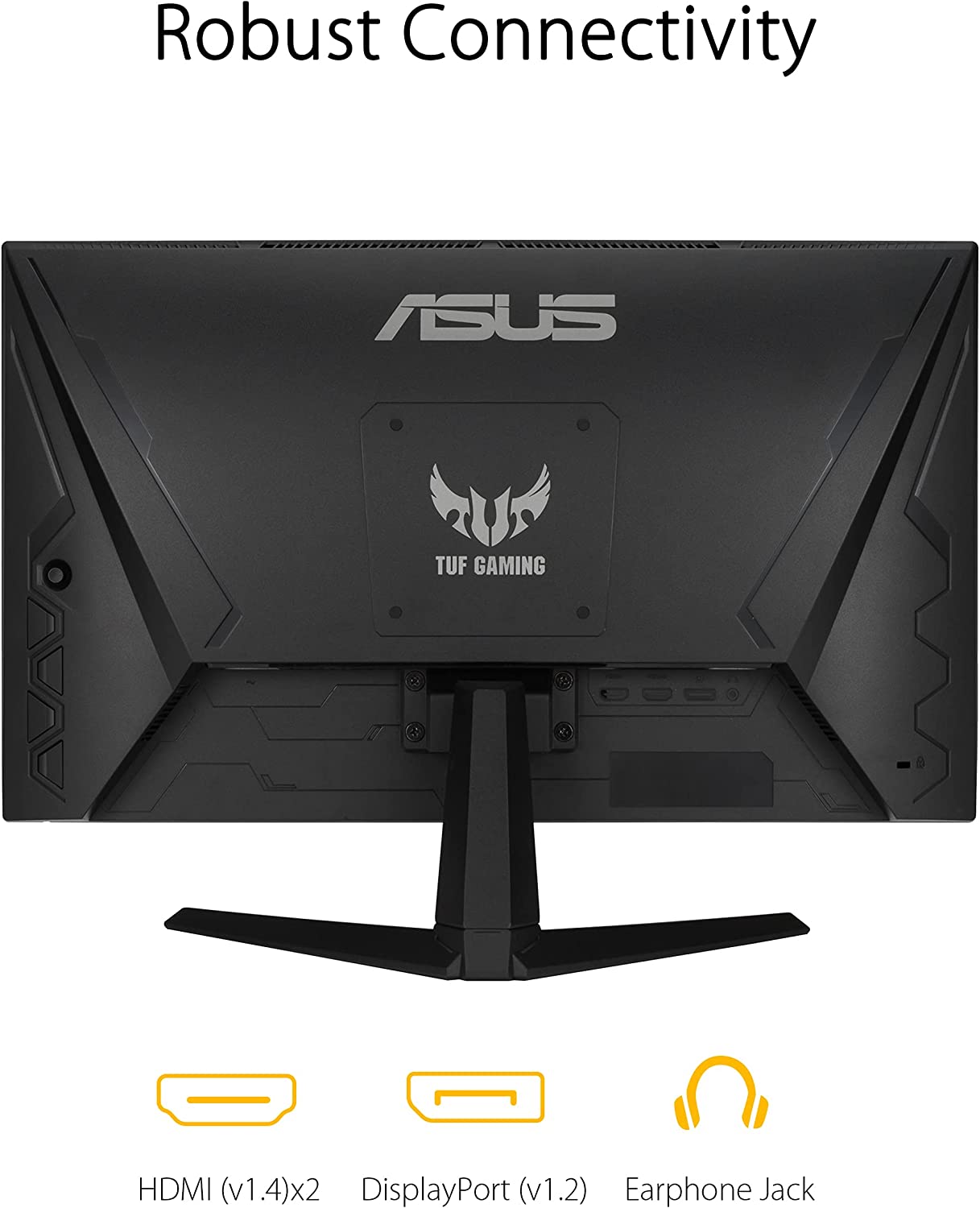 As you can see above, we have one of the newest TUF monitors on the image on the right, and the Asus VG289Q1A on the left.
Although preferences might differ greatly, in my opinion, the one on the left doesn't even come close to the other one in terms of aesthetic appeal.
At this point, I'm starting to think that there is some kind of a tendency here since I dislike the rear design of almost every old monitor regardless of manufacturer.
That aside, it is nice seeing how they improved over time. In fact, the looks of the display's back are not all that important, but it is good to take note of anyways.
Having said that, things are really in line with current trends when it comes to its front area, which is typically where the design truly matters.
Every time an "old" monitor like this one boasts some borderless bezels, we can already predict that it's going to have good features. The Acer ED273UR and the Asus VG32VQ1B are clear examples of such theory.
The bottom bezel isn't really that thin, though, but the slim 3 sided ones easily make up for that. Apart from the benefit of looking good, those bezels are way better suited than the full-sized for multiple monitor setups. In fact, practically every mid-range to high-end monitor on the market today has this feature, which makes it simple to pass off an older monitor like this one as a more contemporary one.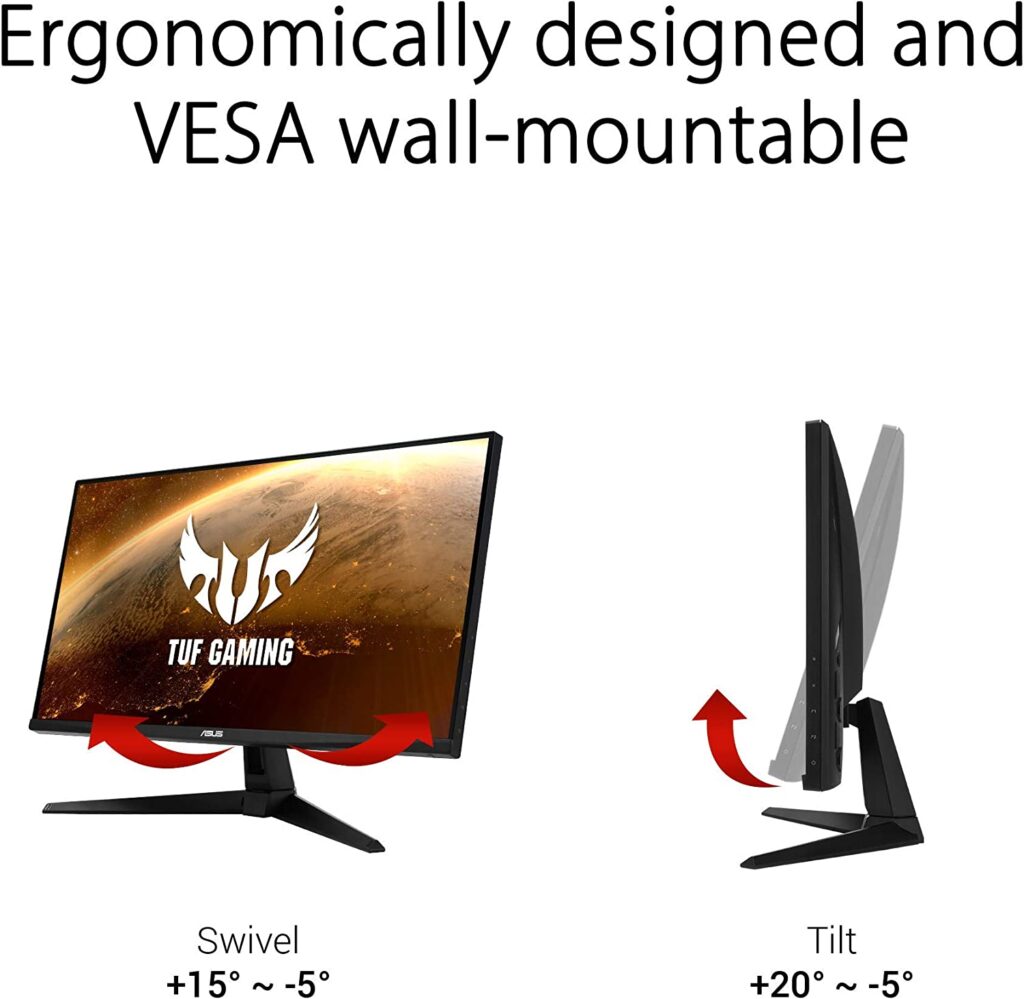 Of course, it is not all good – there are a couple of drawbacks to it.
First, this tilt-only stand does nothing better but consume your precious desk space, so if you need better adjustments, maybe an adjustable stand is preferable to include in the cart as well. 
Second, we have the subpar out speakers, which are more of a backup plan than a speaker in and of itself. The problem with the speakers is that, despite their lack of loudness, they produce a radio-like sound from the 1990s.
Seriously though, if you need proper out speakers, this is not the monitor for you, and maybe the: LG 32UP83A-W is better adequate for the job. 
That all said, I think this is what there is to say here. It has the usual matte black color, the "gaming" patterns on the back as usual, and it looks like a recent model if you look just at its front part. 
Connectors
Once again, this is one of the cheapest TUF professional screens, so it is only natural that it doesn't have the widest selection of ports, including only: 1x DisplayPort 1.2, 2x HDMI(v2.0), 1x Headphone out.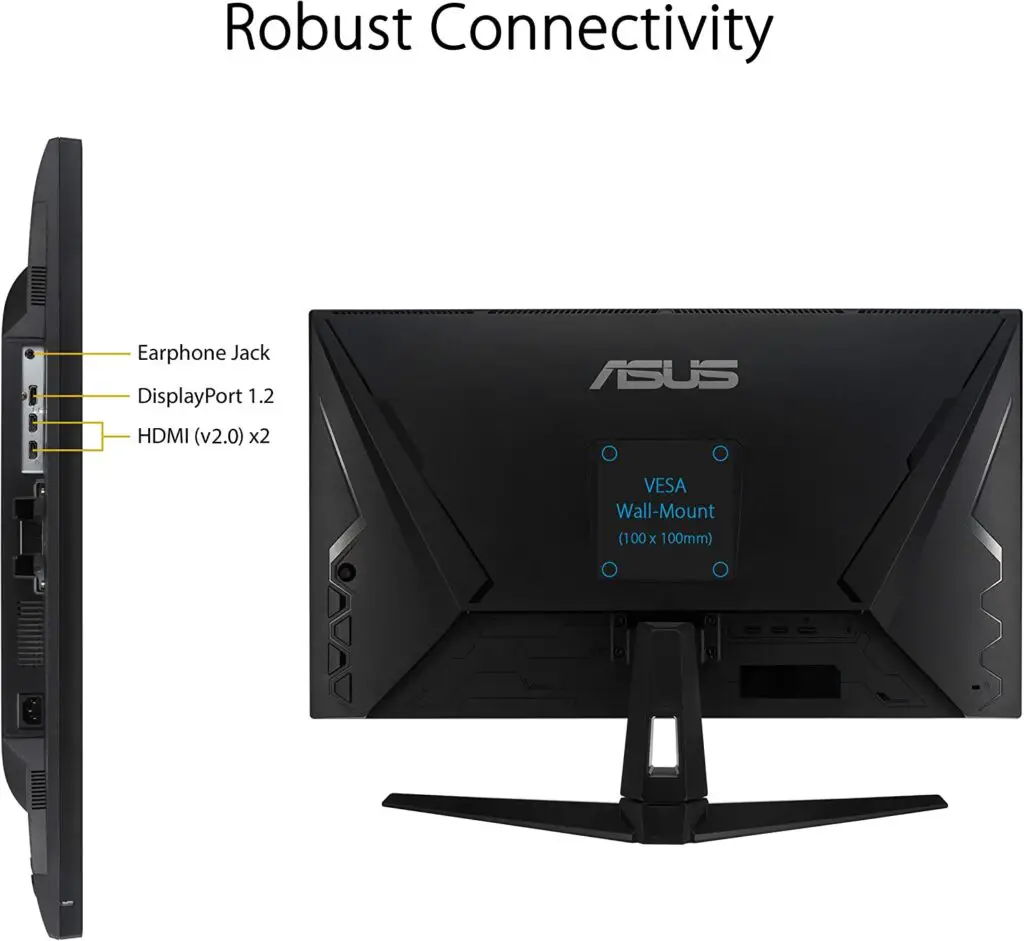 Features
Panel type
As every other professional monitor that can be categorized as such, it boasts an IPS panel.
As we all know, although having its own downsides, this panel is definitively one of the favorites right now – and for a reason.
Compared to the VA panel, which is also a very popular panel currently, the IPS has better out-of-the-box color accuracy and viewing angles. Both of these capabilities are ones that any professional who works with media edition should look for in a monitor.
Regarding its drawbacks, the IPS glow is one that, predictably, is also manifesting itself in this model.
You can easily detect the IPS glow on IPS displays in a dark room and a black image as some grayish light glowing on the corners of the display. The amount of glowing, on the other hand, depends on the quality of the panel itself, but even so, it tends to vary hugely in amount from unit to unit. Therefore, mine could have lesser glowing than yours or vice versa.
The point is, our unit does have some glowing, but nothing too exaggerated.
Having said that, if you want contrasted blacks and no IPS glow and don't really care about viewing angles or accurately reproduced colors, the VA panel can be the right choice for you.
But keep in mind that the VA also has significant disadvantages, some of which are considerably worse. But that is a subject for another article.
Brightness
The peak brightness is only average, definitively not as good as the: LG 27UN850-W which was a monitor with unusually outstanding brightness performance for its price.
Even so, it still outperforms the LG 27UL550-W, which is far more costly.
As a result, although being one of the least expensive in its class, its peak brightness is in fact a touch over average.
Following the trend, the performance of the reflection handling is likewise quite average in this case. However, given that we can easily find anything better at this price range, it is not above average this time.
When using the monitor with a not-too-high brightness level, the glare was an annoyance. Because of this, we always had to set the brightness to about 90% during the day and then lower it to 50% at night, which was inconvenient.
Even so, it's a plus that the high peak brightness compensates for the weak reflection handling system. In terms of gaming performance, the Asus VG289Q1A can indeed give you a leg up during your competitive gameplay, (assuming you'll use this monitor for that at all).
Refresh rate and Response time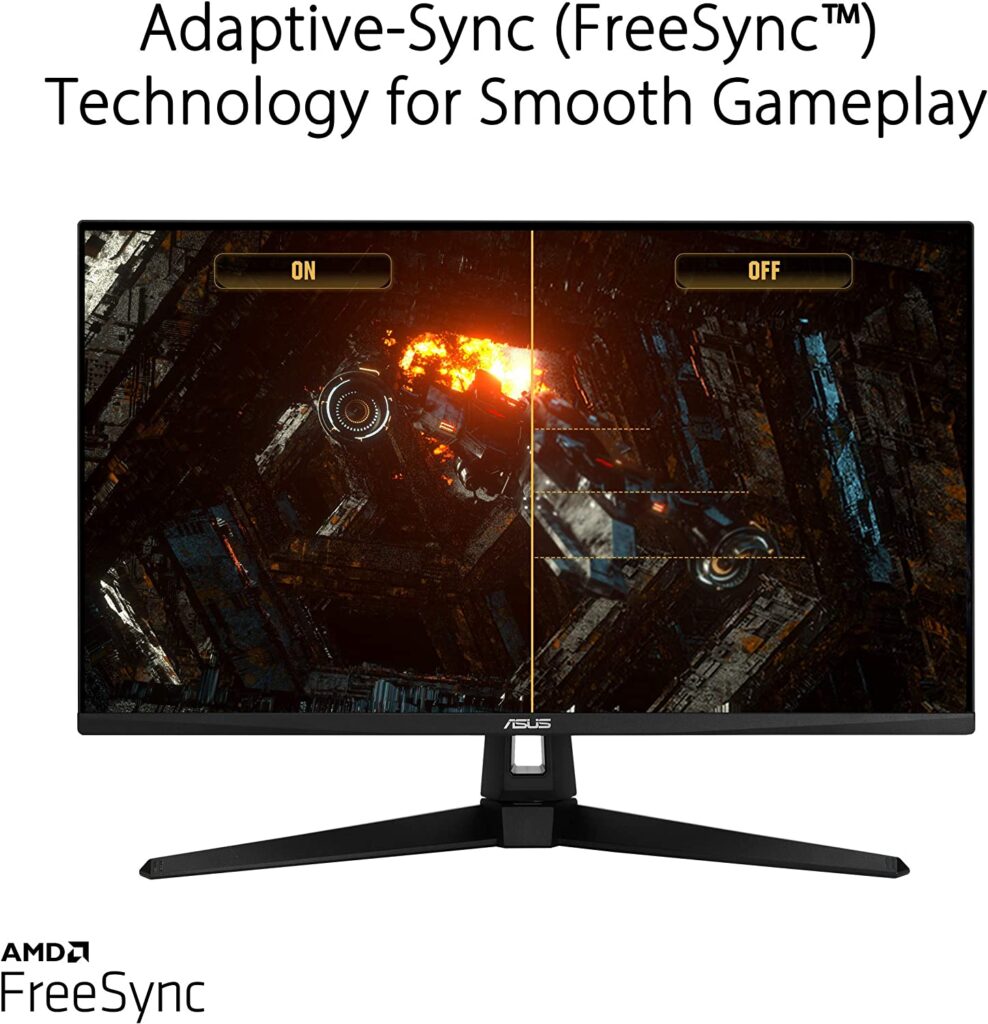 One of the characteristics of this type of screen that tends to turn people off is the 60 Hz refresh rate.
In reality, it is a clear disadvantage when we consider that higher refresh rates are increasingly becoming standard for monitors nowadays.
The resolution of the display is the one factor that shouldn't be ignored, though. Although the resolution itself has little effect on how you perceive the smoothness of the visuals, it nevertheless has a significant bearing if you want to use the monitor for gaming.
First, in some circumstances, a high resolution can compensate for a lack of smoothness. The second, and maybe most significant reason, is that even though modern graphics cards are rather powerful nowadays, thanks to the addition of demanding technologies like ray tracing, GPUs are still struggling to push over 60 frames per second at 4K. (depending on the game and settings).
Having said that, although this is true for gaming, we shouldn't have too high of expectations for everyday use.
Normal activities like reading a book or navigating through a webpage would feel way more stuttery than they would on a screen with a high refresh rate. The good news is that anything beyond 60 Hz doesn't matter at all when watching content, so high resolution and vibrant colors can really shine.
Before we get into the image quality features though, we have a couple of more points to cover here. 
As expected, casual gaming was pretty decent with this monitor. 
Even though the 60 frames per second threshold doesn't truly provide an incredible smoothness, you may still grow used to it with time. However, when it comes to competitive gaming, this display falls short of expectations.
Response time is quite slow. Due to motion blur and stuttering everywhere, this combined with the low refresh rate becomes a major roadblock for competitive gaming.
Finally, if you don't absolutely need 4k, you might be able to find a reasonable compromise with a 1440p 144hz screen in this price range, like the: ASUS VG27AQ1A or even a 240hz one, like the: Dell S2522HG for a bigger competitive advantage.
It also has FreeSync technology, which means that as long as the framerates stay between 30 and 60 hertz, screen tearing won't be an issue.
Image Overall Quality
We can say in advance, the Asus VG289Q1A is one of the few surprises of 2023 when it comes to image quality and price in perfect balance.
Seriously, if you showed me this monitor performing like this, I would surely say it is a $500+ screen, for sure. 
First of all, you don't really see a $299 screen boasting a 4k resolution that often. Then it also has good brightness, pretty decent colors out of the box, good gradients, etc. 
First things first, let's get into its colors.
Due to the post-sRGB 100, DCI-P3 90% color space, the colors are well-balanced and tend to have a somewhat warmer tone when seen without calibration. The nice part about this is that you can activate the 10-bit functionality using the 1.6 B supported 10-bit colors. By doing this, the gradients will be smoother, improving the display of the colors.
As expected for a wide gamut, after calibration the colors are good enough to be used professionally, but you would have to have an +$300 tool in disposition.
The colors are warm, but without calibration, the greens and the reds can be too much vibrant for an accurate image, so if you notice that in your unit as well, it may be worth tuning it slightly down. 
In the end, it is still hard to get accurate pictures without a proper colorimeter, so maybe if you need a professional monitor and don't want to have further headaches with a calibration tool, the ASUS VP32AQ or the Dell U3023E may be better options for you.
In any case, for normal use, the colors are good enough, and some may still prefer them to be warmer anyway. 
Last but definitively not least, we have its 4k resolution. 
Skipping the whole worshiping of this resolution and getting straight to the point, this monitor has VERY sharp images. In spite of the fact that a 28″ monitor isn't a very common size for this resolution, it works quite well with it.
Pixels must be smaller since there is less room for them, which leads to extremely high PPI and sharpness. Some claim that given that there are no pixels visible from a typical viewing distance at all, a 27-inch 4k monitor is currently the finest one for immersive gaming.
Of course, there is the downside of having less space and making everything small, but with the windows upscaling you can put that aside fairly easily. Still, if you need a 32-inch screen for more space, you can get pretty similar prices with the: LG 32UP83A-W which is right now on sale.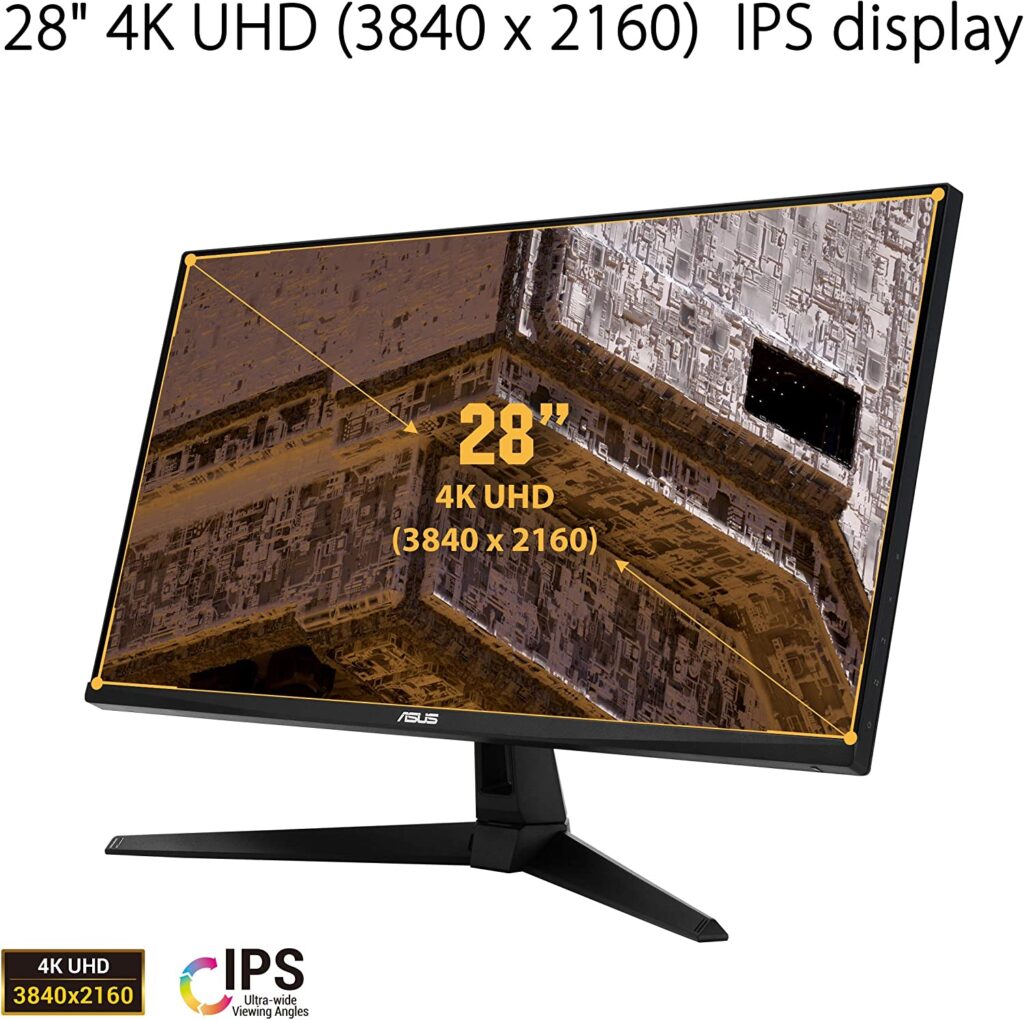 Final thoughts
When to buy it
That the Asus VG289Q1A is one of the best in this price range is undeniable. It still doesn't tick all the boxes, but the features it has to boast about are almost impossible to find for around 299 dollars.
Of course, due to the features it lacks, such as responsive ones and professional colors, this monitor ends up being very niched. But the truth is, if you need a 4k monitor at this price range, this is definitively one of the best, if not THE best you can get right now.
In terms of comparison we have the: LG 27UN850-W which is slightly more expensive but has better ports, or the: LG 27UP600 which has better brightness, so depending on your needs, those can be a better deal if they haven't a very wide gap in prices compared to this one.
You may like