Our Conclusion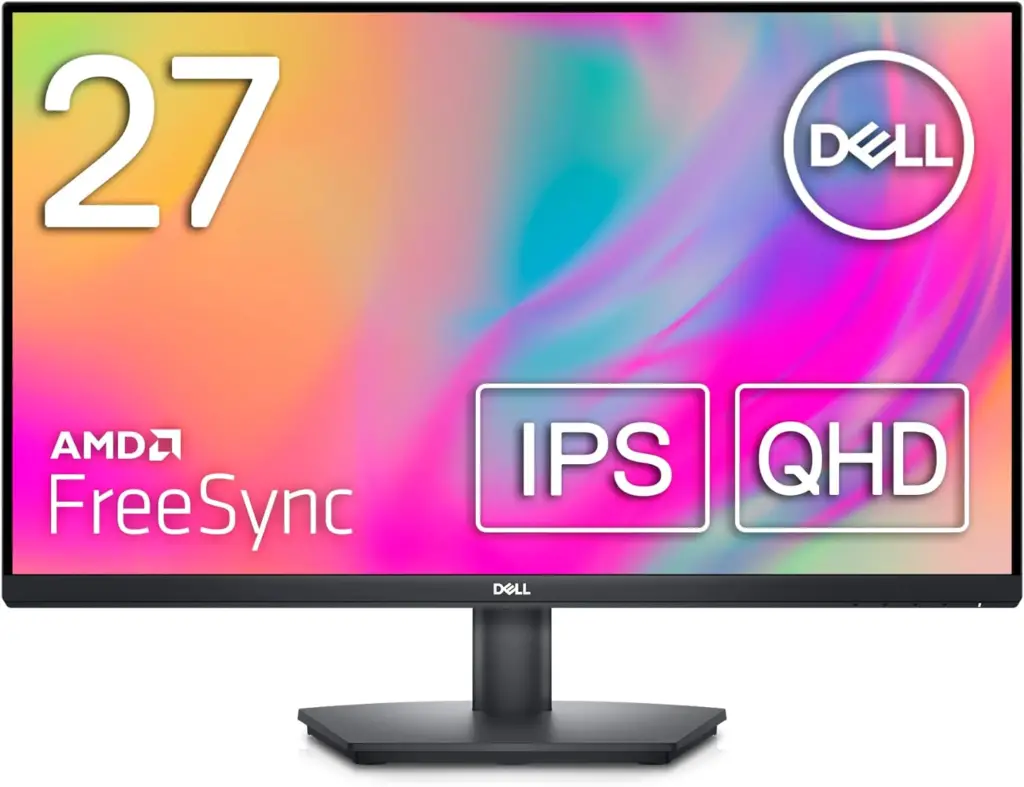 Given how rare it is to find a budget IPS monitor with a decent brightness ratio and consistent black levels these days, the recommendability of the Dell SE2723DS skyrockets. While it may not be the best choice for those seeking top-notch responsiveness, if you're in the market for a solid casual gaming monitor that delivers sharp and immersive gaming experience, you can't go wrong with it.
Pros
✓ 1440p
✓ Budget
✓ 27 inch
✓ Great brightness ratio
Cons
✘ Low refresh rate and response time
✘ Bulky stand
We all love how 27-inch monitors can be big enough and quite compact at the same time. With a 27-inch monitor, you still often have the leeway to use a second monitor, while a 32-one would make it a taller hurdle to climb. 
Now, if there is one thing that 27-inch monitors usually do poorly, it is how they match jarringly with the 1080p resolution. Sure, it isn't an innate issue of all 27-inch screens. But unless you are on a very tight budget, if you see a 27-inch 1080p screen, take it off of your list as fast as you can. 
Anyway, last week, we reviewed the Lg 27GQ50F-B and that screen was a clear example of what we're talking about right now. Its PPI was horrendous, and as you can guess with that, its image sharpness was all over the place. 
In any case, today we have another 27-inch screen, but this time by Dell, which rarely produces 1080p monitors with over 24-inch size. So, without further ado, let's check out the Dell se2723ds review and find out if this is a good monitor to consider going for.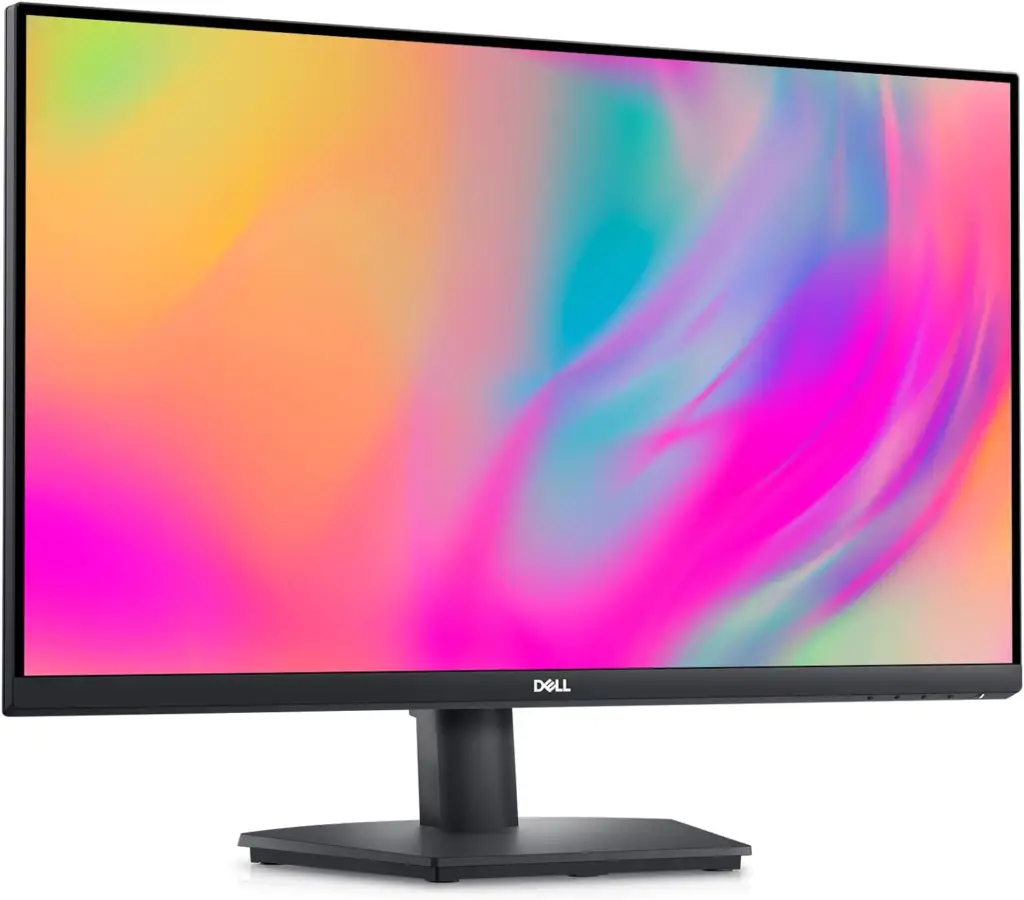 Design
Very much unlike their Alienware lineup, the Dell casual monitor series is miles apart from what we can call "gaming-looking". Aside from looking rather simple and clean with a single main color (usually matte black), every other Dell release nowadays has been looking barely the same. 
Take this one and the Dell SE3223Q for example, they are identical, even though the latter was released about 8 months ago. 
This monitor has the differential of having a good stand that can at least pose as ergonomic. It lacks swivel and pivot adjustments, but at least it has height and tilt, which is a rare combo to find in this price range.  
Unfortunately, though, it is rather space-consuming. It does have a flat base, so you can still put things on top of it, but nothing beats the compactness of an adjustable stand that you buy separately. 
By the way, it also boasts VESA support so you can either mount it on the wall or use a better stand that'll meet your needs better.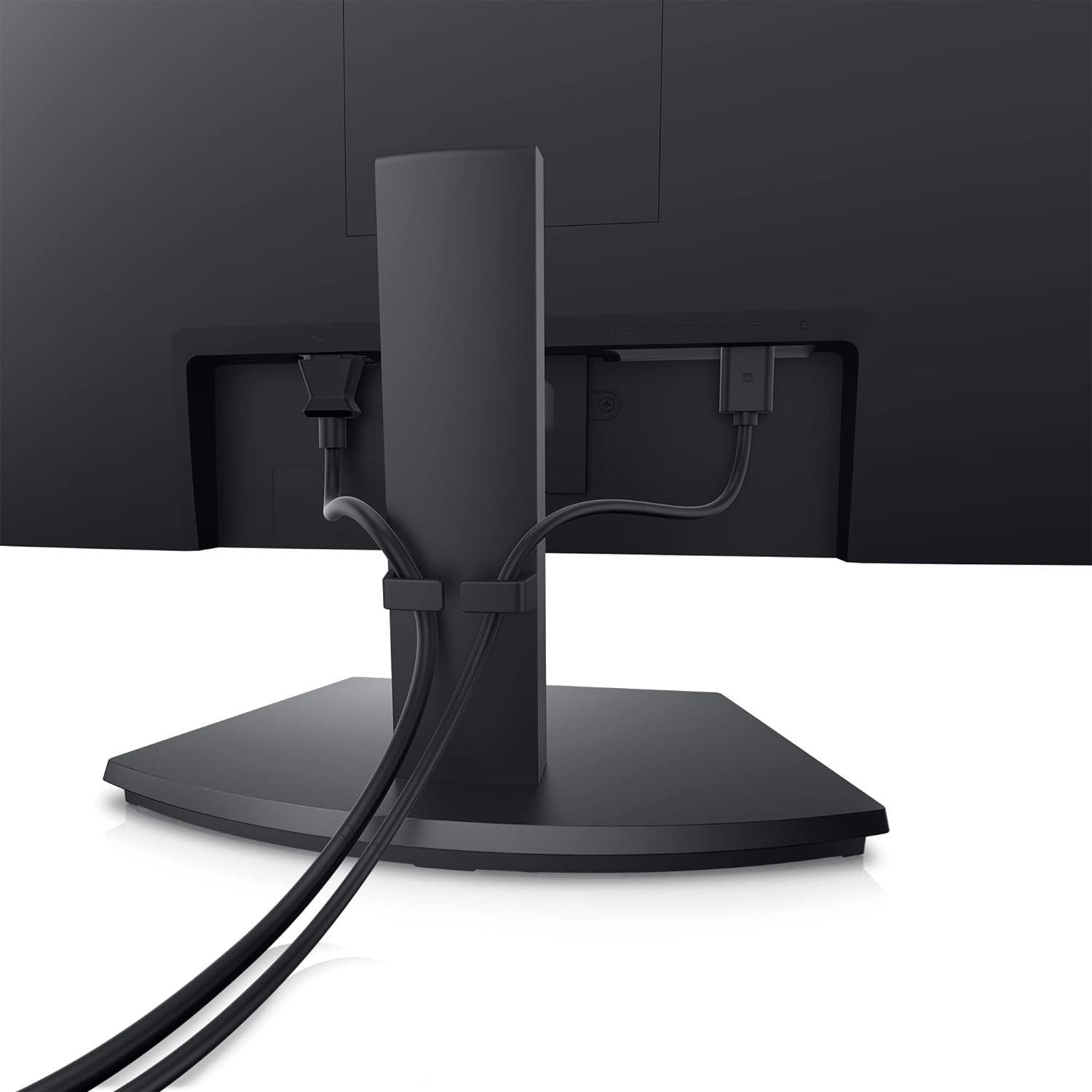 Considering the big picture, we can't deny that this monitor has a very old-looking vibe. Apart from its thin 3-sided bezels and a narrow bottom one, its other aesthetic features can be seen in a bunch of 2017 monitors out there. 
The fact that it has buttons instead of a joystick only makes it worse. Wanting or not, buttons are becoming way more dated now as the joystick is gaining more space, and for a reason: with joysticks, it is way easier to navigate through the monitor's menu. 
Surely on a day-to-day basis, the overall looks of the monitor will not matter at all, but if you are a person that tends to be nitpicky on this type of thing, be aware that it may not look like the most professional screen out there. 
By the way, this monitor lacks speakers, but that is a recurring theme around this price tag. Maybe the LG 27UN850-W will suit you better if speakers are a must for you.
Connectors
As expected, it doesn't have a wide adjustment range, but it has the basics for a video output including 2x HDMI, 1x Display port, and 1x Headphone out.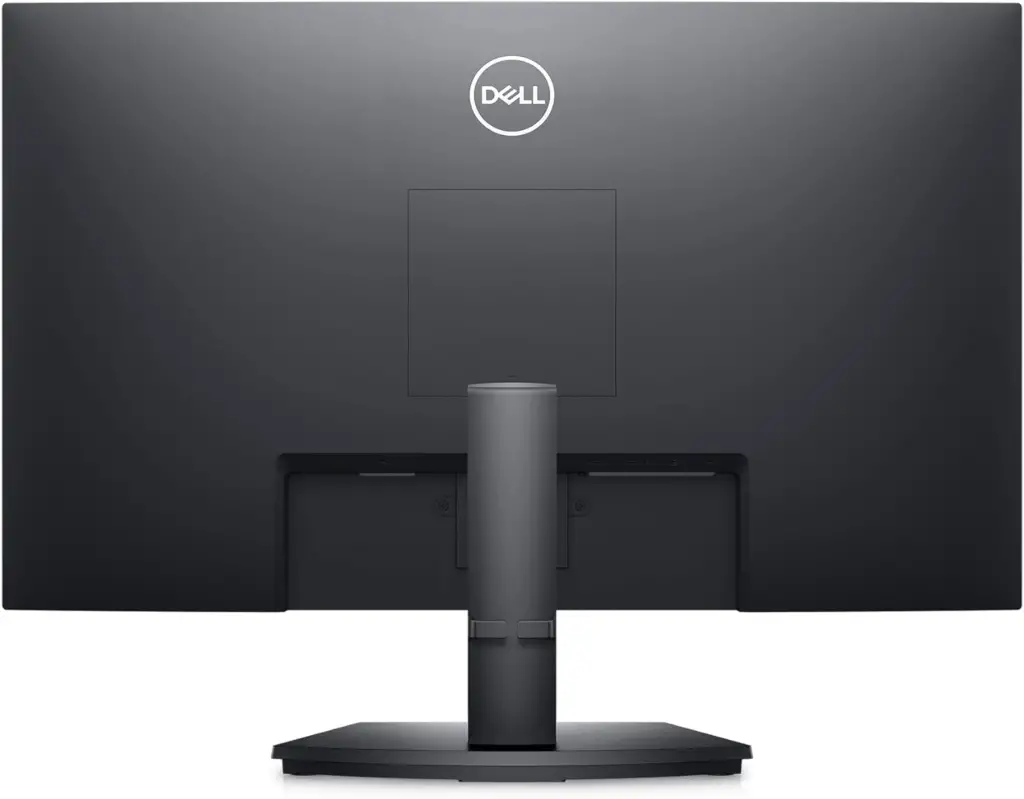 Features
Panel type
The Dell SE2723DS has an IPS panel. What we can predict when we see this one is good and vibrant colors working in unison with awesome viewing angles. And, surprisingly, this monitor does just that, except it left a little bit more to be desired when we take its above-average price range into account.
Comparing it to some other monitors in the same price range, even the Dell S2721H which is right now at about 100 dollars cheaper, had better out-of-the-box colors. We must emphasize though, that with some tweaking the colors become way better, and I strongly advise you to do that. Even so, our lofty expectations were definitively not met.
Not that the colors aren't good enough out of the box, but we were expecting too much. We won't get much into the color accuracy right now, as we'll be going through it in detail in the image quality section. However, we can say in advance that they are far from professional-level shades.
The good news is that, at least our unit didn't have a significant amount of IPS glow, and the black consistency was sustainably good. Now that is what we expect from a mid-range IPS panel, and I guess it does make up for the other issue.
With this benefit, you can use the monitor in a dark room, and blacks won't end up being a gray mess as usually happens with cheap IPS panels. If you truly need contrasting blacks though, maybe a VA panel will suit you better.
Brightness
The lack of a poor black consistency wouldn't be that big of an edge if it wasn't for the monitor's high peak brightness.
It has around 350 nits, which is way above the usual 250 for budget-friendly monitors. If you mix that with the monitor's great reflection handling, you can be sure that you'll have a glare-free experience even in a well-lit room.
Besides, you can turn up the brightness a good amount before the blacks start becoming slightly gray, which is a benefit of the good black consistency.
With this whole pack of good features, we can say that this is probably one of the few affordable IPS monitors you can find that you can actually play games in a dark room. It does give you a slight advantage in competitive games, except it isn't as good as 400 nits for that job. Still, gaming is not actually the main focus of this screen anyway.
Refresh rate and Response time
Speaking of gaming, now we'll check the display's responsiveness features to see what category it'll fall in – gaming or casual. 
Starting with the refresh rate, it has only 75 hz. If you were expecting more it is normal to be disappointed, especially considering how 165hz monitors are much cheaper nowadays. 
But when we saw the Dell SE2723DS was so budget-friendly while still having a good brightness ratio, we already knew that they had to cut corners somewhere. And the chosen parts were the responsiveness features of the monitor. 
They tried to compensate a little bit by reducing an ms of response time for the GTX extreme, from 5ms normal to 4 ms, but it won't change much in the end. Regardless of the subtle differences between 5 and 4ms, you'll still see the motion blur clearly in fast-paced games, and it is exasperated due to the monitor's relatively slow refresh rate. 
75hz is indeed smoother than your run-of-the-mill 60hz, but it isn't even close to as good as a 165hz one. So, in case you can sacrifice a good chunk of color accuracy and brightness level for smoother motion, maybe a screen like that will be a better choice. 
Lastly, this monitor does have Freesync technology, which will help reduce the screen tearing, thus making the images less choppy and smoother.
Image Quality
As we mentioned before, the image quality of the Dell SE2723DS is not really outstanding. 
It lacks more punch and vibrancy out of the box, leaning towards the colder color spectrum. That could really be a good thing if you aren't into those popping colors and prefer the shades to be more down-to-earth. 
However, I recommend you slightly tweak the red and green tones to improve the overall vibrancy. 
In any case, if you have a colorimeter and need the monitor to have professional color accuracy, you may be left disappointed. 
To begin with, it only has 8 bits of color depth, whereas the recommended for professional use is 10 bits. With 10 bit the gradients are much more smoother, which will also improve overall accuracy. 
While 8 to 10 doesn't sound like too much on paper, the shades go from 16M to 1.06B, so it is as wide as it can get. The colors also don't exceed the sRGB 99% coverage, which is definitely why it doesn't have colors as vibrant as a DCI-P3 monitor like the Asus VG289Q1A. 
Moving on to the other features, this time we have a good one instead of a subpar: its resolution. It has the so-called perfect resolution for a 27-inch screen – 1440p. 
This resolution doesn't make the monitor as expensive as it would if it were 4k, while also providing a decent PPI and image sharpness. The last reviewed screen was also a 27-inch one, but what differentiated that one from this and made it so unrecommended was its low PPI. 
Wanting or not 1080p for a 27-inch screen makes the pixels stand out more and be larger, so you are forced to increase the distance between you and the monitor. Whereas with 1440p you can watch from a normal distance and still avail of all the gaming immersion this resolution provides. 
In any case, although its resolution is great, this monitor doesn't do anything out of the usual in its image quality. It has all you would expect from a budget-friendly casual monitor, but it doesn't quite breach the professional category boundary.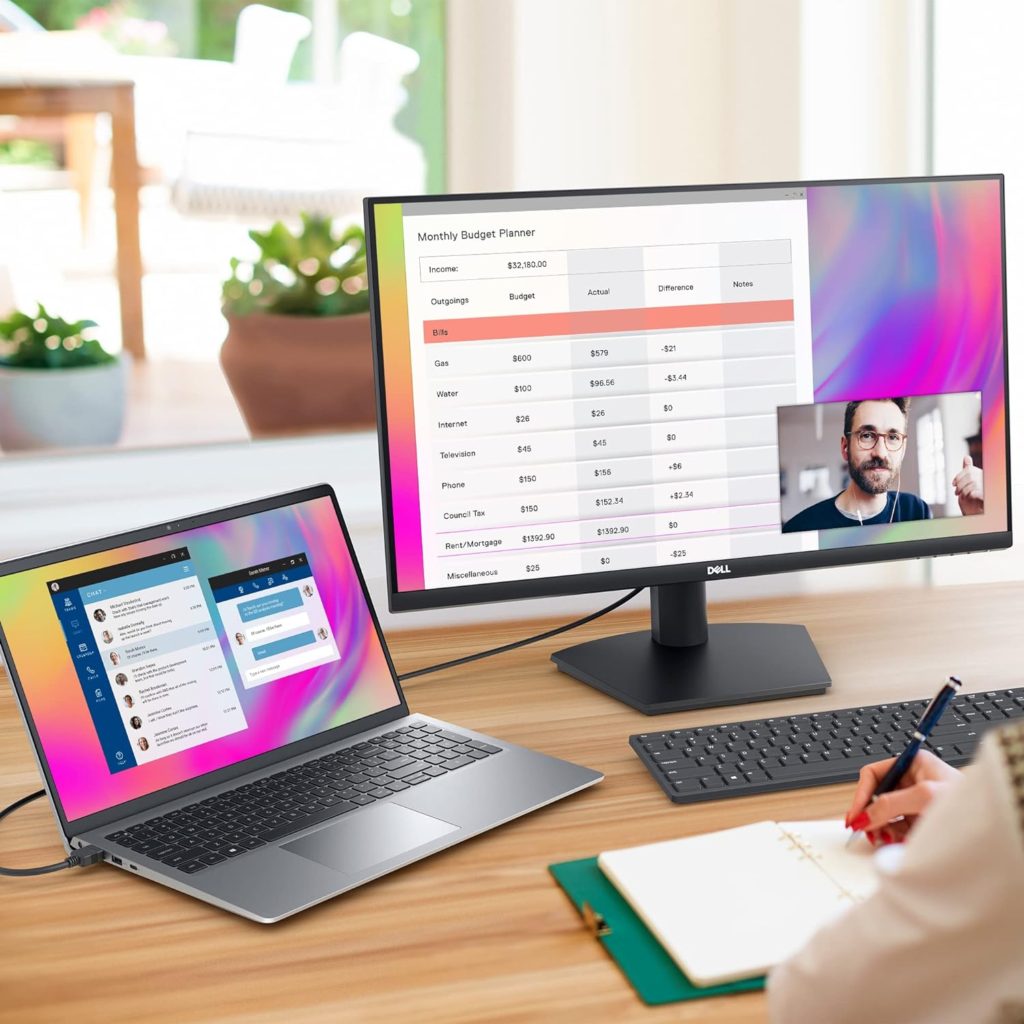 Final thoughts
When to buy it
The Dell SE2723DS's main differential over the competition lies in its great brightness ratio and black consistency. So if you need an IPS monitor to use in a dark room or a well-lit environment, this is your perfect choice.
Besides, due to its relatively large size and resolution, it may even be good enough for some professional tasks that require a large screen real state. On the other hand, if you need a little bit more responsiveness and 75hz isn't enough for you, maybe a monitor like the ASUS VG27AQ1A will meet your needs. Also, if you are willing to spend a bit more and get a sort of upgraded version of this one, go for the Dell U2722D – it'll be worth every penny.
You may like