Our Conclusion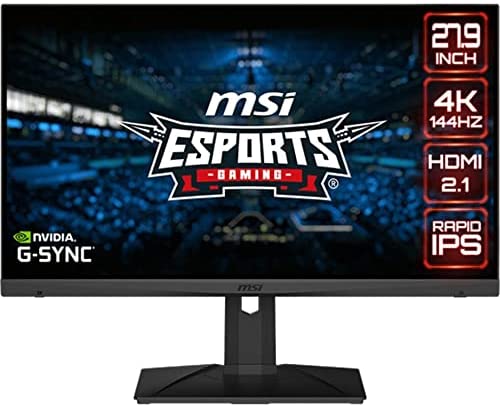 The MSI MAG281URF is one of the first 2022 4K displays with gaming capabilities. It has some crisp images and good warm colors out of the box. This is the screen to get if you want a fast refresh rate and high visual quality. It's also the one I suggest for this category of panels. However, it does have some steep prices to make up for its high-end features.
Pros
✓ 144hz
✓ Crisp Images
✓ Rapid IPS
✓ Great reflection handling
Cons
✘ No out speakers
✘ High prices
MSI has taken a bolder approach in 2022, releasing a few different, to say the least, displays. Not that this is a terrible thing; on the contrary, it's fantastic when a company strives to break the mold and offer something niche appealing.
Because of its niched features, the monitor we have today from their recent portfolio may not receive the attention it deserves. But MSI knows that a decent monitor should have the best for the intended consumers regardless if there isn't enough interest or a small sales percentage, and they've been doing that quite well in the past years.
So without further ado, to check if this MSI release is good for you or not, follow up with the MSI MAG281URF review with all the monitor's pros and cons.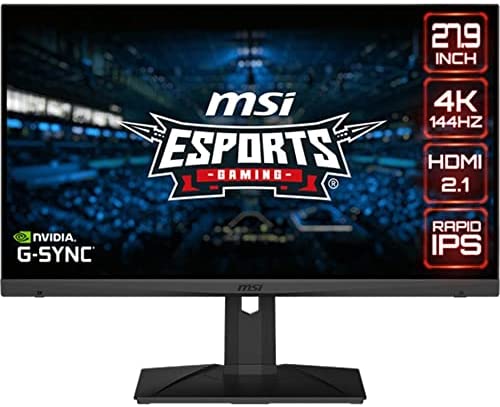 Design
The MSI gaming monitors boast some of the nicest and highest-rated aesthetics of any gaming monitor on the market. MSI is a direct rival to Asus' TUF gaming, however, the former has a higher user rating at the moment. 
Part of this stems from the fact that in the past, a large percentage of TUF monitors had significant flaws, which continue to resonate to this day.
Unfortunately, the bottom bezel on this monitor is somewhat thick, although it is not a bother during typical use. The three-sided ones, on the other hand, are acceptable and typical, being extremely thin and ideal for a dual-monitor setup.
Speaking of which, this monitor is 27 inches, so be sure to leave enough space on your desk, especially if you'll be using multiple monitors and the pc on the desk.
It's also rather hefty, weighing about 24 pounds, thanks to the sturdy materials used, which are beneficial in terms of increasing durability but add a significant amount of weight. 
The MSI MAG281URF has a squared stand, a rather large one in fact. If you want to conserve space on your desk, I recommend using the VESA support to mount it to the walls or investing in a better stand. 
This stand does not have a downside in terms of adjustability since it has a large number of settings to better match the buyer's demands, including height, pivot, swivel, and tilt adjustments. 
This monitor is completely matte black, with some brushed elements on the rear with the MSI logo, as well as a joystick to help you navigate the menu. It also has the same RGB stripe detail as others in the line, such as the MSI MAG274R2, but you may turn it off if you don't want your monitor to shine that much. Thankfully, it's at the back of the screen, rather than the front, like the: HP X27I. 
I also have to remark that the arm of this stand has a hole in it that allows you to pass wires through and improve cable management. 
Overall, this screen has a gaming style, and it makes it clear to everybody that it will have gaming capabilities and appeal to gamers. Besides, this monitor is made of strong materials, has a somewhat thick bottom bezel, and clearly does not favor simplistic design, so if you need a screen that isn't that much showy, the "Optix G" line may have better options for you.
Connectors
The part this monitor does not disappoint, though, is in terms of connectors. It boasts a fair amount of inputs, which surprised us, as this is, believe it or not, one of the cheapest 4k gaming monitors out there. It includes: 2x HDMI, 1x Display port, 2x USB type A, 1x USB type B, 1x USB-C, 1x Headphone-out.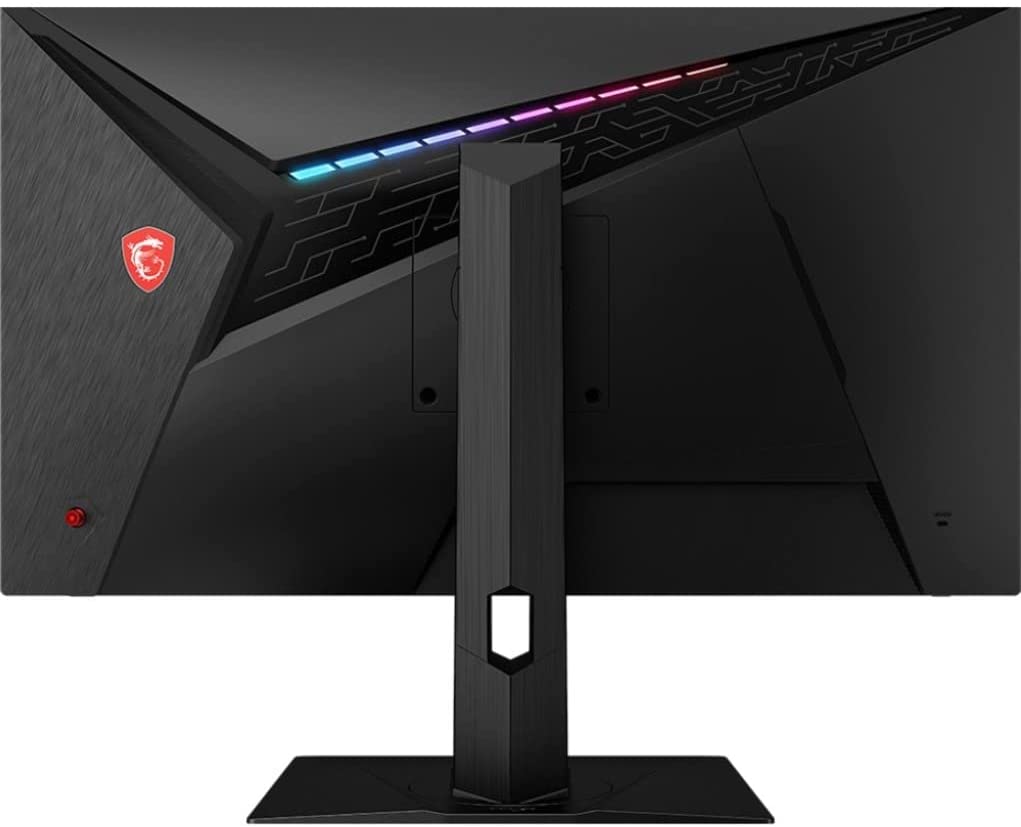 Features
Panel type
The TN and the IPS panels are becoming fewer and fewer competitors nowadays. Both have their own benefits, but people tend to go for the IPS due to the high color accuracy.
When comparing both in a similar price range, the regular IPS panel is a must for anybody who cares about vivid colors and accuracy, however, the TN is still the quicker one. 
The differences in response speeds aren't as significant as they were a few years ago, and the IPS has been demonstrating its capabilities as the technology underlying it improves.
The addition of fast IPS technology is one of the most significant enhancements for this panel. This innovation minimizes the thickness of the crystal layer, resulting in a response time that is four times faster than regular IPS.
The greatest thing is that this generally has little effect on the monitor's ultimate price. The good news is that this model made use of Fast IPS technology, indicating that this monitor might be considered among their top-of-the-line offerings.
This panel allows the monitor to display vibrant colors and viewing angles, as well as a fast response time, which we'll go over in more detail in the response time section.
Brightness
During our testing, we discovered that the MSI MAG281URF is a monster when it comes to managing reflections. It is, without a doubt, one of the greatest MSIs for use in front of a window during the day. 
In a bright room, however, lowering the brightness ratio below 60% may make things a bit more difficult to operate. Not to mention that the low brightness ratio had an impact on viewing angles since they performed well enough in our testing at maximum brightness. 
This monitor has a peak brightness of 400 nits, which is more than adequate regardless of the amount of sunlight in the room where you'll be watching it.
Keep in mind that a monitor with a brightness of 250 or 300 nits may be sufficient for everyday usage, as the 400 nits is most likely a necessity for the HDR function, which we'll discuss later in the article. 
In the end, this monitor provides sufficient brightness for 100% of users, which gives another plus point for this screen.
Refresh rate and Response time
The gaming capabilities of this monitor startled us but in a positive manner. High-resolution displays are normally lacking in gaming capabilities. But since this is a high-end MSI screen, they had the flexibility to implement such good features.
However, while the features are superior to those of a middling high-resolution gaming monitor, they are not top-of-the-line, as one might anticipate considering the monitor's current costs. 
To begin with, it lacks the MPRT technology, which is commonly found in gaming monitors and is used to enhance performance while sacrificing a significant amount of brightness ratio. Instead, they chose GTG as the motion blur measurement, which yields 1ms. 
The issue is that throughout the tests, this monitor displayed a lot of motion blur, especially when compared to a 1 ms MPRT monitor, and this is due to the fact that GTG is far worse than MPRT. While the blur is evident if you look closely and compare both, it was not a significant issue during regular gaming.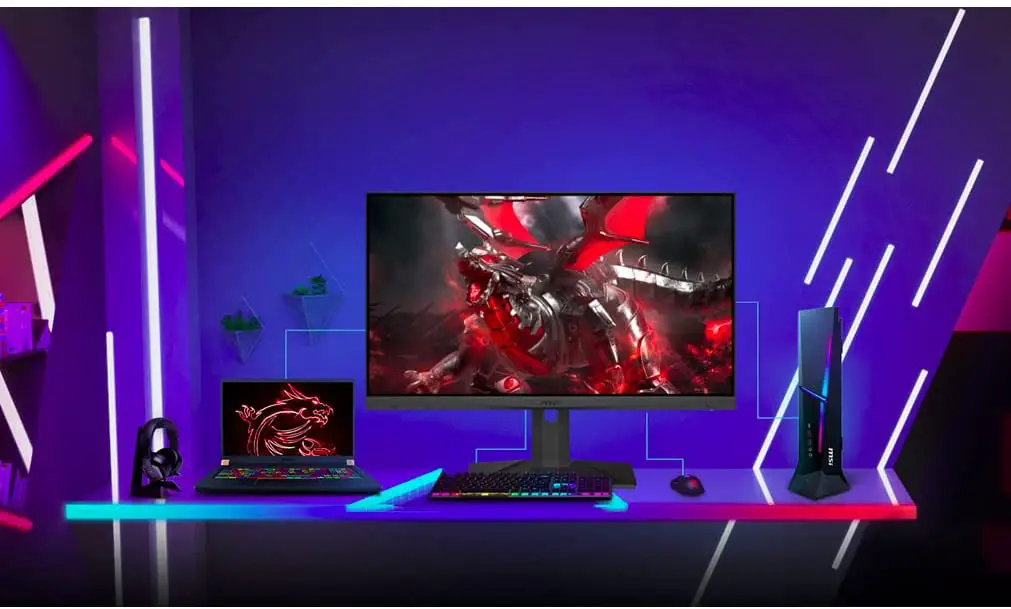 Aside from that, they chose 144hz for this screen instead of the more common 75hz for high-resolution displays. As everyone says, and as I must emphasize, 144hz is far superior to 60 or 75 Hz, and even better if the monitor does not exaggerate the costs excessively. As a result, you can anticipate buttery smoothness. 
While the features aren't top-of-the-line, such as 240hz 1ms MPRT, they are excellent for the price of the screen and will satisfy the majority of purchasers. Finally, this display has a G-sync function with a 48-144Hz range, which allows you to enjoy games without screen tearing.
Image Overall Quality
While the MSI MAG281URF works adequately in terms of gaming, it really shines in terms of visual quality. To begin with, it boasts a 4k resolution, which is a bit of a mixed blessing for this monitor.
While the 4k resolution is an excellent feature in and of itself, the high PPI causes the pictures and objects on the screen to appear tiny on a 27-inch display.
Of course, you can always scale things down to make things easier on the eyes, but if you need a lot of screen area for multitasking, a 32-inch screen is the one to go for.
Although the 27-inch 4k combo is fantastic for pixel density and visual clarity (truly fantastic), it does limit the monitor's market niche, since most consumers who choose the 4k resolution desire more screen area to accommodate all of their open apps.
On the other side, for gaming only, this screen is amazing in terms of sharpness and is one of the finest you can get for this price, so if your primary purpose for this screen is gaming and regular use, the little pieces may not be an issue at all.
Apart from that, this monitor produces rather realistic colors right out of the box, however I recommend calibrating it if you like cooler colors. The colors of this monitor are relatively warm without calibration due to the DCI-P3 95 percent functionality. Keep it that way if you like it that way, but if you want more realistic colors for gaming or working, the calibration may be a must-have.
When it comes to working with this screen, the colors are vibrant and have a high level of accuracy after calibration; nevertheless, don't expect the best of the best, as this monitor won't offer you actual 10-bit colors and will instead rely on the quick refresh rate to produce simulated 10-bit.
Overall, this monitor shines out in terms of visual quality, offering some of the greatest clarity available in this price range.
Final thoughts
When to buy it
The MSI MAG281URF is the MSI monitor that lets your dream come true if you need a 4k monitor for gaming but don't require the top-of-the-line gaming capabilities since you don't want to pay a premium for a high-end monitor. 
It's ideal for people on a tight budget who want a 4K monitor with a quick refresh rate and vibrant colors. However, if you want a larger screen to make better use of the 4k resolution, I recommend a 32-inch screen like the: LG 32UP83A-W.
You may like