Our Conclusion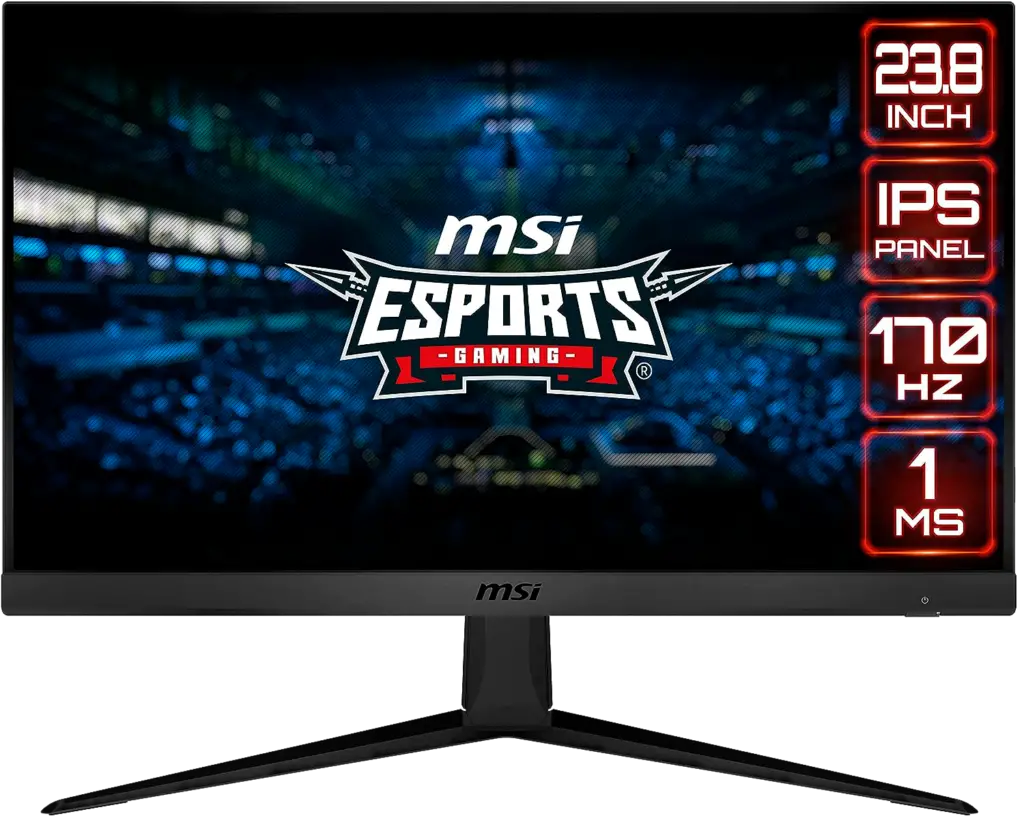 Due to its great responsiveness and affordable prices, the MSI G2412 stands tall as one of the best budget monitors of the year. On top of that, it also has vibrant colors, but its brightness could be a little bit better. This is a perfect screen for those in search of a budget monitor with a good refresh rate and response time. However, if you need an even higher edge for professional gaming, maybe the Dell G2422HS will suit you better.
Pros
✓ 1ms MPRT
✓ High refresh rate
✓ Vibrant colors
✓ Affordable
Cons
✘ Low peak brightness
✘ A significant amount of IPS glow
As the popularity of 1440p gaming monitors continues to surge, their 1080p counterparts find themselves somewhat overshadowed. However, this shift brings a silver lining – the prices of these monitors have significantly dropped compared to a year ago. Consider the Dell G2422HS, for example. Once priced at around $280, it now stands as one of the prime choices for budget-friendly gaming monitors, retailing at a solid $170.
Of course, before opting for a 1080p monitor, there are a few factors to weigh, including PPI and overall screen quality. Nevertheless, these monitors often offer better affordability than their 1440p counterparts, a point that's hard to ignore. Today, our focus will be on one of MSI's latest releases, as we delve into whether it deserves a spot among the top-tier budget monitors. Let's dive into the MSI G2412 review below.
Design
When we dive into the design of the MSI G2412, it's clear that it stays true to its price range. The choice of materials leans towards the more affordable end, featuring the familiar texturized plastic that covers the monitor. 
Interestingly, the back portion showcases a departure from this with brushed plastic patterns on the right and left edges. What stands out, though, is its bottom bezel, which seems to be unexpectedly one of the chunkier ones we've seen from MSI lately. 
When compared to other budget-friendly releases like the MSI G321CU, this particular model boasts a notably larger bezel.
Yet, among these slight deviations, the monitor still carries a striking resemblance to other wallet-friendly offerings from MSI, such as the MSI Optix G272. Placing them side by side, it becomes quite a challenge to distinguish between the two, particularly as they both sport the same V-shaped stand.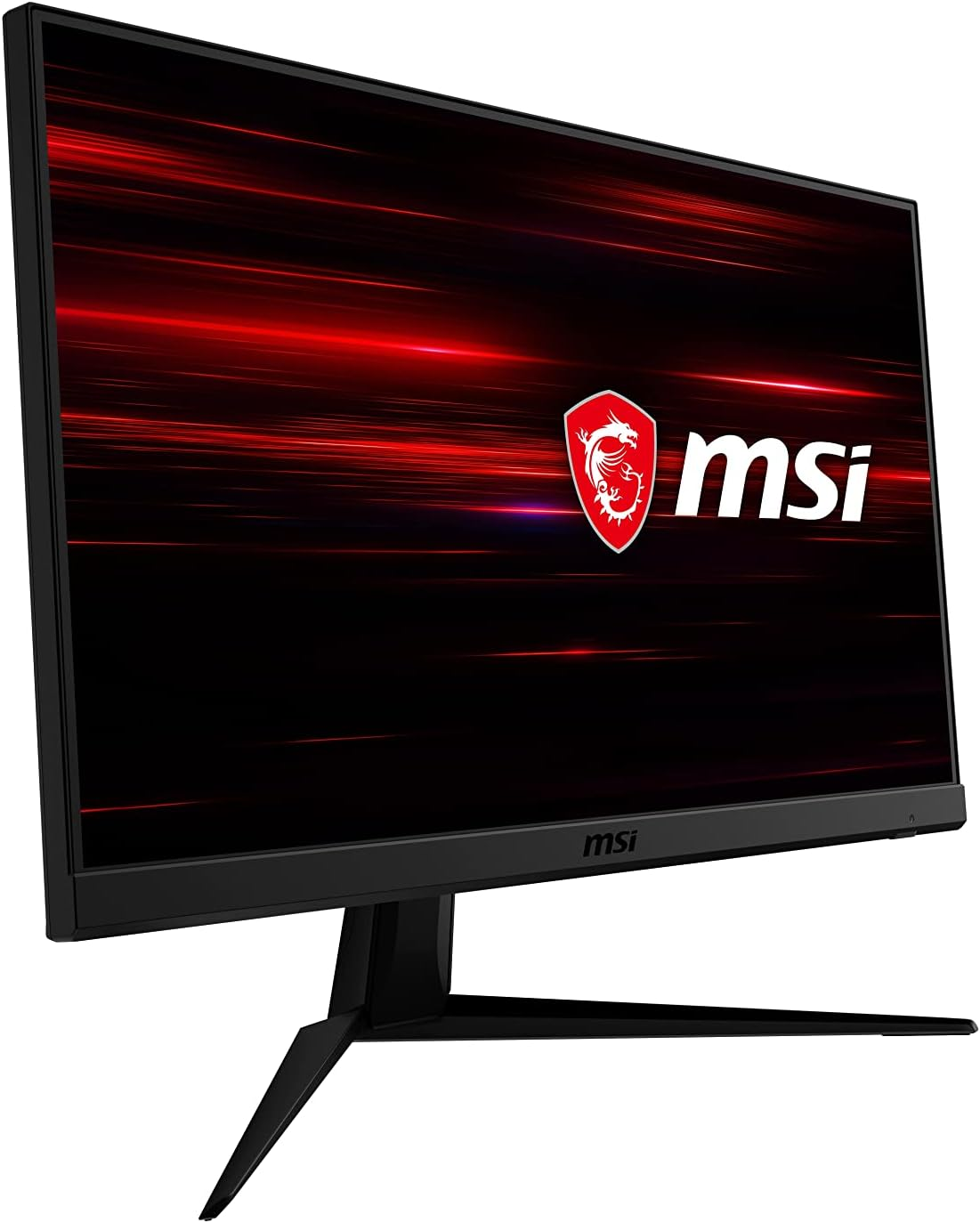 True to its nature as a budget-friendly monitor, its stand doesn't offer an abundance of adjustments. Still, you always have the option to acquire an external stand and make use of the VESA support for more flexibility.
Sure, it would add to the final price, but, we can't expect too much from a $150 screen. This stand does encroach on your desk space, due to its wide length, so in the end, even if you don't need ergonomy, it may be a good choice to invest in an adjustable stand.
It has slim 3-sided bezels, which fortunately aren't as massive as the bottom one, which would surely take a massive toll on the monitor's aesthetics.
Fortunately, they didn't add the old dated buttons and decided to go with the joystick instead, which facilitates our lives a lot when we need to navigate through the monitor's menu.
Considering the big picture, the MSI G2412 does look like a gaming one, due to its sharp edges and details, even though it is way cheaper than a proper gaming monitor. Despite our minor quibbles, MSI surely managed to do a good job here.
Connectors
As expected for a budget monitor, it doesn't offer a wide amount of ports, but it has the essentials with 2 HDMI, 1 DP, and 1 Headphone out.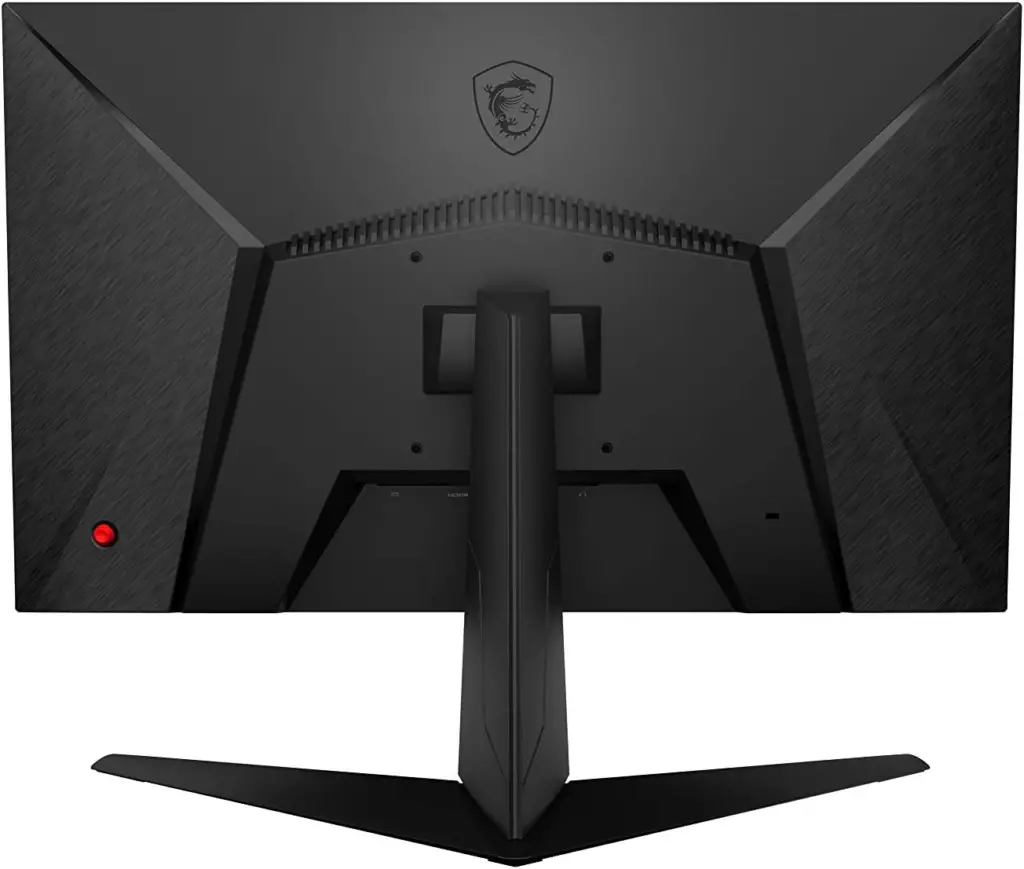 Features
Panel type
Considering its price point, it might not have been surprising if MSI had opted for a VA panel instead of an IPS.
Implementing a VA panel is generally cheaper than an IPS, and each type has its own set of advantages and drawbacks.
When it comes to the balance of pros and cons, especially in the context of budget options, the IPS takes the lead. Many budget VA monitors suffer from issues like black smearing and limited viewing angles. On the other hand, IPS panels often exhibit low contrast ratios and what's known as "IPS glow."
Now, back to the panel of this specific monitor. The choice of an IPS panel brings forth vibrant colors that hold up well even with slight shifts in viewing angles.
While a good calibration could enhance the experience further, it's not necessarily a must if you're already enjoying the lively colors it offers. We'll delve deeper into the image quality in the upcoming section.
Of course, let's not sugarcoat things—there are indeed drawbacks that could affect your experience with the MSI G2412. For starters, the IPS glow can be quite pronounced, making it less suitable for use in a dimly lit room.
In fact, I'd strongly advise against using this monitor in such an environment. Due to the same issue, the blacks aren't as deep, being instead slightly grayed out.
Brightness
Certainly, if you decide to increase the brightness, the IPS glow issue becomes more prominent. However, it's important to note that this monitor has a rather limited peak brightness range.
On paper, it's rated at 250 nits, which is currently one of the lowest levels you can find in monitors. 
It's worth acknowledging that not all monitors with 250 nits perform equally in terms of brightness. Some might be brighter than others. But a common thread among all of them is that they don't fare well in well-lit environments.
During our glare test, this particular monitor ranked among the worst performers. This factor should be taken into account before making a purchase. If you're seeking something better, you might consider the Dell G2422HS, though it's important to recognize that it likely comes with a higher price tag.
To be fair, the MSI G2412 holds up decently in normal settings, such as a dimly lit room. However, it's essential to reiterate that it isn't the most suitable option for use in a dark room due to the presence of IPS glow. This aspect should also be factored into your decision-making process.
Refresh rate and Response time
Here's where this monitor really shines and solidifies its position as the runner-up on our best budget list. 
To start off, it boasts an impressive refresh rate of up to 170Hz. This stands as one of the finest offerings, if not the best, within its price range. Elevating your gameplay experience, it renders things smoother than a 75Hz or 60Hz alternative would. 
What's more, even everyday tasks like scrolling through a website will gain a noticeable fluidity.
Admittedly, this rate might not quite cut it for the high-stakes world of competitive gaming, where 240Hz still reigns supreme. However, in the realm of casual gaming, it easily surpasses expectations. 
There is, however, a caveat: the included HDMI cable caps you at 144Hz, preventing you from unlocking the screen's full potential. So, if you're aiming for that glorious 170Hz, make sure you have a DisplayPort at the ready before making the purchase.
Additionally, the MSI G2412 makes for an excellent entry point if you're new to the scene and seeking a budget-friendly gateway. It's a smart option for diving in before committing to a pricier model.
Indeed, the icing on the cake is its impressive 1ms MPRT (Moving Picture Response Time), which bolsters its suitability for the task at hand. 
Typically, you'd encounter the GTG (Gray-to-Gray) feature, which, even when clocking in at 1 ms, doesn't quite match up to the speed and quality of MPRT.
 It's genuinely a rarity to find such an exceptional feature in a budget-friendly monitor, an aspect that instantly catapults it to the top of everyone's lists.
This feature significantly amplifies the synchronization between your input and the on-screen display, and the faster this process (lower the numeric value), the better the outcome. 
As you're likely aware, 1ms is more than ample for the vast majority of users, with professional gamers being the primary beneficiaries. Rest assured, noticeable motion blur won't be a concern on this display. 
It's worth noting, though, that the impact might be somewhat limited in casual games. Yet, the real magic happens in the competitive arena with titles like Valorant and CS:GO.
Lastly, let's not forget that this monitor proudly boasts the Freesync feature, which works wonders in curbing screen tearing, contributing to crisper and smoother imagery.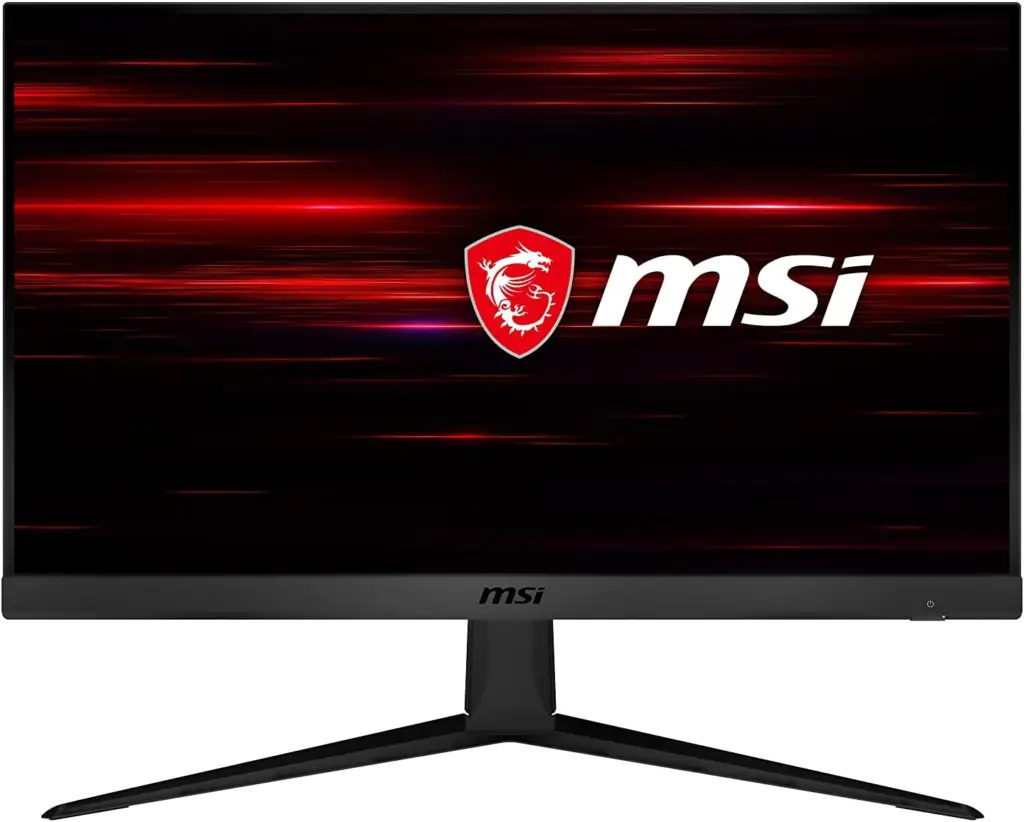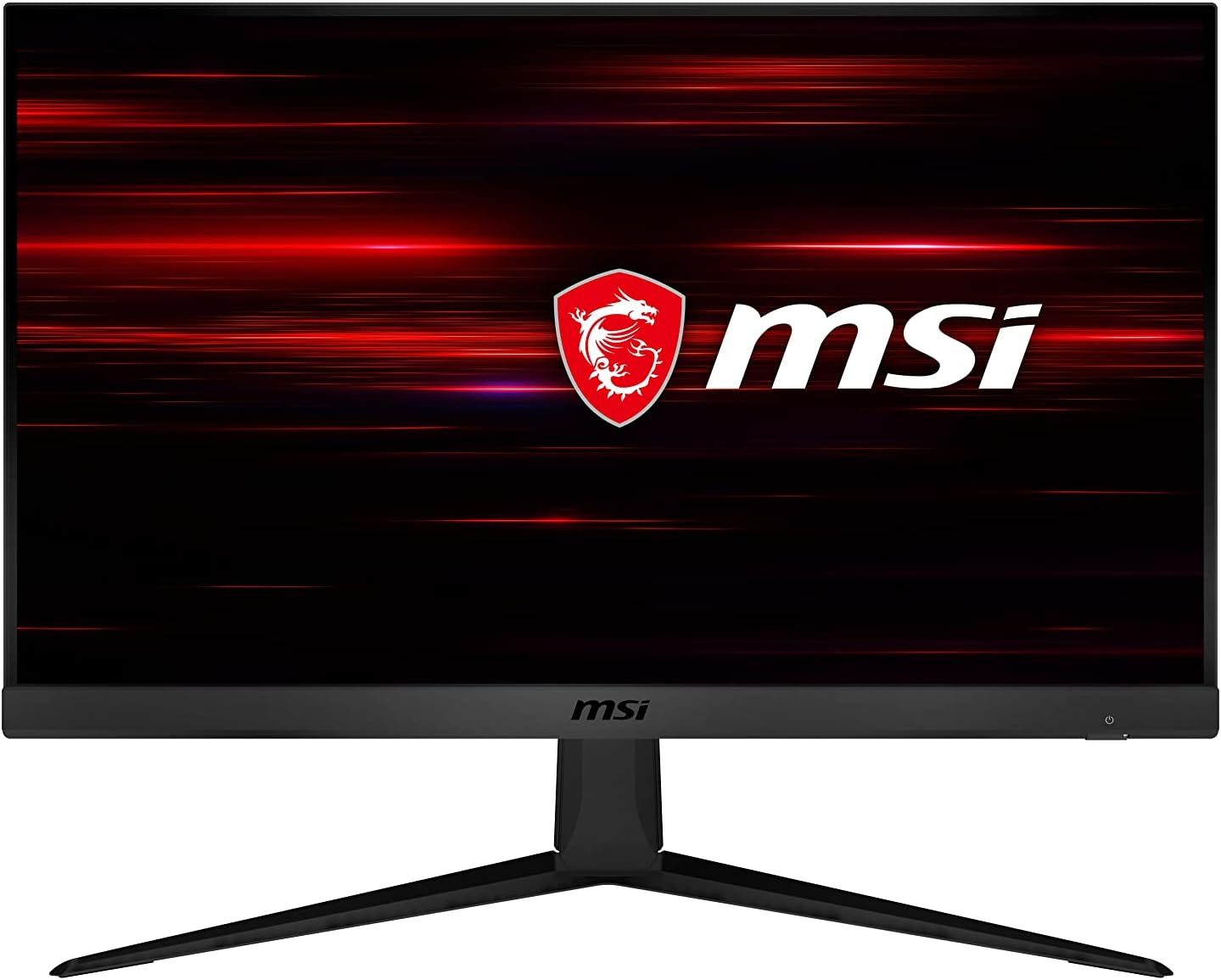 Image Overall Quality
As previously mentioned, the color vibrancy of this monitor sets it apart, boasting hues that are notably more vivid than your typical budget-friendly IPS displays. 
While many individuals do gravitate towards these eye-catching colors, it's worth considering that some may lean towards a more accurate color representation. 
Certainly, calibration is an option, but we can't deny that achieving the precision demanded by professional tasks might be challenging due to the monitor's limitations, including the sRGB 102% color gamut and 8-bit colors.
If you do find yourself inclined towards cooler colors, a slight adjustment to the red and green tones can achieve this. However, it's imperative to tread carefully and avoid overdoing it, as this might lead to colors appearing washed out.
Turning our attention to resolution, it's undeniable that 1440p is the preferred choice these days, offering a substantial increase in pixel count without the steep price tag associated with 4K. Nevertheless, if affordability is a primary concern, the reliable 1080p option remains unbeatable.
When utilized with an appropriate screen size such as 24 inches, the Pixels Per Inch (PPI) count becomes quite acceptable, ensuring that you won't discern pixels from a regular viewing distance. 
The crux here is that the cost disparity between a 1080p monitor and a 1440p counterpart remains substantial enough to prevent the latter from being a clear-cut, no-fail decision.
However, if your sights are set on a 27-inch monitor, I highly recommend opting for 1440p. This is because the PPI would be low enough to impact the image quality of a 27-inch 1080p display. 
In terms of contrast, this monitor adheres to the typical IPS trait: lacking deep blacks and starkly contrasting colors.
In the grand scheme of things, despite having its share of drawbacks, the MSI G2412 stands firm as one of the standout options for a budget gaming monitor this year.
Final thoughts
When to buy it
Currently, the MSI G2412 holds the distinction of possibly being the most budget-friendly monitor that boasts a 1ms MPRT feature and a 170Hz refresh rate.
It's even up for grabs at a discounted price, so it's a wise move to snag it before the costs surge back up.
However, for those who are after even greater responsiveness, there's the option to invest a bit more and delve into the realm of high-end gaming displays, such as the Dell G2422HS.
Nevertheless, with its vibrant color display, impressive responsiveness, and overall fantastic color quality, the MSI G2412 effortlessly earns its place at the forefront of this year's best budget gaming monitors.
You may like