Our Conclusion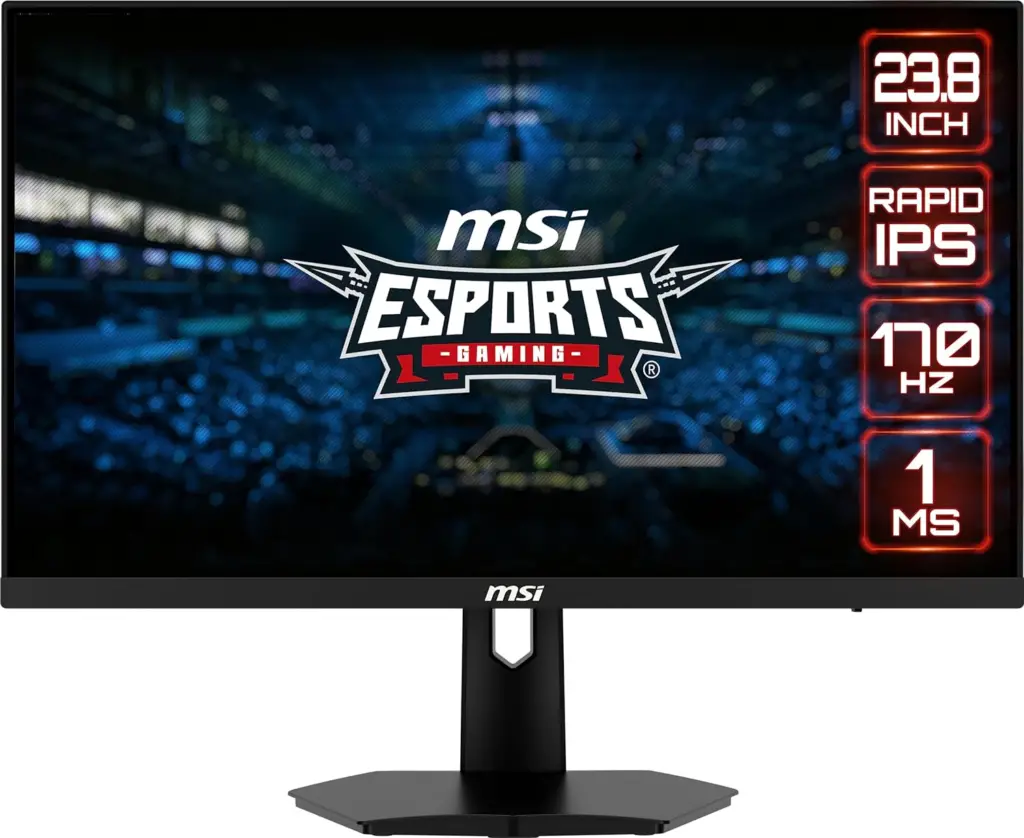 The MSI G244F would be a good fit for our list of the greatest inexpensive monitors if it included any other outstanding feature in addition to its vibrant colors. On the other hand, not only are its costs not the lowest, but almost every feature is mediocre. With all of their great features, the MSI G2412 or the Dell G2422HS may give more value for your money if you're in the market for an affordable monitor.
Pros
✓ VIbrant colors
✓ 170hz 1ms
✓ Affordable
Cons
✘ Low brightness ratio
✘ Bulky stand
As if the market for low-cost gaming displays wasn't already overly saturated, MSI is complicating our lives by adding yet another one to the mix.
The budget monitor category has grown to be one of the most popular this year and has the greatest portion of manufacturers' portfolios. Searching for a "budget" gaming monitor" will present you with an extensive variety of possibilities. We've also been going through a lot of these options lately.
By doing this, we want to prevent future disappointments from purchasing a "budget" monitor by enlightening the consumer about what they are investing their money in and if it truly is a monitor that meets their needs. In light of this, we have the MSI g244f today, another monitor from the cornucopia of 2023 budget-friendly models. Since its introduction earlier this year, it has grown in popularity. Because of what? In today's MSI G244F Review, we will learn more.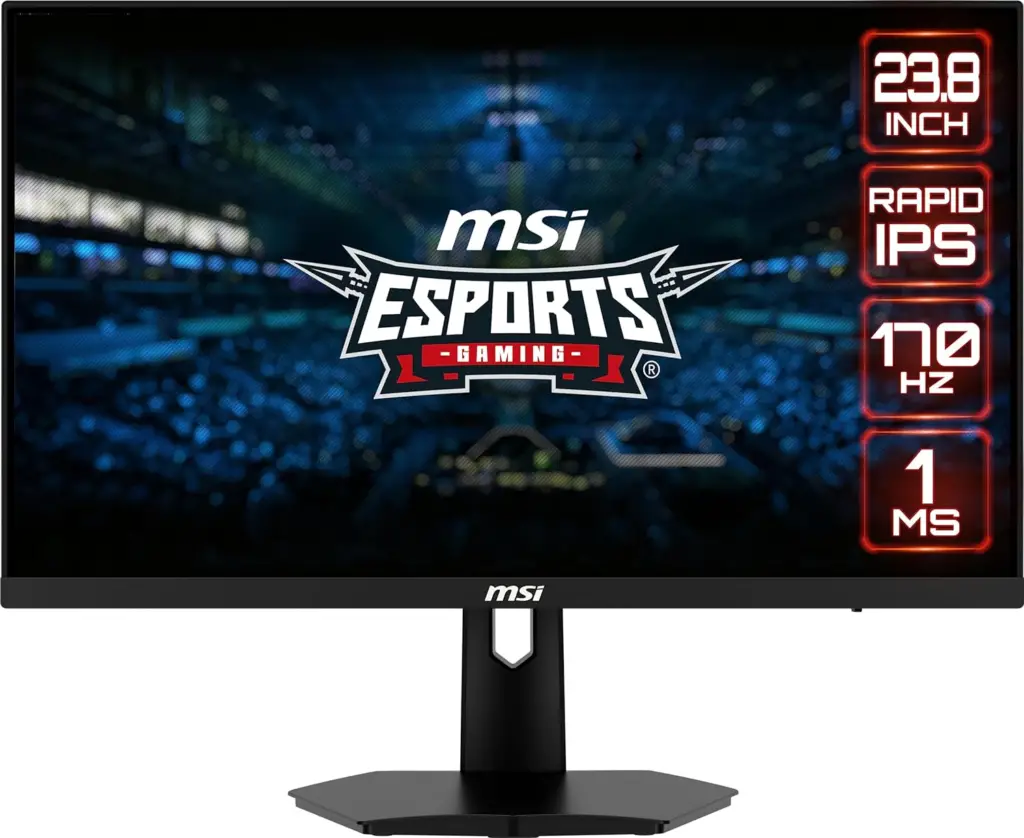 Design
If there is one thing that MSI frequently and reliably delivers, it is good—and occasionally exceptional—monitor aesthetics. For me, this one qualifies as good because of only one thing: its stand.
The design of the MSI G244F would rank highly on our list of the greatest monitor designs of the year if it weren't for its bulky stand.
Not the stand per se, but rather its equally broad and lengthy base. Though placing items on top of it won't help the setup's feeling of alignment, at least it has a flat surface.
You can always purchase an additional adjustable stand to make the screen more ergonomic and take up less room, but that will increase the final cost of the monitor, which is never a good thing.
It should be noted that this stand only allows for height and tilt adjustments. It also features a gap in the center to facilitate better cable management.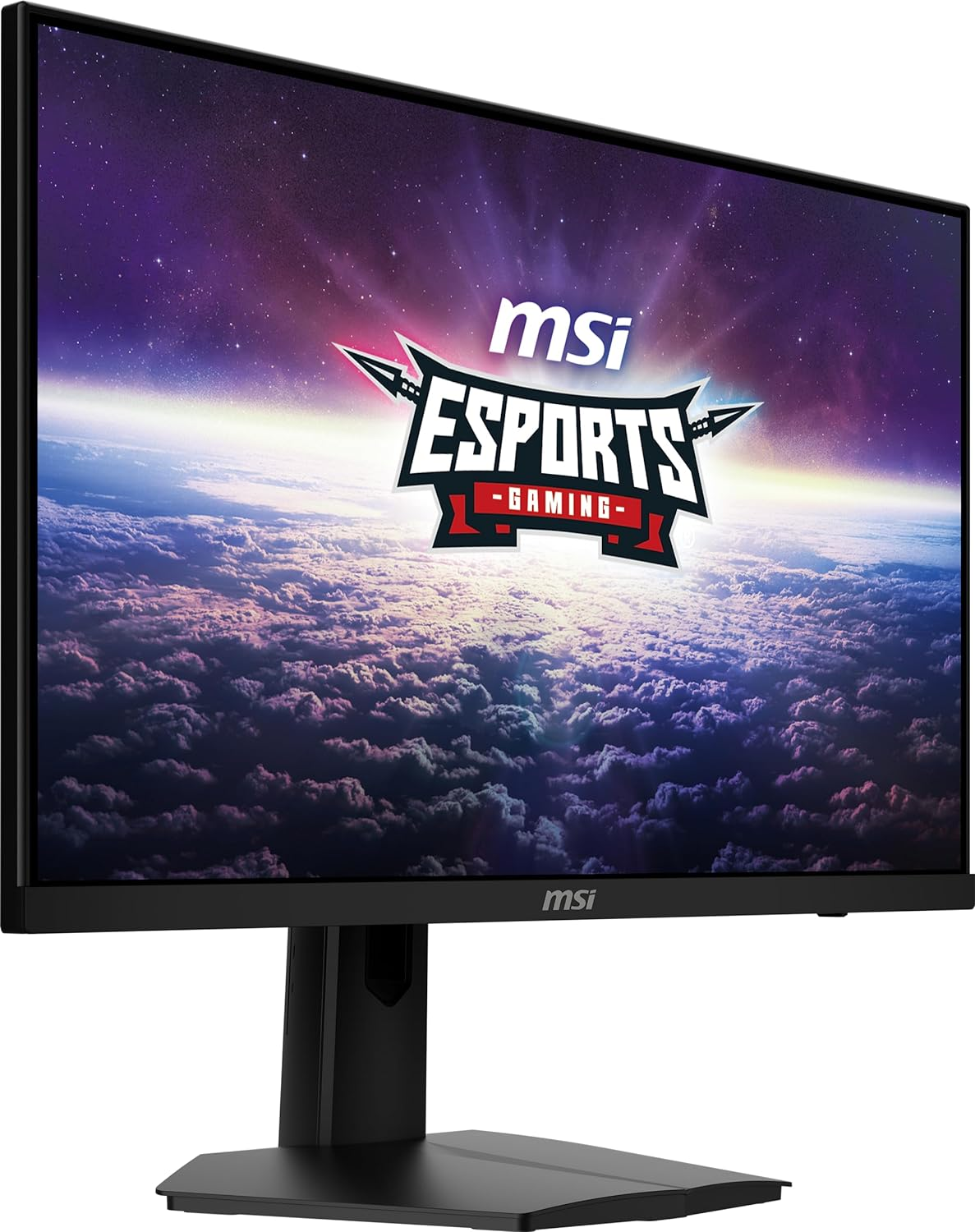 Moving on to the positive aspects, we cannot dispute how well the back and stand designs complement and operate together. Both have a distinctive MSI "gaming" aesthetic with angular accents and edges.
In contrast, there is a great deal of controversy around the MSI logo on the left. Individuals may exhibit varying degrees of sensitivity to it. While it's not as good in my opinion, I can still live with it. Particularly considering that I won't be seeing it very often as it is on the monitor's rear.
Now, this red joystick that really jumps out is the one item that isn't at all divisive and about which everyone appears to have the same opinion. It looks so out of place there—due to its striking red hue alone—that it's likely what most people who view the back portion for the first time will gaze at first.
The key elements of a trendy modern display are present on the frontal panel: thin 3-sided bezels and a comparatively small bottom one.
Surprisingly, they did not cut corners when it came to the materials, yet they still managed to keep the monitor's pricing relatively modest.
Comparing this monitor to the MSI MAG281URF we can clearly notice how the materials of both are practically identical, all the while the latter is 200 dollars cheaper.
Connectors
Unsurprisingly, this monitor has only the basics for its connectors, including 2x HDMI and 1x Display port, as well as 1 headphone out. Sure, this isn't the main target audience of this monitor, but one or two USB ports wouldn't hurt the final prices that much.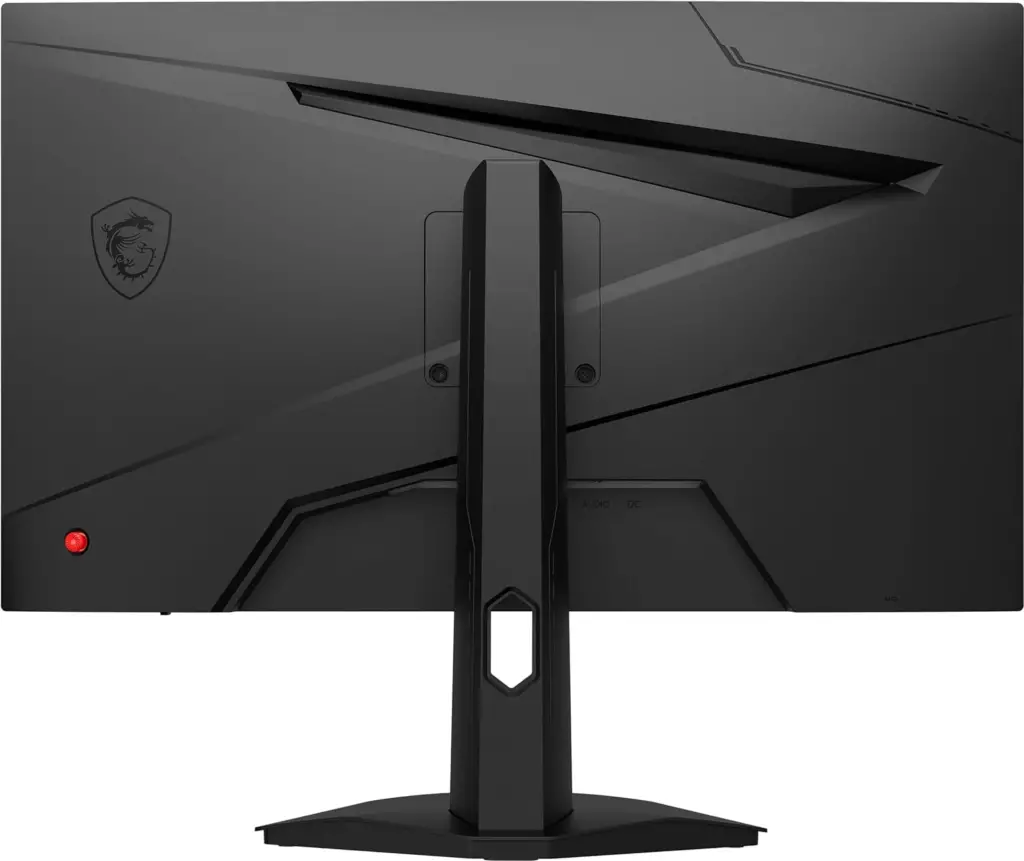 Features
Panel type
The MSI G244F has what they call a "Rapid IPS" panel.
First, we shouldn't mistake this with the fast IPS technology which actually has a responsiveness improvement over the normal IPS.
The term Rapid IPS only means that it has a "fast" motion blur and refresh rate, which used to be the main downsides of IPS panels back in the day.
Back then, the TN was the most recommended choice for pro players and competitive gamers, as those had the higher responsiveness out of all other panels. Now, with the advancement in technology, some IPS are toe to toe with the fastest TNs you can find.
The problem with TN panels is that there is a huge price to pay in exchange for responsiveness. Those panels deal horribly with viewing angle changes, but the worst part was the poorly presented washed-out colors.
In any case, back to this monitor, it doesn't have the higher-end IPS panel you can find on the market, and due to the same, it does have some downsides to take into account.
First, the poor black consistency and IPS glow were popping out, especially during our tests in a dark environment. The black shades were gray, even if we didn't max out the brightness setting.
Brightness
Speaking of which, with a peak brightness of just 250 nits, this monitor disappointed us once more.
With one of the lowest peak brightness ratios available today in budget displays, this monitor's sole drawback is that it performs horribly in well-lit areas.
Even with the brightness turned up throughout our tests, there was still a lot of glare. The only time it helped was when we partially closed the drapes to reduce the amount of light directly hitting the screen. However, not everyone would be open to doing that only to view the content on the monitor.
If the room where you'll be using this monitor isn't too bright, you'll be able to use it without feeling like you can't see anything, but during the day, I still advocate cranking up the brightness to its maximum.
But keep in mind that the only option to partially lessen the IPS glow is to also turn down the brightness. If you leave the brightness setting cranked up and choose to play some games in your spare time at night with the lights out, the blacks will turn somewhat gray.
Thankfully, those are little drawbacks that you can eventually get used to and accept as the price you pay for such an inexpensive display. But in the end, what truly counts is if the benefits outweigh the drawbacks.
Refresh rate and Response time
Wrapping up the downsides of the MSI G244F, I can assure you that from now on, there are only plus points, especially when you consider the lower prices this monitor boasts.
First, we have its high refresh rate. With 170hz, you can enjoy smooth and stutter-free visuals, even though this is not the perfect ratio for the pro-player scene. On the plus side, achieving 170fps is far less taxing on the graphics hardware than 240fps, especially at 1080p resolution. 
Some even argue that the incremental improvement from 170 to 240Hz doesn't justify the higher cost of the latter.
To be fair, you can get an excellent 240hz monitor, such as the Dell S2522HG on sale right now for fairly similar costs to this one, but it generally comes with some additional drawbacks to compensate. 
Moving on, this display boasts the well-known 1ms gtg, which is said to assist with motion blur and the ghosting effect.
While GTG is excellent, MPRT is unrivaled in this regard, so don't expect this monitor to mask motion blur very effectively. During our tests with fast-paced games, motion blur was noticeable, but as the FPS increased, it became more difficult to detect. 
In fact, it was barely noticeable in casual games, but I can see why professional players could dislike it in the FPS competitive arena.  
Finally, it features a Freesync option that will help with screen tearing from 60 to 170fps; if the frame rate is lower or higher, the feature won't work, and you will still see the tearing visuals.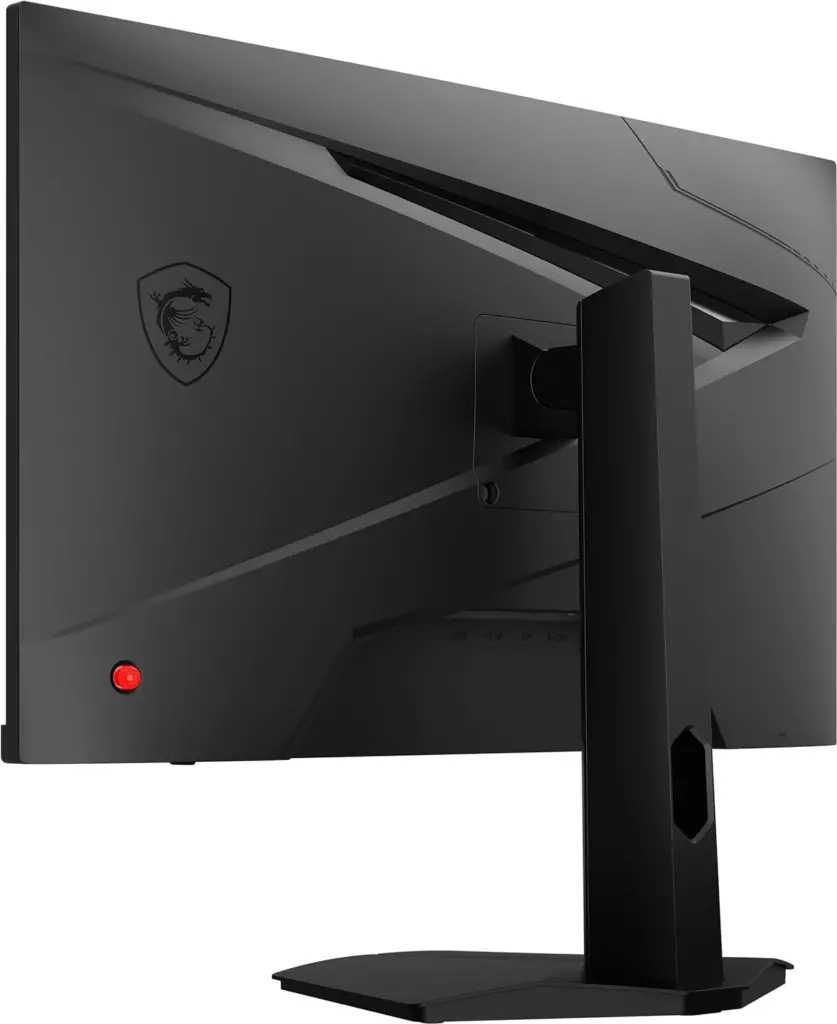 Image Overall Quality
The color presentation on this monitor is perhaps its strongest feature. Yes, they are far less precise than monitors costing over a thousand dollars and are far from ideal for professional use. However, we can state with confidence that they outperform the majority of displays in their class. 
They are vivid enough to allow you to play your games with a decent level of immersion and stand out even without calibrating. 
Now, you might need to adjust a little bit if you're the kind of person who likes colors to be more muted. You can try adjusting the blue tones more and the red and green tones less to get the desired effect. 
However, keep in mind that adjusting the colors by hand without the use of a colorimeter might cause them to deviate even further from the advised accuracy line. 
The issue is that, in most cases, the equipment is more expensive than the monitor itself. Therefore, if you need to save money and want a monitor with accurate colors, your best option is to get a pre-calibrated screen such as the ASUS PA329CV. 
Returning to the colors on this panel, its DCI-P3 92.05% gamut range, or 122.88% sRGB, is what gives them their liveliness. 
In general, inexpensive displays have 99% sRGB. The extra 23.88% in the MSI G244F is what gives it all of its brilliance. 
Now, regretfully, the resolution on this display is limited to 1080p. These days, 1440p is the most recommended resolution for casual gaming. It won't be as taxing on contemporary graphics cards and will boost immersion and sharpen images. 
The good news is that 1440p screens are becoming much less expensive than they once were, so purchasing one won't break the bank as much. 
In any event, there is a benefit to it as well because 1080p displays are getting more reasonably priced as an outcome of the same. 
The pixels are still visible at a normal viewing distance, although they are not as noticeable as they would be on a 27-inch 1080p display. So, considering all that, and how this monitor gave us basically every mediocre feature you can guess other than its colors, we can confidently say that this is just another run-of-the-mill affordable monitor, unfortunately.
Final thoughts
When to buy it
The MSI G244F is one of the most affordable options available today. It is, however, not the one with the best price-to-performance ratio. If you have an extra $20, you can go for a far nicer screen, such as the Dell G2422HS and the LG 24GN600-B.
Due to that, it isn't even recommended unless it is on a great deal. Even so, if you need the monitor to have vibrant colors and don't want to spend much for that, maybe the MSI G244F is actually your go-to choice, as it is one of the cheapest with vibrant colors you can find currently. The next option would be the: Dell S2522HG, which is around 80 dollars more expensive.
You may like