Our Conclusion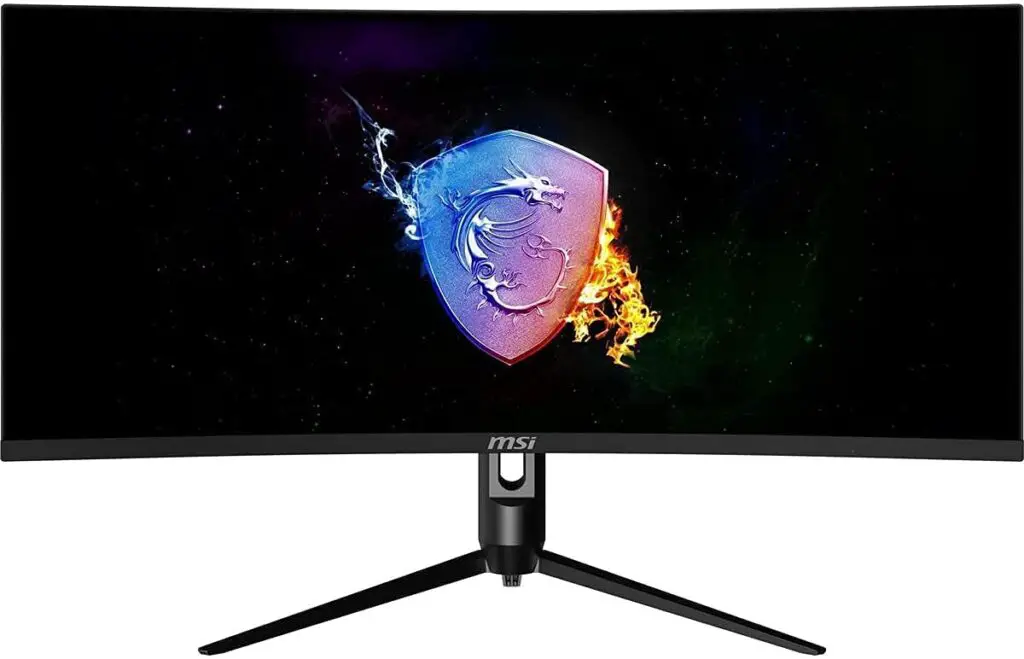 The MSI Optix MAG342CQR poses a significant challenge to the LG 34WP65C-B as the top-budget VA ultrawide monitor. If it weren't for the impressive high-end speakers of the LG model, the MSI Optix would easily take the crown. It surpasses the LG in terms of color reproduction, but falls short in brightness level and black smearing. However, if built-in speakers are not a priority for you, the MSI Optix is the preferred choice, especially considering its current sale price, which is significantly lower than the coveted LG 34WP65C-B.
Pros
✓ Great Image quality
✓ 1440p, 144hz, 1ms
✓ RGB LEDs
✓ VESA support
✓ HDR
Cons
✘ No USB ports
✘ Lack of built-in speakers
Unfortunately, when it comes to ultrawide monitors, finding one at a reasonable price is currently quite a challenge.
However, there are a few exceptionally rare instances where a manufacturer decides to make some sacrifices in less crucial aspects in order to improve the balance between price and performance.
As a result, this particular type of monitor has been gaining popularity in recent years. But, regrettably, not everyone has the means to afford one of these beauties. So far, the LG 34WP65C-B and the HP X34 have stood out as two of the most cost-effective ultrawide monitors according to Reatbyte's reviews to date.
And now, let's turn our attention to the display we'll be examining today. MSI has truly worked wonders by incorporating a multitude of impressive features into this monitor while still managing to keep the cost reasonable. So, without further ado, let's delve into the MSI Optix MAG342CQR review and find out if MSI has indeed succeeded in creating a top-notch monitor.
June 30, 2023 Update: We compared it to the LG 34WP65C-B and some other budget VA monitors and rechecked its color performance. Corrected typos and more information about the monitor. We added a table with the monitor's specifications.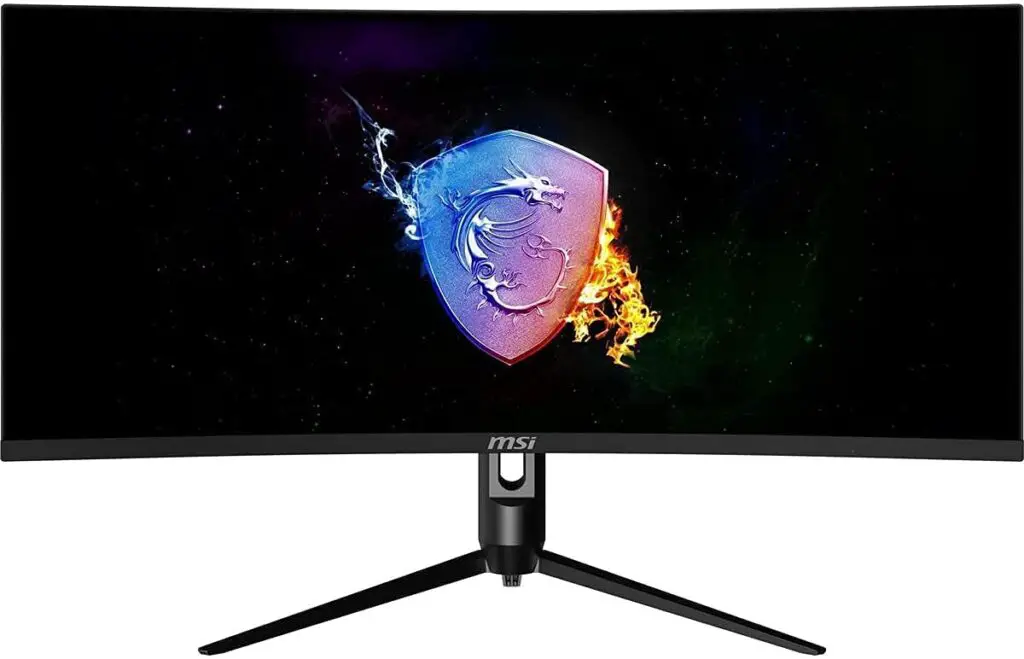 Design
Over the years, MSI has developed a tendency to release monitors with captivating gaming-inspired designs. In the case of this particular model, they have taken it to new heights by incorporating RGB LEDs.
While the inclusion of RGB LEDs on monitors often stirs up debates, the implementation on this screen is rather tasteful and avoids excessive dazzle. Instead, it exudes a subtle and refined glow. Positioned on the back of the display, the LEDs follow a graceful circular pattern, showcasing the mesmerizing rainbow technology.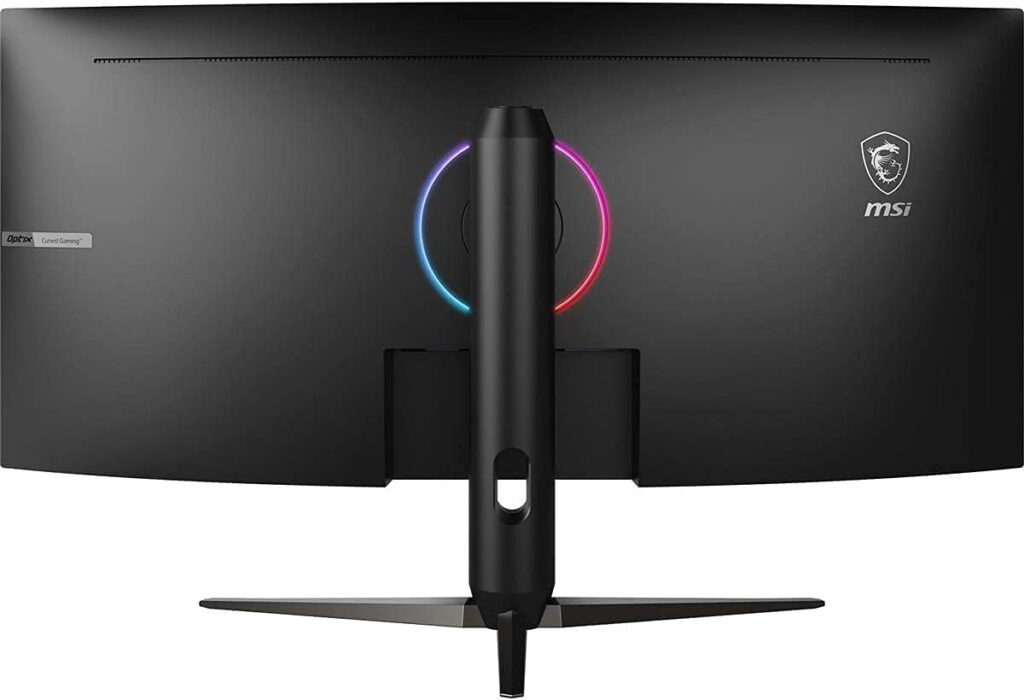 It's worth emphasizing that this monitor embraces a curved design with a 1500R curvature, a feature highly valued by gamers as it enhances the overall "gaming" vibe.
The MSI Optix MAG342CQR has a very thin bottom bezel, with a borderless style on the 3-sided ones, which follows the current monitor trend and gives it a modern look.
Furthermore, it boasts an easily installable stand that offers a range of adjustments, including height, tilt, and the uncommon swivel functionality, particularly rare to find in ultrawide monitors within this price range.
Looking at the rear of the monitor, we can see that it supports VESA, making it easier to mount the monitor on the wall. Also, keep in mind that it lacks built-in speakers, which can be a significant drawback depending on your usage requirements.
Connectors
Continuing to discuss the rear of the monitor, it's worth mentioning that the selection of connectors left us slightly disappointed. The monitor includes only 1x DP (1.4), 1x Headphone-out, and 2x HDMI (2.0), omitting USB upstream ports or even a USB-C port. However, it is understandable that these omissions were likely made in order to maintain an affordable price point.
Features
Panel type
Now let's turn our attention to one of the key factors that determine the price and target audience of a monitor: its panel type. When I saw the pricing for this monitor, I wasn't surprised to find that it came with a VA panel.
The VA panel is a popular option for budget ultrawide monitors as it offers similar overall quality to an IPS panel at a lower cost. However, it does lack the color accuracy that an IPS panel provides.
On the flip side, the VA panel has its own advantages. It offers improved contrast ratios and avoids the IPS glowing effect often seen on IPS panels, all while maintaining a reasonable price point.
That being said, if you require the highest level of color accuracy for your work on an ultrawide monitor, the IPS panel is an essential choice. There are budget ultrawide displays available with IPS panels, such as the LG 34WN750-B and the LG 34WN650-W. But if you really want to have a top-tier level of accuracy, high-end ones like the ASUS XG349C are a must.
Brightness
This monitor has 300 nits of max brightness, which is acceptable for the monitor's price range, but surely not the best.
Unfortunately, it falls short of delivering the high-end brightness that could give gamers a significant advantage in competitive games. However, it still offers sufficient brightness to enjoy gaming and browse the web comfortably, even in well-lit rooms. While it may not have the dazzling brightness levels found in top-tier models, it manages to provide a satisfactory viewing experience.
When it comes to reflection handling, this monitor's performance is somewhat average. It doesn't reach the same level of reflectivity as some of the low-end models, which can be particularly distracting in brightly lit environments. However, it also doesn't match the exceptional anti-glare capabilities of the top-of-the-line displays, which effectively minimize reflections and provide a pristine viewing experience even in challenging lighting conditions.
Refresh rate and Response time
The MSI Optix MAG342CQR doesn't disappoint when it comes to gaming features, although they are fairly standard for a monitor in this price range specifically designed for gaming enthusiasts.
With a refresh rate of 144Hz, this monitor ensures smoother gameplay, providing an optimal level of fluidity throughout your gaming sessions. It's a coveted figure among competitive gamers, as it enhances the overall gaming experience.
In addition, the 1ms response time is worth mentioning. This quick response ensures faster command-to-screen speed, resulting in improved player responsiveness. This feature plays a significant role in reducing motion blur and ghosting, allowing for more precise and seamless gameplay.
Combining these two features, the MSI Optix MAG342CQR earns its classification as a gaming monitor. Furthermore, it offers a high-resolution screen that, depending on your graphics card's capabilities, can contribute to a satisfying gaming experience.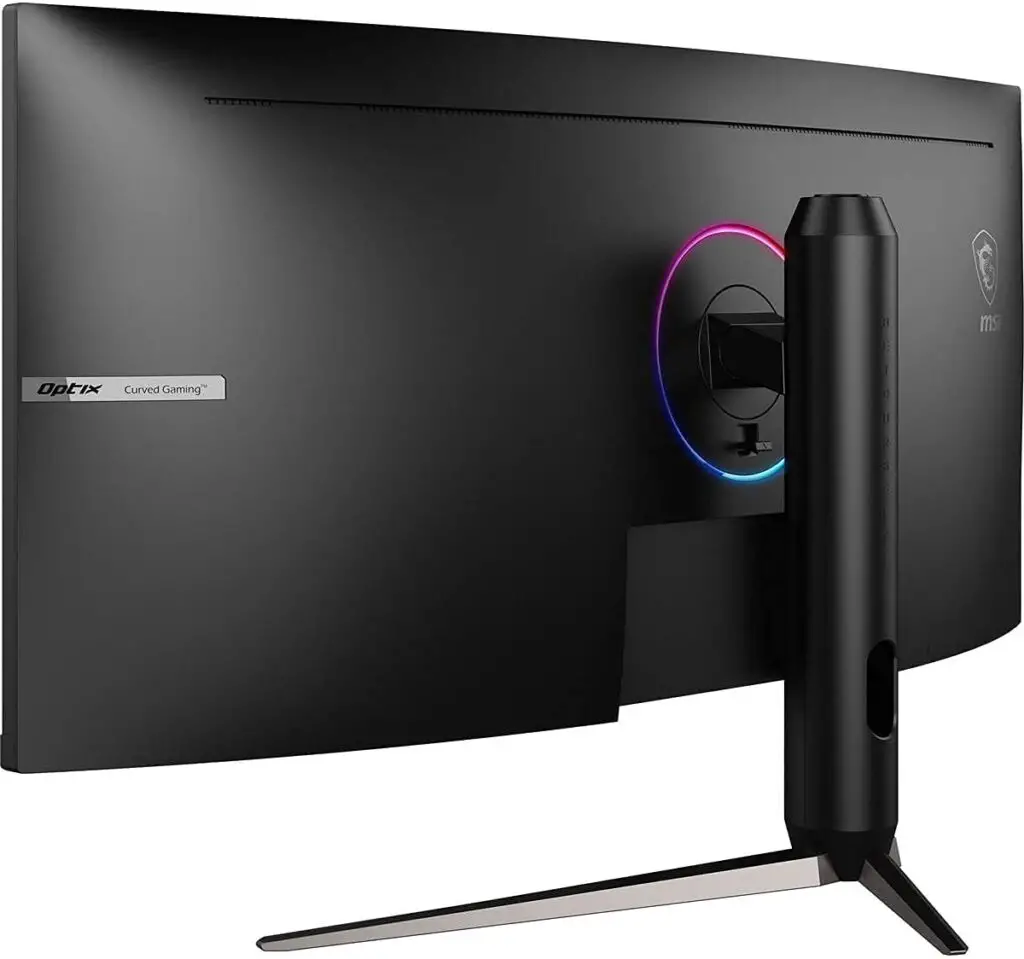 Image Overall Quality
With the introduction of the new Nvidia 4000 series graphics cards, the popularity of 1440p resolution has skyrocketed. In the past, even some high-end graphics cards struggled to achieve high frame rates at this resolution, depending on the game. However, the tables have turned with the arrival of these powerful cards.
That being said, if you're considering getting a 1440p gaming monitor, it's crucial to ensure that your graphics card can handle rendering the video at a high frame rate, taking into account the specific game you'll be playing.
On the other hand, if you're not planning to invest in a new graphics card due to the recent price increases, you can save some money by opting for a gamer-friendly 1080p ultrawide monitor like the LG 34GL750-B.
Moving on, while this display may not have the best panel in terms of image quality, its VA panel is among the top performers within the VA display category, outperforming even certain IPS panels found on other screens.
When comparing a mid-range IPS display to this VA panel, you'll notice that the color reproduction of the VA panel stands out. It covers an impressive 92% of the DCI-P3 color gamut and can reproduce a wide range of 1.07 billion supported colors.
Additionally, this monitor boasts HDR support, which, when combined with its inherent 4000:1 contrast ratio, elevates color reproduction and delivers deep, rich dark tones, setting new standards in the VA display category.
Let me clarify that I wouldn't necessarily recommend the VA panel for professional use that demands high accuracy levels. However, I personally find the colors of this VA panel preferable to many IPS displays I've come across. The vibrancy and crispness it offers make movie-watching and gaming experiences truly enjoyable.
Final thoughts
| | |
| --- | --- |
| Resolution | QHD (3440 x 1440) |
| Size | 34″ |
| Panel | VA |
| Refresh rate | 144hz |
| Response time | 1ms GTG |
| Contrast ratio | 4000:1 |
| Color gamut | DCI-P3 92%, 1.07B |
| Brightness | 300 cd/m² |
| Ports | 2x HDMI, 1x Display port |
When to buy it
If you're in the market for a budget-friendly curved ultrawide display that offers both impressive gaming features and excellent image quality, the MSI Optix MAG342CQR is a fantastic option that won't break the bank.
However, it's worth noting that this monitor boasts a 1440p resolution, which means that depending on your graphics card and the specific games you intend to play, fully utilizing the 144Hz refresh rate may prove a bit challenging.
If you're in need of a 1080p screen that pairs well with your graphics card, I highly recommend considering the LG 34GL750-B. This alternative ultrawide monitor not only comes at an even more affordable price point, but it also offers comparable gaming features that are sure to enhance your gaming experience. Also, if you need built-in speakers, the LG 34WP65C-B is currently only slightly more expensive while having one of the best speakers in this price range.
You may like