Our Conclusion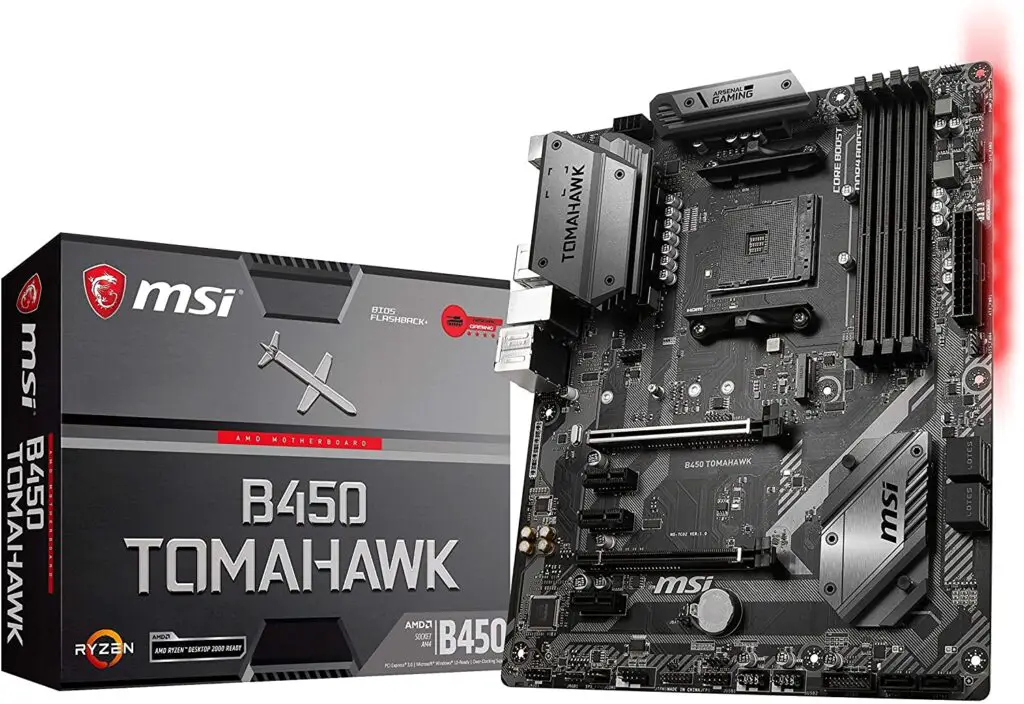 Since this board has a relatively poor cooling system, we can say that the MSI B450 TOMAHAWK MAX II is one of the best price-performance B450 boards for those who don't want to overclock their processors. On the other hand, you can check out the Gigabyte B550 Gaming X V2 if you need a good overclocking mid-range board.
Pros
✓ Affordable
✓ Solid overall aesthetics
✓ Shielded PCIe x16 slot
✓ USB-C connector
Cons
✘ Low amount of VRM phases
✘ Only 1x M.2 slot
Fortunately, a number of well-known motherboard manufacturers are focused on releasing some low-cost, high-performance motherboards this year. We recently reviewed the Asus Prime B560M-A, which is one of the greatest Asus mid-range Intel motherboard launches of 2021, as well as one of the greatest cost-benefit motherboards.
And in today's post, we'll take a look at MSI's mid-range board from last year, which seems promising in terms of pricing and functionality. Find out if the MSI B450 TOMAHAWK MAX II is the correct choice for you by reading the MSI B450 TOMAHAWK MAX II Review below.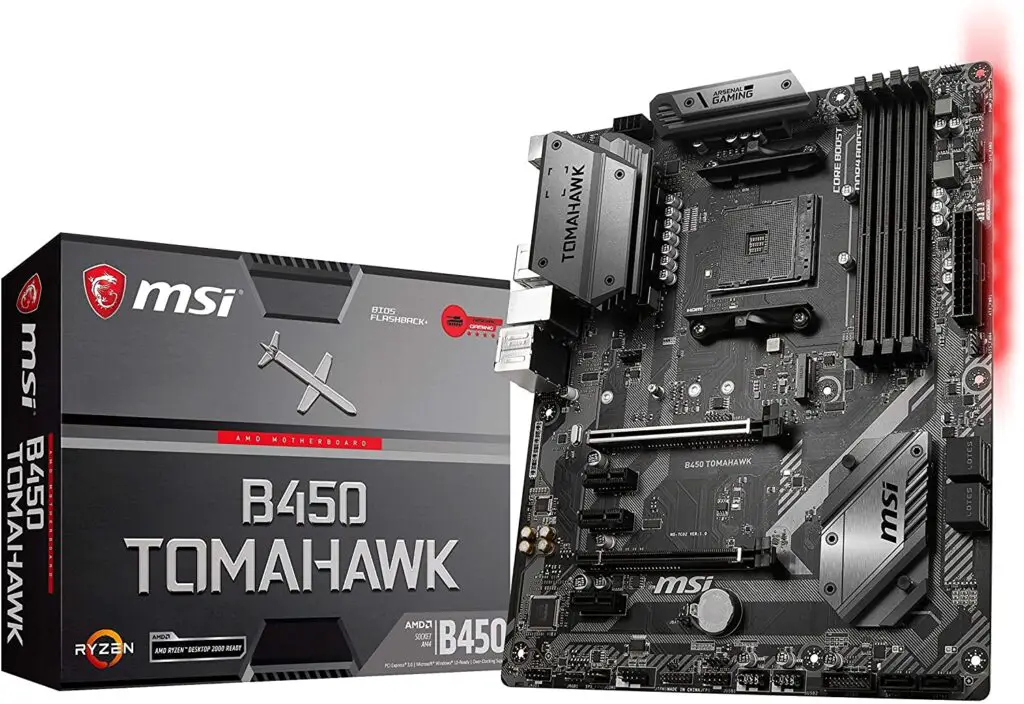 Design
When we initially take this board out of the box, we can already notice the tomahawk max boards pattern. The dark-gray brushed finish on the heatsink and chipset is a recurring theme among these motherboards. 
Furthermore, this is an ATX motherboard, measuring 12 x 9.6 x 2 inches and weighing 1.11 pounds. Also, keep in mind that this board lacks RGB LEDs, so take that into consideration if you want a flashy setup. 
Unfortunately, because of their thinness, the heatsinks on this board do not transmit good reliability at first look. Nonetheless, we can't expect much from a motherboard in this price range.
Personally, I really like this style, and if I didn't want RGB LEDs, this is the board I would choose. On the other hand, if you prefer a board with some RBG LEDs on it, you should check out the ASRock B550M Steel Legend, one of the most flashy mid-end motherboards.
Socket and Chipset
Furthermore, this board features a mid-range chipset, the B450, which is now one of the most popular average choices because of its recent update that included compatibility for the Ryzen 5000 series.
When paired with the AM4 socket, you'll have access to a broad selection of CPU options, from Zen to Zen 3. But unfortunately, this chipset isn't built with support for the PCIe 4.0 already, so this board stands in the average when it comes to connector's speed.
Memory
Additionally, as a mid-end chipset, it will provide you with mid-range memory overclocking margins. With this board, any Ryzen 3rd gen CPU can achieve a memory frequency of 4133 MHz. On the other hand, with any other Ryzen CPU, your memory will only be allowed to run at 3466 MHz of maximum speed during overclocking.
This board has 4x slots with Dual-channel support, XMP, and a maximum capacity of 128 GB. Sadly, neither slot has a steel shield, which is utilized mostly in high-end motherboards to increase durability.
Overclock and Recommended Processors
The B450 TOMAHAWK MAX II is part of AMD's overclockable series of motherboards, so you can overclock your CPUs as much as you wish with it. However, we must keep in mind that this is still a mid-range motherboard with a cooling system that isn't the greatest on the market. 
It features thin heatsinks and a small number of VRM phases, all of which contribute to the fact that this is not an excellent overclocking motherboard. 
Even so, depending on the CPU you'll select, you may still overclock in modest quantities with this board. If I wanted to overclock, I'd definitely go with a 65W CPU like the Ryzen 5 5600X. For non-overclocking purposes, I'd even chance to go with a 100W CPU like the Ryzen 7 5800X.
Indeed, one of the major advantages of Ryzen Processors is the possibility to combine a high-end CPU with a mid-range motherboard. 
Due to the introduction of 7nm in current CPUs, Ryzen is a bit ahead of Intel in terms of power consumption, whilst Intel continues to employ the old 14nm high-TDP CPUs, restricting the user's combination alternatives.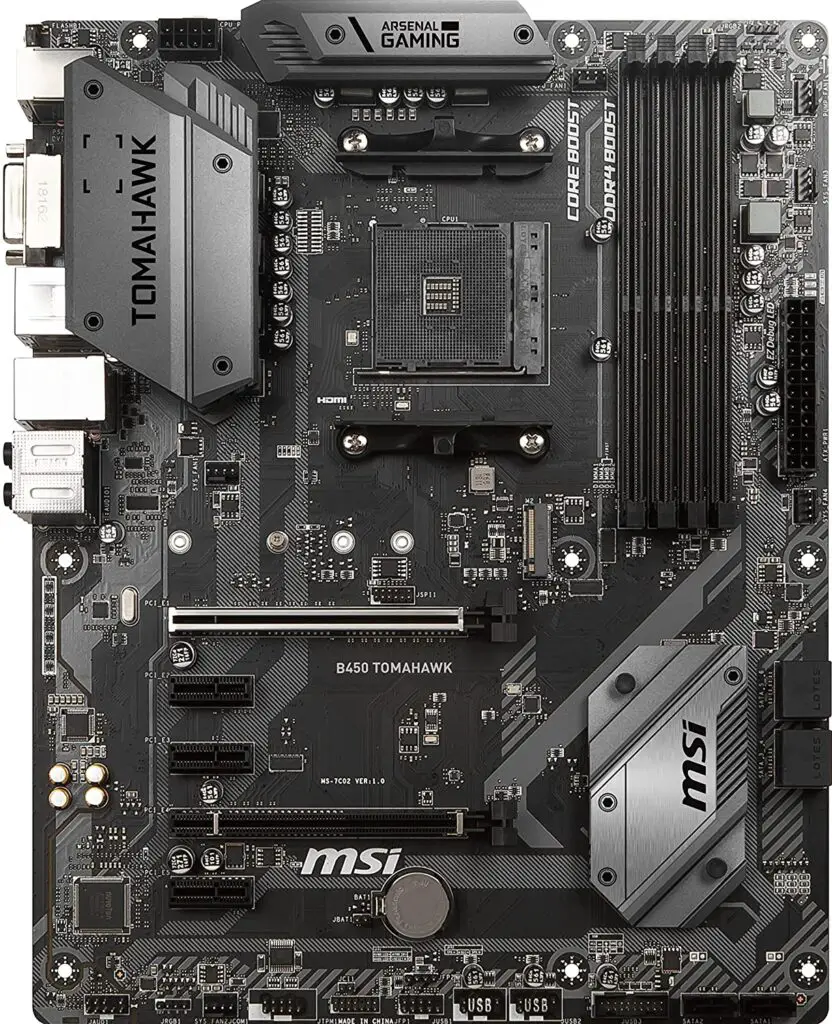 Connectors
Power connectors and SSD
As usual for median motherboards, this one needs a 24-pin ATX main power connector and an 8-pin ATX 12V power connector to receive enough energy to start working. Besides, it features only a 1x M.2 slot (Key M), without a shield.
Fan, RGB, SATA
Besides that, this board has:
2 x USB 2.0 connectors (support additional 4 USB 2.0 ports)
1x USB 3.2 Gen 1 5Gbps connector (support additional 2 USB 3.2 Gen 1 5Gbps ports)
1 x 4-pin CPU fan connector
1 x 4-pin water-pump-fan connector
4 x 4-pin system fan connectors
1 x TPM module connector
1 x Front panel audio connector
2 x System panel connectors
1 x Chassis Intrusion connector
1 x Serial Port connector
1 x Clear CMOS jumper
2 x 5050 RGB LED strip 12V connectors
PCI connectors
Lastly, this board has 2x PCIe 3.0 x16 slots, with the first one featuring steel protection in order to hold heavy graphics cards firmly. Also, this board has 3 x PCIe 2.0 x1 slots.
Back panel
Now, let's take a few looks at the back panel of this board and see what MSI decided to implement on it. As a pattern for price range motherboards, they chose not to add the Pre-installed I/O shield on this model, focusing on lowering the prices.

Flash BIOS Button
PS/2 Combo Port
USB 3.2 Gen 1 5Gbps Type-A ports
LAN Port
HD Audio Connectors
USB 2.0 Port
DVI-D Port
HDMI Port
USB 3.2 Gen 2 10Gbps Type-A+C ports
Final thoughts
When to buy it
If you need a mid-end motherboard with good features and a solid design, you certainly won't go wrong with the  MSI B450 TOMAHAWK MAX II.
When not to
However, this is not you're the right choice if you need a good overclocking board since this has not a good cooling system. In this case, you may check out the Gigabyte B450 Aorus Elite V2.
You may like