Our Conclusion
The LG 29WP60G-B is without a doubt one of the most affordable ultrawide monitors on the market, with one of the greatest price-performance ratios as well as one of the best LG ultrawide releases of the year. Keep in mind, however, that this display only offers a Full HD resolution and has limited gaming capabilities. The LG 34WN650-W is a superior choice if you need sharper visuals.
Pros
✓ USB-C port
✓ IPS panel
✓ HDR 400
✓ Lower than average prices for ultrawide displays
Cons
✘ Relatively low PPI
✘ No out speakers
Have you ever imagine spending less than $250 on an Ultrawide monitor with HDR support and outstanding visual features? Well, LG has made this fantasy a reality by introducing this model this year, which we will be reviewing today.
When a monitor has such cheap costs, we can usually anticipate the manufacturer to have removed some important features to make way for price reductions.
This might or could not be the case with this display. So, without further ado, let's take a look at the LG 29WP60G-B Review and see why it's currently cheaper than the competition.
Design
Because this isn't the largest ultrawide monitor available (it's just 29 inches), it's likely one of the reasons for its low pricing. This monitor, on the other hand, offers a 34-inch version:, but it costs around $80 more than this one.
I'm not sure why, but this monitor reminded me of Acer's Nitro models, but there are some significant changes. It does, in fact, have a half-triangular stand with red accents on the back.
However, its rear differs significantly from the Nitro versions' aesthetics, which lean toward a more gaming-like appearance, while the LG 29WP60G-B sports a simple/solid LG typical rear pattern.
This monitor's stand is identical to that of the LG 32MP60G-B, supporting Tilt and Height adjustments.
Furthermore, this monitor adheres to the current trend of borderless bezels and a slim overall appearance, which is far thinner than the industry standard for ultrawide screens. 
Looking at the rear of the monitor, we can see that it has VESA compatibility, but it lacks speakers, which may be a significant disadvantage depending on your intended usage.
Connectors
Aside from that, this monitor thankfully offers a wide range of connections, which is uncommon in displays in this price range. There will be 1x HDMI, 1x Display port, 1x USB Type-C connector, and 1x headphone out.
It's worth noting that it lacks standard USB ports, so if that's a concern for you, you're already aware. With that out of the way, let's look at the features of this display and see whether they match the pricing.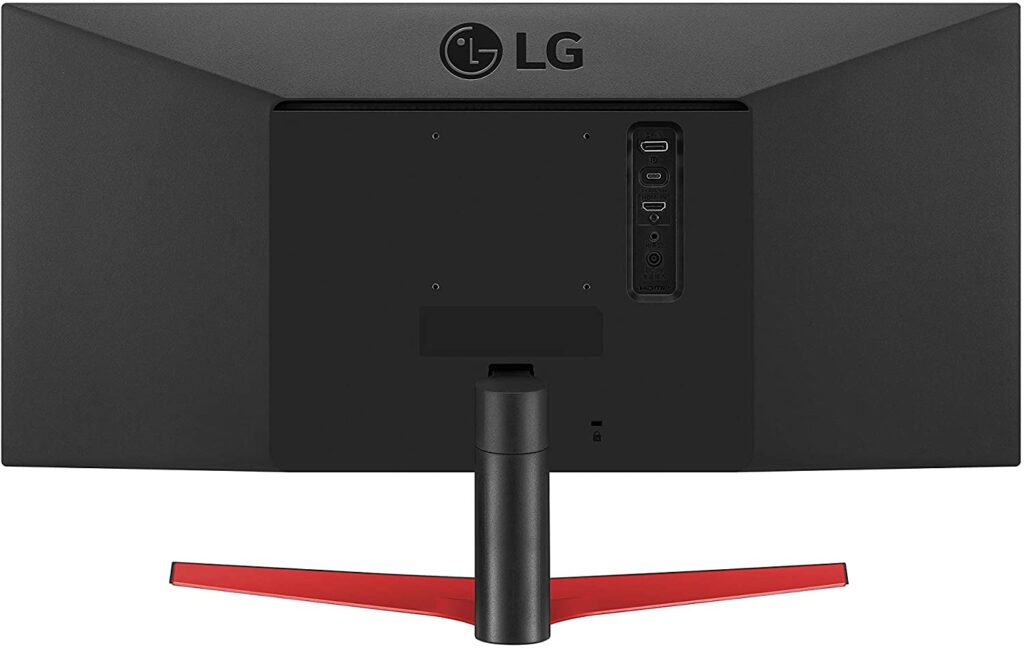 Features
Panel type
Since they chose to implement an IPS screen, this display's panel is unquestionably not a cost-cutting measure. This panel has a reputation for featuring the best color accuracy of the three primary ones (TN, VA, IPS).
Due to that, it is one of the greatest options for professionals that want the highest level of precision. However, as with every other panel, it has drawbacks, including a reduced contrast ratio compared to VA displays and IPS glowing. Of course, depending on the building's quality, these drawbacks can be "masked." 
The level of IPS glowing is primarily influenced by the panel's quality, which means that depending on the monitor's pricing, the possibilities are relative to higher or lower IPS glowing.
You may be certain, though, that this display does not show any alarming levels of IPS glowing, which is a little surprising given its price range. 
On the other hand, you cannot avoid the lower contrast ratio of IPS panels, meaning that if you do need more contrast, you need to afford a VA screen such as the ASUS VP348QGL.
Brightness
The LG 29WP60G-B's brightness is on average, suiting its prices, being the first feature that is typical to this price range. 250 nits of overall brightness will be enough if you won't use this display in front of a window, with sunlight pointing to it. However, the 34 inches version of this model has 400 nits of overall brightness, which is indeed a huge improvement.
Refresh rate and Response time
Already stating that you won't find anything out of the norm for a Professional/ Casual display in the gaming features section.
Although this monitor has excellent visual quality, it is not the best choice if you want to get into the competitive gaming scenario because it only offers a 75hz refresh rate.
Despite 75 Hz is a good number with some discernible improvements from 60 Hz, it is still too low for competitive gaming.
In contrast, it has 1ms MBR of Response time and 5ms (GtG at Faster), and it is not advisable to use 1ms MBR during daily usage since it may prejudice the image quality.
Image Overall Quality
Despite having several outstanding picture accuracy characteristics and good brightness, the LG 29WP60G-B does not offer the highest resolution for an ultrawide monitor.
Due to the poor PPI ratio, Full HD (2560 x 1080) is not advised for large displays like this one. However, with a 29-inch screen, it's not the worst scenario you can get; just keep in mind that you'll be able to spot a few pixels here and there. 
On the other side, it has the average color support for this price range of 16.7M and sRGB 99 percent, both of which are qualities that match the display's pricing.
It also includes FreeSync technology, which means you won't have to worry about screen tearing when playing.
Finally, this monitor supports HDR 400, which isn't ideal if you want a monitor with excellent HDR color reproduction because it's the most basic overall HDR brightness. It does, however, improve the contrast in dark environments.
Final thoughts
When to buy it
If you want to spare some money and need an ultrawide display, the LG 29WP60G-B is definitely a good choice to go with. It has awesome prices for its price range.
However, it has a low PPI resolution being only Full HD, so if you need clearer images, check out the LG 34WN650-W, which is on sale currently at awesome prices.
You may like