Our Conclusion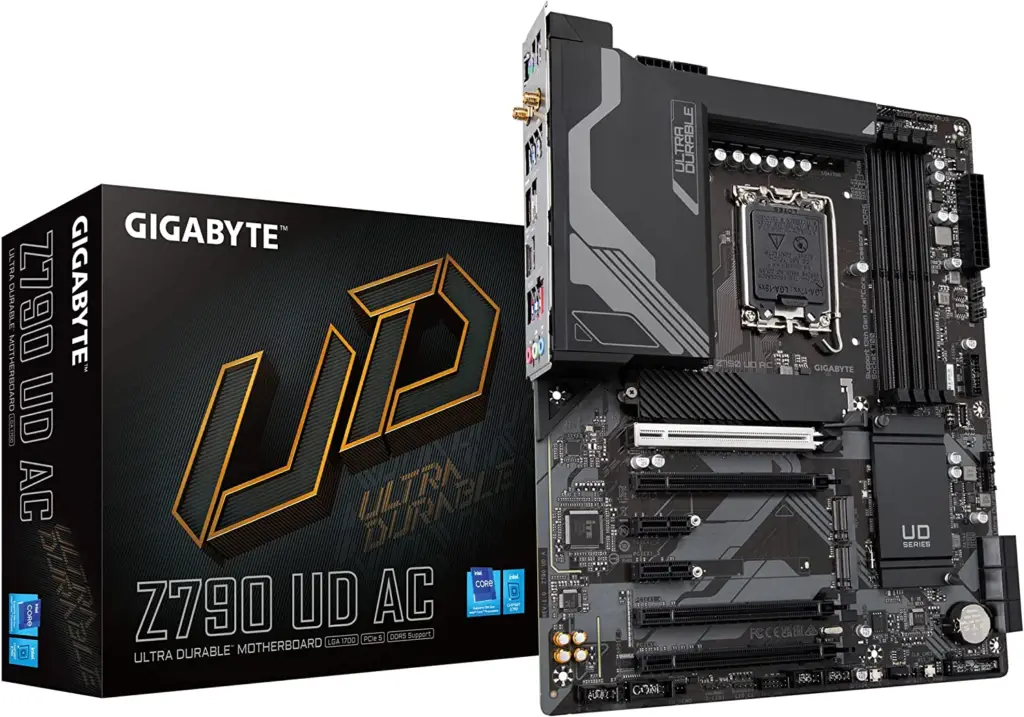 The GIGABYTE Z790 UD AC is currently your best pick if you are looking for a budget motherboard with the Z790 chipset. It has a great cooling performance and a lot of USB ports, all of that at strikingly affordable prices. Yet, it does lack some important features for enthusiasts such as PCIe 5.0 for the NVME slots. In that case, maybe the: ASUS ROG Strix Z790-E is going to be a better choice. Still, it is around $150 more expensive than the Z790 UD AC, unfortunately.
Pros
✓ One of the most affordable high-end boards
✓ High amount of USB ports
✓ PCIe 5.0 x16 connector support
✓ Up to 7600Mhz of RAM OC
✓ Great cooling performance
Cons
✘ It lacks PCIE 5.0 for the M.2 slots
✘ Only 1x M.2 with shield
The latest generation of CPUs with brand-new socket support from both Intel and AMD has brought about a huge range of possibilities for new motherboards. 
Fortunately, the previous well-known board series that often had very affordable price tags are still remarkably budget-friendly in this generation.
Take the MSI Pro Z790-A Wifi or the Msi Pro X670-P Wifi, for instance, even though they are slightly more expensive compared to the previous gen, they are still more affordable than the norm for top-tier chipsets. Such is the case with the Ultra Durable AC series from GIGABYTE. 
The GIGABYTE Z590 UD AC is still one of the best motherboards of the previous gen, and the one we'll check out today is even better with advanced technologies. Whether it is the best budget choice with the Z790 chipset or not, we'll find out today in our GIGABYTE Z790 UD AC Review.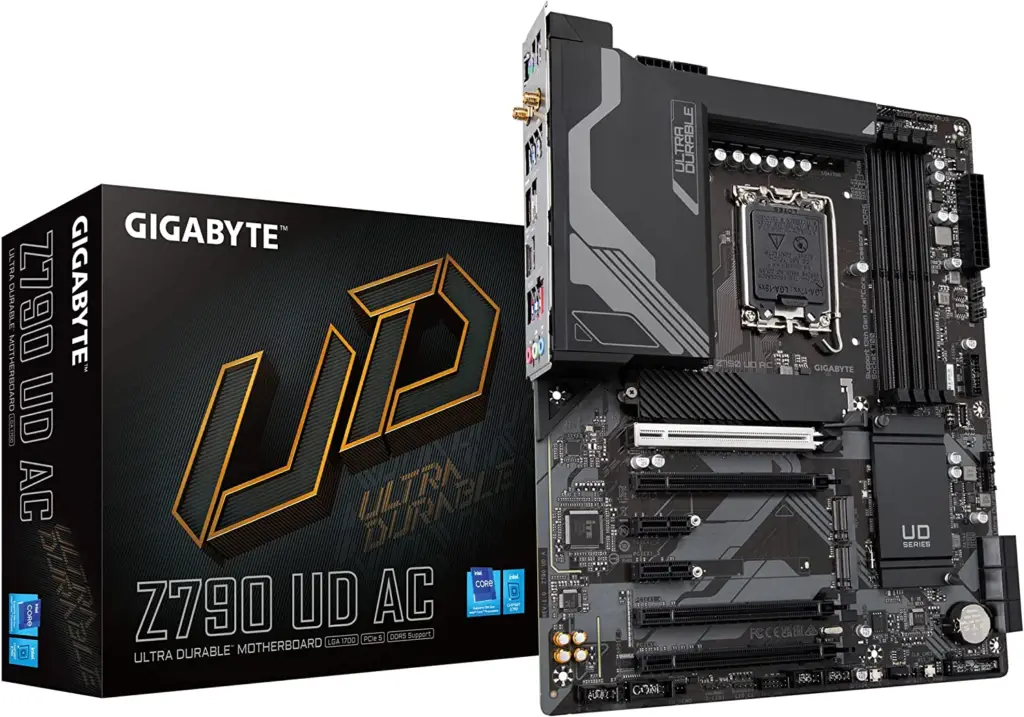 Design
As we previously noted, some of the budget-friendly boards in this generation carry a slightly higher price tag. Interestingly, this additional cost is manifested not only in the monetary value, but also in the intricate design of the motherboard. 
Comparing it to its older siblings, we can see that it is slightly more robust, with a couple of additional heatsinks here and there. Yet, it still keeps the classic style of the line with some gray patterns on the heatsinks and no frills like RGB LEDs. 
By the way, its main heatsink is surprisingly one of the largest we've seen for a budget motherboard like this one. It has a wide number of VRM phases, but we'll set that aside for now until we get to the VRM Phases section. 
As an ATX motherboard, it is on the larger side, so be sure to see if your case will support it before going for it. In any case, compared to the:  GIGABYTE Z590 UD AC, this is clearly a much better version. It has better materials, design, patterns, and everything else.
In fact, among all the budget-friendly motherboards we reviewed recently, this is one of the best when it comes to design. It is cheap while looking robust and pricey, we couldn't ask for more. 
Lastly, as we've been doing with the other motherboards we currently reviewed, let's compare it with one of its rivals. To that end, there's no better option than MSI's PRO Z790-A WiFi.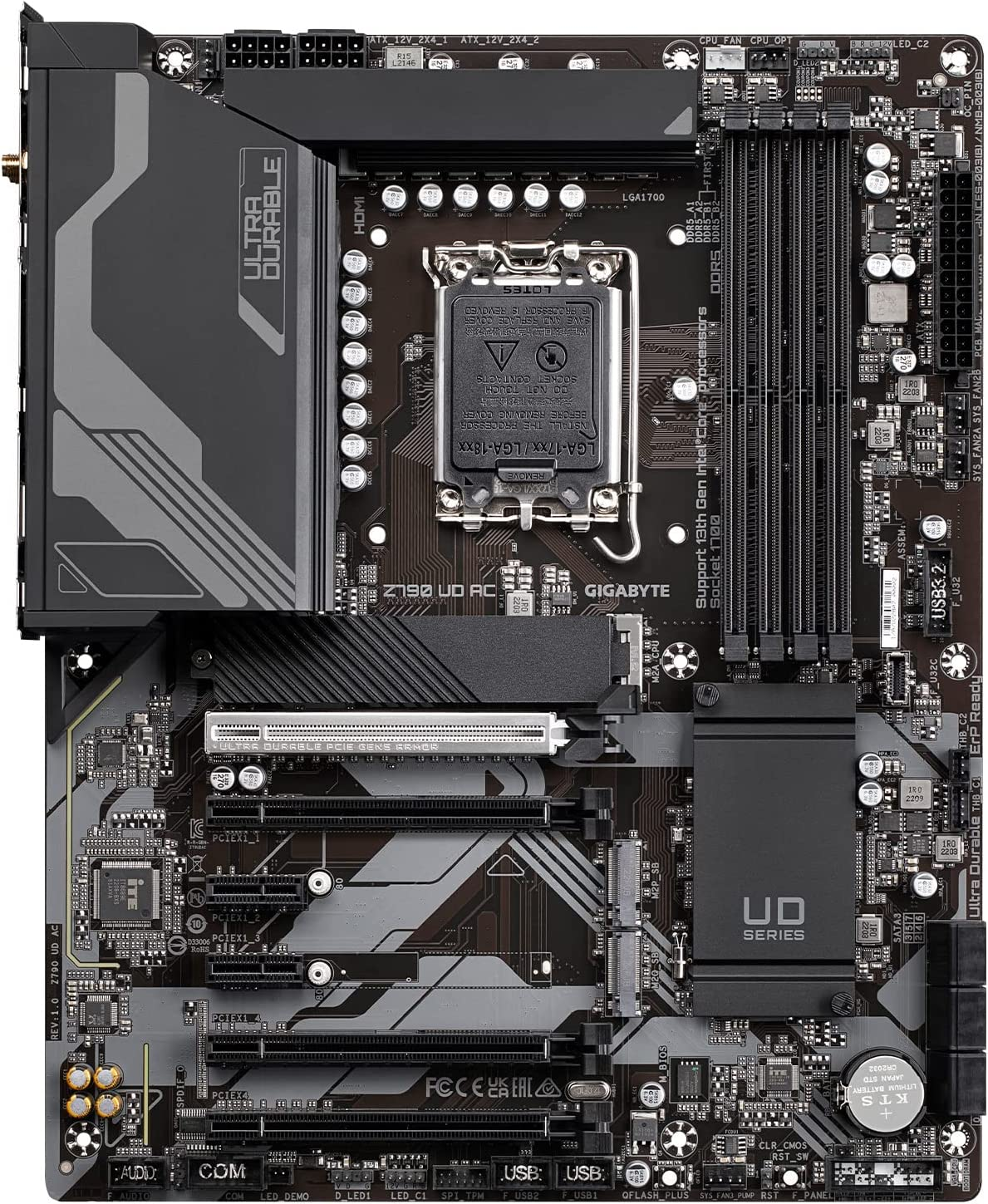 In my opinion, even though the latter is more robust, I have to go with the GIGABYTE Z790 UD AC. It has a better design pattern and color palette. In any case, be sure to share with us the one you prefer in the comments.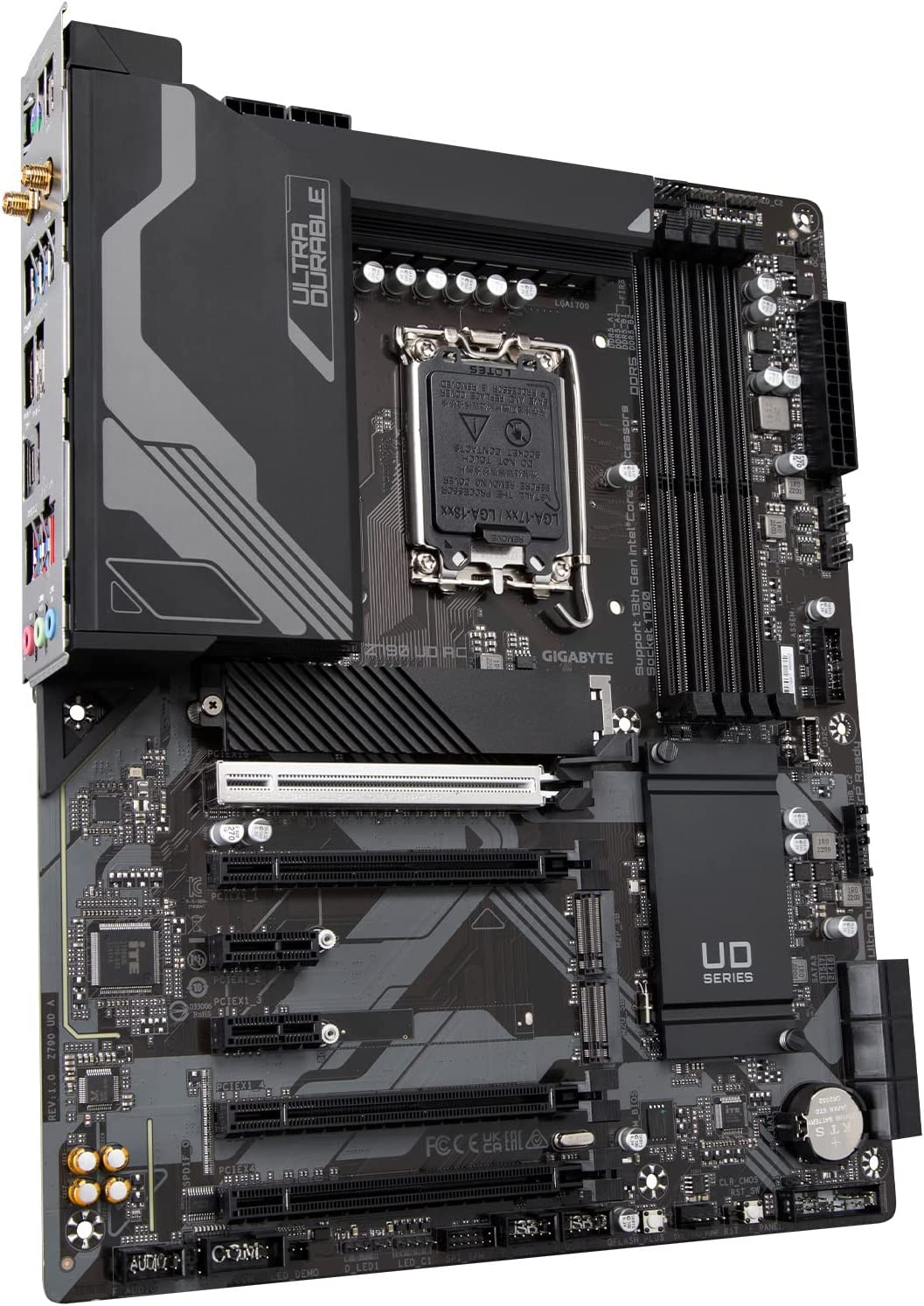 Socket and Chipset
Pushing the limits of RAM overclocking and having PCIe 5.0 and NVME 5.0 support, as well as some other good things – the Z790 chipset is the perfect choice for enthusiasts.
That said, the normal consumer won't use even half of the "premium" features this chipset has available. And as you can figure out, for a motherboard to have such a high-end chipset, it suffers a huge toll on its final prices. 
Of course, this one is an exception to the rule, as it has low prices while boasting a flagship chipset. But even with that, the manufacturer still had to make some compromises in order to keep prices low, as we'll discuss later in this review.
The good part of this all is that you're often going to have a pretty decent motherboard overall when you find this chipset in it. As they are commonly found on high-end models, the boards with said chipset often have good, if not great, cooling performance, which lines them up with an enthusiastic need. 
Aside from that, the GIGABYTE Z790 UD AC  has an LGA 1700 socket.
As we all know, intel frequently swaps the socket for their new processors. With that, even their latest sockets like this one can become obsolete in the blink of an eye. 
Right now, it supports 12th and 13th intel gen processors. And, coming as no surprise to everyone, the upcoming 14th will be out of its range. So, as far as futureproof goes, this is not a motherboard that will allow you to upgrade the CPU that often.
Memory
Memory overclocking is one of the most remarkable masterpieces this board has in store.
First of all, it has DDR5 slots.
Yes, DDR5 RAM modules are still very expensive compared to DDR4 and its prices are still not showing signs of decreasing so far.
Even so, those modules do have their set of advantages over DDR4.
They are naturally faster out of the box, with nearly double the supported frequency you'll find in DDR4 modules. Besides that, they also have a higher threshold for overclocking. In that regard, the GIGABYTE Z790 UD AC performs exceptionally well with its 7600MHz OC limit.
Comparing it to the Z790 from MSI, which is an even more expensive board with 7200MHz, this one really shines. Right now, it is probably the cheapest board with 7600MHz support you can find – a true gold mine for enthusiasts.
Once again, don't expect those higher frequencies to give you a major boost in gaming performance, but there will be noticeable differences.
This board has 4x DIMM slots with up to 192 GB (48 per slot). It also supports Dual Channel and XMP 3.0. Unsurprisingly, it lacks steel protection for the sockets, but we can take this as a price to pay for being so affordable.
Overclock and Recommended Processors
Never failing to defy our expectations, this board has one of the best cooling performances we've checked out so far in this category.
 With all of those phases and a very large heatsink, there are no CPU choices that we would not recommend, to begin with. You can literally overclock the i9 13900k: one of the flagship Intel CPUs with the highest TDPs, and this board's VRM temperature won't even get near the danger degree range.
So, as the motherboard gives no limitations to our choices, our recommendations will be based on the best processors for each specific target audience. 
First, if you are a gaming-only person, then you shouldn't be going for an expensive motherboard like this in the first place. Maybe something with a more mid-range chipset and cheaper prices like the ASUS Prime B760-PLUS D4 will give you just what you need for good gaming performance. 
Still, the best gaming intel processor right now with the best value-performance ratio balance is the: Intel Core i5-13600KF. With that CPU and this motherboard combination, you have the leeway to overclock it to its limits. With overclocking, that processor can achieve similar gaming performance to even the top-tier ones like the Intel Core i7-13700KF. 
On the other hand, if multitasking is one of your major concerns, then we should go a little bit higher than that. The Intel Core i9-13900KF or the Intel Core i7-13700KF if you can stretch the budget, are currently the best choices. 
Lastly, for those of you who want to get the top-of-the-line CPUs, maybe the i9 13900k is still your go-to. In any case, just be sure to use the motherboard in a case with good airflow, and you won't have to deal with any temperature issues with the VRM Phases.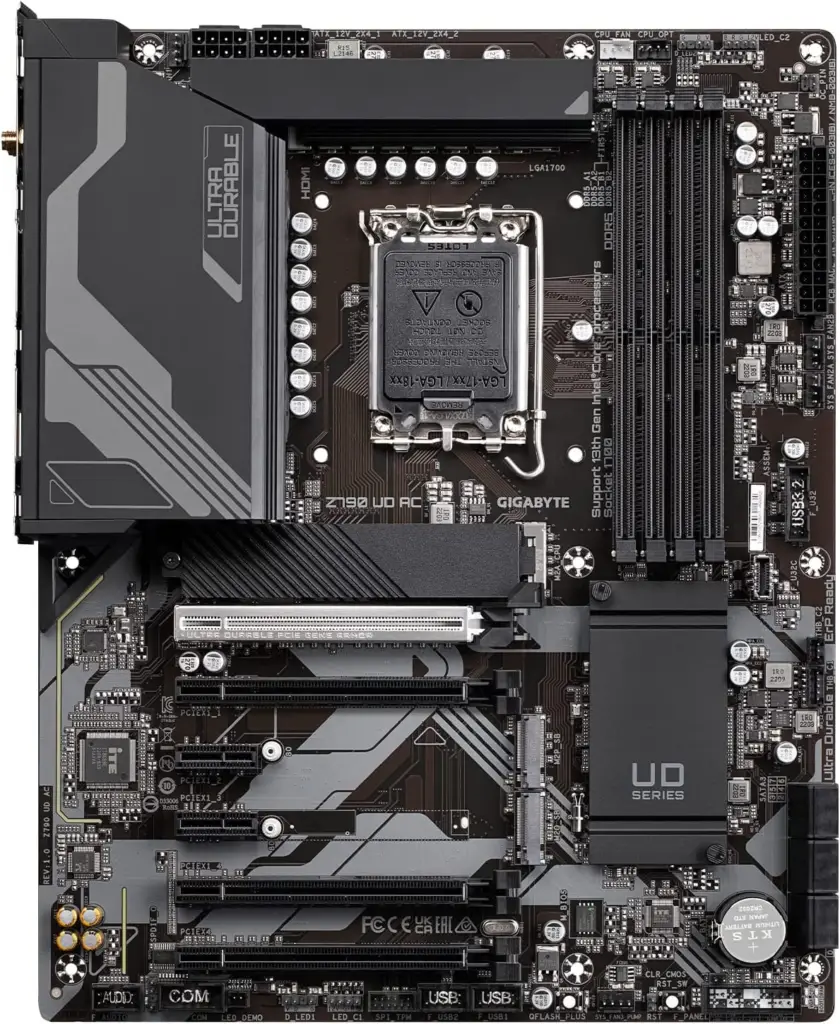 VRM and Connectors
Similar to the MSI Pro Z790-A Wifi it has 18 phases with a 16+1+1 pattern and a tall heatsink. All of which ensure the cooler temperatures we mentioned during our tests. In terms of comparison to the board above, both performed rather similarly, even though the MSI Pro Z790-A Wifi is more expensive.
Of course, it does have some things that this one lacks, and we'll mention that in our conclusion section. 
Connectors
Power connectors and SSD
As we predicted, the manufacturer of the board had to take some things off in order to keep prices below average. See those M.2 slots, for instance. Even though they belong to a high-end motherboard, they don't have PCIe 5.0 support.
Not that it matters right now, but assuming you were planning on upgrading the NVME to PCIe 5.0 when they finally come out, this board won't let you take advantage of whatever the benefits that will give us over the previous technology.
Naturally, the lack of said feature isn't a big deal for non-enthusiasts, as surely PCIe 5.0 NVME won't bring that much of a difference for our daily use.
On that same regard, there is a huge point to be considered here.
The MSI Pro Z790-A Wifi is currently $40 more expensive than this board, and believe it or not, even that one doesn't have PCIe 5.0 for its NVME slots. The point is, if you want that feature you'd have to stretch your budget to around $450 and go for the ASUS ROG Strix Z790-E, and believe me when I say that PCIe 5.0 M.2 is basically the only benefit you'd get from saving around $200 more for that one.
By the way, usually with AMD boards, you wouldn't have to spare that much money in order to get PCIe 5.0 M.2 slots, but that doesn't matter right now.
Moving on, this board has 2x 8 pin slots for the CPU and the usual 24 Pin power connector. Besides that, only the first and main M.2 slot has a heatsink shield, so always use your main SSD there. 
Fan, RGB, SATA
Even though the chipset allows for up to 8 SATA slots, they decided to keep it at 6.
Obviously, 2 more or 2 less won't matter for 99% of users, but we should point it out anyway. Aside from that, it has just 3x FAN connectors, aside from the usual 1x system fan/water cooling pump header, 1x water cooling CPU fan header, and 1x CPU fan header.
In addition, it only has 2x RGB headers and 2x LED headers, falling a step below the MSI Pro Z790-A Wifi. If you want to make your case shine with RGB LEDs, you should definitely get a proper hub if this is your motherboard. 
PCI connectors
Fortunately, this board PCI connector has PCIe 5.0 support. However, only the first slot supports that technology, which is unfortunate. Besides, there is only one running at x16, and it also is the one you should plug your graphics card into. To ensure you don't get it wrong, it has steel protection, which helps with the graphics card sagging.
As those cards are getting bigger and bigger with time, it is always good to have that kind of safety label. Of course, we all know it won't be of big help in the end, and we'll have to always support the card with a proper anti-sagging device.
In any case, aside from that one, it has 3 more PCIE x16 slots, one running at x4 and having PCIe 4.0, while the other two have only PCIe 3.0 and running at x1. Besides, it has 2x PCIe x1 being both PCIe 3.0 as well.
As expected for a high-end motherboard, there is nothing to complain about its audio. It is clear with no interferences whatsoever. However, as usual, the frontal panel audio is a mess in terms of quality. Also, It doesn't have integrated Wifi or Bluetooth antennae, so it is minus one point for the board.
Back panel
Given that it is cheaper than the MSI Pro Z790-A Wifi, which, in turn, didn't have a pre-installed I/O shield, we definitely weren't expecting to see such a thing in this motherboard. It may seem like something minor but it does make the difference during the installation. Besides that, it gives the motherboard a premium vibe.

1 x USB Type-C® port, with USB 3.2 Gen 2×2 support
1 x USB 3.2 Gen 2 Type-A port (red)
4 x USB 3.2 Gen 1 ports
4 x USB 2.0/1.1 ports
2 x SMA antenna connectors (1T1R)
1 x HDMI 2.0 port
1 x DisplayPort
1 x RJ-45 port
3 x audio jacks
With a bunch of different USB ports to choose from, this board is once again a step ahead of the MSI Pro Z790-A Wifi. That board only had 5 USB ports, with the USB-C included. And as that one also lacked the pre-installed I/O shield, this is a better motherboard through and through. 
Final thoughts
When to buy it
Sometimes, the GIGABYTE Z790 UD AC even feels like a direct upgrade from the MSI Pro Z790-A Wifi even though the latter is a more pricey model. Surely, it does lack some things its competitor holds such as built-in wifi and 1 less M.2 slot with a heatsink cover. But obviously, all of those minor differences can't explain the 40 dollars gap between the two. In any case, as far as the budget motherboards we've reviewed currently, this is one of the best value for money of all.
On the other hand, some enthusiasts may find the lack of PCIe 5.0 for the NVME to be a major setback. In that case, the ASUS ROG Strix Z790-E may be a better choice for you.
You may like