Our Conclusion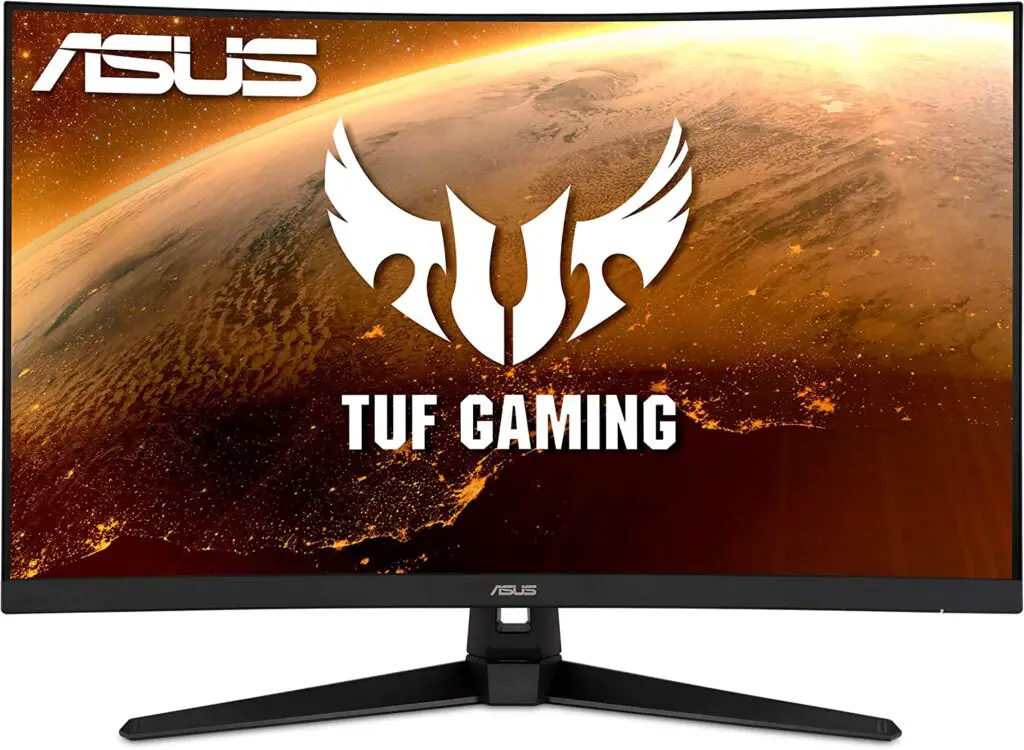 The ASUS VG32VQ1B has a significant amount of black smearing, but in contrast, it also has a good refresh rate and vivid colors. If you balance things out and add its prices to the sum, this monitor becomes no less than one of the best VA monitors in this price range. However, if you don't necessarily need a VA screen, the: HP X32 could be a better monitor for you, without the smearing issue and cheaper.
Pros
✓ Vivid colors
✓ High refresh rate
✓ Budget prices
✓ Often on sale
Cons
✘ Black smearing
✘ Low peak brightness
While the Asus ROG STRIX monitors are renowned for having some excellent high-end displays but exorbitant prices, the TUF ones are the best to consider if you need a better price-to-performance in the low- to mid-end bracket.
Obviously, it's not always like that, and occasionally you can find a cheap ROG STRIX monitor or an expensive one hiding in the TUF line.
But one thing is certain: the TUF is virtually always superior in the mid-range category, despite having some aesthetic shortcomings. As an illustration, we might use the ASUS VG27AQ1A, which is undoubtedly among the greatest TUF monitors to date.
And for today's post, we have the Asus TUF VG32VQ1B, a 32-inch screen with some mid-ranged prices and probably some good features as well. We'll check that all out in today's Asus VG32VQ1B Review.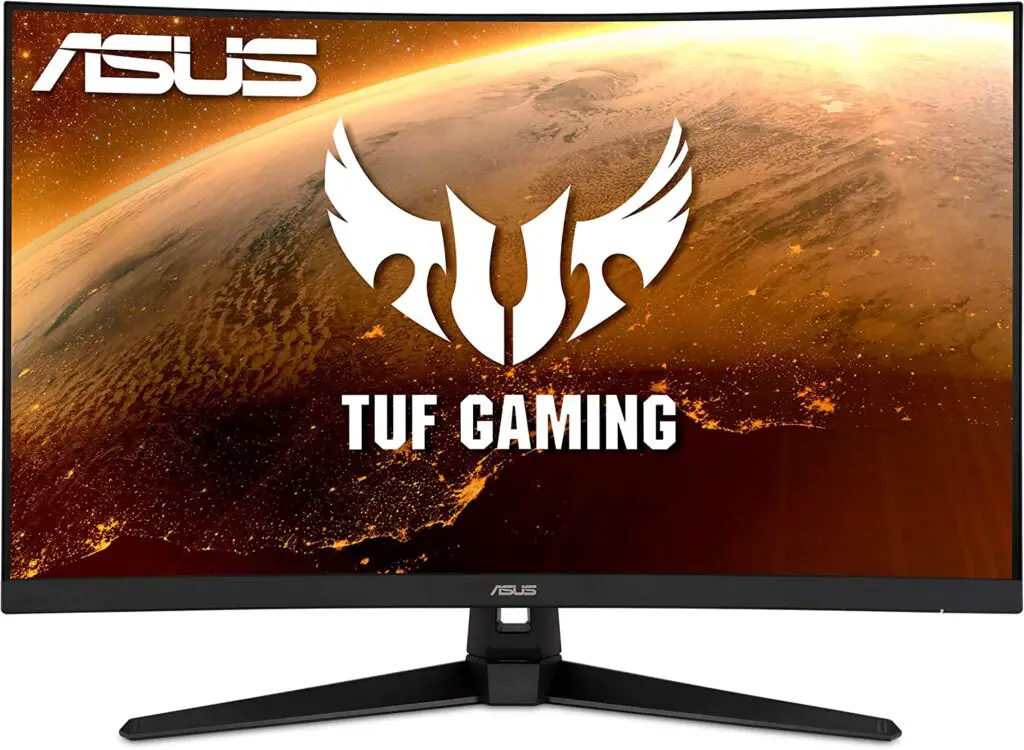 Design
Being part of the budget gaming category of ASUS monitors, the TUF line, this monitor leans toward a basic aesthetic set and even an aged vibe due to its stand.
Depending on the model, though, even the ROG STRIX can be quite similar when it comes to bulkiness. The typical ASUS V-shaped stand isn't really the best one for space-saving on your desk.
This display has a texturized surface and is fully matte black. Although the materials aren't the best we've seen in this price range of monitors, they aren't the worst either.
The point is, you won't like to have this monitor falling down too often because I can see it easily breaking in such conditions. It shouldn't be a major concern as nobody uses a monitor like that, of course. Don't forget that this isn't a high-end screen, so it makes sense that they would take some steps to lower the final prices.
Putting that aside, there is one aspect of this monitor that I truly don't like: the stand.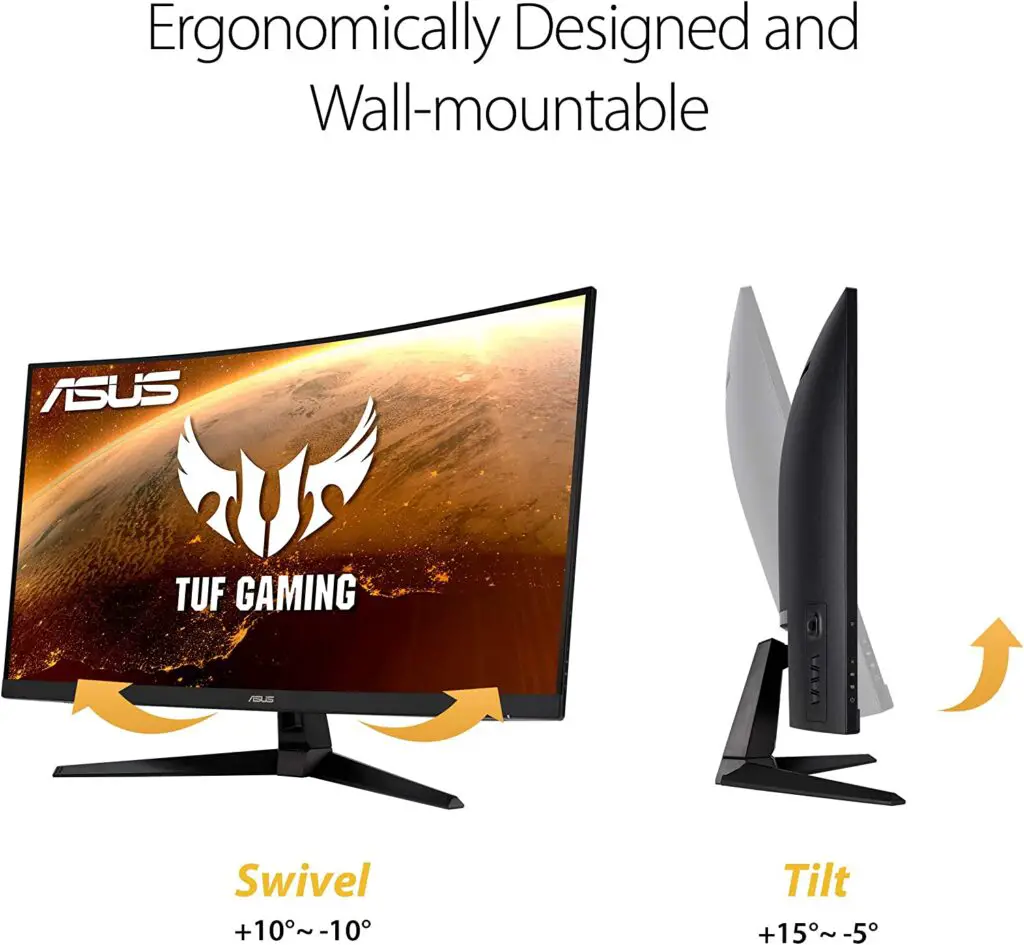 This stand just provides tilt and swivel support, which isn't enough considering how large and broad it is and how much desk space it takes up.
If I had to use this monitor on a daily basis and wanted more ergonomy, I would install it with the VESA support and use an adjustable stand that can be purchased separately.
Speaking of desk space, you should keep in mind that, depending on the size of your desk, you need to spare a considerable amount of empty space for a screen this size (32-inch).
It is is a: 0.33 x 27.94 x 19.97 inches monitor, and it weighs around: 15.98 lbs. Given its little weight, a sturdy desk ought to be able to support it without any issues.
Those who prefer flat screens will find its 1500R curvature to be a rock on the shoe. The major benefit of having this curvature here is that it somewhat improves viewing angles, but we'll comment further about that in the panel type section.
In general, this is a solid screen. Once more, you won't get any of the elaborate designs from the ROG Strix range, some RGB LEDs, or anything like that. What we have here is a straightforward, solid screen that isn't particularly eye-catching but is ideal for an office arrangement.
Considering how old the ASUS VG32VQ1B is, we were prepared for it to look worse, but we were pleasantly delighted to see borderless 3-sided bezels and a somewhat thin bottom bezel.
Before we proceed though, we should mention that this monitor's speakers are not even worth taking into consideration because of their utterly terrible quality and max volume. You should definitely steer clear of this display if speakers are a priority for you on a monitor. Something like the: LG 32UN550-W may be a better deal in your case. 
Connectors
With only 1x DisplayPort 1.2, 2x HDMI(v2.0), and 1x headphone out, the VG32VQ1B falls into the typical low-end category. It has expected connectors for its price range, to be fair. And usually, if you need USB ports, you'd have to spend a little bit more.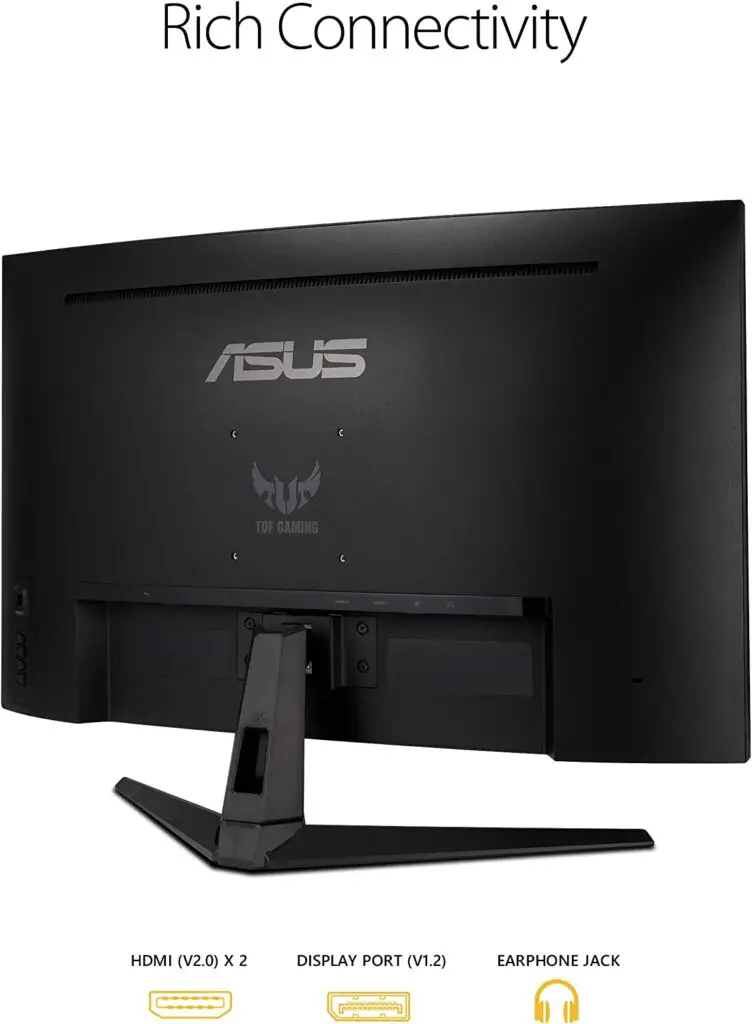 Features
Panel type
The fact that this monitor is among the most affordable 1440p displays and also the most affordable in the TUF range does not come without a cost. It has a few poor characteristics that can get in the way when it needs to work at its peak during regular use.
This VA panel, like all other VAs, does not have as good viewing angles as some of the IPS in this price range. In addition, a particular issue with VA panels—the black smearing—was manifesting itself during our tests. In the refresh rate and response time sections, we'll talk more about that.
Its vibrant colors were perhaps the feature that most impressed us here.
Its wider gamut range enables colors to slightly extend beyond the sRGB spectrum. The nicest thing is that, especially in VA panels with a low-budget deal like this one, it is uncommon to see such a feature.
But you have to be right in front of the screen to view those excellent colors clearly. Poor viewing angles will kick the door in and distort all the colors it sees if you are in a little different posture.
On the other side, the VA panel we have here is ideal for you if all you need are stark contrasts and deep blacks. It performs remarkably well in terms of rich blacks and brilliant whites thanks to its 3000:1 contrast ratio.
Brightness
If not for the monitor's low peak brightness, the contrast between the colors would have been much better.
Despite having 250 nits on paper, it is capable of going a little bit beyond.
It held up fairly well and lagged only a little behind a 300 nits screen. Unfortunately, this does not alter the fact that the handling of reflections is terrible.
This screen was close to a window, which caused excessive glare. When we turned the brightness up to its highest setting, it only slightly improved, and even then, it was so awful that using the screen normally was challenging.
But as this is not the highest-end screen available, this is to be expected, therefore it is not a significant drawback.
Just be sure to take that into consideration depending on where you'll be using the screen.
Of course, this brightness also falls short of providing you with a competitive advantage in games. Naturally, this monitor is definitely not the one you should add to your list if playing competitive video games is your objective.
Refresh rate and Response time
Whether desired or not, a VA monitor's price has a significant impact on its likelihood of having good responsiveness.
High-end VAs typically tend to have bigger odds of fewer responsiveness drawbacks than less expensive ones. Of course, it's not a hard-and-fast rule, and you can find affordable VAs for competitive games that perform fantastically and are incredibly responsive.
The truth is that although coming close, this one is still not the best for competitive scenes.
Let's start with the positives: It boasts a great refresh rate of 165 Hz, which is fantastic and makes everyday use and gameplay buttery smooth.
Additionally, the display has FreeSync Premium with a range of 60–165 Hz, which will further increase the smoothness by reducing screen tearing.
In addition to that, it also boasts 1 millisecond of MPRT on paper and about 5 ms in practice, which is far faster than the norm for this price category. It was really challenging to detect motion blur, and we only did so because this isn't a 240 Hz panel. If it were, it would have been considerably harder.
This display performed admirably during the casual game test in terms of its main gaming capabilities. 
Yet, as not everything is perfect, it is still not the best choice if you want to play competitive video games.
The size is the first big hurdle, and if you play very near the screen, 32″ is absolutely not the size you should use. In addition, the VA panel's viewing angles won't do anything to assist you to see your opponent well.
Furthermore, while 165 Hz is suitable for casual gaming, 240 Hz is still preferred for greater responsiveness.
As if that weren't bad enough, this display also has a good amount of black smearing that plagues almost all of the VA panels. 
Black smearing can be a very difficult obstacle to overcome in competitive games, despite the fact that it is not so awful for slow-paced games. In several titles, like valorant and warzone, there was a lot of black ghosting, which was really distracting.
Go for an IPS panel and a 24 or 27-inch screen, like the Dell S2522HG, if you want a truly nice cheap competitive gaming monitor.
Last but not least, it has the ELMB feature, which could help to slightly reduce the amount of motion blur, but it decreases brightness even more, which in turn isn't already in line with the best. If possible, keep it turned off.
Overall, the Asus TUF vg32vq1b is excellent for some casual gaming if you can get used to the black smearing. Despite having a good refresh rate and response time, the aforementioned drawbacks are unfortunately still present.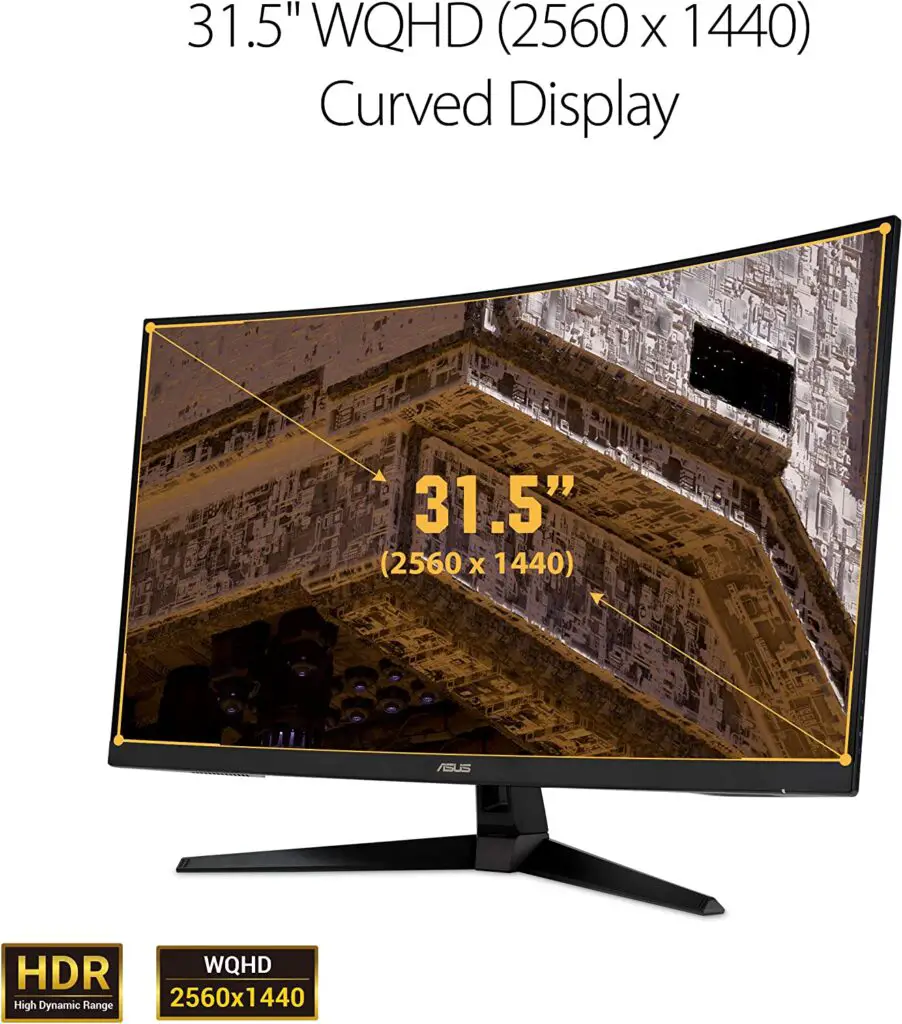 Image Quality
Although the ASUS VG32VQ1B has a few compromising flaws that some people may find overwhelming, it still has a masterpiece to attempt to strike a balance: its colors.
A VA monitor in this price range often performs worse than an IPS monitor when it comes to color fidelity. And it's unusual to see a monitor with such nice colors right out of the box as this one.
However, it is even more unusual to see a VA display with such affordable prices and beautiful colors.
Even further than what is typically seen in this category, it has a DCI-P3 90% of the color range. Because of that ratio, the colors will be more vivid right out of the box and have more calibration flexibility.
On the negative side, apps that primarily use the sRGB base gamut may not work well with a DCI-P3 gamut like this one. In such circumstances, it is likely that the colors will become oversaturated and even less accurate.
For media editing jobs, this could be a major obstacle, but for gaming, it might even be advantageous. If you're one of those who prefer vivid and bright colors rather than dull and down-to-earth accurate ones, this is the VA monitor for you. 
The finest part about this is that it produces a ground-breaking and exceptional color quality when combined with the VA's inherited contrasty blacks.
If it weren't for its low peak brightness, this monitor would have one of the best overall colors in this price range for VA panels, that is for sure.
Even so, if we ignore the excellent color reproduction, every other aspect of this monitor's image quality is very mediocre, and some of them are even below average.
The 32-inch 1440p combo is just average, with sharpness being comparable to a 24-inch 1080p screen because of the similarity in PPI between the two.
A 4k resolution is suggested for the 32-inch monitor if you need incredibly clear images and perhaps a little extra space on the screen. You can find the ASUS PA329CV a nice option for you.
Although you can calibrate it to produce better results, the 8-bit color scheme and the VA's less accurate colors will prevent you from calibrating it up to a professional level of accuracy.
Last but not least, we should mention that the HDR 10 feature is, once more, below average. You won't get a real HDR experience from it, and in certain circumstances, it is even worse than using a standard SDR. That is a result of this monitor's modest peak brightness, which hardly complies with HDR specifications.
So, in the end, this monitor is best recommended for those who need a good VA budget screen with some vivid colors to play some games and don't mind sparing some better features for that.
Final thoughts
When to buy it
The decision here is a little bit difficult. Even though we can put it like: "Sure, the ASUS VG32VQ1B is a great monitor for casual gaming due to its refresh rate and colors, go for it." there is always the black smearing in the way when we talk about VA screens. 
Still, when we looked at it from a different perspective, we came to the conclusion that the black smearing is a thing of almost all VA monitors in this price range, but the vivid colors are not. Due to that, even if the black smearing can be detected during gameplays, we can mark it as a price to pay to get all the other benefits of VA monitors plus the good colors.
To put it in other words, this is one of the best VA screens in this price range, regardless of its downsides, and if you don't need a much higher brightness, this could be a perfect choice for your next VA monitor.
If you don't want to have the smearing distracting you, you can go for an IPS screen, with the: HP X32 as one of your best choices right now.
You may like