Our Conclusion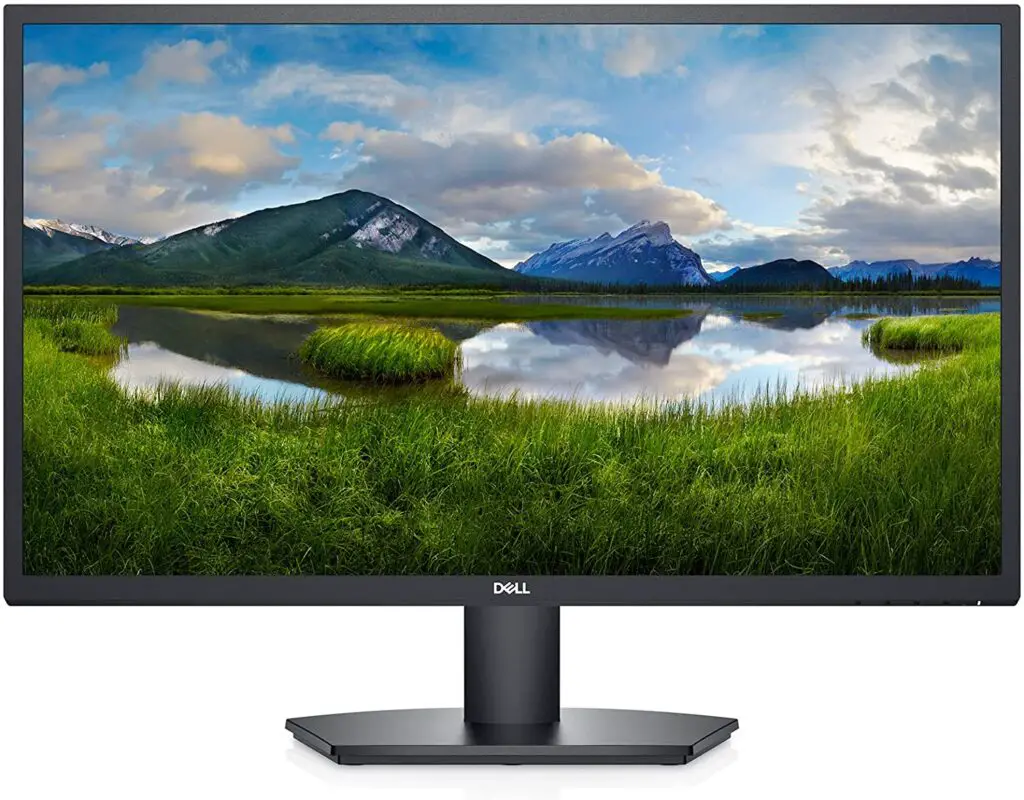 The Dell SE2722H holds the position in Dell's low-end 27-inch displays category, but due to its low prices, it is lacking in some key functions. Even with its current low costs, I wouldn't buy it due to the way it looks and the functionality it lacks. Saving a few dollars and purchasing something like the: HP X27 is preferable in the long run.
Pros
✓ 27-inch
✓ Affordable
Cons
✘ Polarizing aesthetics
✘ Poor price-performance
In the previous post, we brought a new HP entry for the professional monitor category with a sleek design and high costs. And today, to strike the right balance, we have one of the latest Dell releases for the budget category and low pricing for today's review.
This one, regrettably, has a few aesthetic shortcomings that could turn some people away, unlike the HP 32U. However, if the style is not the most essential element for you in a monitor, continue reading the Dell SE2722H review to see if its benefits outweigh its rustic appearance.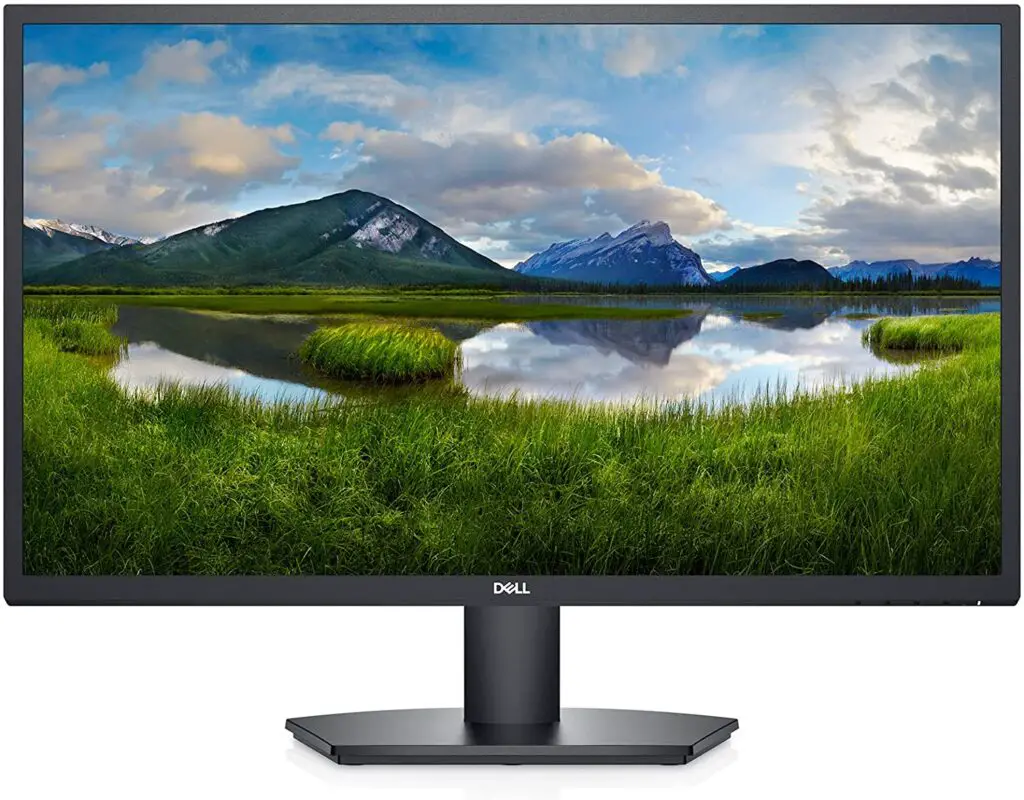 Design
It's impressive how much the size of the bezels, a seemingly little feature, can affect how the display looks as a whole. The full-sized bezels give off this rustic vibe merely because manufacturers prefer to avoid using them now, although they were common a few years ago. 
Although personal taste ultimately determines if a monitor with this design is passable, the majority continue to choose the borderless design. 
We may even venture to argue that this panel has features of an office-oriented screen if it weren't for those thick bezels. It has no flashy patterns or colors at all, good size and thinness, and the bottom bezel is rather narrow. 
It's important to note that, at least at this time, this is likely one of the least expensive 27-inch displays available. Of course, do not anticipate it to be made out of the best materials possible; or you will be let down.
With merely tilt support, the stand lacks a few adjustment options, and its square design takes up a significant amount of desk space. So, regrettably, if you want more ergonomy, you will need to get a better stand and utilize the VESA support.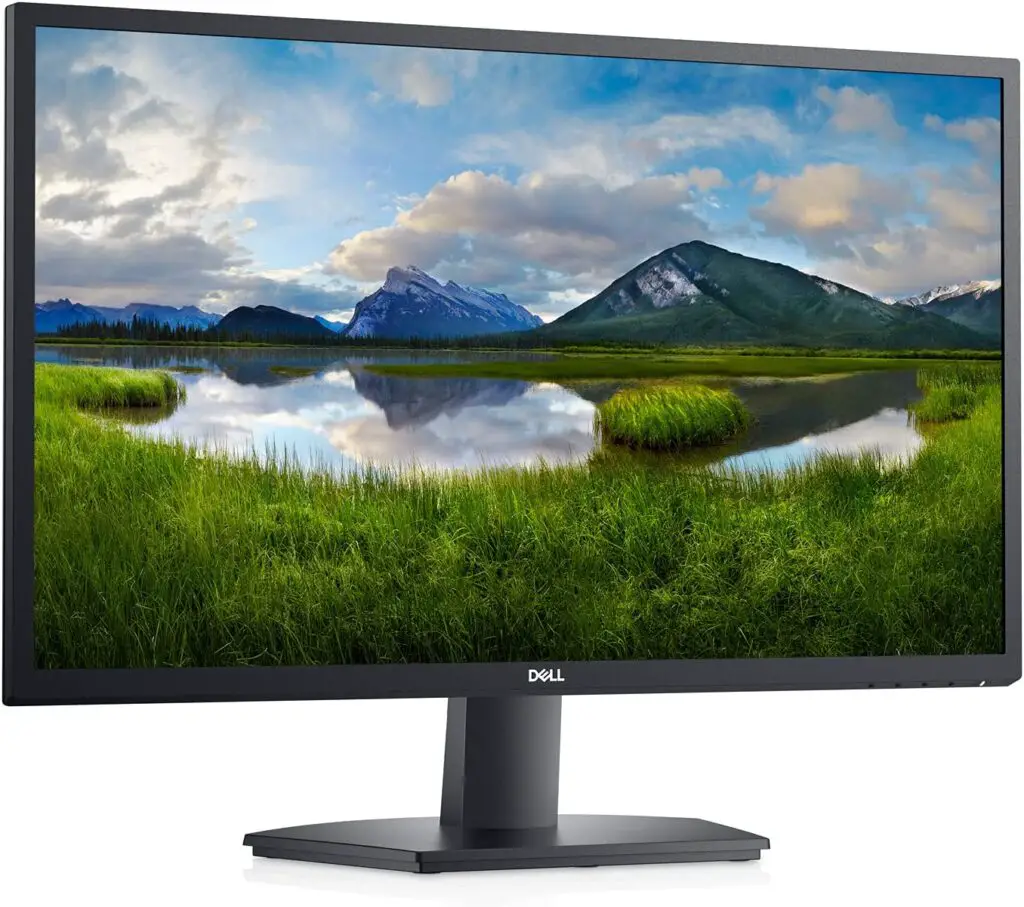 Remember that if you want to use 2 or more monitors, we cannot suggest this screen since the full bezel design might negatively impact how your setup looks. 
The explanation for so is due to two primary factors. First, having a second monitor with full-sized bezels would be problematic for everyday usage because of the significant gap it would create between the two panels' viewable areas. 
Second, the aesthetic contrast between this monitor and a display with a borderless bezel is poor. The low prices are not an excuse in this case because displays with borderless bezels like the: LG 27MP400-B and the LG 27ML600M-B are just as affordable and even more affordable sometimes, thus we are forced to include the overall design as the Dell SE2722H's biggest flaw. 
Naturally, if you don't care about how the monitor looks, this may not even be a big concern. Lastly, and as predicted, there is no joystick button for menu navigating.
Connectors
Unexpectedly, they removed the standard headphone out connector in order to further cut costs, leaving only those needed for video: VGA and HDMI, which is a huge disadvantage if you wish to utilize a DP port.
Since things aren't looking great right now, let's hope that this monitor will start to show us some positive aspects soon.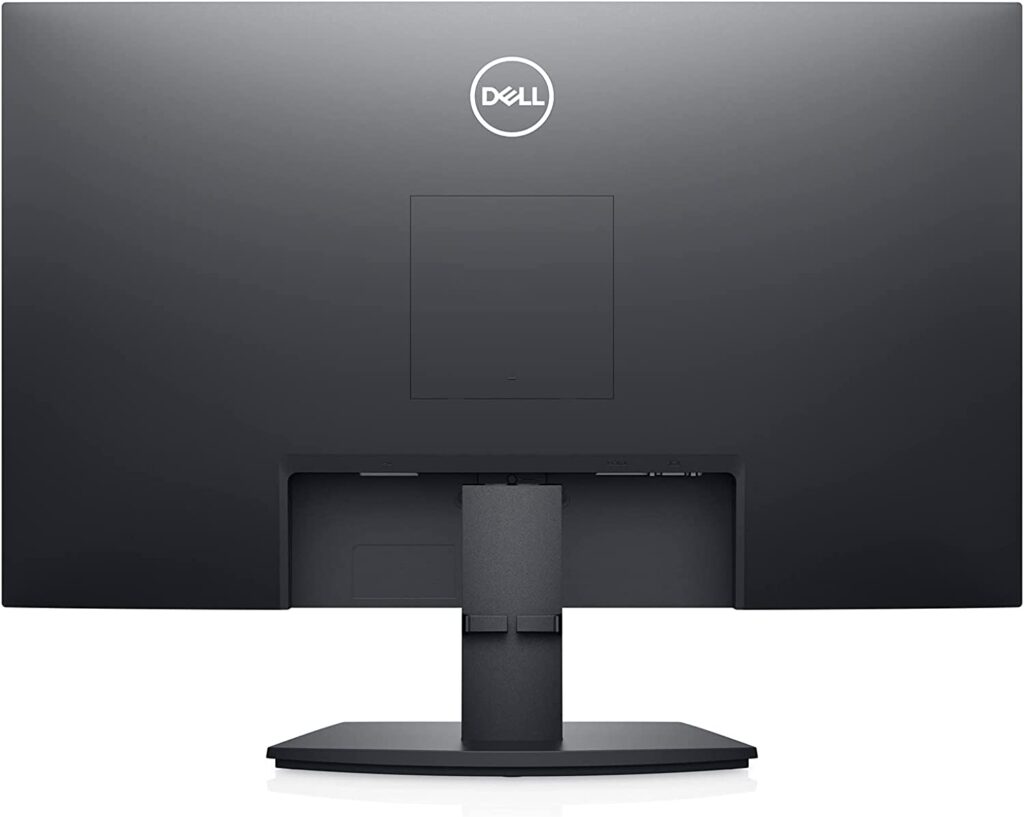 Features
Panel type
Unfortunately, the disappointments continue beyond the design portion, and we still have quite a number of those to discuss before the post is done. 
To strike a balance, let's start with the positives. This display stood out at night, giving some contrast to the blacks and avoiding the typical gray tint found in IPS screens.
However, given that we are discussing a VA panel, this is to be anticipated. The VA panels are still the most suggested for use at night because of their improved contrast, although having certain drawbacks over the IPS panels. 
Additionally, although not having the most exemplary reflection handling ever, this monitor still meets our expectations in this regard. On the other hand, a cheap monitor like this one can't have all the good features, so we must point out that the colors are worrisomely off, to the point where they might be problematic even for casual use. 
The limited gamut and terrible pre-calibration truly make this monitor perform poorly in terms of color accuracy. We'll cover that in more detail later in the article.
Brightness
Since the brightness is average, it shouldn't be a problem as long as you don't use the monitor in a bright room or directly across from a window. In fact, this specific screen's 250 nits will more than satisfy the majority of users for use at night or in a well-lit room, as is suggested. 
If you want to use it in a bright environment, you might also try cranking it up to the highest setting, but even then, it might not be sufficient, at least it wasn't in our tests when the glare was on a very bright point. 
Also, keep in mind that the colors will appear slightly worse depending on the brightness you choose due to its short gamut, so be cautious to balance the vibrant colors and tolerable brightness.
The good news is that it was at least passable for usage throughout the day with minimal light in the room thanks to the good reflection management and 100% brightness, so this is definitely not the worst of it.
Even if the Dell SE2722H's brightness is now one of its better aspects, we are still hopeful that it won't stay that way because 250 nits aren't really exceptional in itself.
Refresh rate and Response time
Surprisingly, they were able to reduce the response time of this screen to 4 ms, but to avail of that, you have to turn on GTG to the highest setting, which has a significant negative influence on overall brightness and is not usually advised.
If you use base GTG, you'll get an 8ms response time, which is plenty adequate for daily use but well below the level advised for gaming. 
However, it has a 75 Hz refresh rate, which makes ordinary activities like browsing the web and playing casual games appear a little bit smoother than they would with a 60 Hz frequency, which is not unusual to see for cheap monitors like this one. 
Bear in mind though, that you can only use 75hz if you use the HDMI cable due to the digital input, so take that into consideration as well. 
Besides that, it also supports AMD FreeSync, which will reduce the amount of screen tearing when you're playing your games. That said, it is clear this is not the monitor for you if you need to play in the competitive scene, as it lacks a huge deal of responsiveness. 
Unfortunately, if you really want a cheap monitor to start playing competitively, the threshold is far from the 150 bucks this monitor is sold at, but you can indeed find something better within the $150-300 range, such as the HP X27 (currently at $170) and the MSI Optix G273QPF.
By the way, we must say, given all the features we've seen so far and the monitor's prices, we certainly were not expecting to see 75 Hz. We can mark this feature as one of the main benefits of this screen, given how it is rare to find such cheap displays with a higher than 60hz refresh rate.
In the end, this monitor is still one you could consider if you need to play some casual games, but sometimes sparing 50 dollars more to get something with an IPS panel and better colors can be better in the long term. 
Image Overall Quality
As we said earlier, the gamut of the Dell SE2722H is pretty subpar, even for a VA panel. It is a fact that IPS panels tend to have higher accuracy than VA ones, but usually, VA panels can easily reach similar colors to IPS, especially low-end IPS screens. 
Bearing only 84% sRGB (CIE 1976) of the total gamut, this monitor gave us some off-targeted cold colors, which is far from recommended for professional and even casual use. 
Fortunately, it supports 16.7 million colors, meaning you can calibrate it to make the colors seem a little bit better, but assuming that this is a cheap monitor, the consumer most likely isn't willing to spend 250 dollars on equipment just to calibrate this screen. 
As previously mentioned, this monitor's contrast ratio of 3000:1 is far higher than that of IPS panels, and its white and black tones are excellent, as they are with virtually every VA panel. 
Besides the off-target colors, this monitor also bears the burden of featuring one of the major drawbacks of 27-inch 1080p screens: the low PPI. 
Depending on the distance you use this monitor, the low PPI of the 1080p would pronounce further, increasing the size of the pixels turning them easily visible, which is awful for the overall image clarity.
Of course, you can always use the screen from a higher distance, which would alleviate it to a better experience, but 1080p is certainly not the best resolution for 27-inch, that is a fact. 
Unfortunately, though, you are hardly going to find -$300 screens with the 1440p resolution, so if you really need 27 inches for cheap prices, the 1080p is inevitable. The one thing we can say though if you do care about the colors of your screen, and the looks of it, this is the monitor you should certainly avoid.
Among our recommendations for low-end budget models with good colors, you can check out the: Lenovo D27-30 if you need to stick with the VA panel, and the: Dell S2721HN if you don't mind going to the IPS one.
Final thoughts
When to buy it
Although being one of the cheapest 27-inch monitors out there, you have to put up with a massive portion of downsides, which may not make up for the low prices in the end. 
In my opinion, the Dell SE2722H monitor is not worth it – it looks bad, has even worse features, and lacks a huge amount of QOL features. On the other hand, if your only budget is 150 dolls and you still need a 27-inch monitor, the 75hz makes this monitor a better deal. 
On the other hand, if you are willing to spare some bucks and afford something better, you can compare this one to the: HP X27 and the: Lenovo D27-30, and check which one is of your liking. 
You may like