Our Conclusion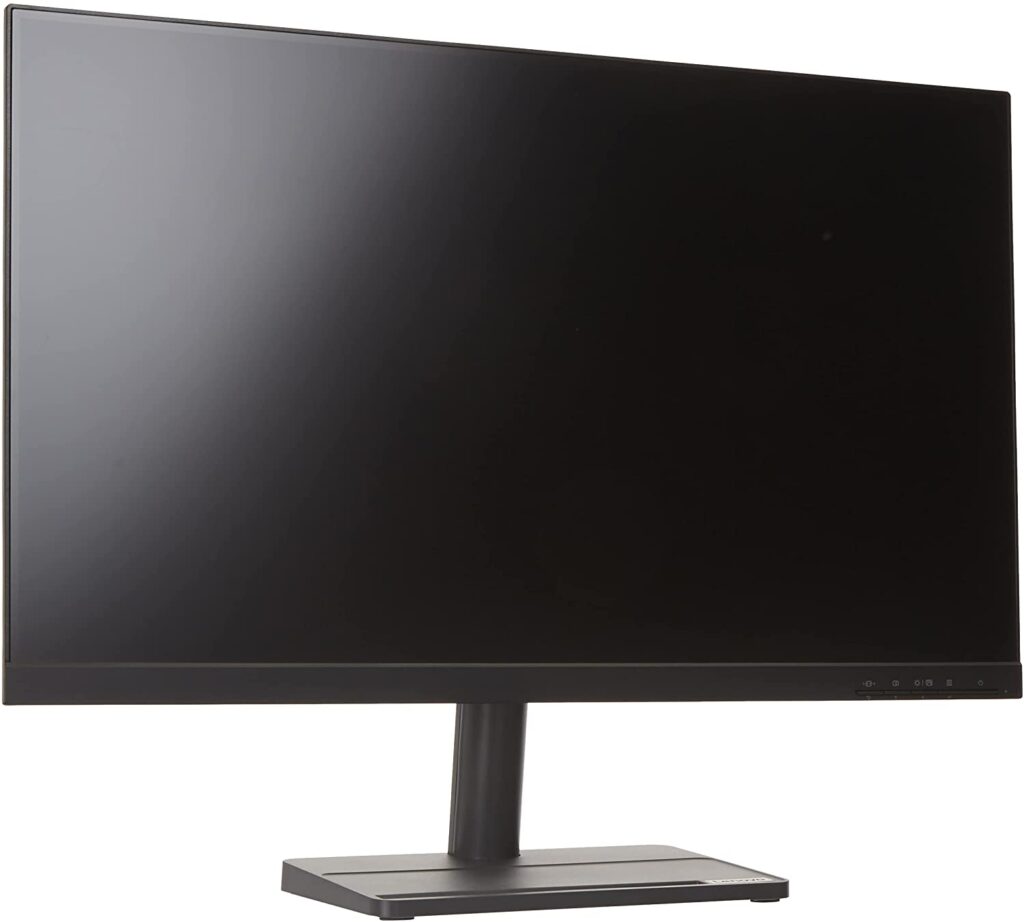 The Lenovo l27e-30 is a good choice for a casual monitor, with good image quality and build quality. It's an excellent option if you're looking for a budget-friendly 27-inch monitor with average features. However, because this display has very standard characteristics, I recommend comparing it to other casual models with similar features, such as the LG 27ML600M-B and the Acer XF270H, to see which one is less expensive.
Pros
✓ IPS
✓ 27-inch
✓ Affordable
✓ 75hz
Cons
✘ Lack of out speakers
✘ Lack of DP connector
When we looked at a few Lenovo monitors, we noticed that the company makes a concerted effort to make their displays as thin as possible, going beyond the standard. The Lenovo L24e-30 is unquestionably one of the slimmest Lenovo monitors we've seen, as well as one of the thinnest of all the monitors we've reviewed on reatbyte. 
However, for today's post, we have a parallel to this one that is insanely thin as well. So, without further ado, let's have a look at the Lenovo L27e-30 Review to see if this monitor has any useful features or if it's simply an aesthetical monitor.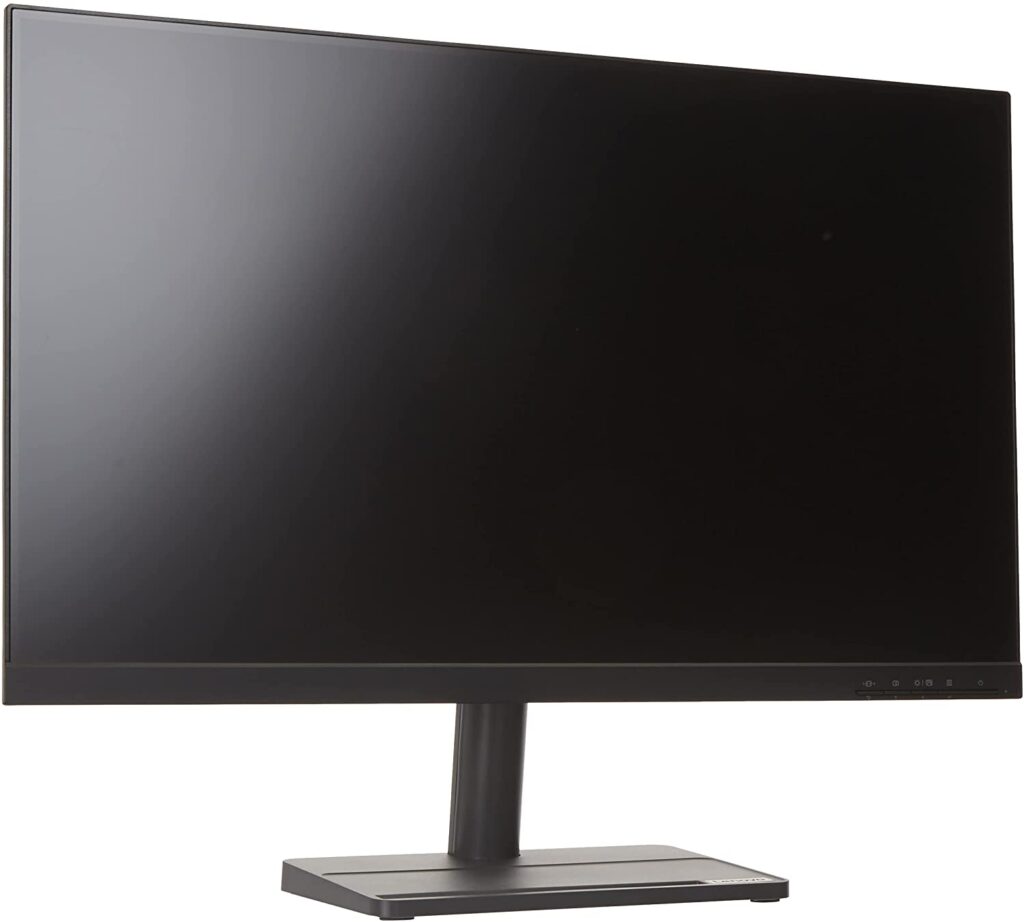 Design
At first glance, this monitor reminded me a lot of the Lenovo L24e-30, which has almost identical aesthetics. It has borderless three-sided bezels, which places it in the category of aesthetically modern monitors.
Also, the bottom bezel isn't as thin as it could be, but it's still within acceptable limits. In addition, instead of on the bottom bezel, the logo is positioned on the back of the display.
The stand is essentially identical to the Lenovo L24e-30, with the same squared aesthetics and adjustments, including only tilt, which is a major flaw for some. The stand of both highlights a mobile phone holder, which is what stands them out from the competition in this price category.
Looking at the back of this display, we can see that it supports VESA, which is a huge benefit if you want to mount this monitor on the wall. The entire display is finished with the typical matte black pattern. 
In general, this one has a similar aesthetic to the Lenovo L24e-30 one, but it is much thicker due to the fact that it has 27 inches instead of 24.
Connectors
As for connectors, it disappointed us a little, including only 1x HDMI, 1x VGA, 1x Headphone-out.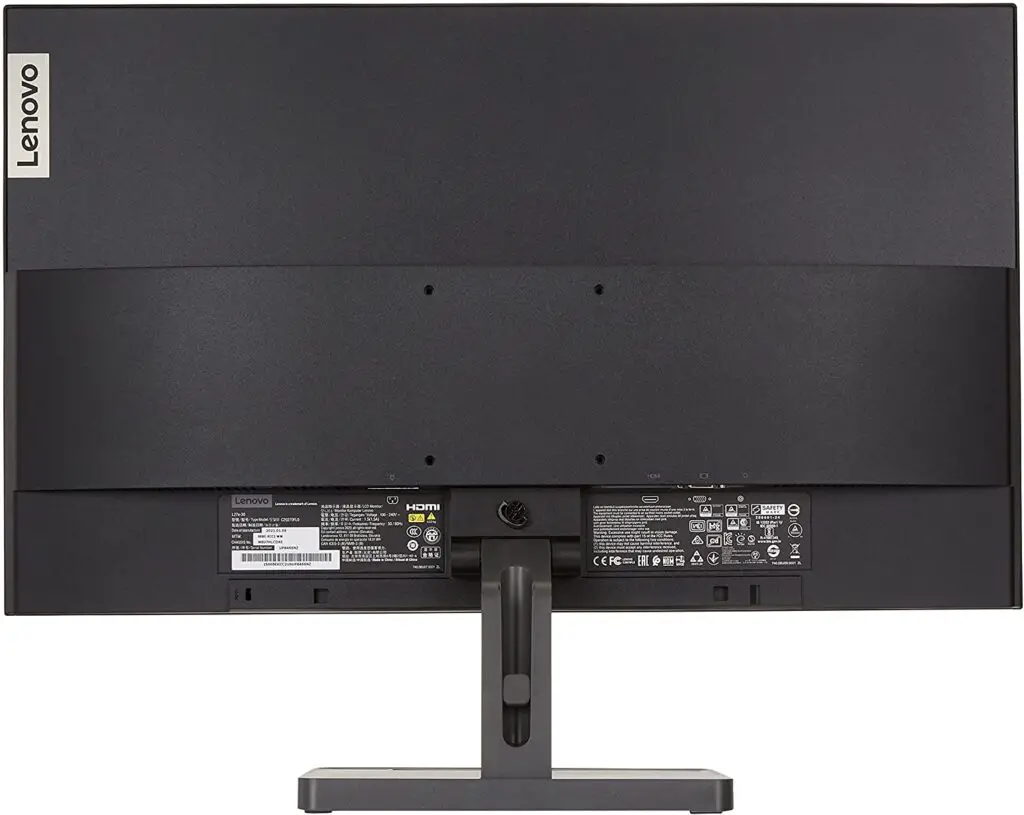 Features
Panel type
To be honest, every low-cost Lenovo monitor we've reviewed on reatbyte has featured the VA panel, so I didn't have high hopes for this one. However, to my surprise, the IPS panel was included, which is a huge plus for the L27e-30. 
I'm not saying the VA isn't a decent panel, but it lacks color accuracy compared to the IPS. The IPS is usually a must-have choice for media workers because it has one of the highest color accuracy and image quality of the three panels.
On the other hand, if you want to play your games as accurately as possible, it's also a good option. This panel also improves viewing angles, so you don't have to worry about where you're looking at the screen for accurate images.
Brightness
Another significant advantage of the IPS panel is that lower brightness ratios, such as 250 nits, have less of an impact on overall visibility, which is not characteristic of TN or VA panels.
250 cd/m2 is a usual number for this price range, and for everyday use, like mine, you may be confident that it will offer what you require. During the day, I'm using this display at full brightness, and I'm not experiencing any issues seeing the images. 
If your monitor will be put in a location where sunlight will shine on the screen, a monitor with a 300 or 350 brightness ratio, such as the Acer Nitro VG270, is a better choice.
Refresh rate and Response time
Thankfully, unlike the previous Lenovo monitor we tested, this one hasn't let us down yet, providing standard features for its price range. Let's have a look at the gaming capabilities of this panel and see what it has to offer. 
Starting with the refresh rate, this monitor thankfully follows current trends for casual displays by including a 75hz ratio, which helps to improve the smoothness of daily use or even casual gaming. 
However, it is still not recommended for large-scale competitive gaming. Some think that at least 144hz is required for competitive gaming. The disadvantage is that monitors with those numbers are usually more expensive.
If you look hard enough, you can still get monitors with inexpensive costs and 144hz, such as the LG Ultragear 24GL600F-B and the Acer Nitro VG270. 
Aside from that, this monitor has a 4ms response time, which is standard for this price range, but it won't make much of a difference unless you play competitive games. 
In summary, this monitor has the essential capabilities that one would expect for a monitor in this price range, especially one that is categorized as a casual display.
Image Overall Quality
The L27e-30 is a 27-inch display with Full-HD resolution and an average PPI ratio, resulting in acceptable image crispness and barely visible pixels on the screen.
Aside from that, it boasts an IPS panel, which helps with image color accuracy and viewing angles, as previously mentioned. It also features a low/mid contrast ratio, as is characteristic of IPS displays, with 1000:1, which is the industry standard even for +400 panels. 
On the other hand, VA screens displays, such as seen in the first Lenovo monitor reviewed here on Reatbyte, normally have greater contrast ratios.
This monitor features the 72% NTSC technology, which, although being nothing human eye perceptible, still has a better gamut than the average sRGB 99%. 
In contrast, it supports 16.7 Million colors, which is the standard for this price range but not advisable for professional screens. 
That said, if you want to have professional levels of color accuracy and image quality, I recommend the Acer K243Y which is currently one of the cheapest choices for media professionals. 
So, overall the L27e-30 is a pretty solid monitor when it comes to color accuracy, but at this price range, we already reviewed better choices such as the and the.
Final thoughts
When to buy it
If you need a casual monitor, before affording this one, consider checking out others with the same price range and features to see which is the cheapest one. You can compare it to the LG 27ML600M-B and the Acer XF270H to find out which one has the best prices for you. The L27e-30 surely is a safe monitor to pick as it is one of the cheapest 27-inch displays currently.
You may like